Can you imagine my excitment when Jen & Bijan amazing wedding landed in my inbox? Jen, the bride began her email "I am an American living in Berlin, and recently married. My husband, Bijan, is German-Irani, and I think our wedding was as multicultural and un-traditional as we are." I was smitten…and their story just makes it even better.
"My background in event planning for President Obama (!) and Vice President Biden came in very handy for a diy wedding" Jen told me. "Bijan and I haven't been to many weddings, nor have we been married before, so we kind of made a lot of stuff up as we went along. The actual ceremony was on Friday, March 26, and the reception was the following day. My best friend, Scout Tufankjian, is a photojournalist and doesn't actually usually do weddings but as her gift to us she agreed to be our wedding photographer. Bijan is born and raised here in Berlin, and we really wanted our photos to reflect our everyday life and the things we love about Berlin. The graffiti pictures are taken along an old section of the Berlin Wall called the "East Side Gallery," and was one of the places Bijan took me on my first day here. With his Persian background, he has always been a fan of shisha (flavored tobacco smoked out of a water pipe)- I also share his love for it, and on our way to the party, we decided to take a break for ourselves and get a smoke at our favorite shisha cafe. We were also starving, so we stopped at our favorite neighborhood schawarma place, Habibi's, for a bite to eat."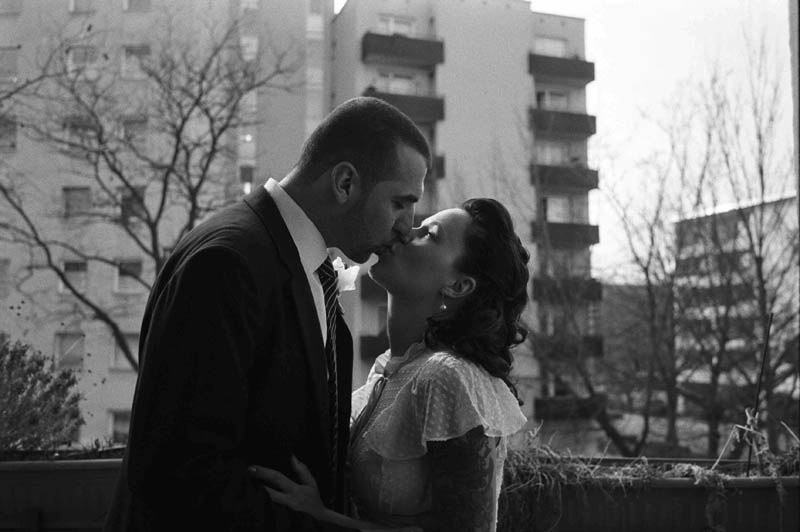 "We did all of the decorating for the reception ourselves, hanging glass and paper lanterns, buying 100 Turkish scarves from a local market and using them as chair covers (they also served as gifts for the guests to take home at the end of the night). Bijan has trained in Capoeria (a Brazilian martial art) for ten years and teaches it to children, and our capoeria friends from Capoeria Akademie Berlin performed a show for all of us at the wedding. Our friends also arranged a surprise performance from a cello/acoustic guitar duo, and then there was an impromptu a cappella Persian woman who sang in Farsi, and a Turkish friend who played darbuka (a middle eastern drum). This was all followed by a mix of American hip hop and middle eastern dancing through the night.
I really wanted a vintage dress and after fruitless searching, designed my own with a 1950's feel to it. I found a wonderful custom atelier here in Berlin to make it (Friederike Fiebelkorn), and also a hat shop to produce the veil I designed (Coy). We did all of our own floral arrangements too, buying dozens of orchids, submerging them in glass vases and putting floating candles on top. We also had a shisha lounge set up on the back terrace.
What made everything rock and roll was that we did it all ourselves- from designing the invitations, to decorating, flower arranging, dress designing, program planning (with impromptu a cappella singing in Farsi, to drum playing, to flips and kicks from the Capoeria players, to having a full hookah lounge set up on the back terrace). We had NO idea what traditionally goes into a wedding, so we really made it all up ourselves as we went along, and it retained a refreshing sense of purity because of that."
Thanks to Jen & Bijan for sharing their fantastic day with us
Credit: Scout Tufankjian