Gay wedding, Civil partnership, Wedding…the terminology doesn't mean s*** to me. A wedding is a wedding and that's that. The amazingly glam Brighton wedding of Matt & Leon was sent over by their photographer Lisa Devlin and I lapped up all the gorgeous details…who needs a bride!?
Leon & Matt got married on the anniversary of when they met and they day was a pretty memorable one! They squeezed into a stretch Hummer with their 8 bridesmaids, 3 flowergirls and the ring bearer for the short journey to Stanmer House near Brighton. Their ceremony was conducted by candlelight by a Registrar called Mr Love (!) and featured some incredible live singers.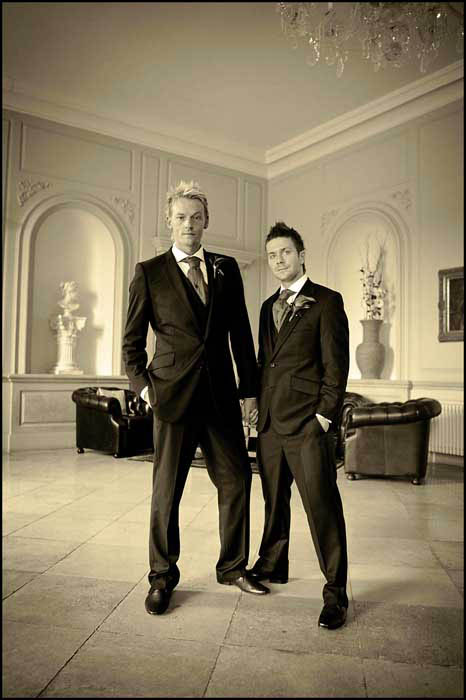 "Afterwards, we made use of the house for some photos that I wanted to have a Gentleman's Club feel to them. Leon has been in a boy band so was very comfortable in front of a camera" Lisa told me.  "After drinks in the grounds, it was time for everyone to leave Stanmer and the boys know how to make an exit. A helicopter landed on the lawn and whisked them off, which was a quite a surprise to the guests. There was a dramatic colour theme of black and red which looked fantastic on all those bridesmaids and we grabbed a quick shot of them against some graffiti on our way to the party in MyHotel. We made use of the hotel's funky penthouse suite for some portraits of Matt & Leon which had to be worked around the 300 year old carousel horse that is in the middle of the room."
The pair looked proper dapper in their suits and accessories were from Brighton tailor Hugo Morris and their incredible cake was from legendary Brighton cake-makers, Choccywoccydoodah.
Thanks to Lisa for sharing this fabulous, over the top (in a good way!) wedding with us today
Credit: Devlin Photos