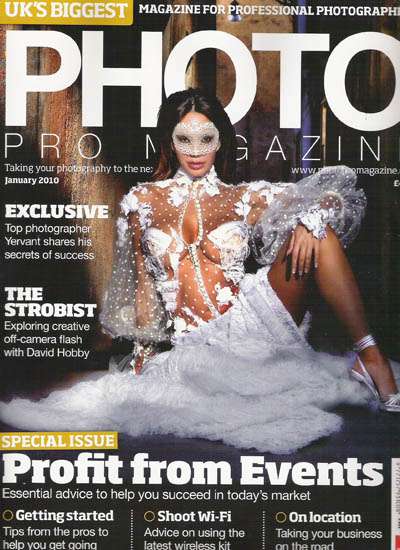 Woohoo! It's my favourite time of the month again…Photo Pro time! I'm still not over the fact that I get to be in a real life magazine. Excitement overload. This month I got to write about one of my favourite types of photography and one of the first photographers I became blogging friends with – Tara Kneiser and the joy that is Holga!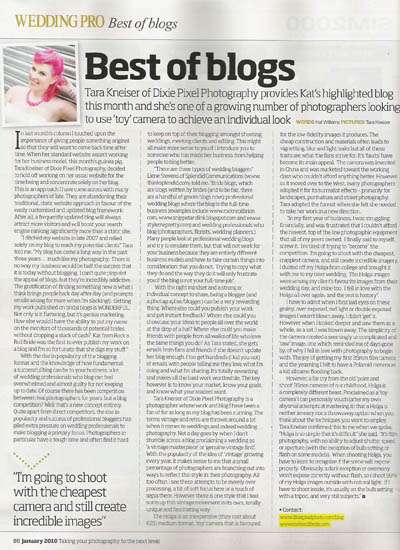 In last month's column I touched upon the importance of giving people something so they will want to come back time after time. When her standard website wasn't working for her business model, this month's guinea pig Tara Kneiser of Dixie Pixel Photography decided to hold off working on her usual website for the time being and concentrate solely on her blog. This is an approach I have come across with many photographers of late. They are abandoning their traditional, static website approach in favour of the easily customised and updated blog framework. After all a frequently updated blog will always attract more visitors and boost your search engine ranking significantly more than a static site.
"I ditched my website in late 2007 and relied solely on my blog to reach my potential clients" Tara told me. " My blog has come a long way in the past 3 years . . . much like my photography.  There is no way my business would be half the success that it is today without blogging.  I can't quite pinpoint the appeal of blogs, but they're incredibly addictive.  The gratification of finding something new is what I think brings people back day after day (and prompts emails asking for more when I'm slacking!).  Getting my work published on bridal blogs is WONDERFUL.  Not only is it flattering, but it's genius marketing.  How else would I have the ability to put my name on the monitors of thousands of potential brides without dropping a stack of cash?  Kat from Rock n Roll Bride was the first to ever publish my work on a blog and I'm so fortunate that she digs my stuff."
With the rise in popularity of the blogging format and the knowledge of how fundamental a successful blog can be to your business, a lot of wedding professionals who blog can feel overwhelmed and almost guilty for not keeping up to date. Of course there has been competition between rival photographers for years, but a blog competition? Well that's a new concept entirely. Quite apart from direct competitors, the rise in popularity and success of professional bloggers has added extra pressure on wedding professionals to make blogging a primary focus. Photographers in particular have a tough time and often find it hard to keep on top of their blogging amongst shooting weddings, meeting clients and editing. This might make more sense to you if I introduce you to someone who has made her business from helping people to blog better.
"There are three types of wedding bloggers" Liene Stevens of Splendid Communications (www.thinksplendid.com) tells us, "bride blogs, which are blogs written by brides (and to be fair, there are a handful of groom blogs now); professional wedding blogs where the blog is the full-time business (examples include www.rocknrollbride.com, www.snippetandink.blogspot.com and www.stylemepretty.com) and wedding professionals who blog (photographers, florists, wedding planners.) Many people look at professional wedding blogs and try to emulate them, but that will not work for your business because they are entirely different business models and have to take certain things into consideration that you do not.  Trying to copy what they do and the way they do it will only frustrate you if the blog is not your full-time job".
With the right mindset and a strong or individual concept to share, being a blogger (and a photographer/blogger) can be a very rewarding thing. Where else could you publish your work and get instant feedback? Where else could you showcase your ideas to people all over the world at the drop of a hat? Where else could you make friends with people from all walks of life who love the same things you do? As Tara stated, she gets emails from fans and friends if she doesn't update her blog enough. I too get hundreds (I kid you not) of emails with people telling me they love what I'm doing and what I'm sharing. It's totally rewarding and makes all the hard work worthwhile. The key however is to know your market, know your goals and know what your readers want.
Tara Kneiser if Dixie Pixel Photography is a photographer whose work and blog I have been a fan of for as long as my blog has been running. The terms vintage and retro are thrown around a lot when it comes to weddings and indeed wedding photography. Not a day goes by when I don't stumble across a blog proclaiming a wedding as 'a vintage masterpiece' or 'genuine vintage find'. With the popularity of the idea of 'vintage' growing every year, it makes sense to me that a small percentage of photographers are branching out into ways to reflect this style in their photography. All too often I see these attempts to be merely over processing, a bit of soft focus here or a touch of sepia there. However there is one style that I feel sums up this vintage movement in its own, totally unique and fascinating way.
The Holga is an inexpensive (they cost about £25) medium format, 'toy' camera that is favoured for the low-fidelity images it produces. The cheap construction and materials often leads to vignetting, blur and light leaks but all of these traits are what the fans strive for. It's 'faults' have become its main appeal.  The camera was invented in China and was marketed toward the working class who couldn't afford anything better. However as it moved over to the West, many photographers adopted it for its surrealist effects – primarily for landscapes, portraiture and street photography. Tara adopted the format when she felt she needed to take her work in a new direction.  "In my first year of business, I was struggling financially, and was frustrated that I couldn't afford the newest, top of the line photographic equipment that all of my peers owned.  I finally said to myself, screw it.  I'm tired of trying to "become" the competition.  I'm going to shoot with the cheapest, crapiest camera, and still create incredible imagery.  I dusted off my Holga from college and brought it with me to my next wedding.  The Holga images were among my client's favourite images from their wedding day, and mine too.  I fell in love with Holga all over again, and the rest is history" 
I have to admit when I first laid eyes on these grainy, over exposed, red light or double exposed images I wasn't blown away. I didn't 'get' it. However when I looked deeper and saw them as a whole, as a set, I was blown away. The simplicity of the camera created a seemingly uncomplicated and 'raw' image, one which reminded me of days gone by, of why I feel in love with photography to begin with. The joy of getting my first 35mm film camera and the yearning I felt to have a Polaroid camera as a kid all came flooding back.
However, a far cry from the old 'point and shoot' 35mm cameras of our childhood, Holga is a completely different beast. Proclaimed as a 'toy camera' I can personally vouch (after my own abysmal attempts at mastering it) that a Holga is neither an easy nor a throwaway option when you think about the techniques you want to employ. Tara Kneiser confirmed this to me when we spoke, "Holga is so simple that it's difficult" she said.  "It's film photography, with no ability to adjust shutter speed or aperture (with the exception of bulb setting or flash on some models).  When shooting Holga, you have to learn to recognize if the scene will expose properly.  Obviously, a dark reception or ceremony won't expose correctly without flash, so I shoot 99% of my Holga images outside with natural light.  If I have to shoot inside, it's usually on the bulb setting with a tripod, and very still subjects."