One word…Eeeeeeek!
I am so excited about this wedding. Not only because it's photographed by one of my favourite photographers, Ben Blood; not only because the couple, Diane & Adam are super cool, lovely and stylish; but because even though the couple are both American and the wedding took place at Lairmont Manor in Bellingham, WA, they expressed their love of all things British with a fabulous English themed wedding.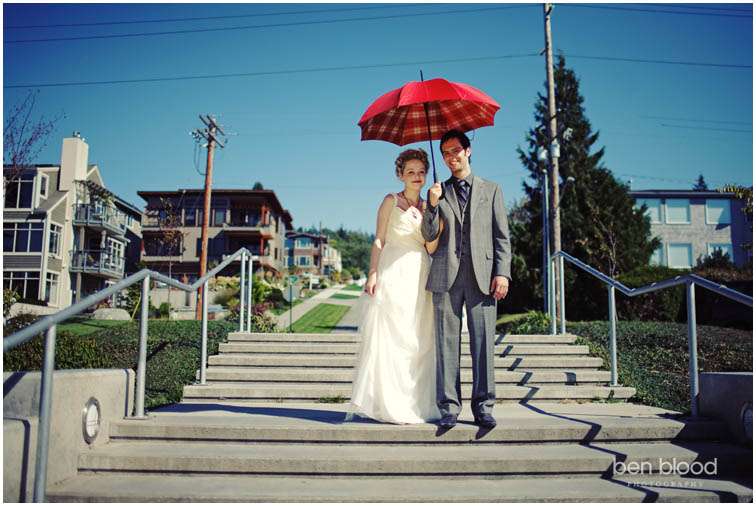 Diana told me all about their retro, funky, British punk rock day:
My dress was from Les Habitudes on Robertson Boulevard in L.A.They specialize in getting a lot of their dresses from European designers that they bring in under their label, so most of their dresses are one of a kind. My shoes were Alexander McQueen and the hair comb I wore was a Victorian antique. The necklaces are by Pyrrha, in Vancouver B.C. Their bronze pendants are made from 19th century wax seal molds. The ones I chose say "My life is a prayer," "While I breathe I hope", and" Love conquers all." The blue seal ring on my finger was one I had from Anthropologie. The jacket I wore to leave the wedding is from All Saints in the UK. My bridesmaids are wearing runway dresses from BCBG. Our hair was all done by Shawn Wright, the owner of Ryan Chanel Hair in Anacortes WA. She researched runway shows of Vivienne Westwood and Alexander McQueen for days before and we also channeled a bit of Helena Bonham-Carter's impeccable style.
My husband Adam wore a custom grey suit we had made at Nordstrom and grey patent leather Italian loafers. His groomsmen were all wearing tweed vests and hats from J. Crew with "The Who" edition converse all stars because Adam had always wanted Chucks in his wedding. We were expecting rain, so we had Burberry umbrellas and galoshes standing by.
All our music was all British. I walked down to the theme song from "Love Actually," we danced out to Queen's "Don't Stop me Now," and Adam sang Coldplay's "Fix You" in the ceremony. Our band for the reception was Garage Voice from Seattle.
We went with our overt Anglophile theme because I'm in love with London and theatre, so Adam flew me there for a weekend in March and proposed in front of Big Ben. We went back in June and collected tube station signs in Notting Hill for the tables, as well as teacups and pots from all over the world. Most of the hanging flags were from WWII. We're planning on moving to London someday soon.
Thanks to Ben for sharing his images and to Diana & Adam for all the great info. I look forward to meeting you when you do move to London!
Credit: Ben Blood