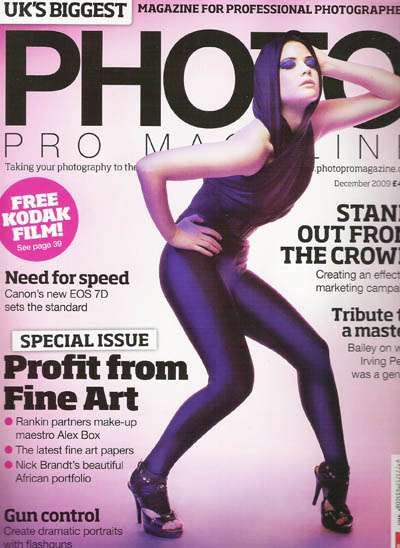 Being a real life published writer is such an amazing feeling. I can't get over that rush I feel seeing my thoughts and ideas in print. I'd like to thank the wonderful Jonas Peterson for being this month's guinea pig and of course all the guys at Photo Pro Magazine for letting me loose! If you're in the UK, pop into your local WH Smith and check out the magazine in real life. It's aces.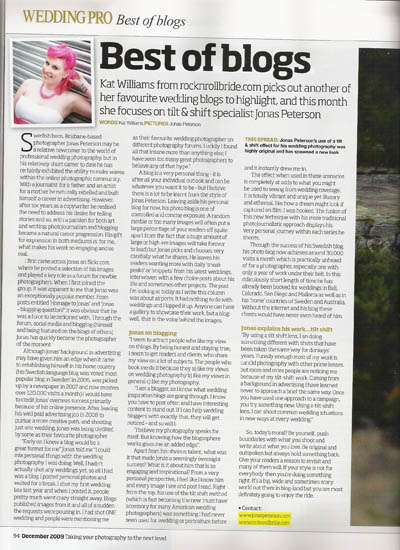 Swedish born, Brisbane based photographer Jonas Peterson may be a relative newcomer to the world of professional wedding photography, but in his thus far comparatively short career he has certainly been making waves within the online photographic community. With a journalist for a father and an artist for a mother he naturally rebelled and built himself a career in advertising. However, after 6 years as a copywriter he realised the need to address his desire for telling stories and so with a passion for both art and writing, photojournalism and blogging became a natural career progression. His gift for expression in both mediums is, for me, what makes his work so engaging and so real.  
I first came across Jonas on flickr.com where he posted a selection of his images and played a key role in a forum for newbie photographers. When I first joined the group, it was apparent to me that Jonas was an exceptionally popular member. From posts entitled 'Homage to Jonas' and 'Jonas – blogging question?' it was obvious that he was a force to be reckoned with. Through the forum, social media and blogging (himself and being featured on the blogs of others) Jonas has quickly become the photographer of the moment.
Although Jonas' background in advertising may have given him an edge when it came to establishing himself in his home country (his Swedish language blog was voted 'most popular blog in Sweden' in 2006, was picked up by a newspaper in 2007 and now receives over 120,000 visits a month) I would have to credit Jonas' overseas success primarily because of his online presence. After leaving his well paid advertising job in 2008 to pursue a more creative path, and after shooting just one wedding, Jonas was being credited by many as their all time favourite photographer. "Early on I knew a blog would be a great format for me" Jonas told me "I could mix personal things with the wedding photography I was doing. Well, I hadn't actually shot any weddings yet, so all I had was a blog. I posted personal photos and waited for a break. I shot my first wedding late last year and when I posted it, people pretty much went crazy straight away. Blogs published images from it and all of a sudden the requests were pouring in. I had shot ONE wedding and people were mentioning me as their favourite wedding photographer on different photography forums. Luckily I found all that insane more than anything else, I have seen too many great photographers to believe any of that hype."
A blog is a very personal thing, it is after all your individual outlook of whatever you want it to be, but I believe there is a lot to be learnt from the style of Jonas Peterson. Leaving aside his personal blog for now, his photo blog is one of controlled and concise exposure. A random ramble or too many images will often put a large percentage of your readers off (quite apart from the fact that a huge amount of large or high res images will take forever to load) but Jonas picks and chooses very carefully what he shares. He leaves his readers wanting more with daily 'sneak peaks' or 'snippets' from his latest weddings, interwoven with a few choice posts about his life and sometimes other projects. Today's post was about airports. It had nothing to do with weddings and I lapped it up. Anyone can have a gallery to showcase their work, but a blog; well that is the voice behind the images.
Jonas on blogging
I seem to attract people who like my view on things. By being honest and staying true, I seem to get readers and clients who share my view on a lot of subjects. The people who book me do it because they a) like my views on wedding photography b) like my views in general c) like my photography.
I am a blogger, so I know what wedding inspiration blogs are going through. I know you have to post often and have interesting content to stand out. If I can help wedding bloggers with exactly that, they will get noticed – and so will I.
I believe my photography speaks for itself. But knowing how the blogosphere works gives me an added edge.
Apart from his obvious talent, what was it that made Jonas a seemingly overnight success? What is it about him that is so engaging and inspirational? From a very personal perspective, I feel like I know him and every image I see and post I read. Right from the top, his use of the tilt shift method (which is fast becoming the new 'must have' accessory for many American wedding photographers) was something I had never seen used for wedding or portraiture before and instantly drew me in. The effect when used in these scenarios is completely at odds to what you might be used to seeing from wedding coverage. It is totally vibrant and unique yet illusory and ethereal, like how a dream might look if captured on film. I was hooked. The fusion of this new technique with his more traditional photojournalistic approach displays his very personal journey within each series he shoots.
Through the success of his Swedish blog, his photo blog now achieves around 30,000 visits a month which is practically unheard of for a photographer, especially one with only a year of work under their belt. In this ridiculously short length of time he has already been booked for weddings in Bali, Colorado, San Diego and Mallorca as well as in his 'home' countries of Sweden and Australia. Without the internet and his blog these clients would have never even heard of him.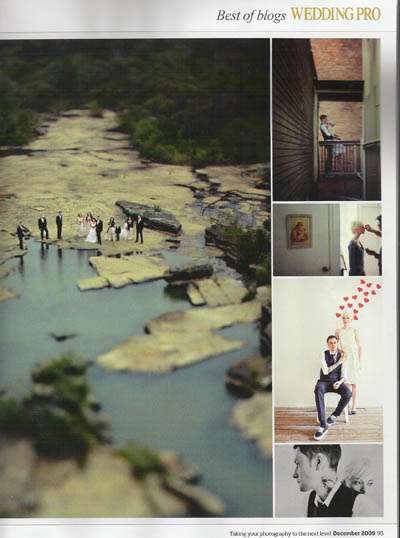 Jonas explains his work…tilt shift
By using a tilt shift lens, I do something different with shots that have been taken the same way for donkey years. Funnily enough most of my work is candid photography with other prime lenses, but more and more people are noticing me because of my tilt-shift work. Coming from a background in advertising I have learned never to approach a brief the same way. Once you have used one approach to a campaign, you try something new. Using a tilt-shift lens, I can shoot common wedding situations in new ways every wedding.
So, today's moral? Be yourself, push boundaries with what you shoot write about what you love. Be original and outspoken but always hold something back. Give your readers a reason to revisit and many of them will. If your style is not for everybody then you're doing something right. It's a big wide and sometime scary world out there in blog-land but you are most definitely going to enjoy the ride.
Edit: They also used one of Jonas' images as the front cover to their 'Wedding Pro' section.  But I was so excited to scan the article and get it up right away that I only just saw it. Wooo!