Fern & Ben organised their eco wedding themselves with the help of their families. Fern's uncle even made the gorgeous cake. Everything from the invitations (recycled paper with hand-pressed flowers) to the ring bearer's pillow (Fern sewed it herself) was a DIY job. Ben even designed Fern's engagement ring from eco-friendly jewelers (rose gold with a single chocolate diamond.) 
They chose to get married on the land where Fern was born. The material for the gorgeous napkins were all different patterns and colours and every table had a sharpie at it so the napkins could act as a guestbook, each piece will now be turned into a quilt with which they will always remember their wedding day.
A couple of other unique aspects from this wedding were the slideshow (they pinned old pictures of themselves on a clothesline in the trees) and the fact that Fern's oldest sister married them. The dress that Fern wore was a designer dress that she borrowed (she's a model). It was an original, one of a kind Melissa Sweet sample. 
The flowers were different assortments of wildflowers and no table or bridesmaid had the same arrangement. The ENTIRE bridal party even went barefoot! They had a bagpipe player before the ceremony which was very, very cool and beautiful. Their reception was super fun with a bluegrass band, good-luck sparkler dance and plenty of dancing.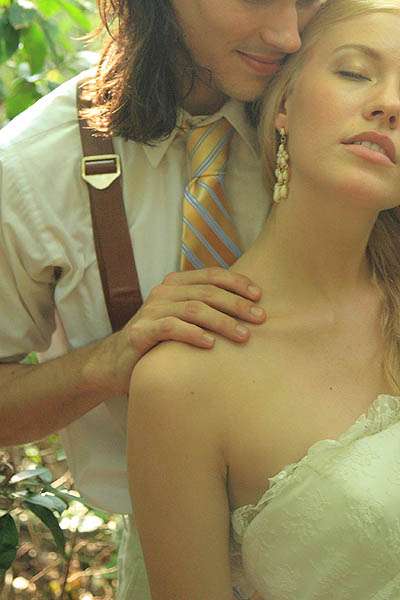 Thanks to photographer Katie for sharing this unique and stunning eco wedding with us today.
ps pleeease don't you forget that you only have until Sunday to get those entries in for the Trash the Dress contest!
Credit: Katie Rivers Photography