When I saw this image of the bride & groom both rocking the red shoes I knew I'd have to share – and sharpish! UK Photographer Chloe Browne sent me the sweetest email telling me all about Tara & Lawrence's Greenwich wedding: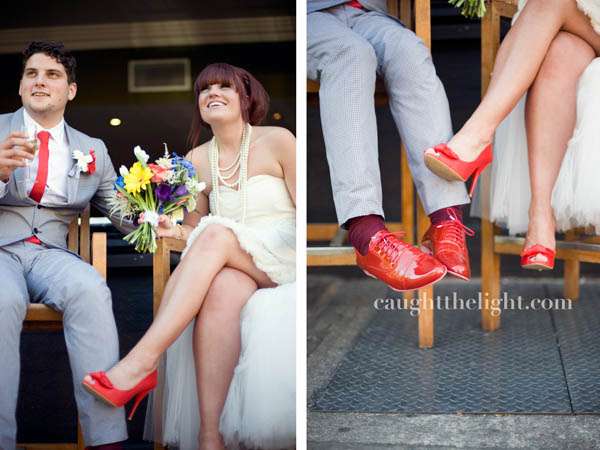 The wedding had 'colours and music' as its theme and invites (as well as table plates) arrived as personalised vinyl discs with the event details printed on them. Tara & Lawrence are a supercool, young and individual couple and chose bridesmaids in bright block colour dresses, red details (Zara & Vivienne Westwood shoes) and a dress designed by her friend Joleen Lawrence. They had their ceremony at Davenport House in Greenwich and we then headed over to Greenwich park for 10 minutes in the sunshine. I brought balloons along as I had in mind a particular photo I wanted to get and I think it worked out well. Lawrence took Tara back to see their guests on piggyback, before we all walked over to Greenwich bar & kitchen for dinner.
Thanks to Chloe, Tara & Lawrence for sharing these. Love love love..
Credit: Caught the Light