If you want to see some of the most beautiful floral details and centrepieces ever plus some pretty damn stunning beach portraits then you've certainly come to the right place!
Meghann & Edwin planned their Steampunk-Victorian-Beach-on a budget wedding with help from all their friends and family – DIY was the name of the game! I am totally in love with all their decor ideas and the beautiful floral details – this wedding proves that you can make anything look bloody amazing if you have the time and patience to do it yourself. They spent only about $200 on flowers and decor and went to The LA Flower Market the day before to get the blooms.  Meghann explained: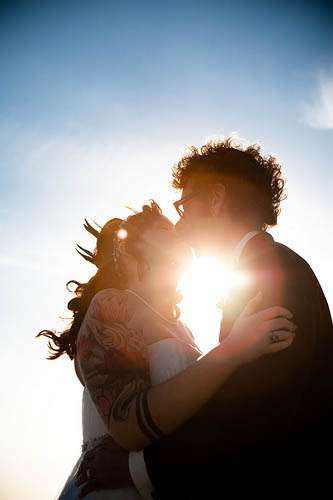 Our friends and family helped us so much! They helped make decor before the wedding, set up and cleaned up, decorated, arranged the flowers, made the bouquets, officiated, played live music (including my husband's band, Gary84), DJ'd, made the cakes, took video, took photos, did my make up, coordinated the whole day of so I wouldn't have to, coordinated the rehearsal, and my bffs kept me sane the week up to the wedding and on the day of.
Meghann was a two dress Bride (and on a budget!) Her white, more traditional dress was from Alfred Angelo. Her one of a kind, custom corset was made by Desert Orchid Corsets in the UK and her black skirt (and the bridesmaid's skirts) came from a Lolita online store, Fan Plus Friend Garden and her shoes were from Irregular Choice. All the beautiful fascinators and hairpieces were handmade by Meghann herself (she will be selling them on her etsy store soon.)
The crystal and pearl wire headband (the crystals were from my grandmothers' necklaces), I knitted the shawl, decorated the flower basket and sewed the ring pillow. My husband did all the graphic design/signage/cards, etc, and we collected the various glassware and antiques ourselves from thrift stores (and family contributed some too!).
Thanks to the lovely Meghann for sharing her wedding and all these amazing details with me!
Credit: Lily West