The Beatles had it right you know…Love Me Do Photography are worth writing home about. I am starting to become their very own personal blog stalker and seem to end up sharing everything they shoot!
Courtney & Justin had an eco friendly wedding at The Old Mill in Rose Valley, PA.
We were amazed with the subtle natural aesthetic and the charming vintage vibe. It is a historic mill that sits in a rhododendron-lined woodland valley right alongside Ridley Creek the couple explained.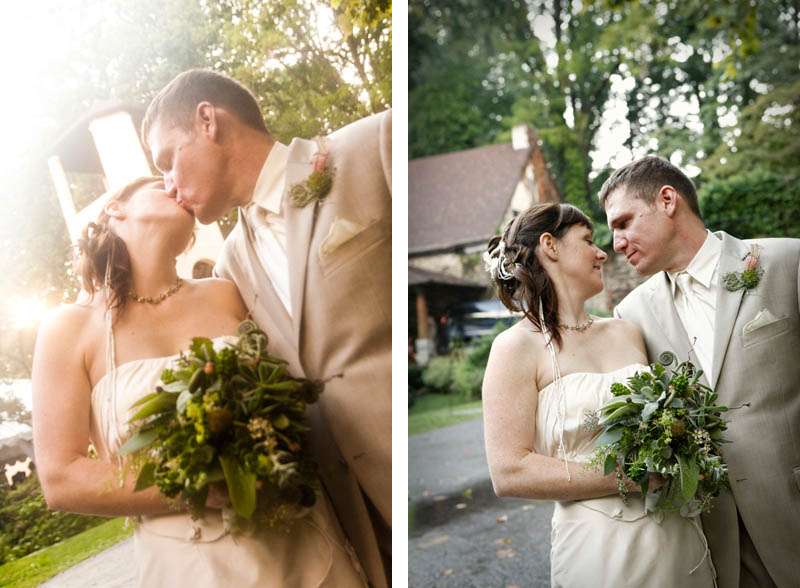 For the first 3 months of wedding planning, I scoured the internet looking to purchase for anything wedding related – used dresses, used décor, you name it! I hit the jackpot when a bride from Philadelphia posted an ad on Craigslist selling all the décor used in her "Rustic Vintage" wedding. I bought all of her wedding decorations, including:
• Vintage mason jars, antique medicine bottles, and painted metal charger plates used for the table centerpieces.
• Green and brown ribbon boards (a DIY project) which were used to hold the place cards
• Metal lanterns which our florist used to create an amazing display of artistic genius (see Flowers, below)
• Hand crafted table numbers made from framed wooden numbers on a fabric backing
I loved the glass and metal and DIY spirit of the décor – it fit our style perfectly, it fit our color scheme perfectly, and it was an eco-friendly reuse of someone else's wedding items! In fact, we are planning to sell the décor items so that another eco-conscious bride can reuse it all for her own wedding. It's exciting to think that those items will create happiness for another bride!
Courtney's dress was from Adele Wechsler's line of eco-friendly dresses. Initially she discovered she couldn't afford her perfect dress but lucky for her at Philadelphia's UnBridaled Expo Adele was giving away a gift certificate for one of her dresses and guess who won!? Clearly it was meant to be.
The succulents they used were bought from a local garden centre and were put together with moss and flowers collected from various friend's gardens to give a unique and natural look. They were put together by Joyce Wilder, along with her husband Branden Sharpley of Katie Mac Floral Design. 
For all the rest of their eco details, be sure to check out Love Me Do's Blog, (thank you to Amanda & Carina for sharing as usual!) but for now…
Love, love me do.
You know I love you,
I'll always be true,
So please, love me do.
Whoa, love me do.
  The Beatles
Credit: Love Me Do Photography