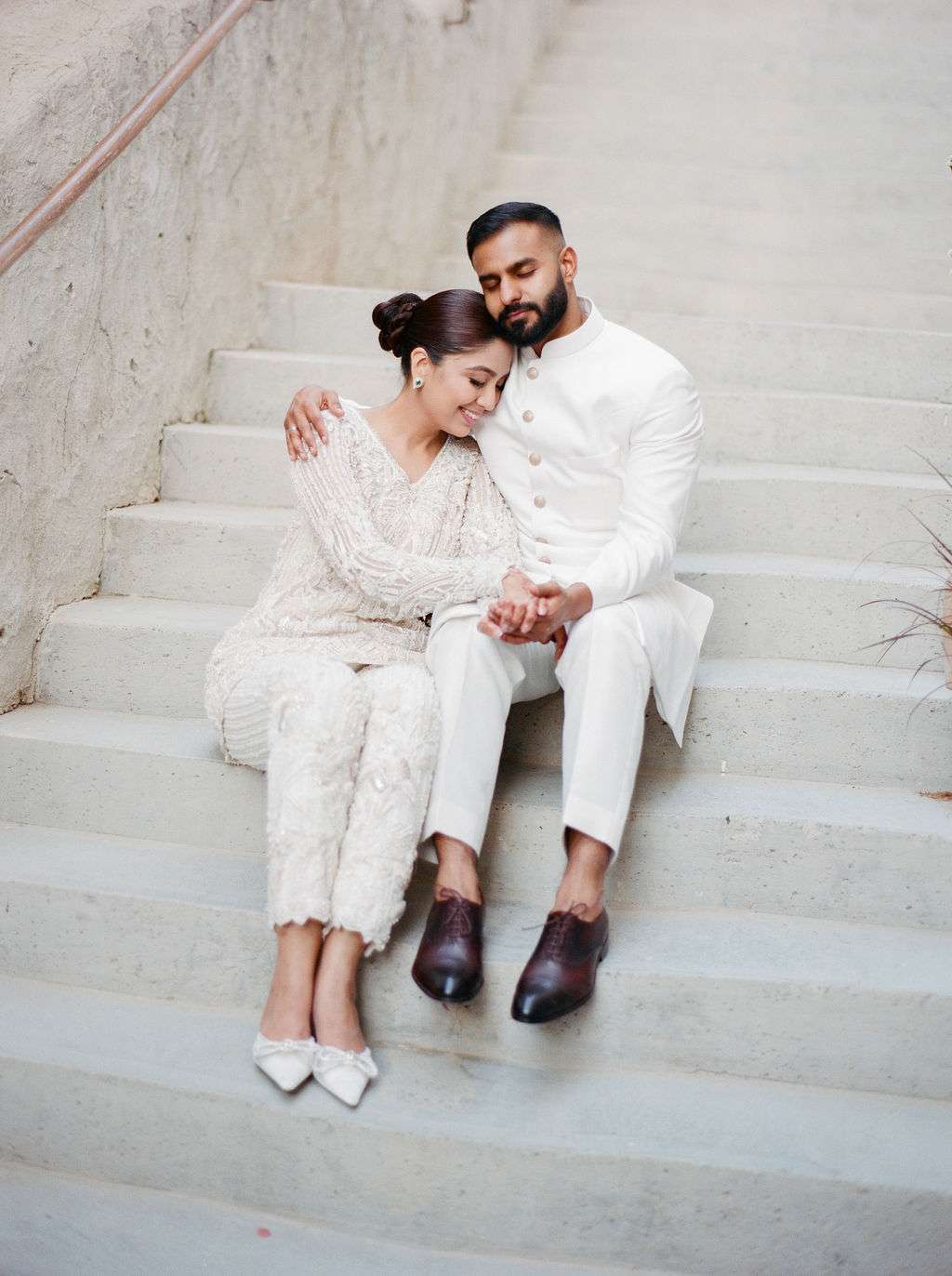 Sabah, an Indian Muslim and the creative director of Mumbai-based wedding design company Atisuto Events, married Usman, a British-Pakistani business and economics professor, in an intimate 25-person wedding in Dubai. Meeting over Hinge during the pandemic, they first met in person in August 2020 and they were married in December 2021.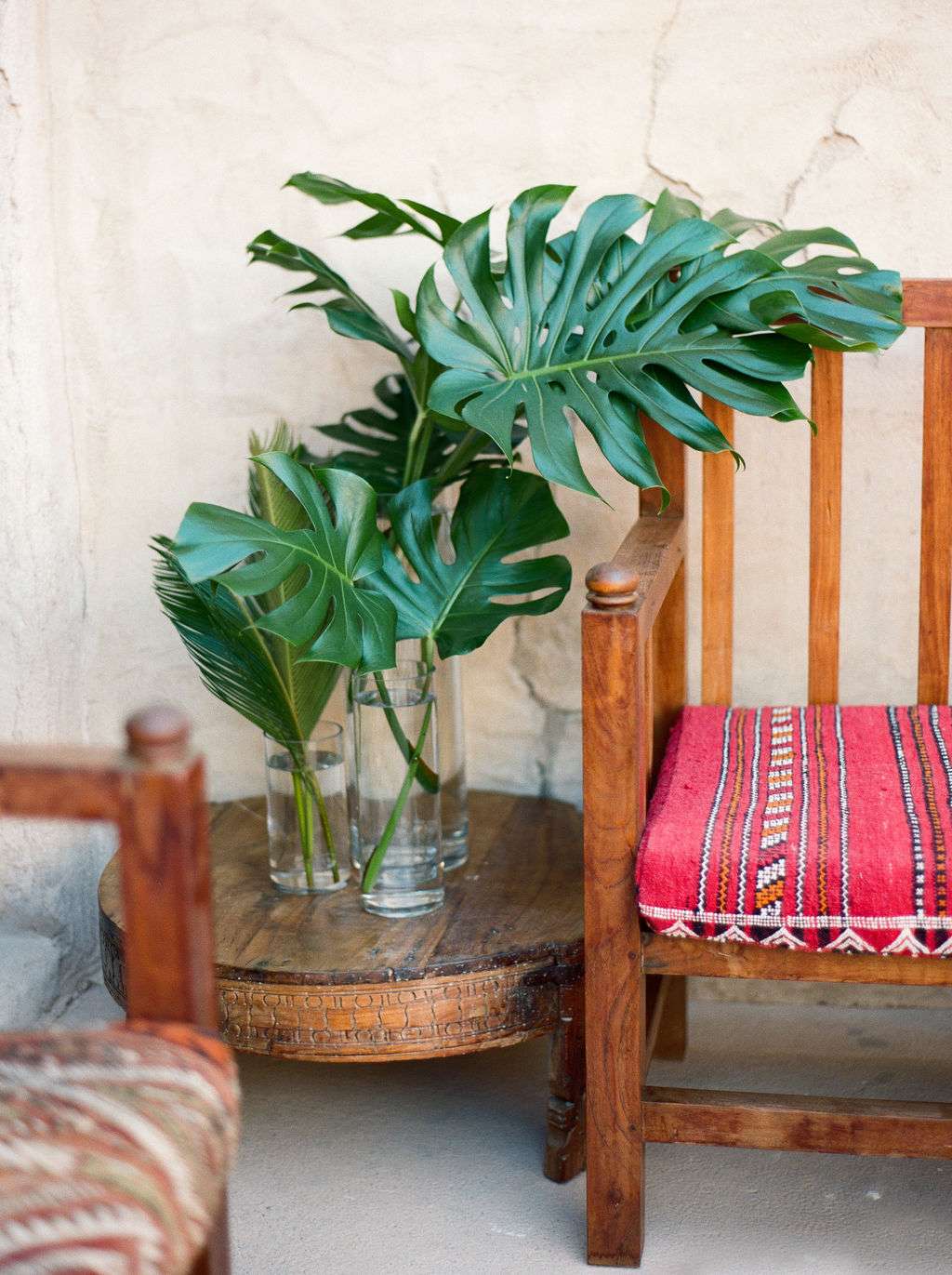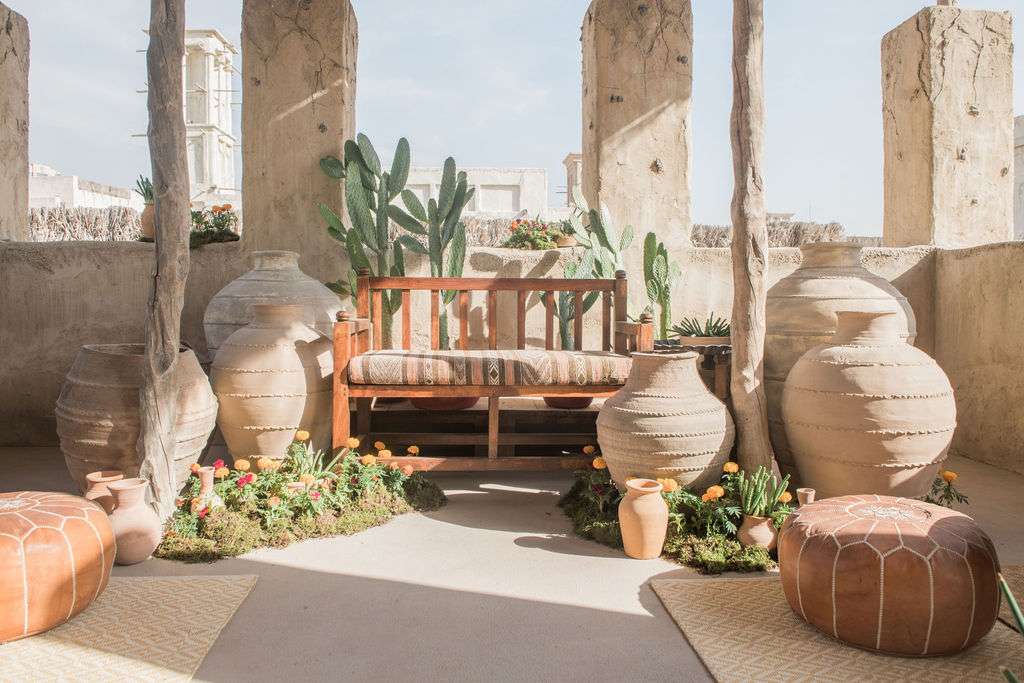 The couple wanted an a small wedding which could double as a holiday for their guests. "As Usman was brought up in UK and I had been living in India, due to the pandemic most of our family members only met for for the first time on our wedding day!", Sabah told us. "However, we did manage to get our parents to meet in between the slightly better months of Covid to finalise all the details."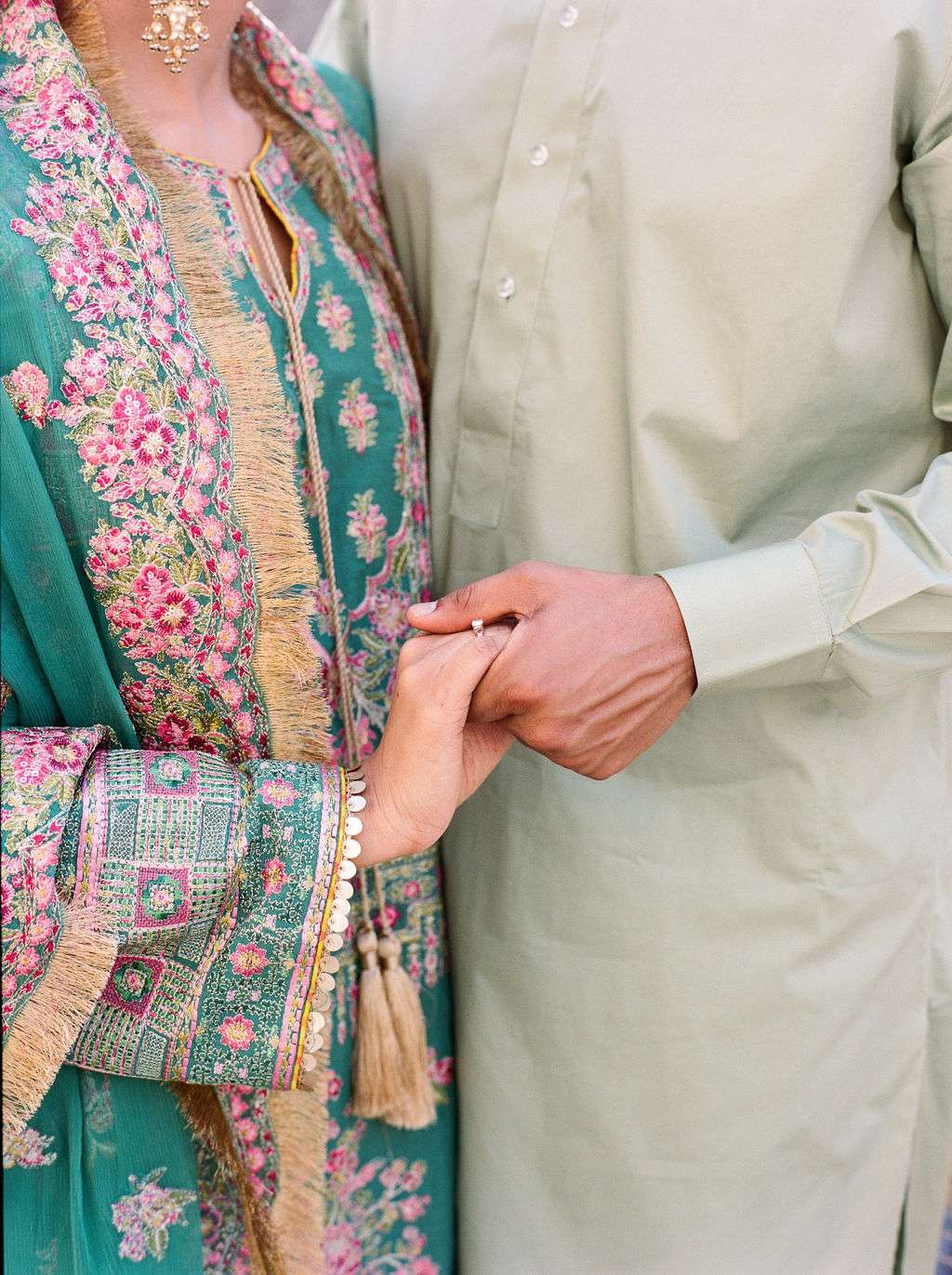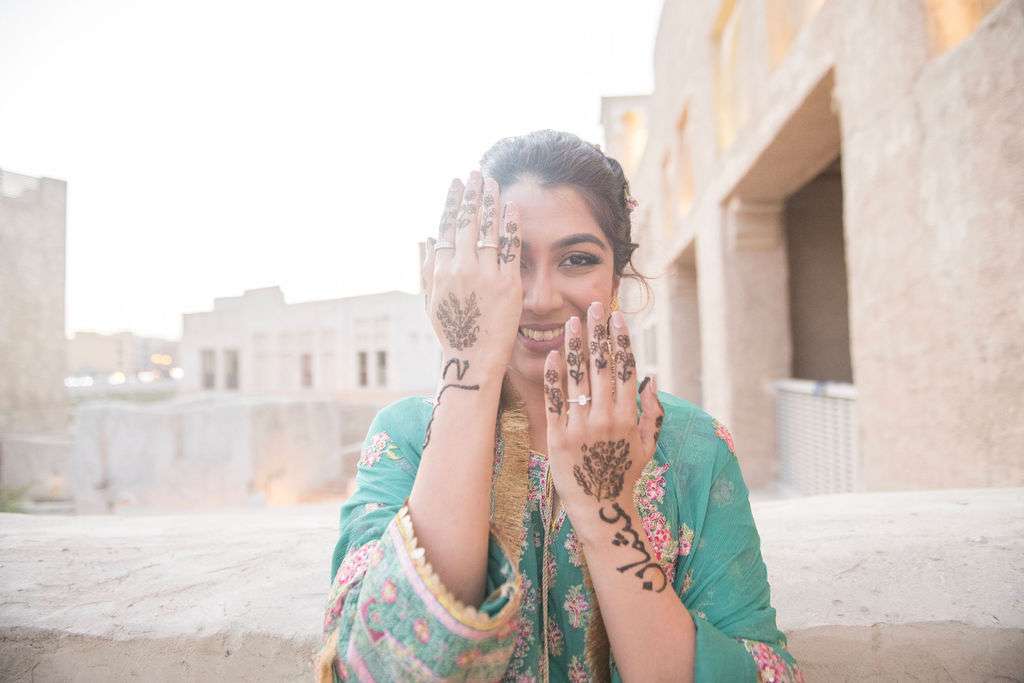 Inspired by their cultures and old world Arabia, the day was held at Al Seef Heritage Hotel, Dubai. "We came across Al Seef Heritage Hotel, nestled in the Al Seef Souq, it's one of the most beautiful rustic-heritage hotel's in Dubai. The first day we visited, we instantly fell in love. As a wedding designer myself, I decided to get into immediate planning. I had an extremely particular vision and we worked closely on the stationery, décor and event experience. Although it was intimate, it meant even more to us."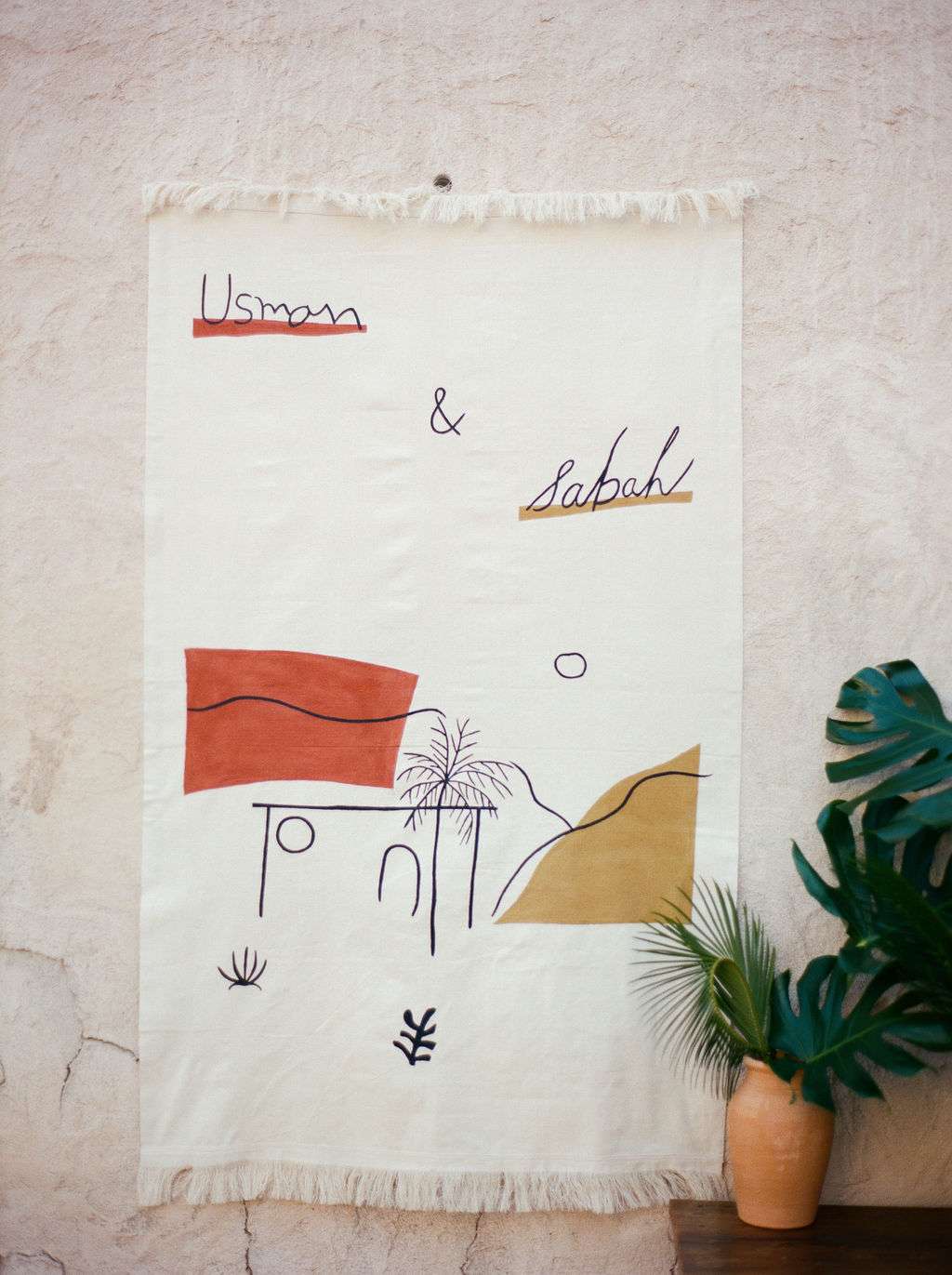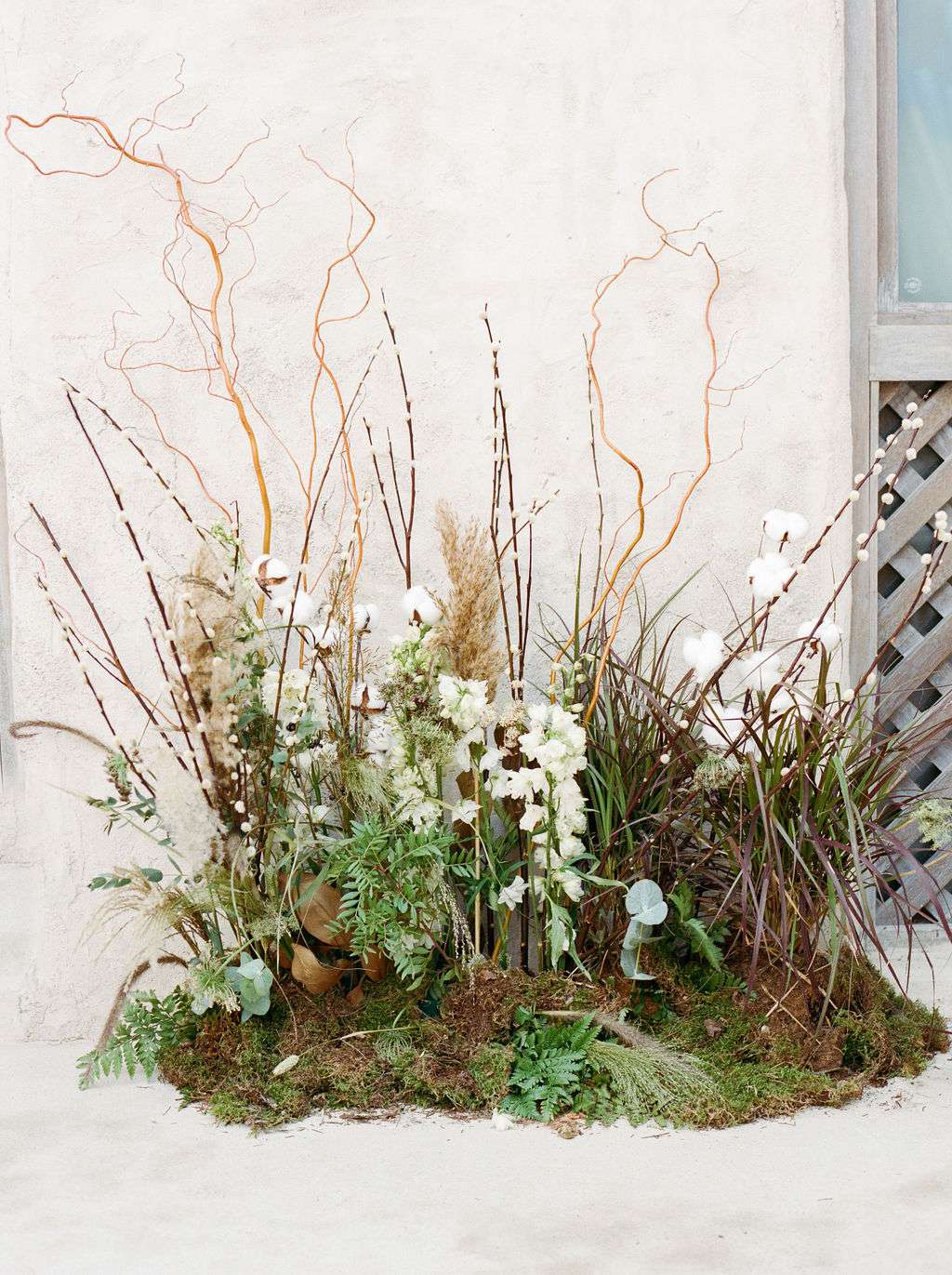 This wedding proves that small doesn't have to mean low-key; this couple went all-out to make a beautiful, cohesively themed event with neutral-toned details, which were chosen to reflect the colours and tones of the the Majlis and mud houses of a middle eastern souk, which the hotel overlooks.
The bridal seating was encompassed by traditional Indian marigolds and moss grown flowers, locally sourced handmade terracotta pots and dessert cacti (which now reside in their garden at home). Guests sat on wooden heritage benches, furniture and pouffes, while the low tables were dressed with fruit to bring in colour. "We added a personal touch with bottles of oud oil and intricate Moroccan hand fans, made by local vendors, which our guests to take home as souvenirs."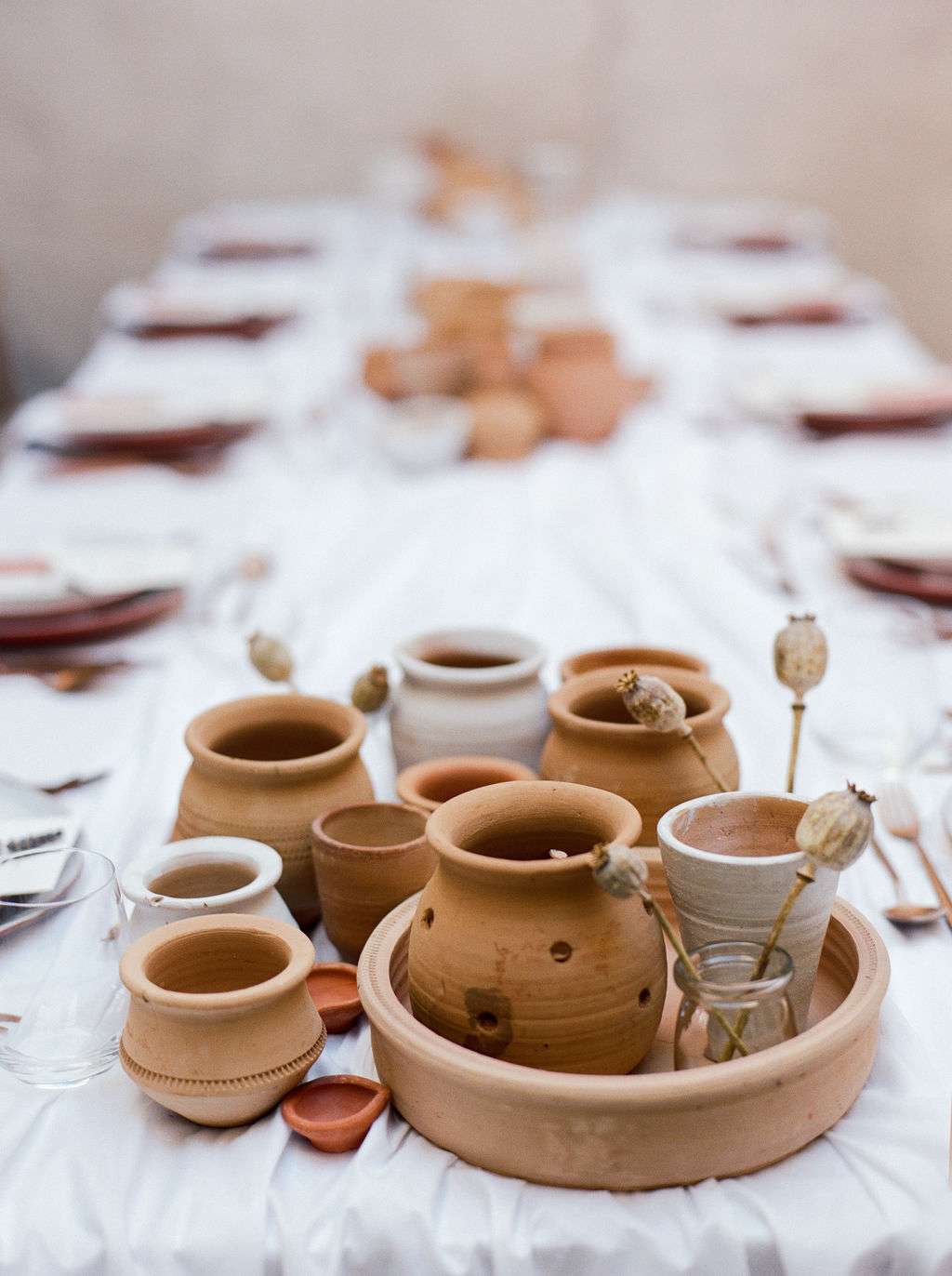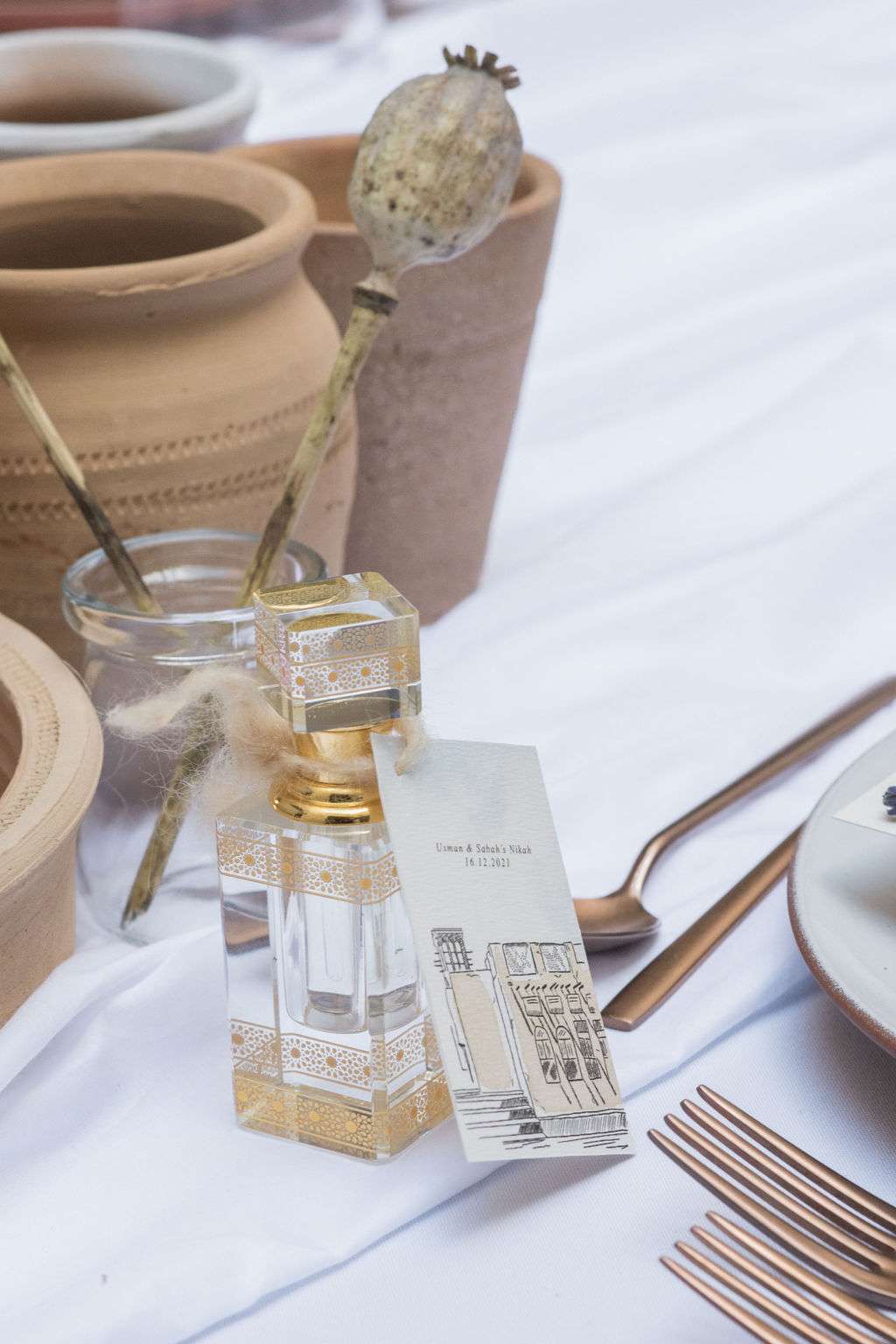 Having a day which was sustainable, and used local suppliers also meant a lot to this pair. They are both big fans of Kunafa (a local Arab sweet) and so they asked the chef at the hotel to create a life-sized Kunafa surrounded by wheat grass and they cut that as their cake. They served authentic Indian and Pakistani food and the nikaah ceremony was against the hand-painted backdrop featuring a verse from the Quran, which now hangs in their home.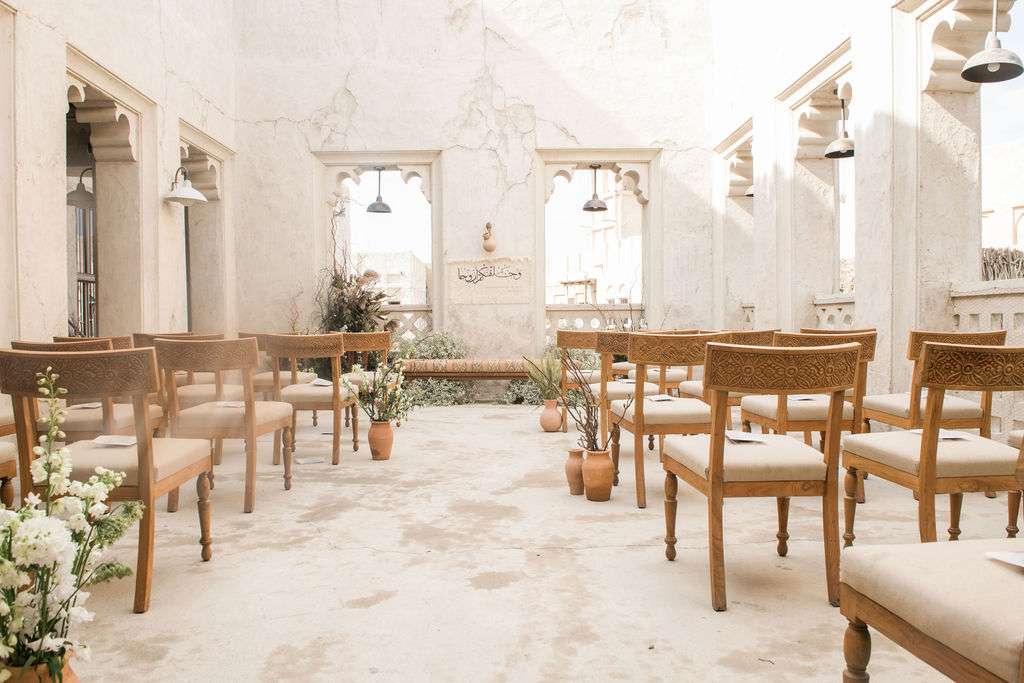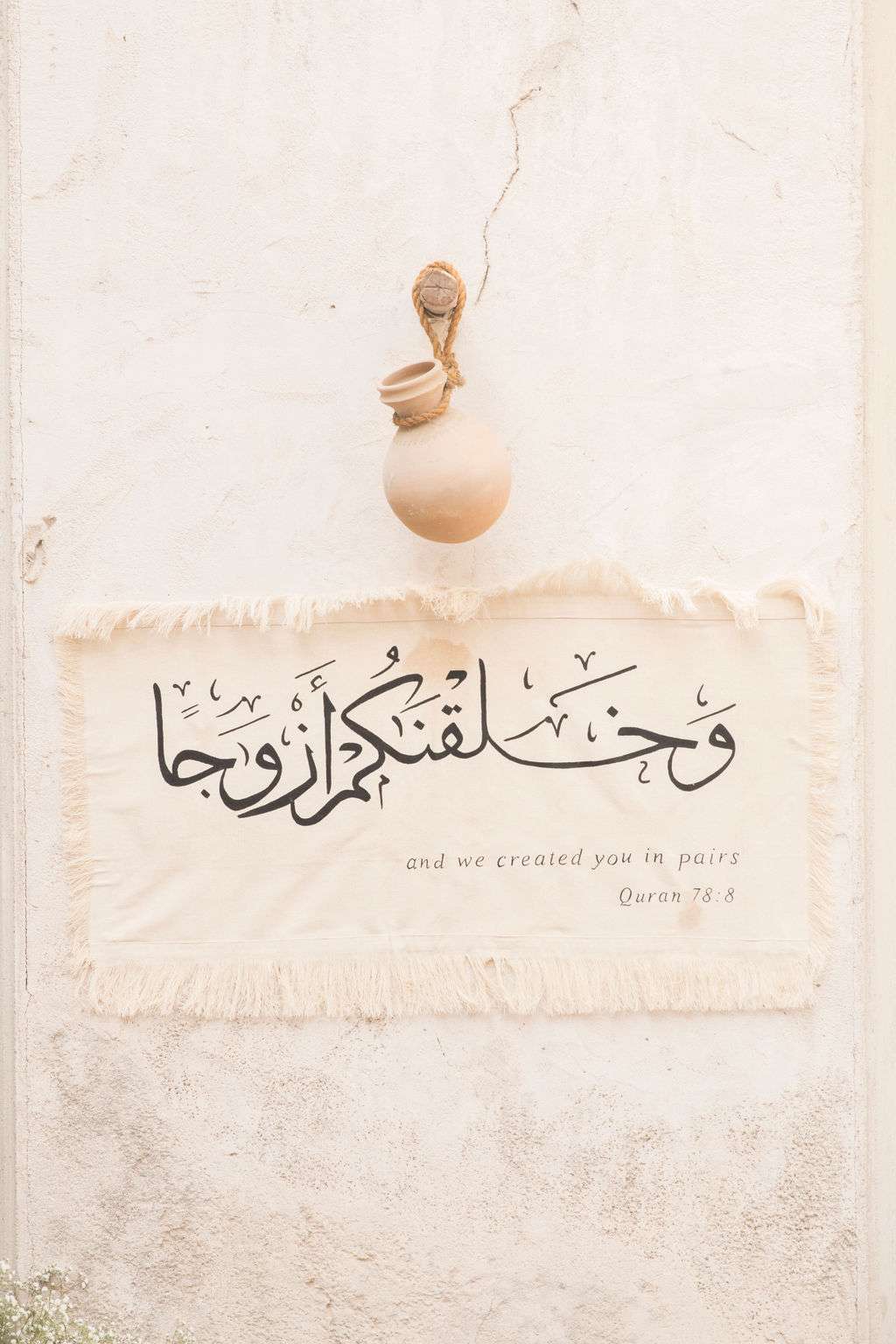 All the bride's outfits were designed by Pakistani designers. Being stuck in Dubai because of the pandemic, they couldn't visit the designers in Pakistan, but they worked with them online and were thrilled with the results. "We received them in Dubai very close to the wedding! It was extremely stressful but now I can say it was worth the risk!"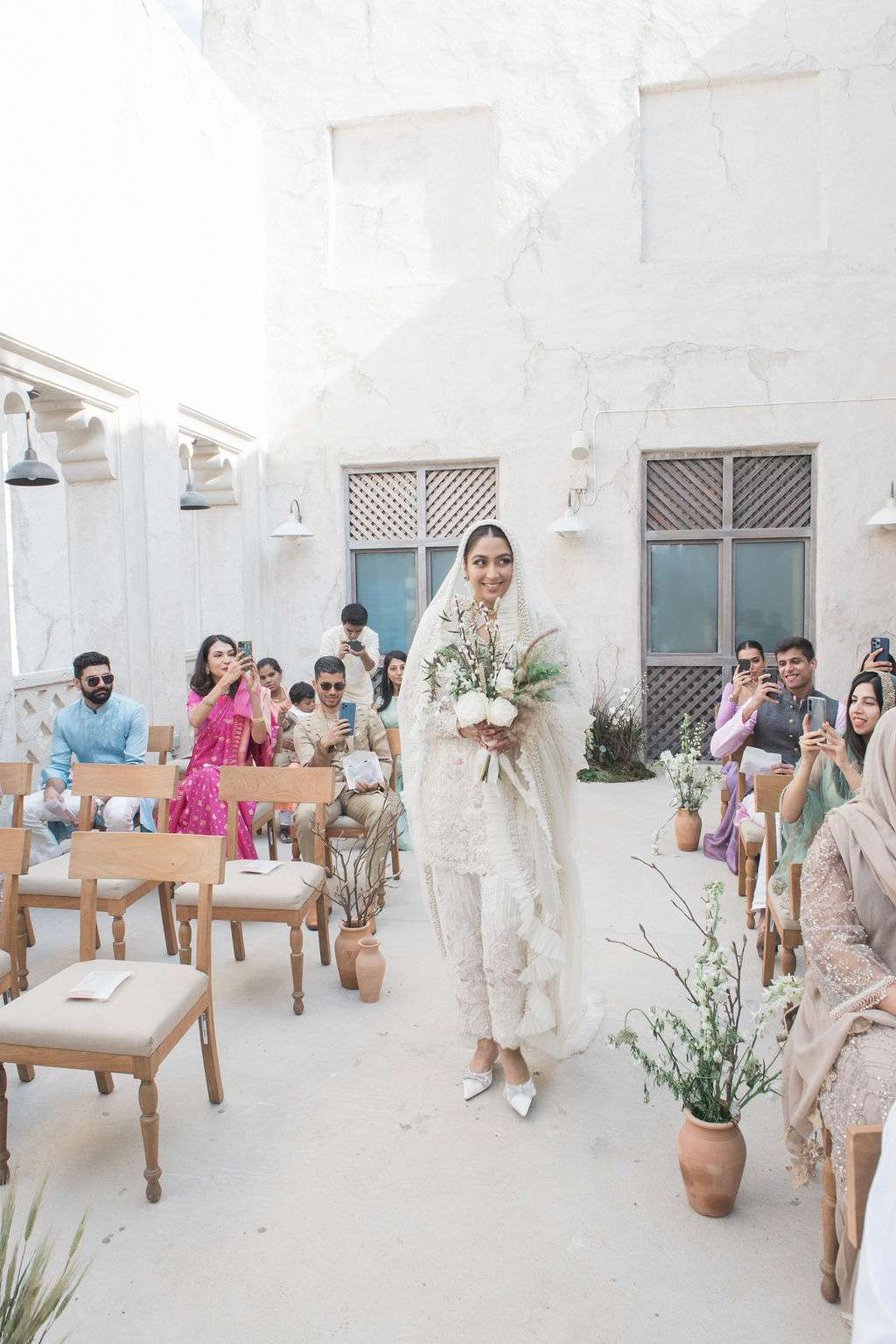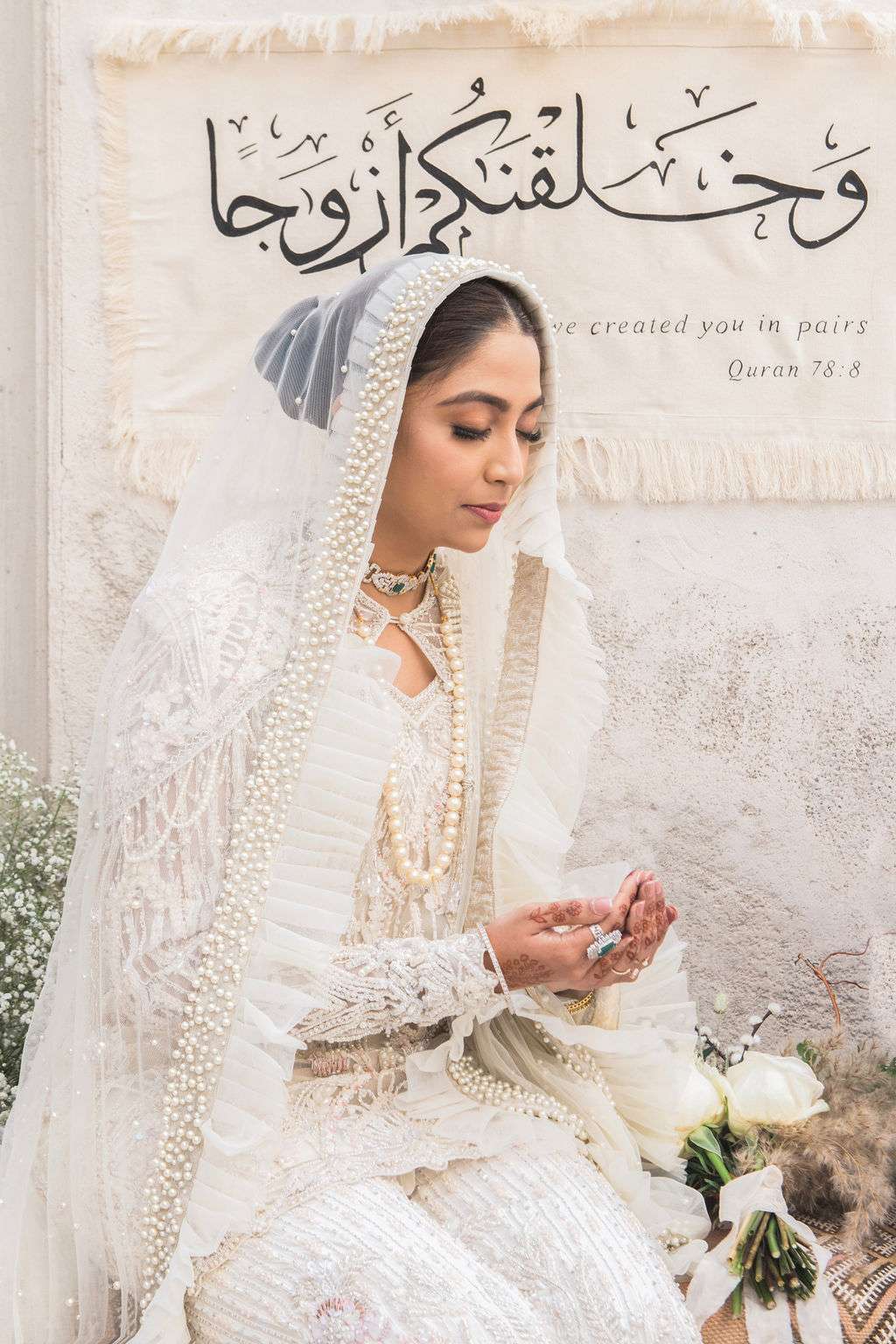 Sebah's getting ready pyjamas came from Stokrotka, based in Ukraine, and her wedding day outfit was a trouser suit designed by Sana Yasir of Suffuse Brides. "We both knew we wanted an all-white wedding as we both love neutrals. I worked with Suffuse to 'reimagine' a pant-suit with a more traditional approach. We created a short kurta with a embellished cape and narrow pants which were completely adorned by thousands of pearl and stone work. The veil was also made with ruffles and pearls."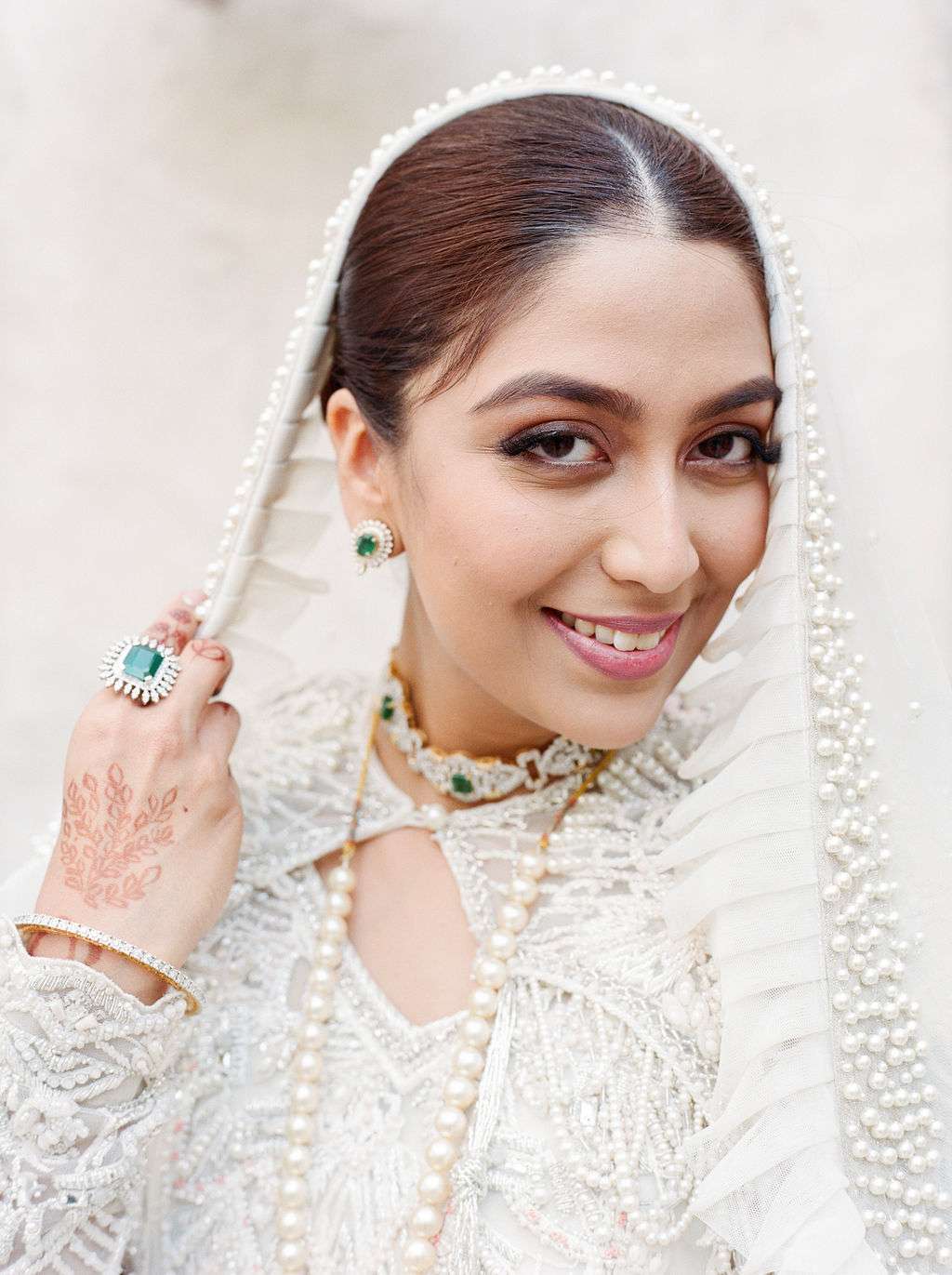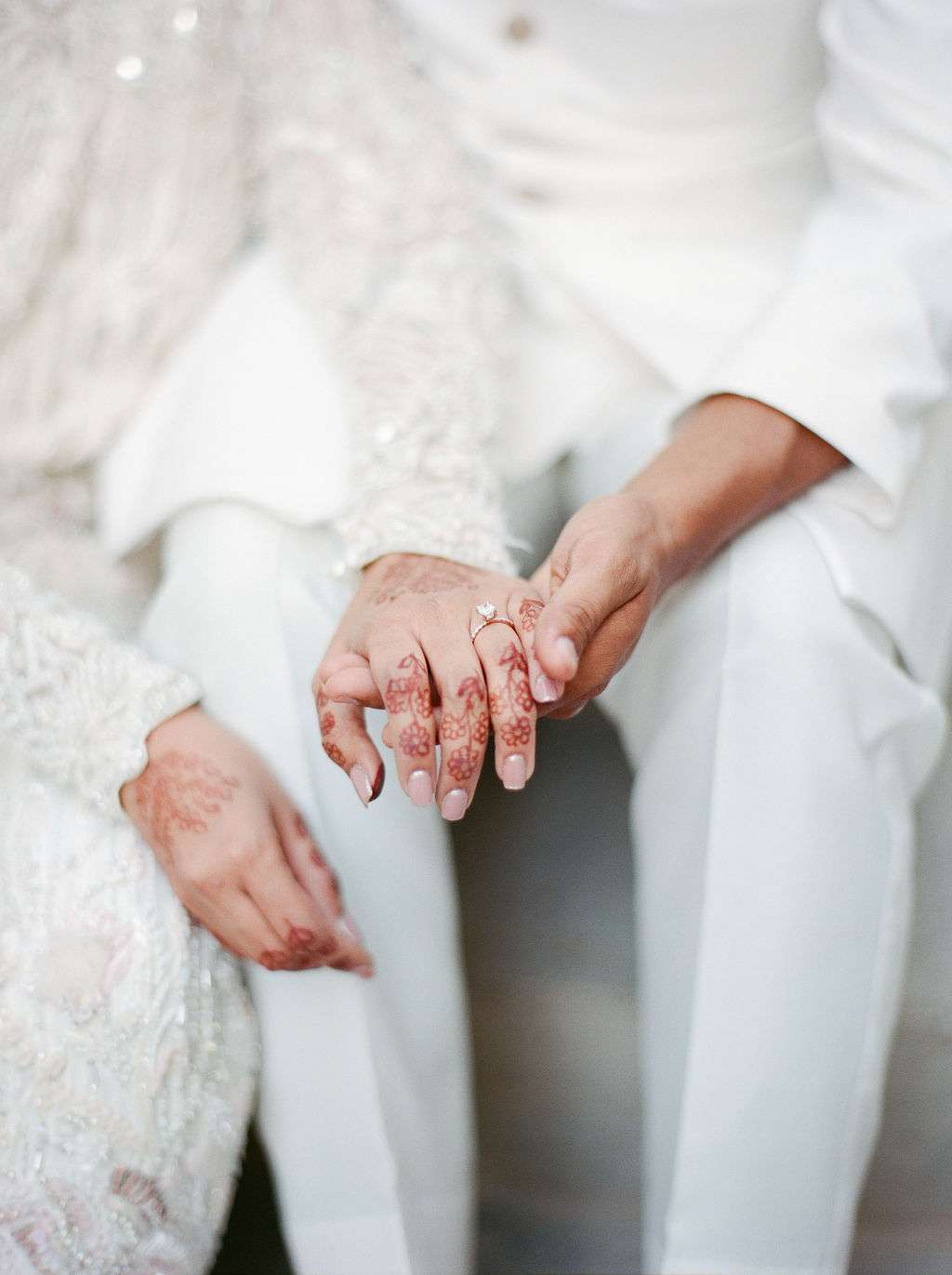 "I had some of the best industry experts to help me bring this vision together", the bride concluded. "Being in this industry myself, I completely understand how easy it is to move away from the intimacy of an event but we were adamant that we wanted to have a wedding that reflected our personalities. My friend Tina Bakshi of Lateral Events helped me do all the last minute coordination With endless calls and back and forth, she helped me coordinate the wedding between Dubai and India and I cant thank her enough."