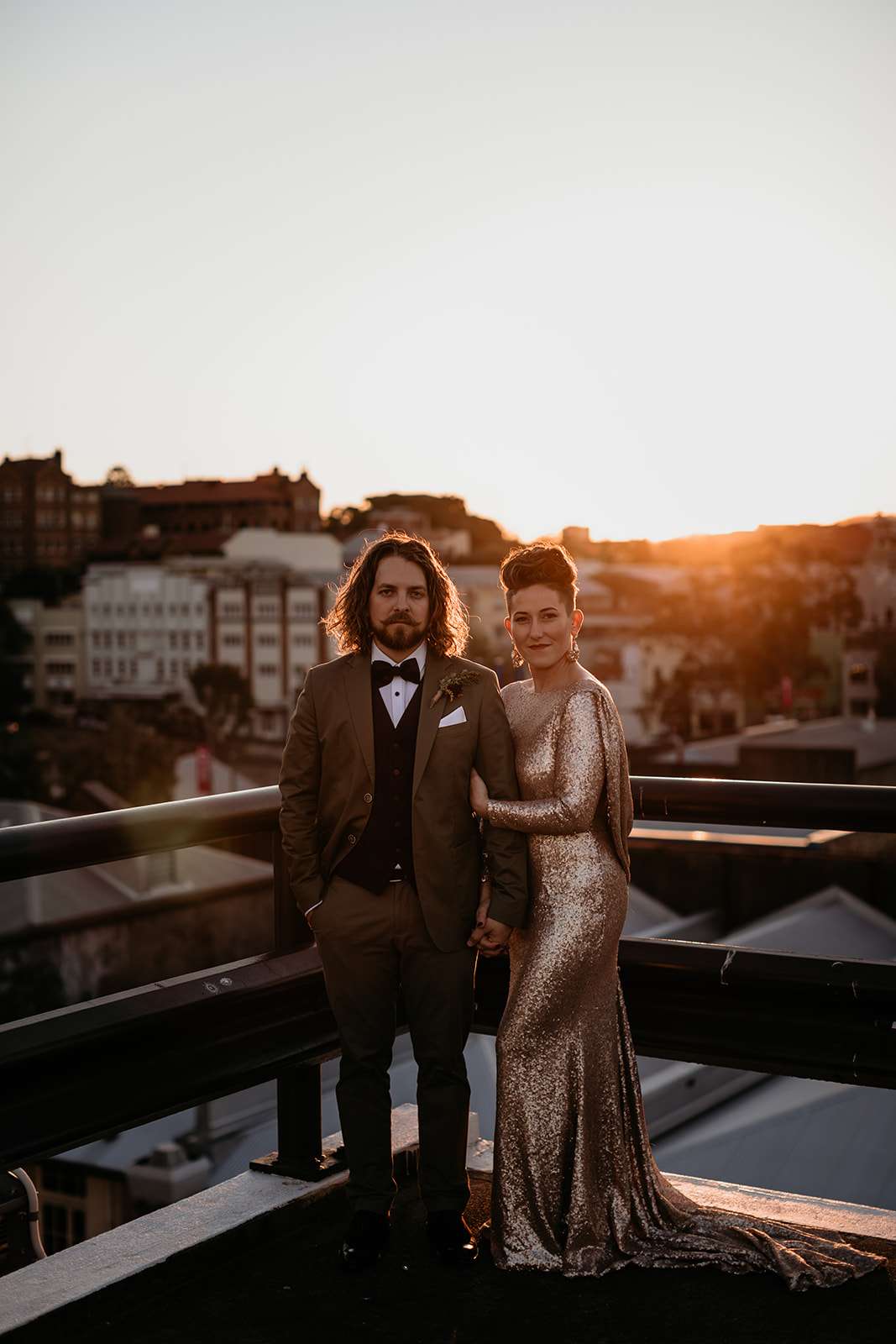 Dan and Kimmy's Brisbane wedding was a healthy mix of both traditional and contemporary elements. They had an eclectic, rustic, industrial theme and the venues, The Brisbane Powerhouse and The Black Brisbane, were chosen because of the lighting and ambience they provided.
"Our inspiration was doing it our way and in a way that felt right", Kimmy told us. "We just wanted it to be a celebration of our love…because I had always vowed I was never getting married again!"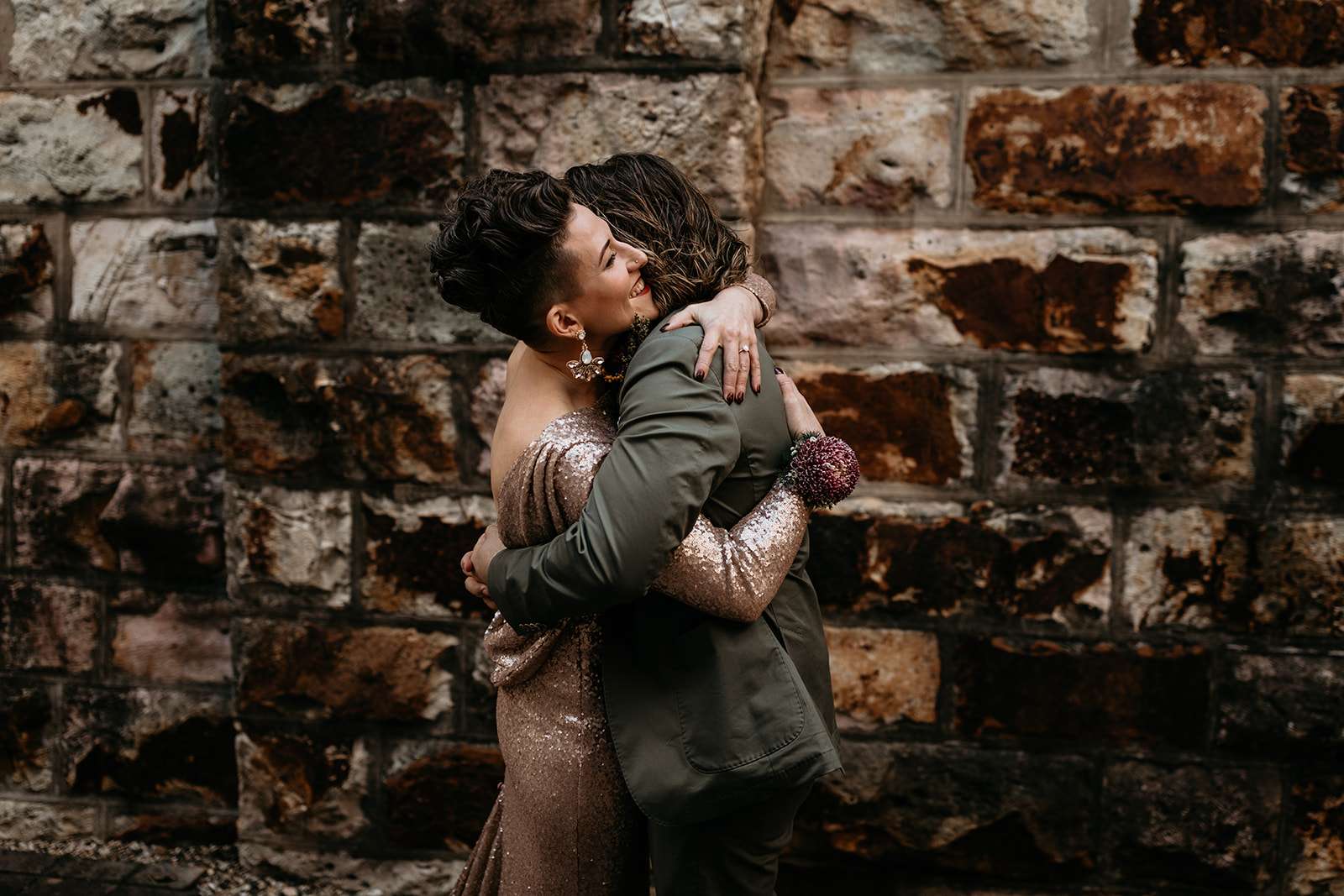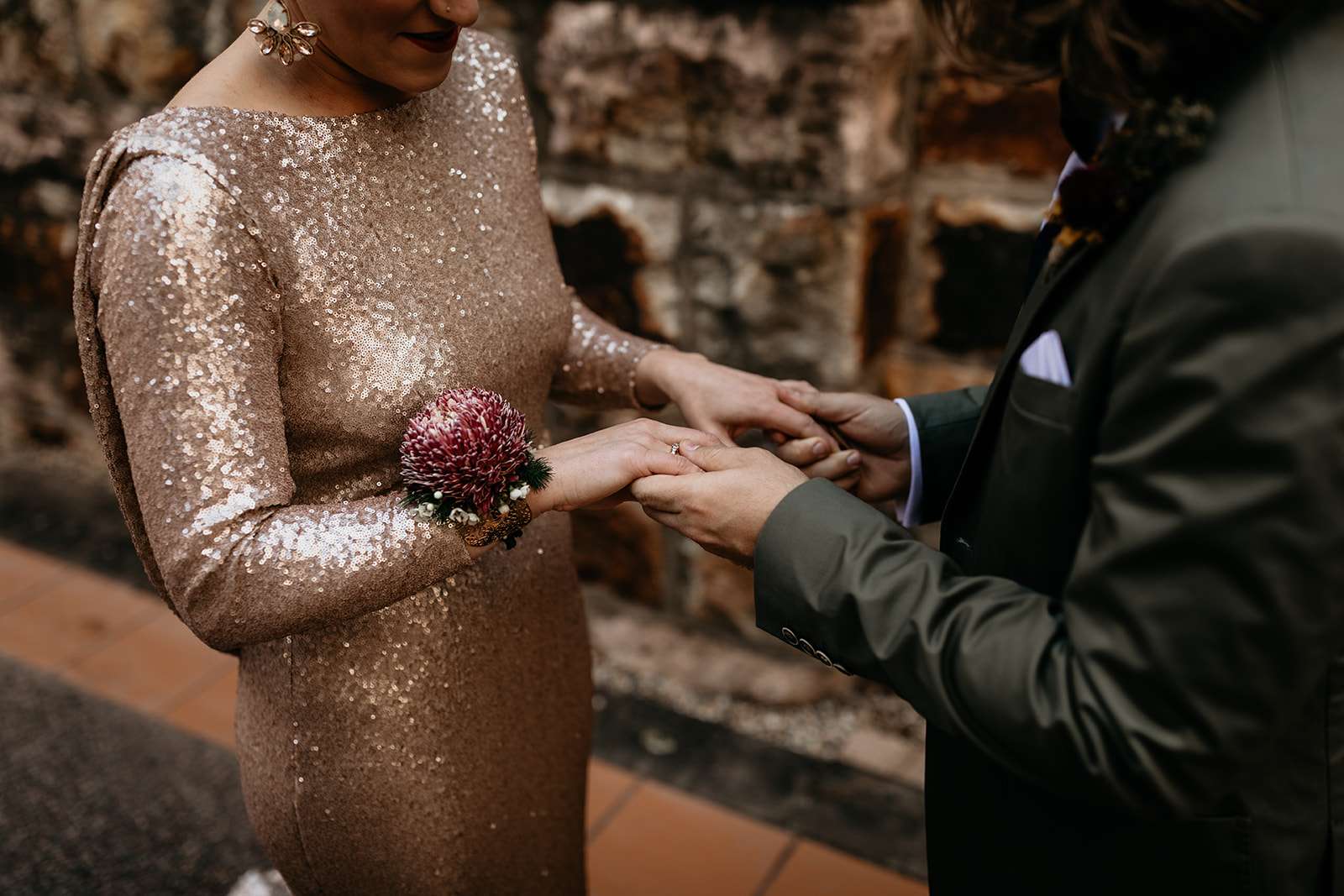 They didn't have a bridal party, Kimmy didn't wear white and they chose to have their ceremony in the venue's usual 'backup wet weather option', because it felt right for them. "Our families walked down the aisle in front of me, like a bridal party usually would, I got my eternity ring during the ceremony (because I had waited an eternity to find a love like Dan's)", she said. "The ceremony was the perfect celebration of our love. We included the kids and the ring blessing was particularly special, as our rings were carried in a handkerchief that belonged to Lena, who was a part of my family and a treasured soul, that was then sitting in a small ornamental dish from Dan's late Grandpa Jimmy and then wrapped in a piece of Dan's late Grandma's wedding dress."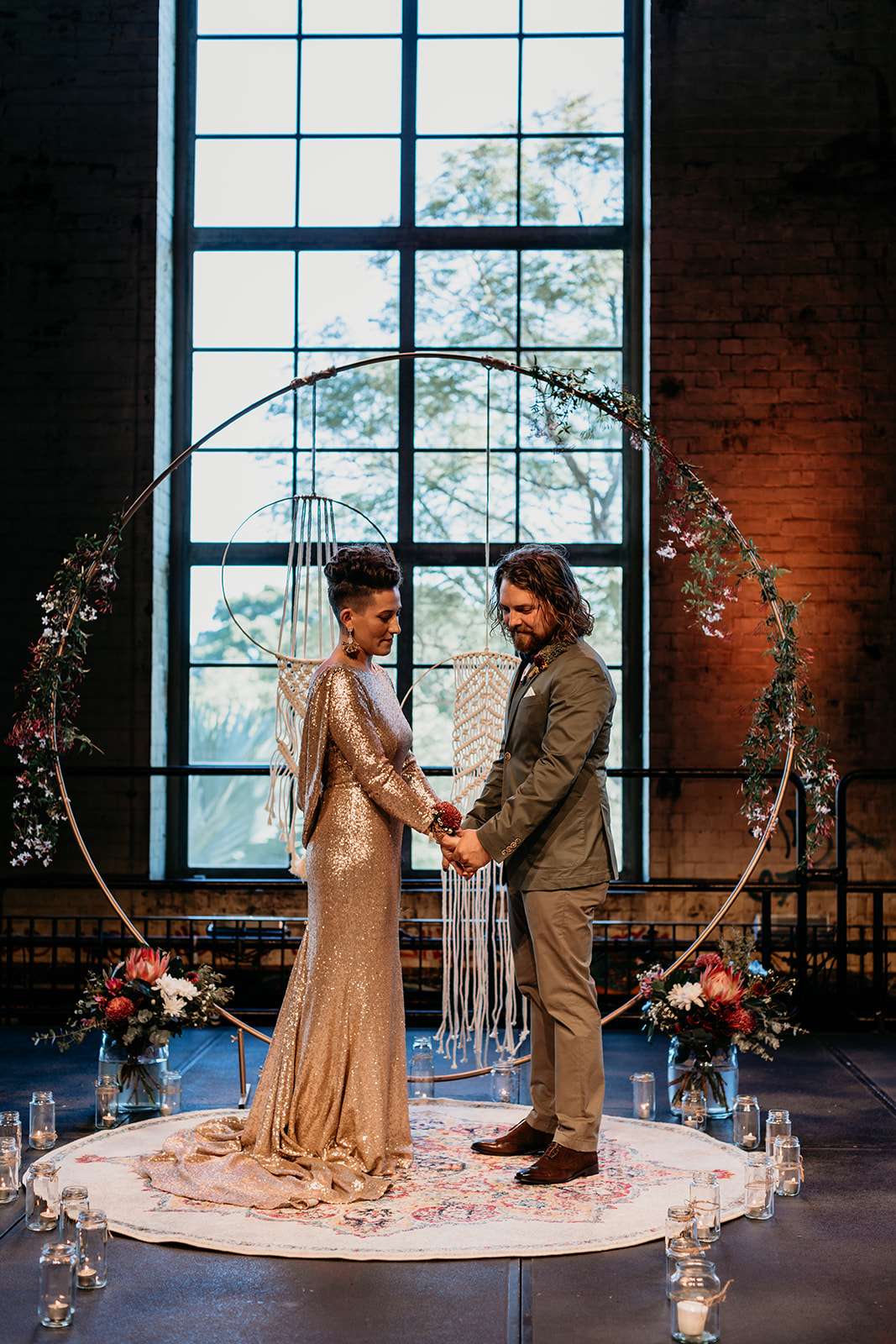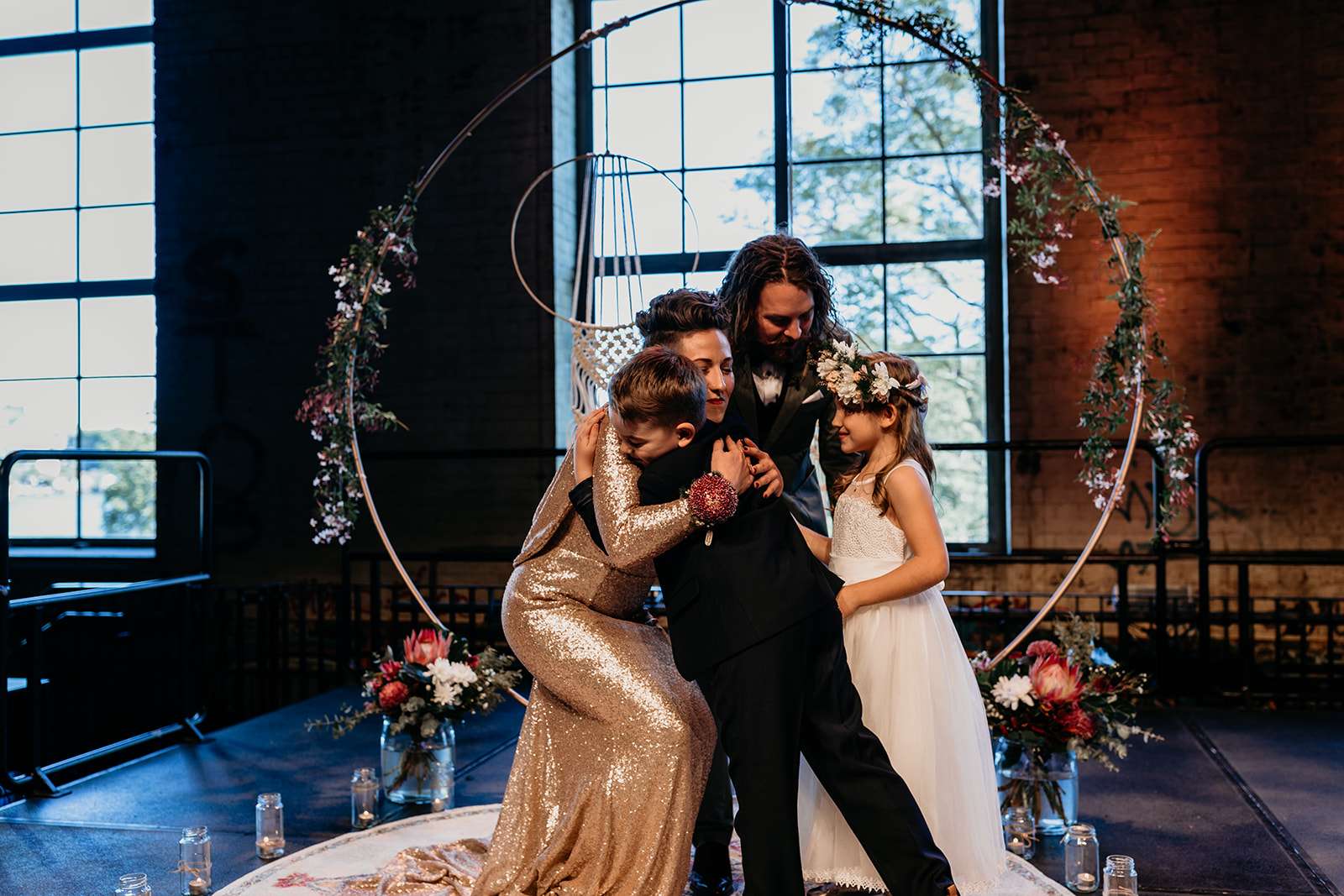 As this was the bride's second marriage, she knew she did not want to stress about the little things on the day. They went with their gut on how things felt, not what was expected of them. They only did things in a way that felt good to them and not please anybody else. Kept things simple in terms of décor, just adding family photos and a bit of greenery and candles to the tables.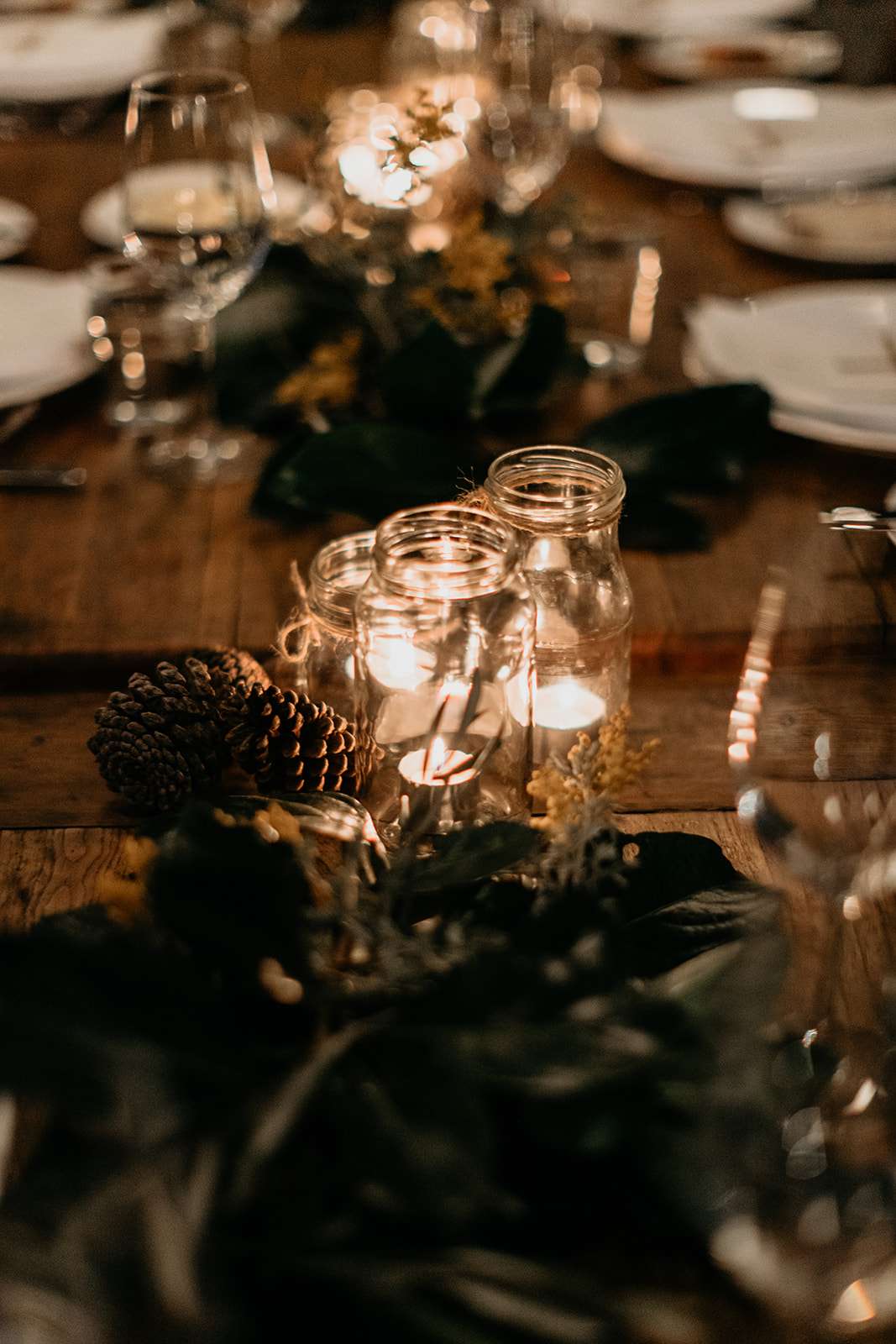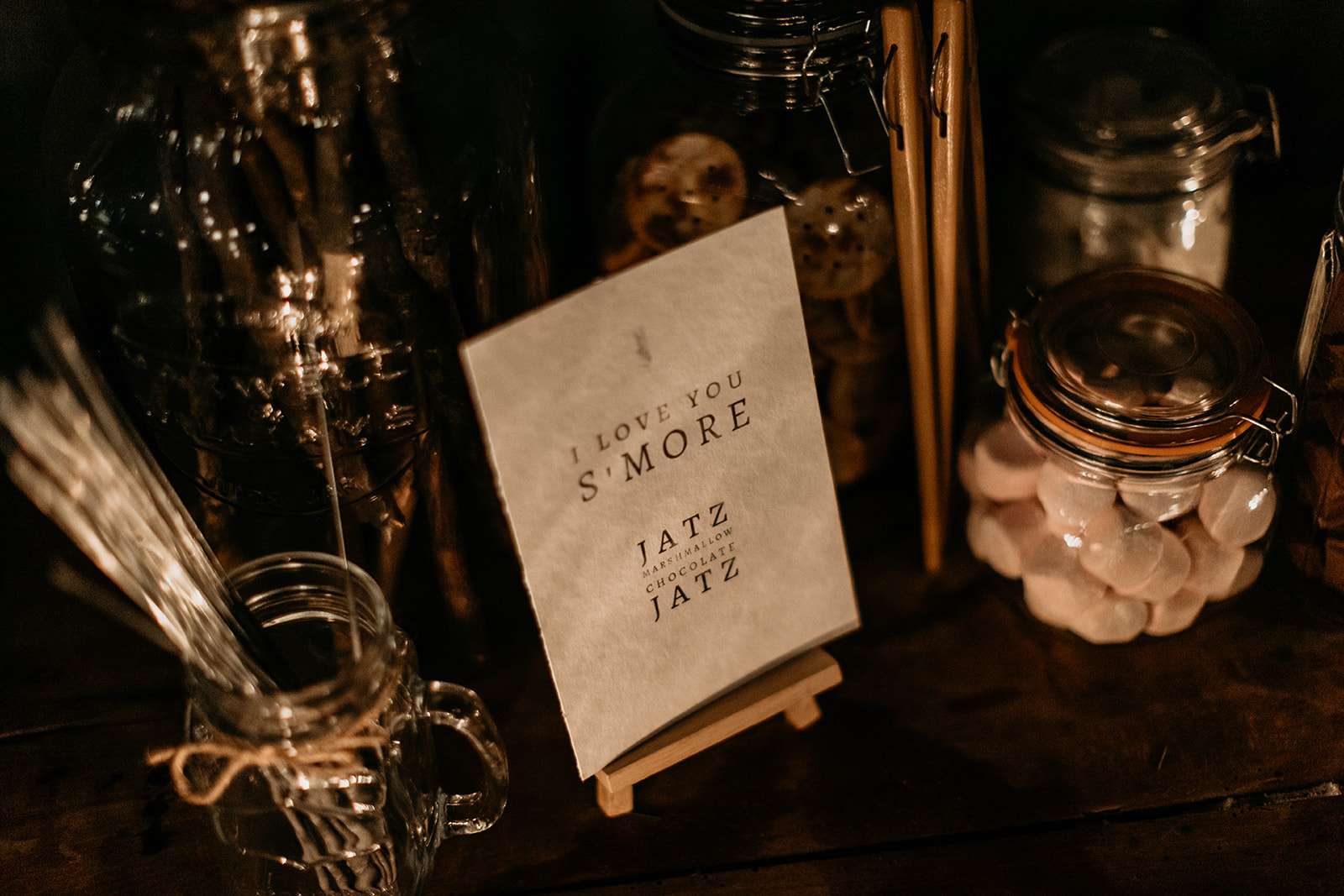 Their biggest expense was their photography and video, but as well as being the thing you have to look back on the day with afterwards, having the photos taken some of their favourite moments. Dan explained, "Having our photos taken in the carpark and spending intimate time with Kimmy as the sun went down was a real highlight. Sitting down and sharing dinner with all of our loved ones was pretty awesome too." Kimmy agrees, "As well as our unofficial first dance in the carpark as the sun went down, I loved our 'first look' and sharing the experience of seeing each other before everyone else saw us. It was so nice just to see him and spend a little bit of time together on what is a busy day."
"We hold our family as one of our highest values, so to have such a special day captured in a way that tells our story perfectly, just blew us away. We also paid for an album as we wanted to print our photos in a tangible album that we can pass down to our generations to come, not just have them sit on a USB in a drawer."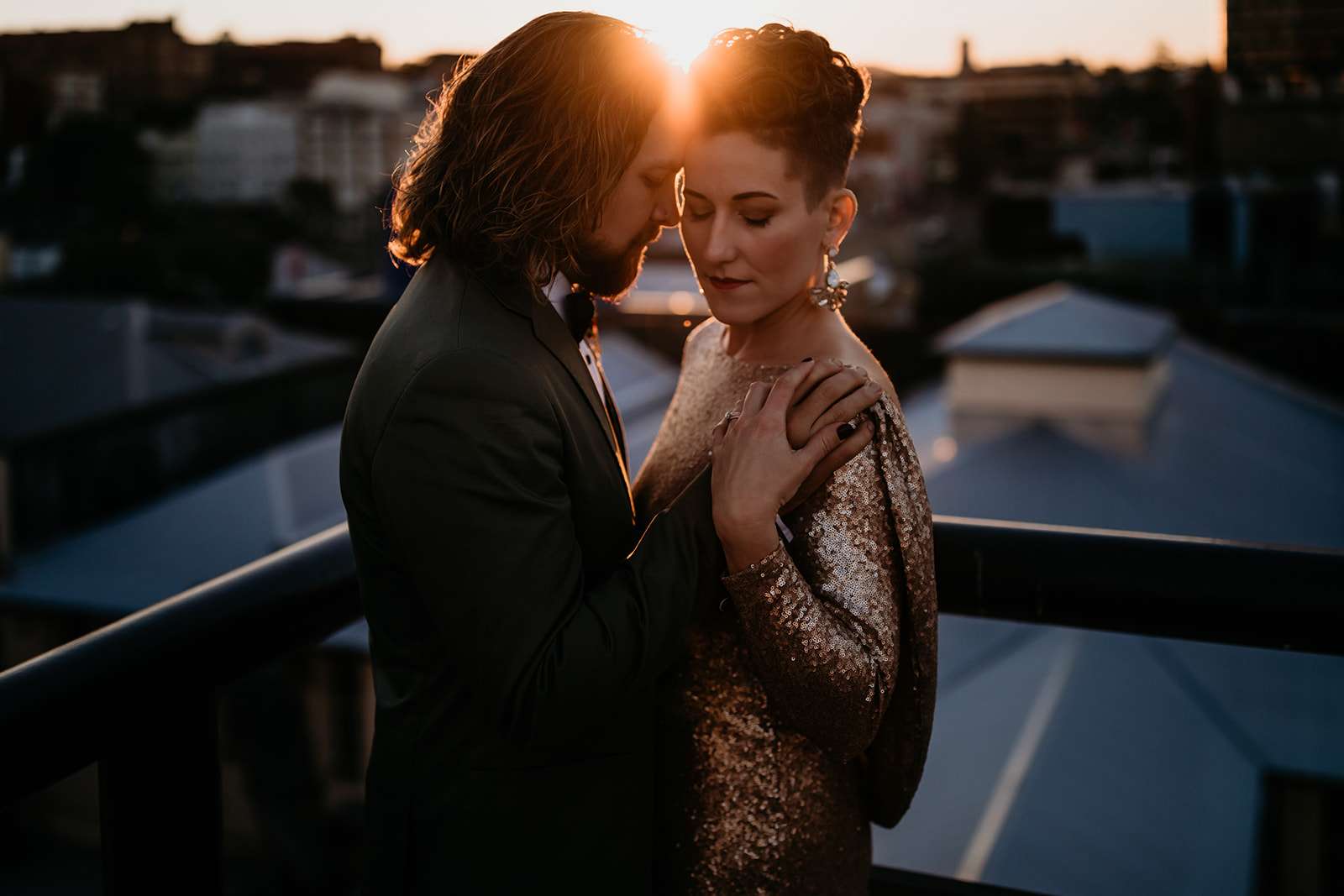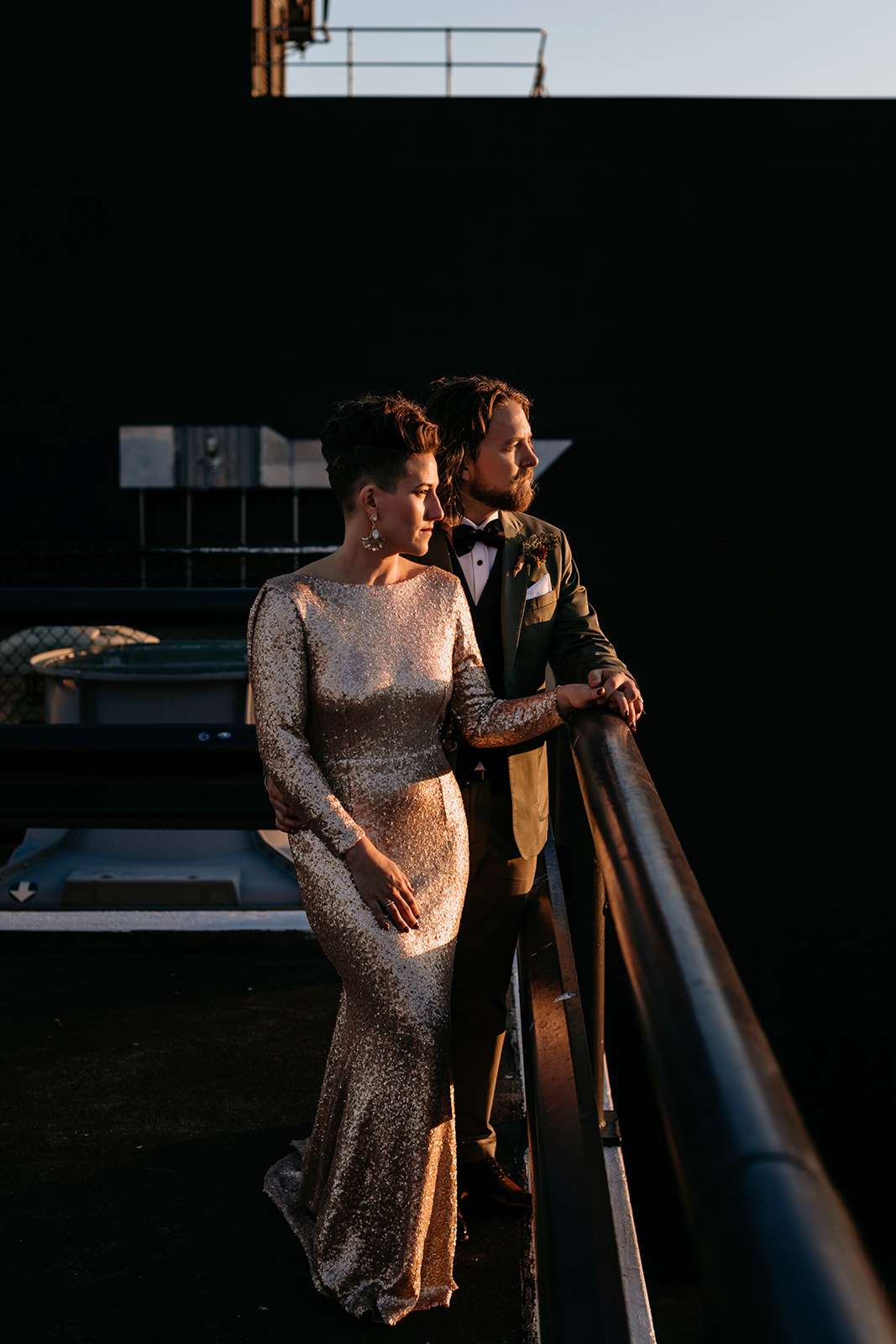 Another really special element was the groom's outfit. They explain, "Dan originally was going to do a sport's jacket and chinos. We went shopping one day together, with no expectations of finding it that day. He had his heart set on a muted khaki/olive green suit from the get go, with navy blue accents. I wasn't sure at first, but we're both creative and I trusted his judgement, I just wanted him to love what he was wearing, on such an important day."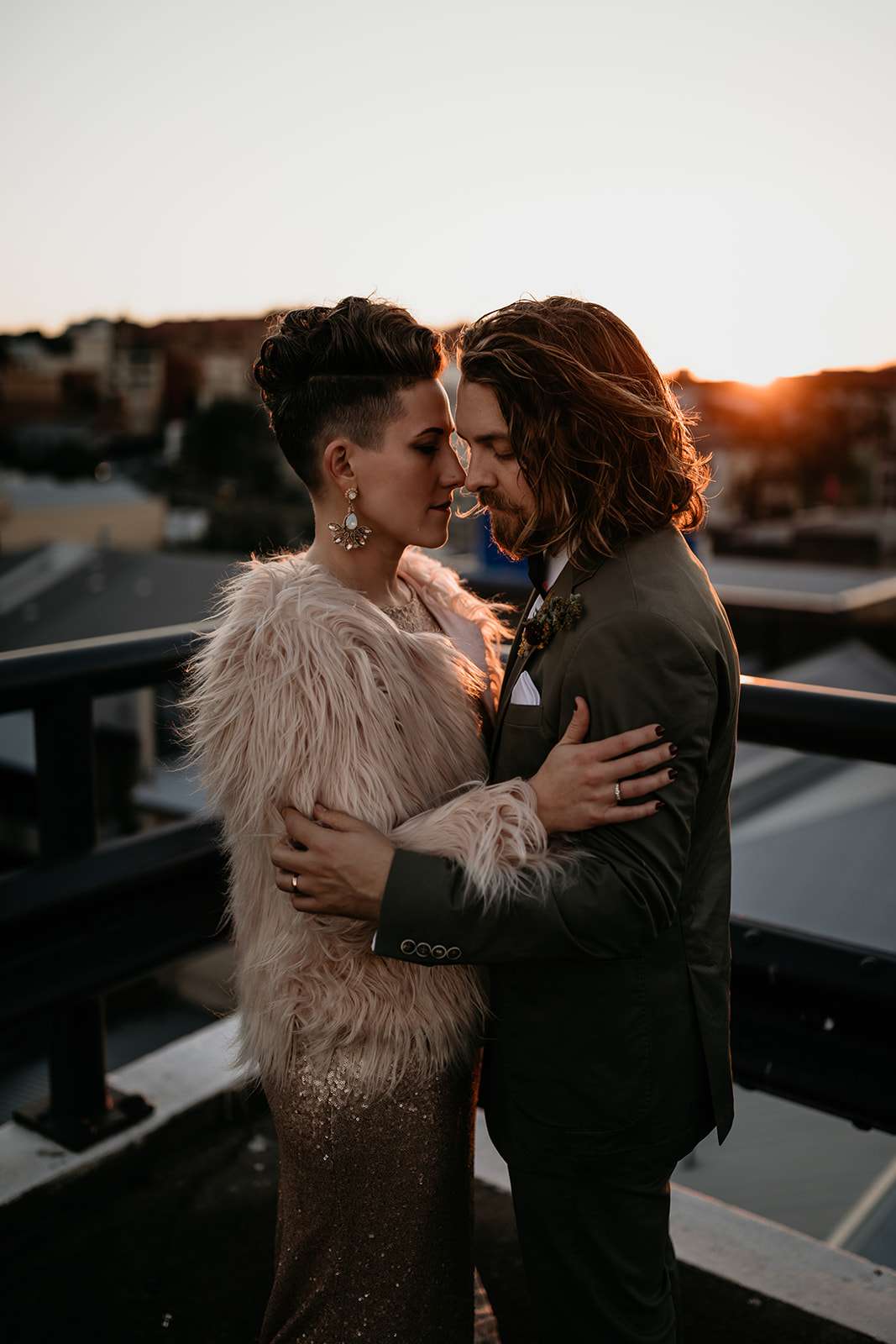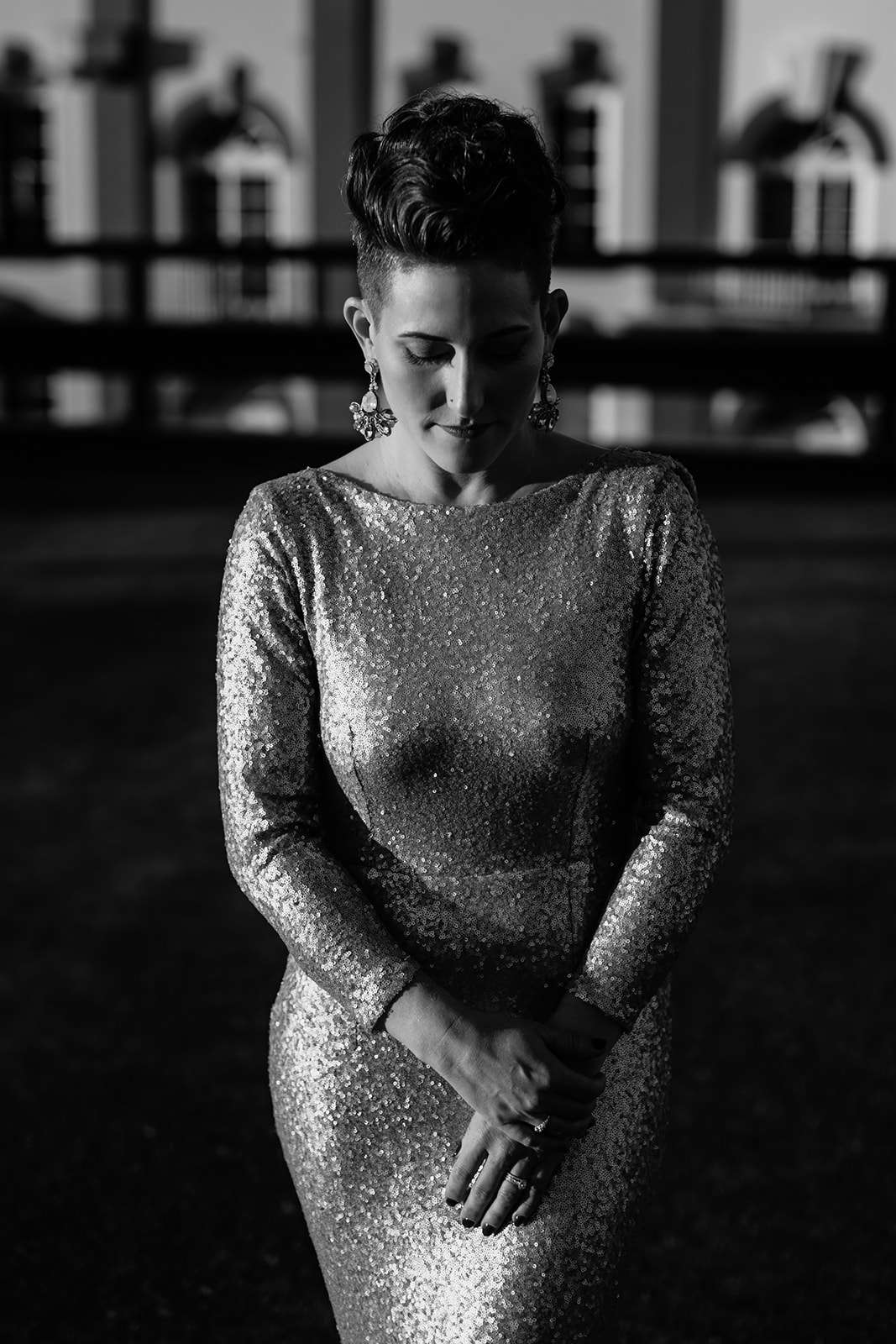 "We did end up finding Dan's suit that day, in the exact colour he wanted, in a department store. There were only 18 of them made and this one was the last one left in Australia. He took it to the changing room and tried the jacket on with some chinos. The jacket fit perfectly and he liked the chinos…but I encouraged him to try on the whole suit while we were there, just so he could 'definitely rule it out as an option'. Well, we ruled it 'in' and he loved it. We went to pay for the suit and you won't believe it…the brand of the suit was Grandpa Jimmy's surname, Gibson. It was meant to be and I'm sure, a little nod from Grandpa."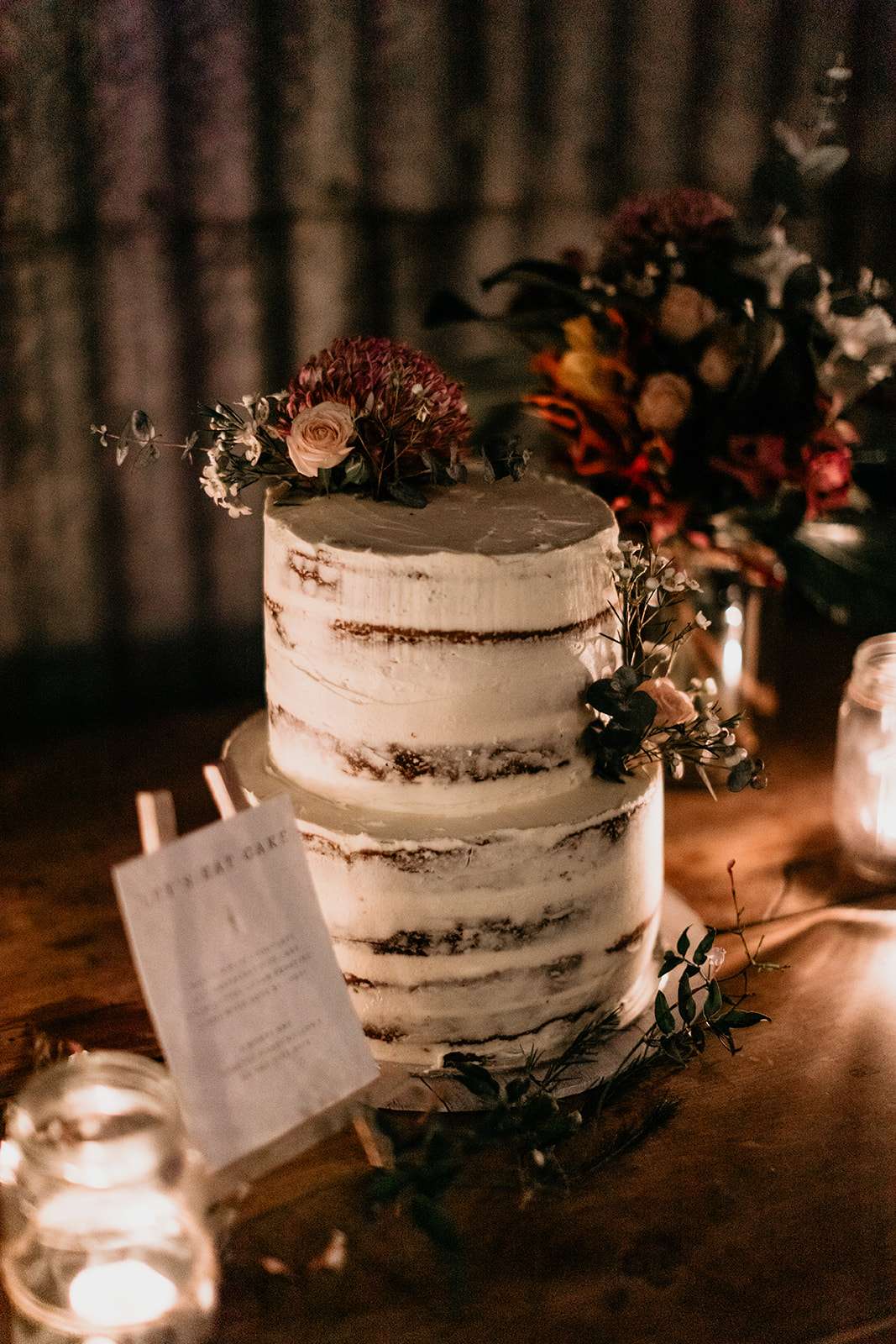 "Our advice to other couples would be to budget", they concluded. "I don't mean do things on the cheap, I mean work out what you want, how much it's going to cost and if you can make it work. If you can't, work out an agreeable compromise. Do your research and go with vendors that 'feel' right. Trust your vendors to provide the service you've chosen them to give."