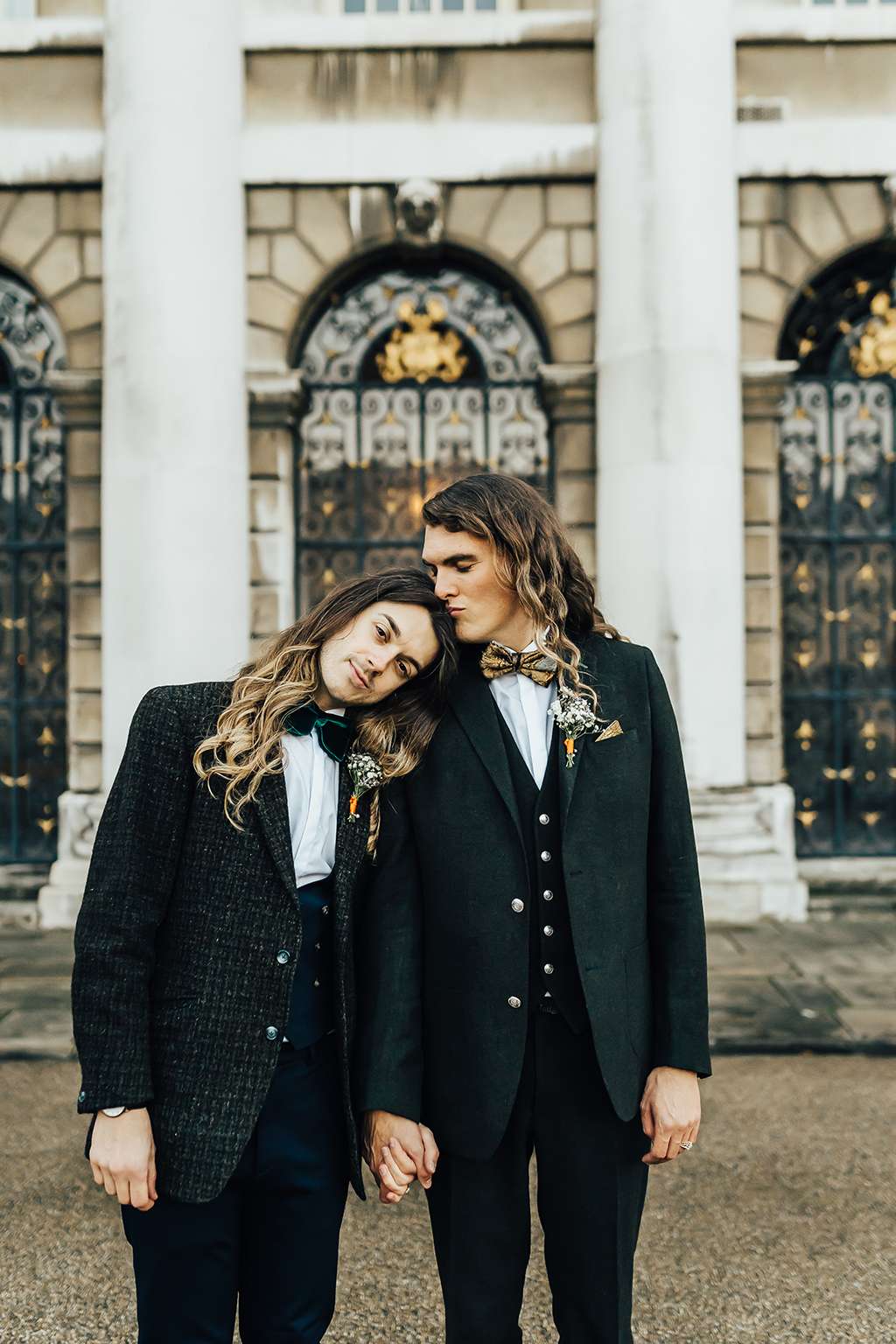 Sam and Jay always planned to be married on Halloween – because every Halloween since they first met nine years ago on a dating site, they have played host to a fancy-dress party and people now expect it of them. Jay's grandparents also got married on Halloween, so they wanted to follow the tradition.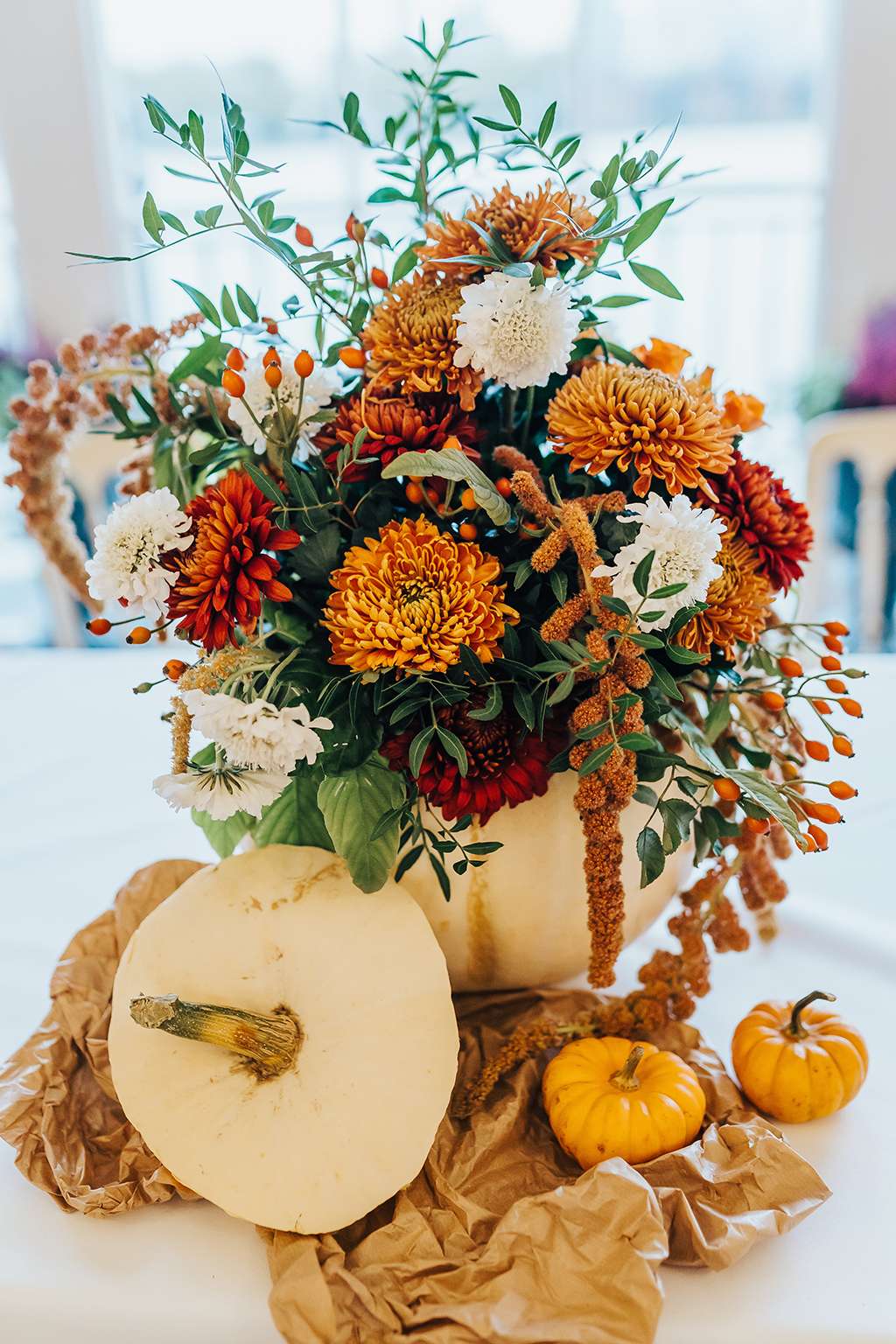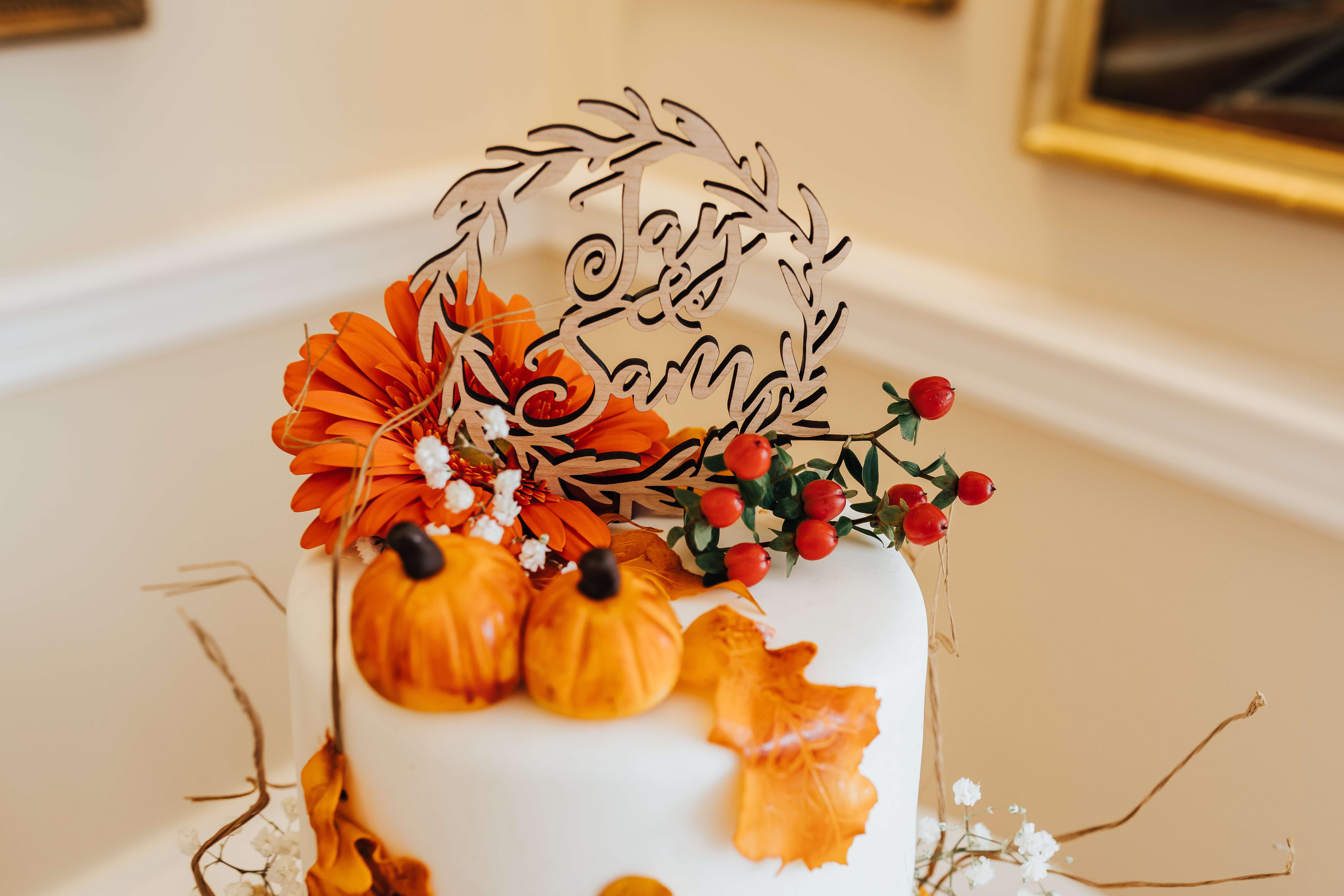 Unfortunately COVID scuppered their plans for a big fancy dress ball where the theme would have been 'anything goes' (including both grooms in custom-designed wedding dresses!) but they were still able channel the Halloween vibes with autumnal tones, pumpkin centrepieces and hessian and lavender mixed in too – they even had burnt orange facemasks for the bridal party, so no detail was left unconsidered.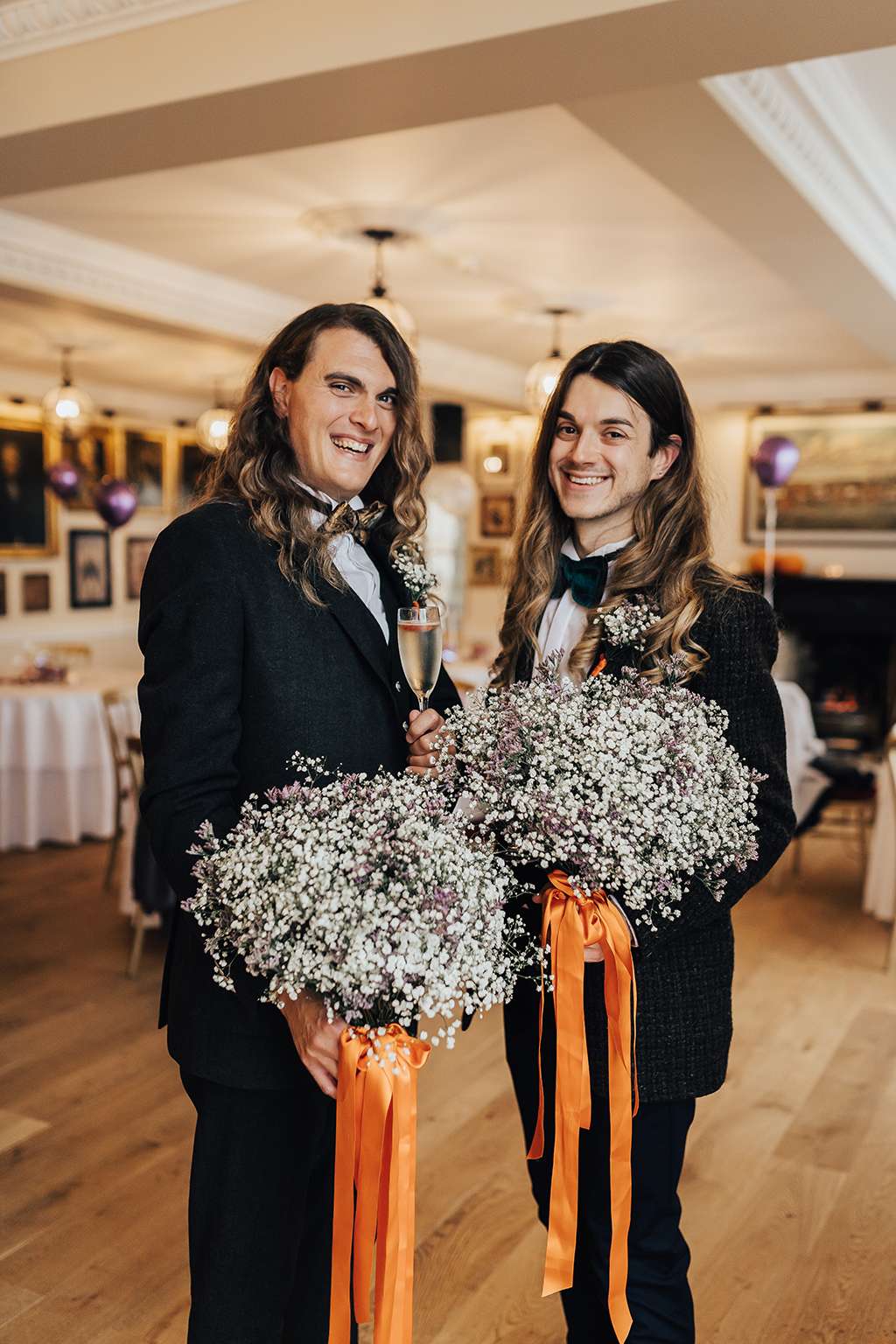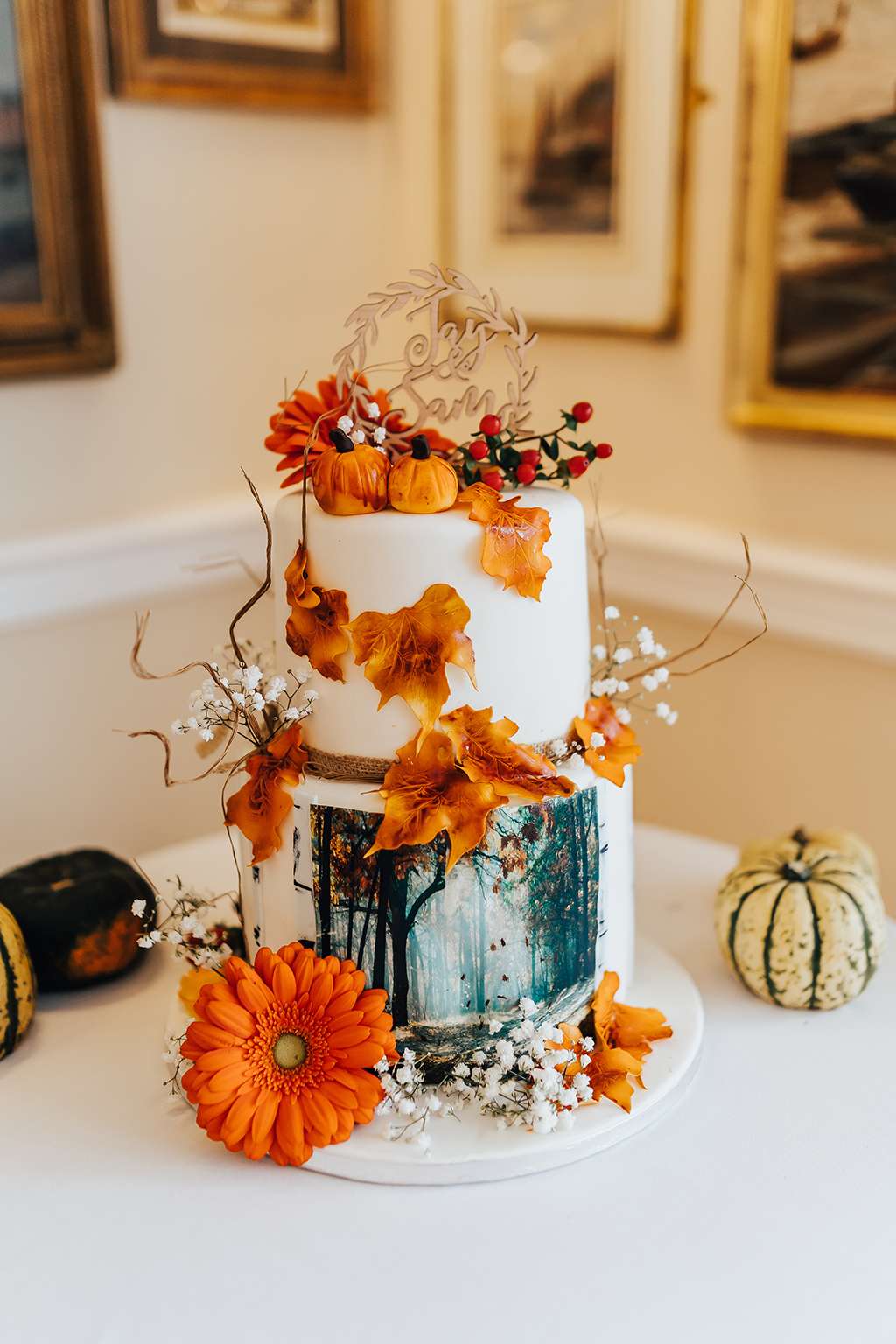 The couple are big advocates for the LGBTIQA+ community, using their voices to educate on same-sex marriage and actively championing for LGBTIQA+ rights – they even recently gained some press for the inequality that LGBTIQA+ couples face when it comes to starting a family. The pair are also passionate vegans, so they were inspired to make everything as cruelty free as possible. Obviously their cake was vegan, but so were their outfits, with Sam wearing mostly vintage for sustainability too, and they used real flowers instead of plastic for their table decorations and didn't have confetti to limit their impact on their surroundings.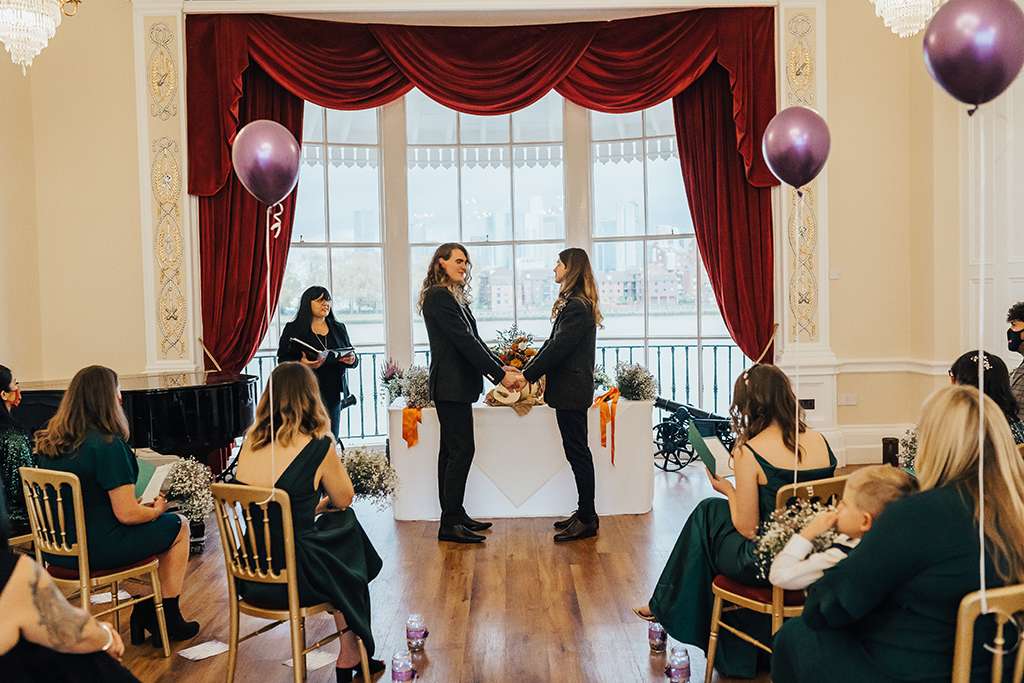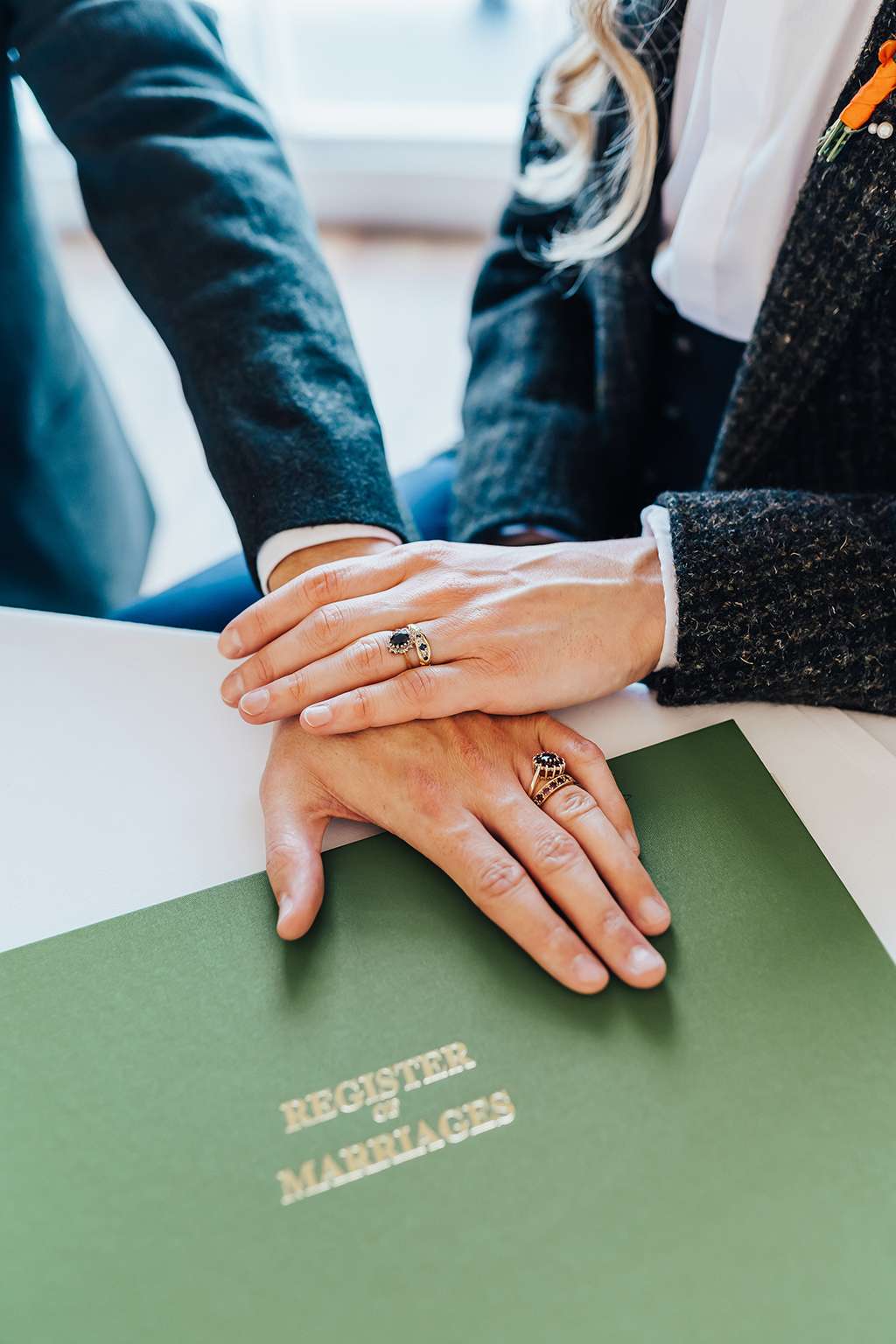 The pair carried bouquets of gypsophila tied with burnt-orange ribbons, while their bridesmaids were tasked to find whatever outfit they felt most comfortable in, as long as it was dark green. Instead of traditional wedding bands, they chose large rocks with Sam's being intentionally very close to Princess Diana's wedding ring.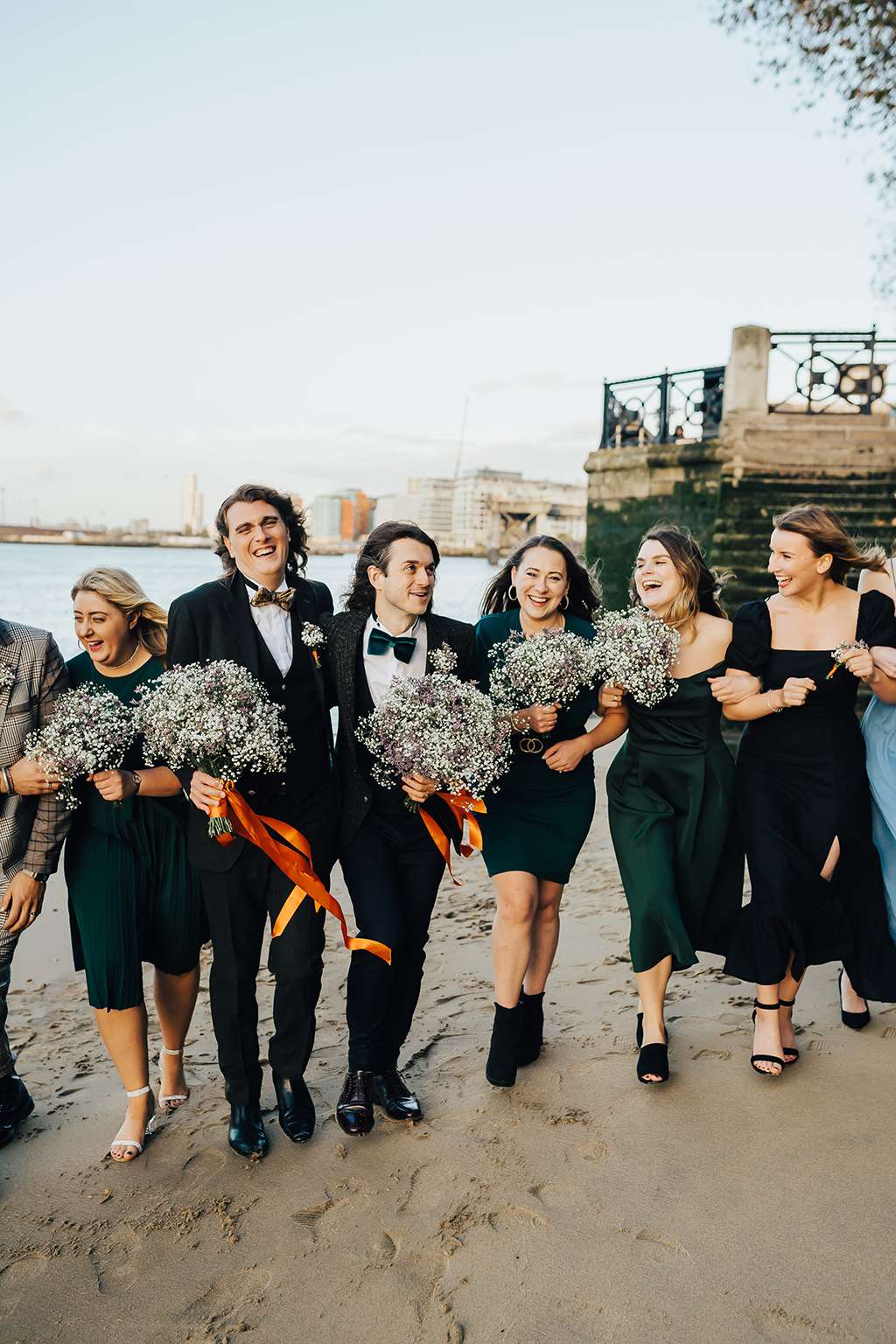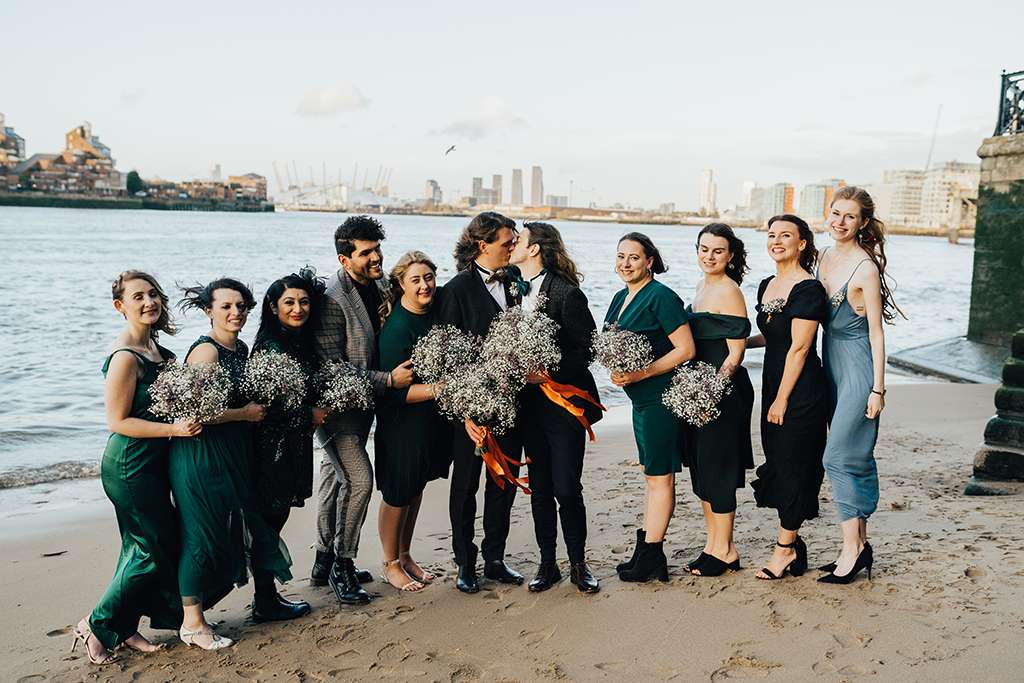 Their ceremony was small as they were only allowed 13 guests. Having such intimacy led to it being a very emotional affair. Each bridesmaid walked down the aisle one at a time to Jay's best man singing A Thousand Years and as each bridesmaid reached the centre of the aisle, they turned back and posed in their own way to the zoom meeting set up at the foot of the aisle.
They had four readings – two poems from Milk & Honey, and two readings of poignant song lyrics – Kindle My Heart It's Getting Better. While they signed the register, Jay's bridesmaid sang a beautiful version of At Last – very fitting after the four venue changes and COVID hurdles it took to get them there!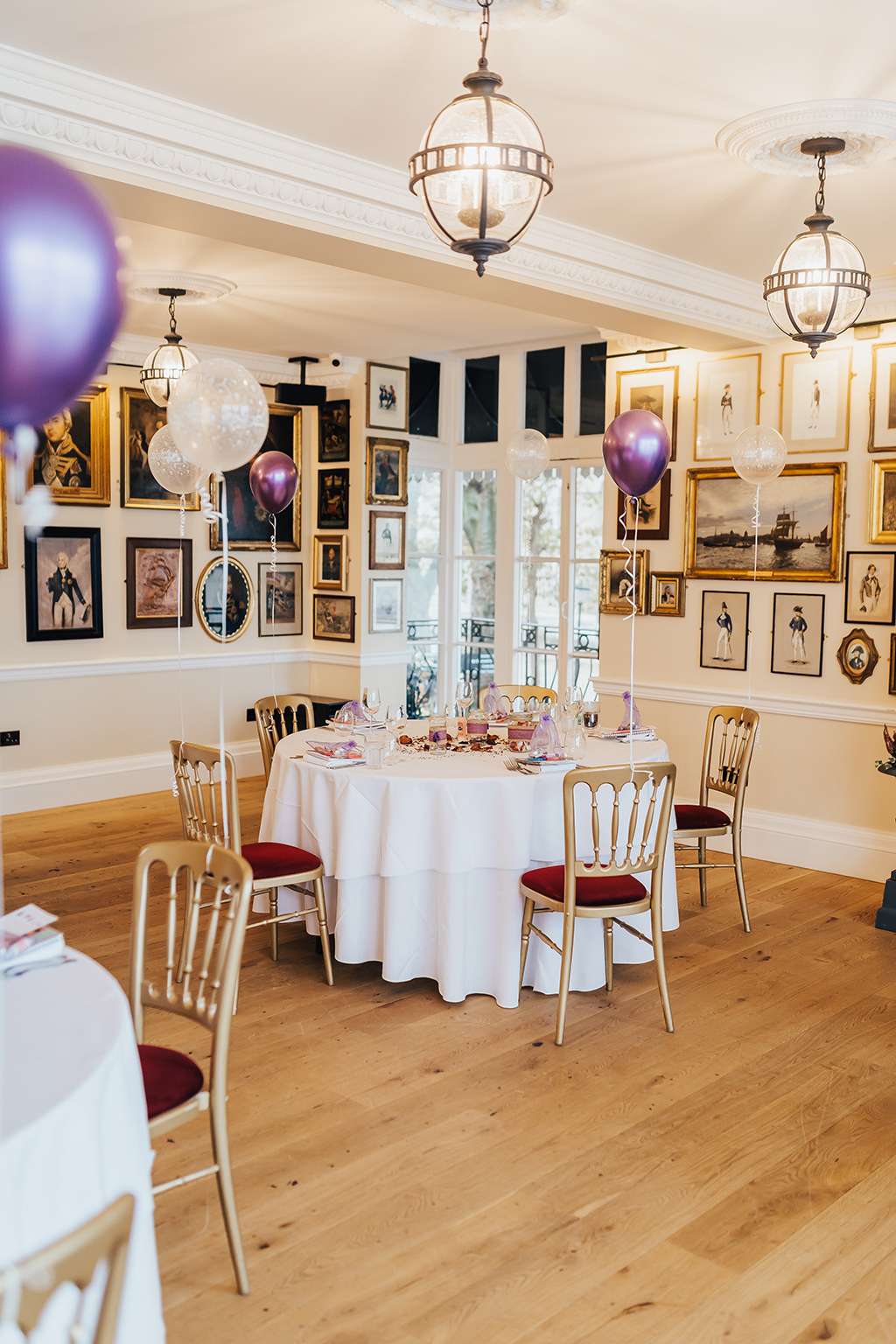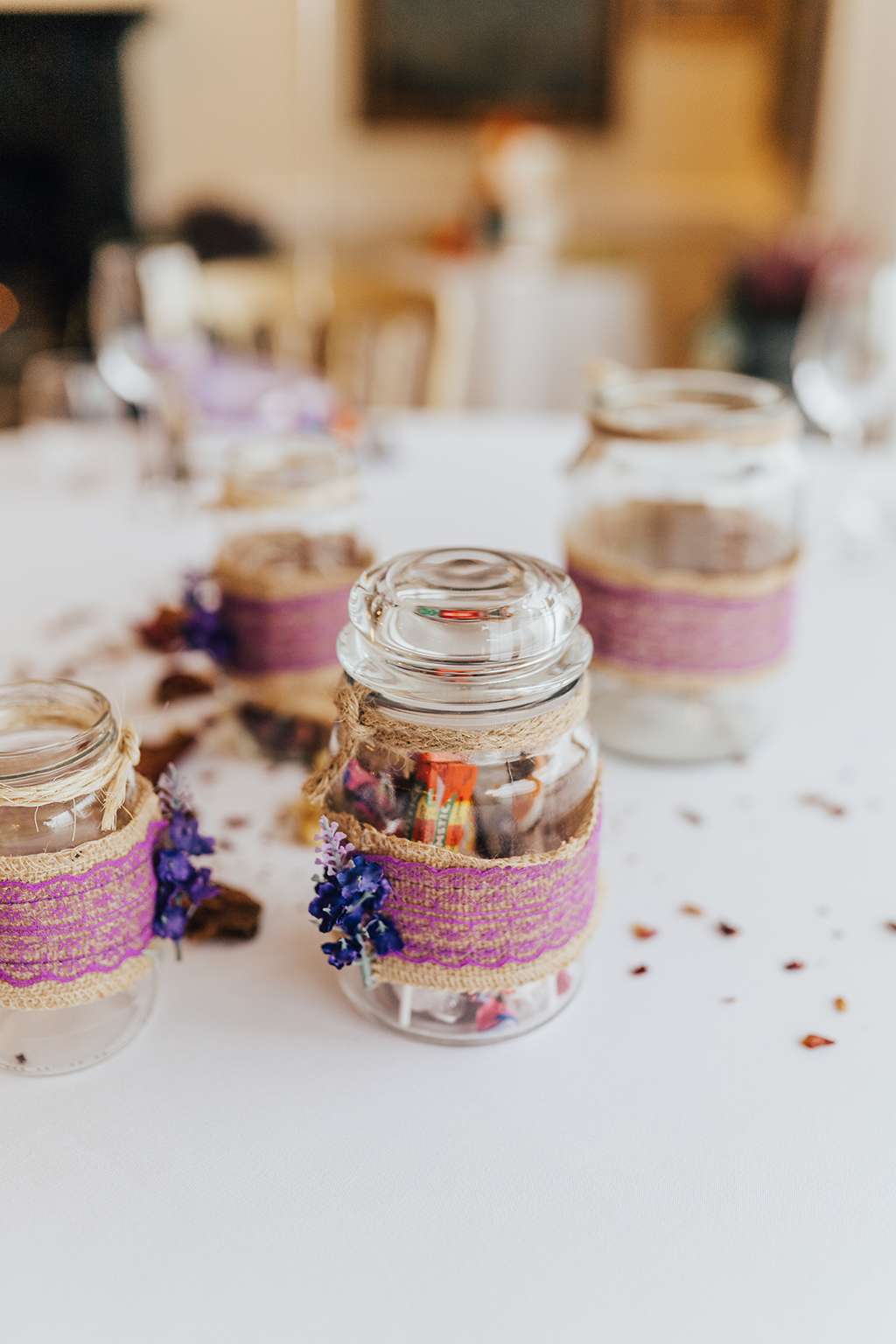 One of their favourite parts of the day was having their photos taken – they were able to finally relax a bit more and spend some time chatting with everyone. "This is one of the special moments where we realised, had we had a huge wedding like originally planned, we would have maybe not had so much time for such intimate moments," the couple told us.The speeches were also a part of the day that left them feeling very loved and grateful – "a huge reminder that the people you should invite to your wedding are the ones that journey with us through life and not by acquaintance – another COVID blessing."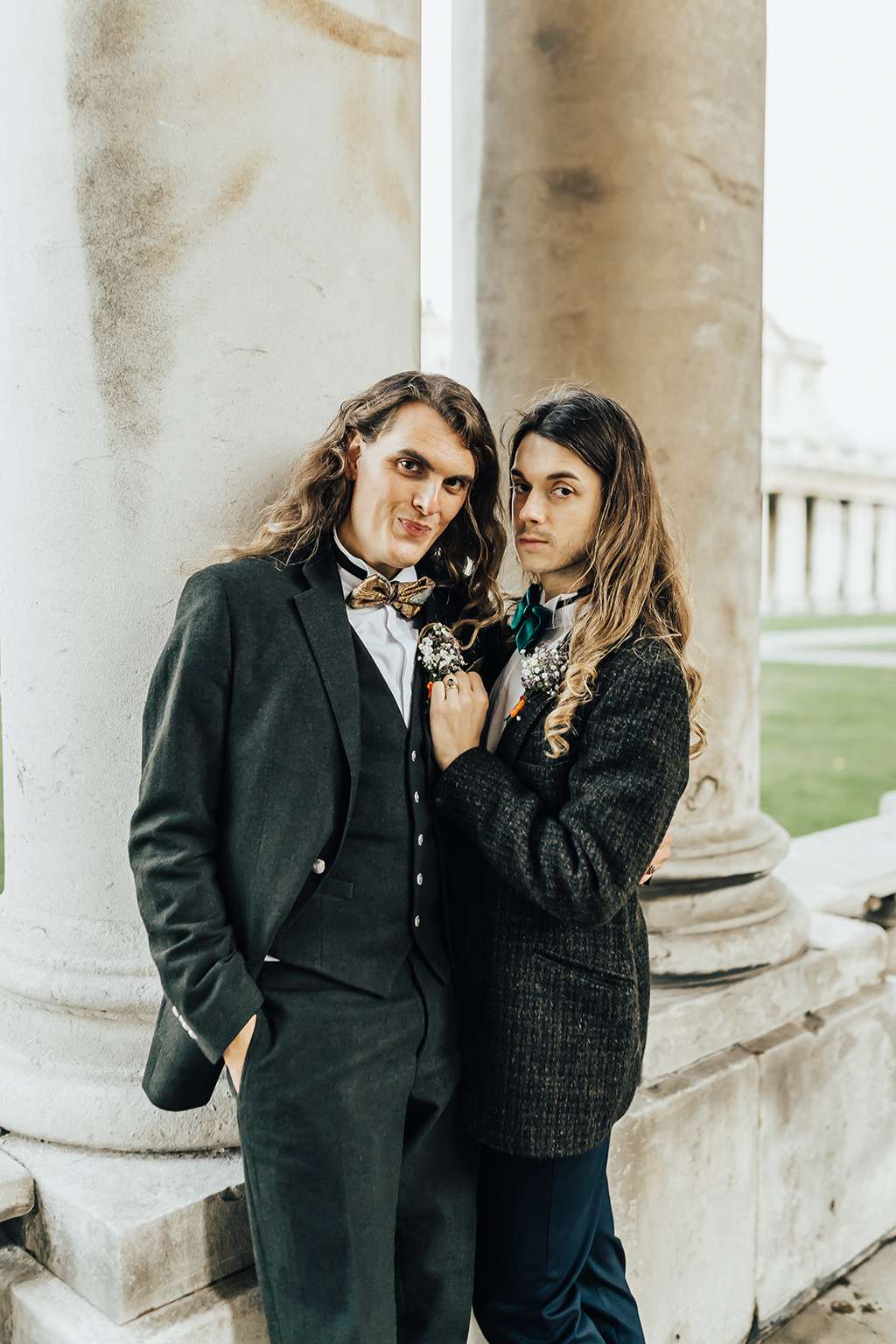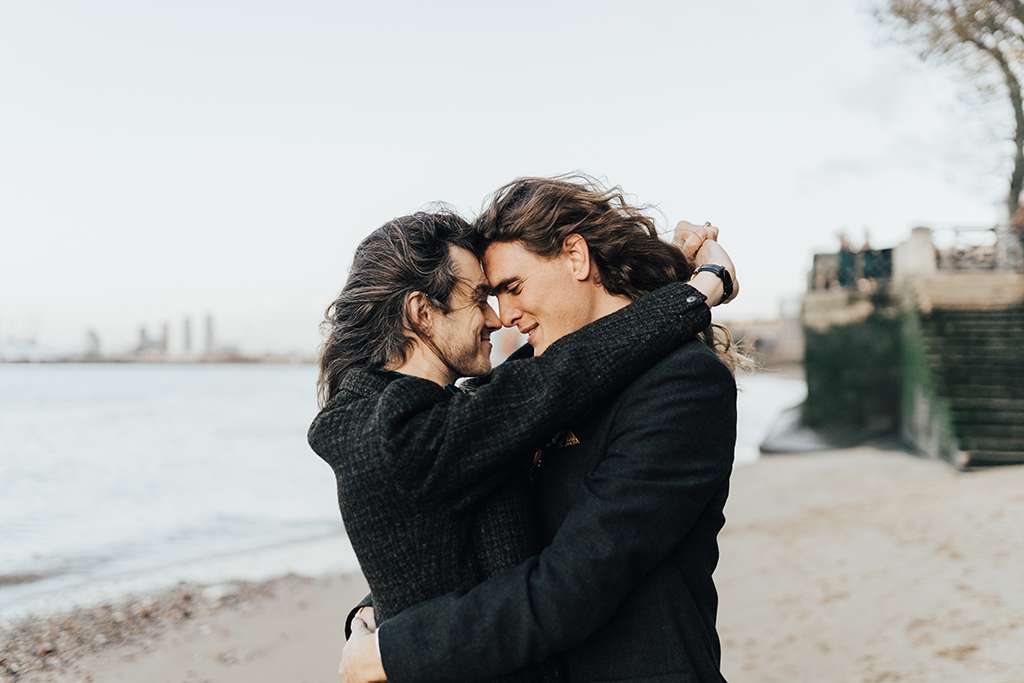 After their ceremony, they had table games and a quiz, followed by a first dance to an acoustic version of their favourite Kyle song, I Believe In You sung by one of Jay's bridesmaids. "We were slightly drunk by this stage but it was a touching moment between us, ending the day perfectly. We rarely feel comfortable to slow dance together in public, highlighting the repression our queer community faces – but this was a dance where we felt nothing but love."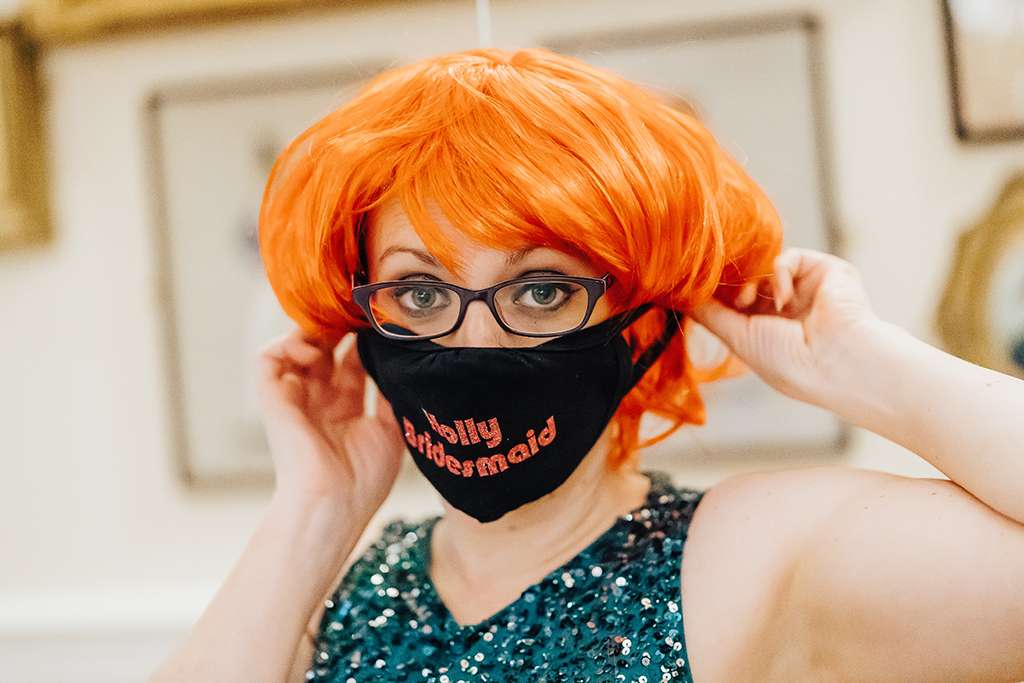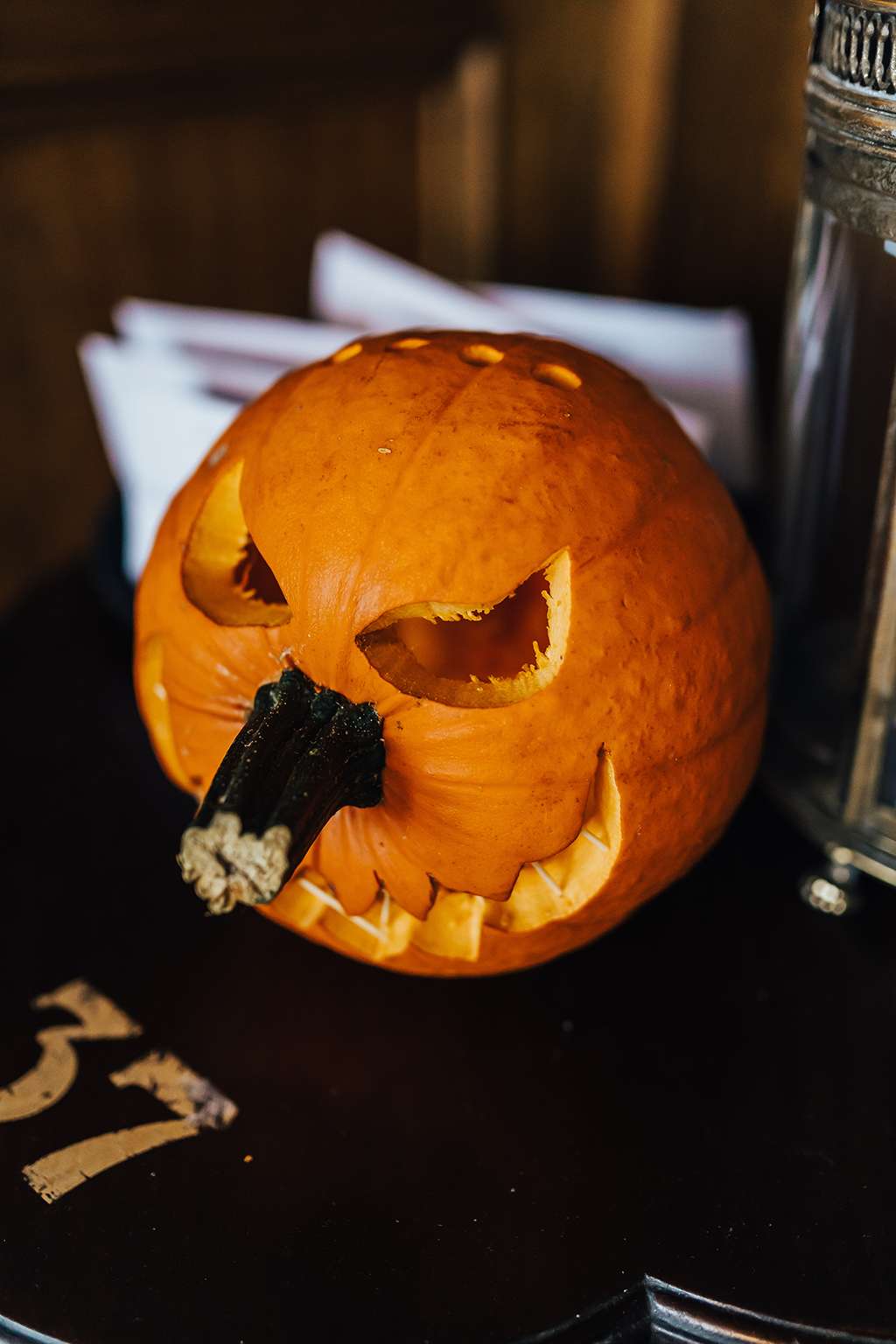 "Despite all the changes that COVID forced us to make, we stuck to the ethos of doing what we wanted, not what was expected of us," the pair concluded. "We were very strong minded about this, mostly because throughout our normal life we spend so much time just trying to fit in with society, or doing what is expected so family members or strangers you have never met before aren't offended. We also kept our guest list full of our friends and the family members who are actually in our lives daily."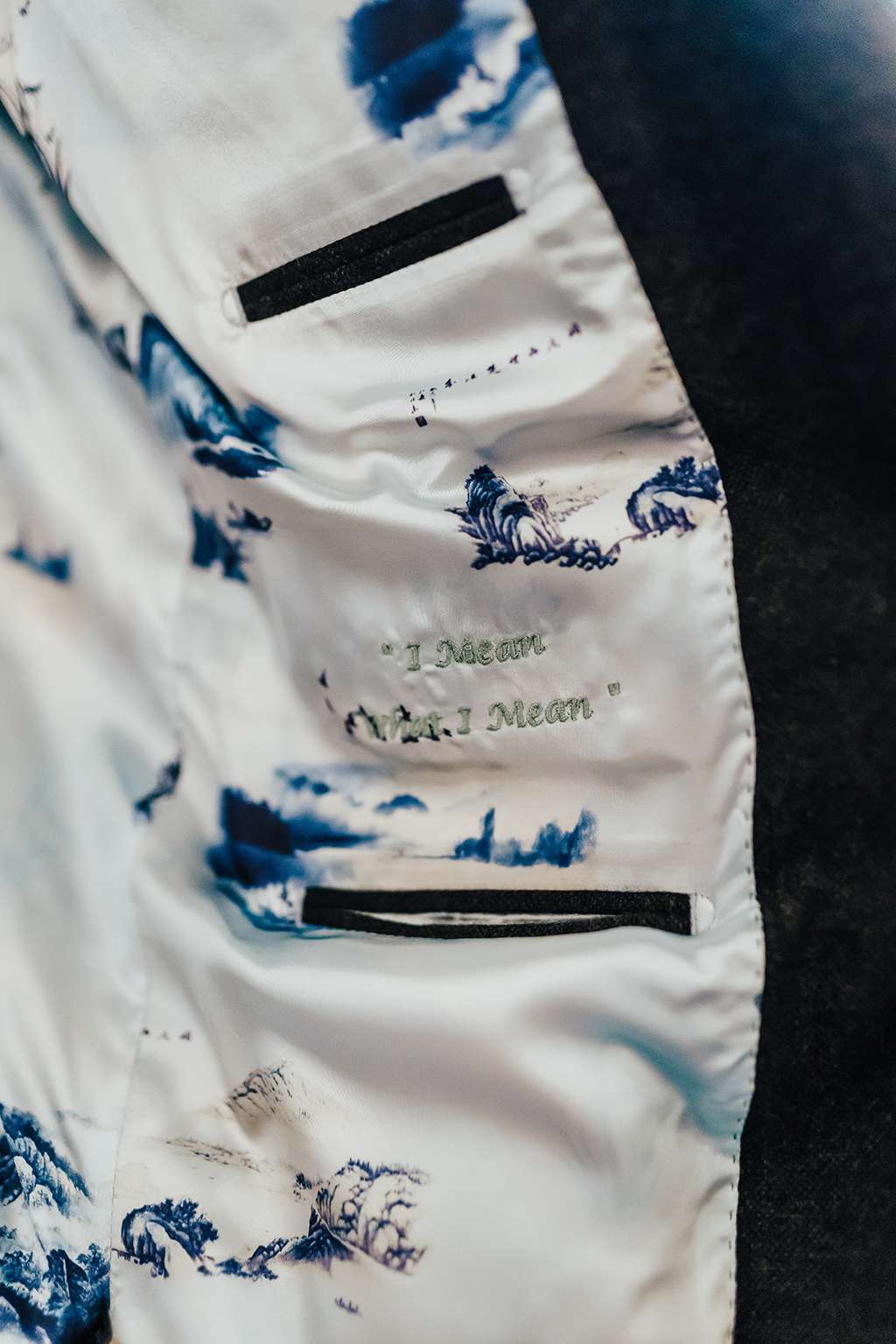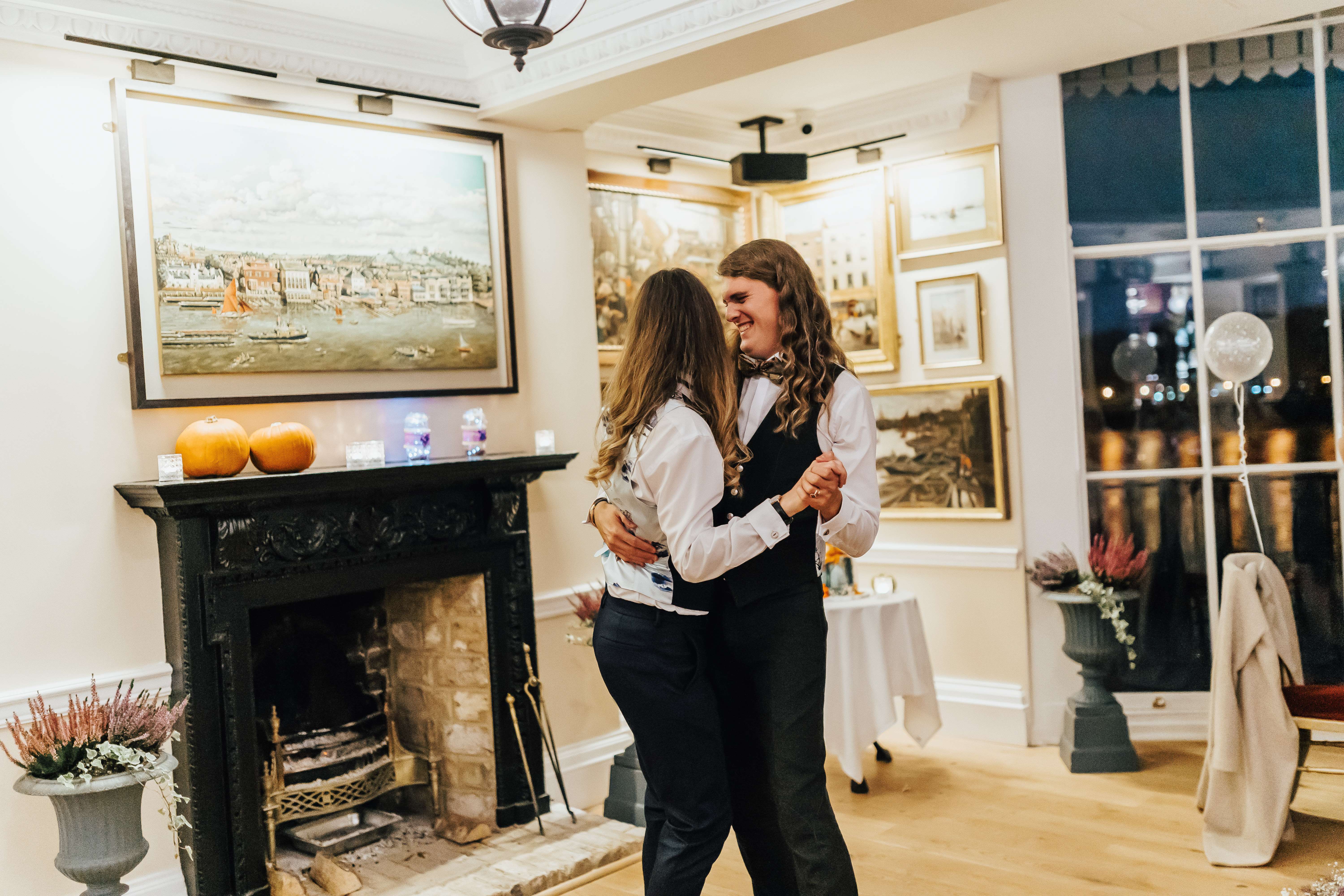 "We are working class and worked hard for our wedding, we wanted to spend it with those who make the effort all the time, not only when a wedding or funeral occurs, and we certainly didn't want anyone there who was not ready to see a man in heels or willing to get down to Beyoncé on the dance floor. It was our day and nobody else's."
"Our advice to future couples would be to not feel pressure to conform, to stay grounded and to plan within your means – you don't want to start married life in debt. Also, if you have a funny feeling from a potential venue or supplier, then don't go with them. The last thing you want on the day is worry of being judged for simply marrying the person you love. Embrace the fact you don't always feel accepted by society and plug that into your day. Do something strangers would balk at but be secretly envious of, because they're too afraid to be different."