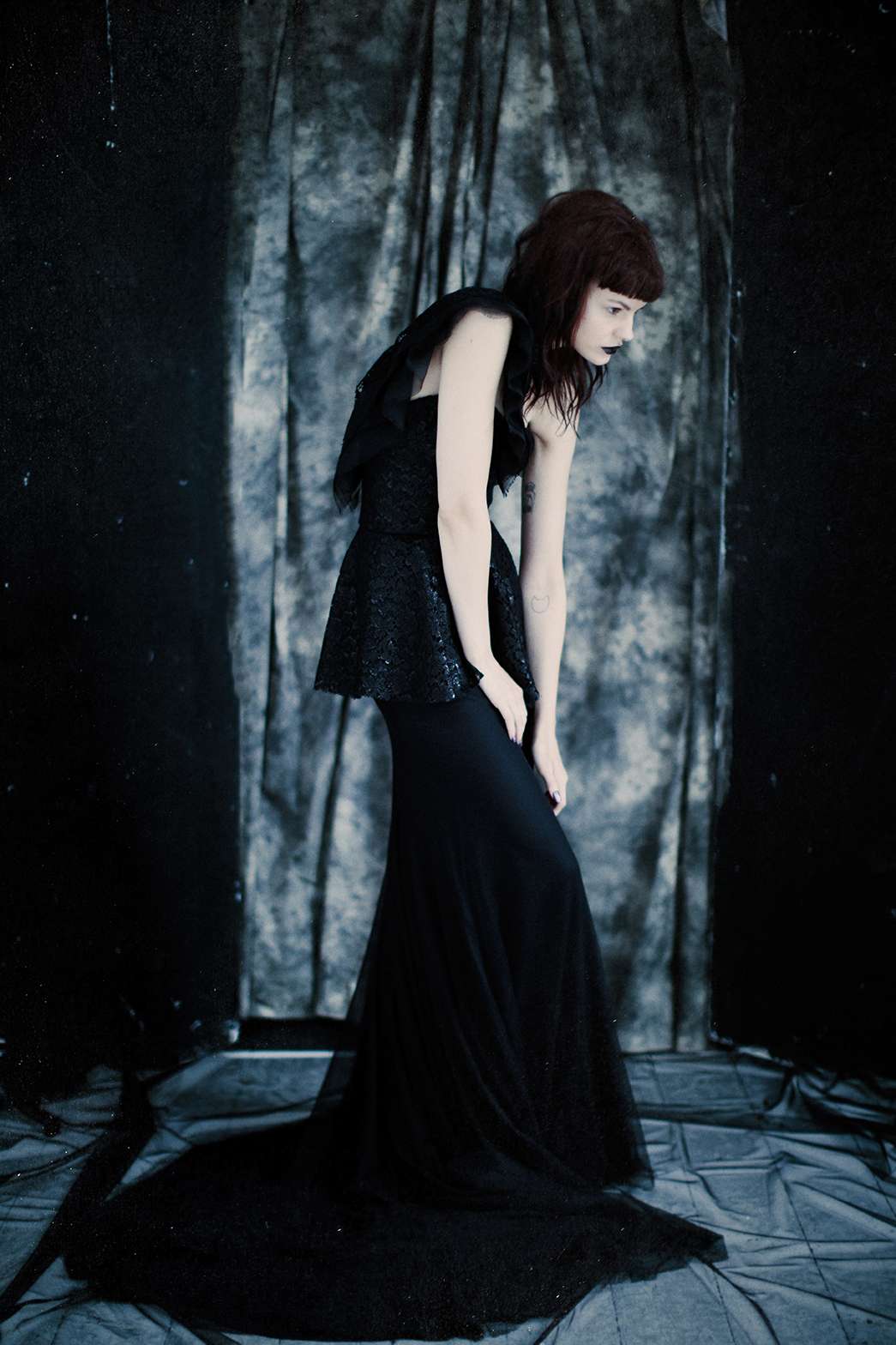 If pastels and glitter aren't really your vibe, if you'd prefer to going over to the dark side for your wedding day, then a gothic themed wedding is going to be right up your street. First and foremost, you've probably considered your outfit, and as well as finding your perfect unconventional dress, the accessories you choose to go with will make or break your vision.
Whether you're going full-on vampire, or just adding a touch of goth to the proceedings, we know you're going to love these Rock n Roll Bride approved, goth-loving suppliers!
Carbickova Crowns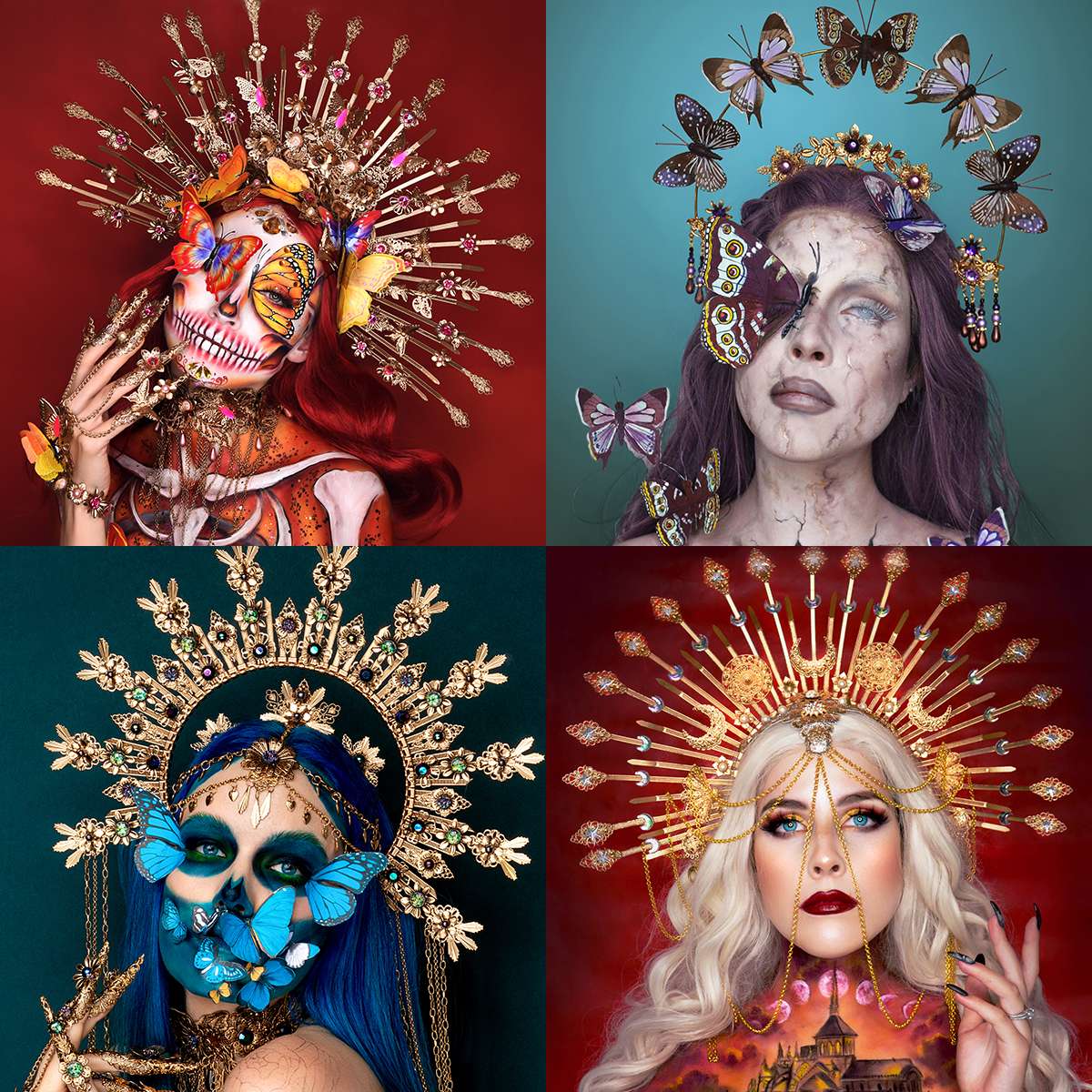 The story of Carbickova Crowns began 30 years ago in eastern Slovakia. When designer Anna was a small child, her parents started making rosaries by hand. She would steal glass beads from them and make sun decorations for windows. Today, she still loves symbols of the universe: the sun, moon and stars, and likes to weave them throughout her incredible creations. Together with her husband, she produces crowns for goddesses from their studio in the north of the Czech Republic.
Their halo crowns are made of filigree, pearls, jewellery components and minerals. The crowns are made with love, positive energy and carry authentic their handwriting. Khloe Kardashian is even a past customer!
"It will be a great honour for us to make the crown for your special occasion", Anna writes. "We love to stand out from the crowd and we know that you too."
Holly Winter Couture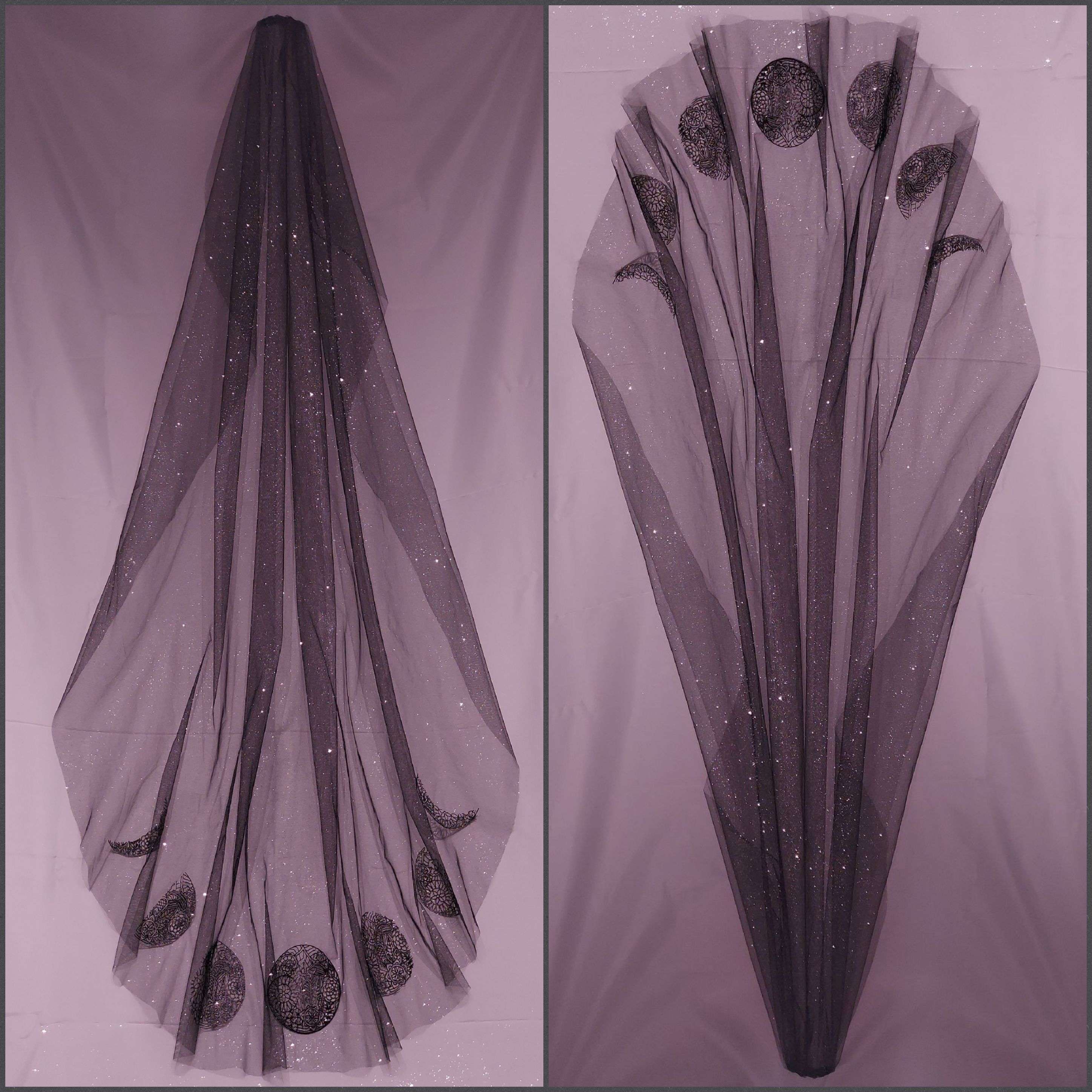 Holly Winter Couture is a bijou bridal design and dressmaking house specialising in styles a little off the beaten bridal track. With an atelier on the Surrey, Hampshire and Berkshire borders, the brand has created made-to-measure masterpiece dresses, separates, jumpsuits and veils for hundreds of brides around the world. Part of the 'slow fashion' revolution, lead designer and dressmaker Holly Winter and her team make every piece made to order.
Holly Winter Couture's ethereal embroidered veils are legendarily beautiful – have you seen the collection of moon-phase veils on her website!? She spent much of lockdown designing and making FREE wedding dresses for NHS brides who had postponed their weddings because of Covid-19. What a babe!
Holly says, "My brides know their own style and what works for them and don't find it in traditional boutiques. Whether the result features innovative sculptural silhouettes, bespoke embroidery or unexpected flashes of colour, I start with how each bride wants to feel when she sets foot on the aisle and then uncover the individual elements that will make that a reality. It's a very intimate, holistic process playing with beautiful fabrics, wild ideas and lots of brainstorming and chats over cups of tea. Lots of tea."
Tatty Devine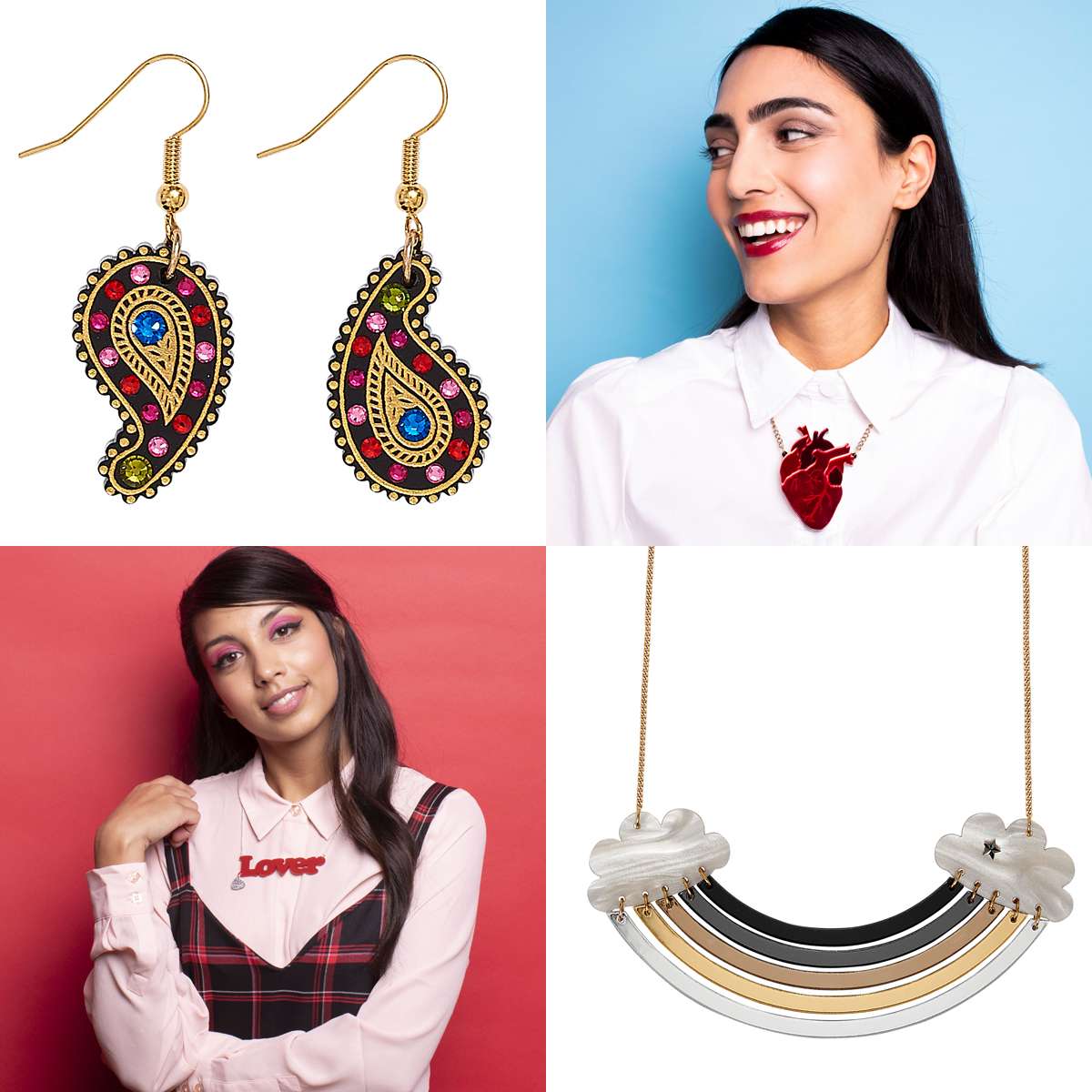 Born in 1999 in the heart of East London, Tatty Devine was co-founded by Harriet and Rosie. Fresh from art school and with "no intention of getting real jobs" their jewellery soon achieved a cult following and became the world's go-to brand for original and fun statement jewellery!
All Tatty Devine jewellery is created in house by a small, skilled team of makers with a passion for art jewellery. Designed in London and handmade in Kent, every piece is made with love. From Personalised Name Necklaces to serious statements, Tatty Devine have you covered from bridesmaids gifts to the perfect piece to wear with that special dress
Anna Fine Jewellery
Ethical and unique wedding, engagement and eternity rings are Anna Fine Jewellery's
speciality!
Working completely by hand using traditional jewellers tools and techniques, Anna LOVES to bring new life to old pieces of jewellery hidden away in drawers, remodelling them into beautiful new items that you'll want to treasure and wear every day. Of course if you haven't got any old jewellery, Anna also works with "new" recycled or fair trade silver, gold, platinum and palladium, lab grown diamonds and ethically mined or recycled gemstones.
Anna also offers couples the opportunity to make their own wedding rings at her
Gloucestershire studio. Her day long workshops run at both weekends and during the
week with exact times being flexible to fit around your other commitments or travel plans. No previous experience is necessary as you will spend the day under Anna's expert guidance, designing and making your rings in either silver, gold, platinum or palladium. After the workshop, Anna does any finishing and/or stone setting that may be required and then your rings will be sent to the London Assay Office to be hallmarked. They're then returned to you a couple fo weeks later in a beautiful presentation ring box.
Tyes by Tara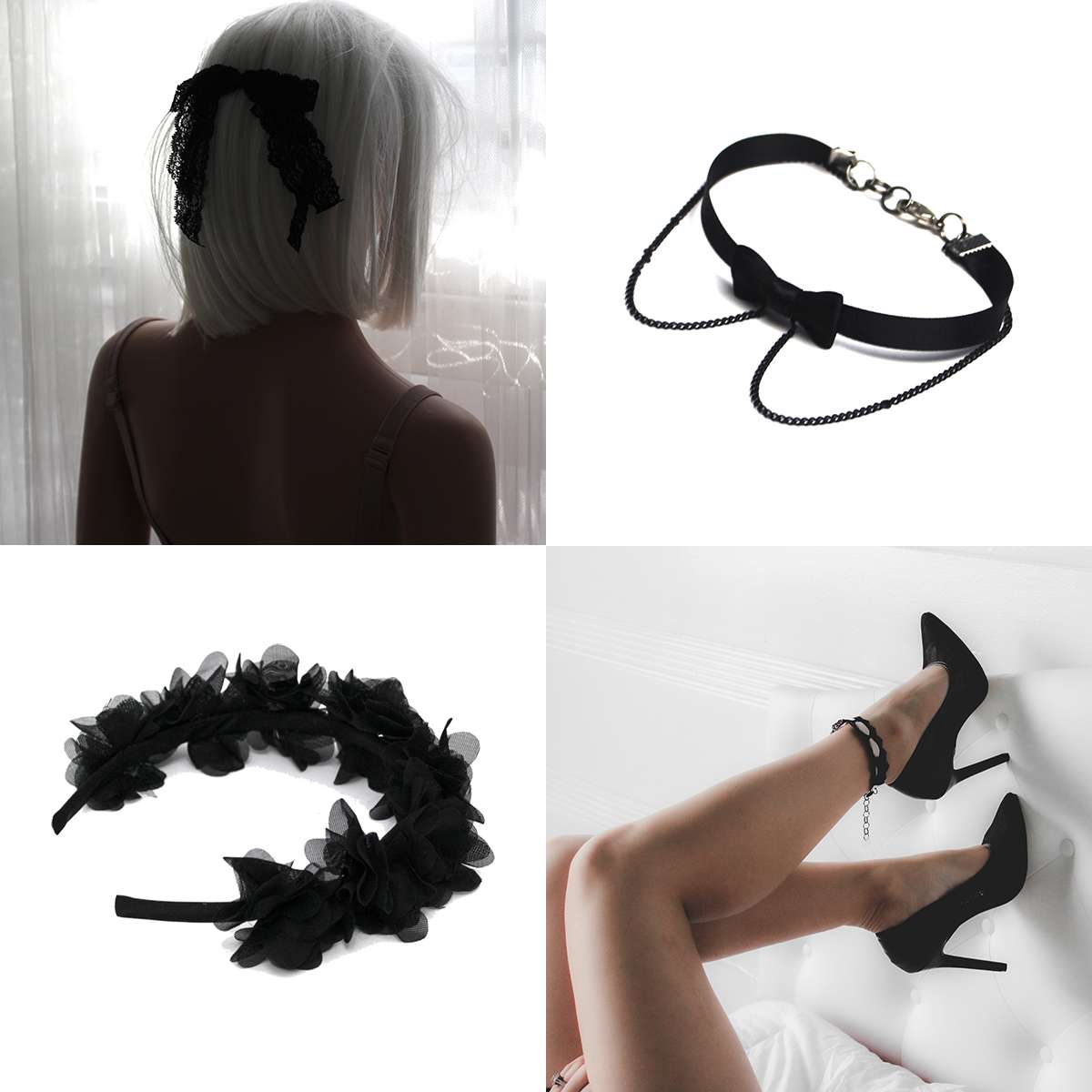 Designed to delight and inspire the magic of matrimony, the Tyes By Tara bridal collection of jewellery, accessories and intimates will spark your imagination with accessorising opportunities. Walk down the aisle in style with everything you desire; from flirty heel accessories to elegant hair bows, from sparkly leg garters to lace chokers. You will not get bored with all the different and feminine ways to integrate these bridal accessories into your wedding day, wedding night, honeymoon, anniversary and beyond.
Match with your bridesmaids by creating matching looks effortlessly and elegantly and affordably. Discover beauty in versatility with this broad collection of bridal accessories that you can take with you from your wedding day to your honeymoon. Each Tyes By Tara item is handcrafted with love and comes with a care card so that you can keep it looking it's best for years to come. Inspired by passion, matrimony and memories, this collection of bridal accessories is something that you can keep til death do you part.
Attitude Clothing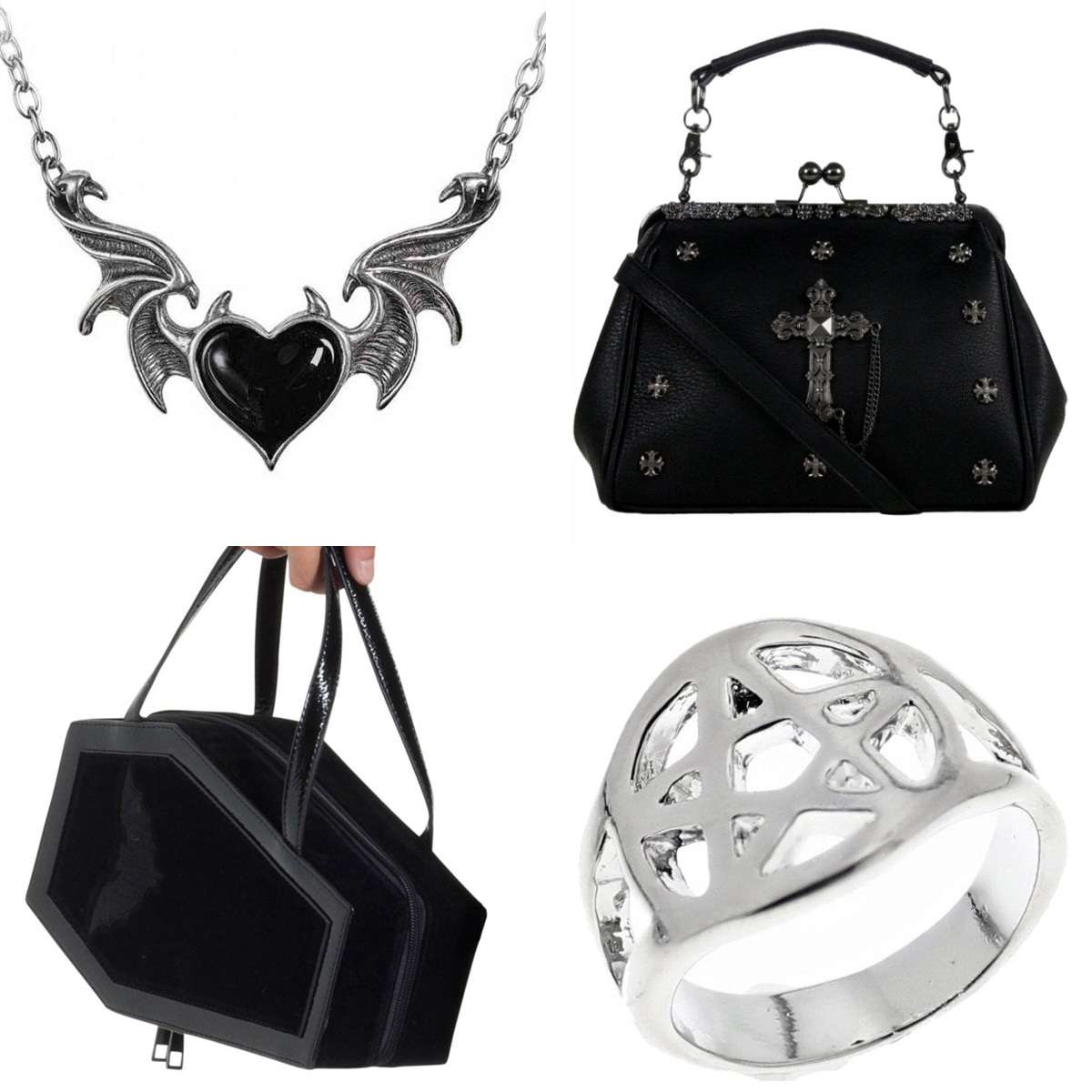 Established back in 1996, Attitude Clothing is the UK's original online retailer of men's and women's alternative clothing, footwear, jewellery and accessories. Fuelled by a love of metal, punk and heavy rock, they've been at the front line of alternative fashion for over 20 years, offering customers the best selection of products from global giants right through to UK independents.
Attitude Clothing is a great place for brides or grooms-to-be with a love for all things alternative to find unique options for their special day. From spooky inspired jewellery to complement the wedding outfits, to statement candles and figurines that create the perfect gothic look at the reception, Attitude Clothing is a destination for a huge selection of eclectic products to choose from.
With new products arriving on the website regularly, Attitude's accessories section is a fantastic place to find the finishing pieces for your wedding, whether you are seeking to complete your chosen style with gothic hair pieces, wide brim hats, bold vegan lipsticks or even skull studded chokers.
Attitude Clothing are also offering all readers a 10% discount on any order (sale items and Demonia, Bordello and Pleaser USA footwear are excluded). Use the code ROCKNROLL10 at checkout.
Threaded by Pooja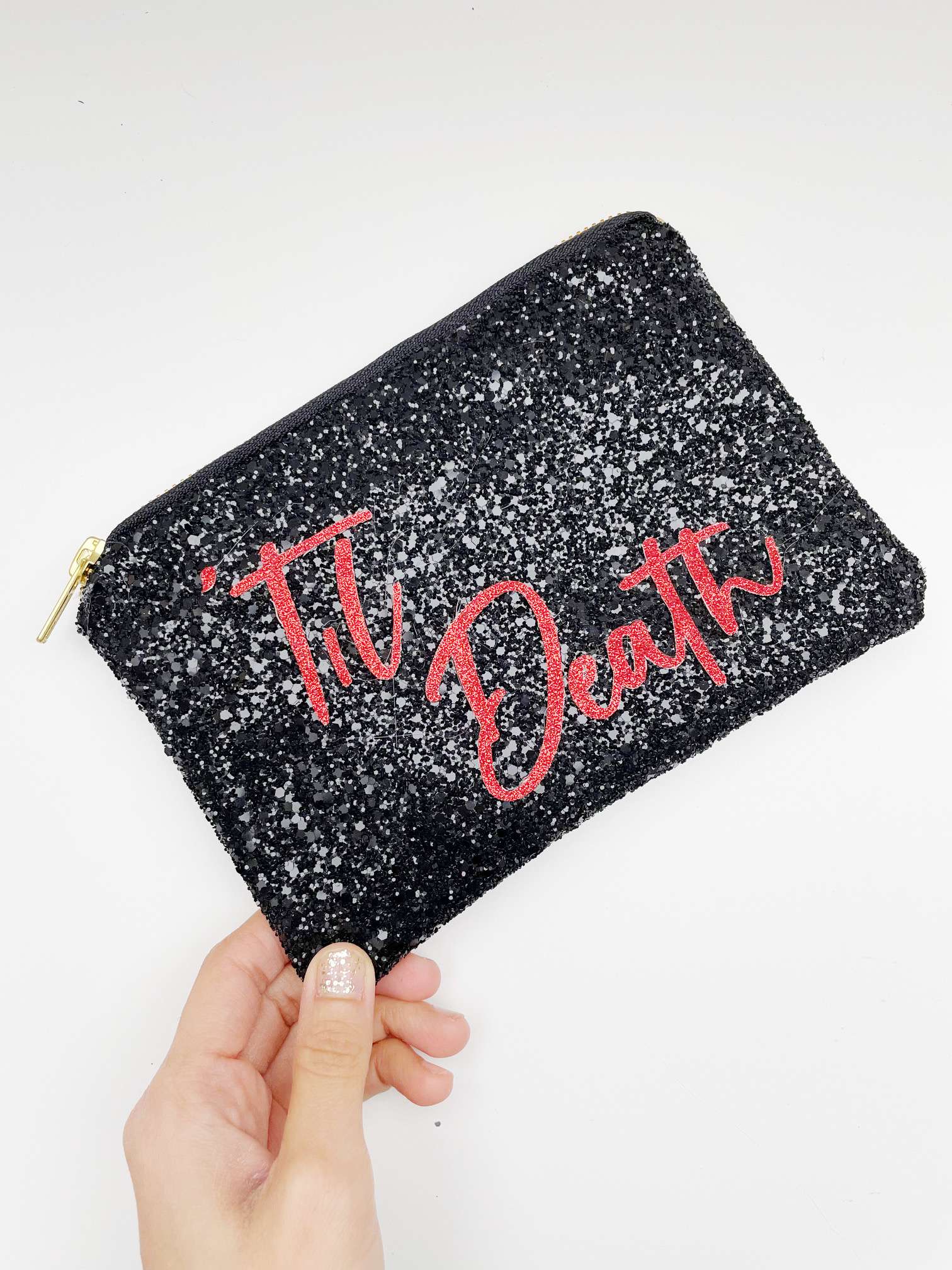 Threaded by Pooja specialise in handmade personalised bridal bags made from glittery, sparkly fabric.
Each bag is designed to perfection and customised to every bride's own wish of colours, themes or whatever the wedding elements they may want to have on the purse. Whether you are having a tropical theme or a goth theme, nothing is impossible at Threaded by Pooja who would love to make you a bag customised to your wedding.
Each of their bags takes time as they are entirely customised but with two years of wonderful great reviews from so many brides. You are in good hands of having your own beautiful handbag made for your special day with them!
Ruby and Oscar
Ruby & Oscar specialises in precision made jewellery and offers a stunning selection of cost effective alternative wedding jewellery. From vintage inspired designs to dark and dreamy gothic jewellery, R&O jewellery has been designed to be as unique as you are.
Whether you're looking for your dream set, that something blue or a special gift for your bridesmaids, there's a wide range of charming pieces that are perfect for your big day. As well as a stylish collection of women's jewellery, Ruby & Oscar also provide a fine selection of men's wedding jewellery.
Choose from sleek wedding rings and charming cufflinks to complete any man's sartorial look. A well established online jeweller, Ruby & Oscar offers beautifully crafted jewellery of the highest quality. With free, fast delivery with every order, couples can be sure that their wedding day will be complete with exceptional jewellery designed to last a lifetime. Find the perfect finishing touch for your special day with Ruby & Oscar.
LOLiDE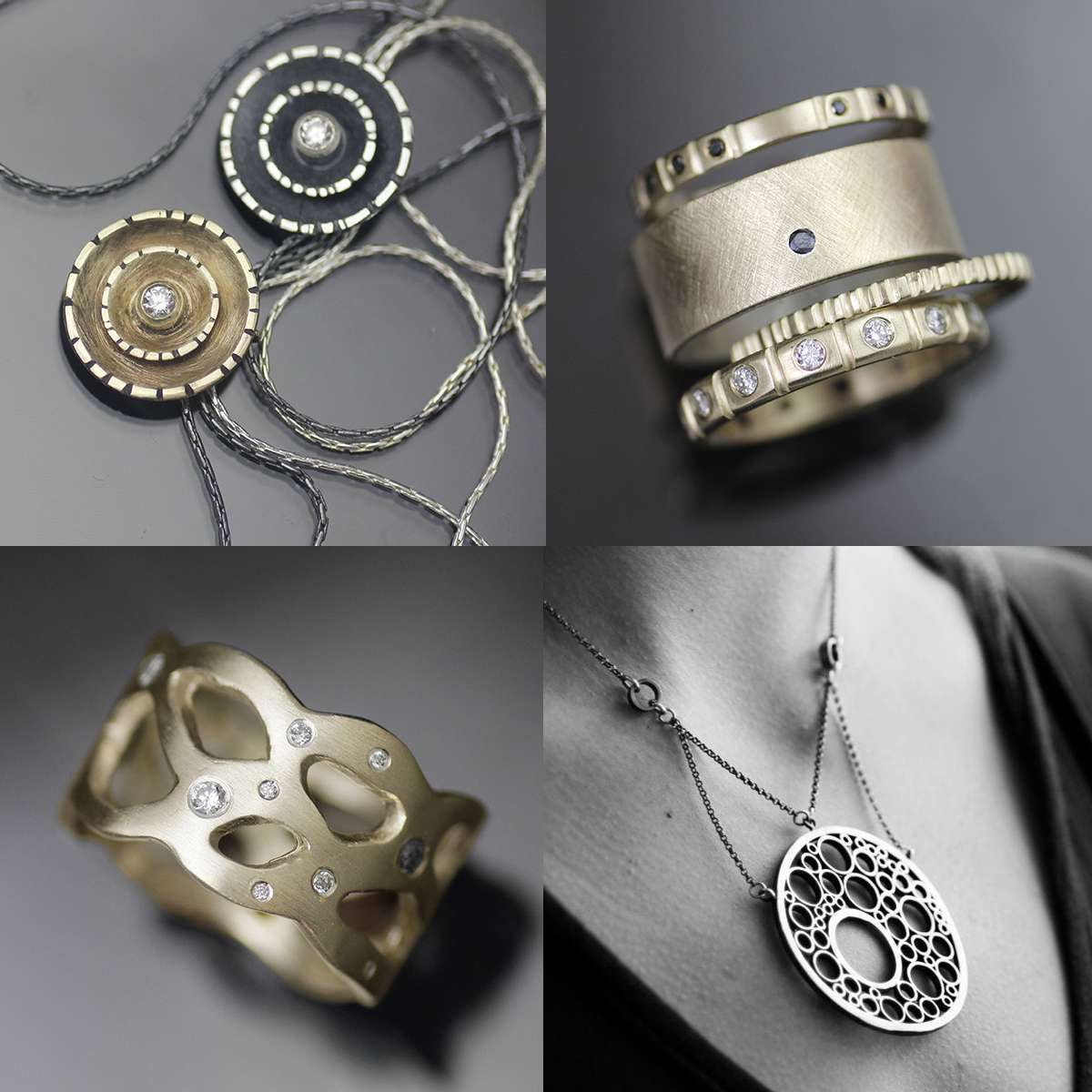 LOLiDE are all about breaking the boundaries of traditional engagement and wedding jewellery.
We're all painfully familiar with our culture's lingering, antiquated formula for buying wedding jewellery: she gets a big rock, he gets a plain band, everybody moves on. But it's time to throw out the binary, sexist assumptions that go along with the traditional approach. Whoever you are, whomever you love, you are welcome here. LOLiDE's goal is to help their customers express themselves with rings that reflect their personal style – and their special bond – in a way that they'll be proud to wear every single day.
They are committed to offering their customers a wide selection of modern, elegant engagement and wedding rings that work in countless combinations. Rather than offer gender neutral, non-binary and LGBTQ+ rings as an afterthought, they've made these designs the heart of what they do, and they've made unisex rings from day one, driven by their experience of struggling with the gender binary and never fitting into either box.
Inclusivity, visibility, and respect for all forms of non-traditional weddings – however they are defined – are driving concepts behind LOLiDE.
Klipkalinka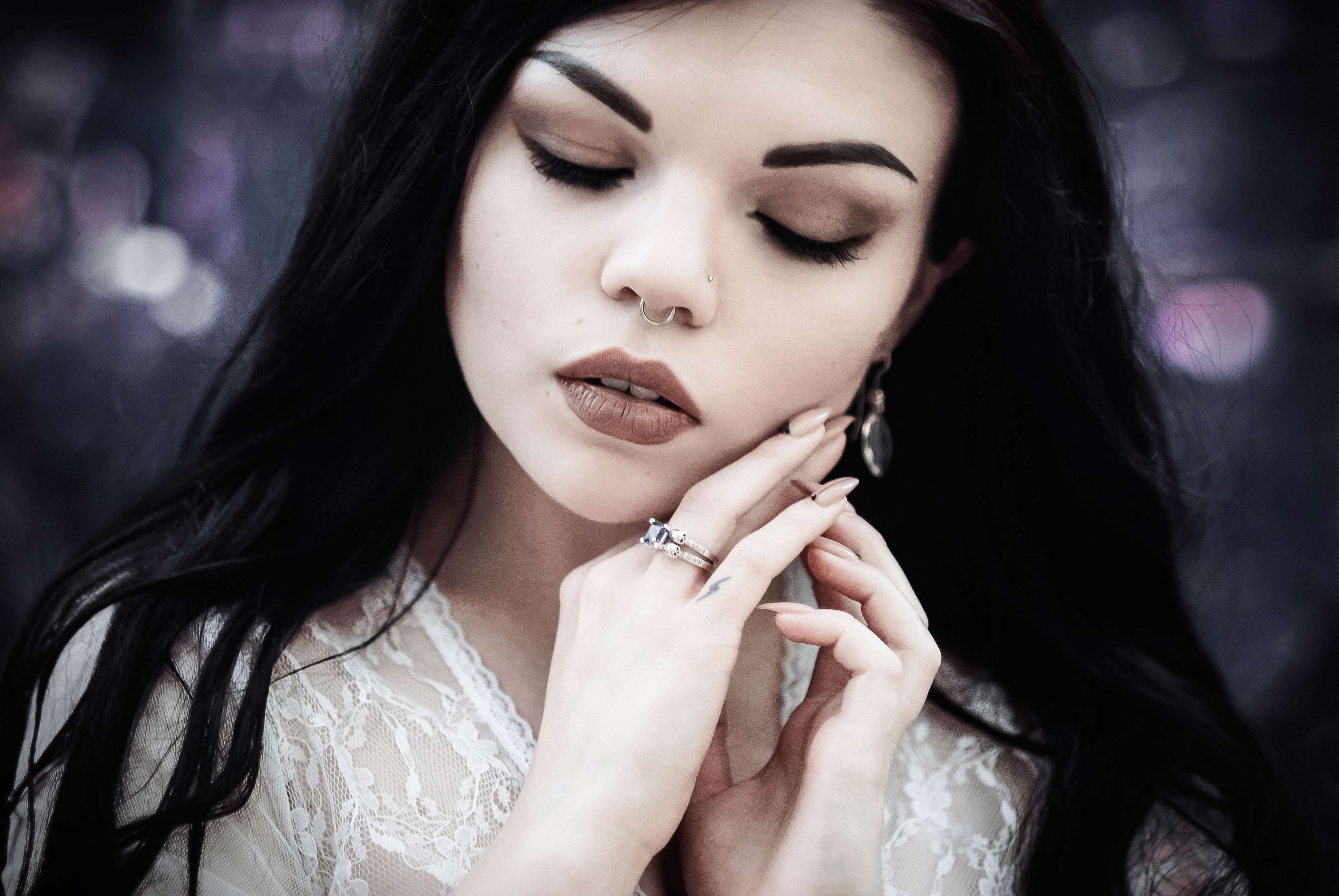 Kipkalinka is run by Christine, a professional goldsmith who has been making elegant and dainty skull jewellery since 2012. Being on the autistic spectrum, she is a gemstone-nerd with a deep interest in symbols and myths. Her condition enables her to execute the incomparable detail and quality her work is known for.
Kipkalinka jewellery is subtle and looks like classic jewellery from afar, but it's not. The idea behind is that we have to look closer and dig deeper to truly recognize each other, ourselves and the world.
Christine is an expert in combining precious metal alloys and unique gemstones in a meaningful, individual way. She will go the extra mile to find exactly the stone that speaks to YOU. Kipkalinka even offers a custom-cut service for salt and pepper diamonds. All designs can be made in sterling silver, all gold alloys of 14K and 18K as well as palladium and platinum.
Kipkalinka jewellery is cherished by beautifully strange and unusual individuals from all over the world, who seek to express their inner truth in a subtle but unmistakable way. Those who find pride in feeling different from the crowd and own their uniqueness.
Also the process of making Kipkalinka rings is truly unique. Christine executes the prototypes directly in metal, which can take 50 hours (or more) and allows her to create microscopic details and an organic appearance.