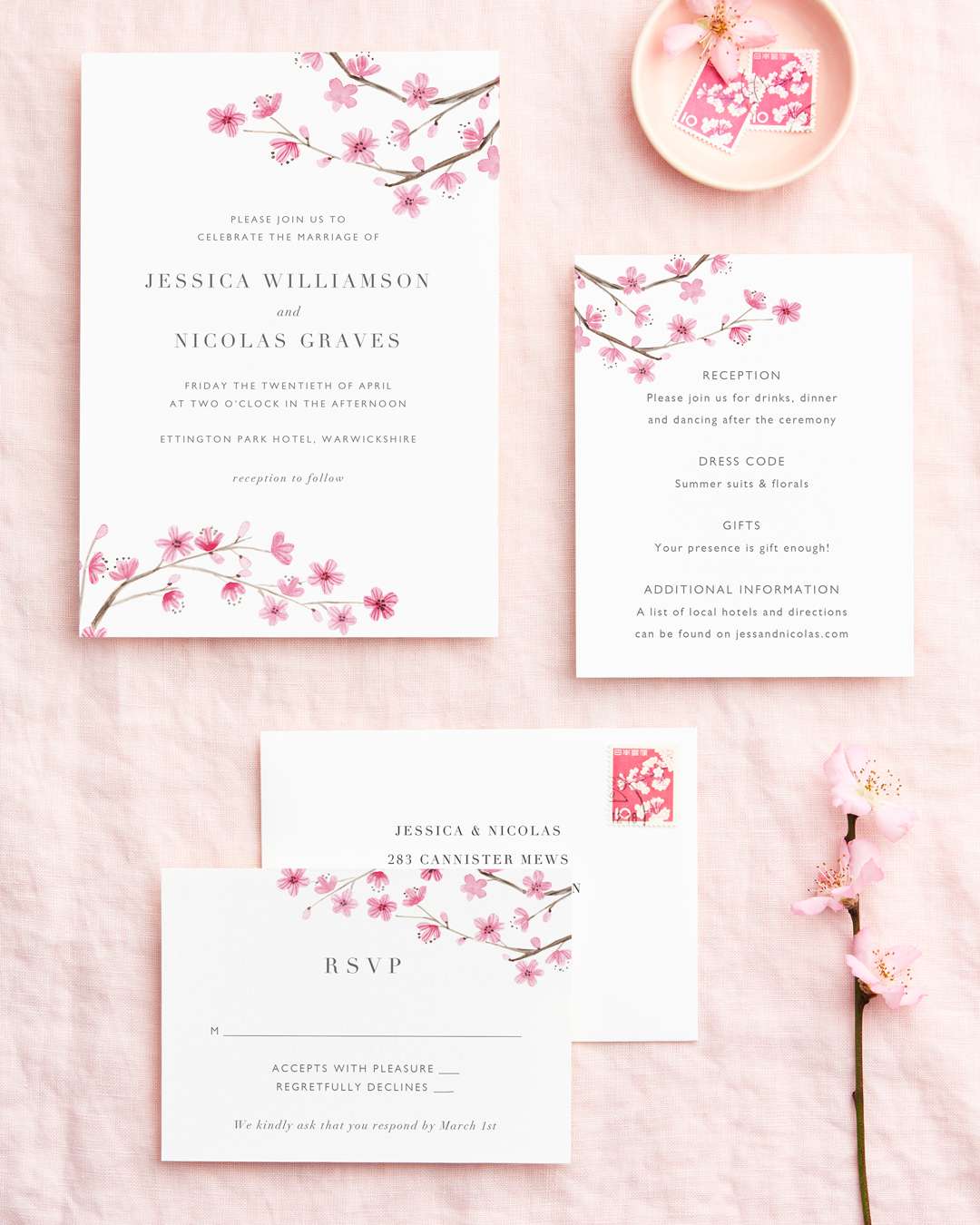 Your wedding stationery should get you excited. As creators of a print magazine, we think there's something so extra special about seeing something beautifully designed and printed rather than just in a digital format, and your wedding stationery is no different. Sure, you could just sent a group WhatsApp, or invite people to a Facebook group, but where's the magic in that?!
If you're looking for something to truly knock your guests' socks off (after all it will be the first thing they see to give them an indication of what your wedding day will be like) then look no further than these companies, who are all offering something really unique with their super cool creations.
Paper made from wildflower seeds with The Seed Card Company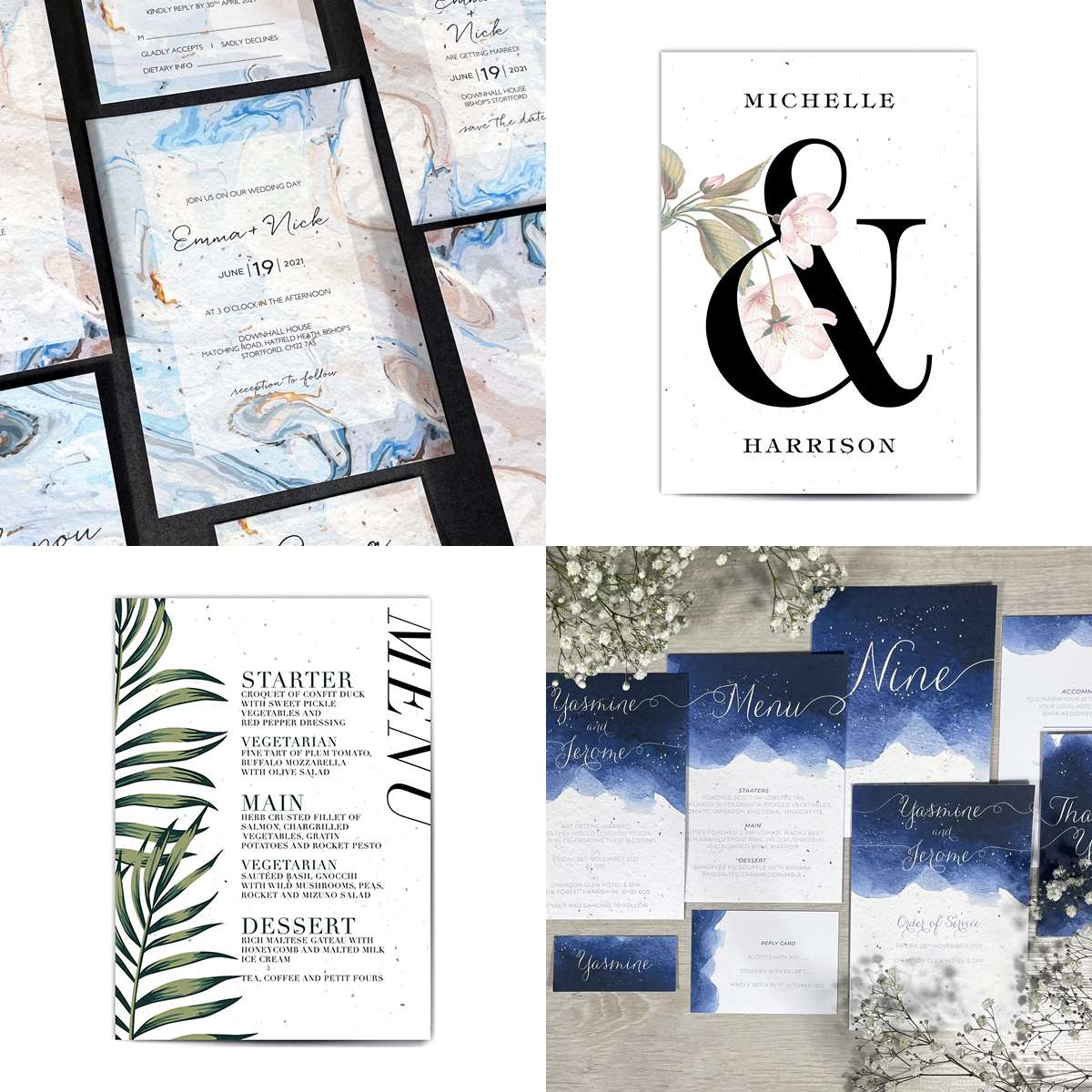 Imagine wedding and social stationery and that do not harm trees and actually help the environment! The Seed Card Company offer an inspirational range of six beautifully designed eco-friendly wedding collections, which have multiple design options in each, that include Save the Date cards, Invitations, Information cards, RSVP's, Menus, Table numbers/Name cards, Orders of Service, Place Settings, and Thank You cards.
They are recyclable, biodegradable, and embedded with a mixture of six wildflower seed types including Bird's Eye, Clarkia, Black Eyed Susan,
Catchfly, Snapdragon and Sweet Alyssum.
All made from post-consumer waste or recycled pre and post-consumer eco-friendly board and printed with vegan–friendly inks. Partnering with global reforestation effort, Ecologi, means each time a card or stationery suite is purchased, The Seed Card Company and Ecologi will plant a tree.
What better way to have your wedding remembered and live on?
Bold hand drawn designs from Two Tabbies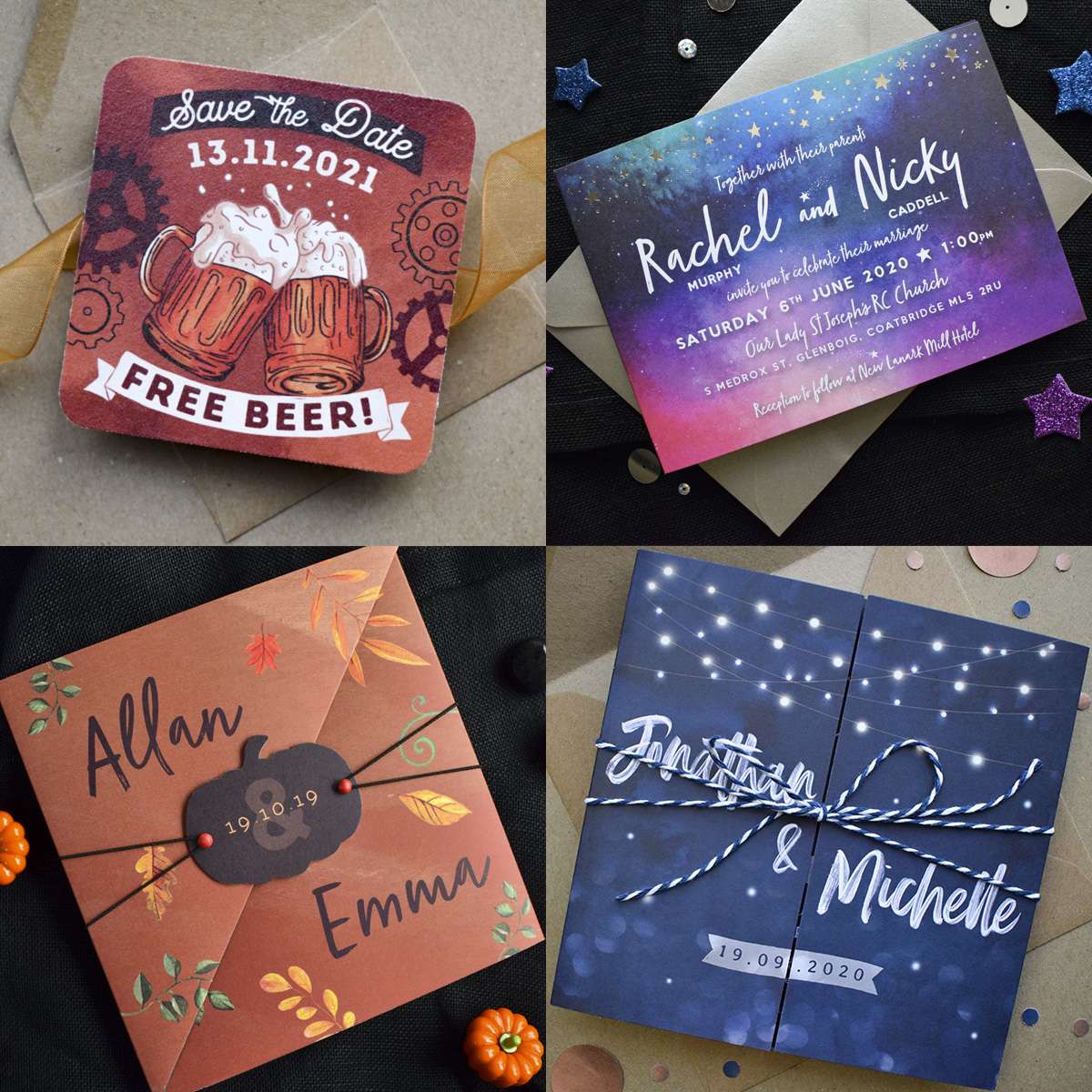 Two Tabbies is a wee design business run by Jenni (with helping paws from her cats Oscar and Penny) in Ayrshire, Scotland, providing wedding stationery for couples looking for something a little bit different, bold and creative.
From save the dates, invitations, day stationery and everything in between, Two Tabbies creates stationery as individual as each couple making your invitations truly unique for you and your guests to fall in love with.
Whether it's from the pre-designed customisable Tabby Collections or starting a new design from scratch, make it purrsonal with Two Tabbies!
Easy online ordering from Papier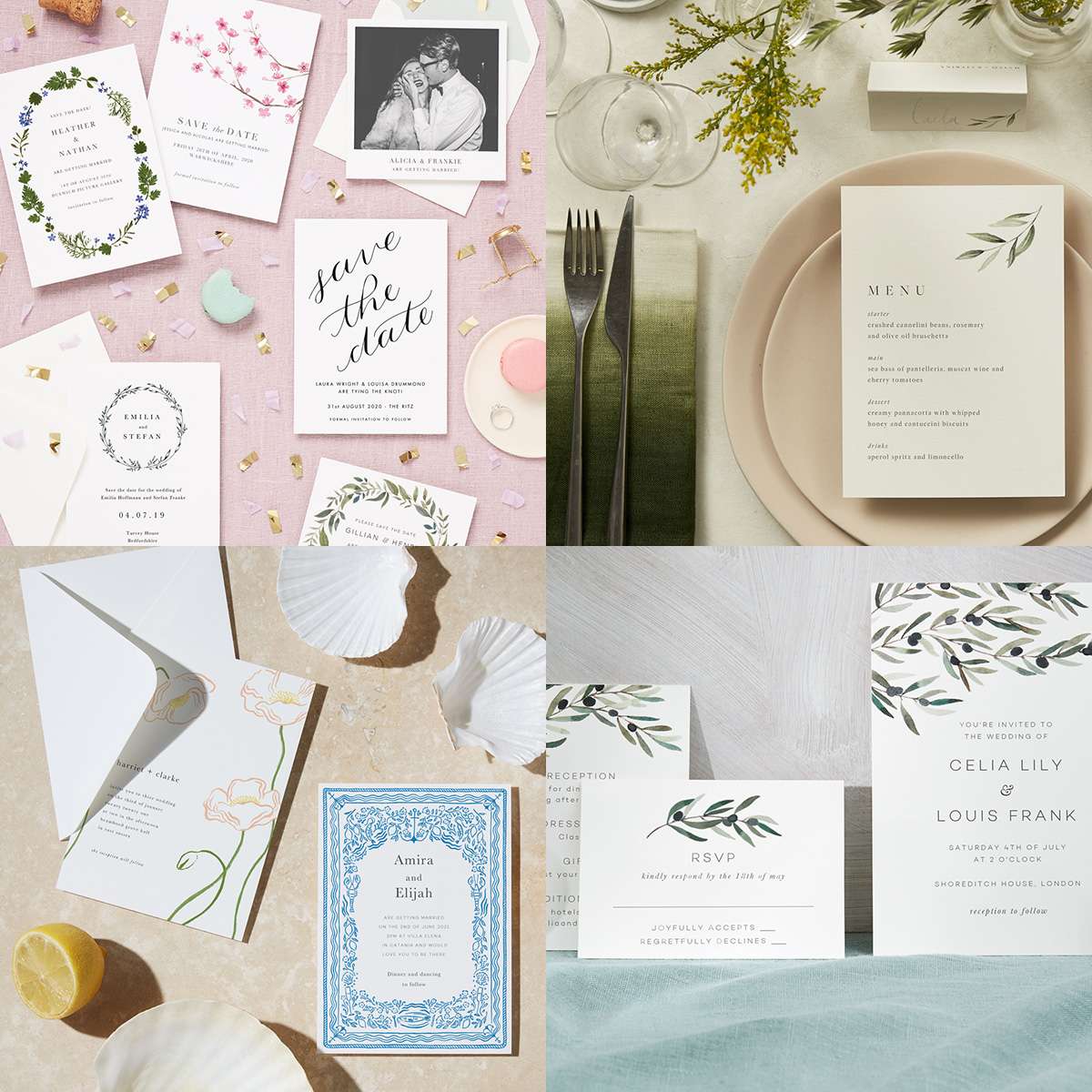 Papier is an online stationery brand offering a collection of beautifully designed wedding stationery to take you from start to finish of your big day; from save the dates and invitations to on-the-day stationery, thank you cards and photo books. Papier collaborates with artists, illustrators and calligraphers to bring you wedding collections you won't find anywhere else and designs which range from classic to contemporary, floral to typographic – there's something to suit every wedding style.
Papier makes your life easier too by offering envelope addressing and place card printing so you can save time by just uploading your guest list.
All designs can be customised online and are printed on the finest quality paper (choose double thick for extra luxe) and couples can discover the size, shape, detail and quality of Papier designs up-close by ordering a sample.
Make all your wedding festival dreams come true with Wedfest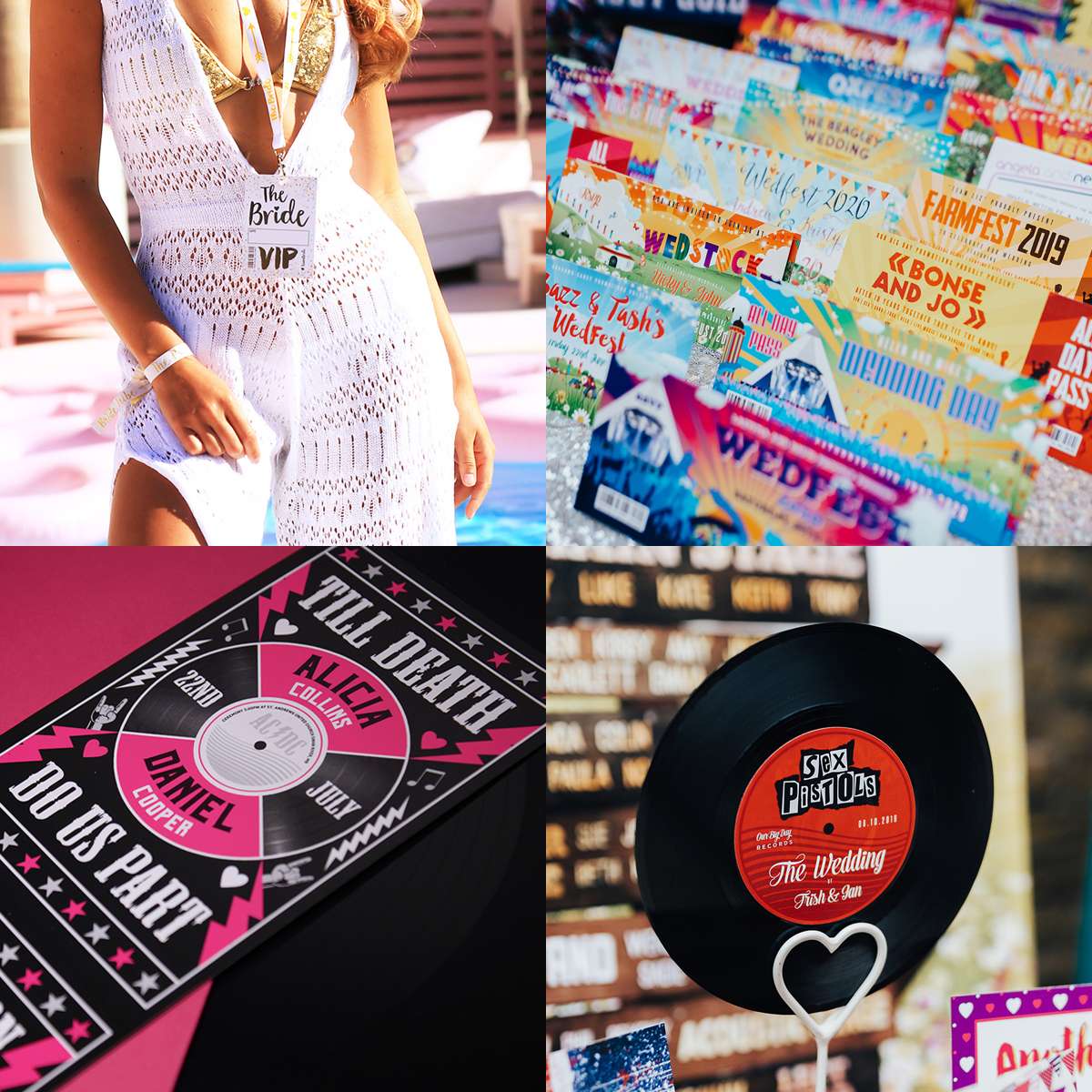 WEDFEST have fast become known as the best in the business when it comes to awesome, alternative and themed wedding stationery for rock and roll brides and grooms.
Specialising in bringing an alternative edge to any type of wedding day they create the most amazing wedding stationery for Rock n Roll brides, festival weddings and every type of wedding you can think of.
They famously supply festival style ticket wedding invitations and festival style wedding wristbands, but also cater for the rest of your big day too. Amongst the many strings to their bow are save the date cards, wedding invitations, festival-style lanyard programmes, VIP passes, festival wedding wristbands, seating plans, place cards, table centre cards, thank you cards, and everything in between. If you can imagine it, they can make it, and if you can't imagine it… don't worry, they can!
As well as all of this they also offer awesome hen party, stag party, wedding and party favours through their sister website.
They have hundreds of fantastic designs and ideas to choose from, but also offer full customisation options and are happy to collaborate with their clients to create something new, unusual, and most importantly… you!
Laser-cut loveliness from Intricate Creations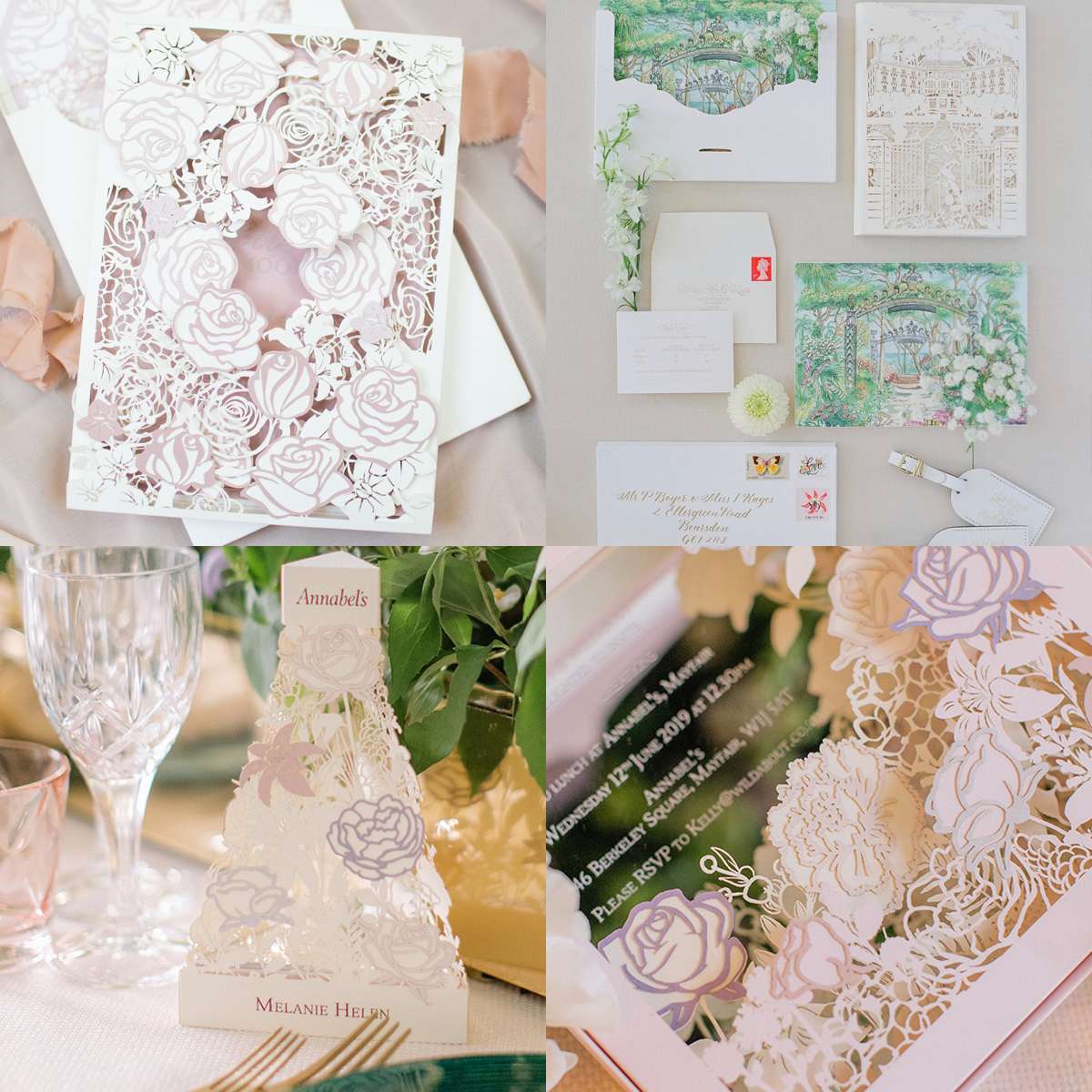 Intricate Creations are purveyors of bespoke laser-cut wedding and event stationery. Their award-winning stationery is designed and crafted in their London studio, using state of the art machinery and only the finest materials ranging from paper/card, Perspex and wood to name a few. They can all be complimented with fine printing methods such as hot foil stamping, letterpress and engraved printing.
Their fully bespoke service allows clients to create their stationery vision with the guided expertise of their experienced design team. They immerse ourselves in our clients' brief to produce stationery unique to them. Our ethos is that 'Anything is Possible' so nothing at Intricate Creations is set in stone. Mix and match any of their designs and styles or try their full bespoke service which allows your imagination to run wild and together we can create something truly magnificent.
Think beyond paper and card with Etsy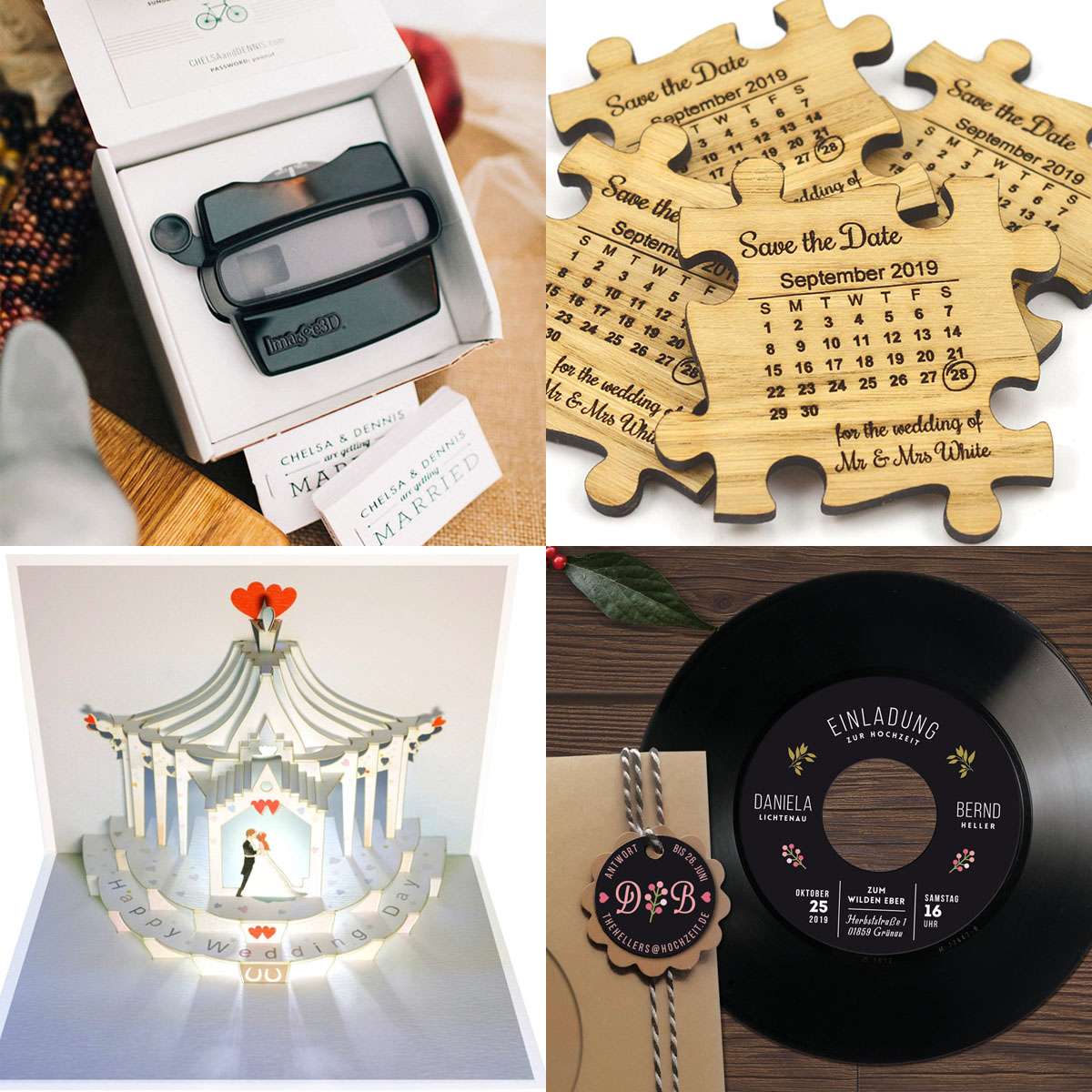 Wedding stationery doesn't just have to be made from paper and card and Etsy is a GREAT place to discover creative and one-of-a-kind ideas and designers.
Melangerie Design takes on custom projects and made this incredibly cool Viewmaster style invitation and PrettyPersonalisedUK can make personalised jigsaw pieces to use as a save the date. Or how about pop up invites like this one from YinyangCats or an invitation made from a real vinyl like this one from Phonoboy?
Traditional techniques meets modern technology with Leeming Brothers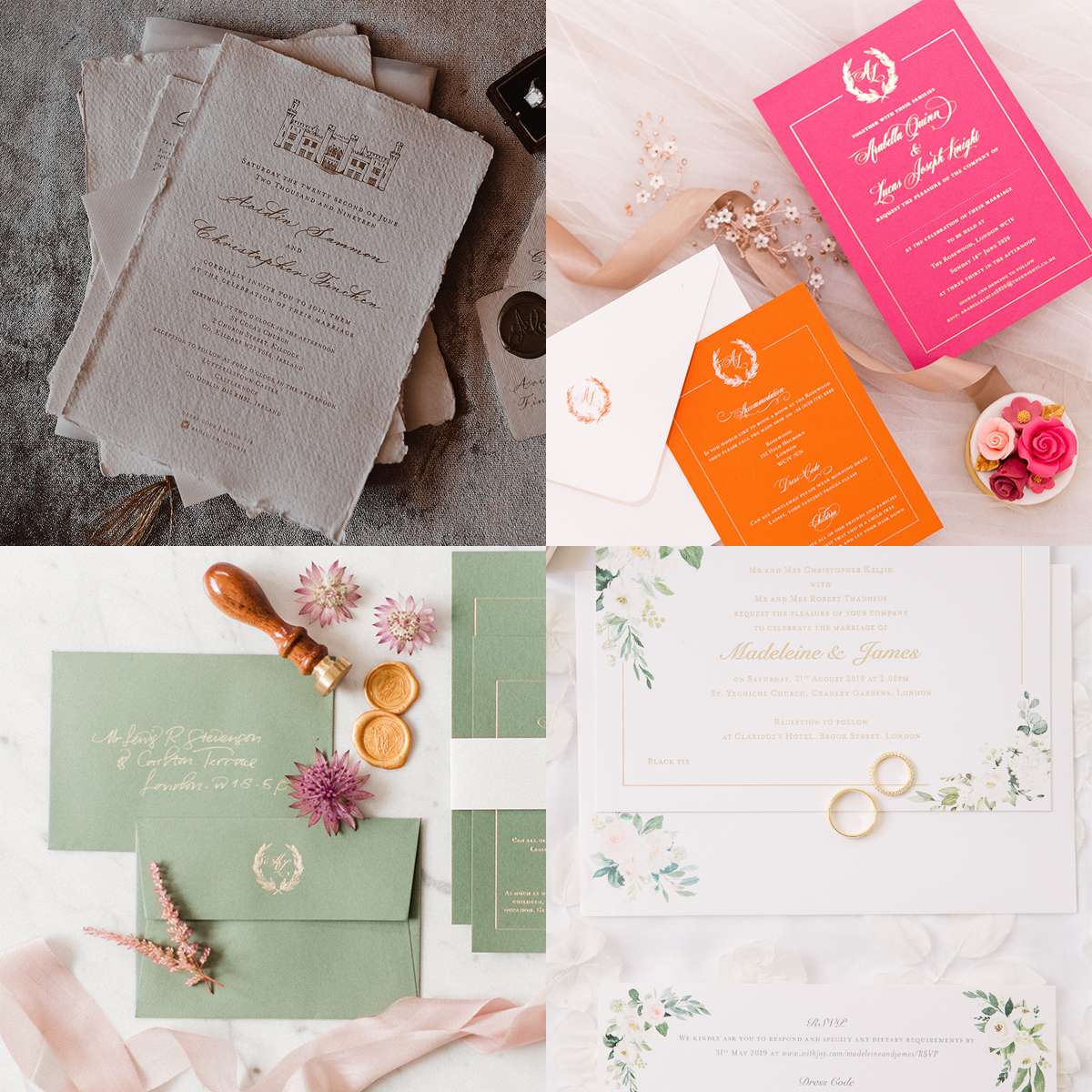 Leeming Brothers are designers and manufacturers of the finest wedding stationery. All of their work is designed and produced in-house in their own workshop, giving then full control of the creative process. They mix traditional print methods with modern technology to create the wedding suite you've always dreamed of.