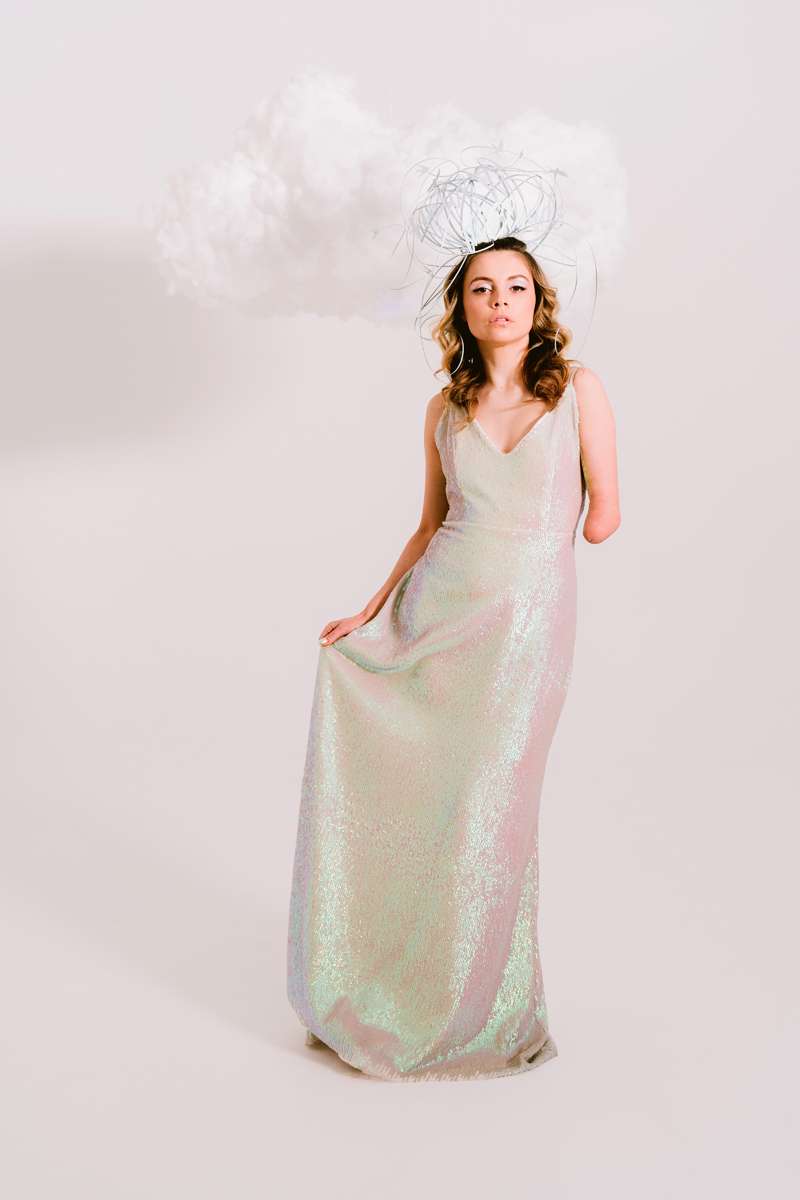 There is a huge misconception that the wedding world is a money-hungry, price-jacking, unscrupulous industry dominated by big companies who are just out to swindle you out of your hard earned cash. And while, yes, there are plenty of big businesses around, they're not in the majority.
Almost exclusively, here at Rock n Roll Bride we champion the small, independent brands. These brands are run by people who who love being creative, who love their clients and who are lucky enough to earn a living doing something that enjoy. These businesses care about their customers and the quality of their products because their work is a reflection of them.
If you want to support small business and work with wedding suppliers who truly understand your vision for your wedding day outfit, then look no further. Here are six of our favourite independent bridal designers.
She Wore Flowers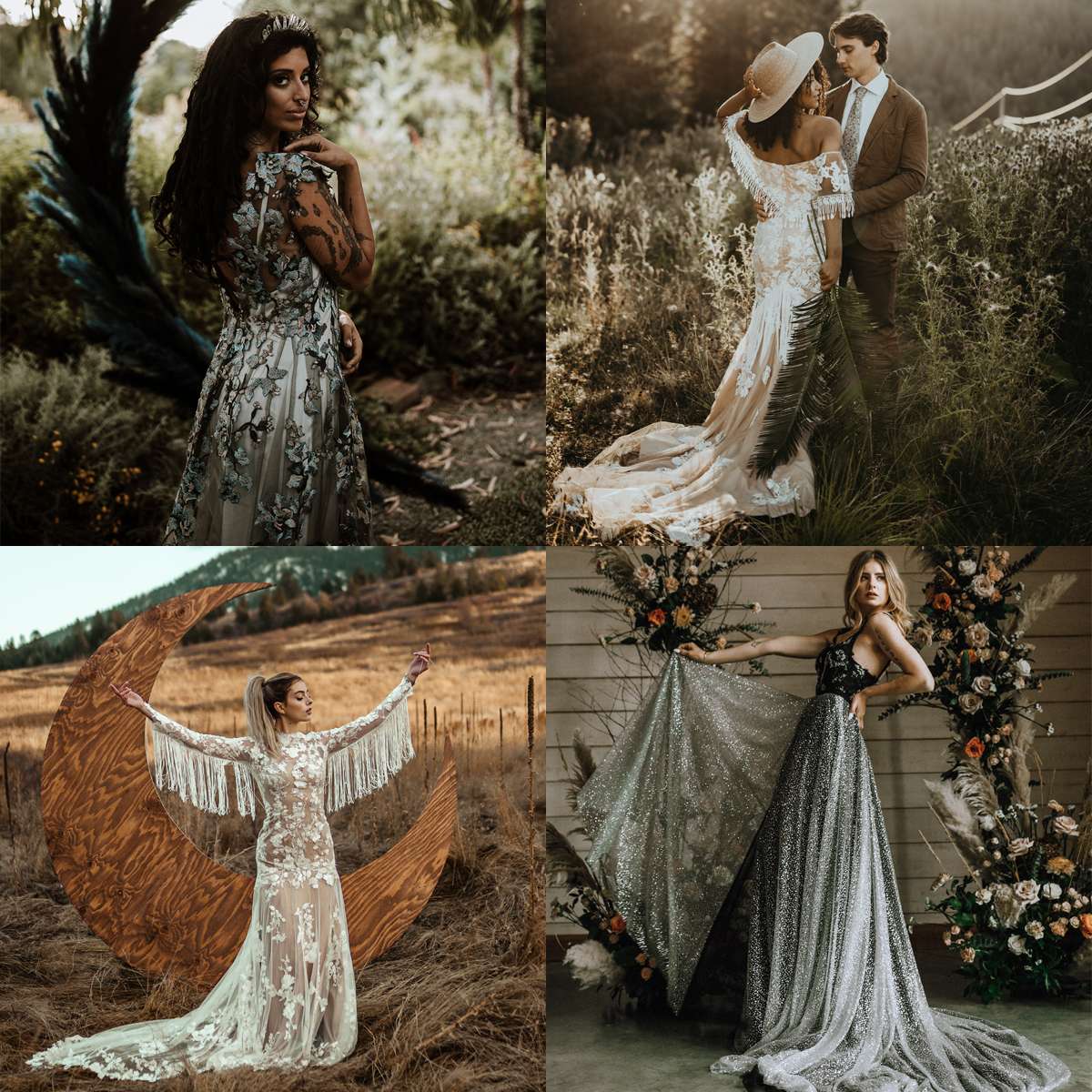 If you like shopping online then you need to know about She Wore Flowers. As well as being stocked in select stores in the UK, Canada and the USA, this is an up and coming indie bridal label sells their unique, affordable dresses directly on their website!
Designed in Canada, She Wore Flowers creates on trend, quality bridal gowns and separates at an affordable price point. Within the collections you'll find everything from non-traditional show stoppers with dark tulle and sparkle, to floaty bohemian designs complete with tassels and unforgettable hand sewn floral lace.
Rebel Rock Bridalwear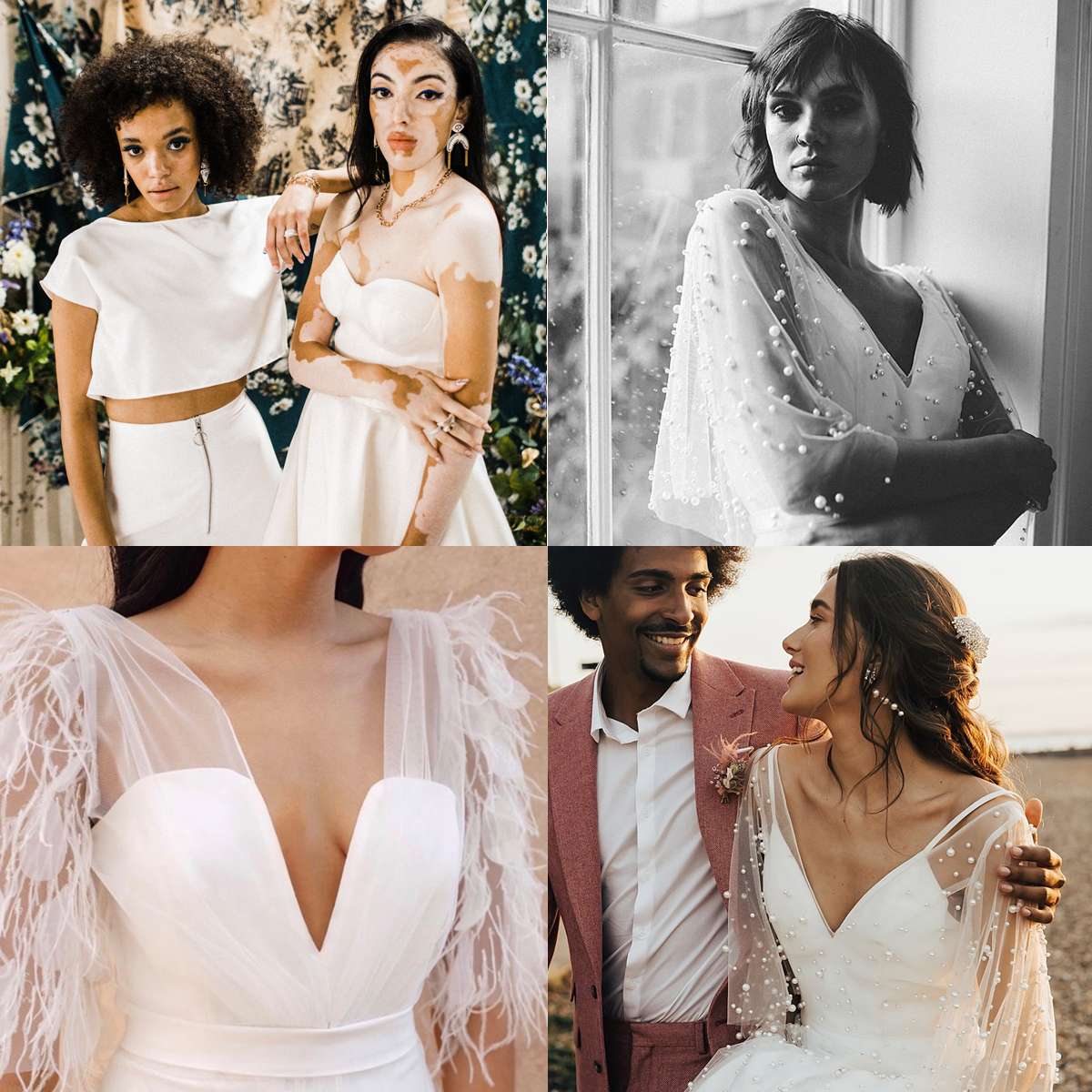 Rebel Rock Bridalwear believe you shouldn't change your style or who you are just because you are going to be a bride. You need to be yourself and put the 'you' into your wedding day.
Starting out back in 2016, sisters Keri & Becki launched the Rebel Rock brand. It was their love of fashion hair and make-up that inspired them to bring their talents together (Becki specialising in hair and Keri in make-up) to create the perfect wedding service.
Now the Rebel Rock Brand are moving on to create the ultimate head to toe styling for brides offering bridal wear by fashion forward led designers.
Their beautiful wedding boutique studio is nestled in a barn conversion in Hereford.
Rebel Rock Bridalwear stock fashion-forward bridal designers, all UK-based, for the modern bride including Charlie Brear, E&W Couture and Shikoba. They offer appointment only which you get the studio exclusively yours to make the experience chilled, relaxed and completely about you.
Lucy Can't Dance
Long time Rock n Roll Bride favourites, Lucy Can't Dance specialise in wedding dresses for non-traditional brides who want to stand out from the crowd. Their bridal collections are created for brides who are searching for an outfit that embraces their style and personality, without it feeling like a 'bridal' costume. They are inspired by vintage shapes and laces and pair them with modern styles and colour techniques to make something unique and different.
They handmake all their dresses from scratch in their little tropical studio. For this reason, they can make a wedding dress in any size and offer a 'made to measure' service to ensure a perfect fit. All of their dresses can be altered to suit the bride's individual style and shape too. They can alter sleeve lengths, necklines, backs, laces, dress length, skirt fullness and much more. Their brand is about making brides feel like the very best version of themselves!
They are are all about body positivity, celebrating and catering for lots of shapes and sizes. Their studio is a fun and relaxed place where you can be your authentic self and leave feeling the most fantastic version of yourself.
Sanyukta Shrestha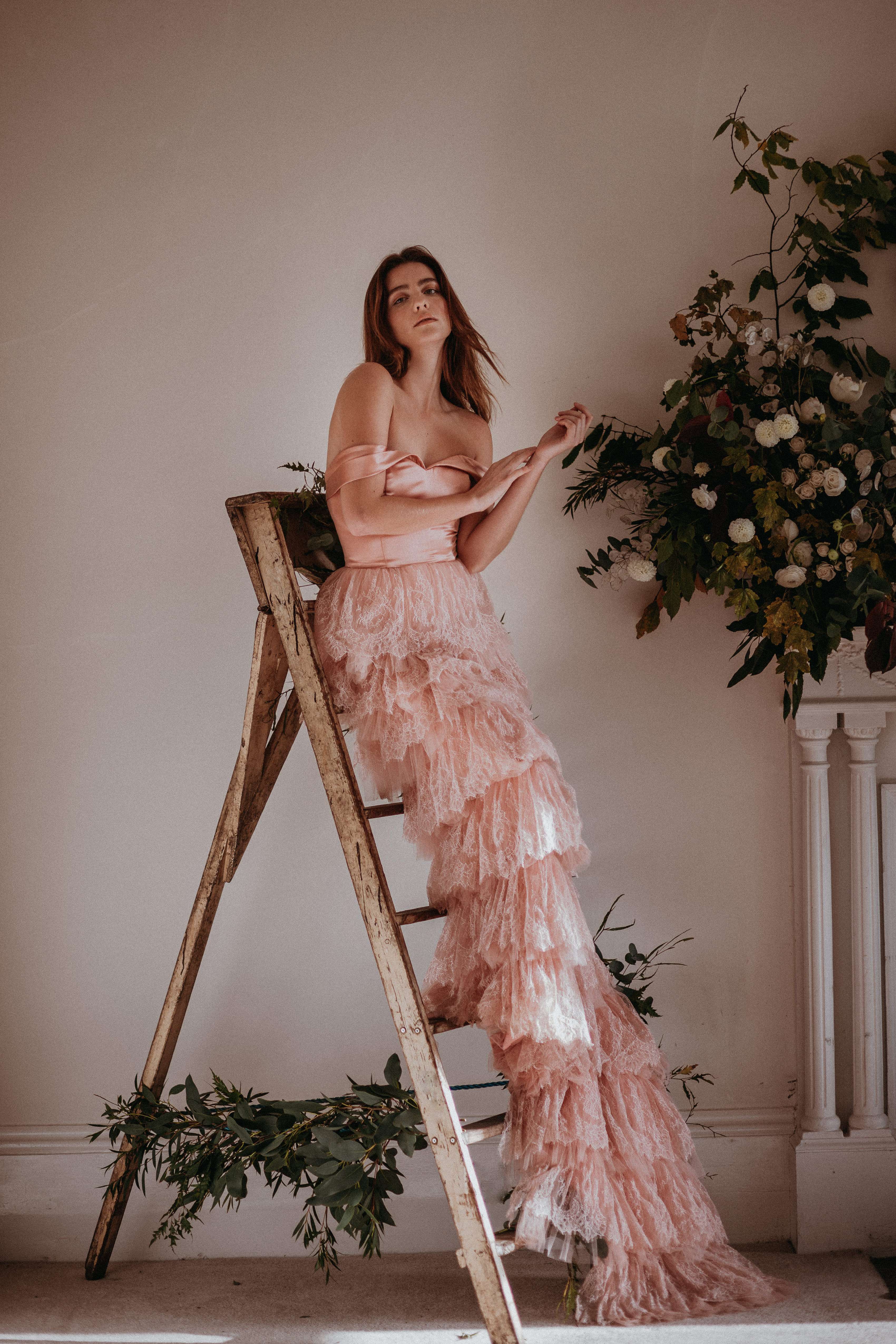 Sanyukta Shrestha, a pioneer in sustainable bridal with a cult following of brides across the world celebrating the luxurious handcrafted timeless sustainable designs that the brand is known for. Recognised by the media as 'the dawn of the sustainable movement' and 'the Greta of the wedding world', the Nepalese born designer Sanyukta Shrestha has redefined the bridal market with her innovative sustainable ethos and was among the first to introduce sustainability to the bridal industry.
With the launch of her first international sustainable bridal collection in 2011, made from eco-friendly and vegan fibres, Sanyukta Shrestha is also the first Nepalese fashion and sustainable bridal designer to have one of her couture creations preserved in the prestigious Fashion Museum in Bath (listed by CNN as one of the world's Top 10 fashion museums) in 2012.
To celebrate the 10th Anniversary of the brand's sustainable bridal journey, Sanyukta Shrestha is holding a mega sample-sale event 'up to 70% off' at their Lincolnshire Country studio from 3rd – 18th July 2021, a fabulous opportunity for brides across the UK to take home your luxurious dream wedding dress that is kind for the planet. By appointments only so to book your spot call on 01507588507 or email brides@sanyuktashrestha.com.
Catherine Blades Couture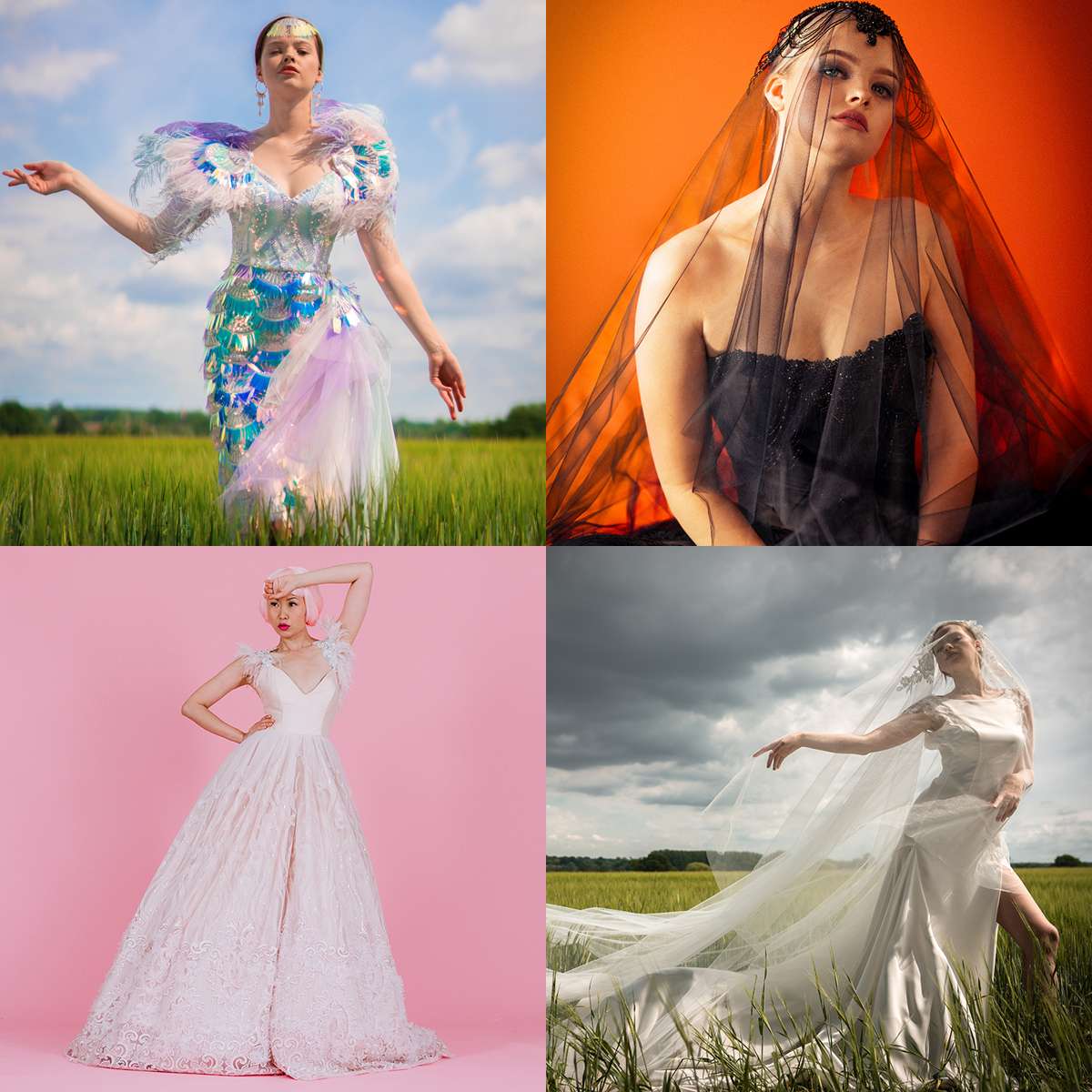 Catherine Blades Couture is an award-winning wedding dress designer creating stunning, unique dresses bespoke to every bride. From the timeless to the bold, Blades Couture provides a fully bespoke service creating stunning wedding gowns and occasion wear that are unique to every client with a signature style that elevates and accentuates the real you.
Story of My Dress
At Story of My Dress they carry a selection of bridal separates and non-traditional wedding dresses by carefully curated independent bridal brands. One of their favourite designer collections is Canadian based, And for Love. Their philosophy is to create bridal, but make it fashion.
They're here to tell you that it's OK to break the rules and that being a 'bride' just means killer outfit that makes you look and feel amazing. They believe in authentic style, effortless cool and modern femininity.
Their 2021 collection 'Summer Garden' embodies a state of total immersion in a midsummer's daydream. Interlaced with a cool dash of 90s glamour mixed with modern femininity. This collection represents a liberated mood, curiosity, individuality, and celebrates the love of the designers hometown of Sydney.