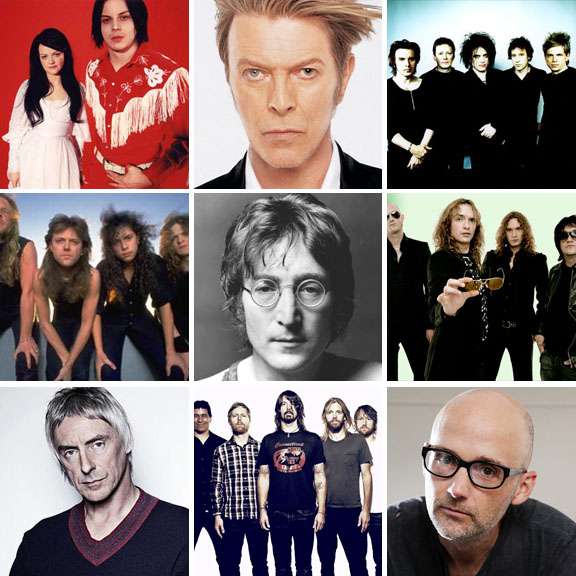 Trying to find some unique ceremony readings? Struggling with writing your vows without being cheesy? Why not call upon the true poets of our time, the rock stars?! Here are some of the most romantic lyrics from the most beautiful rock love songs. No cheese allowed.
OK just a little…
Iris, Goo Goo Dolls
And I'd give up forever to touch you
'Cause I know that you feel me somehow
You're the closest to heaven that I'll ever be
And I don't wanna go home right now
And all I can taste is this moment
And all I can breathe is your life
When sooner or later it's over
I just don't wanna miss you tonight
Real Love, John Lennon
Thought I'd been in love before,
But in my heart I wanted more
Seems like all I really was doing
Was waiting for you
Don't need to be alone
No need to be alone
It's real love
Yes it's real, yes it's real love
It's real, yes it's real love
Better Together, Jack Johnson
There is no combination of words I could put on the back of a postcard
No song that I could sing, but I can try for your heart
Our dreams, and they are made out of real things
Like a, shoebox of photographs
With sepia-toned loving
Love is the answer,
At least for most of the questions in my heart
Like why are we here? And where do we go?
And how come it's so hard?
It's not always easy and
Sometimes life can be deceiving
I'll tell you one thing, it's always better when we're together
Everlong, Foo Fighters
And I wonder
If everything could ever feel this real forever
If anything could ever be this good again
The only thing I'll ever ask of you
You've got to promise not to stop when I say when
Love Should, Moby
Morning sun is sweet and soft on your eyes
Oh my love, you always leave me surprised
I feel my heart starts to burst
With all my love for you
I know how it rains
I know how it pours
I never could feel this way
For anyone but you
Strange And Beautiful, Aqualung
I've been watching your world from afar
I've been trying to be where you are
And I've been secretly falling apart
Unseen
To me, you're strange and you're beautiful
You'd be so perfect with me
But you just can't see
You turn every head but you don't see me
I'll put a spell on you
You'll fall asleep
When I put a spell on you
And when I wake you I'll be the first thing you see
And you'll realize that you love me
I Believe In A Thing Called Love, The Darkness
Can't explain all the feelings that you're making me feel
My heart's in overdrive and you're behind the steering wheel
Touching you, touching me
touching you, god you're touching me
I believe in a thing called love
Just listen to the rhythm of my heart
There's a chance we could make it now
We'll be rocking 'til the sun goes down
I believe in a thing called love
Ooh!
I wanna kiss you every minute, every hour, every day
You got me in a spin but everythin' is A.OK!
Here Without You, Three Doors Down
I'm here without you, baby
But you're still on my lonely mind
I think about you, baby
And I dream about you all the time
I'm here without you, baby
But you're still with me in my dreams
And tonight it's only you and me, yeah.
Toothpaste Kisses, The Maccabees
Cradle me
I'll cradle you
I'll win your heart
with a woop-a-woo
pulling shapes just for your eyes
so with toothpaste kisses and lines
I'll be yours and you'll be
Lay with me, I'll lay with you
we'll do the things that lovers do
put the stars in our eyes
and with heart shaped bruises
and late night kisses
divine
You Do Something To Me, Paul Weller
You do something to me
Something deep inside
I'm hanging on the wire
For a love I'll never find
You do something wonderful
Then chase it all away
Mixing my emotions
That throws me back again
Hanging on the wire, yeah
I'm waiting for the change
I'm dancing through the fire
Just to catch a flame
An' feel real again
Rock n Roll Queen, The Subways
You are the sun
You are the only one
My heart is blue
My heart is blue for you
Be my, be my, be my little rock and roll queen
Be my, be my, be my little rock and roll queen
You are the sun
You are the only one
You are so cool
You are so rock and roll
The Reason, Hoobastank
I'm not a perfect person
There's many things I wish I didn't do
But I continue learning
I never meant to do those things to you
And so I have to say before I go
That I just want you to know
I've found a reason for me
To change who I used to be
A reason to start over new
and the reason is you
Wherever You Will Go, The Calling
So lately, been wondering
Who will be there to take my place
When I'm gone, you'll need love
To light the shadows on your face
If a great wave shall fall
It'd fall upon us all
And between the sand and stone
Could you make it on your own?
You and Me, Lifehouse
What day is it? And in what month?
This clock never seemed so alive
I can't keep up and I can't back down
I've been losing so much time
'Cause it's you and me and all of the people with nothing to do, nothing to lose
And it's you and me and all of the people
And I don't know why I can't keep my eyes off of you
Lovesong, The Cure
Whenever I'm alone with you
You make me feel like I am home again
Whenever I'm alone with you
You make me feel like I am whole again

Whenever I'm alone with you
You make me feel like I am young again
Whenever I'm alone with you
You make me feel like I am fun again
Run, Snow Patrol
Light up, light up
As if you have a choice
Even if you cannot hear my voice
I'll be right beside you dear
Louder louder
And we'll run for our lives
I can hardly speak I understand
Why you can't raise your voice to say
Slower slower
We don't have time for that
All I want's to find an easy way
To get out of our little heads
Fell In Love With A Girl, The White Stripes
Fell in love with a girl
fell in love once and almost completely
she's in love with the world
but sometimes these feelings
can be so misleading
she turns and says are you alright?
I said I must be fine cause my heart's still beating
come and kiss me by the riverside,
bobby says it's fine he don't consider it cheating
Heroes, David Bowie
I, I will be king
And you, you will be queen
Though nothing will drive them away
We can beat them, just for one day
We can be heroes, just for one day
And you, you can be mean
And I, I'll drink all the time
'Cause we're lovers, and that is a fact
Yes we're lovers, and that is that
Though nothing, will keep us together
We could steal time,
just for one day
We can be heroes, for ever and ever
What d'you say?
Forever Man, Eric Clapton
How many times must I tell you babe,
How many bridges I've got to cross?
How many times must I explain myself
Before I can talk to the boss,
'Fore I can talk to the boss?
How many times must I say I love you
Before you finally understand?
Won't you be my forever woman?
I'll try to be your forever man,
Try to be your forever man.
Nothing Else Matters, Metallica
So close no matter how far
Couldn't be much more from the heart
Forever trusting who we are
And nothing else matters
Never opened myself this way
Life is ours, we live it our way
All these words I don't just say
And nothing else matters
Trust I seek and I find in you
Every day for us something new
Open mind for a different view
And nothing else matters
Tangled Up in You, Stained
You're my world
The shelter from the rain
You're the pills
That take away my pain
You're the light
That helps me find my way
You're the words
When I have nothing to say
And in this world
Where nothing else is true
Here I am
Still tangled up in you
I'm still tangled up in you
Still tangled up in you