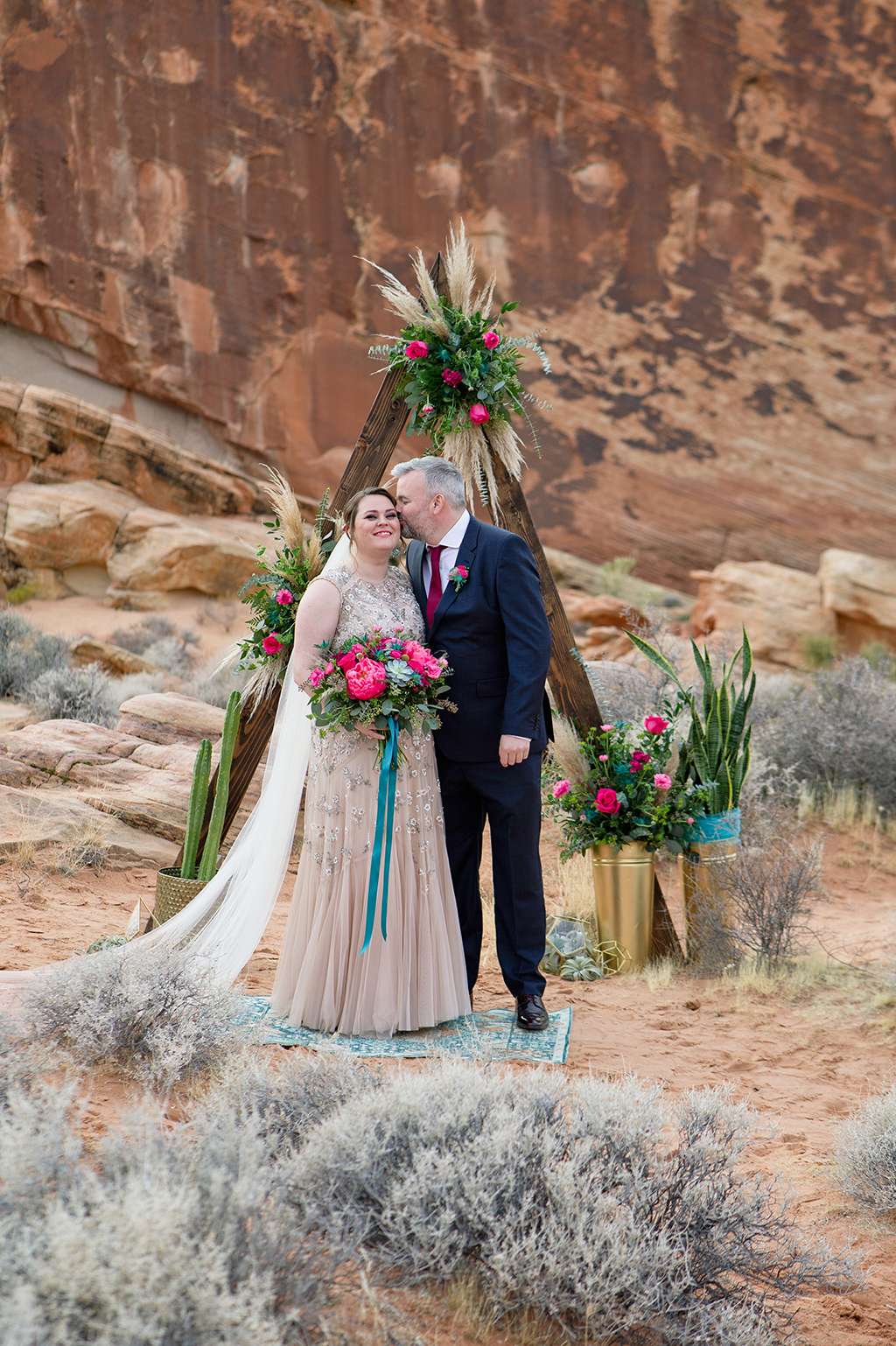 There's an old saying that some people enjoy getting married so much they go on to do it more than once, which was exactly true for Caroline and Michael – except this time, all three times were to each other! Buckle up dear reader, because this one is a whopper!
The couple spent €16,000 (total!) to have three celebrations, which is less than half of the usual wedding budget of a traditional Irish wedding – major props for the creativity and DIY efforts! A big fan of Rock n Roll Bride, Caroline wanted to find a way to express all the sides of their personalities and the best way she could come up with was to have three separate events.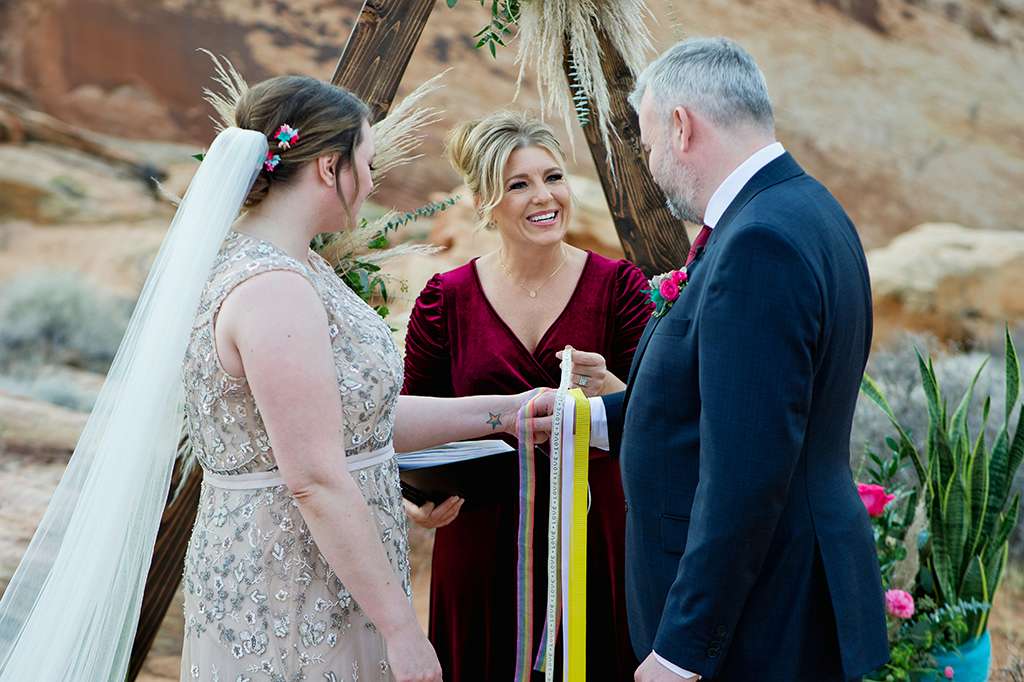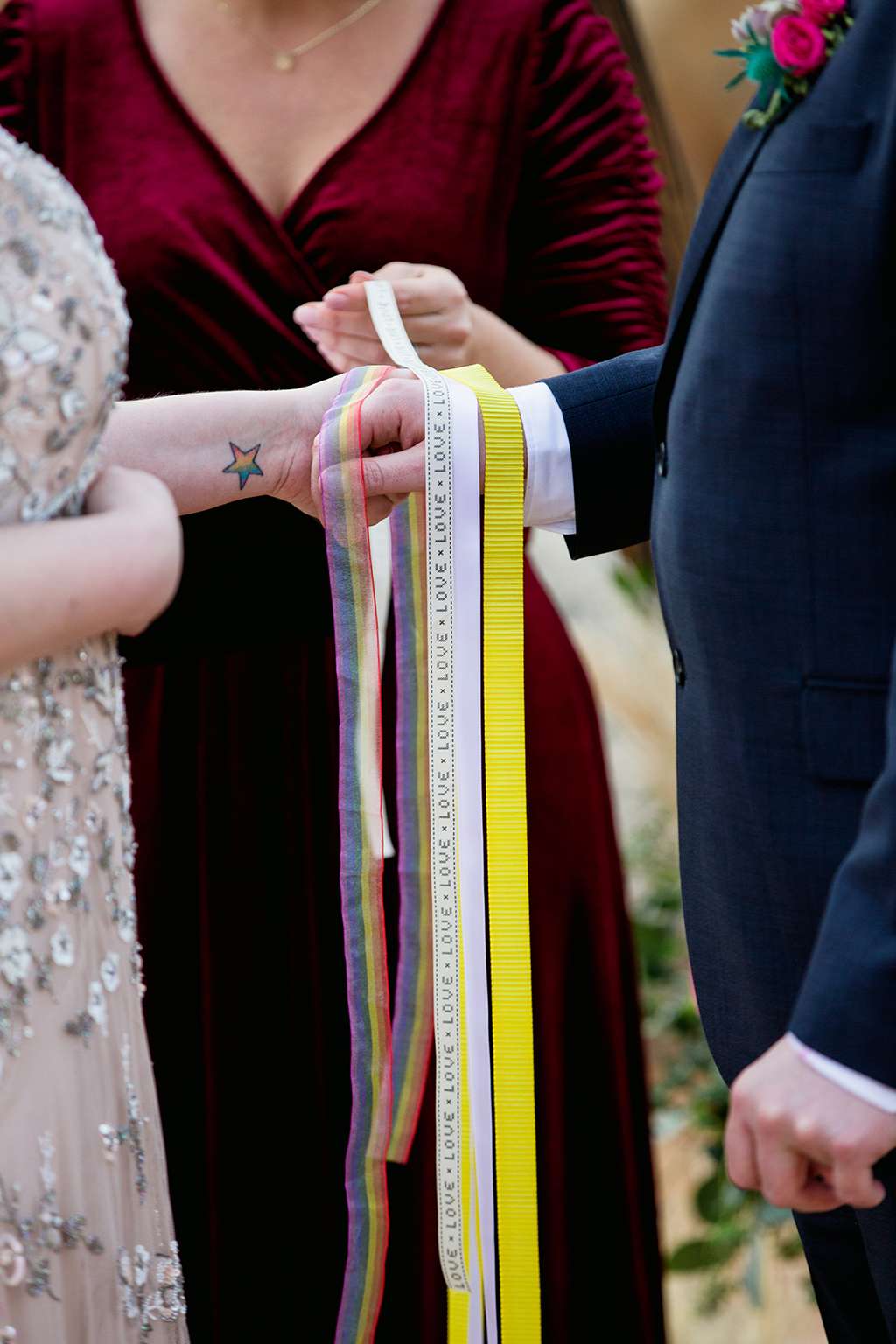 As lovers of nature, they originally wanted to get married at the Grand Canyon, but the logistics were too much of a pain. A search on Instagram uncovered Rainbow Vista in the Valley of Fire, just outside of Vegas, and it was perfect. It gave them the opportunity to be in nature and have a connection to the earth.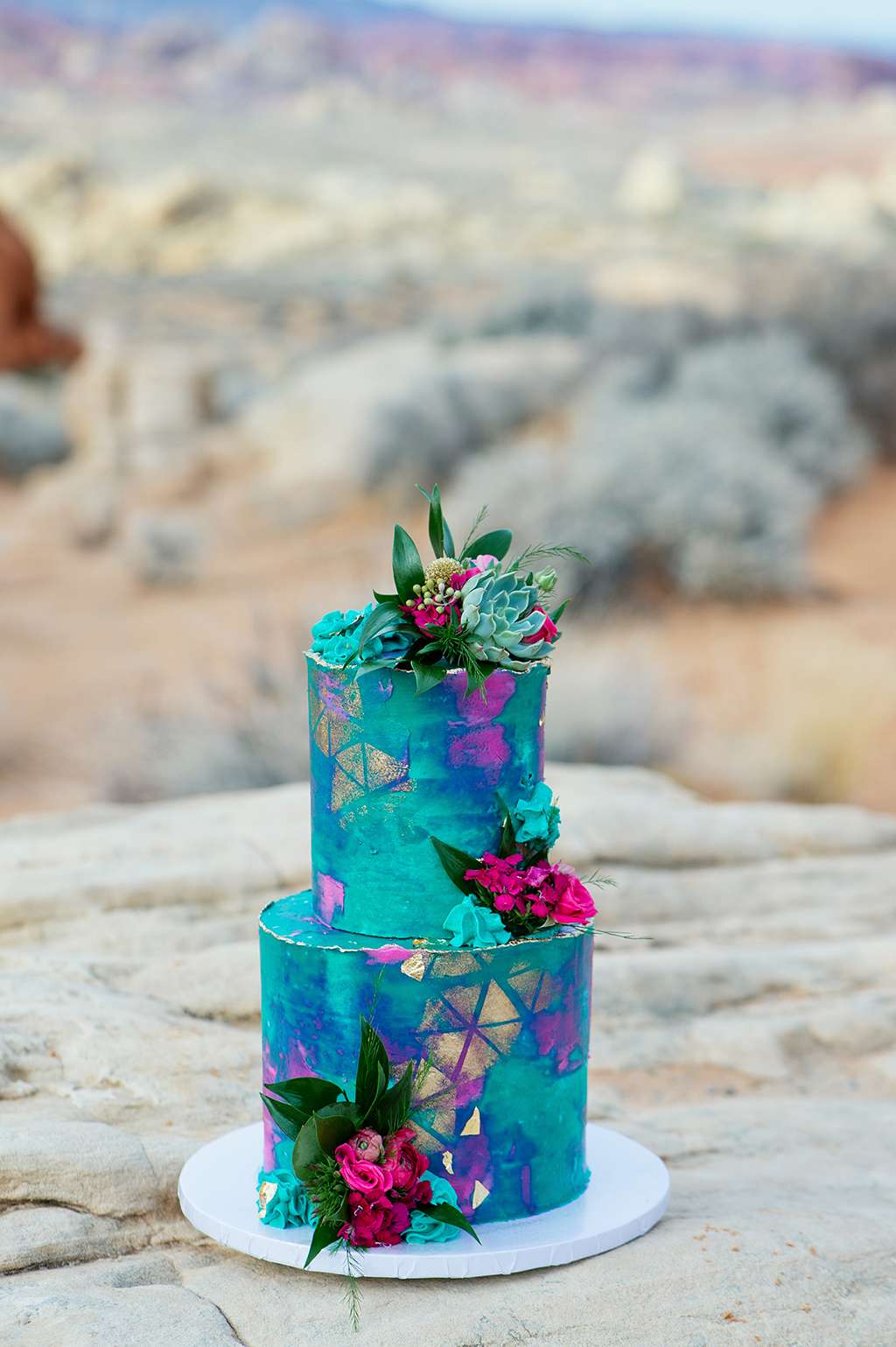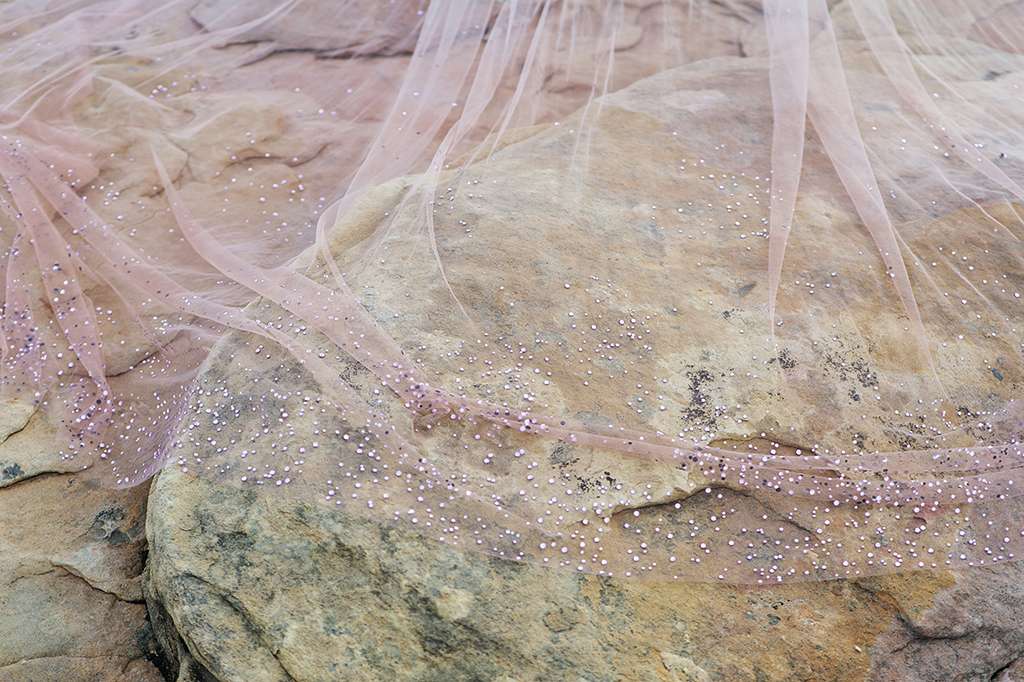 For the desert ceremony Caroline wore a BHLDN dress with crystal-encrusted Crown and Glory veil and El Jardin de Valentyna floral headpieces. "We're so glad we decided to elope for our main ceremony," Caroline said. "It felt amazing to walk into our little set up together and hear…nothing! The area was so peaceful and quiet, with just our celebrant and photographers. We did a handfasting with ribbons that we picked for their significance, then read our vows to each other. It was amazing to sit down afterwards and have our delicious cake together while looking out at such an incredible landscape, having that time just to process everything by ourselves."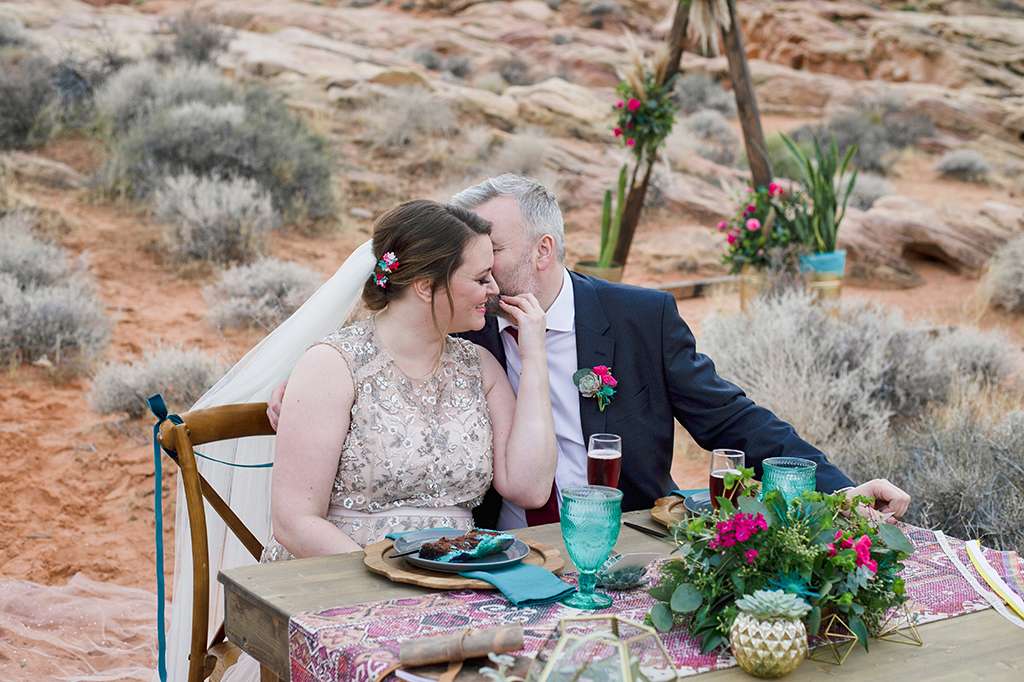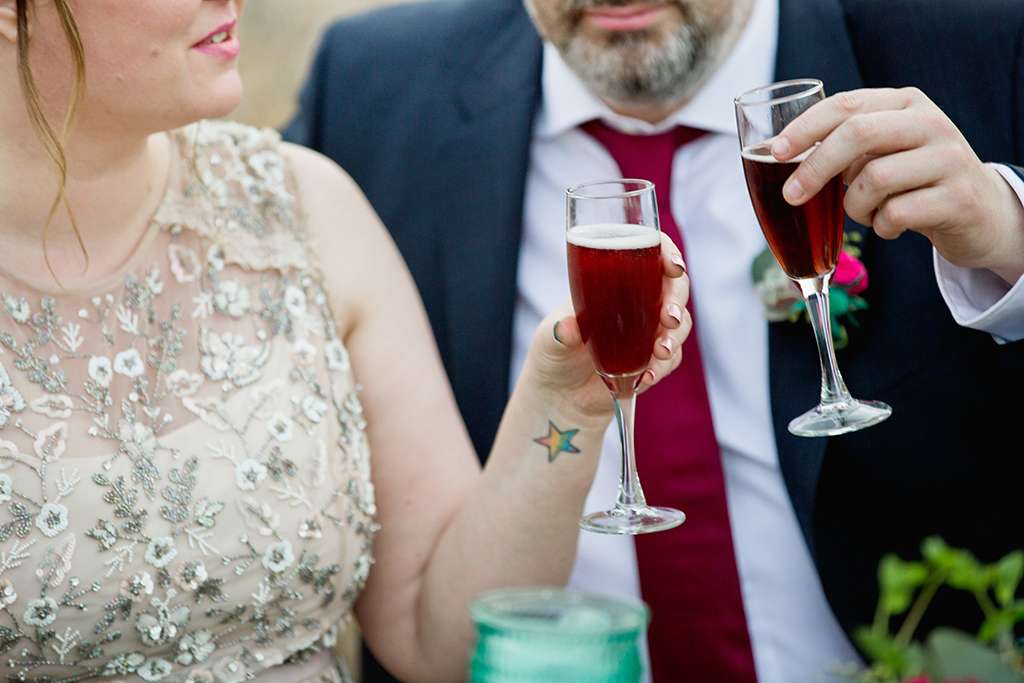 Their next ceremony, at A Little White Wedding Chapel on the Las Vegas strip, was a little more raucous. Caroline changed into a gold sequin dress from Quiz which she wore with a DIY veil and painted jacket. "Our friend Jen officiated our wedding and she made lots of jokes and references to Britney, who I am a forever stan of. We lit our Britney themed unity candle with rainbow matches and handed out Britney wafers as communion wafers. Our rings were in a plastic macaron box (I proposed with macarons)."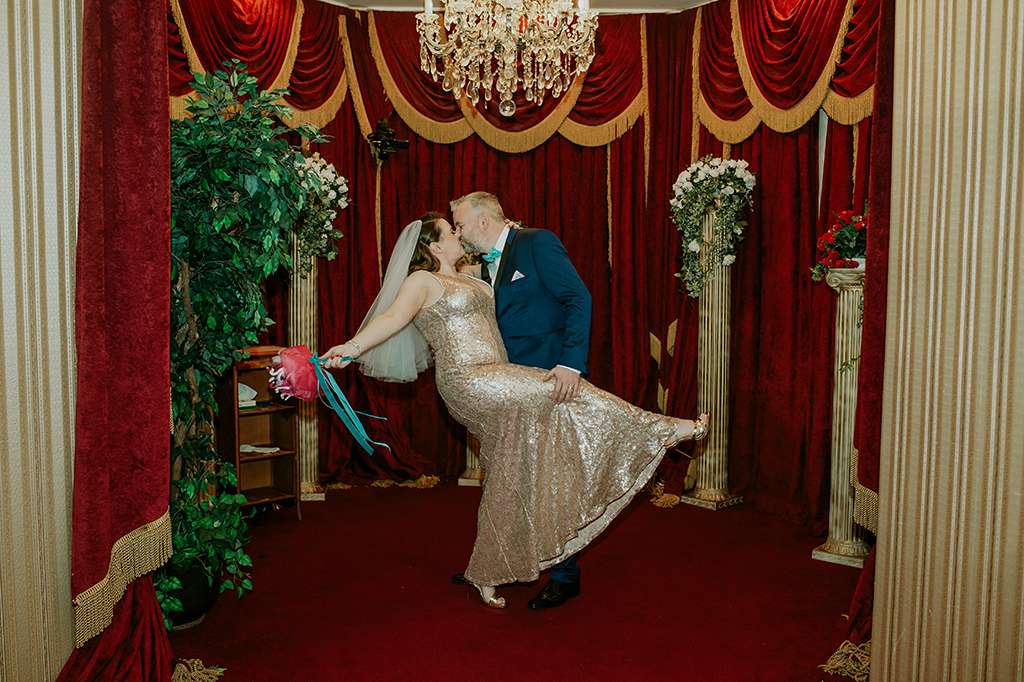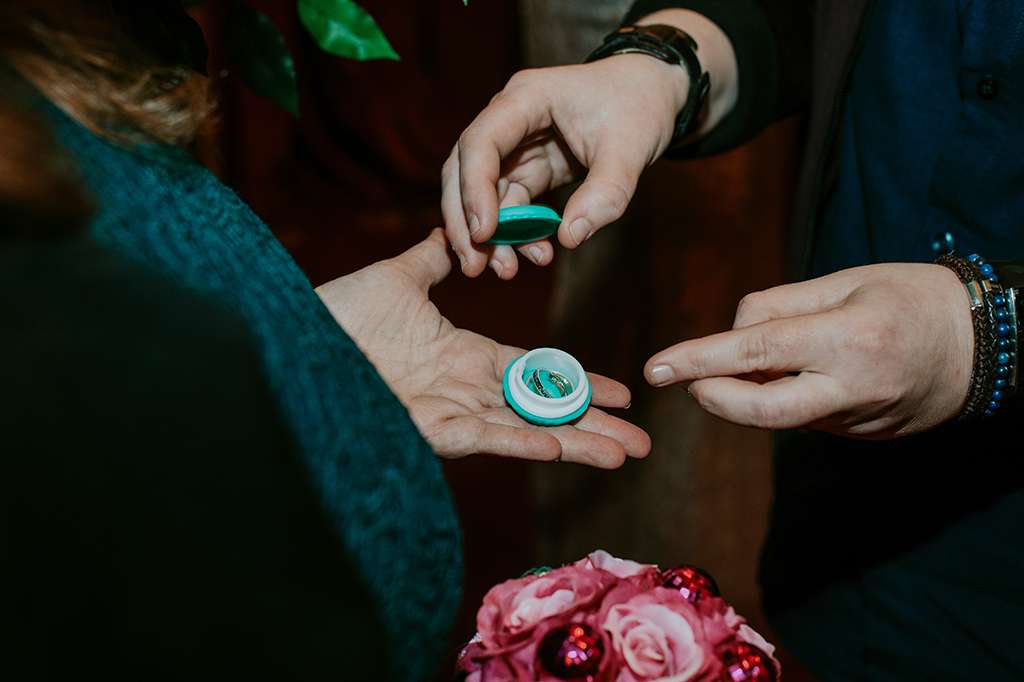 They then went for some photos on the strip then took their guests for hotdogs. For confetti, Caroline found some in hotdog shapes which their guests threw outside the hot dog restaurant! As a sex writer (you may have spotted her article about wedding night sex in the current issue of Rock n Roll Bride magazine!) there was only one place they could finish their night – a strip bar followed by Hooters at midnight!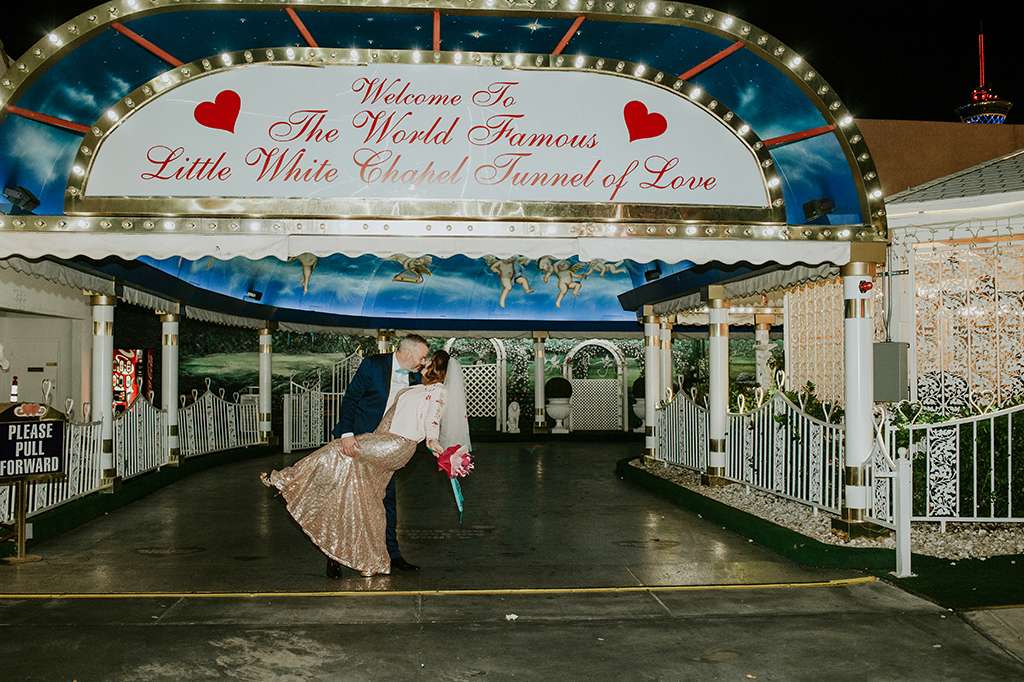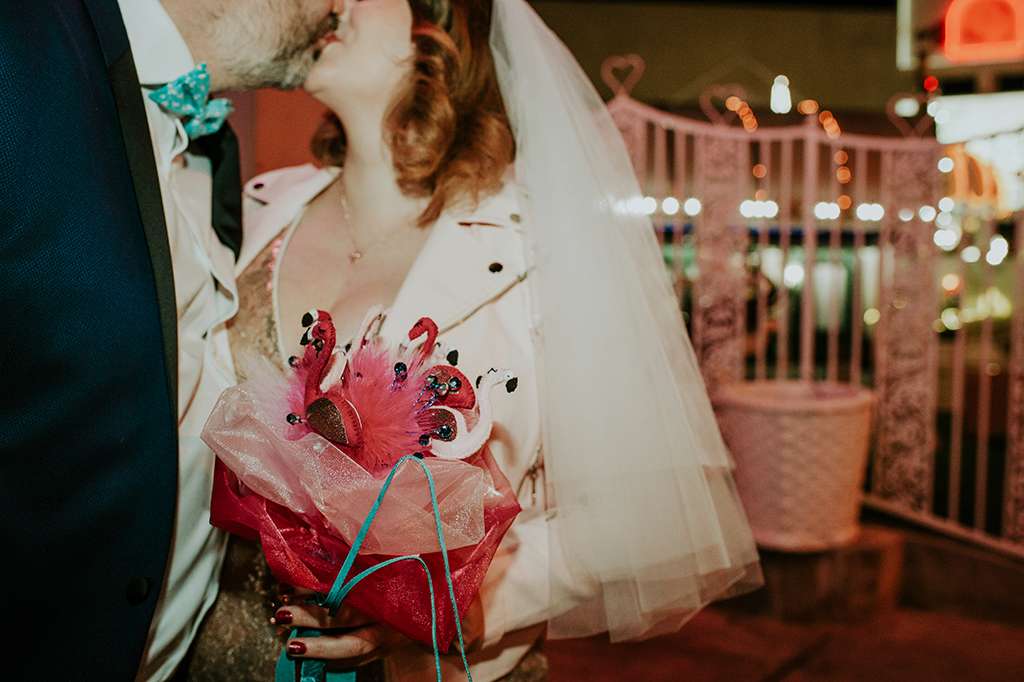 "Our friends gave us sex toys as a wedding gift, and we carried on the X-rated touches with our Dublin wedding, too. Instead of throwing a garter or bouquet, we threw a discoball full of ingredients for a romantic night in – condoms, lube, chocolate and drink tokens. Our favours were free condoms and lube in the bathrooms!"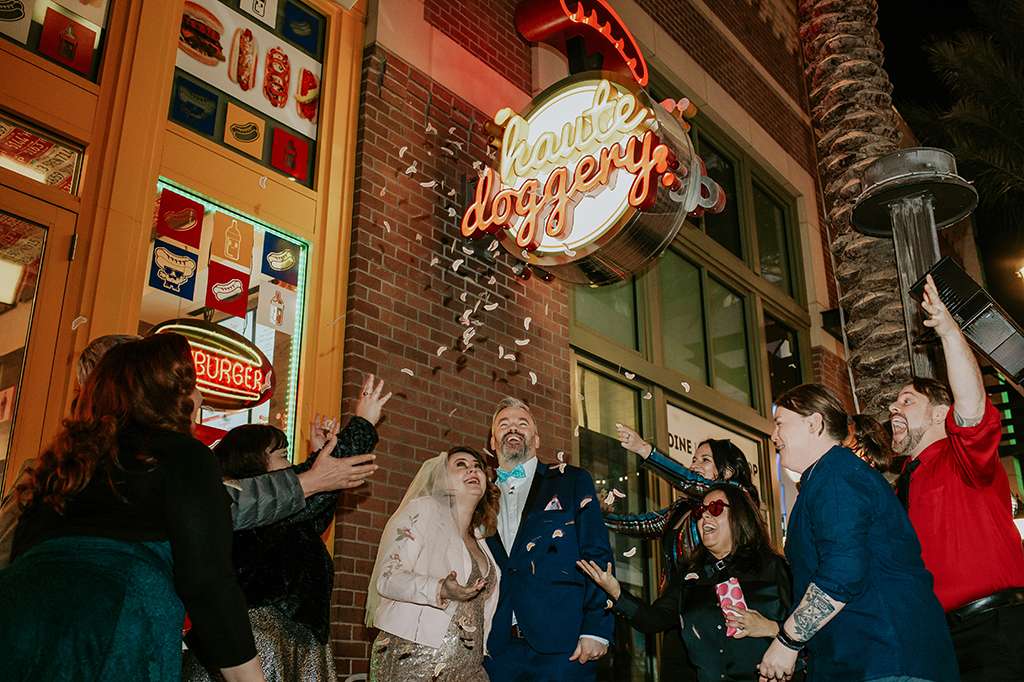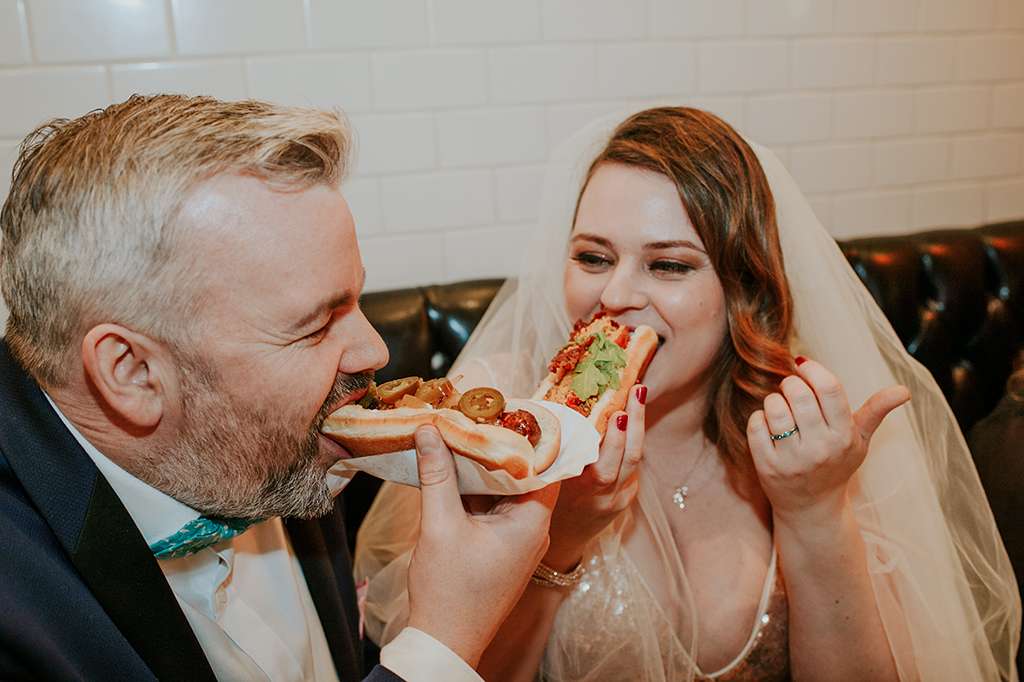 On returning to Ireland, they set to planning their big Dublin reception for all their friends and family. Caroline got ready at Benefit with her bridesmaids. Each had a little flamingo brooch, with her maid of honour having a skeleton flamingo as that's more her aesthetic. They took some photos around town then got a tram to the venue.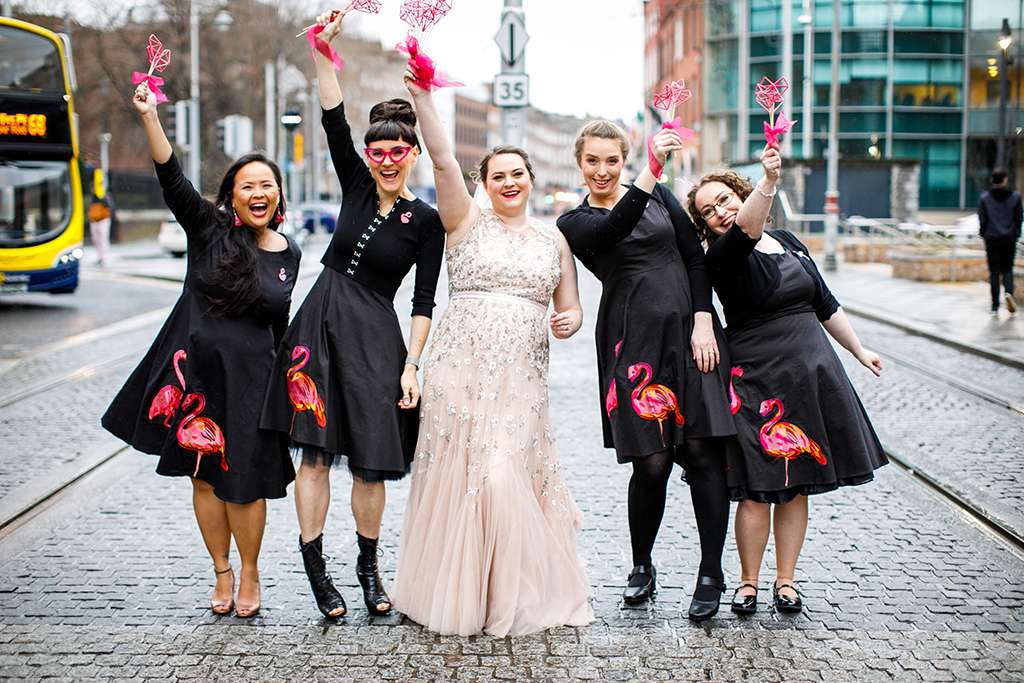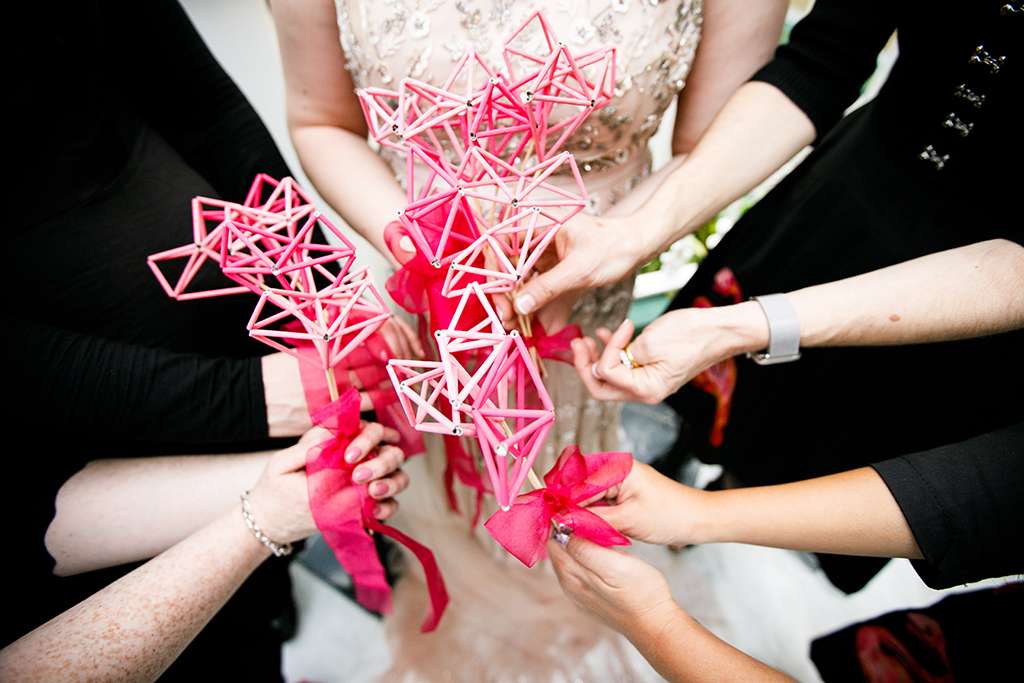 "Michael wasn't up for another full-on ceremony (he was all wedded-out at that point!) but we had a small 'breaking bread' ritual where our friend Sarah said some kind words and we broke bread by eating macarons and toasting with Prosecco. We had a gorgeous three course meal with 24 family and friends, and our evening reception had about 70 people. Our band played for a couple of hours, followed by a glow stick send off. We had little flamingo photo holders of polaroids on the tables, and a slideshow of all the photos from Vegas playing throughout the night so people could see the ceremony. We got donuts from Krispy Kreme rather than cake so everyone could try different flavours."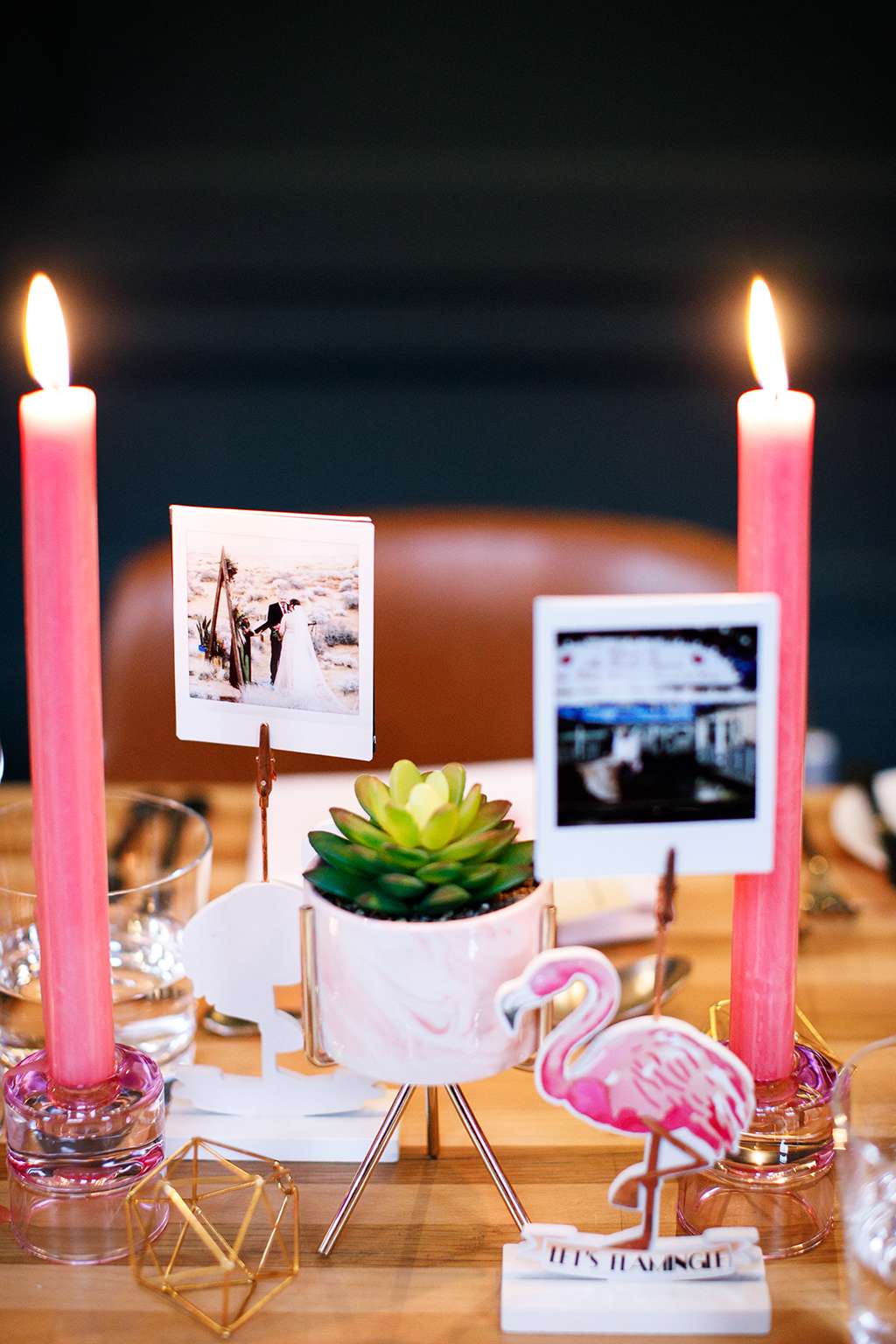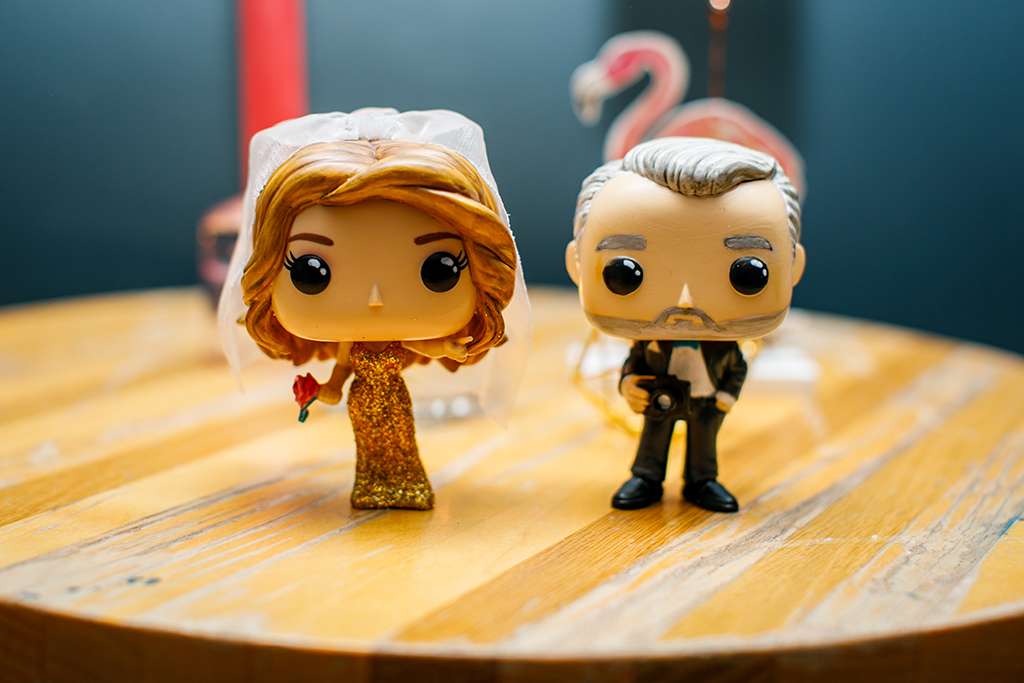 "I loved that we eloped for the main ceremony," concluded Caroline, "as I wanted that space just to be for us. It's our marriage, so I wanted it to be our wedding too. For the Vegas one, we loved that it was so silly and we spent the ceremony laughing. Do things your way – it's your wedding! Don't stress about the tiny details, take joy in them. The day does go by fast, so I'm glad we got to spend it wrapped up in each other. It's a fun day, but not a day to go into crazy amounts of debt for. Save the money for date nights and living well after the wedding."