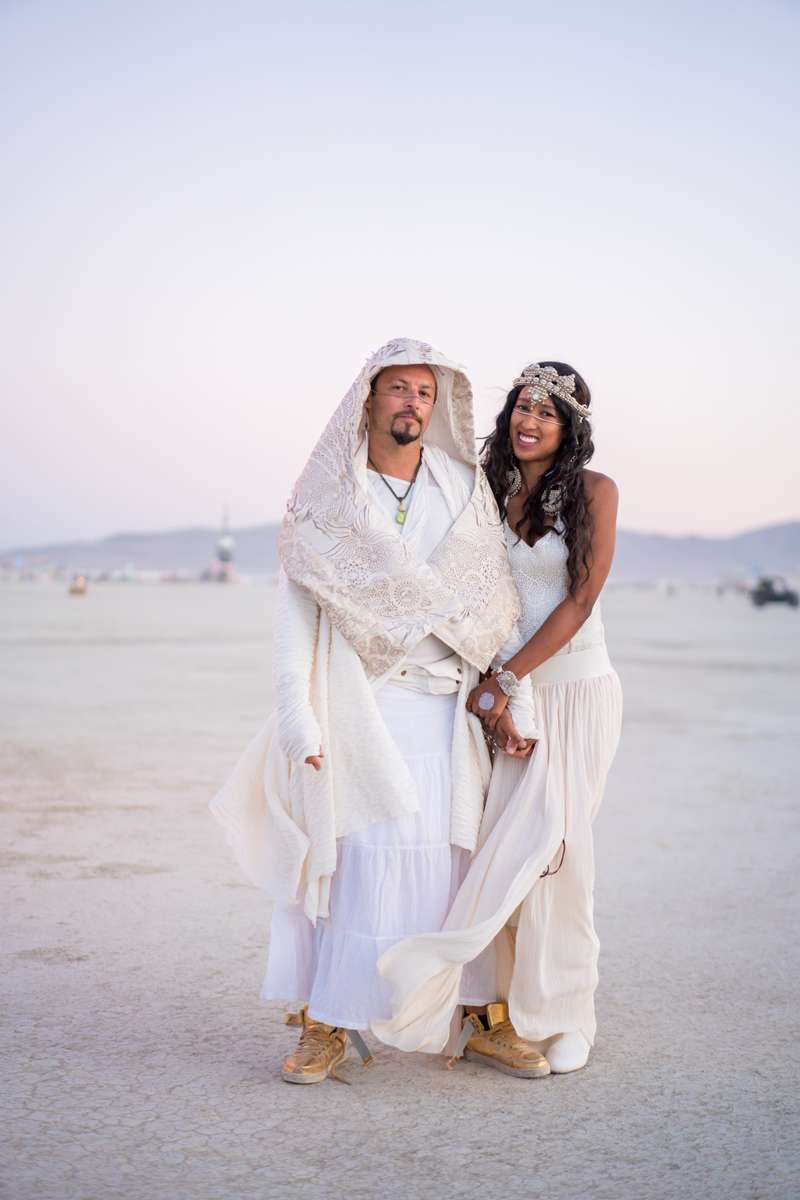 WOW. OK prepare yourself, because this is a wedding you are going to pay attention for. Burners Yoshi and Gilles chose their favourite place in the world to say their vows – Burning Man! In total they spent just $2000 on the day (not including their tickets because they knew they'd already be going). Apart from their outfits (which the bride made) their photographer, some champers and a homemade cake, they really didn't bother with anything else!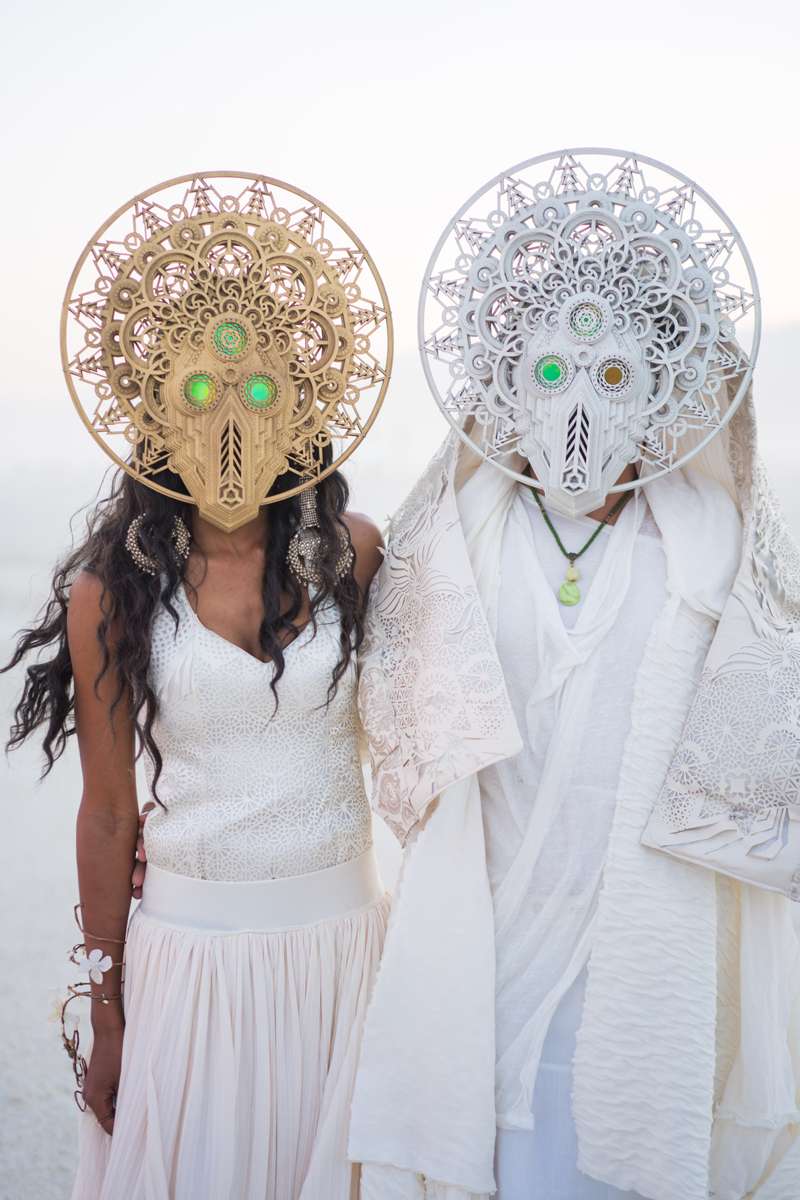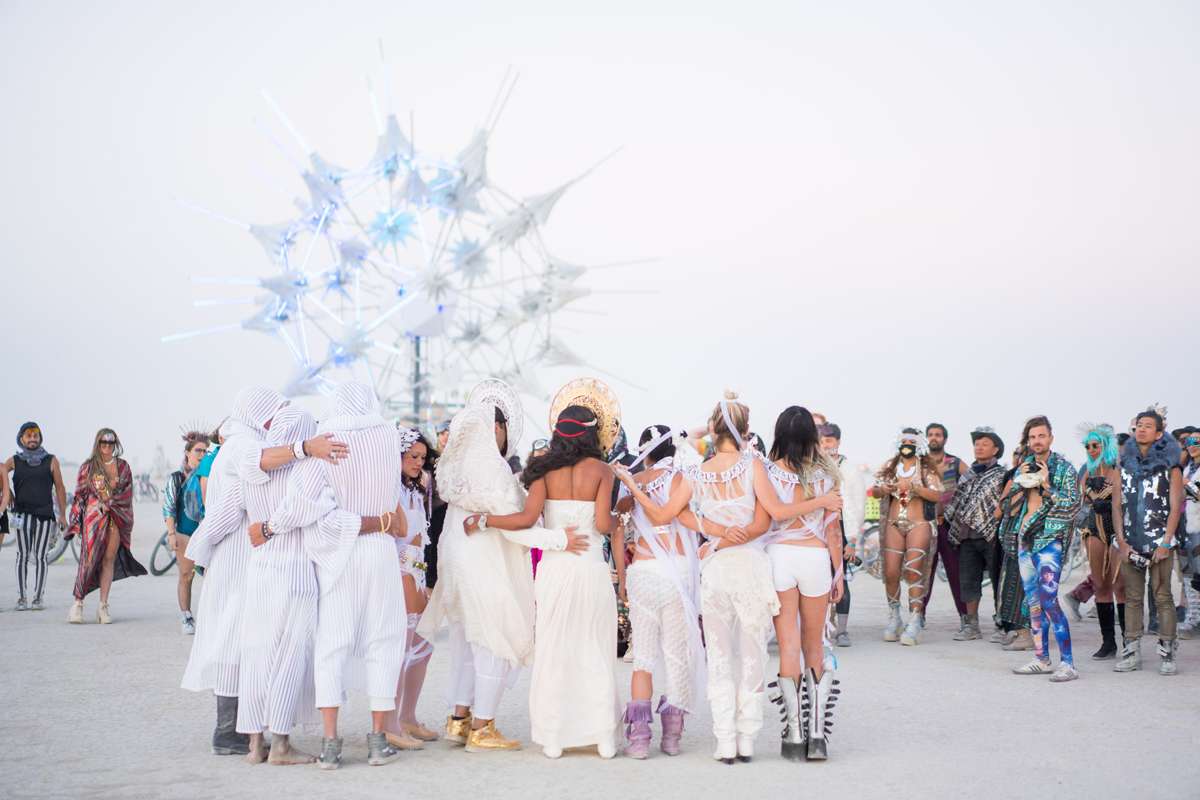 Their friend, Xuan-Ann, got registered as an officiant in the state of Nevada so she could marry them. "Getting married at Burning Man was definitely out of the ordinary", Yoshi began. "Unlike most brides, I didn't plan much except our wedding outfits, the gifts, the date and the ceremony location. I left everything else up to synchronicity. Everything ended up coming together magically, thanks to the help of our friends who wanted to make our special day as stress-free as possible. One of the principles of Burning Man is gifting so instead of receiving wedding presents, we offered gifts to our guests. Our friends were given symbols of our love: custom face chains with our initials designed by our friend Ipek Design, and paper fans that featured one of Gilles' Burning Man photos with our motto 'Make Your Life An Art Piece."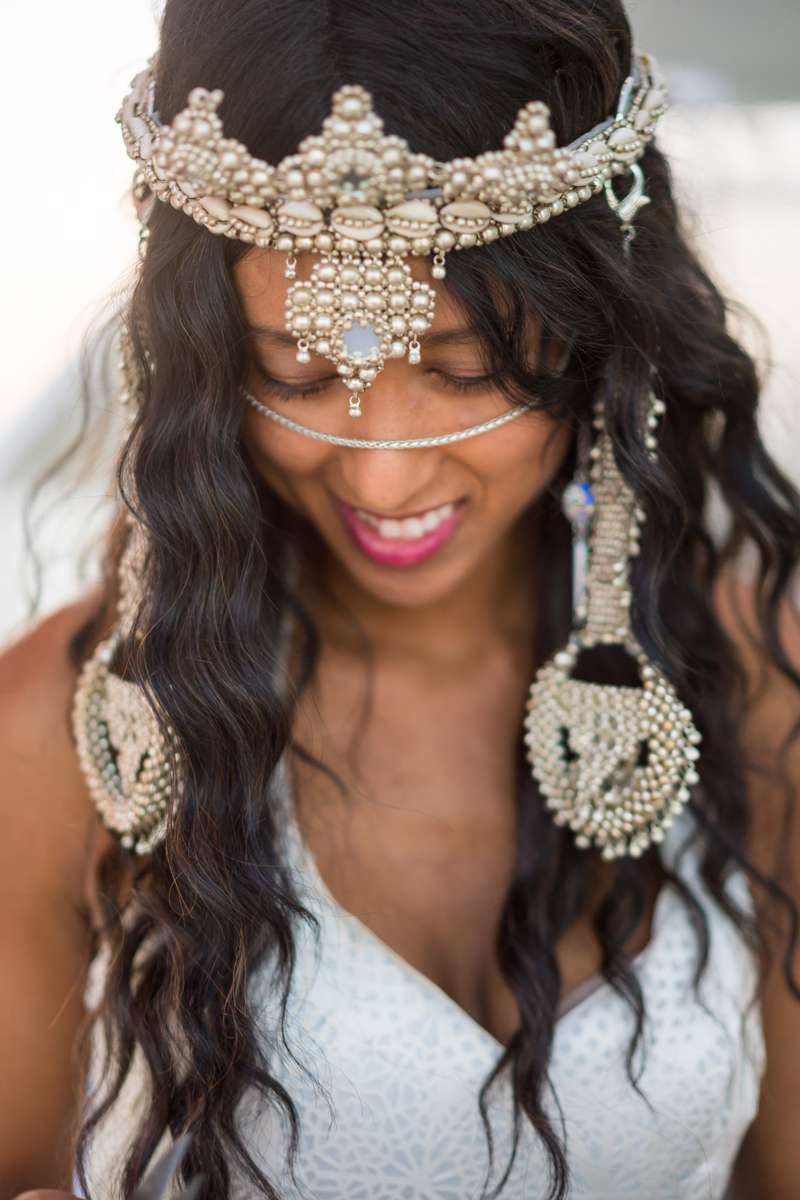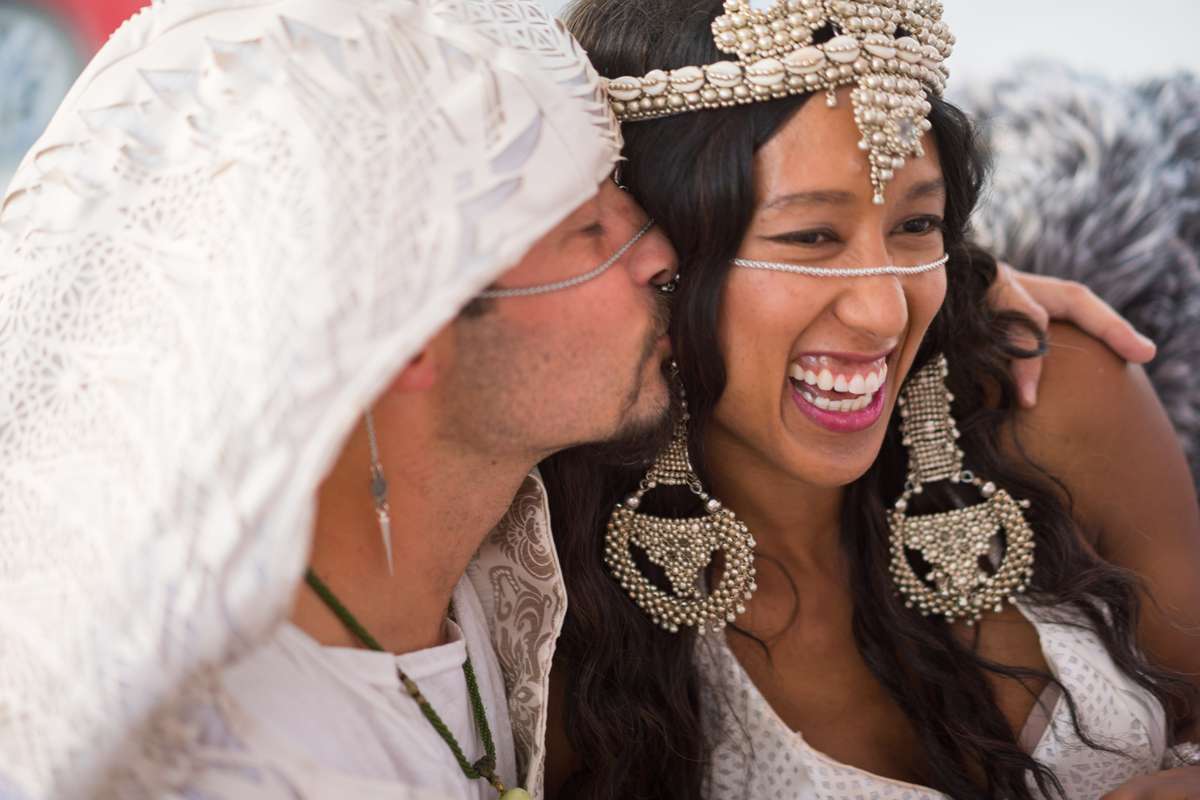 The ceremony itself took place in front of the RadiaLumia sculpture. "Gilles and I descended from the fire-pumping Carl the Chameleon with our faces hidden, wearing futuristic laser cut masks. It was funny to see the reactions of everyone. No one had been expecting us to be dressed like that. We took photos with everyone before starting the ceremony which was before the mesmerising colour changing RadiaLumia sculpture created by the FoldHaus art collective. The software engineers of the RadiaLumia installation coordinated the lights to turn on when Gilles and I exchanged rings and activated the fibre optic lighting in our wedding outfits."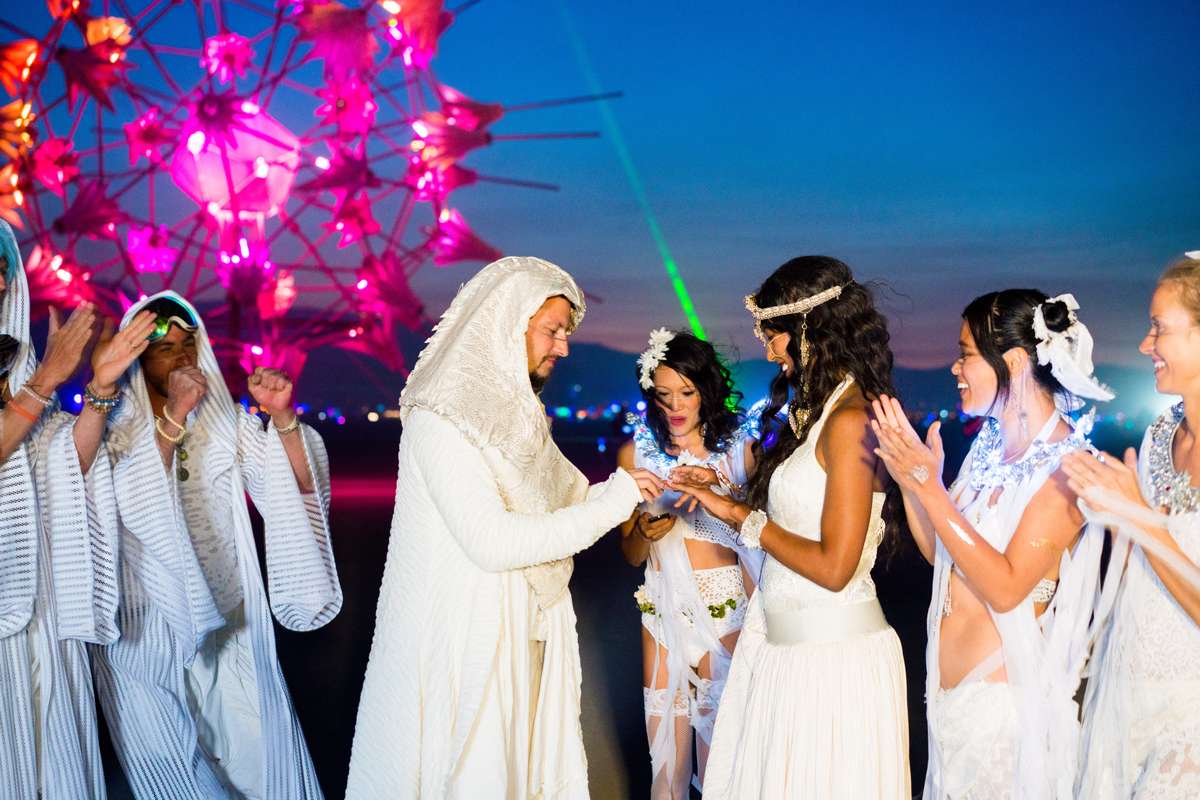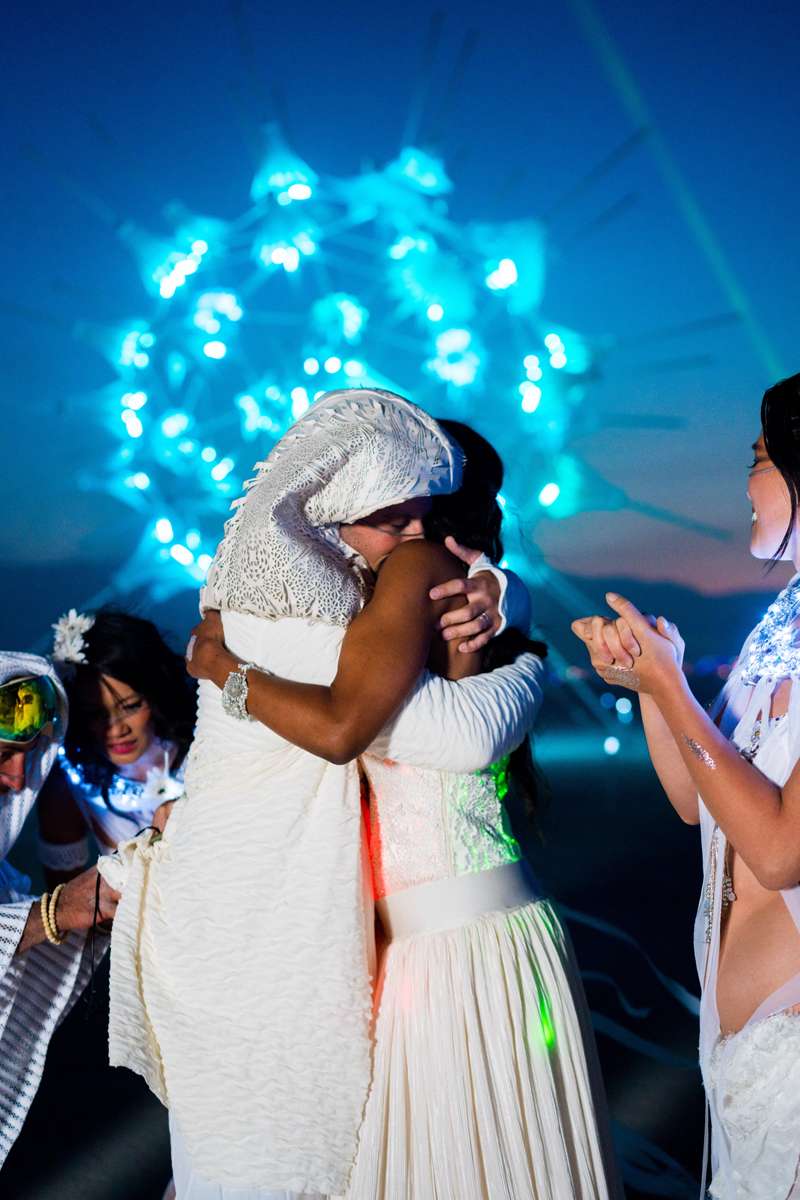 The designer bride was inspired by the fashions of Burning Man for their incredible outfits. She explains, "I specialised in bridal design at my fashion high school and had always wanted to design my own wedding dress. I came up with the idea of putting together laser cut satin and fibre optic fabric to get a futuristic yet elegant look. Gilles was a talented graphic designer so he designed the fabric for our wedding outfits using sacred geometry and symbols of our relationship. The final designs included sacred geometry based on Islamic art, a Merkabah, (a crystalline energy field made up of sacred geometries that align the mind, body and heart), angel wings, tribal motifs, a dove symbolising freedom and our initials. Once the laser cut fabric was complete, I cut and sewed the corresponding pieces on fibre optic fabric and worked with multimedia artist Kirill Shevyakov to hook up the fabric to lighting." The groom also designed their rings which were then 3D printed.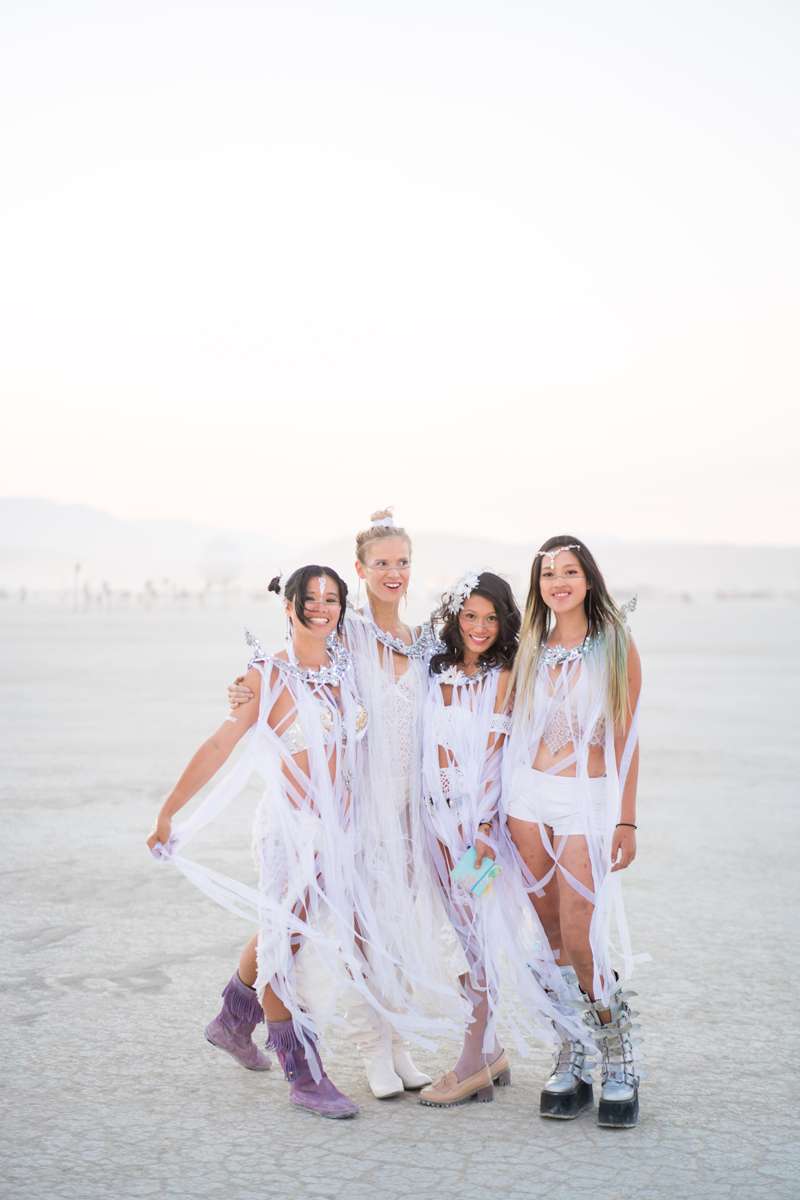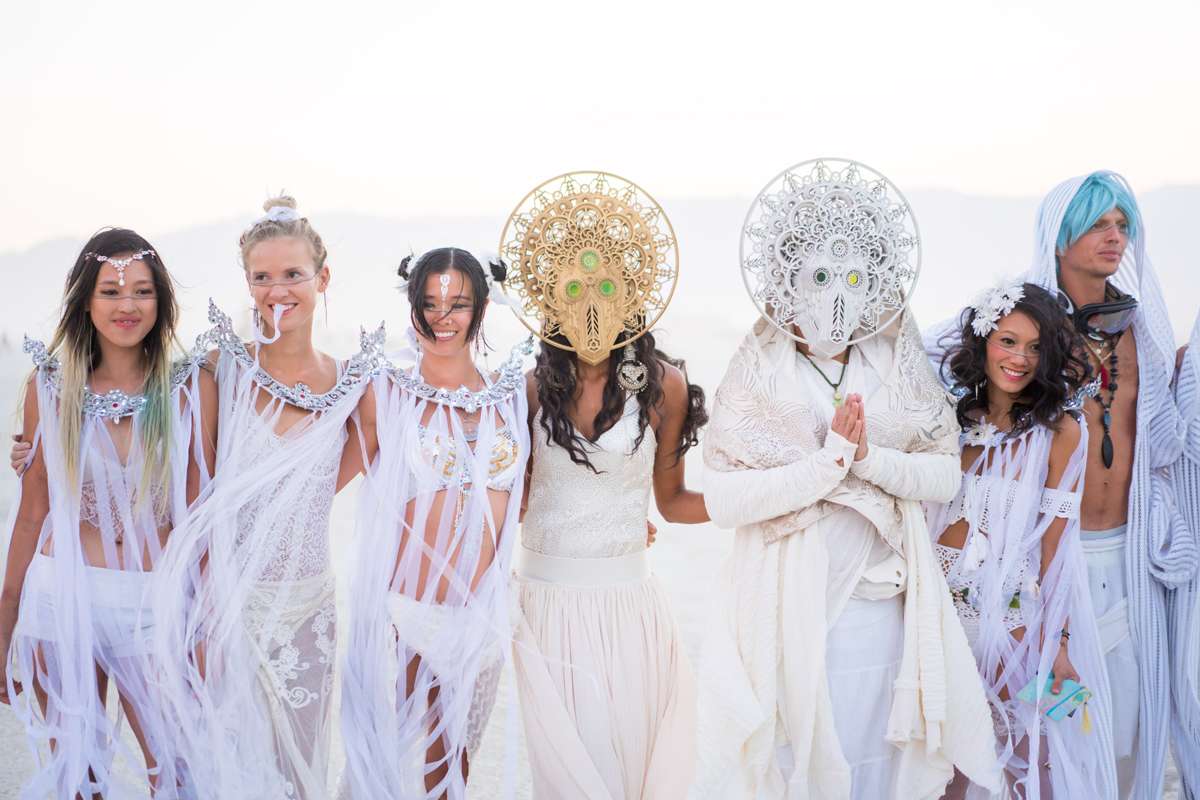 "There is nothing we'd change about our wedding", she concluded. "It was the least stressful part of my summer. I joked that since I had hundreds of orders to fulfil before going to Burning Man (July/August is my busiest time of year), the wedding planning was the least of my concerns!"