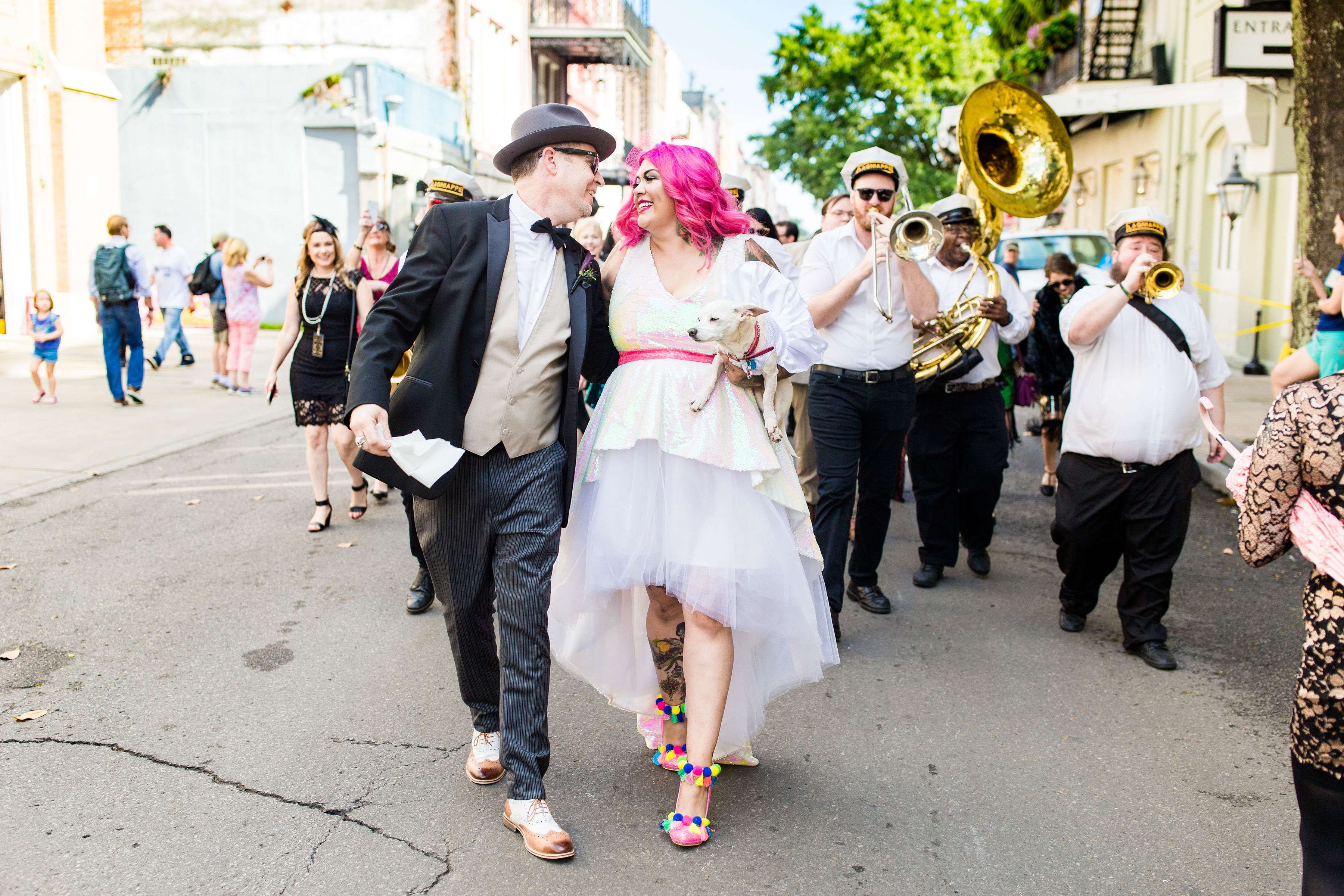 This 20s style Halloween wedding started with an intimate ceremony in The French Quarter Wedding Chapel and their officiant was dressed up as Beetlejuice! LJ and Patrick were then joined by a crowd of friends and family in a traditional New Orleans Second Line parade to House of Blues, where theirs guests were met by peacock girls, sword swallowers, aerialists, and palm readers. They then had a second wedding ceremony onstage, complete with lights, smoke effects and confetti canons!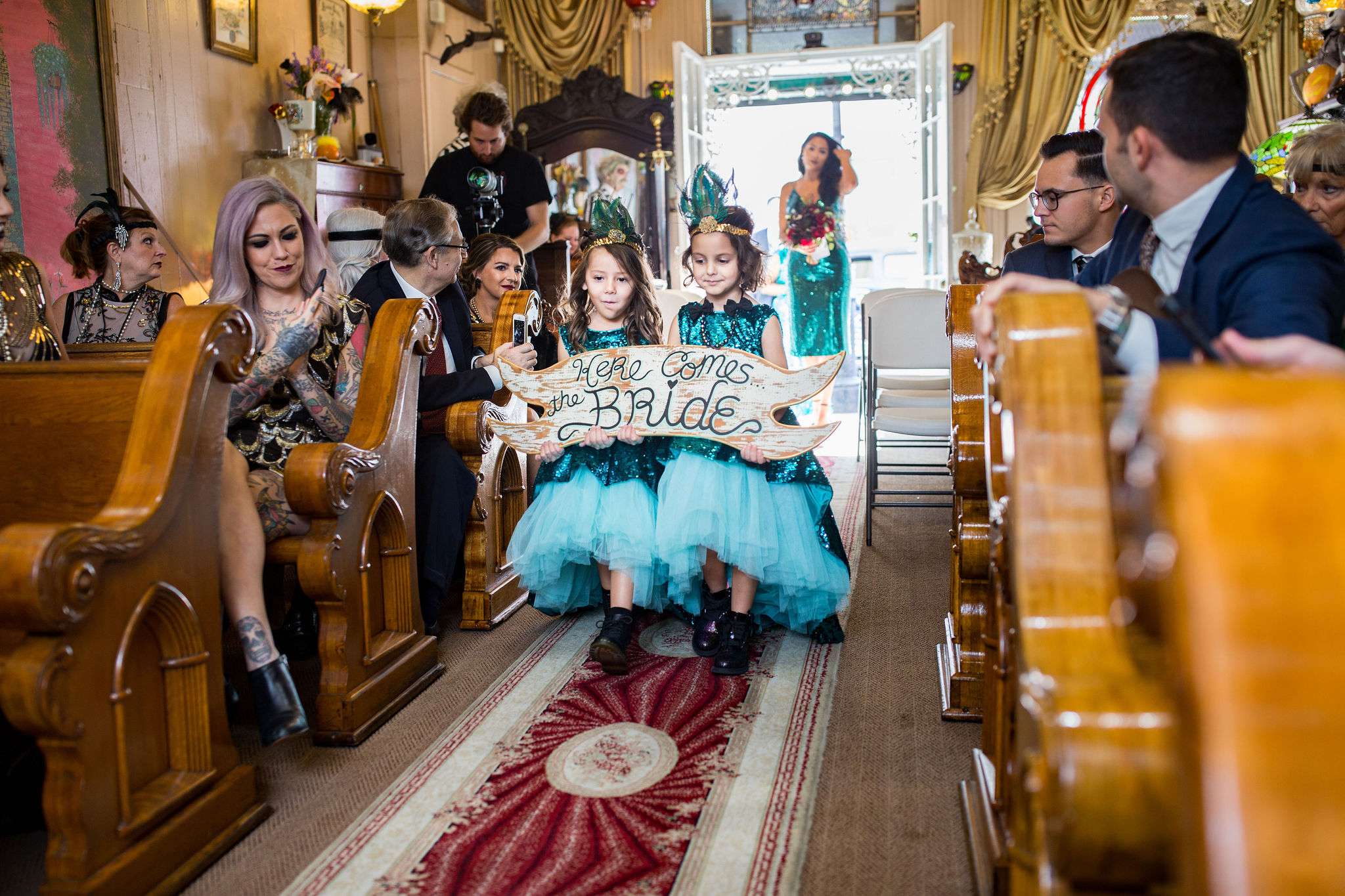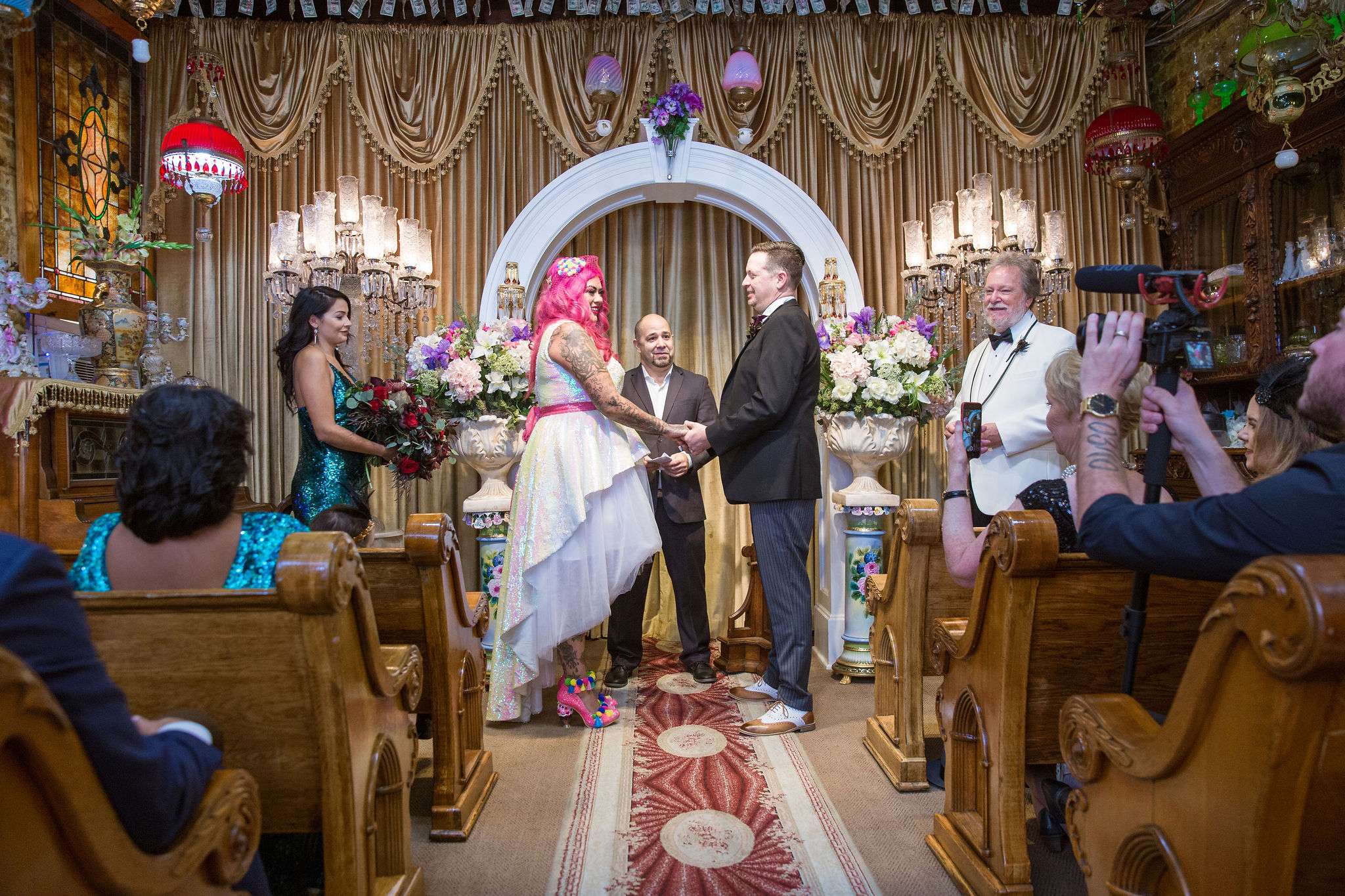 Originally they set a budget of $25,000 but ended up going significantly over that to have their dream day, "In the end we spent $75,000!" they said. "But we wanted the most unique experience we could give our guests. First off, it was a Halloween MORNING wedding (a Wednesday morning) and the ceremony was at 10:00 AM. We had a brunch themed meal with no assigned seats, only three reserved tables – one for my family, one for his and one for our
work."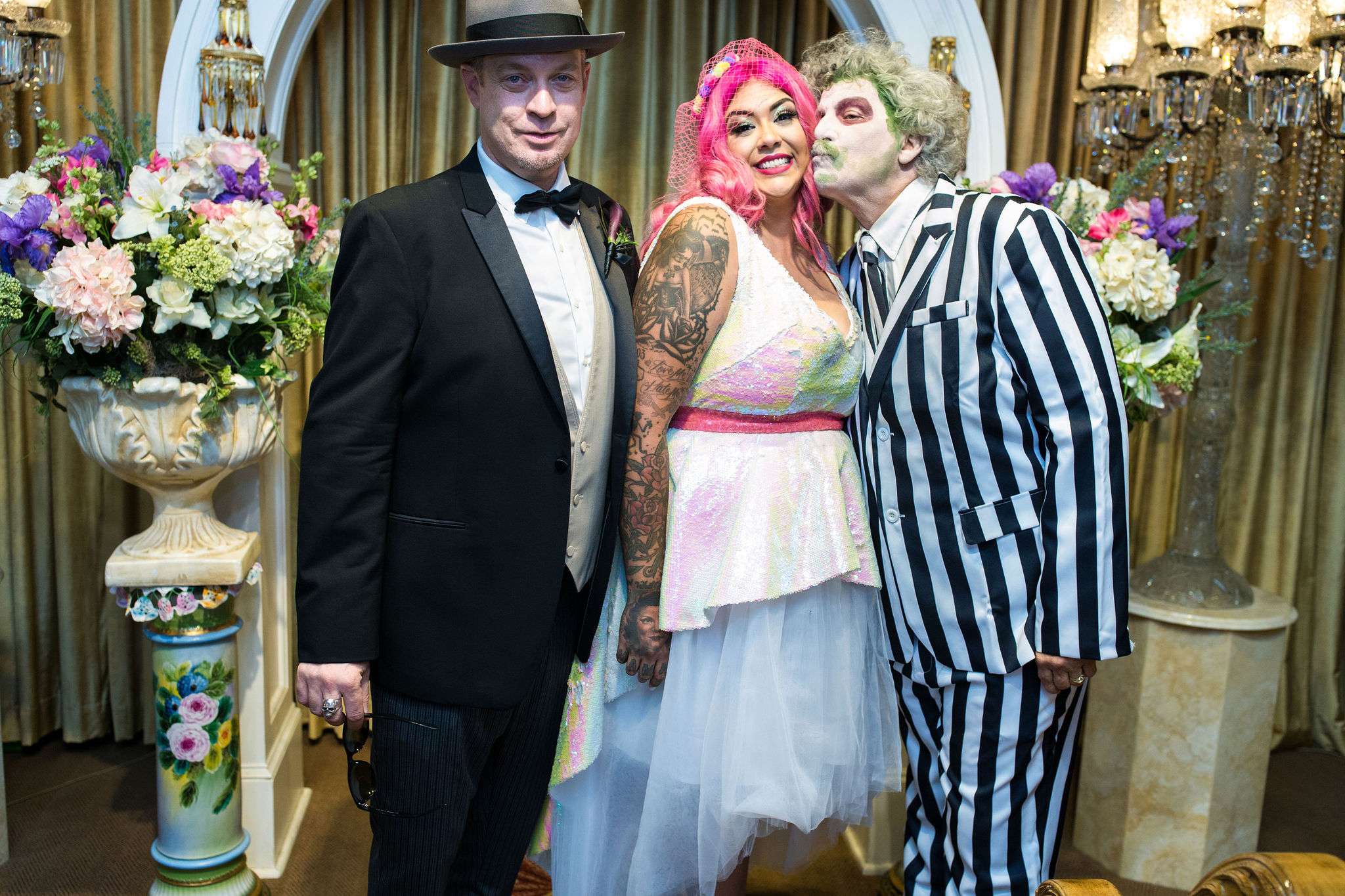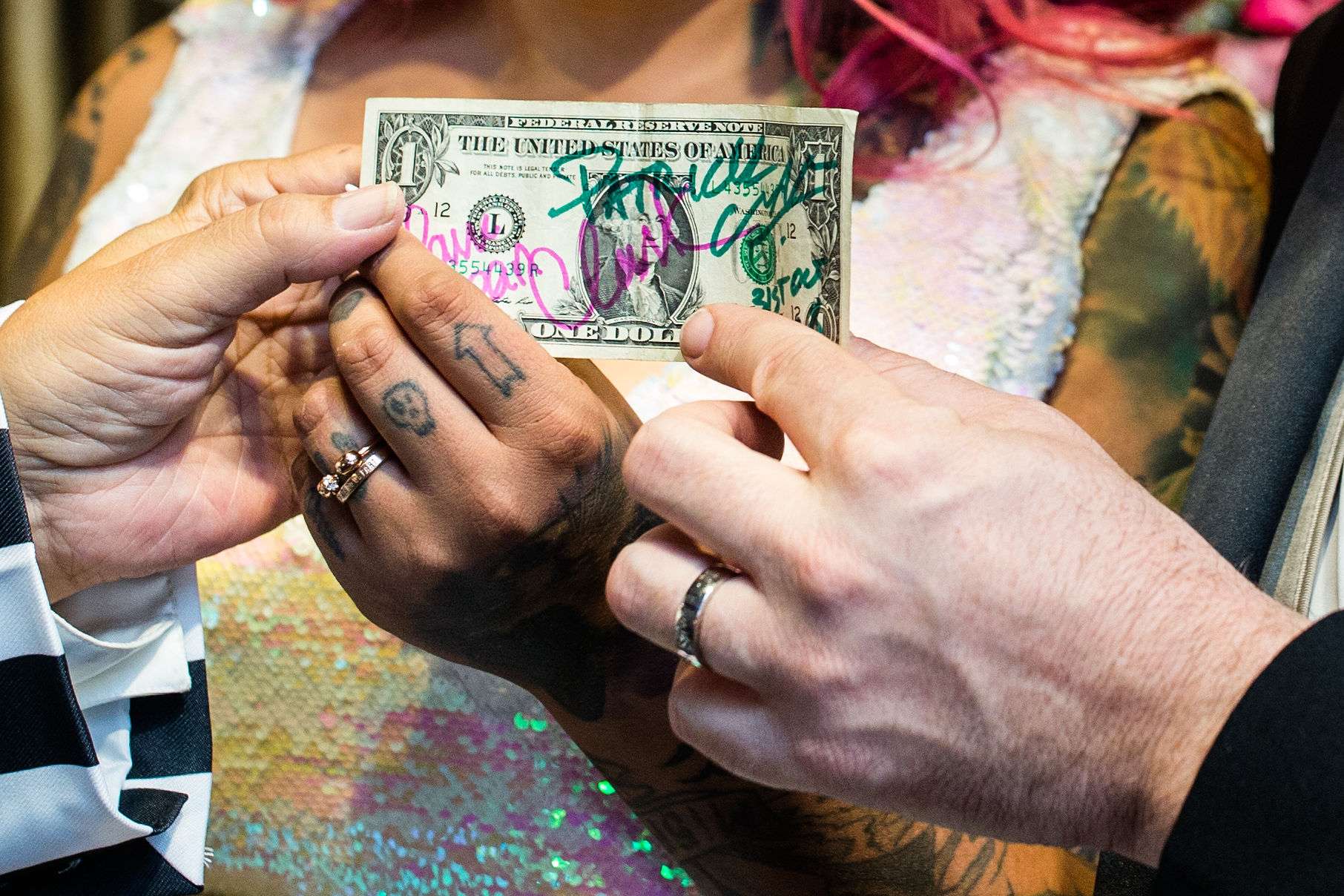 "I rented a streetcar to drive the girls to the chapel and a hot rod to drive my husband. That was a fun surprise for everyone. The chapel officiant was dressed up as Beetlejuice, which I didn't plan, so upon arrival I was crying at how perfect it was. I had my artist friend make a sign for the two flower girls to carry down the aisle. They wore custom made turquoise glitter dresses – I had the same dress made for me but in pearl!"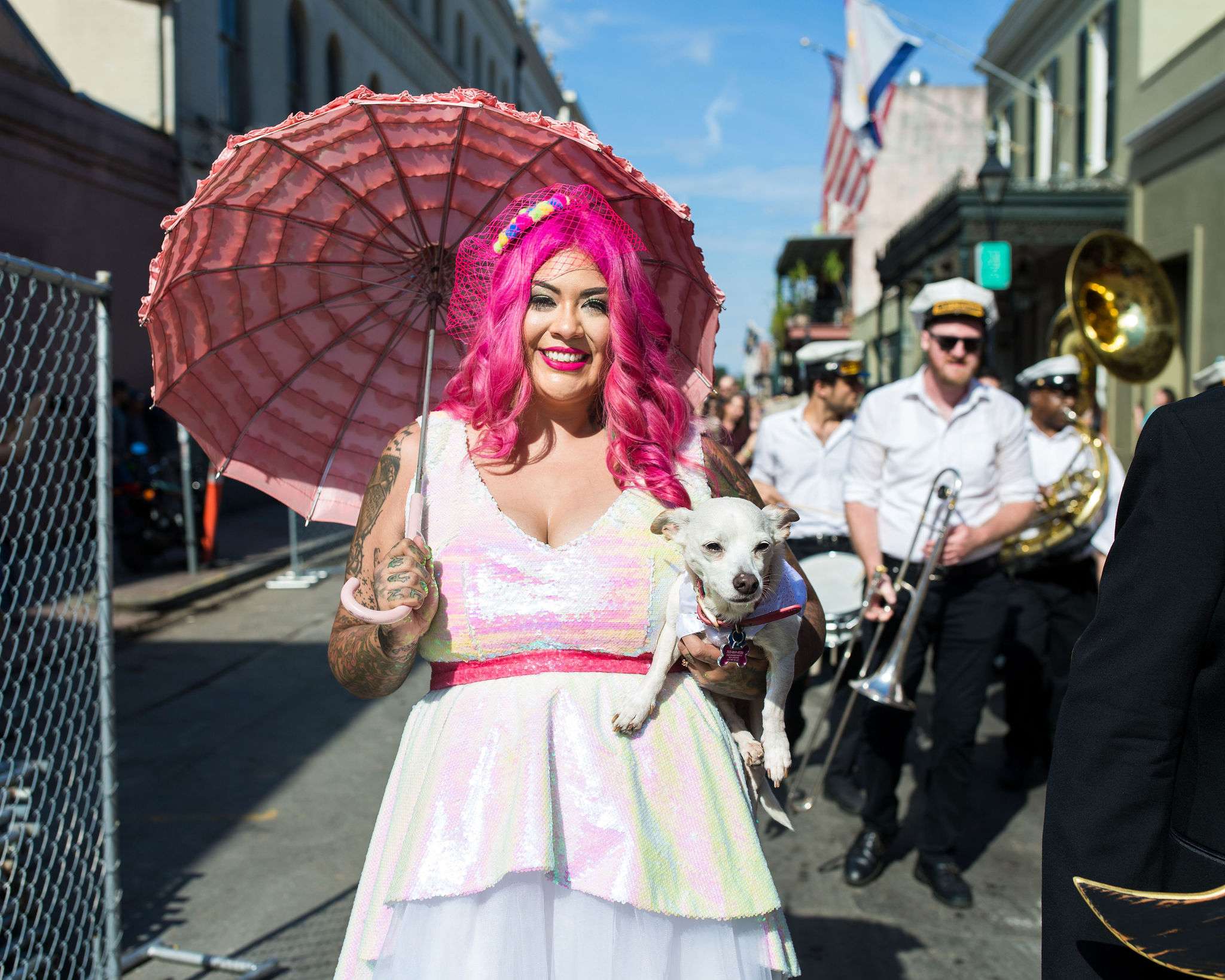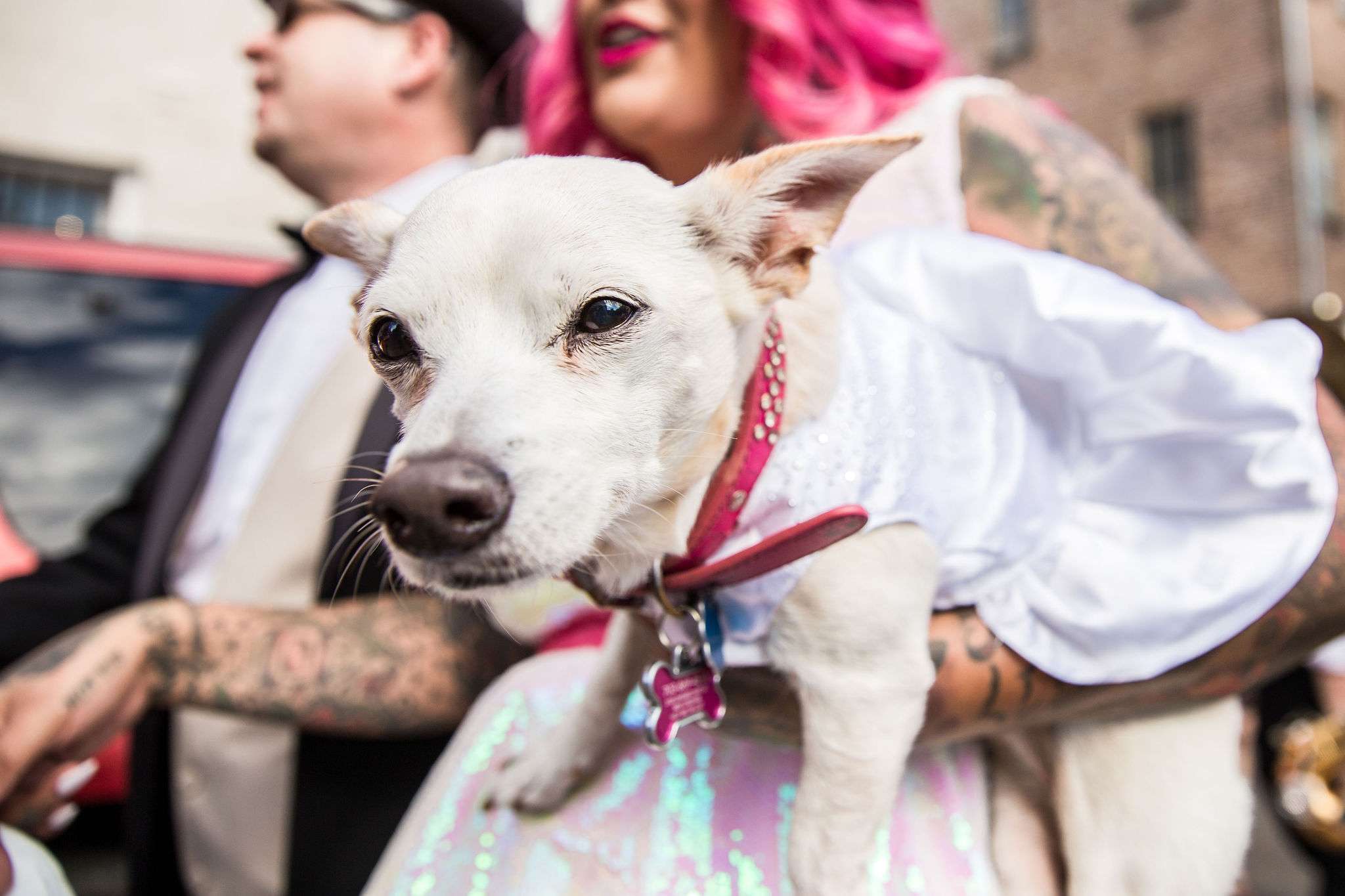 As the both work in the music industry they gave each guest an All Access Pass as a nod to that. that They also put on some truly incredible entertainment – starting with their second ceremony.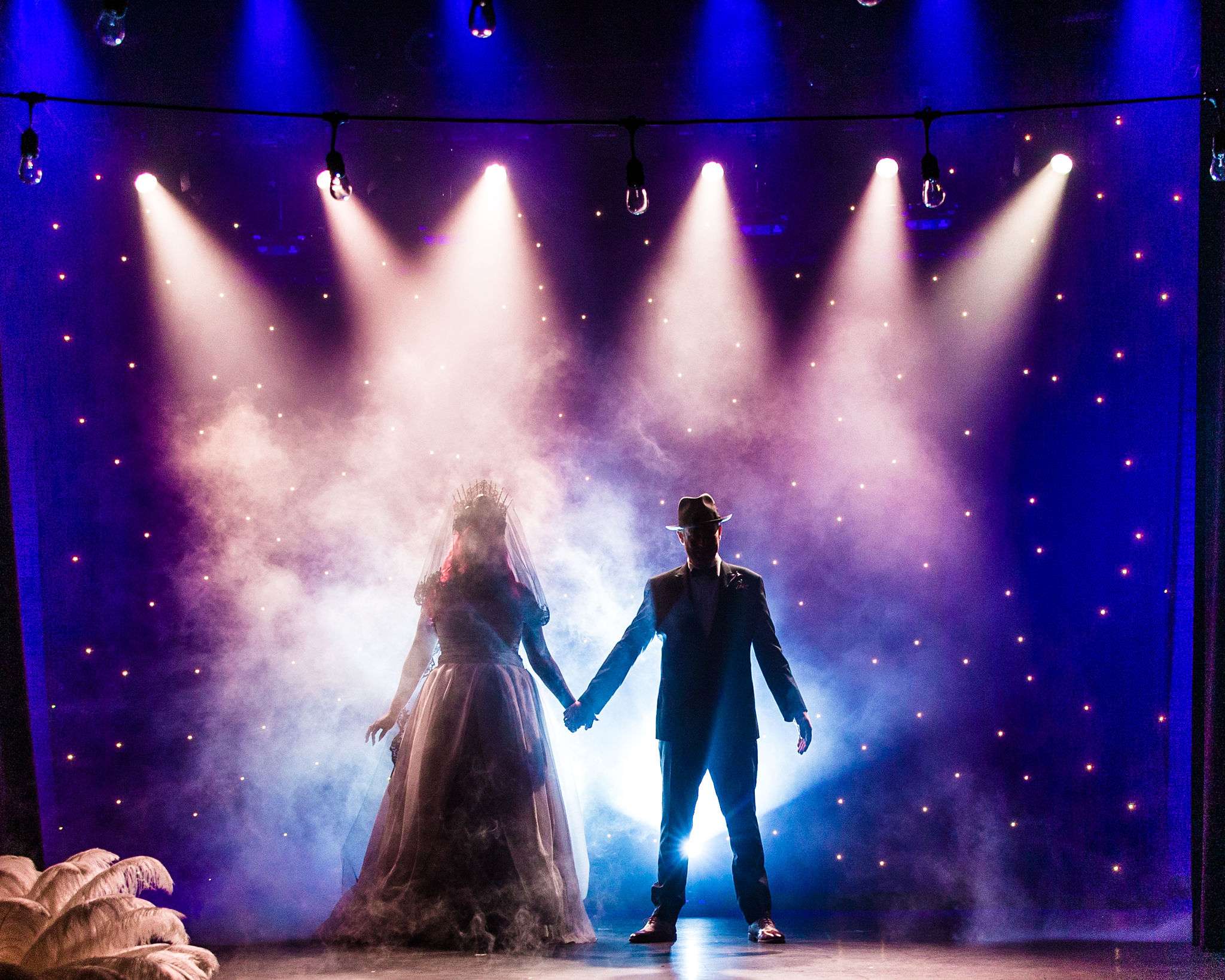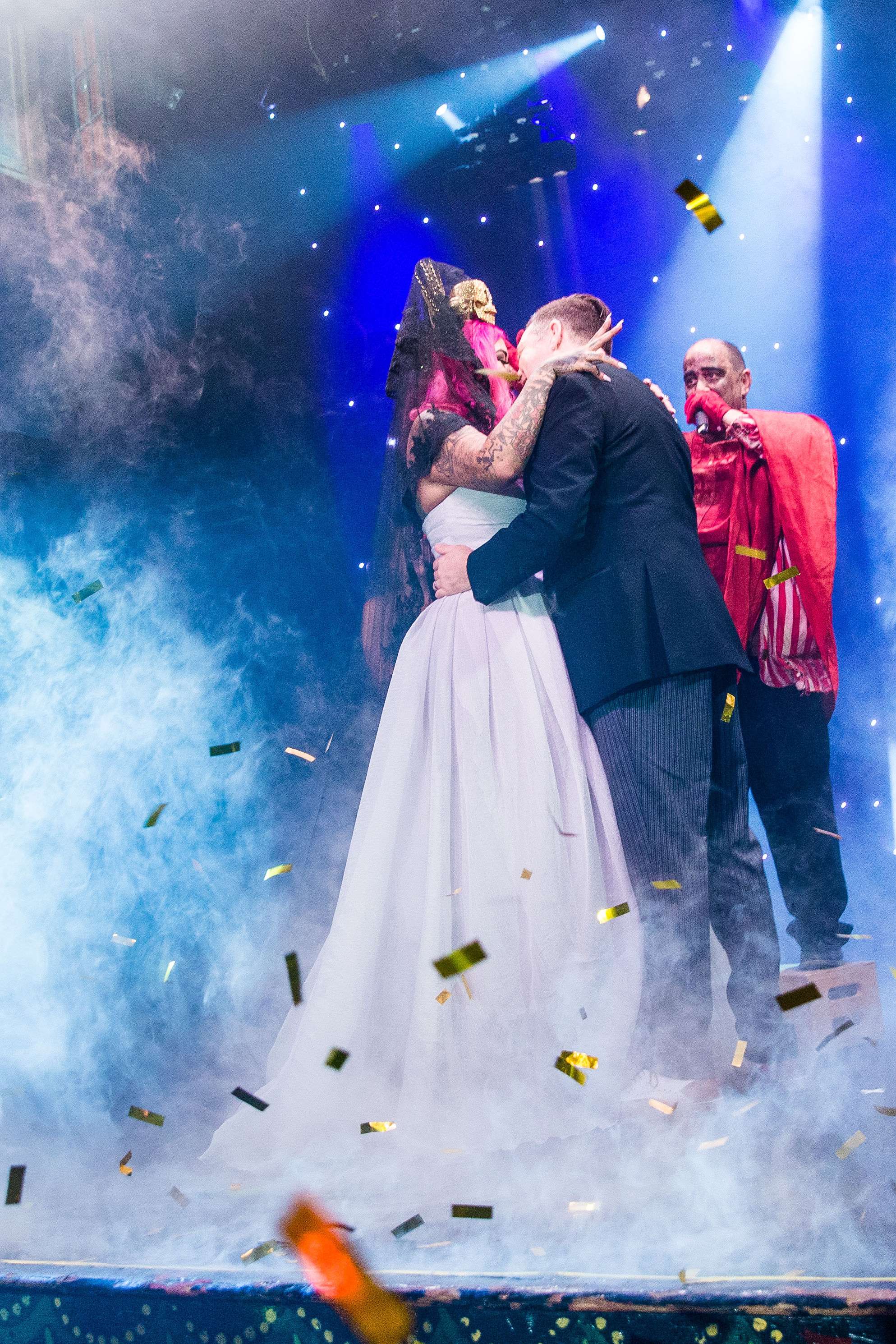 "When we entered the House of Blues, it was like we were teleported to a 1920s Gatsby speakeasy. The room was dark like night, filled with swing dancers, a bearded lady, a fortuneteller, a sword swallower. All the decor was black and gold décor. We had an hour of 1920s band performing and the freaks walking around. At 12pm, we surprised our guests with a magician on stage. The came out to The Greatest Showman theme and played the part of PT Barnum."
"We were behind the curtain waiting or a reveal, to do our vows for every one – which no one knew about. We had the Beetlejuice theme song playing while fog was coming from under the curtain for our reveal. Our officiant is also in a travelling freak show, so he changed into costume. On stage, he pulled a condom thru his nose and out his mouth! We exchanged vows and gold confetti went off. After we got off the stage an the aerialist came down and the DJ began."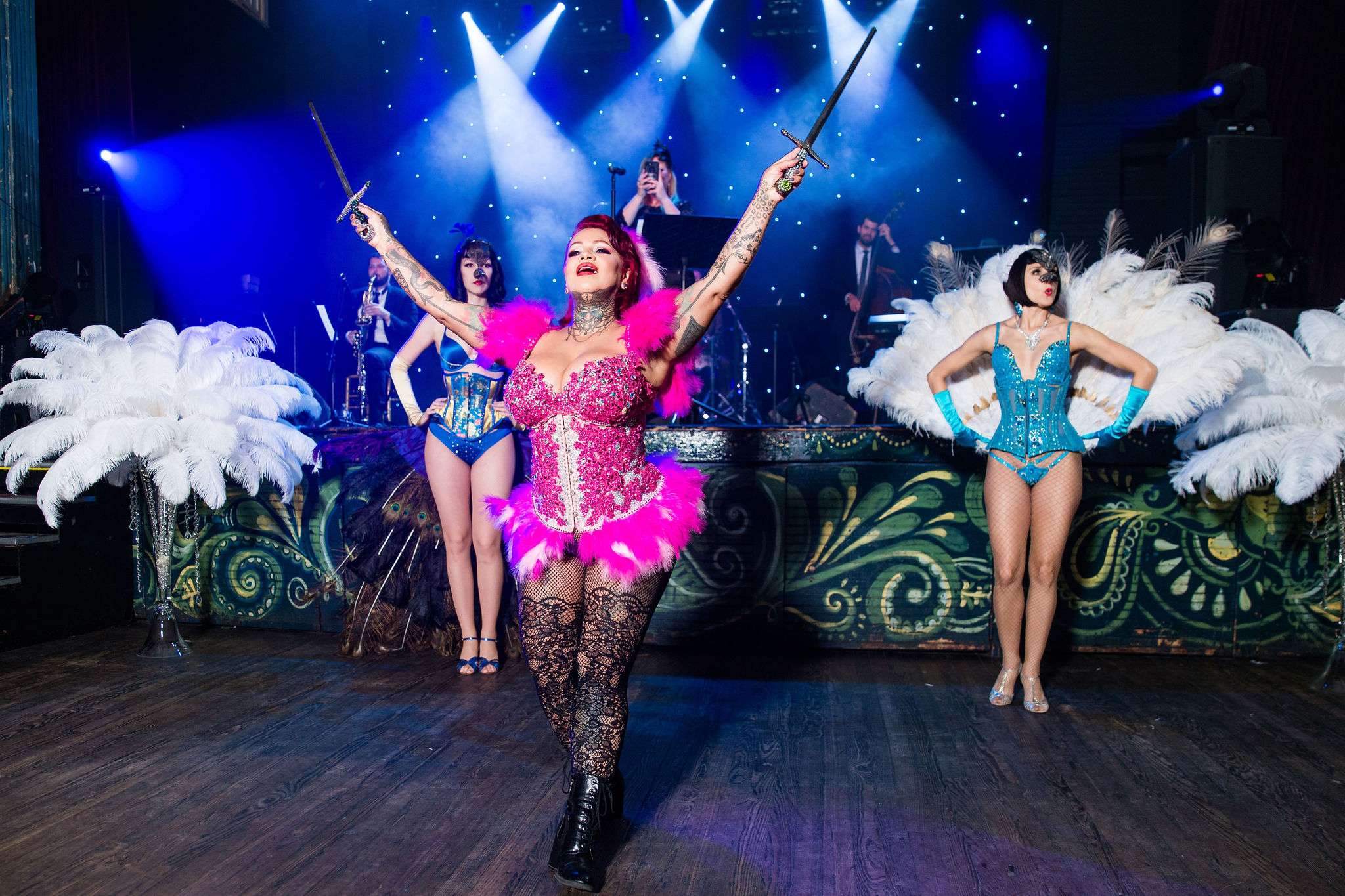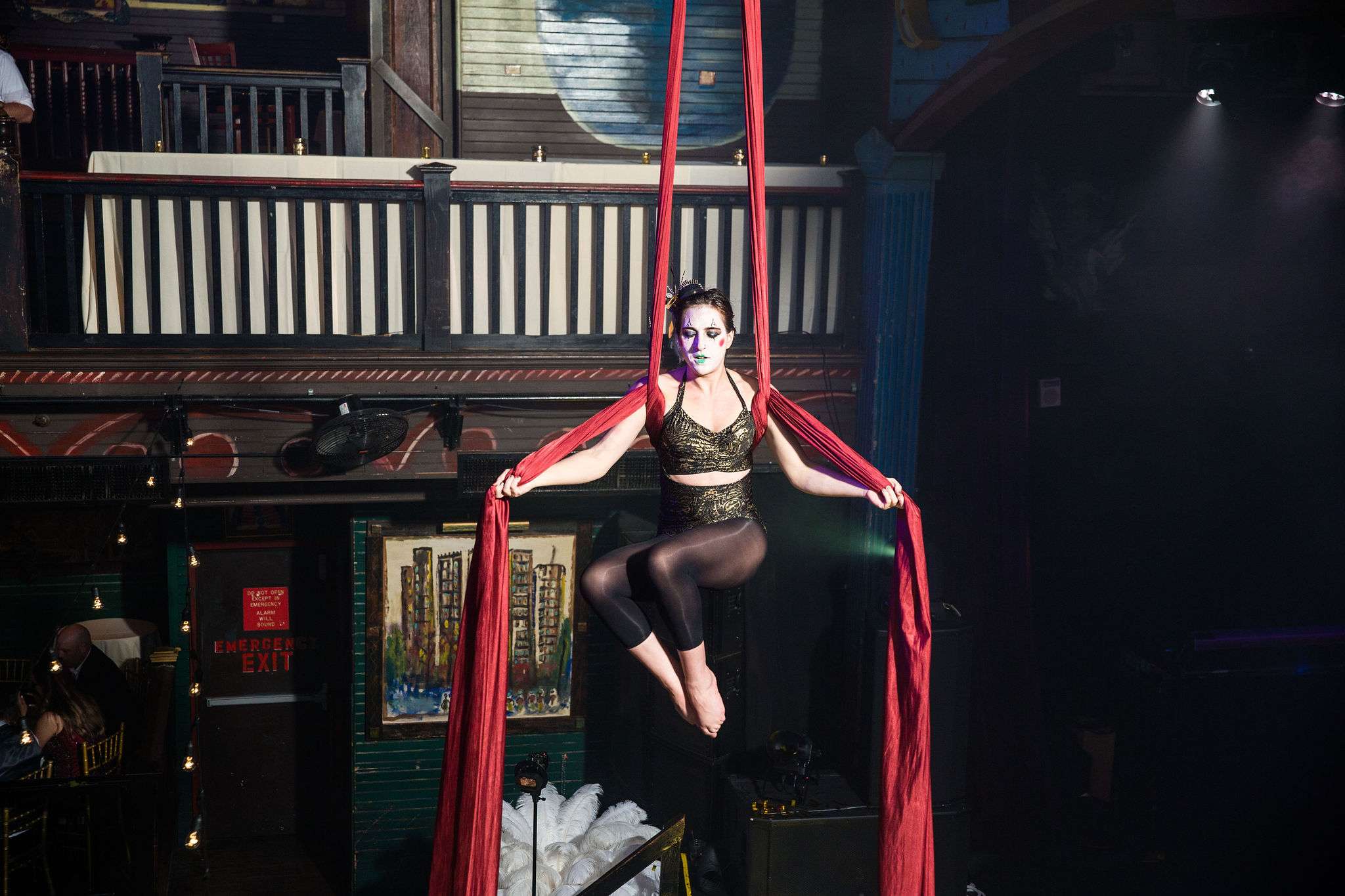 This was truly an all day party, with the last of the guests leaving at 3am! "The best thing about planning our wedding was planning the most extravagant party our friends have ever been too. I loved being able to shock people and I thought of every detail. At first we were going to elope but it turned into a Gatsby Freak Show Ball. I wouldn't have changed anything, but maybe added some more 'freaks' to it."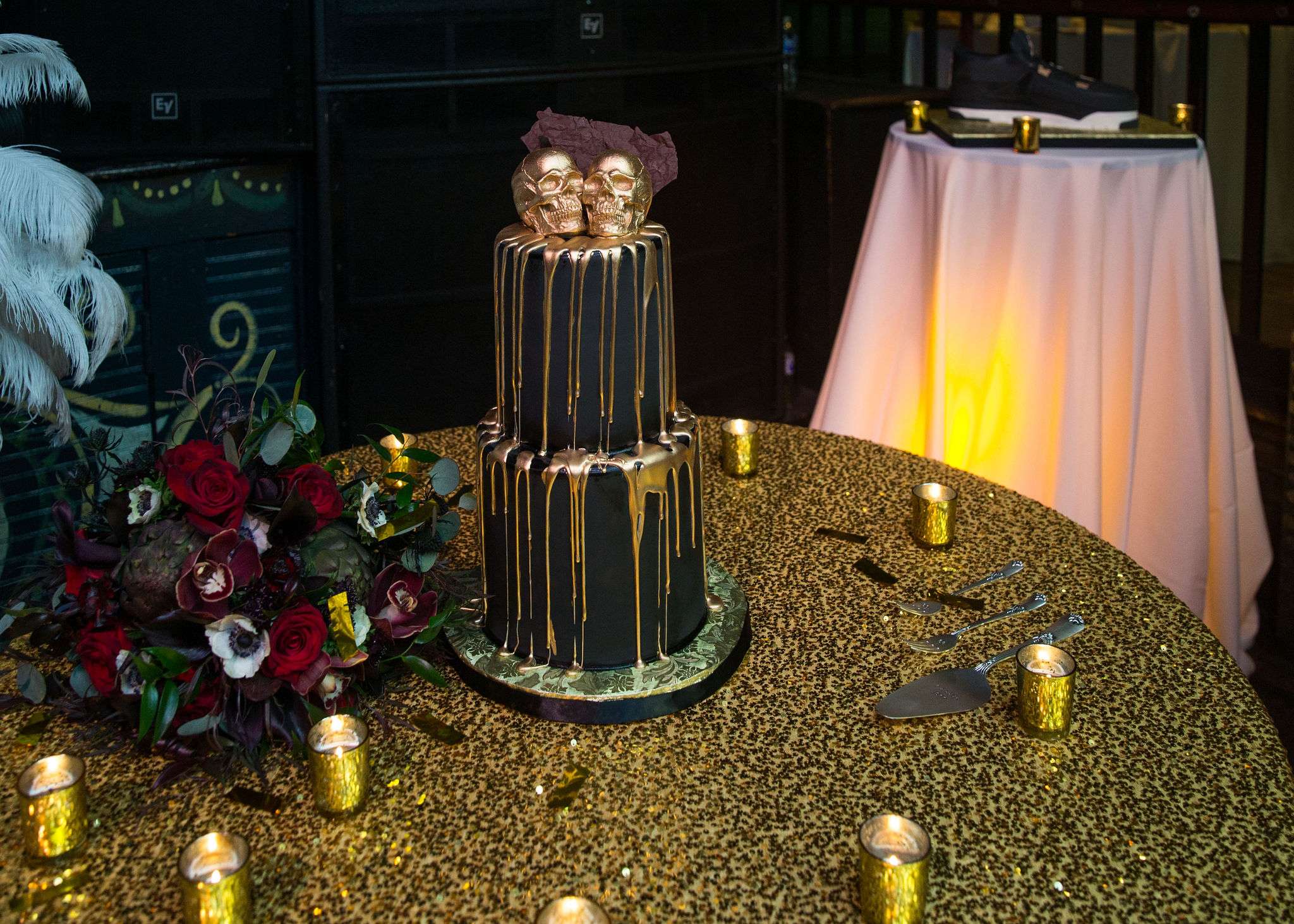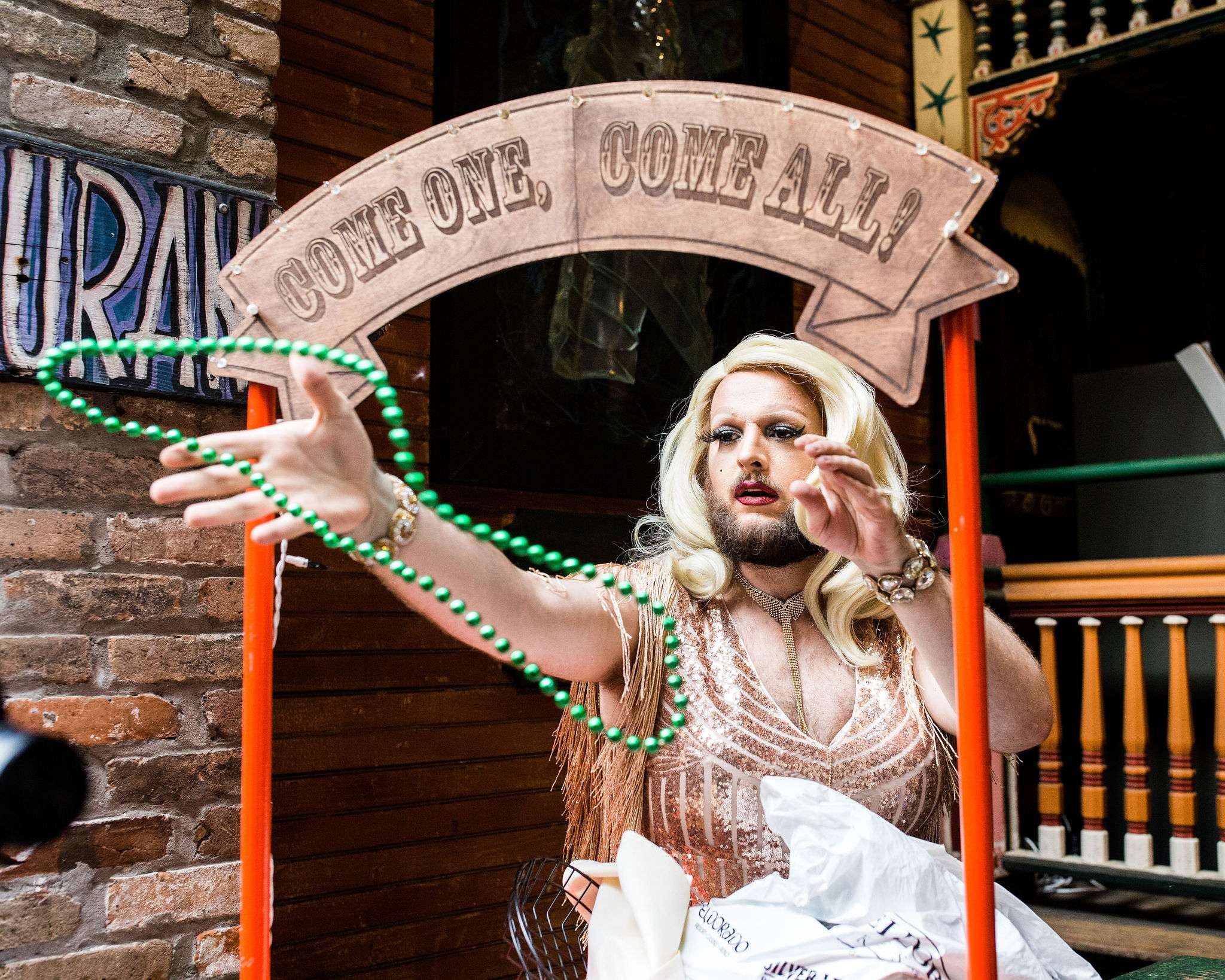 "My advice to other couples would be to just go with what you want to do. I don't regret anything, or spending more money that we had planned. This is the only time in your life, so go for it!"