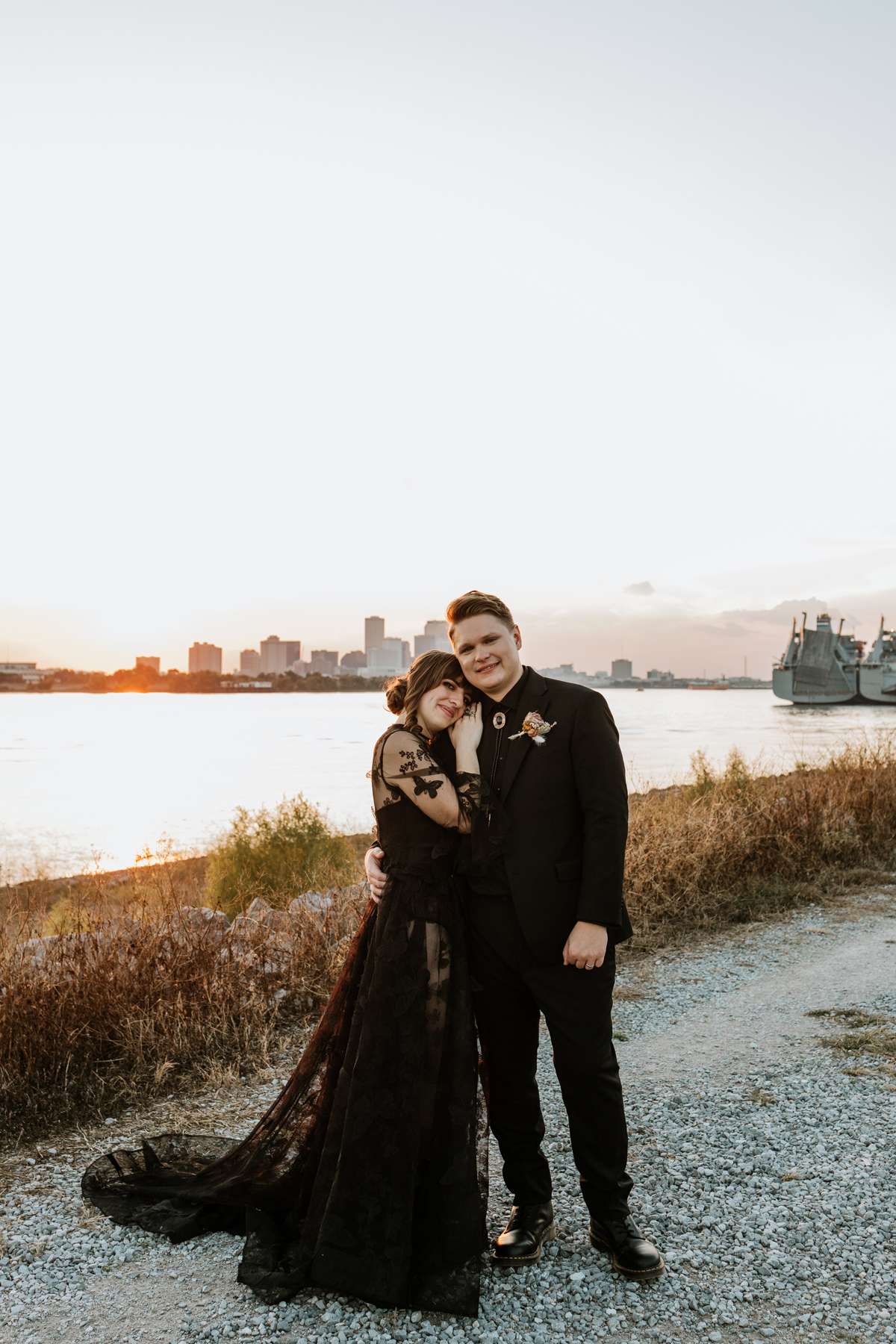 Aspen and Griffin's "Hallowedding" took place in the enchanting city of New Orleans. The couple, who had been together for two years, wanted to create a unique wedding celebration that incorporated their love of astrology and tarot, along with their shared passion for Halloween. They chose the Hotel Peter and Paul as their base, and the Holy Cross Levee, a scenic outlook, for their ceremony because they loved its romantic and historic atmosphere.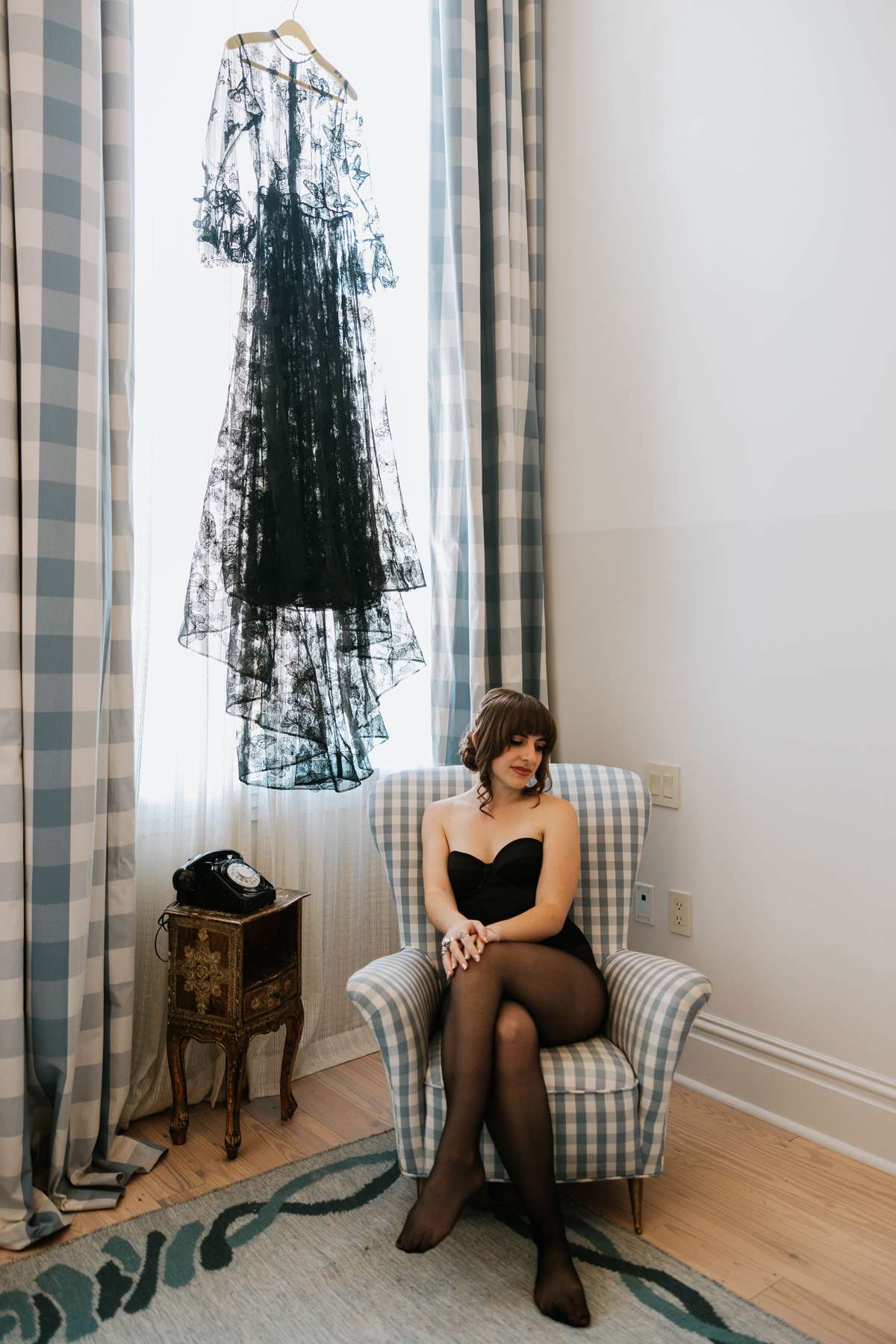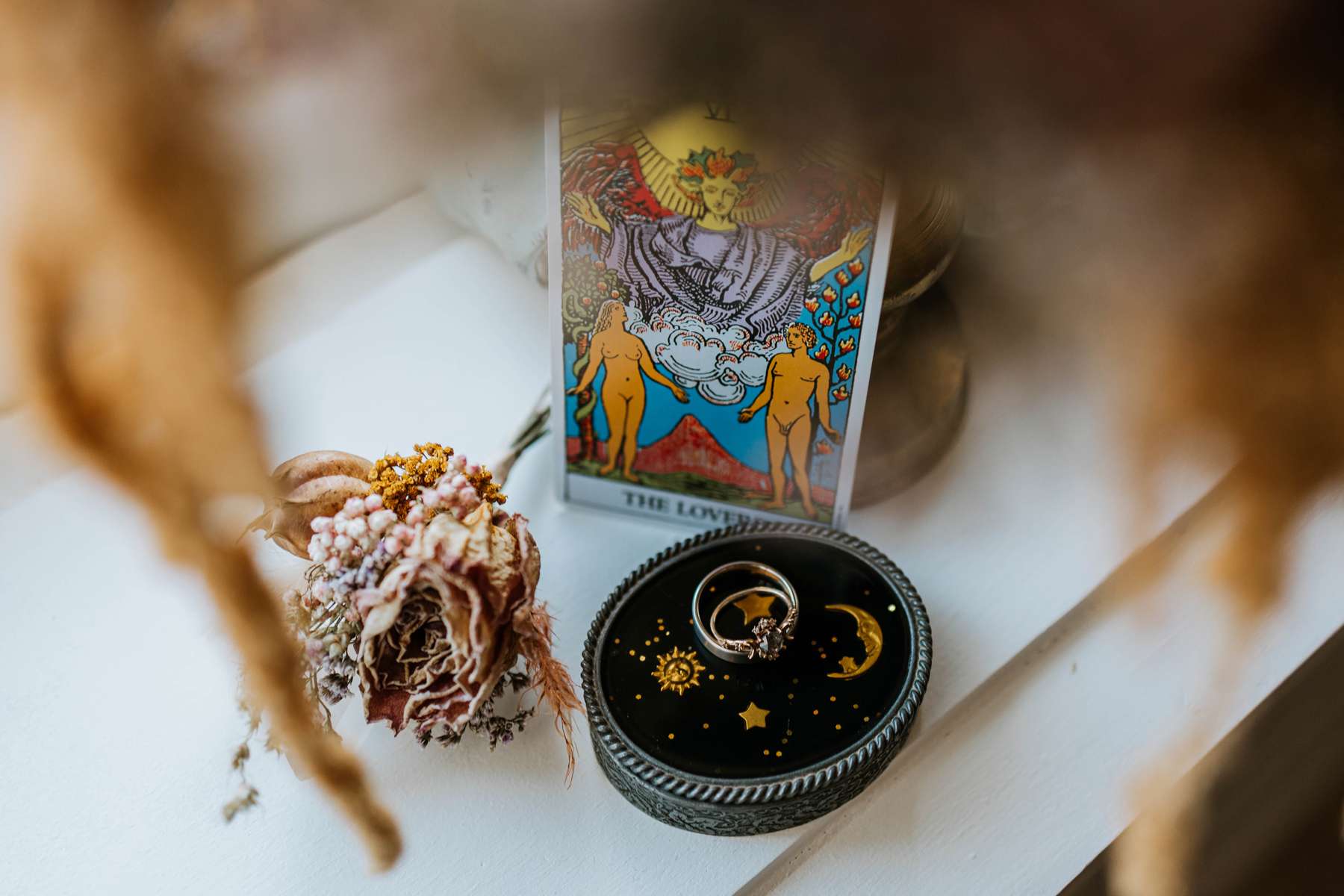 When asked about their theme, Aspen told us it was "a little bit goth, a little bit vintage, witchy Hallowedding realness. I love studying tarot and astrology, so those interests played a hand in the planning. Ever since we started dating, we always would plan a fun couples costume for Halloween, so we figured it would be fun (and easy to remember) to have our wedding on Halloween. We had visited NOLA once before because our friends adore it, and we fell in love as well! What we loved about New Orleans definitely inspired the vibes of what we were going for. That, and scrolling the amazing Rock n Roll Bride!"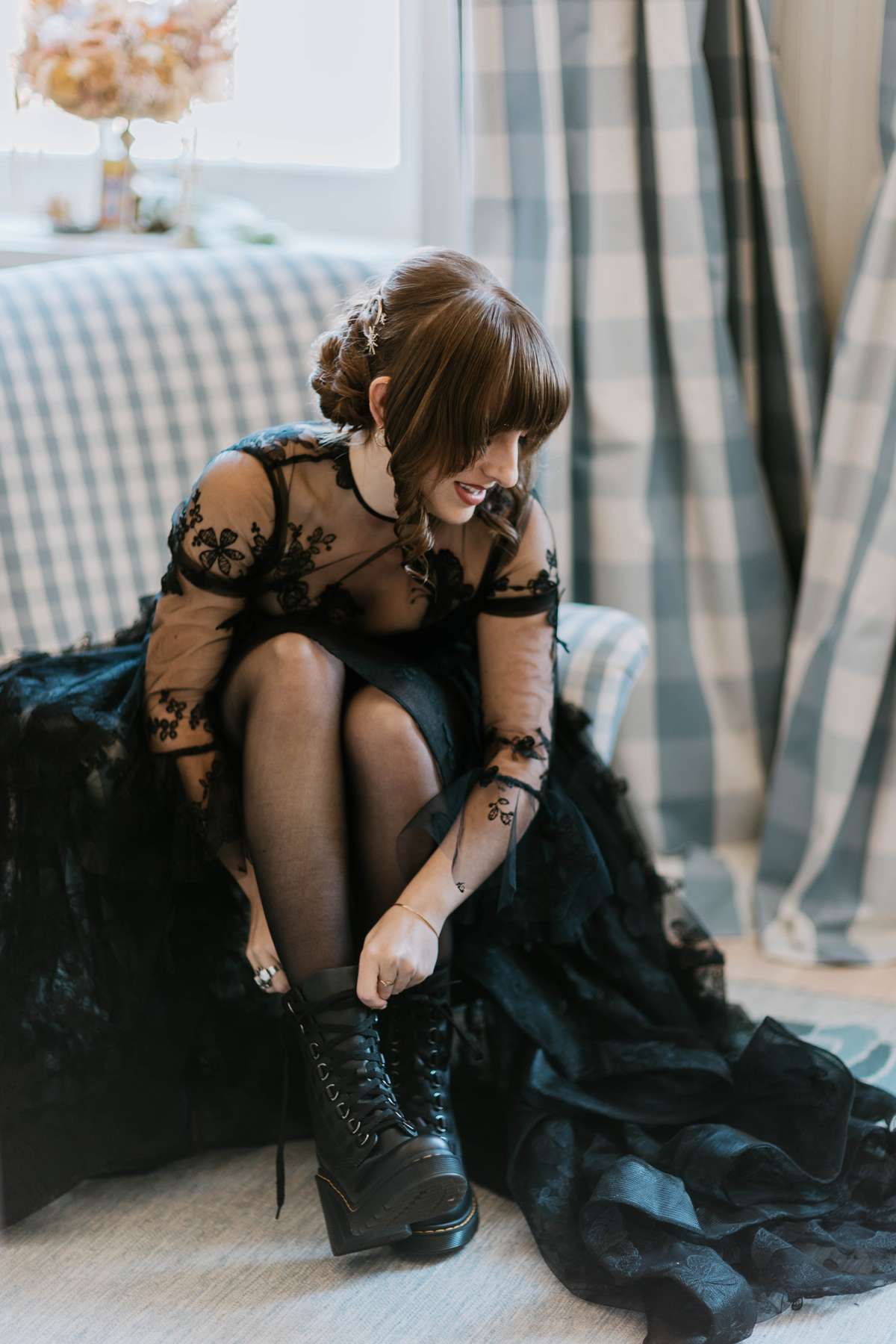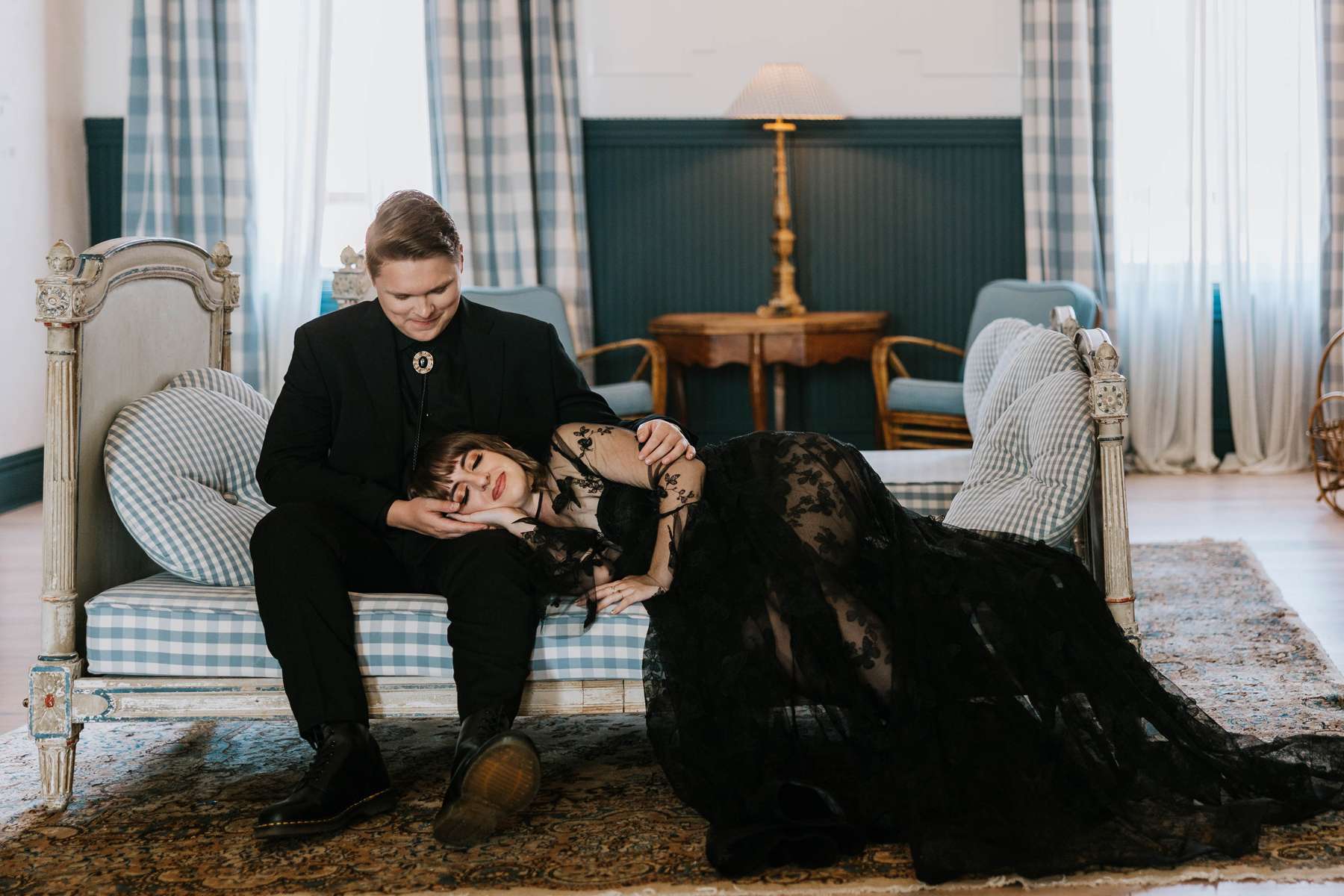 The ceremony was particularly special and intimate moment, with just a few of their closets friends in attendance. They read heartfelt, handwritten vows and a moment to honour Aspen's late mother. Aspen adds, "Griffin was crying before it was even time to read them. When our officiant took a moment to recognise my mother who had passed a few years prior, the waterworks rolled in. The officiant read some beautiful poems from Mary Oliver that I had selected, and included in our vows that when the government repossesses the pyramid tomb that Nicolas Cage had built in NOLA – it was Griffin's job to buy it for us to buried together in. Now that is a vow I can stand by! The sunset that night was absolutely magical and encapsulated the special sentiments felt and shared that evening."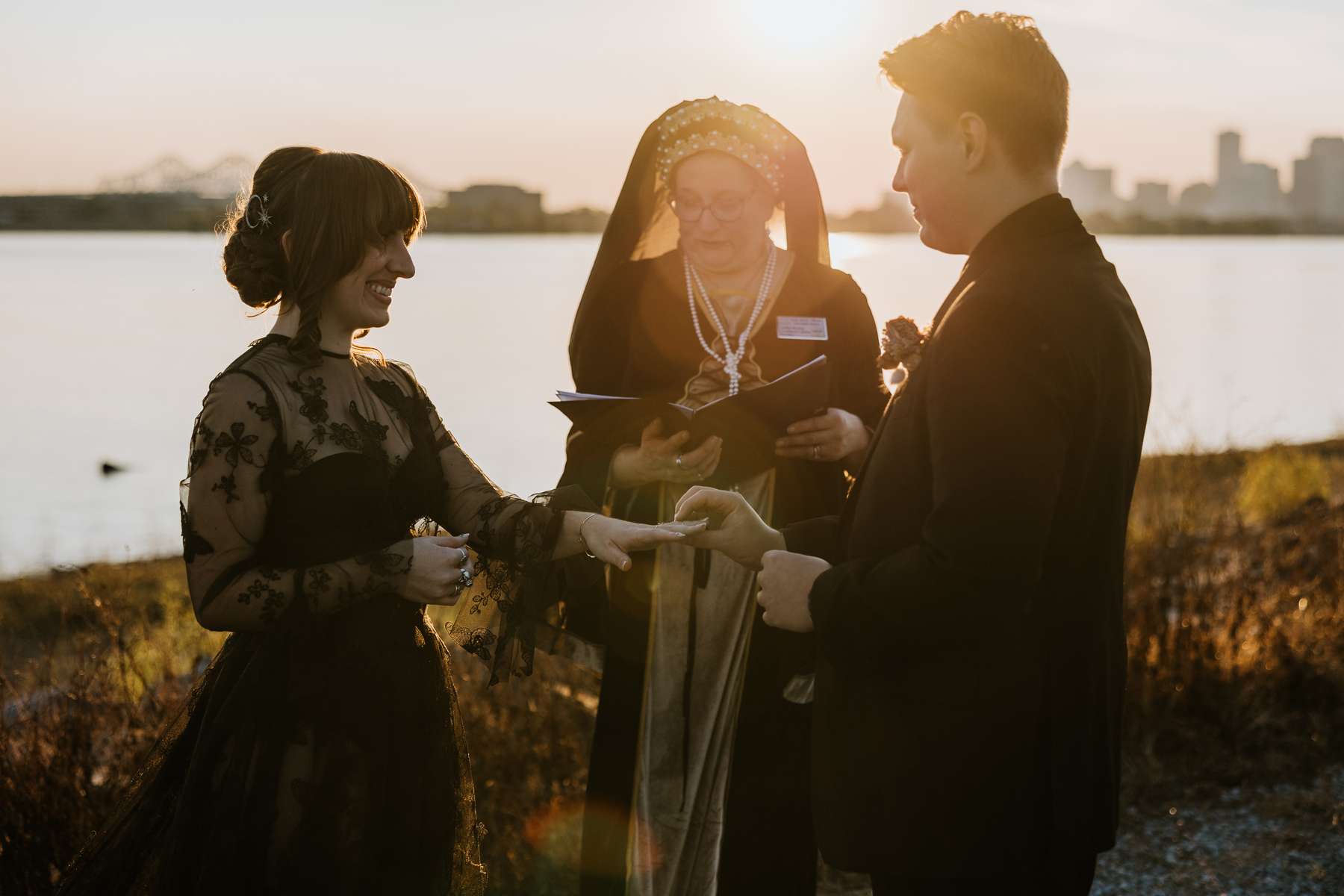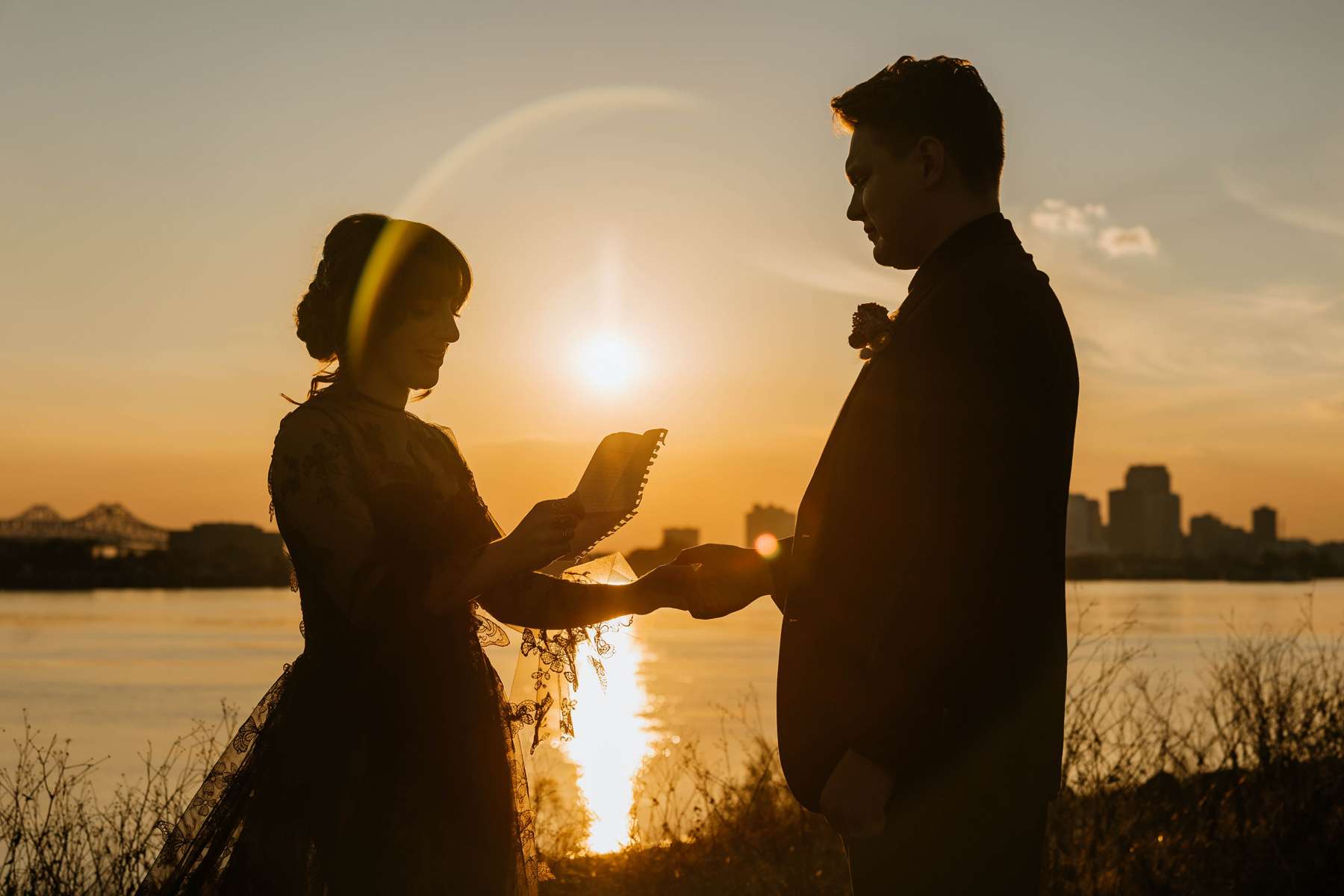 Although hey didn't have a big reception, they still wanted to make it special. Instead of a whole wedding cake, they ordered some cookies from Bywater Bakery that looked like little stigmata hands. "We told our very few guests that they could wear whatever they'd like and without coordination, they all wore black and had various cute accessories like capes or gloves."
Having a micro wedding was perfect for this pair as it got rid of the requirement to follow tradition. They also saved a lot of money! The bride bought her dress from Etsy and her Sofia Zakia ring was bought secondhand from The RealReal.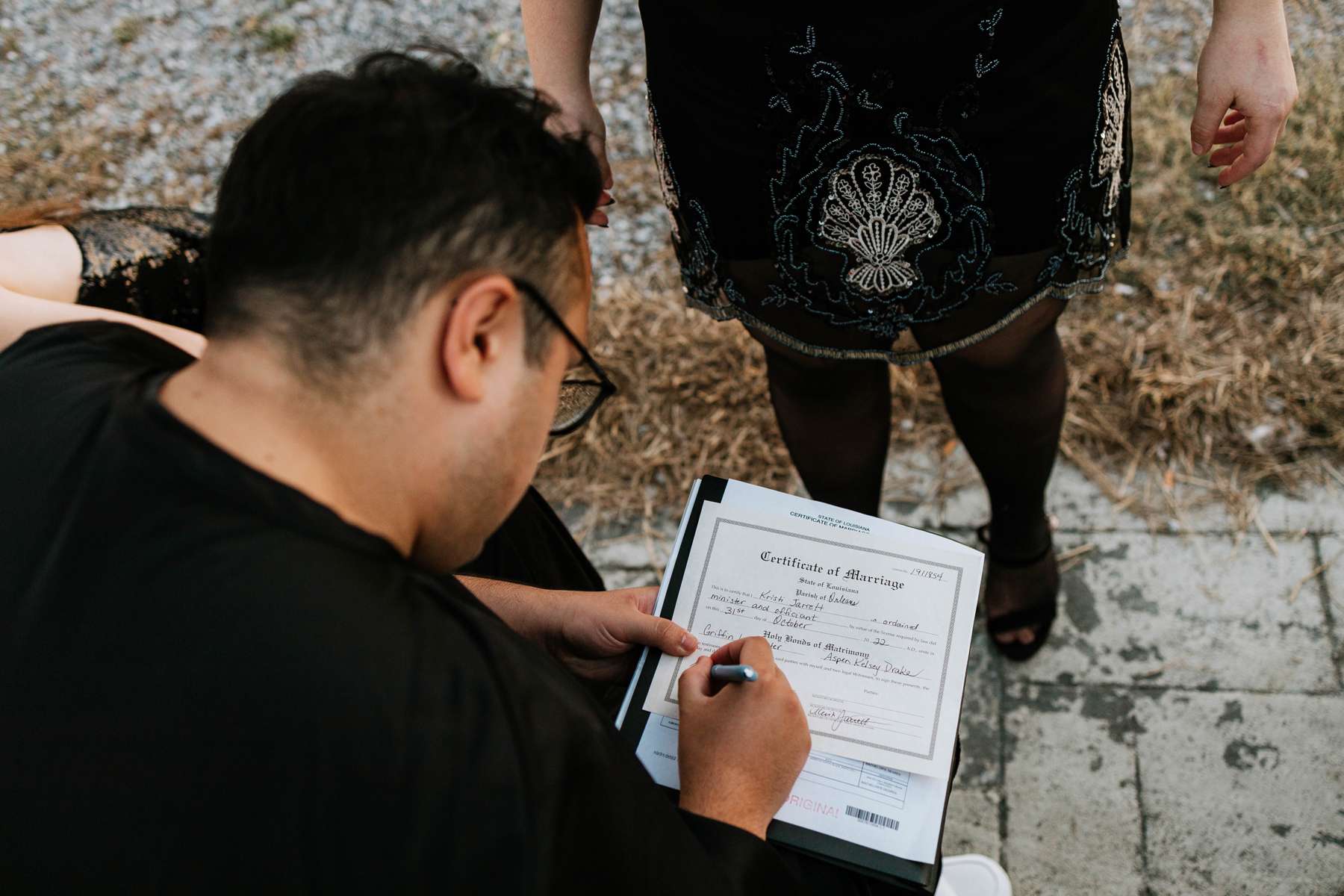 "As someone who was raised in a religious culture where marriages felt more like a display for community approval than anything, it was liberating for me to pinpoint what it was that I wanted (and didn't want) for our celebration", Aspen explained, "It helped that we both wanted to break from tradition. Being able to personalise the clothes and setting to our interests made the planning and purchasing more creative and fun"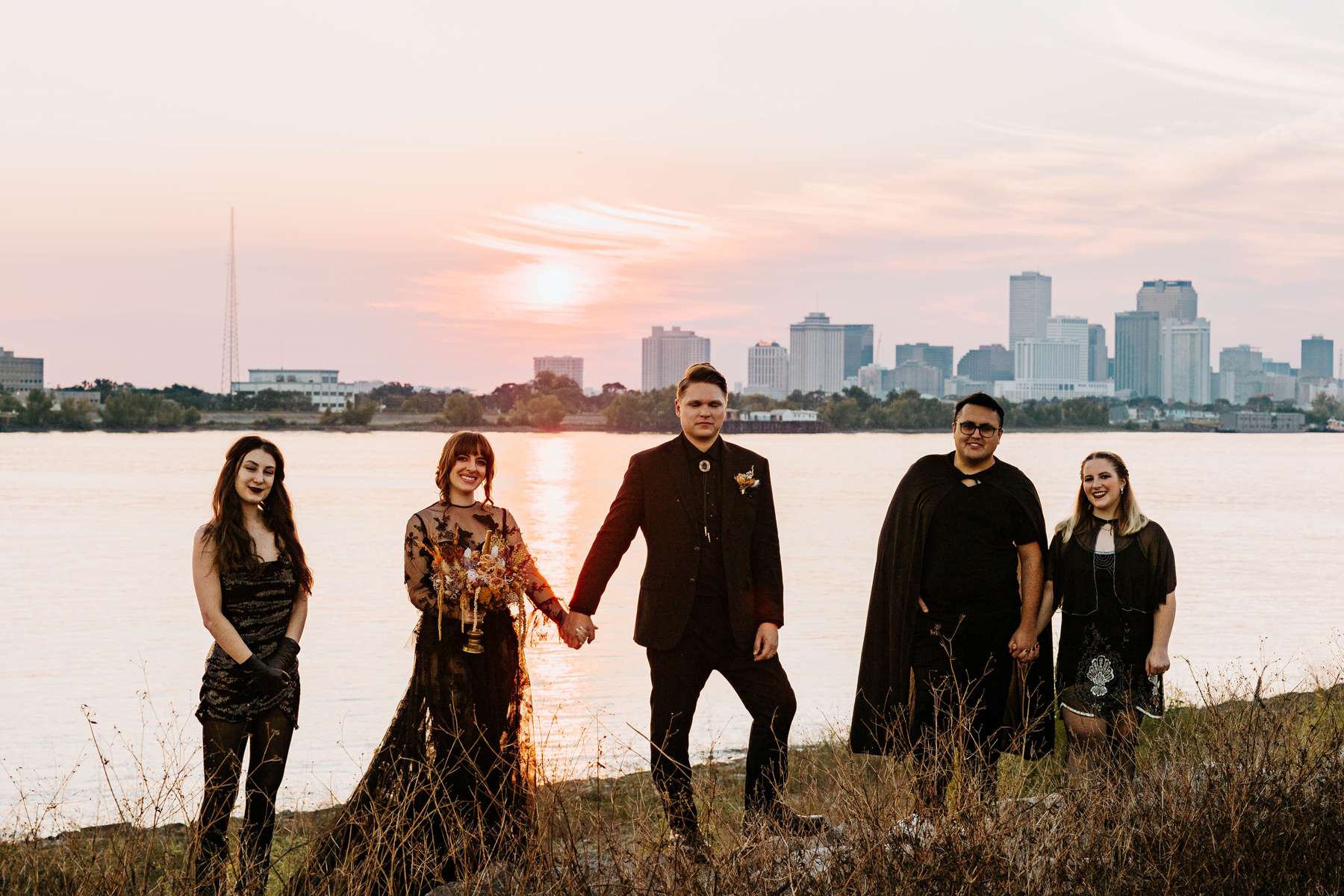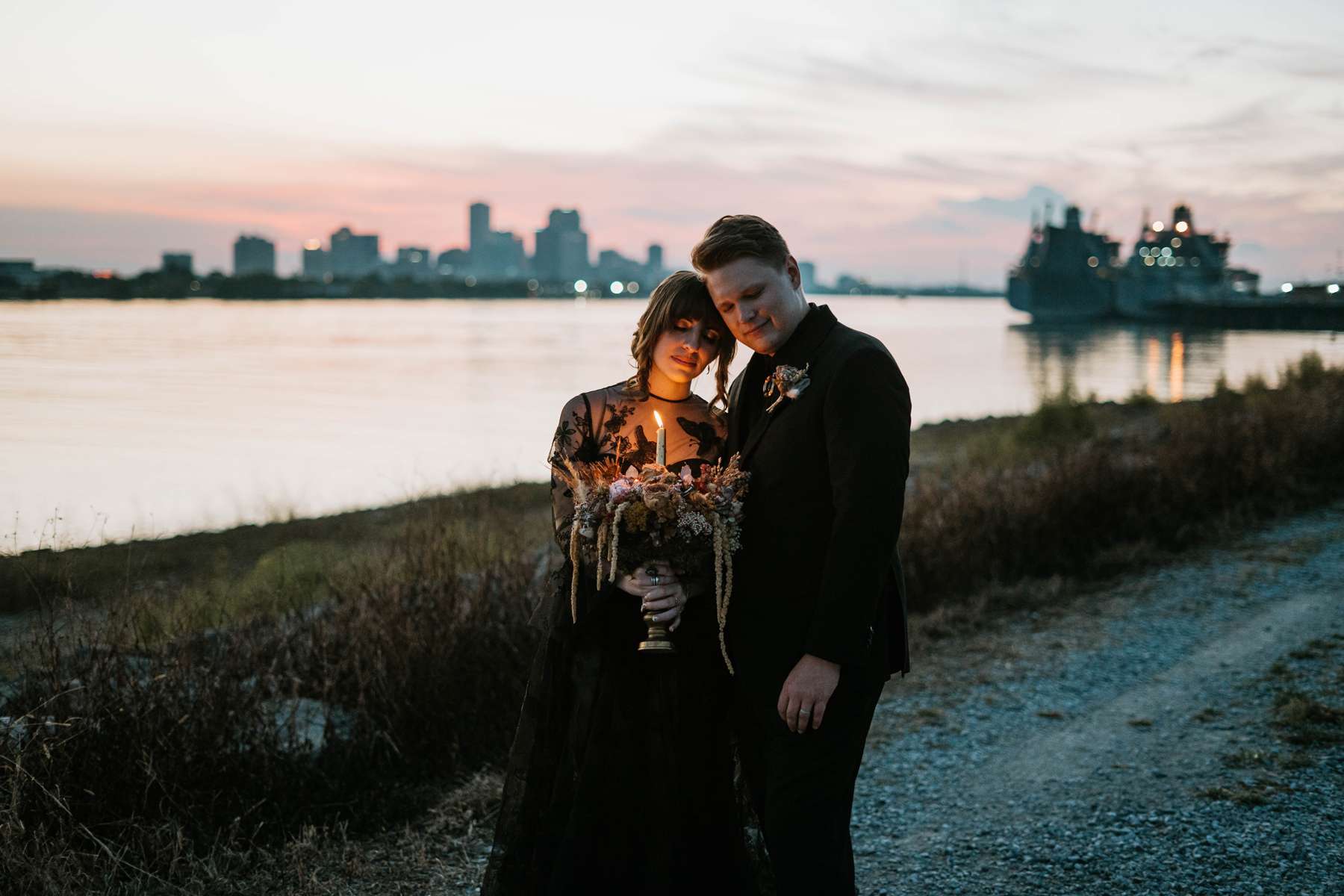 Aspen and Griffin's unique wedding celebration was a reflection of their love and interests. Aspen concludes, "I was hesitant about getting married, not because I don't love my partner, but because of all the loaded stories and expectations society puts on marriage. That was some personal stuff I had to work through, but I think the universal message here is that you and your partner are unique and can be celebrated in your own unique way. Don't be afraid to employ your interests and strengths in the planning process. If one of you loves checklists or graphs, and the other loves colour schemes and DIY – divide and conquer together!"