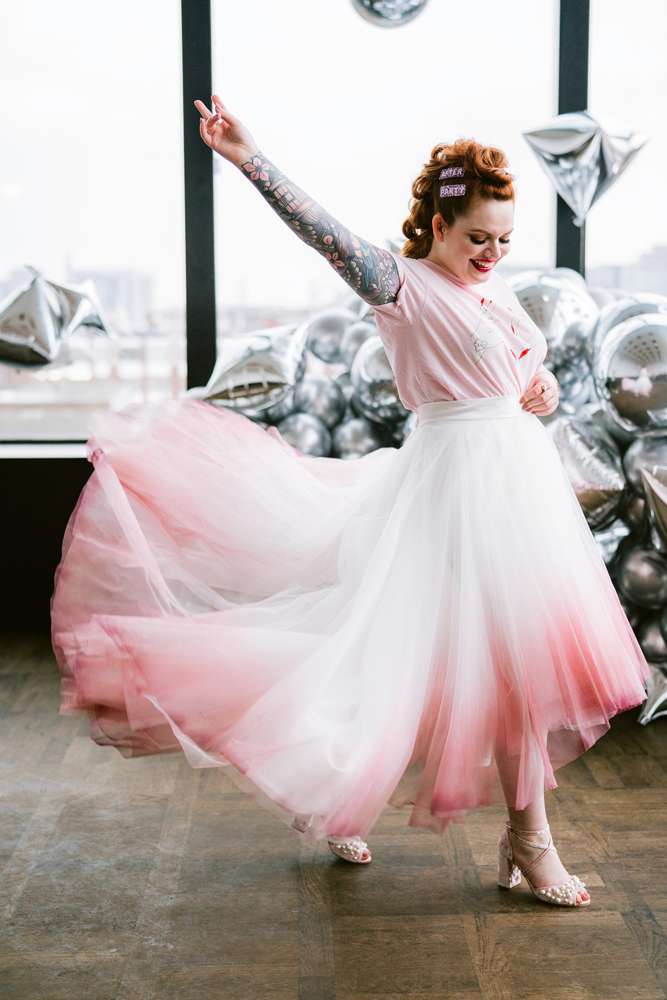 Finding just one dream wedding outfit for is a pretty tall order, which is why we are ALL about wedding day outfit changes here at Rock n Roll Bride! Whether that's as simple as swapping your veil for a crown, adding a warm jacket, or kicking off your heels (literally!) so you have something more conformable to dance in… Or you want a whole second outfit that's more suited to throwing some serious shapes on the dance floor, we are here for it!
This shoot was pulled together by my crack team of wedding wizards and me to showcase some of the second outfits you might be tempted to rock as night starts to fall on your wedding day. If you're the kind of bride to put the E in EXTRA, then you're going to love these bridal ensemble ideas that will absolutely get the party started!
The editorial was shot on the rooftop of the Ace Hotel in London, a fantastically versatile space that is great for dusk cocktails with THE view of the city, a private party or, yes, even your wedding.
Our model was the completely gorgeous Stephi Eliza, a fashion blogger who I actually stalked found on Instagram! We also worked with some incredibly talented, independent designers for this shoot. I love being able to showcase brands and designers that you might not have seen featured elsewhere before.
LOOK ONE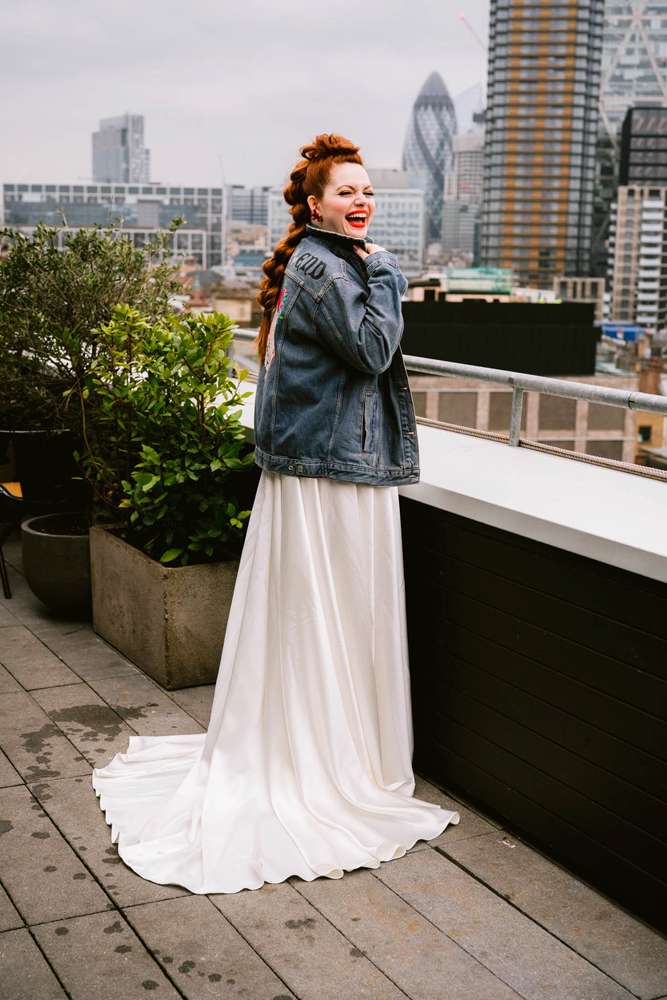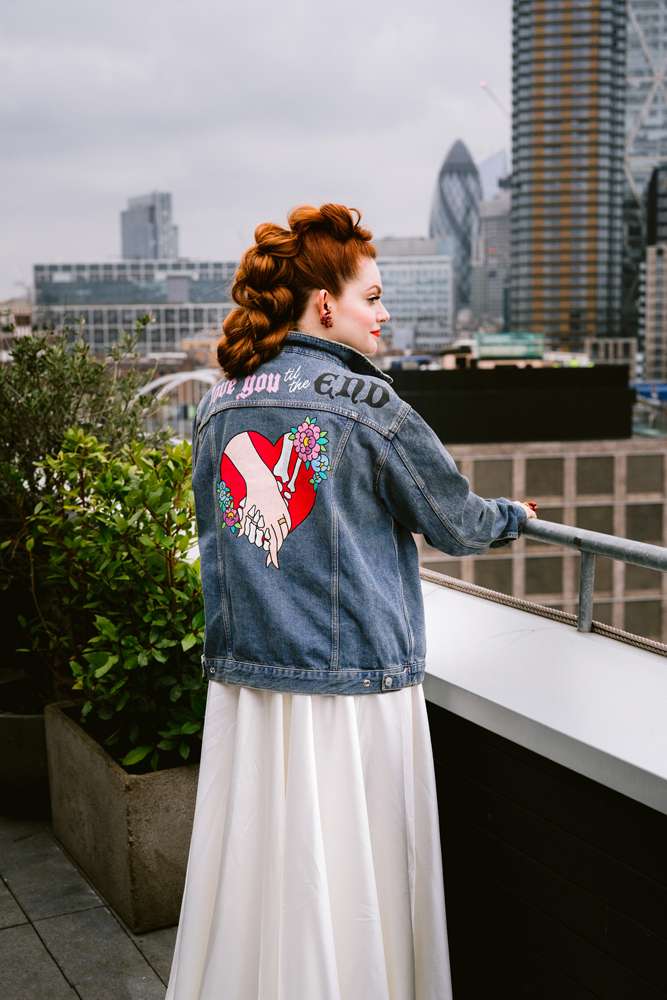 Skirt: Marie Chandler Bridal
Denim Jacket: Not Yours Denim
Earrings & Ring: Simon Harrison
We also collaborated with a couple of high street brands to show that you don't always need to spend a complete fortune to look like a million bridal bucks!
LOOK TWO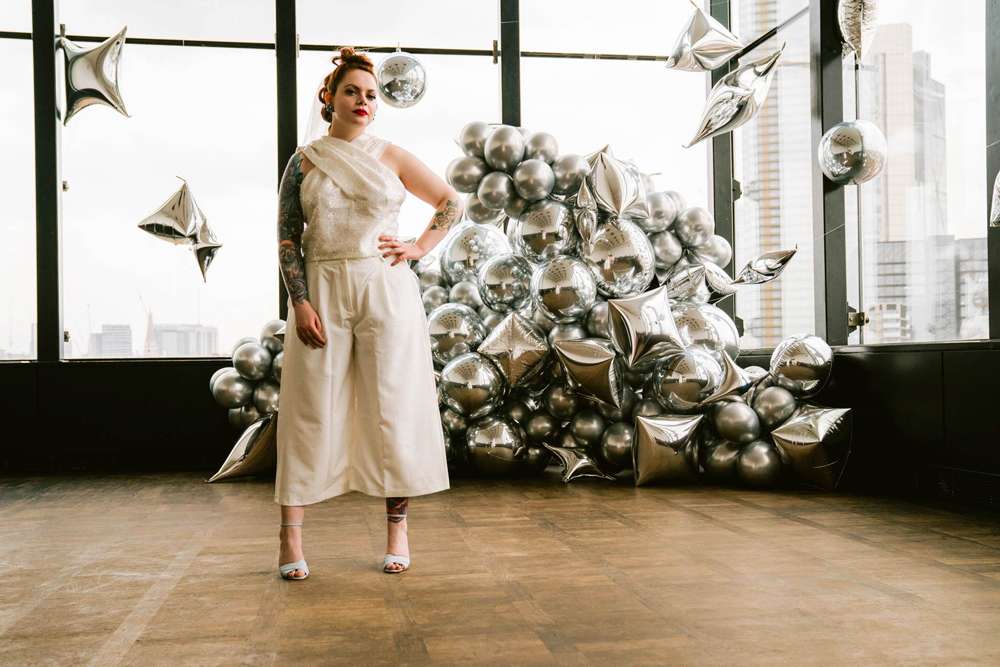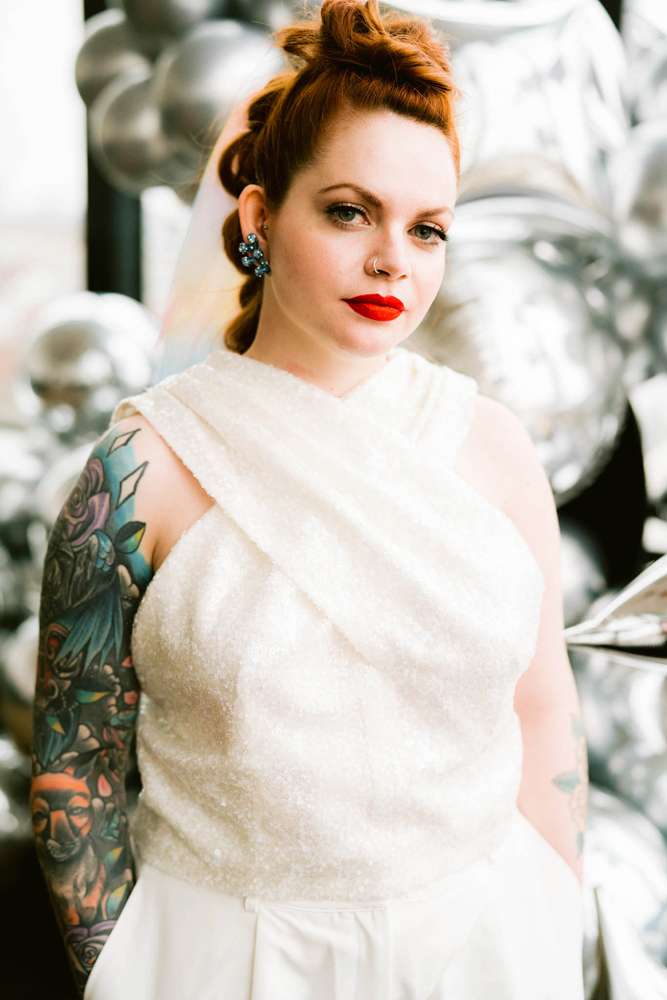 Top: Marie Chandler Bridal
Culottes: Pretty Little Thing
Shoes: Charlotte Mills
Earrings: Simon Harrison
Veil: Rock n Roll Bride x Crown and Glory
The third look was probably my favourite of all – the tee-shirt came from the back of my own wardrobe would you believe, and the skirt was made especially for us by Bex Brides.
LOOK THREE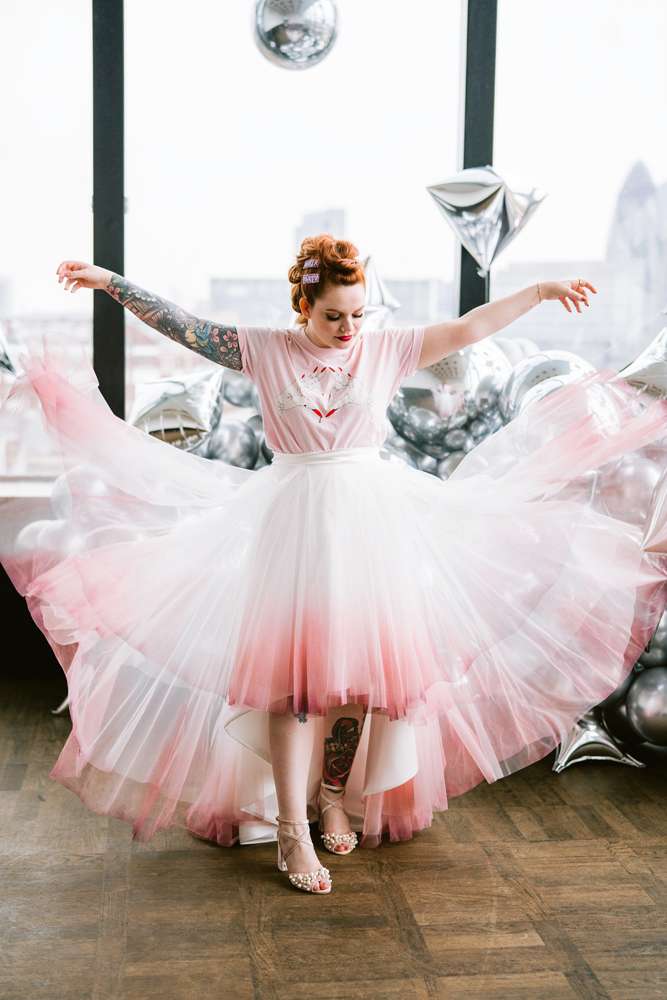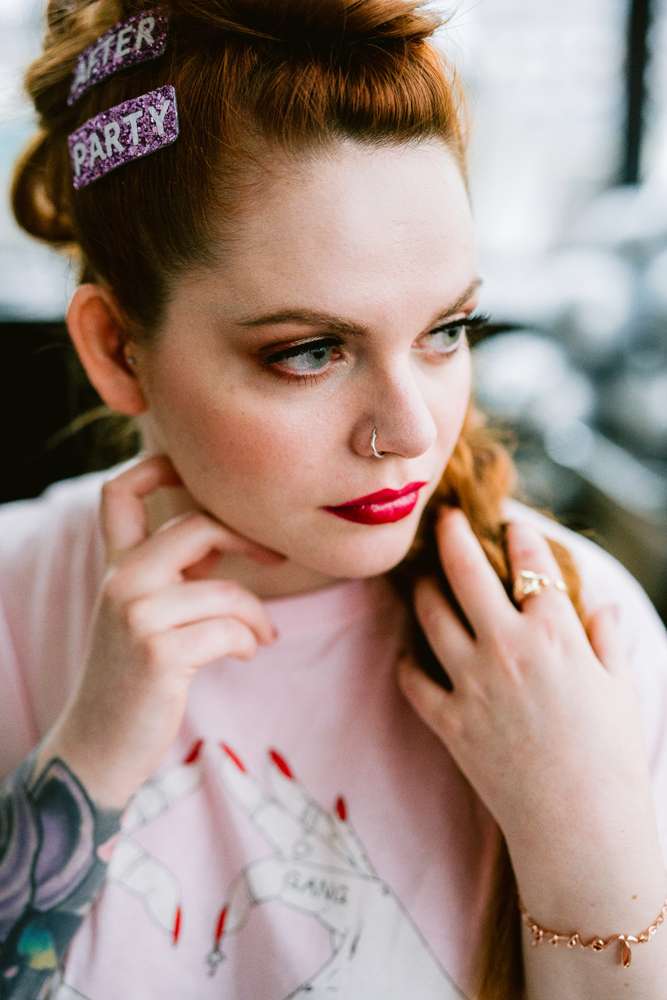 Tee-Shirt: Samantha Cusick London
Skirt: Bex Brides
Shoes: Charlotte Mills
Hair Clips: Crown and Glory
Bracelet:: Ted Baker
Ring: Karen Millen
Look four was all about accentuating Steph's incredible figure. A dress like this stunner from Margo Stankova is just MADE for curves and she really showed it off to it's best!
LOOK FOUR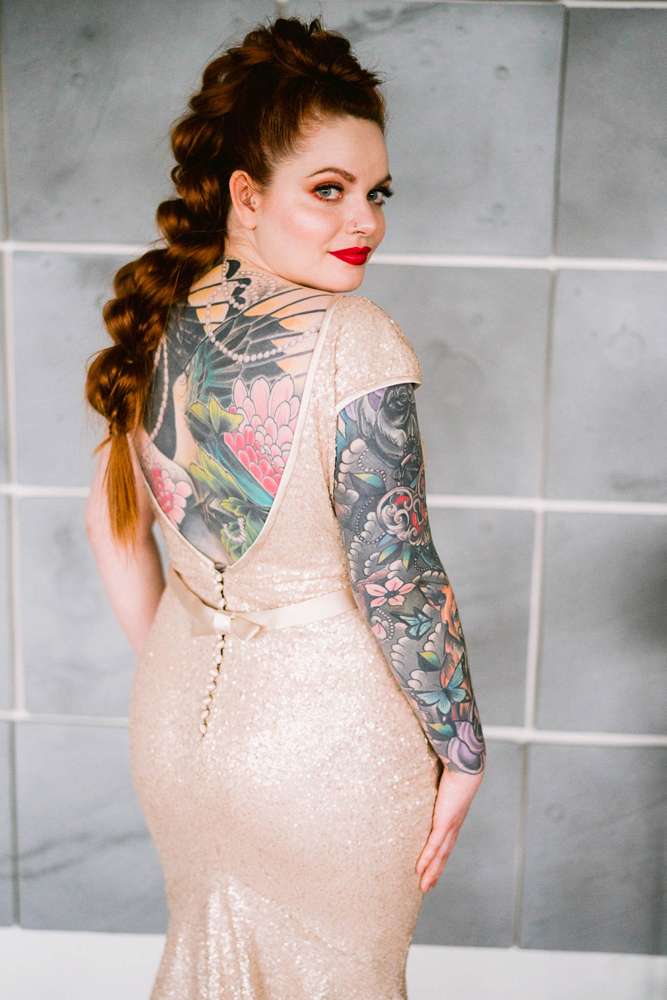 Dress: Margo Stankova
We then threw on a comfortable jumper from Needle & Thread's new collection. After all, it gets chilly as night starts to fall, so you might want to snuggle down a bit (while still looking effortlessly stylish!)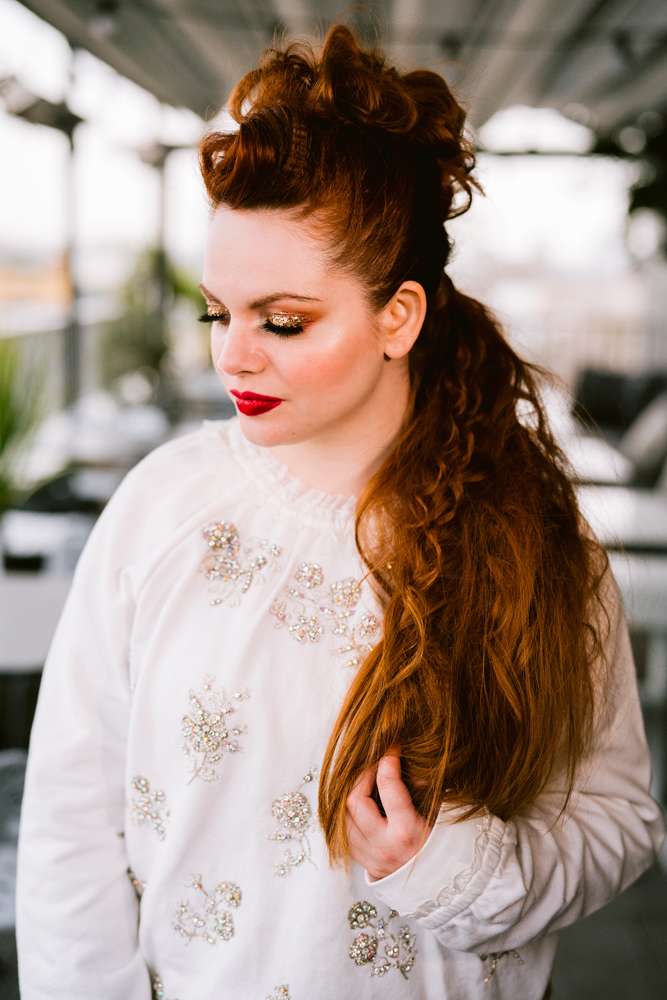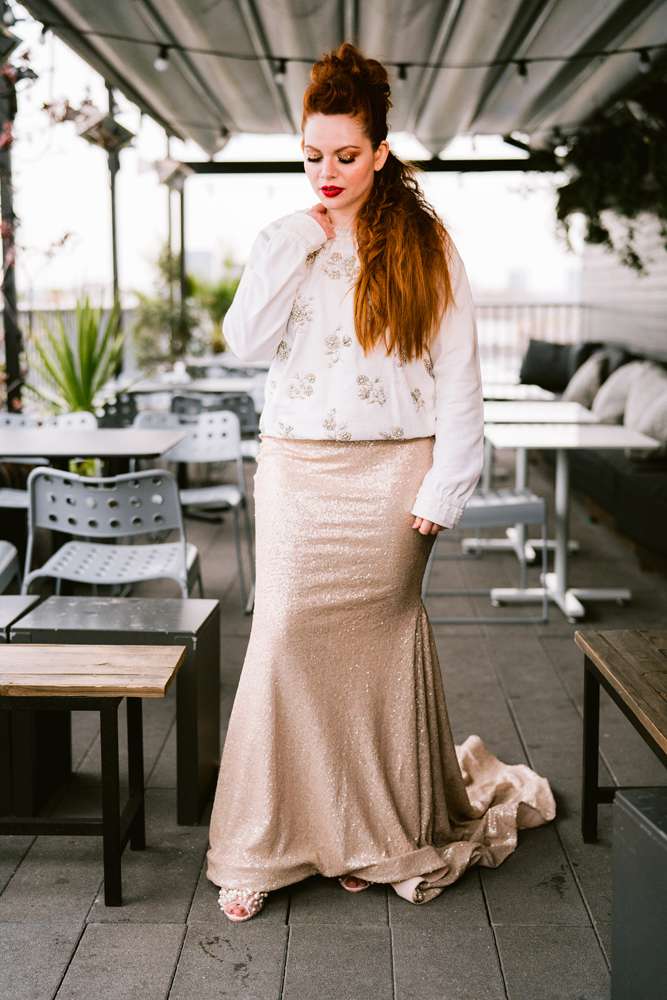 Jumper: Needle & Thread
Shoes: Charlotte Mills
Bracelet: Ted Baker
Finally, we went full-on party mode! This blue tasselled jacket from Bottle Blonde Studio was SO fun to shoot and wear!
LOOK FIVE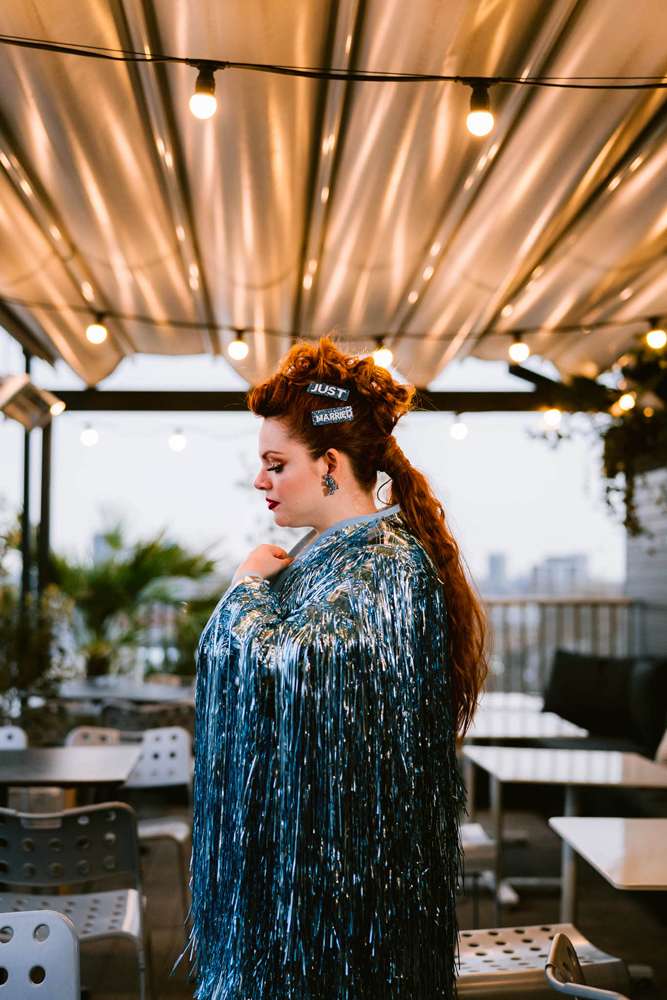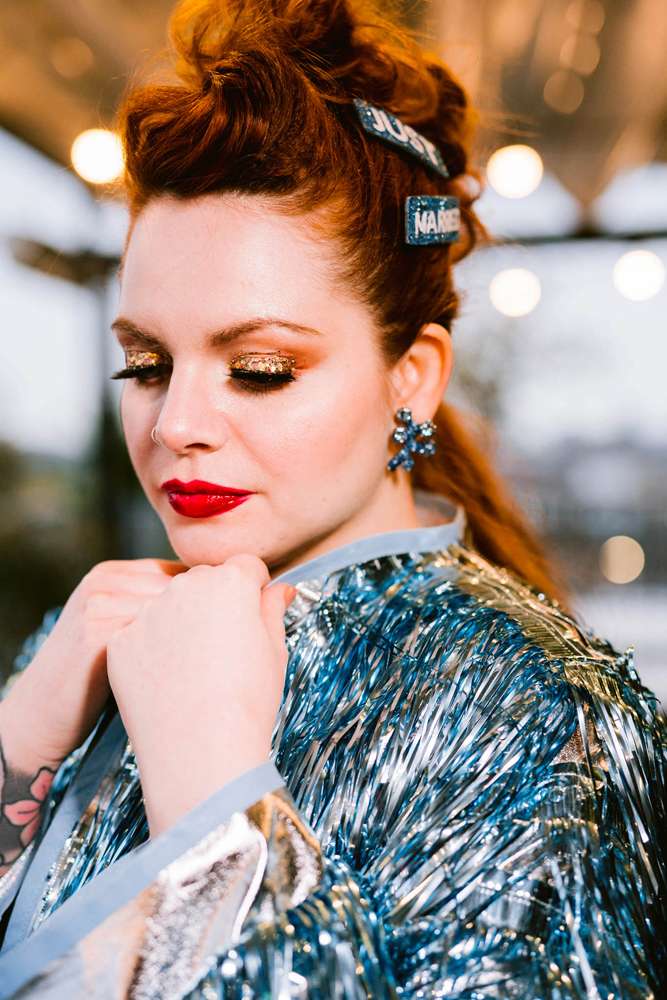 Jacket: Bottle Blonde Studio
Skirt: Marie Chandler Bridal
Trainers: Charlotte Mills
Hair Clips: Crown and Glory
Earrings: Simon Harrison
Balloons: Peach Blossom
This shoot first appeared in the May/June 2019 issue of of Rock n Roll Bride magazine. You can order a back issue of this edition via our shop.