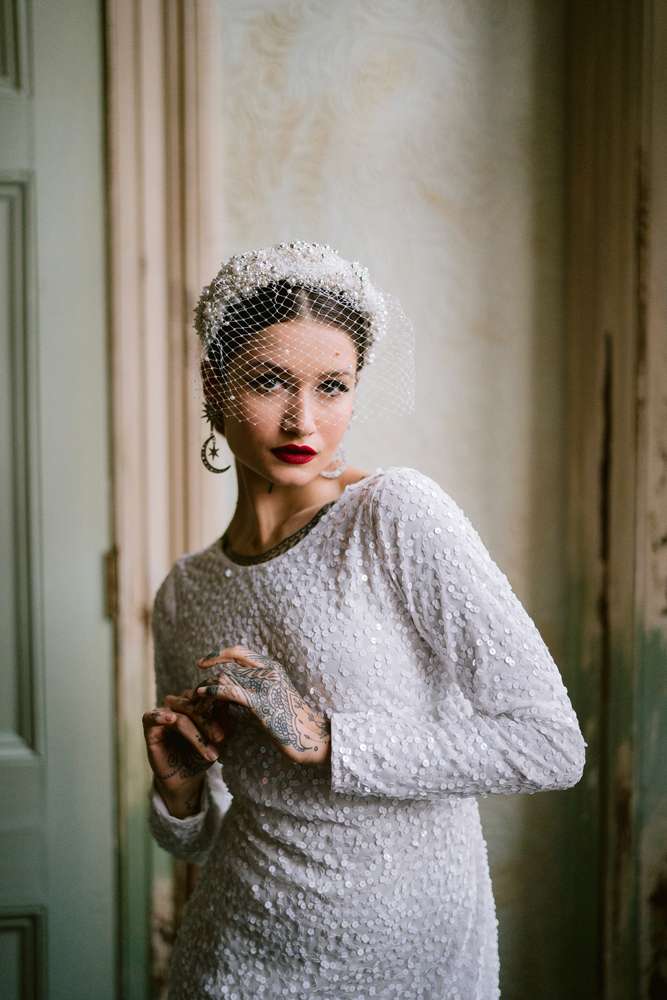 I'm going to cut right to the chase today because I KNOW you are just as excited as I am about this project! The Rock n Roll Bride wedding dress collection is now available at little-mistress.com – cue confetti cannons, popping champagne bottles and everyone screaming "Wooooooohooooooo!"
It's funny, because when I was teasing you relentlessly about my book, so many of you guessed (and I suspect, hoped) that the project I was about to announce was a wedding dress collection. Obviously, I wasn't allowed to say anything at the time and it was super hard for me not to say "NOT RIGHT NOW BUT SOON!!" to everyone that messaged me! I'm pretty terrible at keeping secrets after all.
So, let's skip the formalities and crack the hell on shall we? I know you're all just dying to see the dresses! This collection features five wedding gowns and five bridesmaid dresses (which I'll be sharing here tomorrow but they are available to pre-order from today too!) Each dress is lovingly and ethically created in India and nothing is over £150!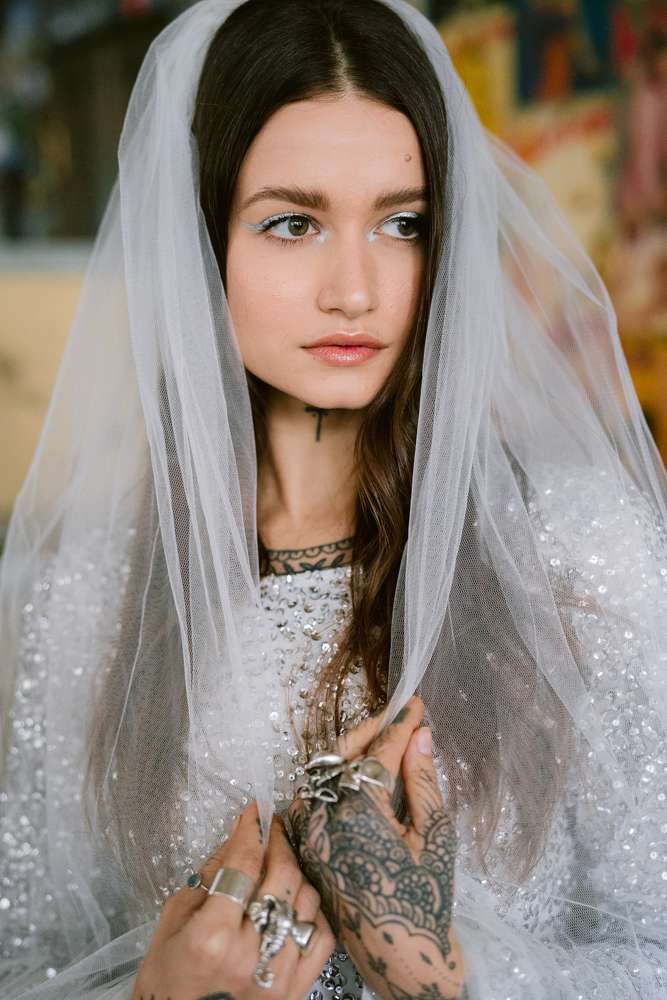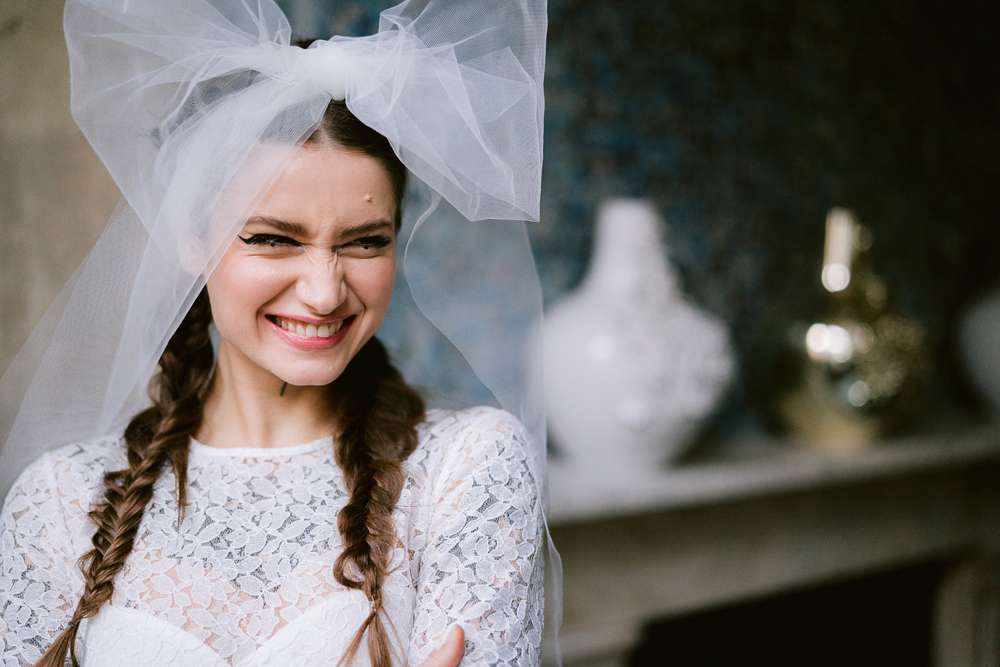 I've been considering doing a wedding dress collection for SO LONG and, for me anyway, the stumbling block has always been price. There are so many phenomenal designers and boutiques selling the most amazingly crafted UK-produced gowns, offering a bespoke service or providing access to some of the very best high-end designers in the world. I'm not in anyway trying to compete with what they do, but what I did want to do with this collection is offer affordable, high street options for those of you that simply can't, or don't want to, drop a mortgage payment on your outfit.
Collaborating with a big brand like Little Mistress means we got access to their already in place buying power, meaning we could move quickly, design dresses that were really in-keeping with what Rock n Roll Bride is all about and keep the prices low.
Plus, every single piece is available from a UK size 8-20!! It was so very, very important to me that we could create these dresses in as wide a size range as possible. Although I hope we may be able to offer an even larger selection of sizes in future, I'm pretty darn thrilled that the Little Mistress team listened to me and extended their usual size range for this collection.
OK, OK enough from me, let's get on with it shall we!?
Pandora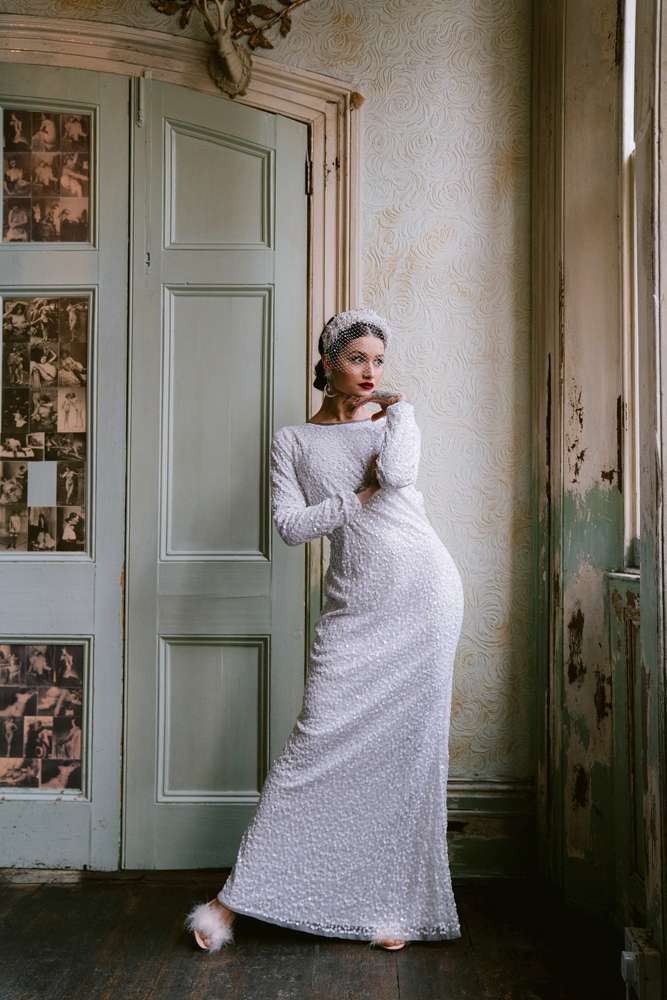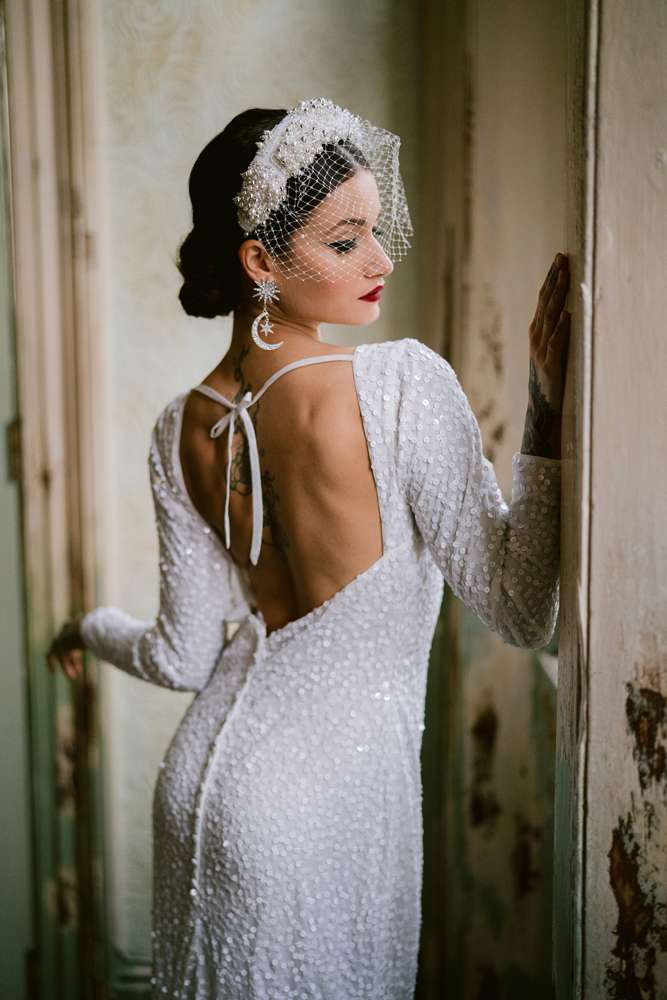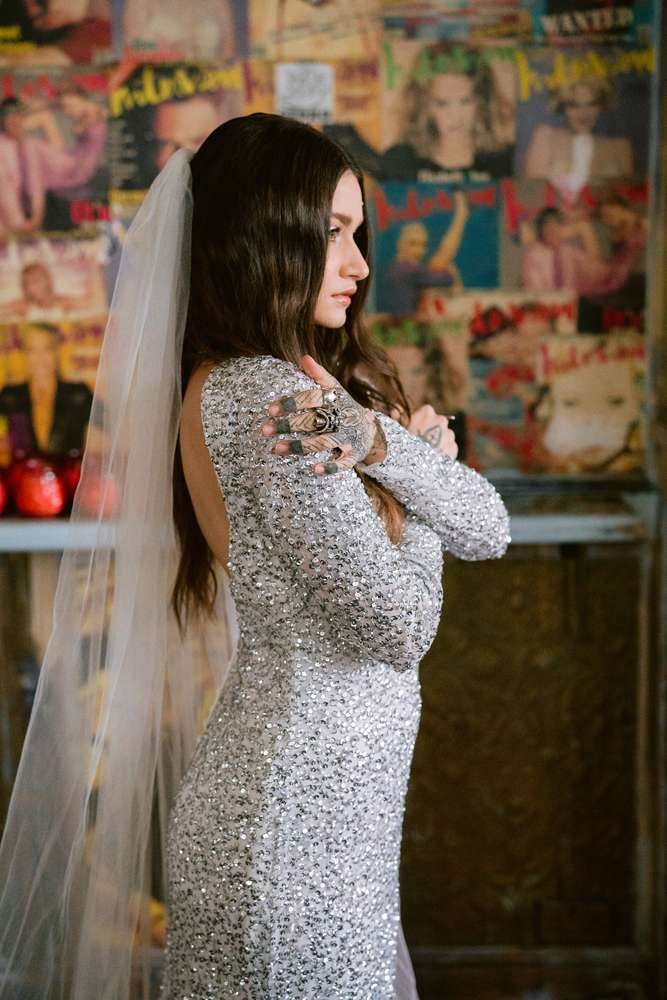 I'm probably not supposed to have favourites but, if I was to, the Pandora gown would be it. A super gorgeous and hella flattering fishtail dress with all over scattered sequins and keyhole back. Featuring long fitted sleeves, a round neckline and satin covered buttons with a concealed zip at the back.
Available in white or silver for £150.
Athena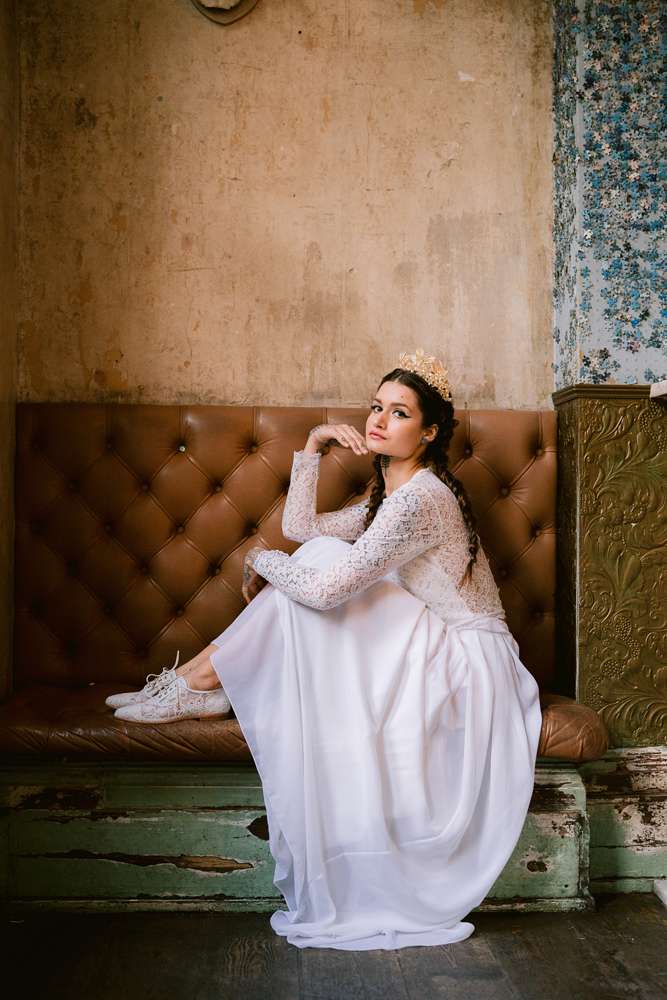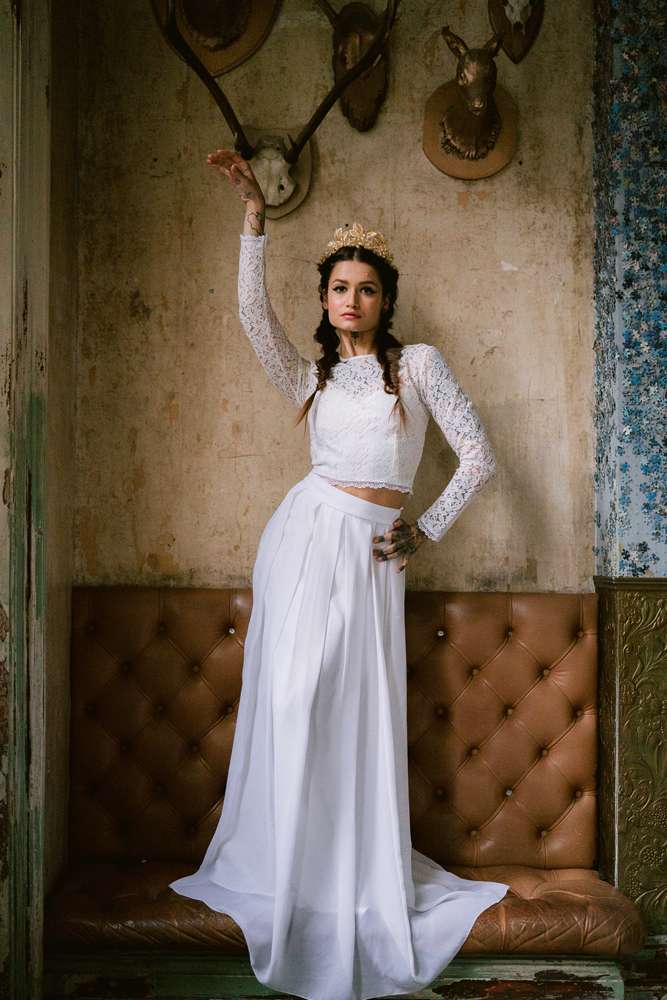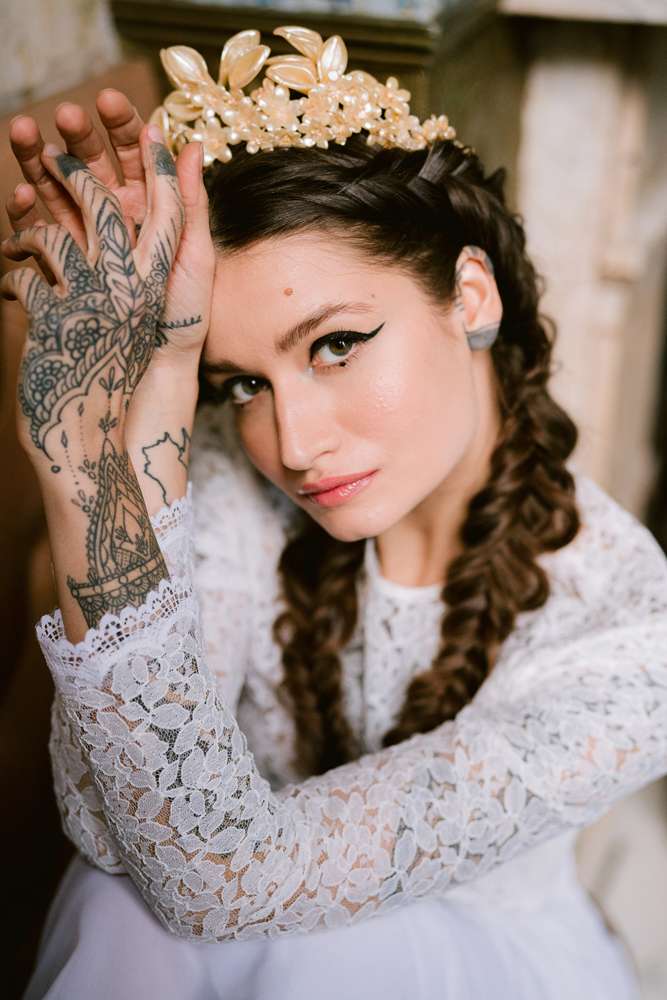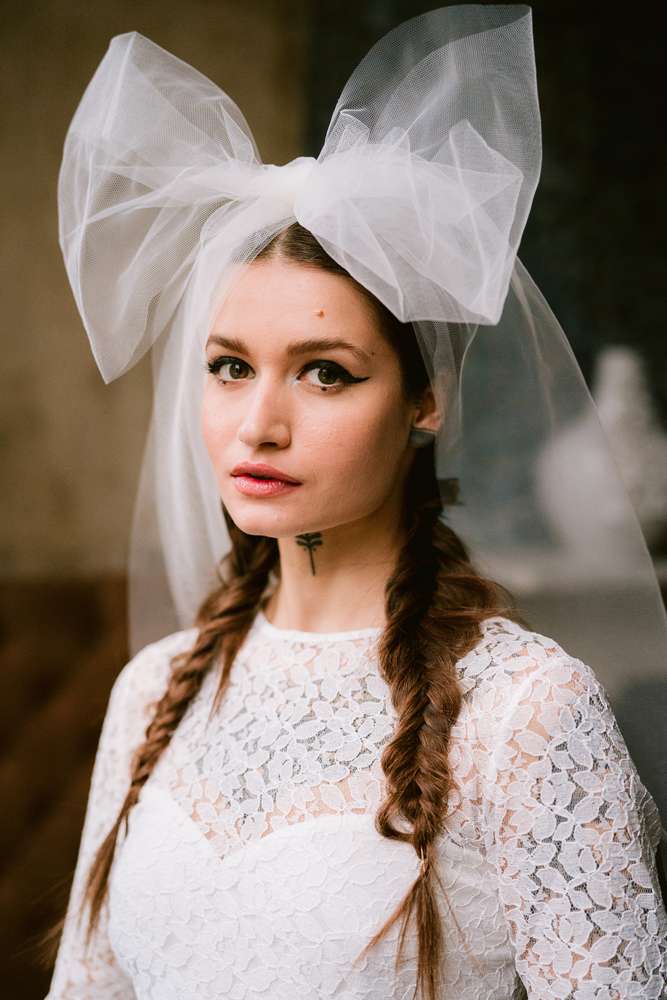 This two-piece set is perfect for the laid back, boho bride. Featuring a gently draped floor-length skirt in a lightweight chiffon, it's comfortable to wear and includes satin covered button detail at the back, a concealed zip fastening and satin lining.
The lined top is created from a delicate lace with scallop lace edge detail and has satin covered buttons in the back.
Available in ivory, the skirt is £55 and the top is £45.
Stellar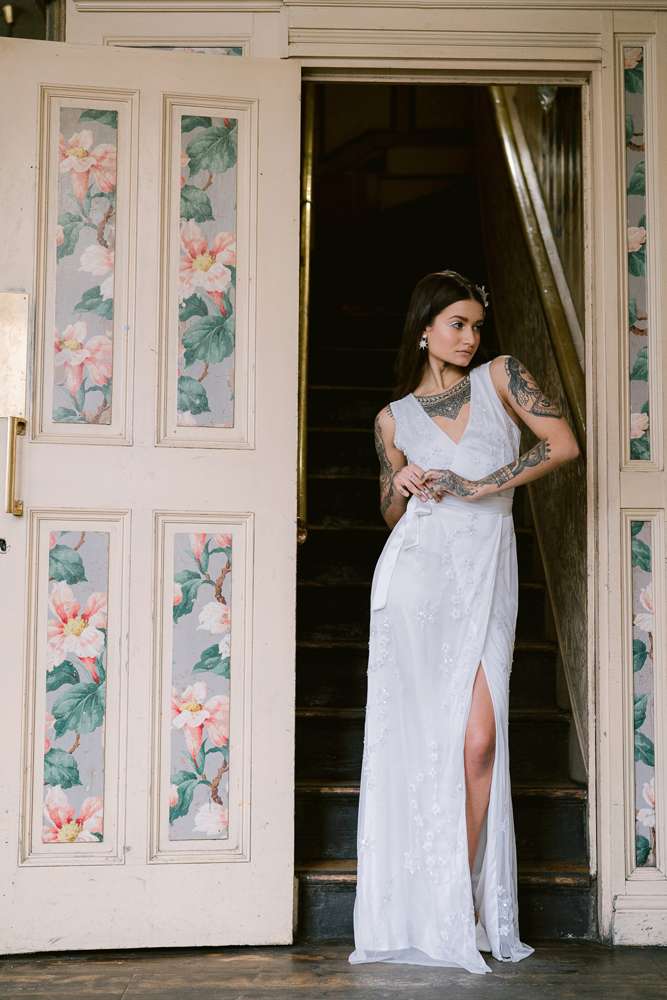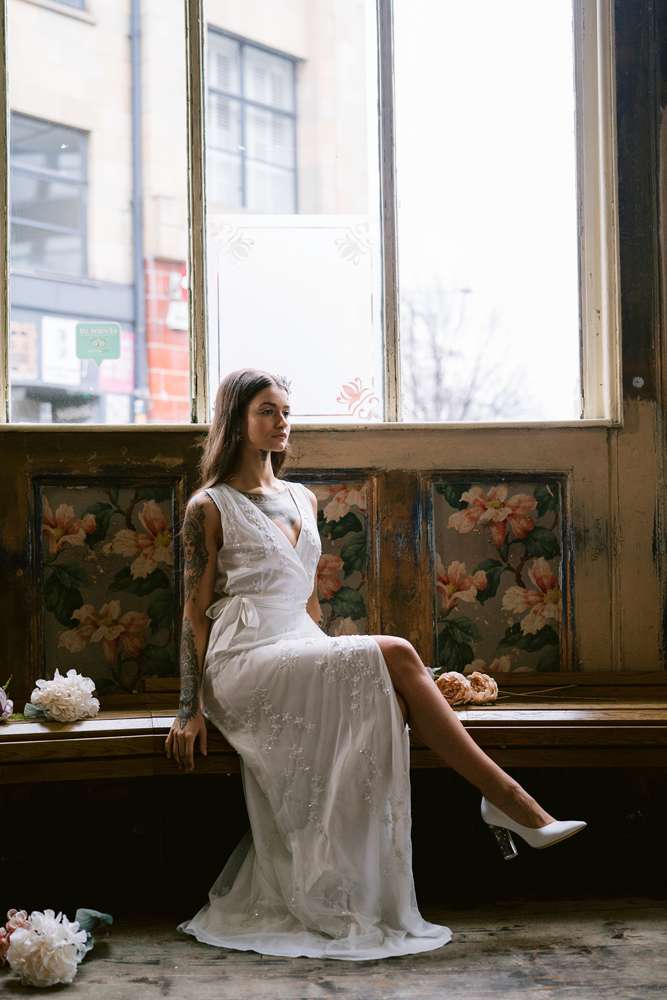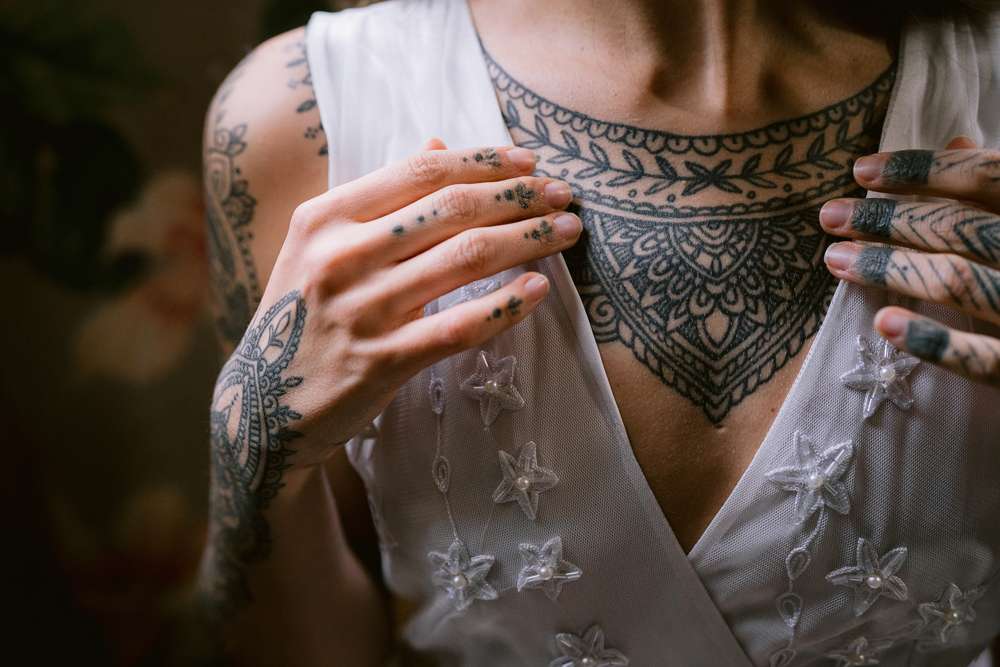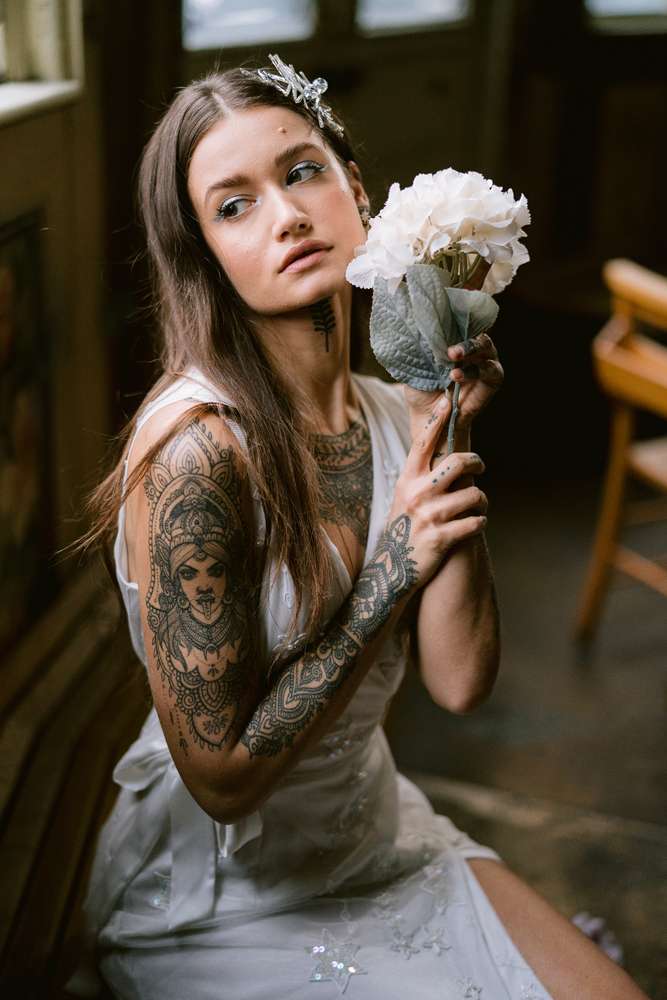 You'll be completely starry-eyed over this one. A floor-length dress embroidered with stars and adorned with hand-embellished sequins, faux pearls and beads. The sleeveless dress comes with a wrap over bodice and satin tie-fastening and will be flattering as hell on all body shapes.
Roma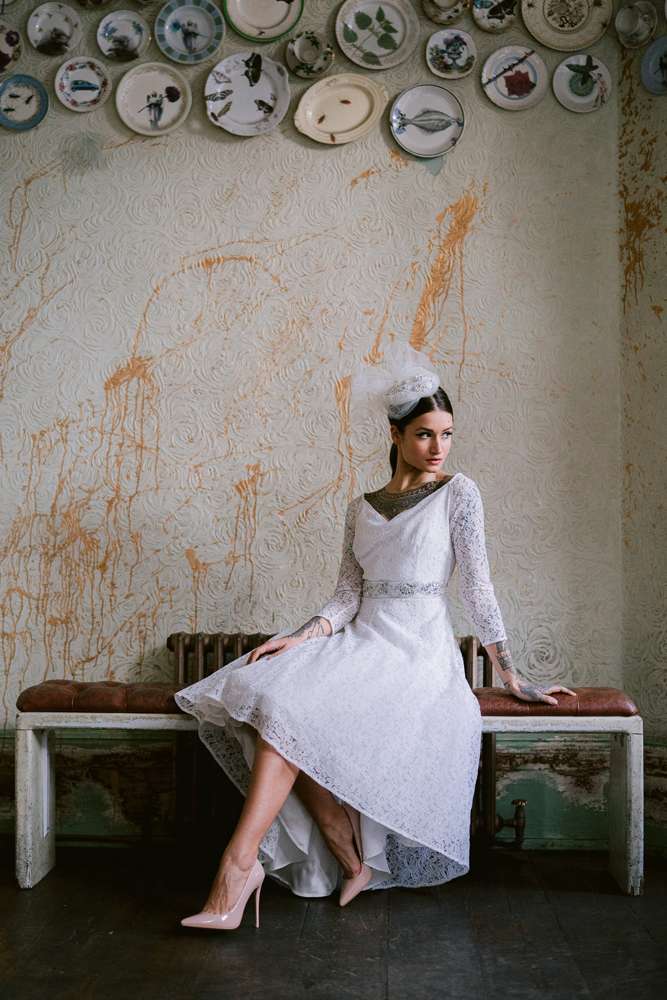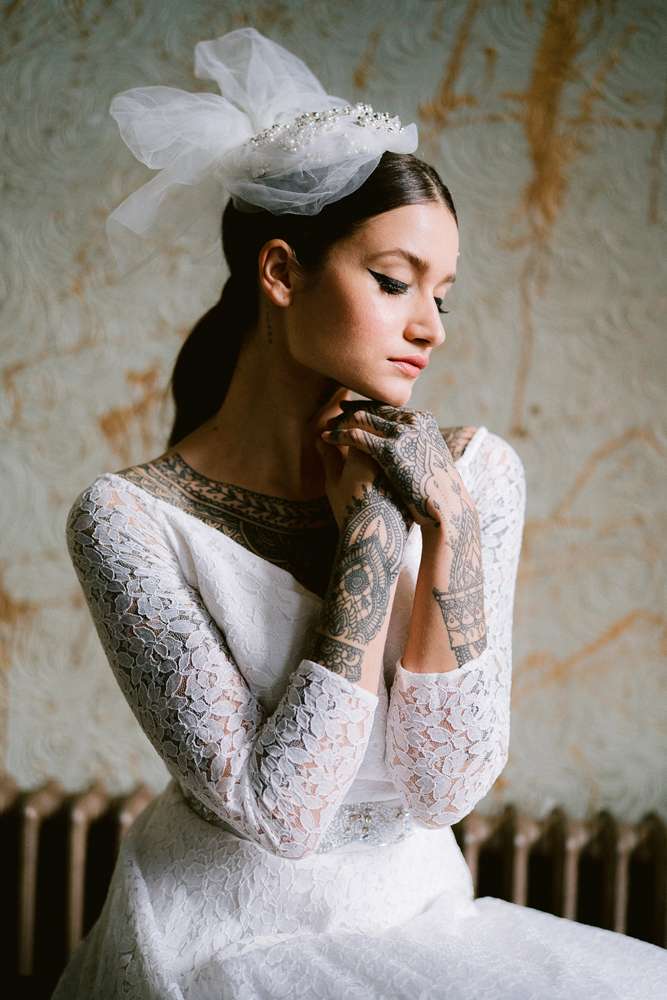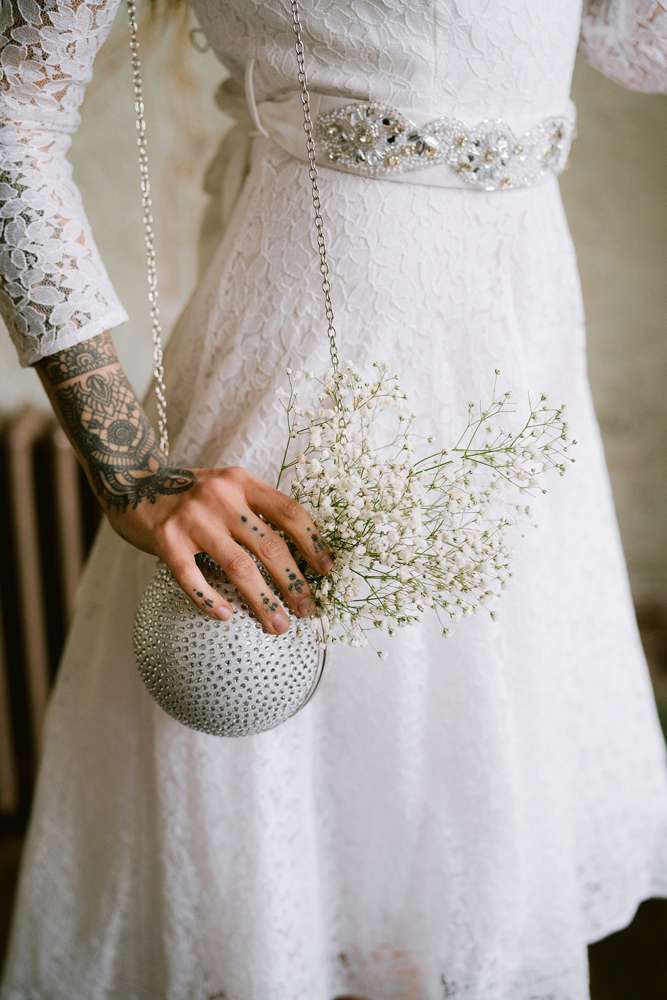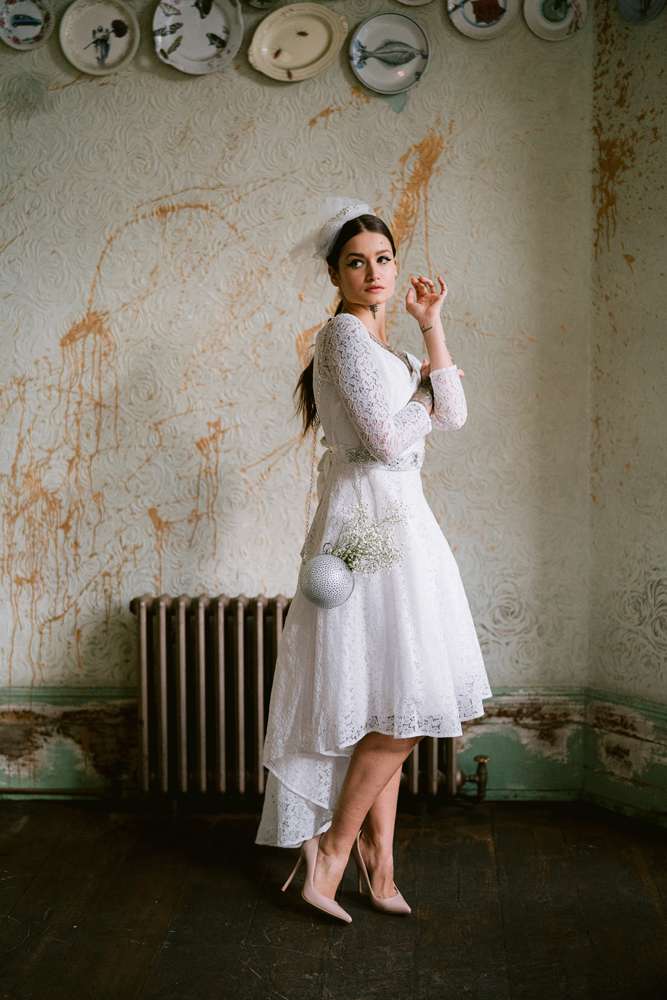 Nothing screams Rock n Roll Bride more than a short, 50s style dress and this stunner looks incredible in person! The all-over lace dress features a high/ low style skirt, a removable embellished belt and a flattering sweetheart neckline. The unlined lace sleeves will allow your tattoos to shine through with pride!
Astral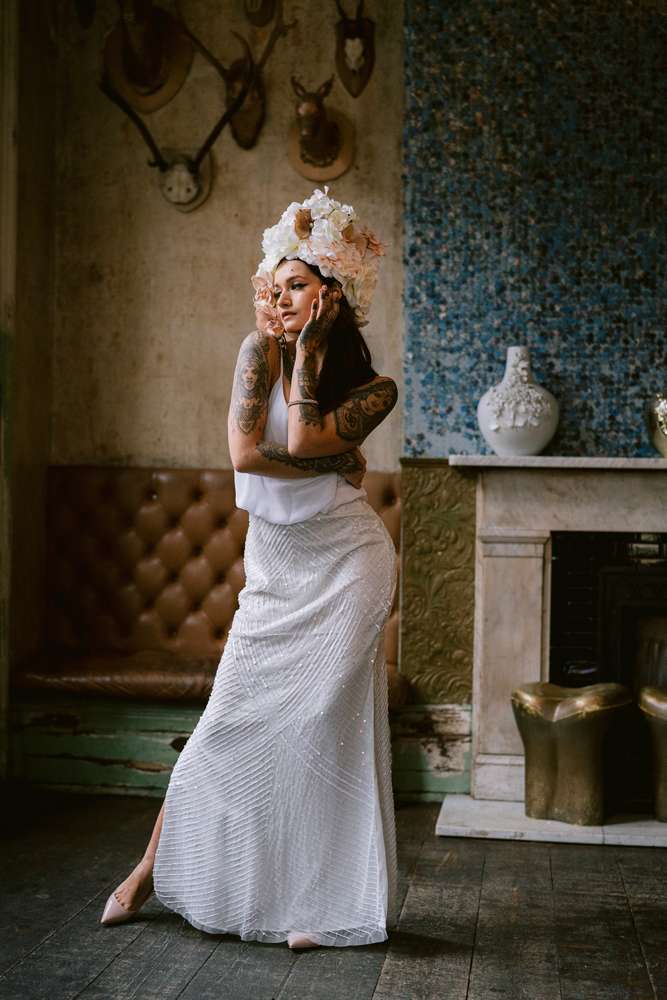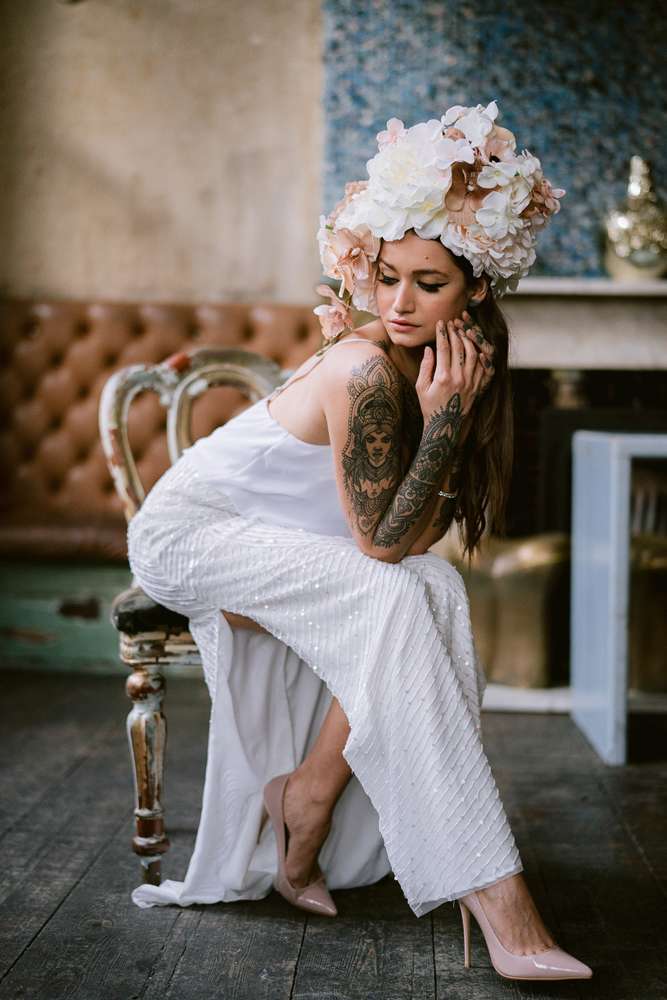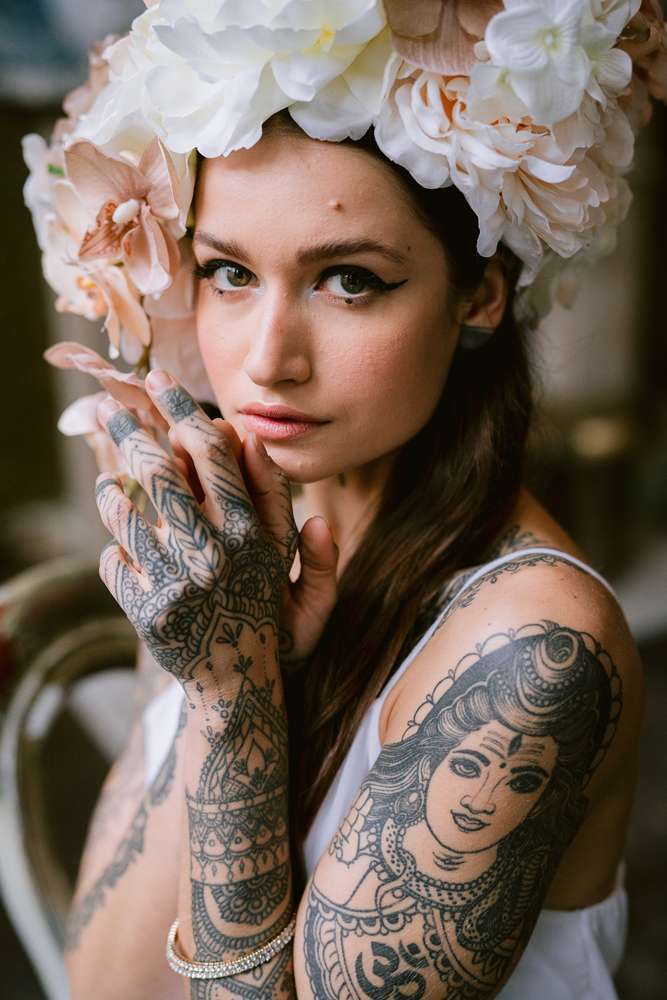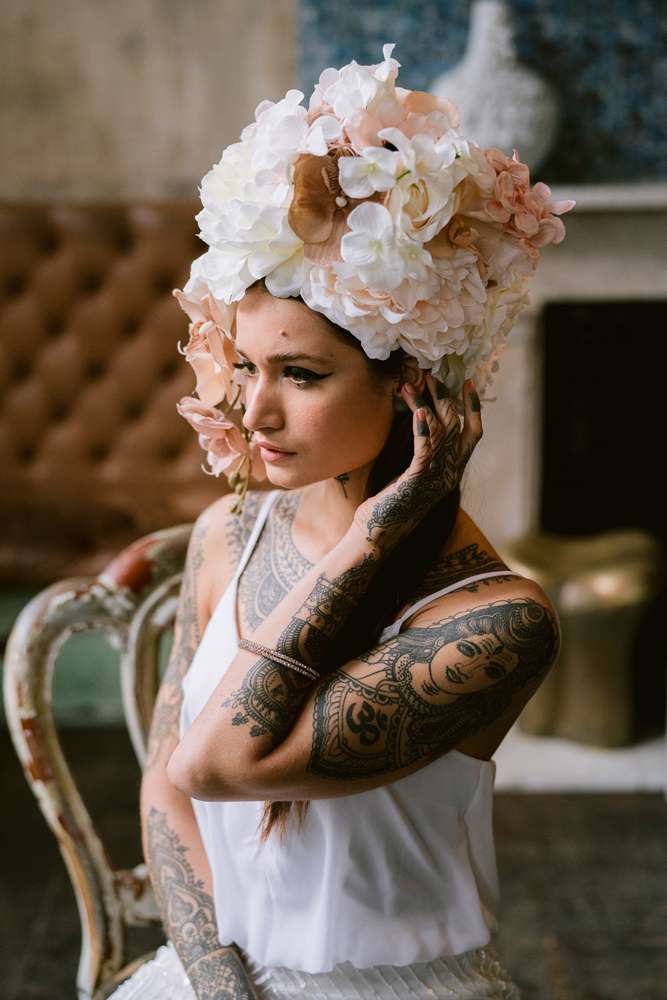 This stunning dress has a real art deco vibe and would be perfect for a vintage loving, glam bride! The floor-length skirt is embellished with sequins and bead work in a deco pattern and comes with an attached chiffon bodice with adjustable cami straps and a v-neckline.
All of these dresses are now available for pre-order at little-mistress.com and will begin shipping in early April. Pop back here tomorrow morning because I'll be showcasing the bridesmaid collection right here too!
OK, OK, please put me out of my misery because I'm dying to know: Which is your favourite? Will you be getting one to saunter down the aisle or to party the night away in? They scream second-outfit for the after party don't they!?