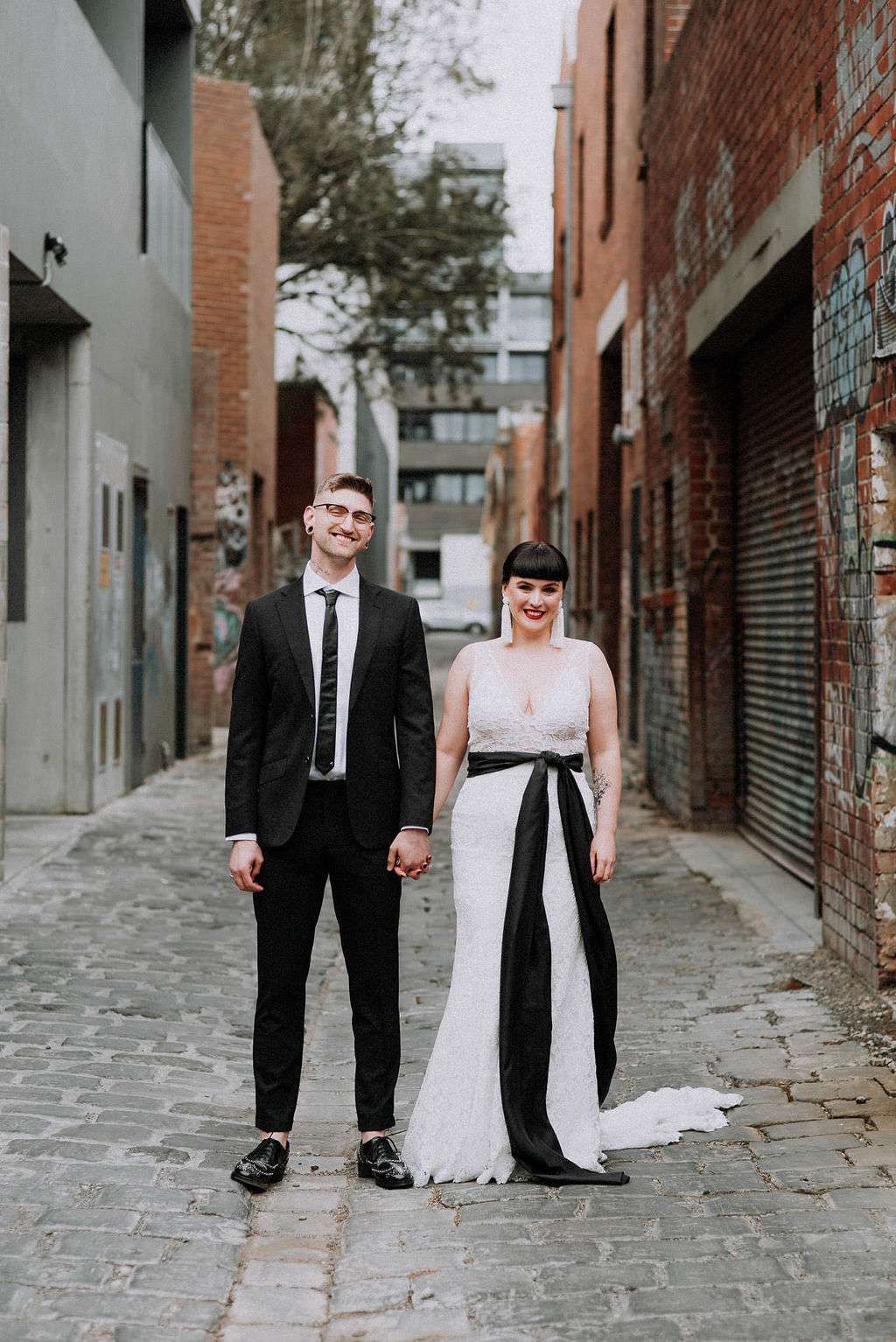 Marlie and Ben's love story is like something out of a rom-com – they met officially in 2010, but were too shy to speak to one another. They spent a few years politely waving at each other when their paths crossed, until Ben came to Marlie's rescue while she was stuck in the pouring rain and they finally spoke. They moved in together six weeks later!
Eight years after this, they had just witnessed one of Australia's first gay weddings and felt so moved by the experience. "We had always said we would only get married when Australia had marriage equality," explained Marlie. "That day Ben said 'Let's do it', and we cried so many happy tears as we knew it was the best decision ever!"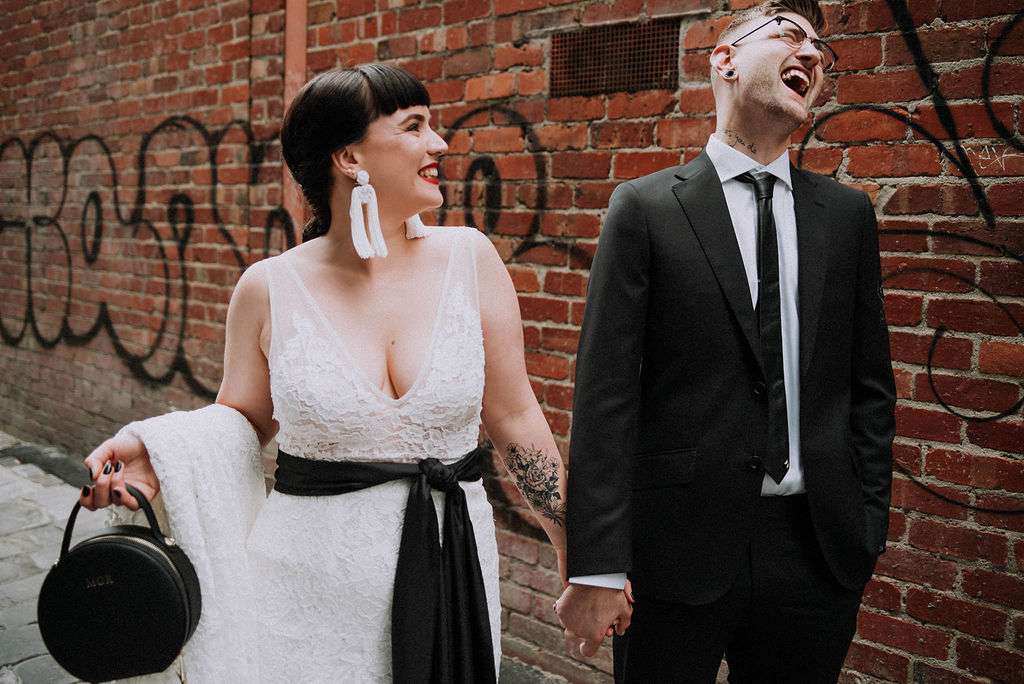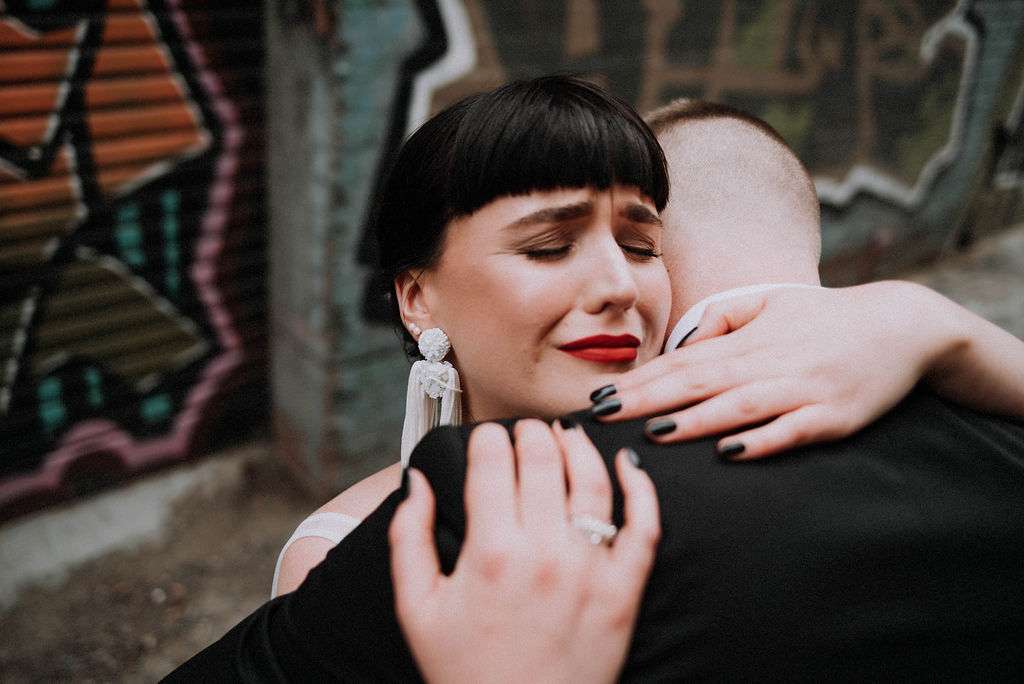 They wanted their wedding to be non-traditional, relaxed, fun, and very true to themselves. They didn't set on a particular theme, just making decisions based on the things they loved to create a day that was very authentic to them.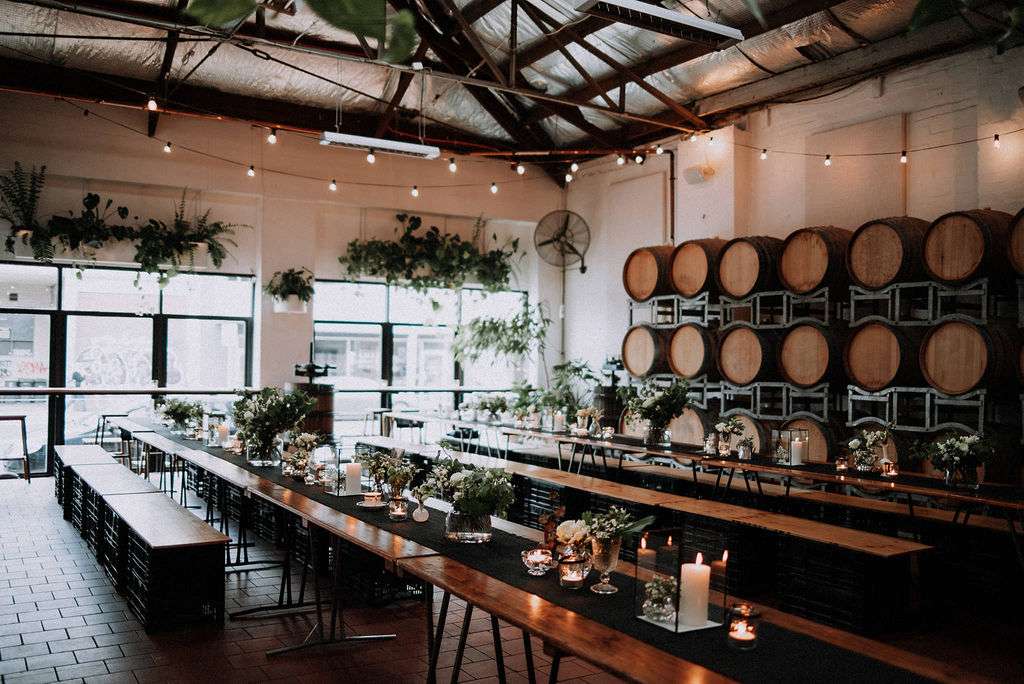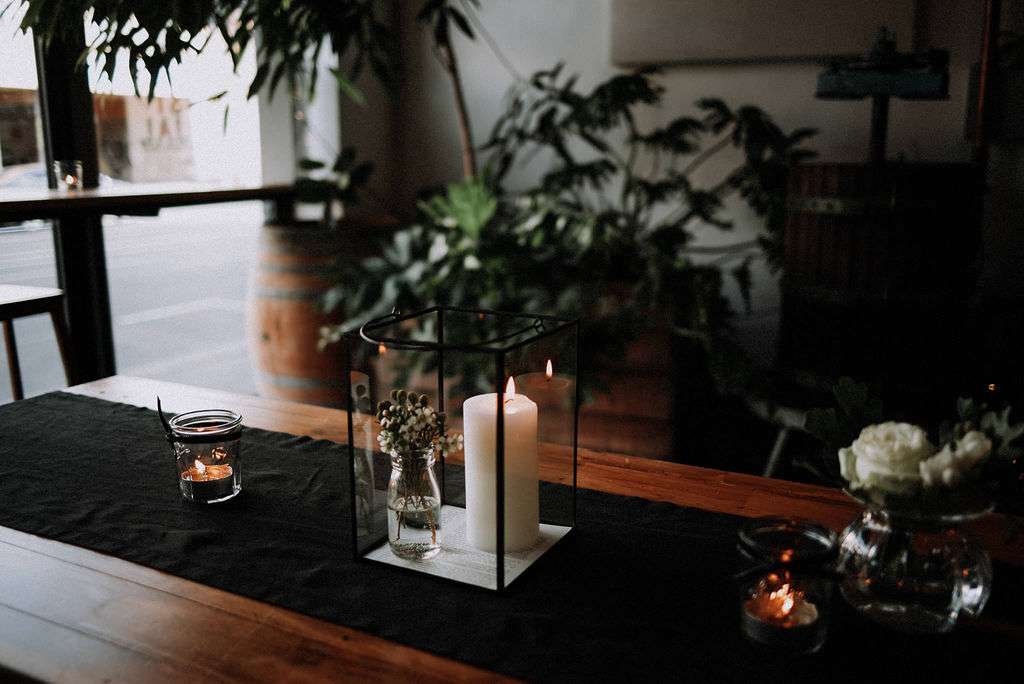 For Marlie and Ben, this meant meant holding their day at an urban winery where all their guests could let loose and enjoy the day. It meant serving pizza on the dance floor and having a punk-rock reception. It meant choosing a photographer who got their relaxed style and didn't make them pose for photos. It meant smashing the patriarchy and re-appropriating old traditions into something relevant to them. "For us, marriage means equality, and celebrating love!" explained Marnie.  "We stayed true to our style and personalities and it went down a treat. When you realise people are there to celebrate YOU, not some weird wedding version of you but the REAL YOU, you can get on with focusing on whats important for you, instead of what you think is expected of you!"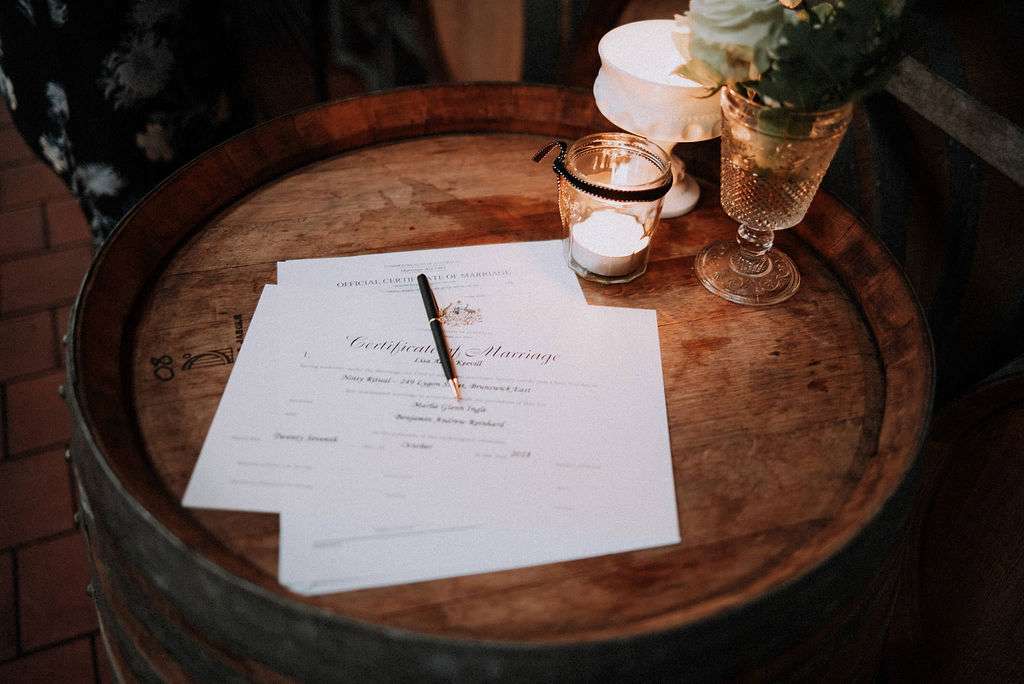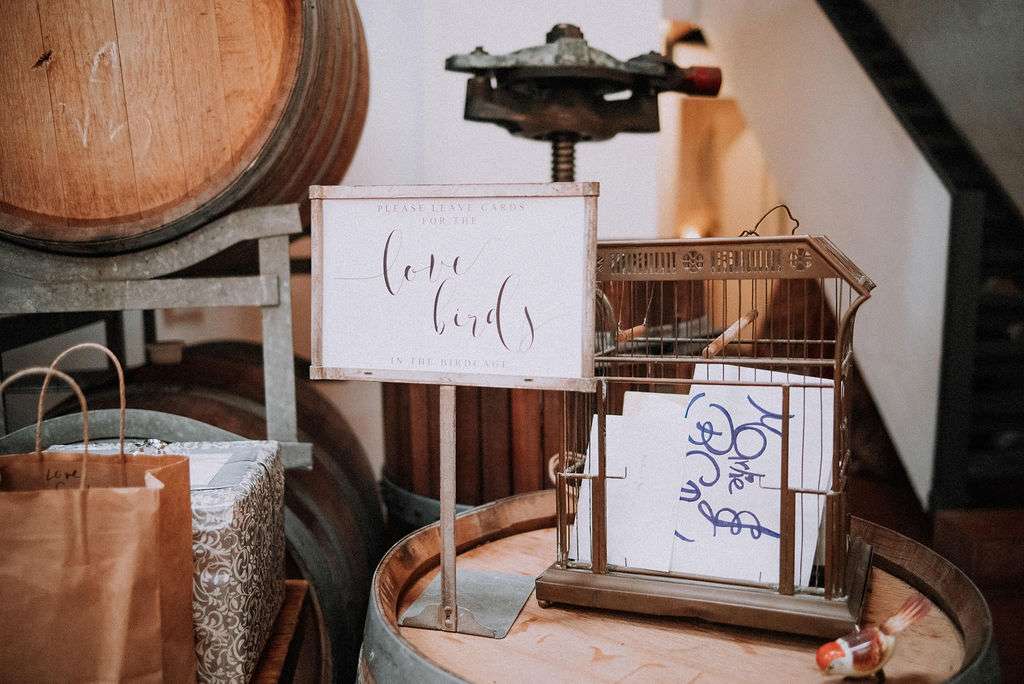 Marlie even surprised Ben with letting him know she would be taking his name on the day. "It was yet another tradition that's just expected, so I made sure to give changing my name plenty of thought," Marlie explained, "My sister got me a bag with my new initials on as a gift, so I showed that to Ben in our first look."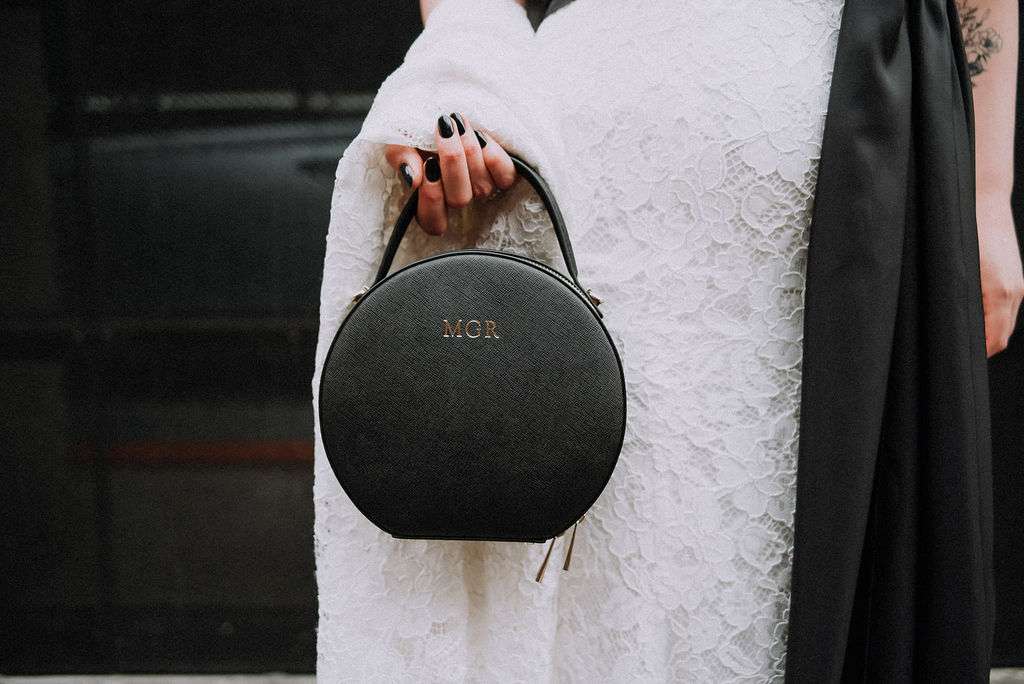 Marlie didn't want to be 'given away' as it's not a tradition she agrees with, instead choosing to walk down the aisle with both her dad and step-dad and then thanking both their families for their love and support. As they were both a bit nervous for the formal part of the ceremony, their friends had planned to chant or cheer them down the aisle – and they didn't hold back!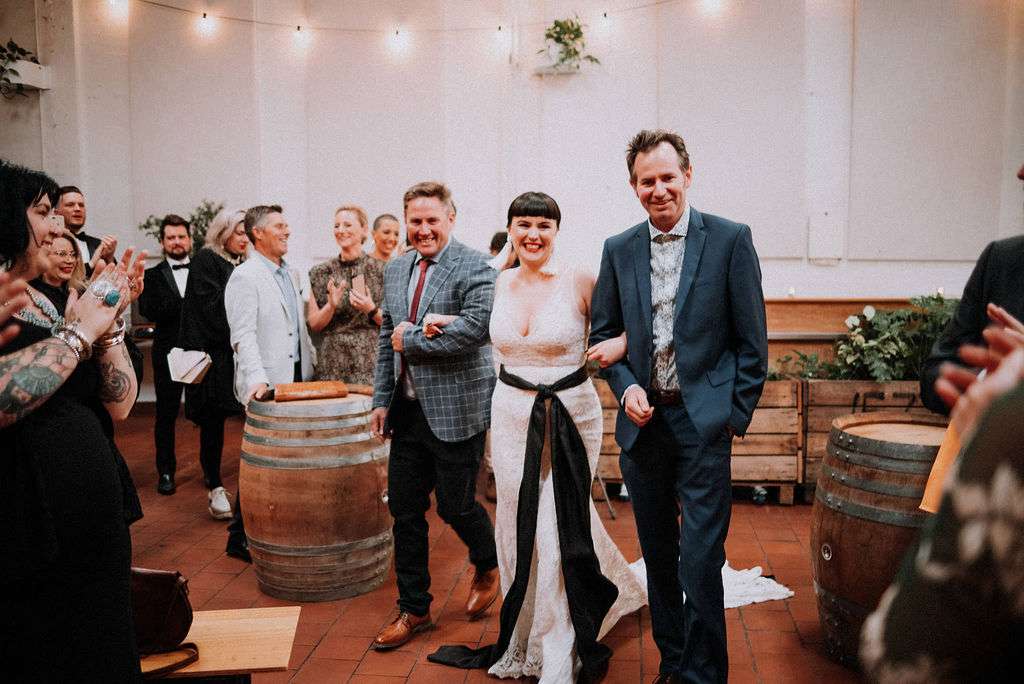 "We honestly thought they would have forgotten to do this! We were so surprised when everyone joined in. Sixty people cheering you on is a pretty epic way to start your ceremony! They wrote their own vows based on what they believed in, and were careful to consider their natural tone of voice. "We were so glad we messed with tradition and did our own thing for the ceremony," said Marlie. "Even though halfway through we were told to stop talking and kissing like naughty school children by our celebrant!"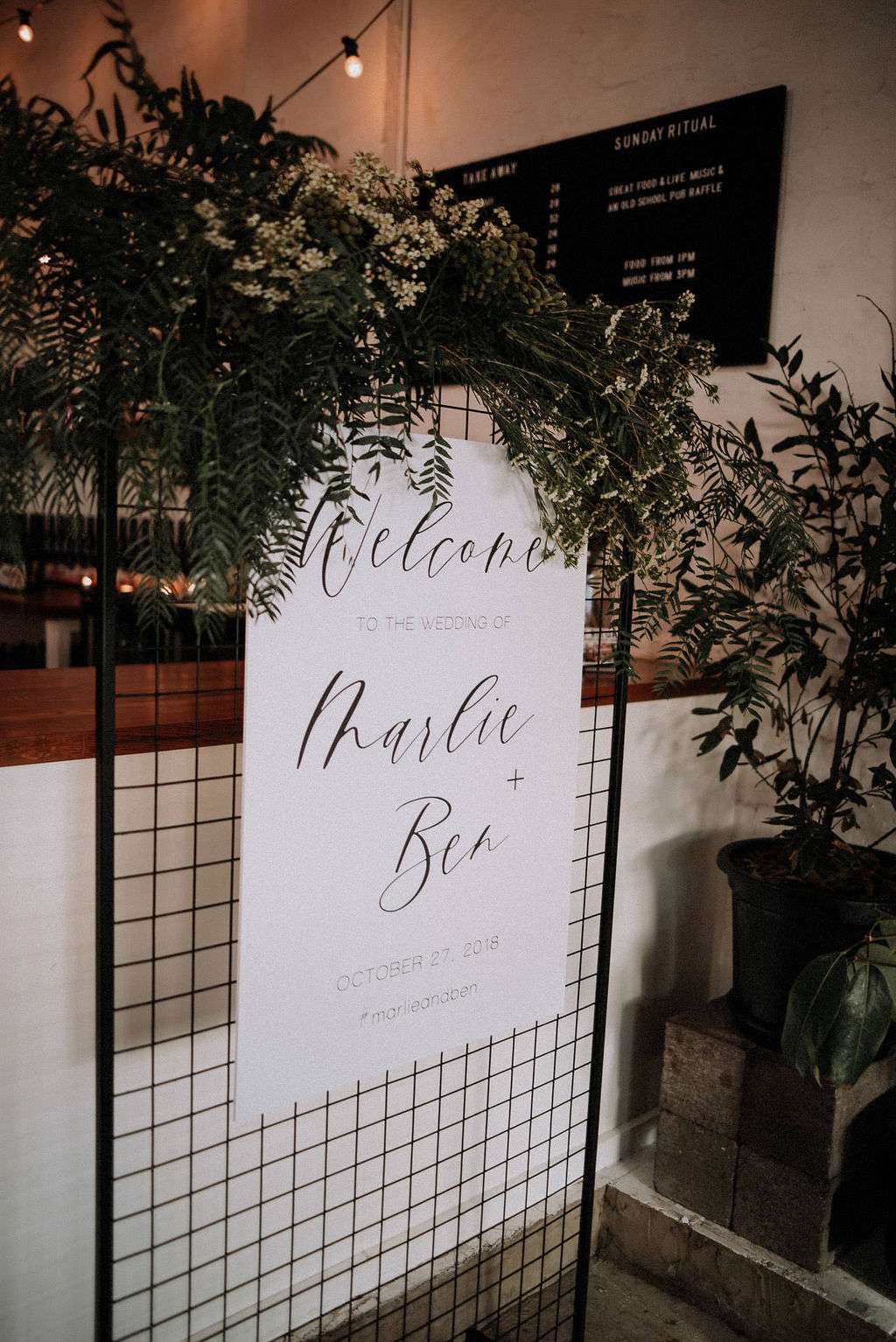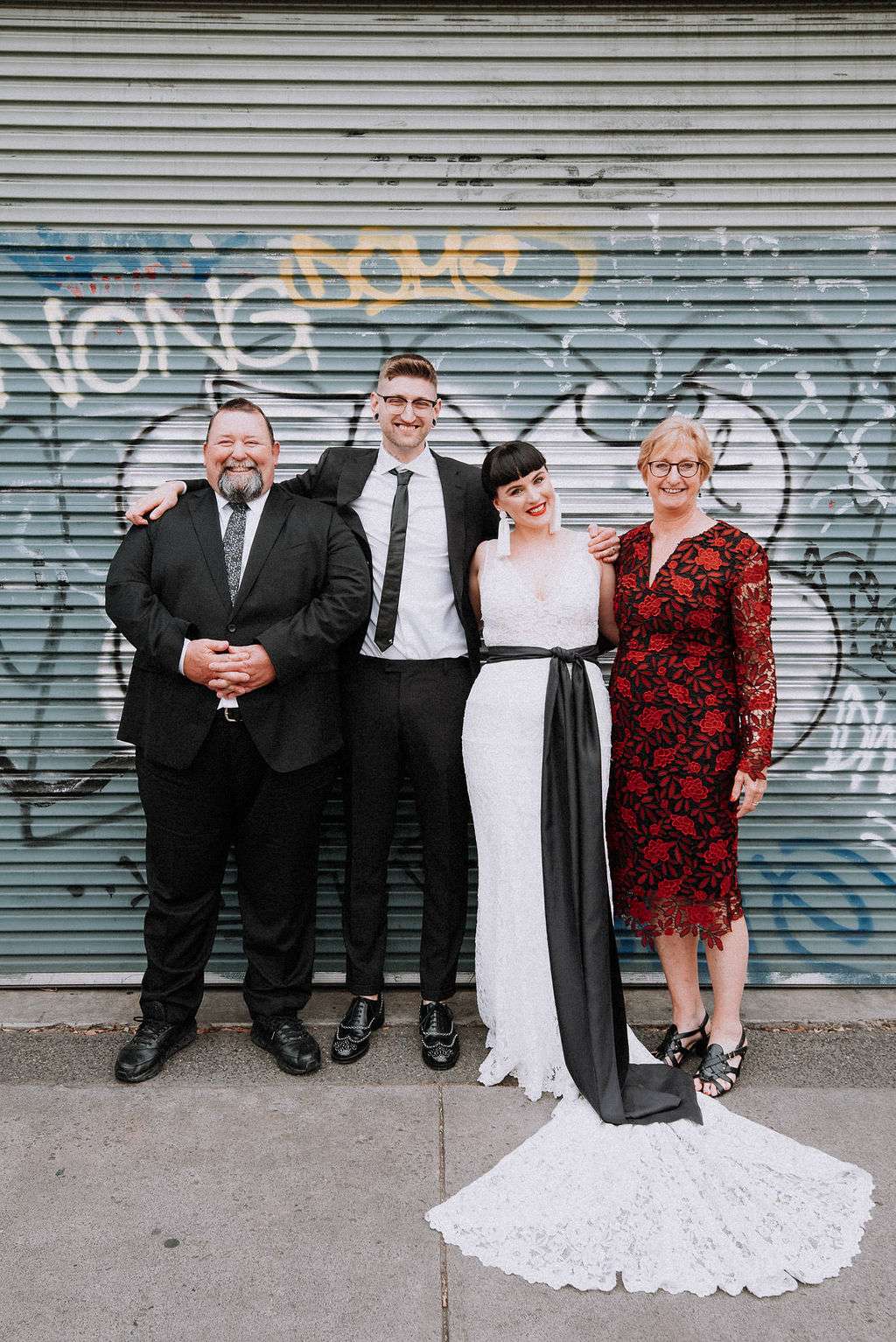 They were lucky enough to call in the favours of friends and family for their decor, and the decorations were one of their favourite parts of the whole day. Her mum DIY'd all the flowers and decorations, and they were overwhelmed with how beautifully it all came together. "She made the tables look absolutely perfect and very in keeping with our personal style."
She also constructed the black sash around Marlie dress, and the metalwork in the ceremony backdrops were made by her stepdad. "If people want to contribute to the day, let them!" Marlie advises. "We said yes to most offers of help and contribution and it made the day way more colourful and fun."