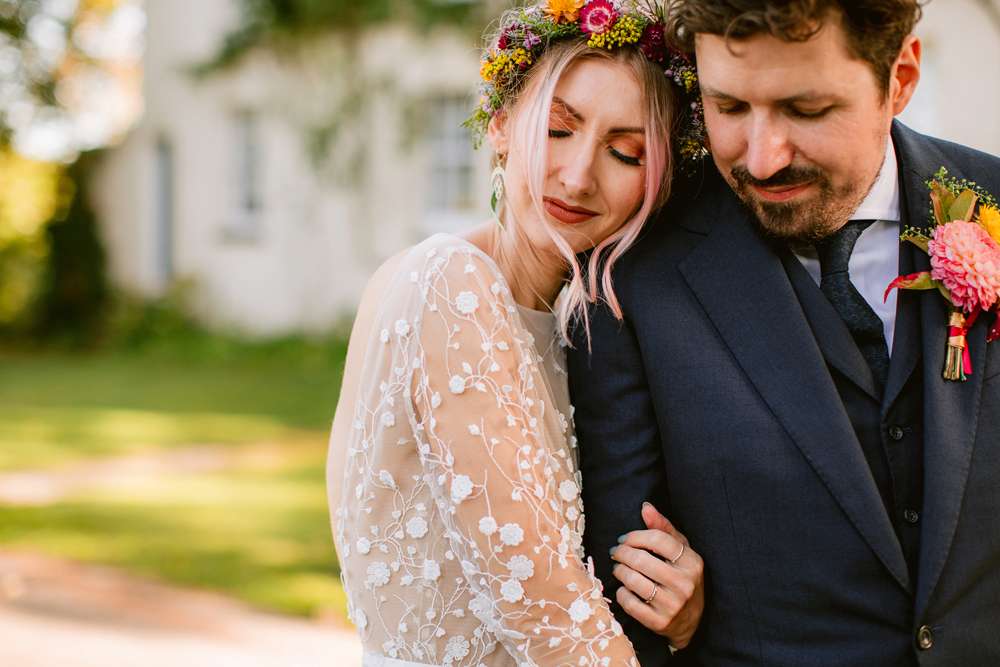 Holly and Simon go to a lot of gigs and festivals together, so they wanted to incorporate this into their September wedding. Making things as colourful and fun as possible was their main priority – they wanted a festival-esque party with a carousel, cassettes, live music and fresh flowers. They were married at the incredible Preston Court in Kent which ticked all their boxes – it even had its own vintage carousel!
"Our ideas came from a hash of boho and festival related Pinterest boards and our experiences at festivals", began Holly. "We wanted the barn to be completely filled with greenery, which was a challenge to do on a budget as it's such a large space, so we briefed the florist to hang strings of flowers between the beams, based on pictures we'd seen. We were lucky to have found an inventive company (Rebel Rebel) who were able to bring our ideas to life so perfectly. Walking into the barn and seeing hundreds of wildflowers hanging from the ceiling was an unbelievable moment."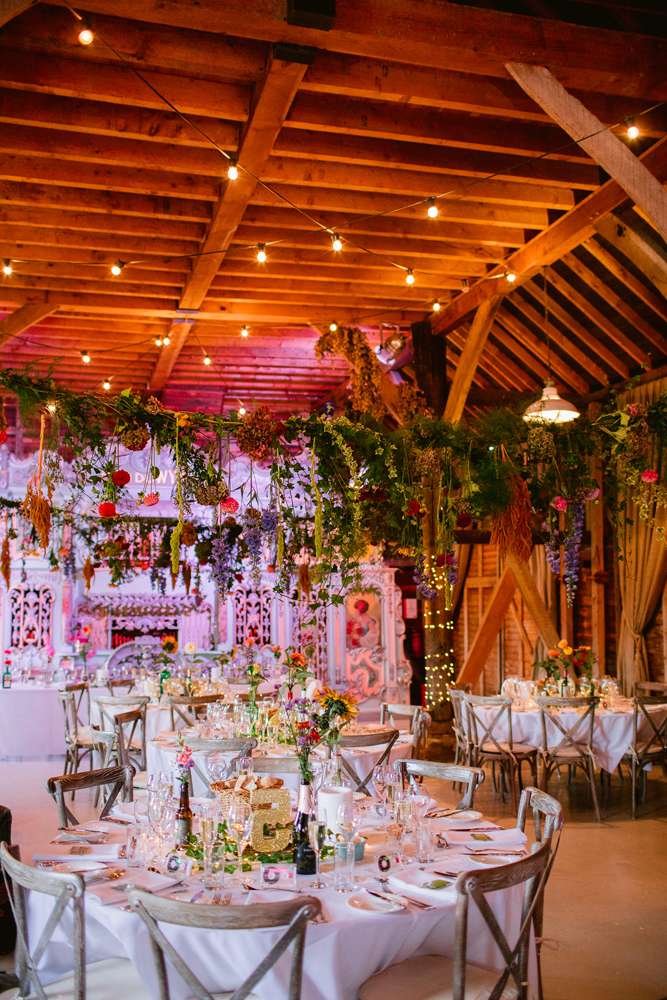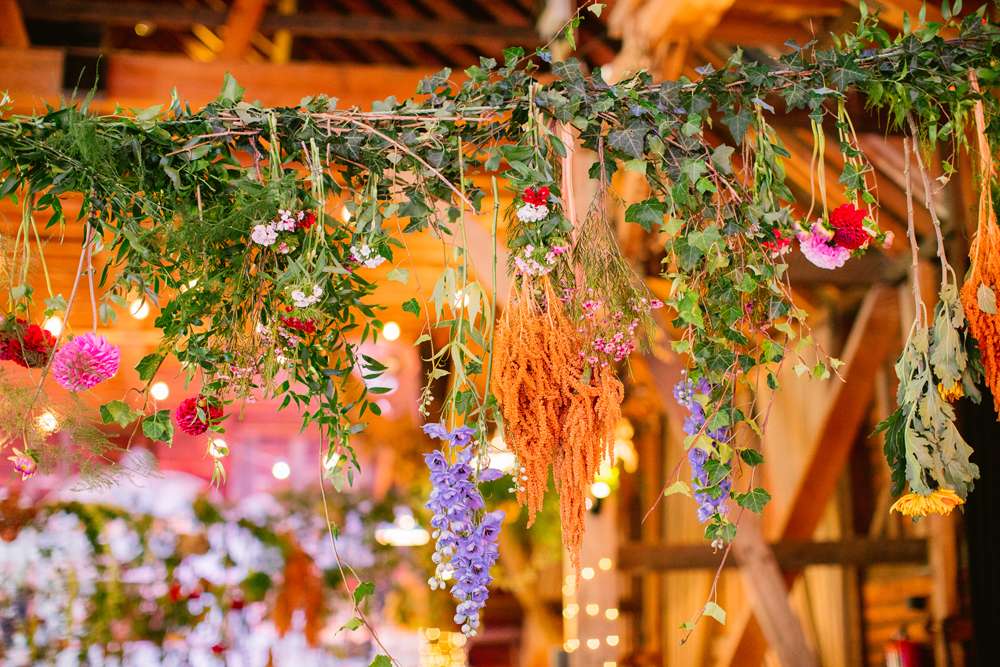 "The bridesmaids and I made all the centrepieces and cassette tape placeholders. The girls were absolute lifesavers – I can't stress how much nicer wedding planning is when you get your friends involved. Everyone fully threw themselves into it and made all those little time-sucking tasks a fun experience instead of a stressful one. We made the table numbers from cardboard numbers from Hobbycraft, which we covered in PVA glue and gold glitter and then stuck to records, and we used an old-school Dymo label maker to add names to blank cassettes. We also used cheap fairylights and artificial ivy strings to finish off the tables. One of my bridesmaids dried petals at home to save on confetti and made the cones out of old music sheets, and I designed and printed the table plan and all of the invitations."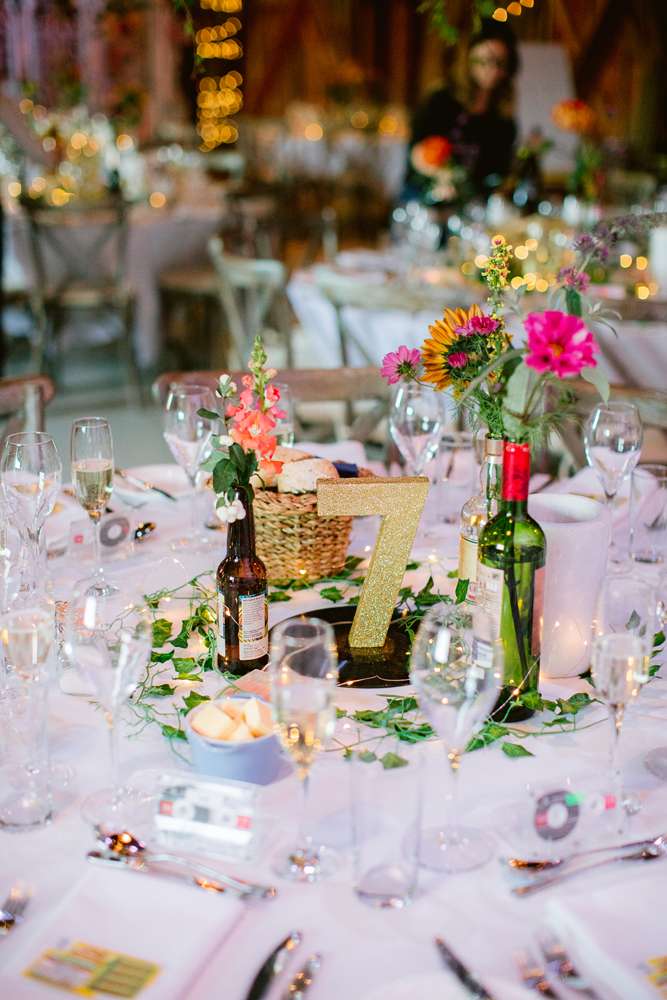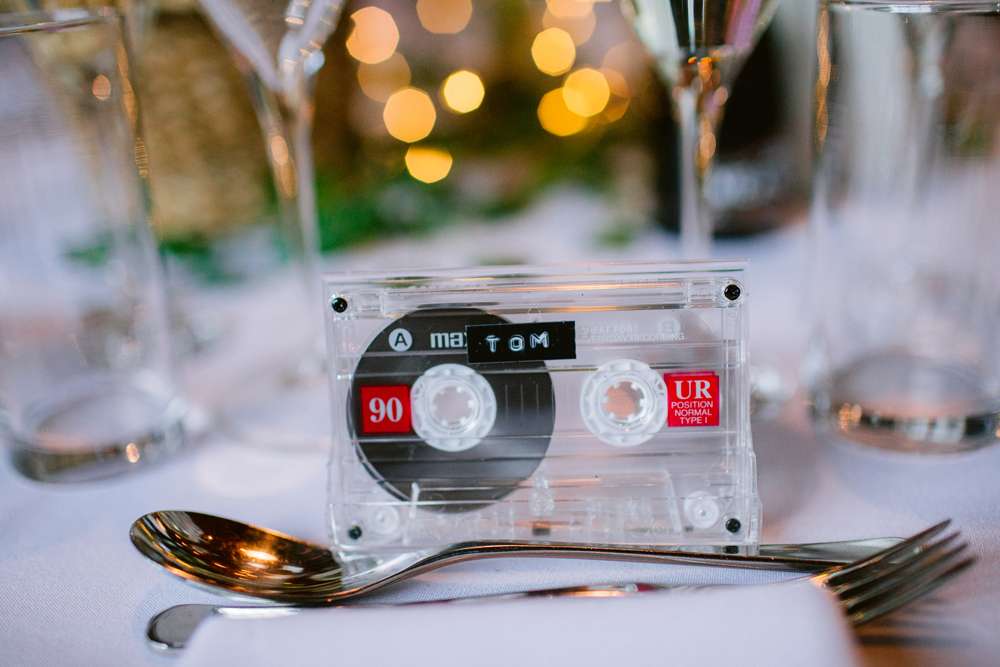 "For me, it was the atmosphere that made our wedding particularly different", she continued. "People kept coming up to us saying that it felt more like a fun party than a traditional wedding, which was the idea. We made throwback playlists to put on between the band's sets. We listed these on the chalkboard itinerary to make it feel more like an event than a wait for the live music to start again. The band also played festival style sets based around Glastonbury, Reading & Leeds and Live Aid, which everyone loved. I don't think anyone stopped dancing."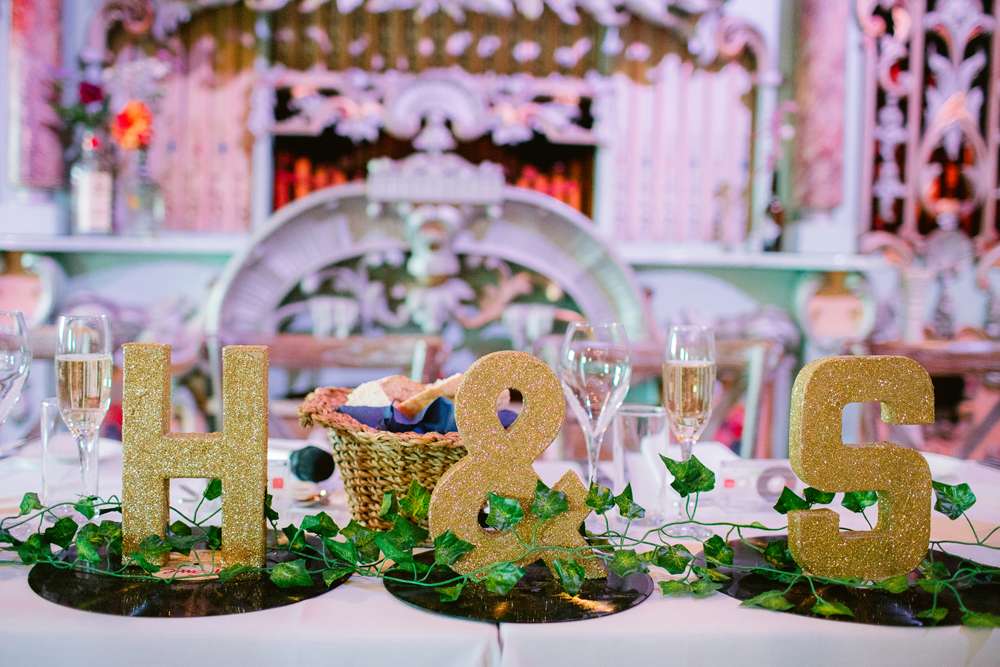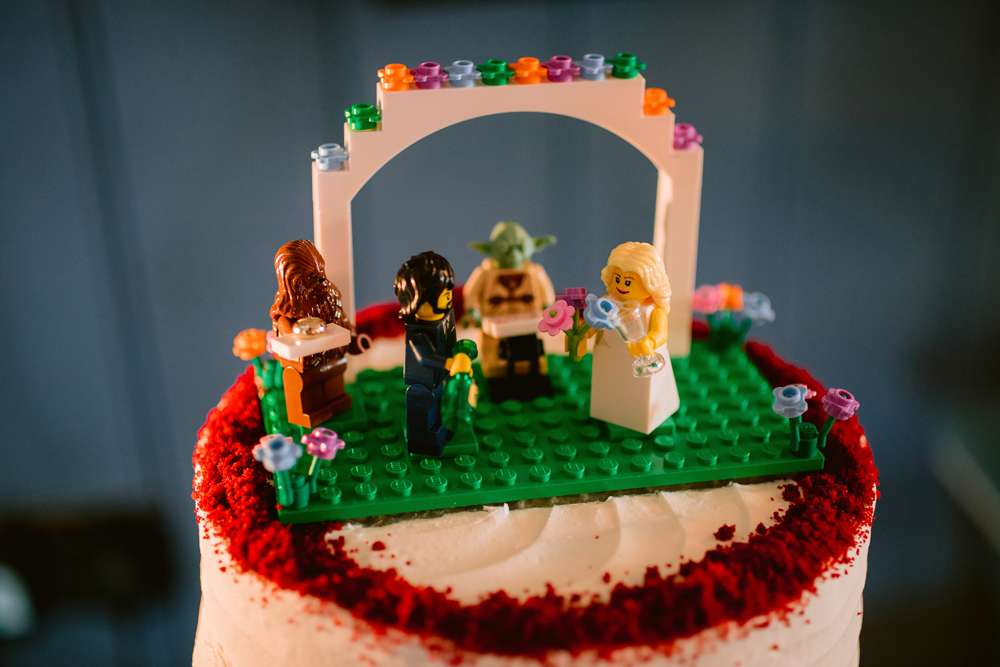 In the same vein of keeping things relaxed, fun and festival-esque, they ditched having a traditional wedding cake, going for a red velvet and buttercream creation from Hummingbird Bakery which they topped with a Lego topper made by Heart of Bricks. And instead of having waiters formally serving the drinks they made a 'beer boat' (a boat filled with ice and beers), so that people could help themselves to bottles of beer if they didn't want the wine on the table.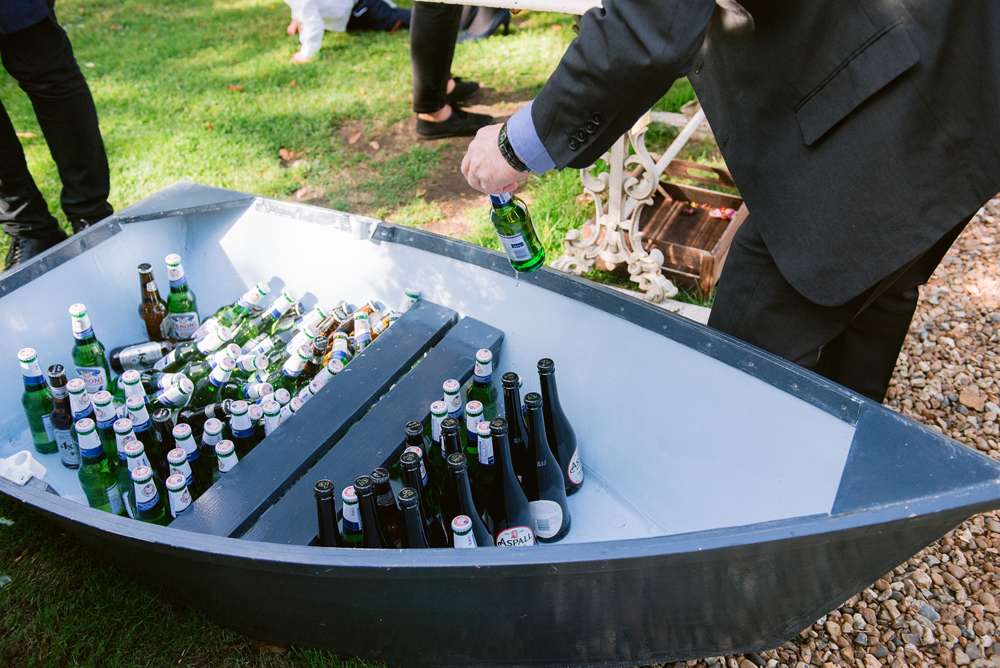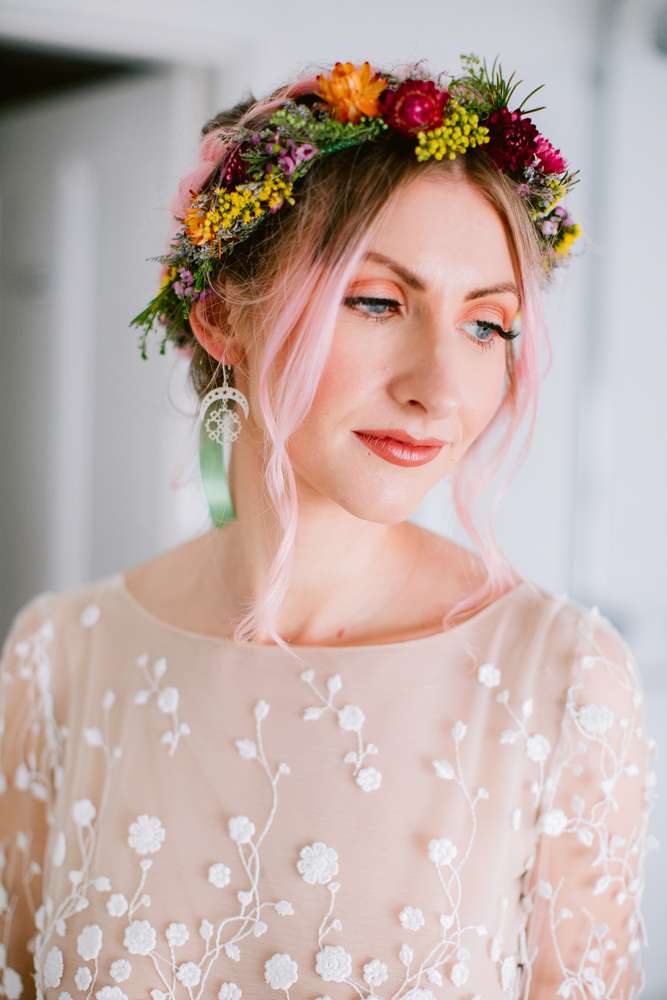 There were so many highlights to their day that it proved difficult for Holly to pick just one, but some memorable moments were when the band's noise limiter cut out as everyone was moshing to Nirvana ("Everyone sang through the 15 second wait with just the drums playing – even my mum got involved!) and when the vintage carousel played Livin' on a Prayer! "We didn't know that the staff would play music for us when the were on the carousel. When the last ride of the night was announced, everyone ran to find a horse and every seat was filled. They played Livin' on a Prayer and everyone within a five mile radius must have heard us screaming along. We were all hanging off the horses, some upside down, feet in the air, singing really badly and not caring. In every direction there was something hilarious happening, We've never laughed so hard."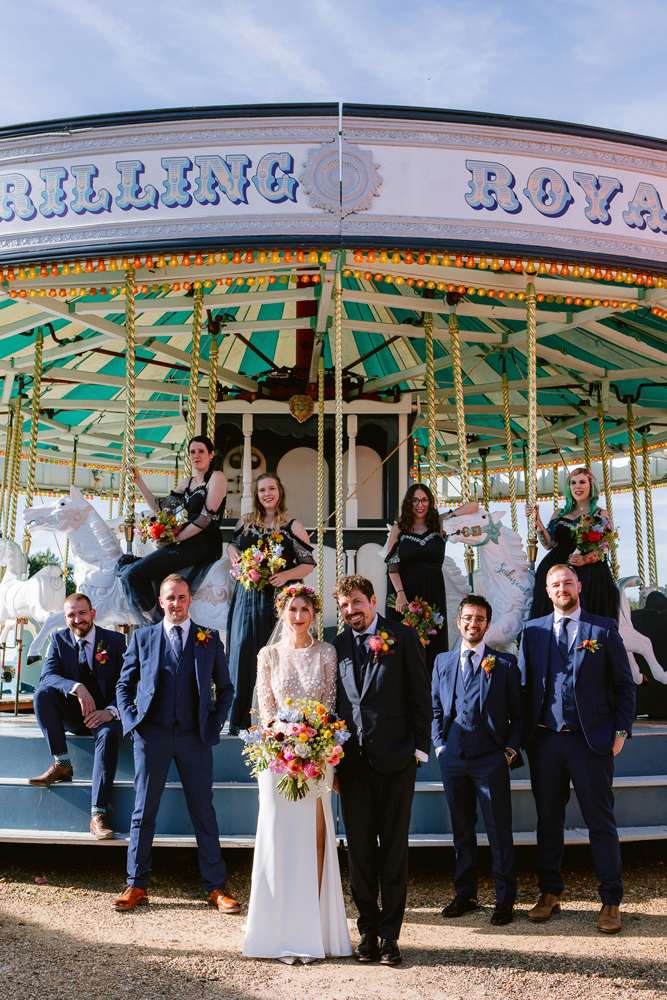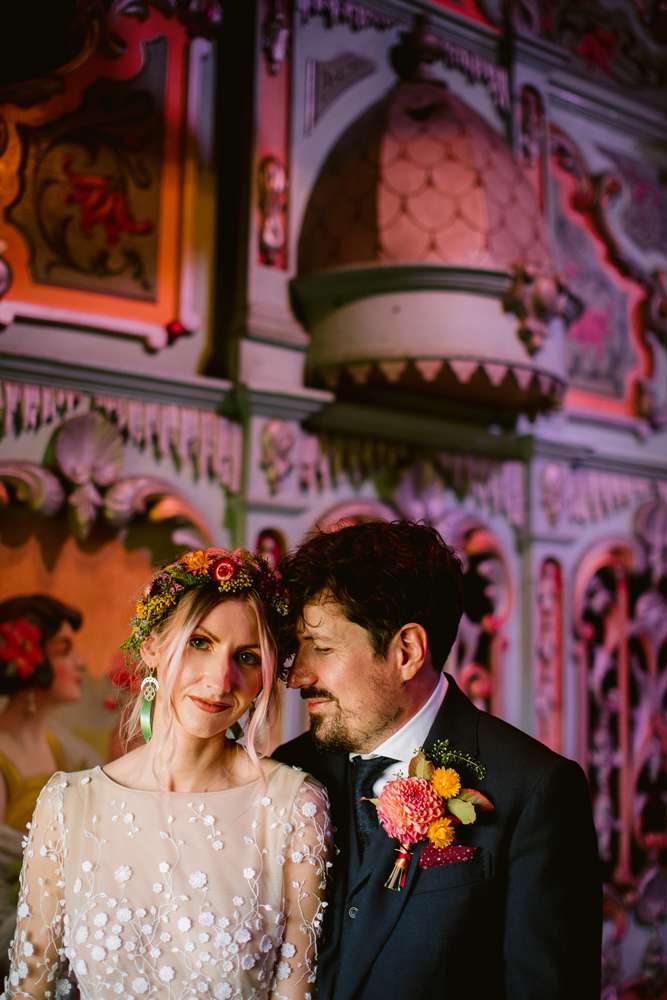 "The one thing I wish I'd known beforehand is that on the day, nothing will matter except for getting married and having fun", she concluded. "You won't care about the seating plan, and you definitely won't care that your name stickers don't match because your label maker broke two days before the wedding! My advice to other couples would be that if If something isn't right – don't be afraid to change it. We switched venues after paying a non-refundable deposit on somewhere else (we were honest and explained the situation, and they gave us the money back anyway). I even changed my dress six months before the wedding, and plan to sell the original. It's never too late!"