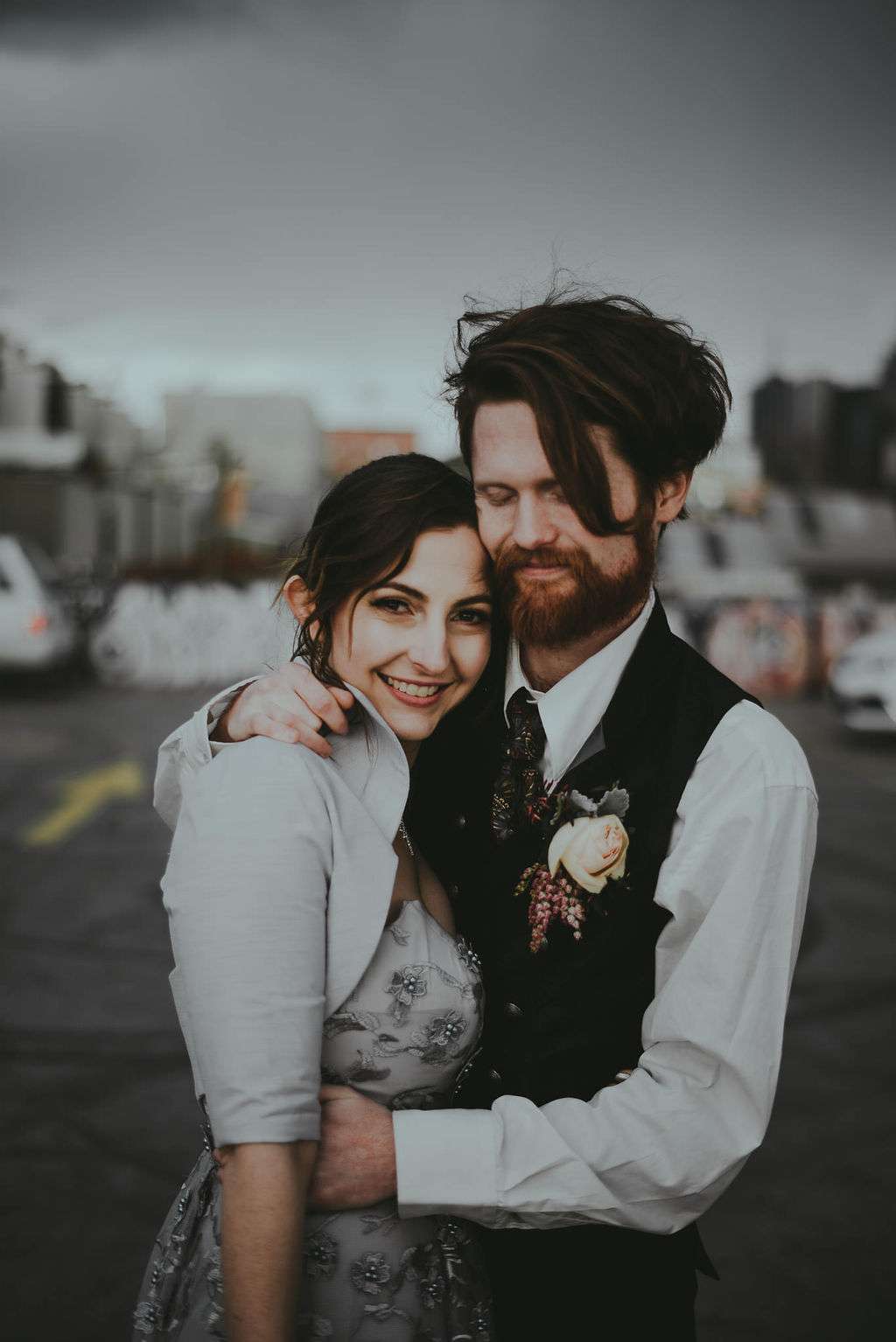 When a couple get married in an absinthe bar, you know it's going to be a good'un – and that's exactly what this pair did! Describing their wedding as whimsical chaos, Elizabeth and Patrick, wanted their wedding to feel authentic, warm, jubilant, surreal, fantastic and intimate!
Their ceremony was held in their own backyard, which friends had lovingly decorated for them. "The weather cleared for exactly long enough for the ceremony!" Liz recalls. "We'd had gloomy clouds and rain all morning and into the afternoon, but as soon as we started the ceremony, the sun came out. Perfection!"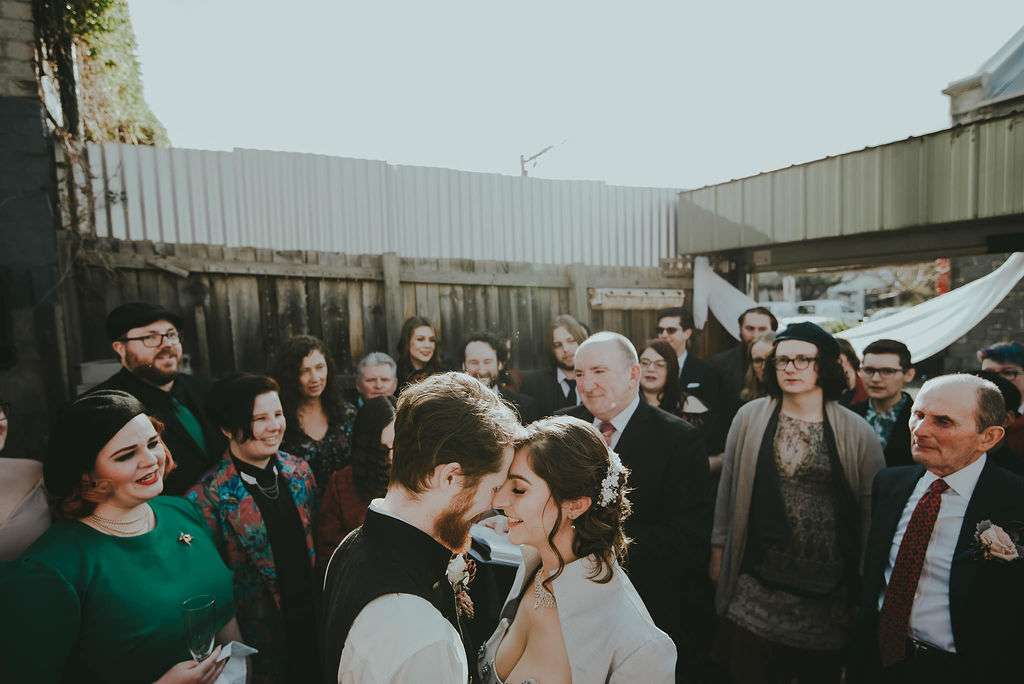 Liz walked down the aisle to Life on Mars performed by Pat's little brother, and their ceremony included a Celtic style hand-fasting with the help of both mums, which they felt seemed like a good way to mark this transition in their lives. Liz and Pat say their celebrant, Bronte Price, was super helpful in keeping their wedding true to themselves.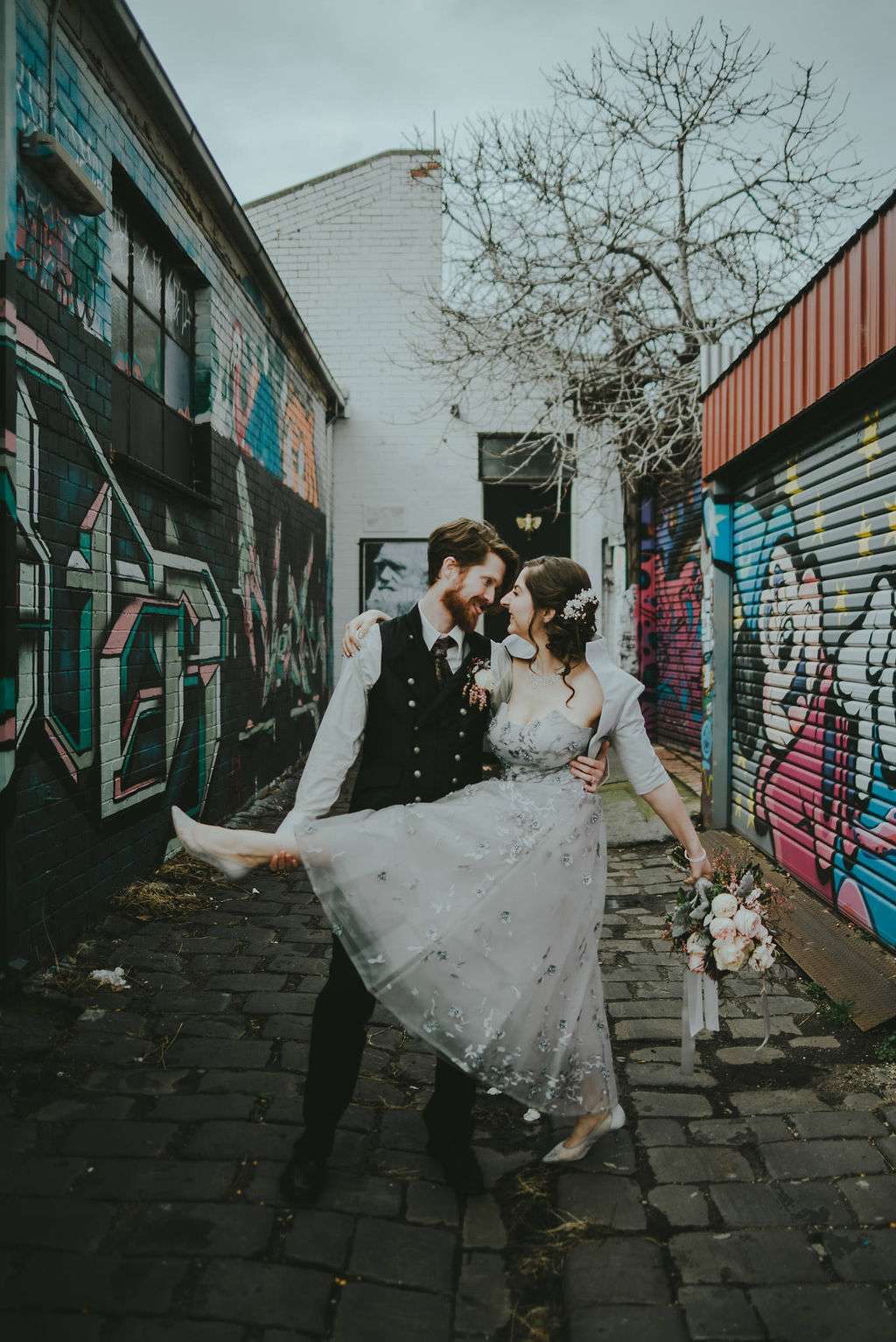 "Pat and I talked about a lot of little details that had been suggested to us and it really was so helpful in keeping us honest about what we wanted. From that, we added a reasonable amount of adapted ideas from these discussions. Our celebrant was also a blessing in this regard. He absolutely backed our decisions and supported the changes we did make."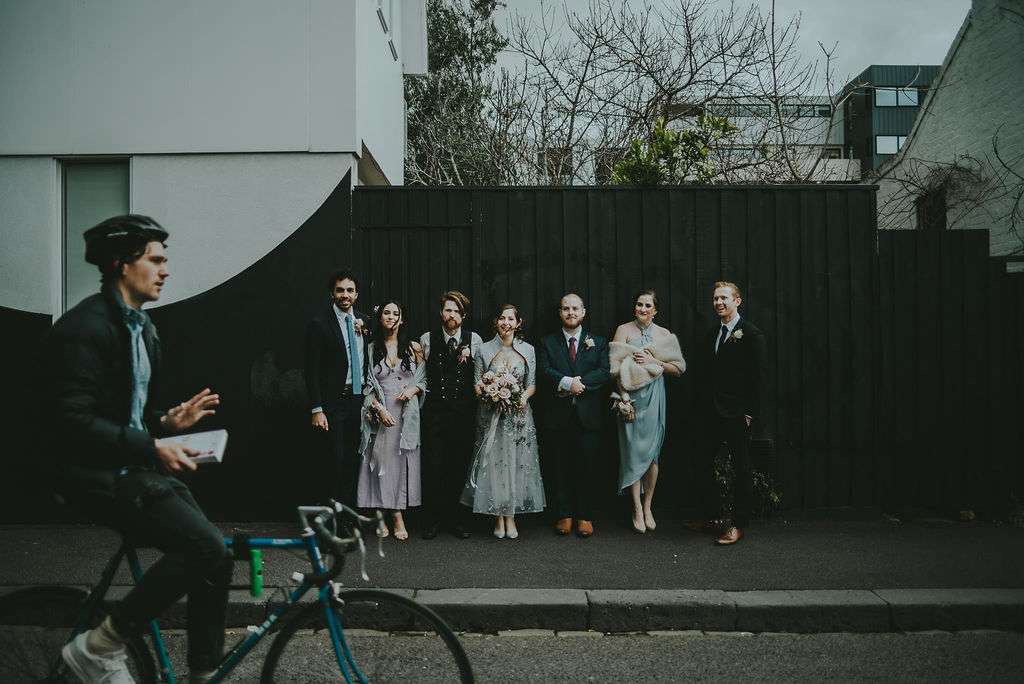 After a lot of disappointing wedding dress shopping – a story we hear sadly all too often – Liz found her beautiful silver-y grey dress from Bariano. Her matching jacket was made for her by a friend. "Pat wore an adaptation of his usual anachronistic style, with a waistcoat and neckerchief centrepiece modelled on a reinterpretation of nineteenth century European anarchist wear" Liz' hair was done by Cherry Bomb hairdressers, and her make up was courtesy of Kirsten Dietrich, a best friend of one of Liz's best friends.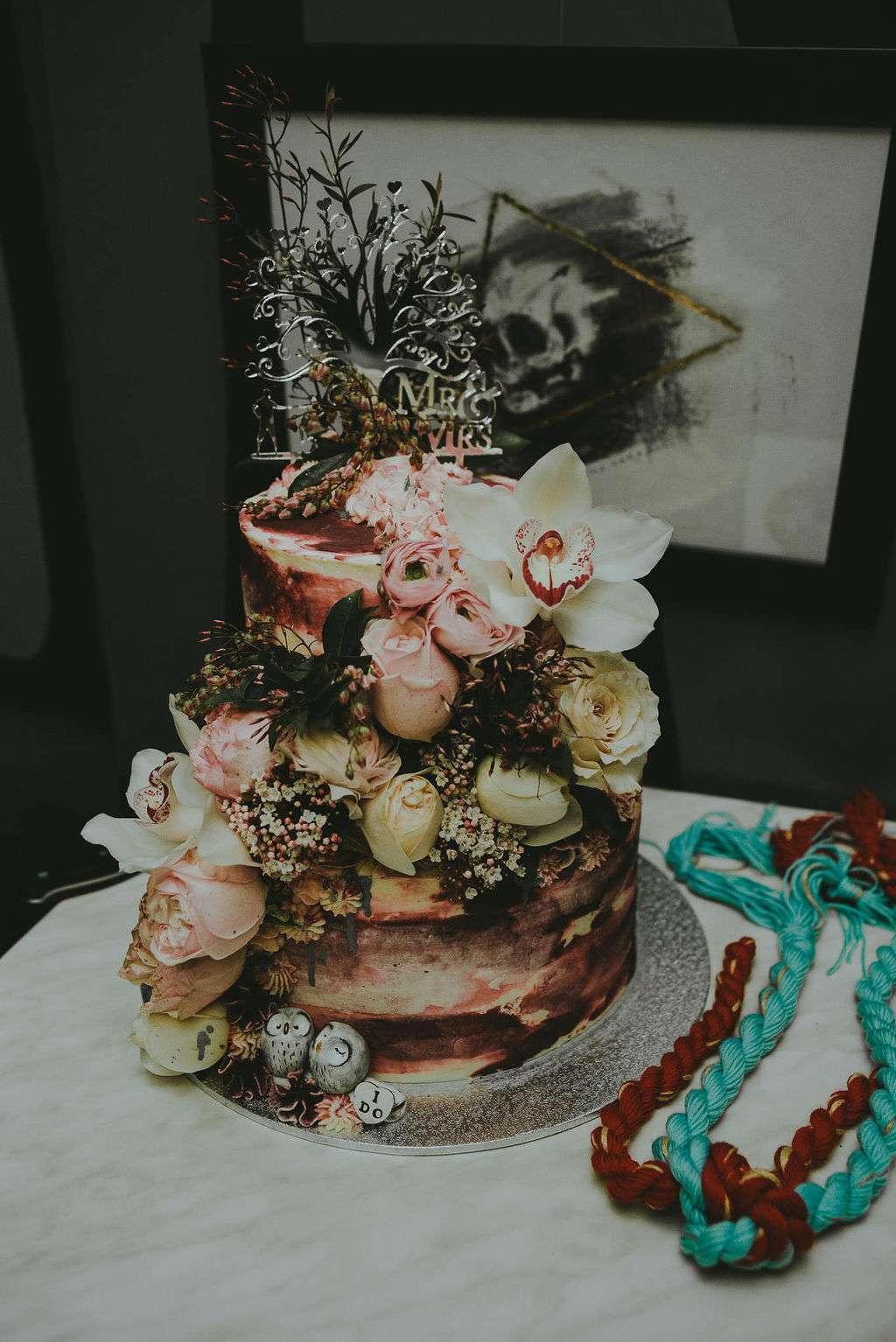 Lots of their 'vendors' were actually friends with their wedding favours, decorations and even the cake being made by people in their group of friends. "All our vendors were incredible", she said, "and all from about a two kilometres radius from our home!"
Their reception took place in Absinthia – the absinthe bar where they both work – in the Fiztroy area of Melbourne. Speeches were held next to a bar plied with more absinthe varieties than I even knew existed, before they cut into their delicious cake piled high with gorgeous flowers.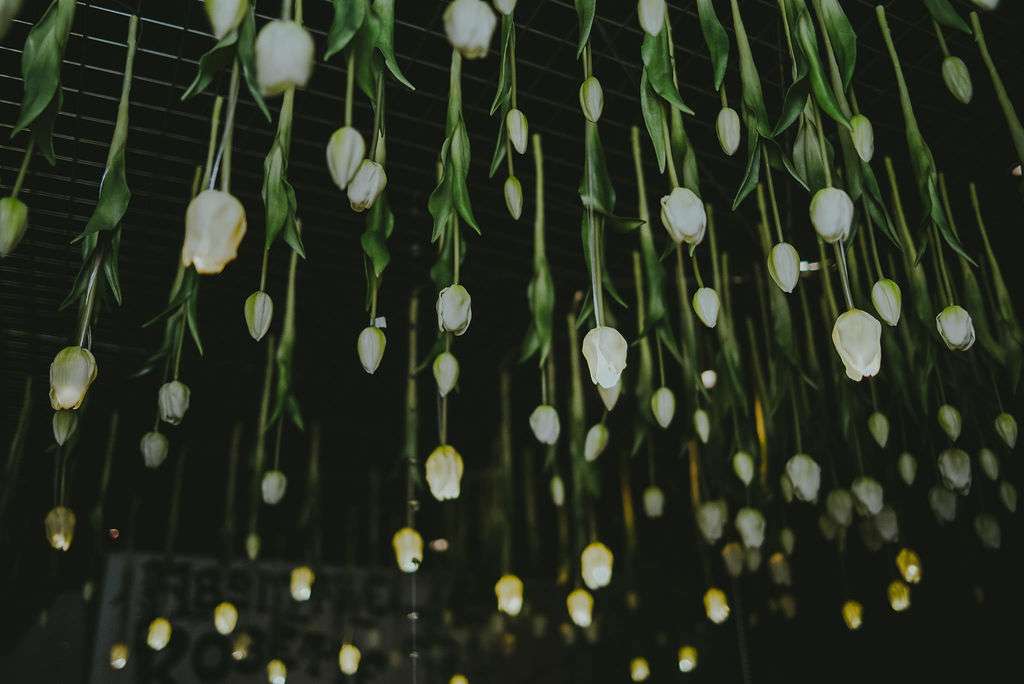 For anyone planning their wedding, their advice would be, "Be honest. From start to finish, honestly discuss what YOU as a couple want for your day. Remember (and remind each other, regularly) that this day is about your relationship and your community, not the trappings of what others think a wedding should be. We found that we got a lot of 'advice' from a lot of people, and the best way to stay true to our wants was to honestly listen to the advice (whether it was nonsense or not) and then discuss it."
Our advice? Go and seek out an absinthe bar, pronto!