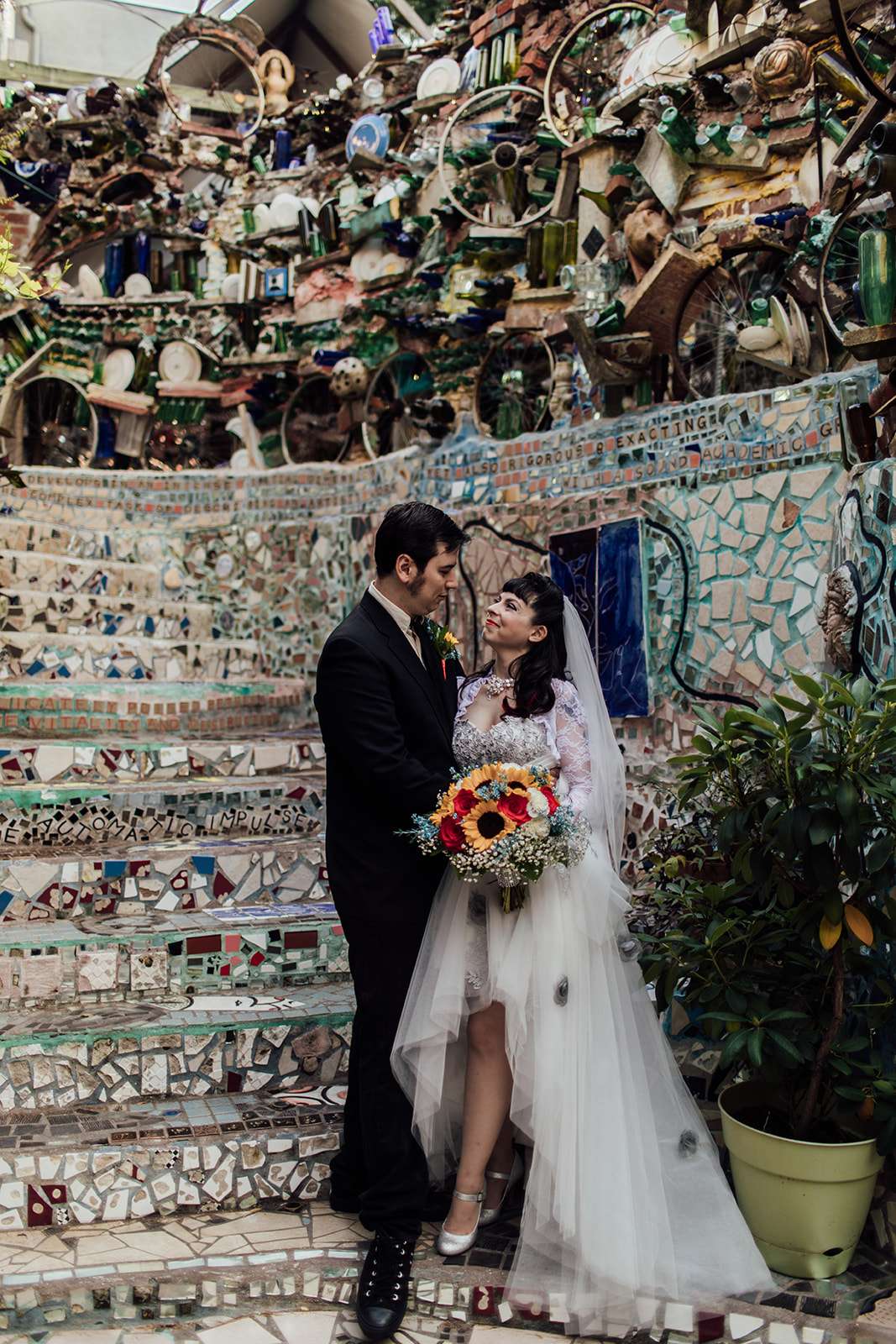 Are you ready for a little touch of wedding magic? Because Carrie and Bill wedding held at Philadelphia's Magic Gardens is about to bring it! This has got to be one of Philly's coolest and most unique venues, what an incredible spot to say "we do!" It is a non-profit organisation, folk art environment and gallery space that you can hire to get married in! So cool right?
The wedding itself had a vintage Rock n Roll theme with with rockabilly and tattoo culture plus punk vibes thrown in for good measure. The decorations at the reception included cassette tapes made into vases, lanyards as escort cards (VIP passes!) and vinyls as table markers.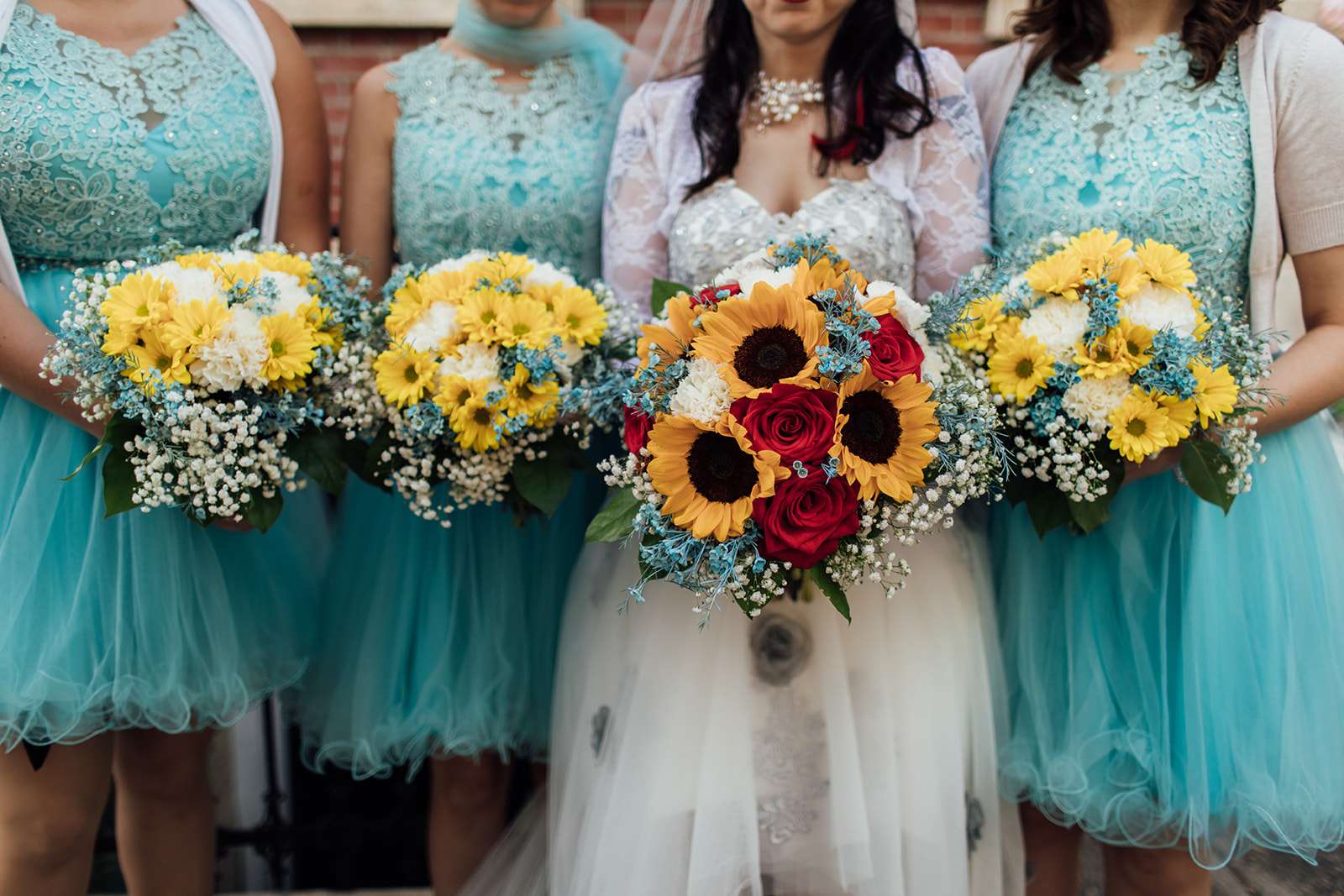 "I have been enchanted with Philadelphia's Magic Gardens for many years," the bride began, "so when we decided to go for a centre city wedding I jumped at the chance to have our ceremony there. It held it's own beauty and whimsy. As a quirky couple into into art and fantasy as well as alternative punk scene, it was a deal. We exchanged vows in a fashion that is us and Bill even quoted Doug Stanhope 'Baby I love you so much I want to get the government involved.' Everyone had a chuckle from that! We walked out to a lovely instrumental version of Ho Hey From the Lumineers. We had a bubble send off and record shaped hand fan programs. It was a truly a magical experience."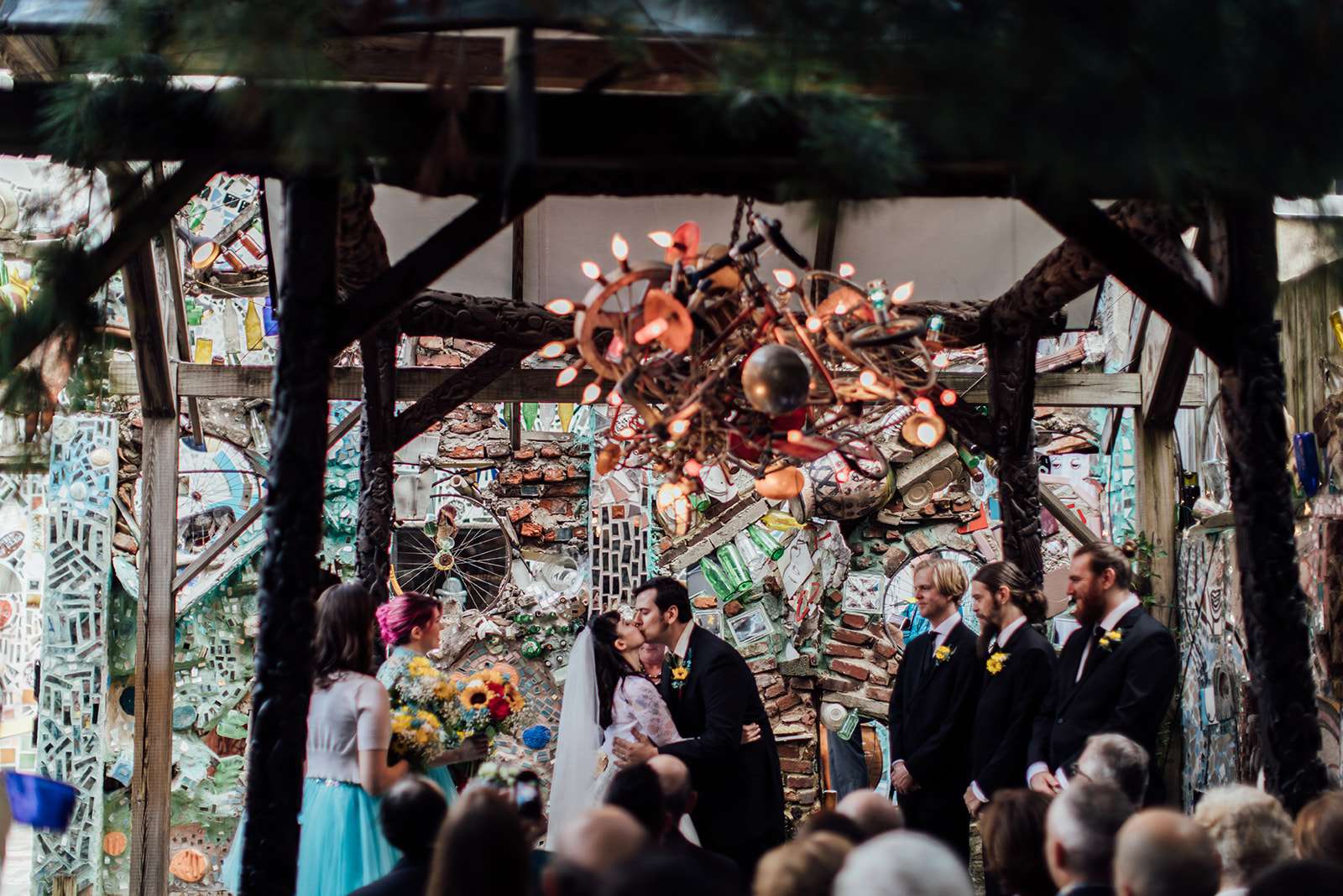 After their ceremony, they hosted a fun-as-hell reception at North Bowl, a bowling alley and lounge, which provided the perfect backdrop for their retro, rockabilly and Back to the Future inspired day. Oh yes, Carrie and Bill did their wedding RIGHT.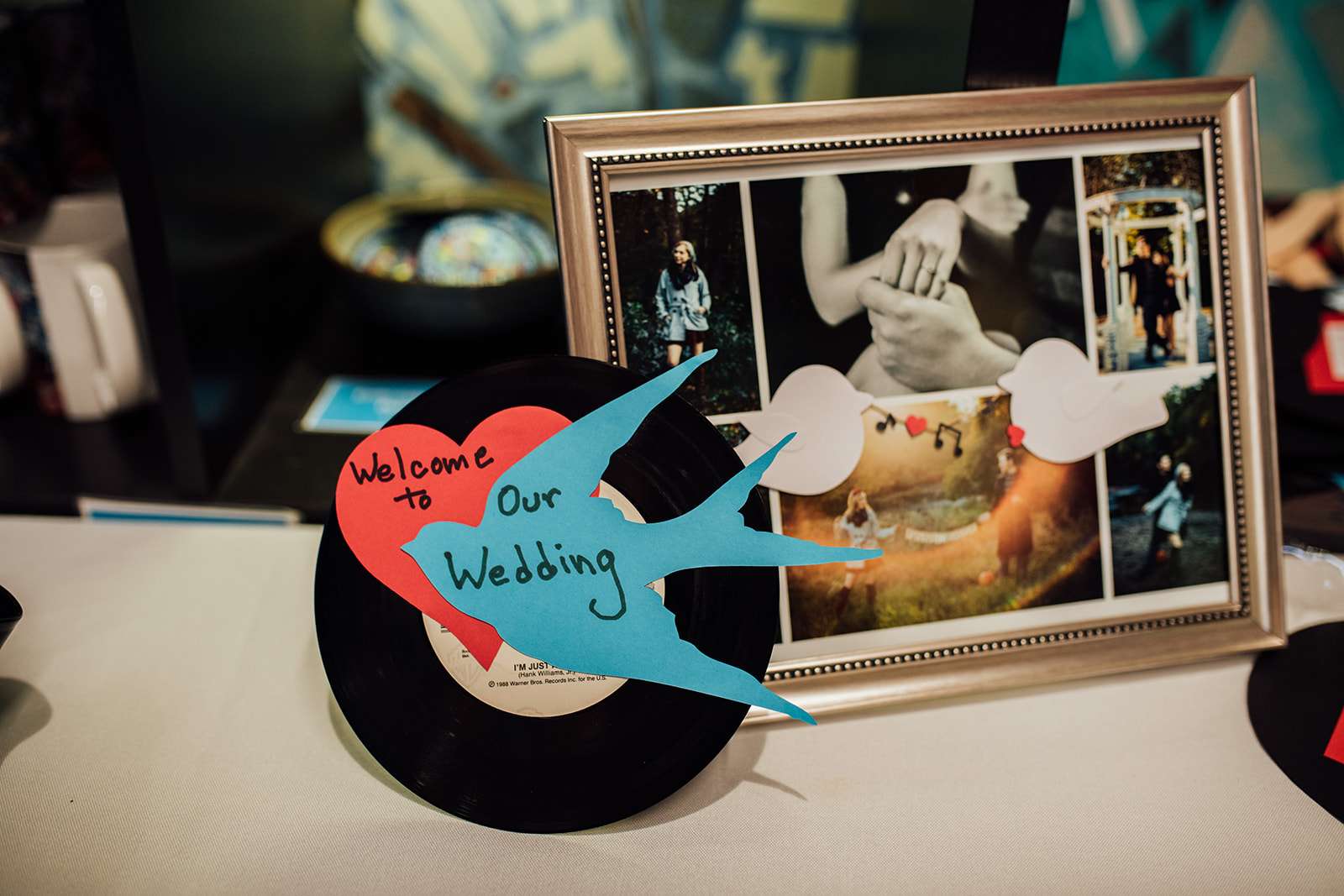 "The wedding theme was very old school with a Back to the Future mix of 50s and 80s. Our first dance song was Earth Angel. The colours we used were aqua, red and yellow. Everything just kinda fell into place, we had a two year engagement with lot of time to plan. My husband and I looked into a lot of venues because that it the starting point for everything and after many venue searches I found North Bowl and fell in love with it! My husband Bill is into punk rock, concerts, metal and blues so we felt it fit with our love of urban vintage culture."
"I think the idea of having a wedding reception with arcade games, bowling, pool tables and  dancing made our wedding very unique", she continued. "The buffet had fun food options too, like corn dogs, mac & cheese with gold fish, veggie dogs, meatloaf and sides of mashed potato bar. We wanted food that people love and we didn't want them to be hungry!"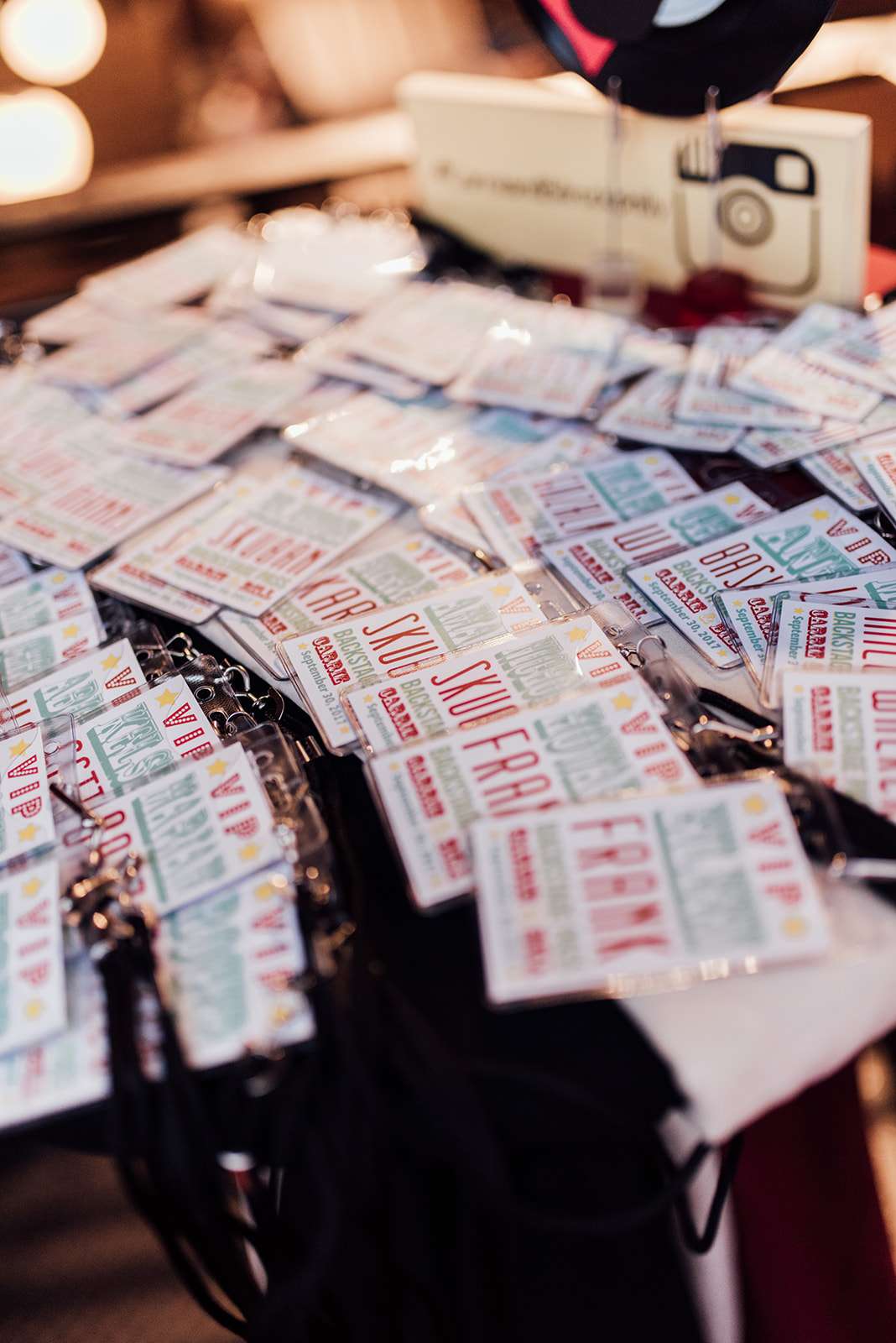 Most of the reception decorations were homemade by the bride herself. "I hot glued the favour tags on the take home bags for guests. I ordered the tags from The Knot in different polka dot colours matching the colour scheme. I made the centrepiece arrangements from dollar store flowers in empty soup cans. I put pics of retro sunglasses, records, video cassette tapes, boom boxes and hearts into the light up cassette tape towers."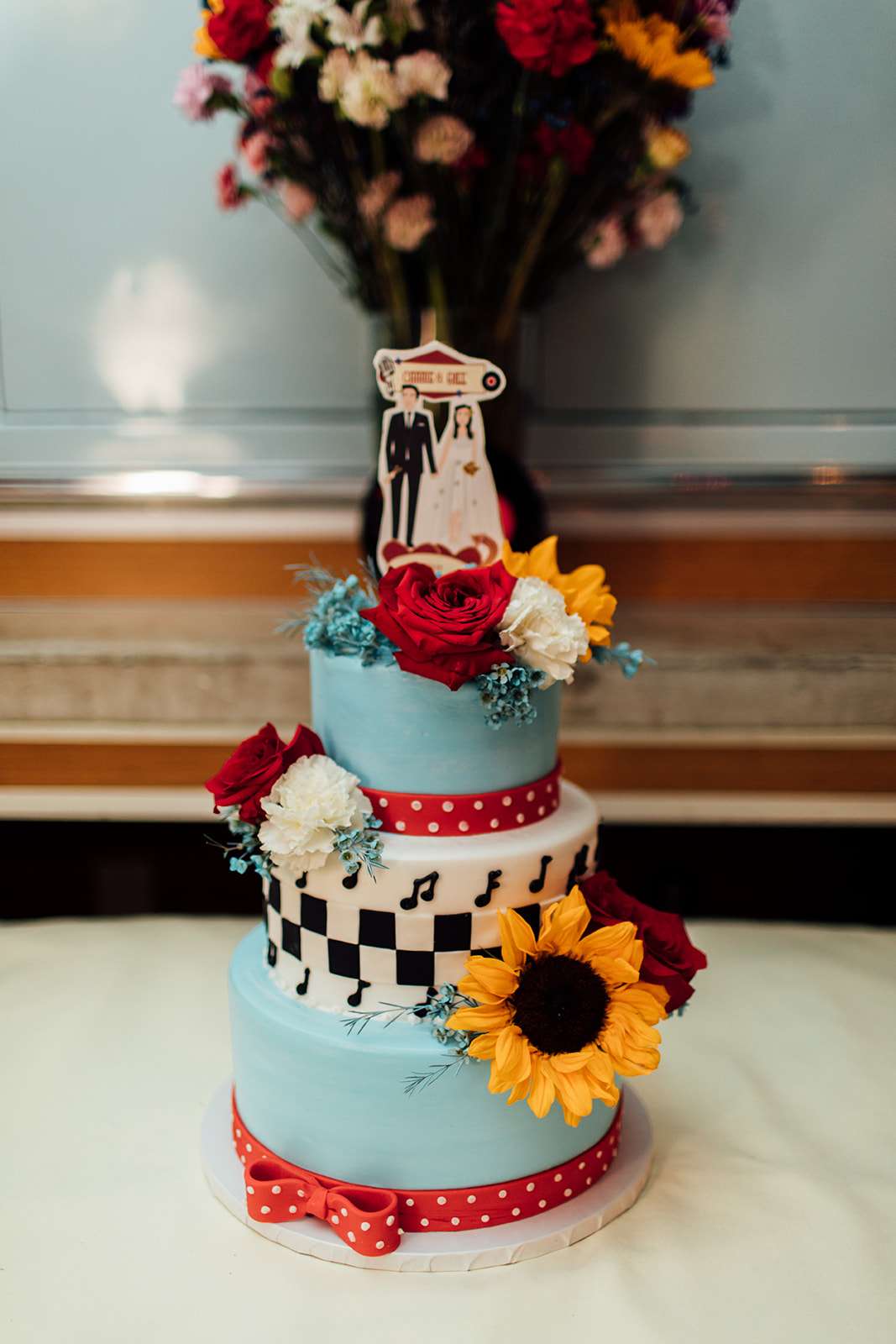 When asked if she had any advice for couples currently planning their weddings she replied with some stellar suggestions, "Lots of people will have ideas and expectations around your wedding, not just you but your family members too. Comprise is key, I had preconceived notions of a traditional wedding but my husband and I bounced back ideas with the wedding party and we came up with a fabulous one-of-a-kind wedding. Also, make sure to eat at the reception! Things went by so fast I hardly got to eat the awesome menu we picked out! Research your vendors too, I feel grateful that all of vendors were great to work with and came through on the big day."