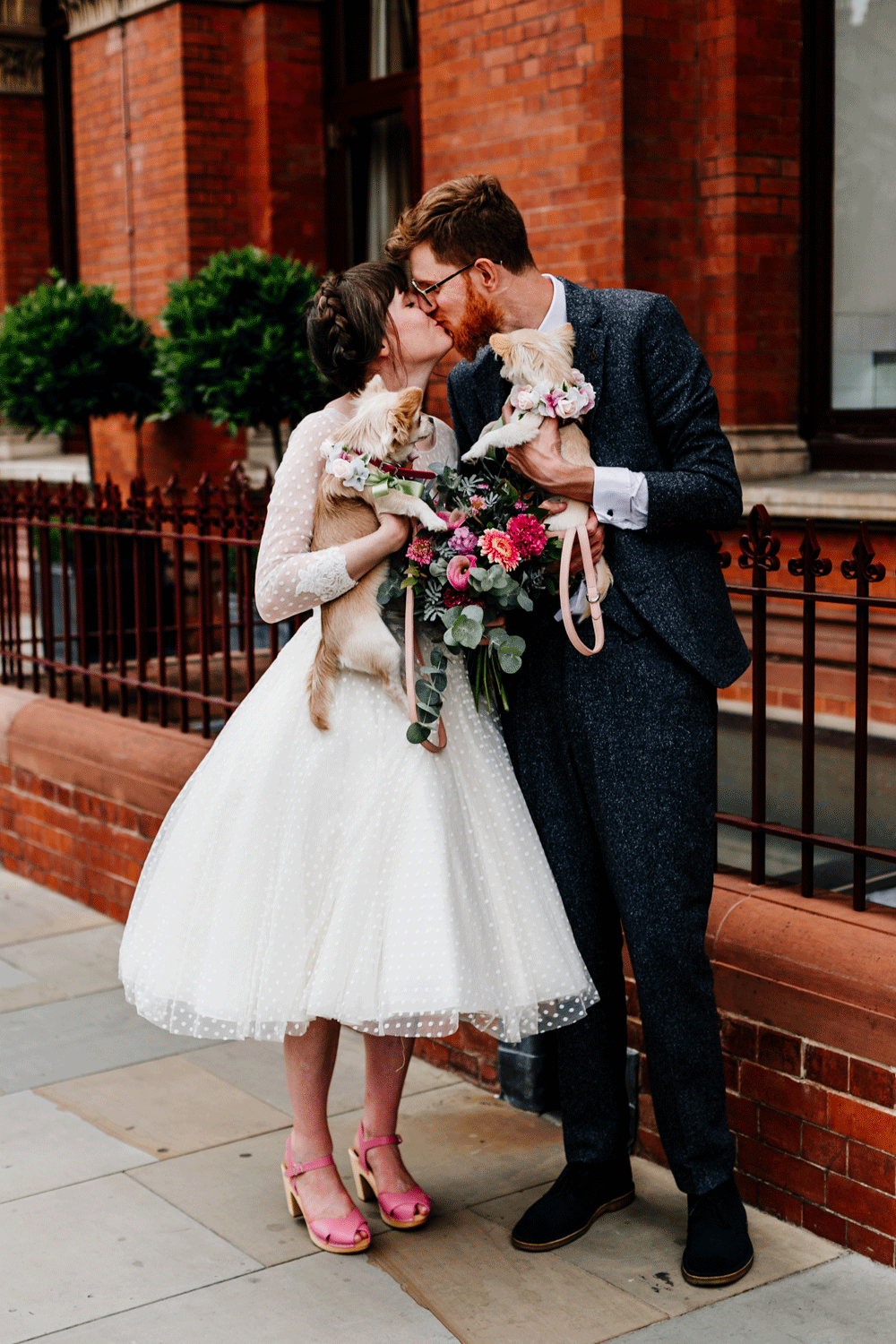 Kerry knew it was love when Nick took her Alpaca trekking as a date. They met on OK Cupid and bonded over a shared love of Moomins and both having siblings in Hong Kong, In fact they turned away completely from tradition, because, in Kerry's words, "not to be cool but because we found it all a bit sick-in-your-mouth and cringeworthy."
They cancelled plans for a huge wedding in Budapest and got married in secret at St Pancras Renaissance Hotel, with just 12 guests present, and their two Chihuahuas as 'dogsmaids' instead of bridesmaids! They spent the night before, and morning of the wedding together, and walked down the aisle together. They 'said yes to the dress' together, Kerry didn't do a 'pre-wedding diet' ("in fact, I ate and drank more in the run up!"), they had no cake cutting or planned speeches or first dance… and they didn't invite the brides' parents.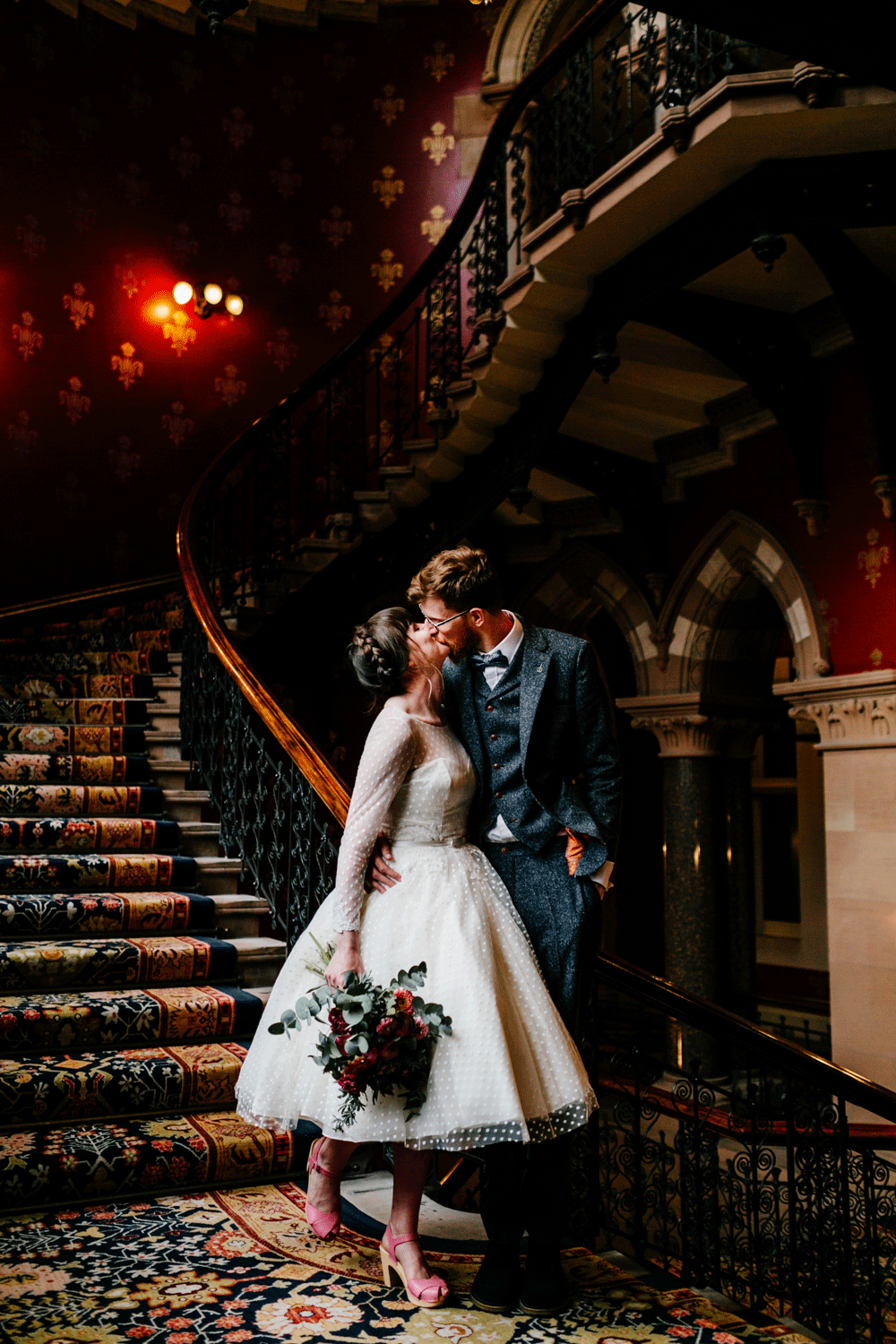 "I made the decision not to invite my parents to the wedding which caused a lot of upset and hurt but I decided not to do it just to 'tick a box'," explained Kerry. "While I love them dearly, I haven't had the easiest of relationships with either of them and nor do they with each other. I didn't want to bring drama to the day and families usually spell drama. It was the best decision I made because since that point, I have had more meaningful conversations with my mother than I've had in a decade, so sometimes it pays to make a difficult decision."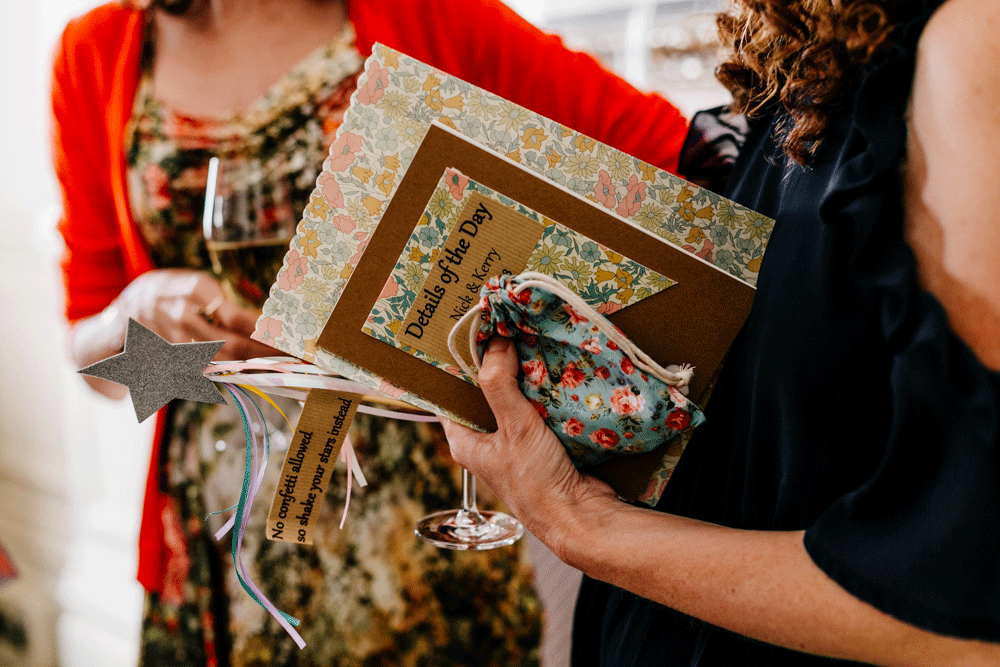 "Nick and I couln't organise a piss-up in a brewery in all honesty" she continued, laughing. "There were three people who essentially made our wedding what it was. Our wedding planner, Betty at at the St Pancras Renaissance Hotel, was amazing, and she treated us with so much kindness. We had been to several venues and continually had the Pretty Woman moment where people looked down on us and so we stormed into the Renaissance stressed, pissed off and fed up and she just brought the wedding to life and we had it booked within the hour. Secondly, Emma from Epic Love Story and Kate from Lipstick and Curls who are the most down-to-earth, sassy and talented ladies I've ever met. They were just super chilled and I felt like I was just with two good mates. Plus, Kate gave me the best cat eyes I've ever had and Emma made it look like I was in a pre-Raphaelite dream world with her stunning photos."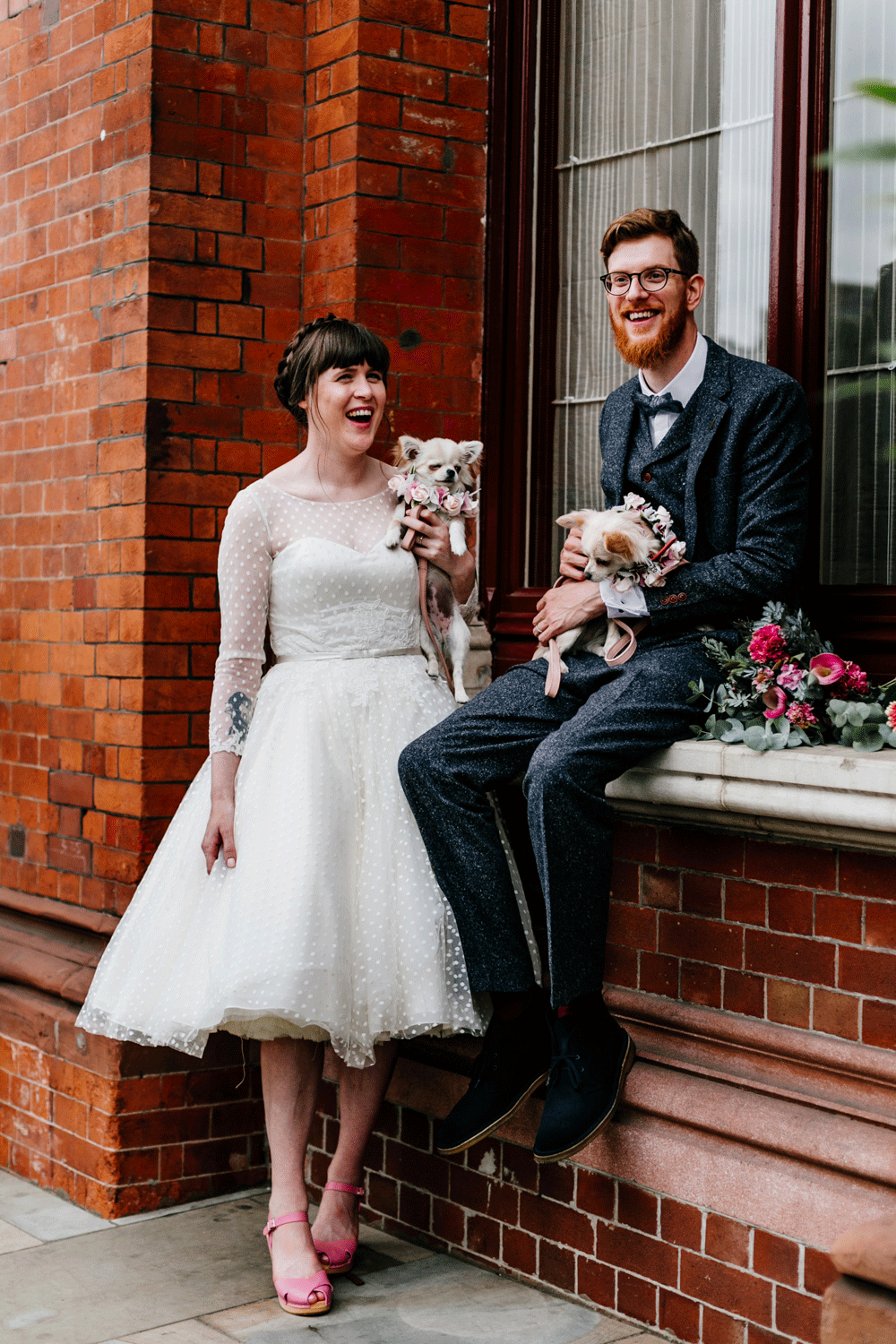 There are a couple of things Kerry wishes she'd known about planning a wedding before she began: "1. To save the £25 quid I spent on crappy bridal magazines that taught me nothing. (I soon discovered Rock n Roll Bride and back-ordered the lot and that's where I saw Epic Love Story and an article about weddings and depression and I was sold on doing it my own way). And 2. That people assume you know how to plan a wedding and you have to clearly state that you have no idea… because you usually haven't done it before."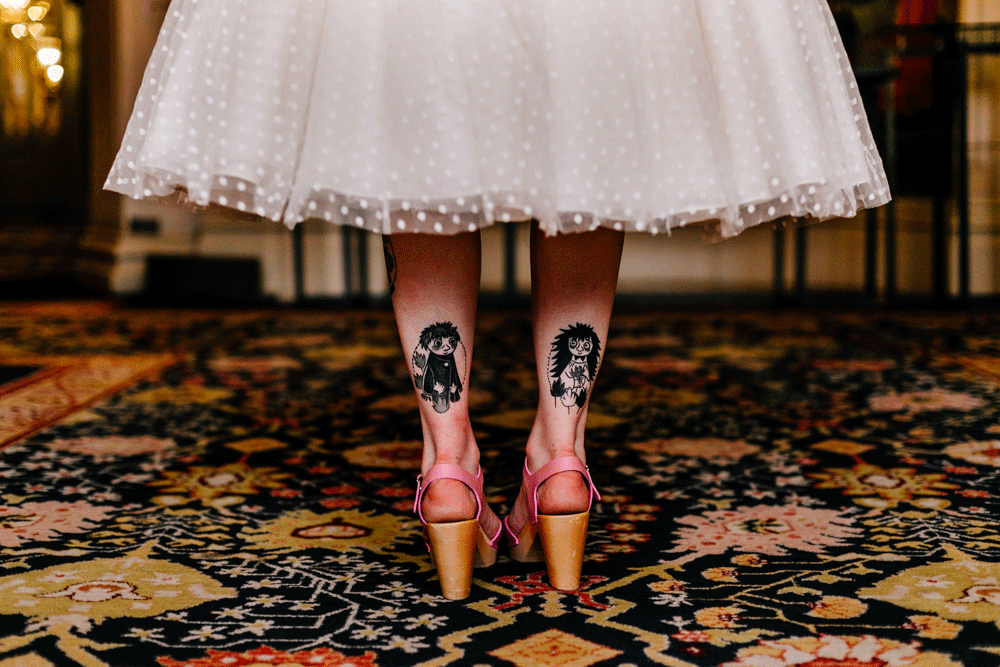 They knew from the start that they wanted a strong philosophical element to their day, as they are, by their own admission, both quite cynical and the works of Nietzsche, Montaigne and Schopenhauer resonate with them. In the first instance, for Kerry and Nick, getting married did not mean a public declaration of their love, but a personal agreement that we were prepared to stick with each other "as we disintegrate and become inevitably more annoying to each other" she laughed. "There was no specific theme to the day but rather a pic 'n' mix of our favourite things. We love Japan and the Moomin's so there was a strong 'kawaii element' but then I am obsessed with the pre-Raphaelites so we had a lot of William Morris elements."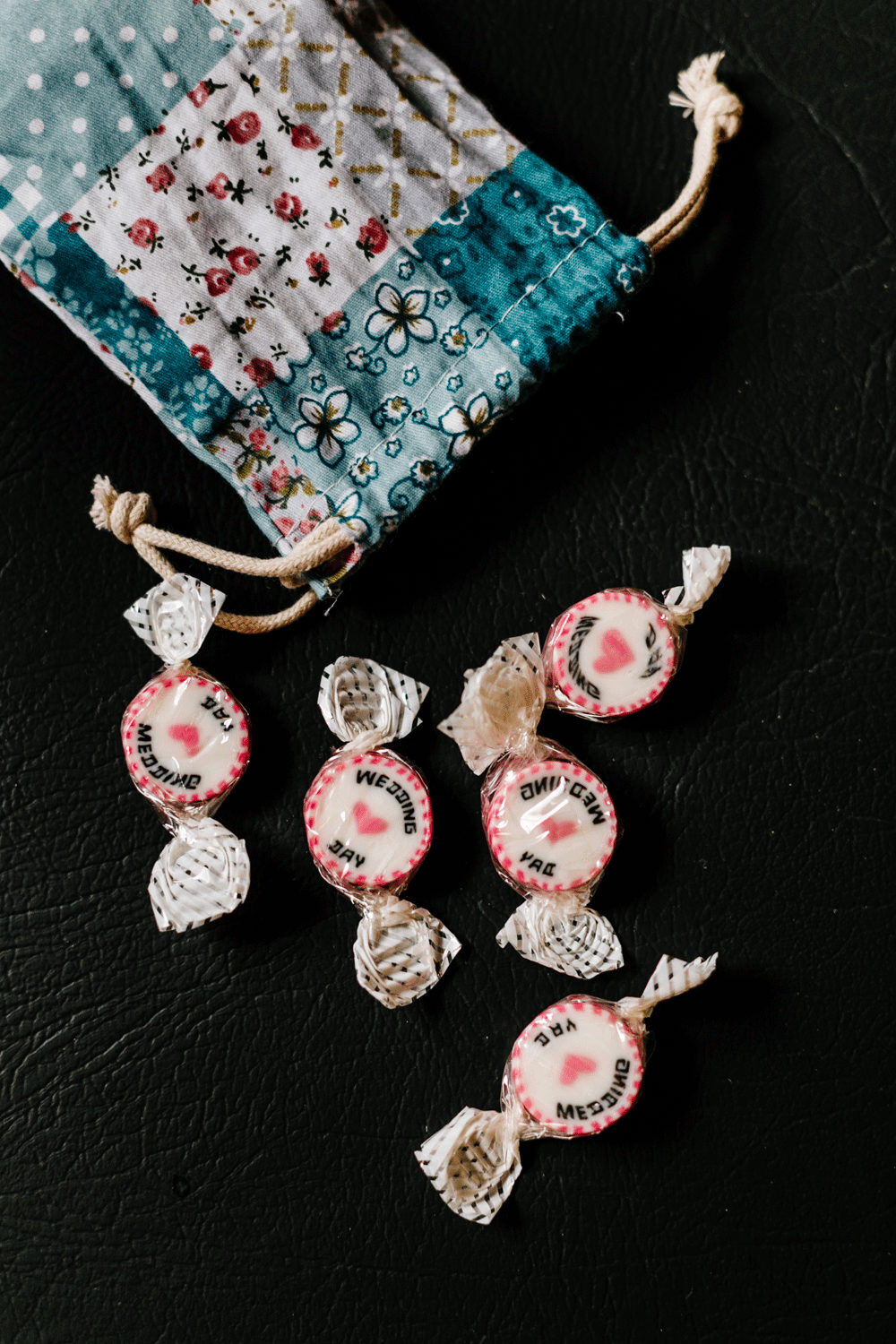 They made orders of service from Midori Traveller's Notebooks from Japan, and included dark philosophy quotes, as well as instax, kawaii stickers and their vows. Their wedding favours included aphorisms by Nietszche on love and hate, as well as William Morris candles and personalised match boxes for the girls, and a copy of Friendship by Michel de Montagine, mini mile-high cocktail kits with a 'And so the adventure begins' shot cup for the boys. As they were banned from using confetti, they made little star wands to shake instead. "To be honest," said Kerry, "we'd made loads of other bits but in the stress, I forgot to take everything and had a small meltdown on the day about it… followed by a 'fuck it' moment, because, really, who cares! Your guests are there for you, not to marvel at hours of intricate crafting."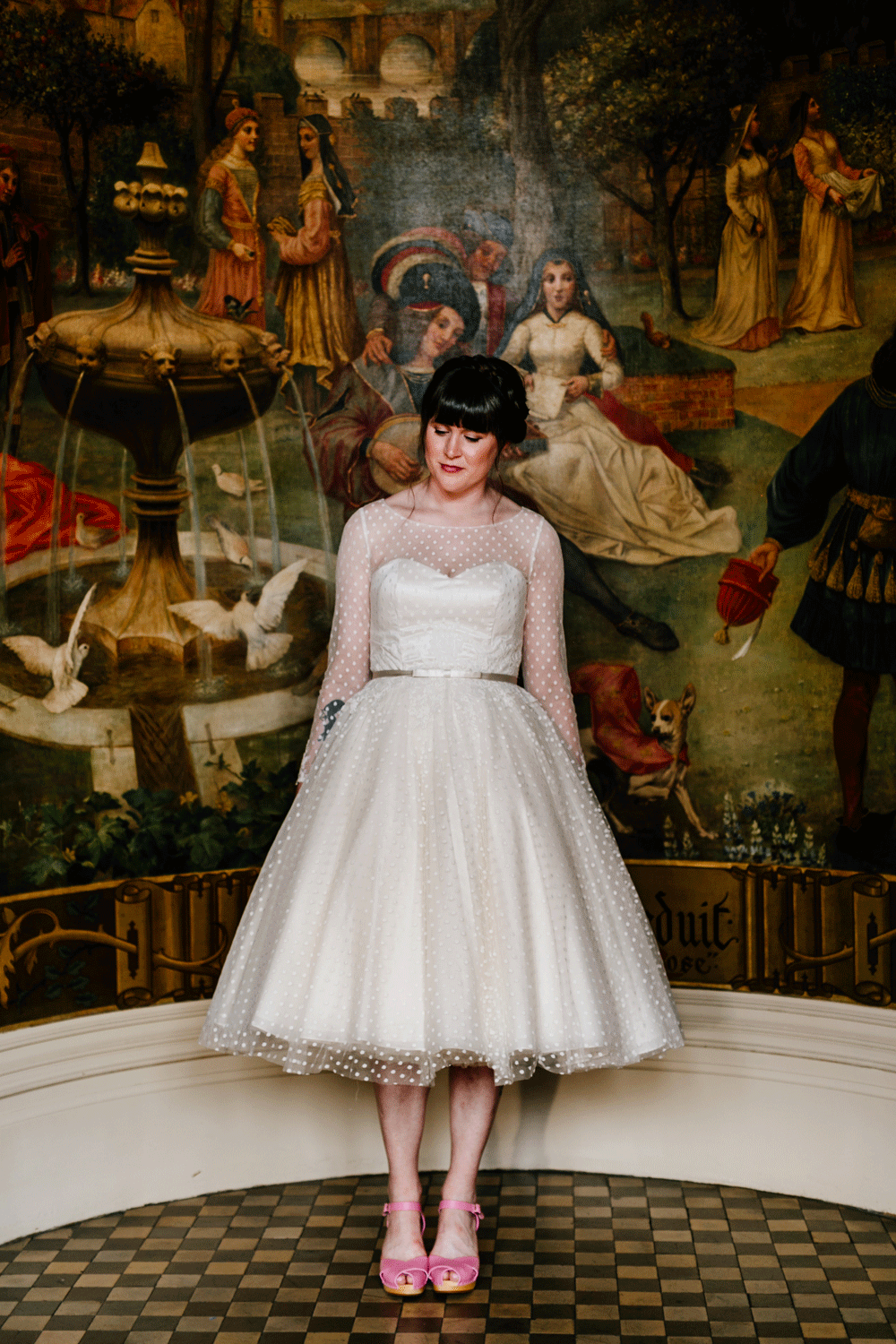 After their ceremony on the grand staircase at the Renaissance (where the Spice Girls Wannabe ceremony was filmed!), they skipped out for photos around London, even getting applauded for looking so cool while walking through King's Cross station! They continued the celebration with dinner by the chefs at the Renaissance and an open bar, which the couple footed the bill for, in fact they picked up the cheque for everything for the guests, including the overnight stay in the hotel itself. "We were so overjoyed that people accepted the way we wanted to do it, that we wanted to spoil everyone." The party continued with a Spotify playlist that Kerry filled with song requests from their guests in advance ("except I kept drunkenly putting on Dr Dre and pissing everyone off, oops!"), some serious twerking to Lil' Waynes' Lolipop by Nick's parents, and the obligatory drunken re-enacting of the aforementioned Spice Girls' video at the end of the night.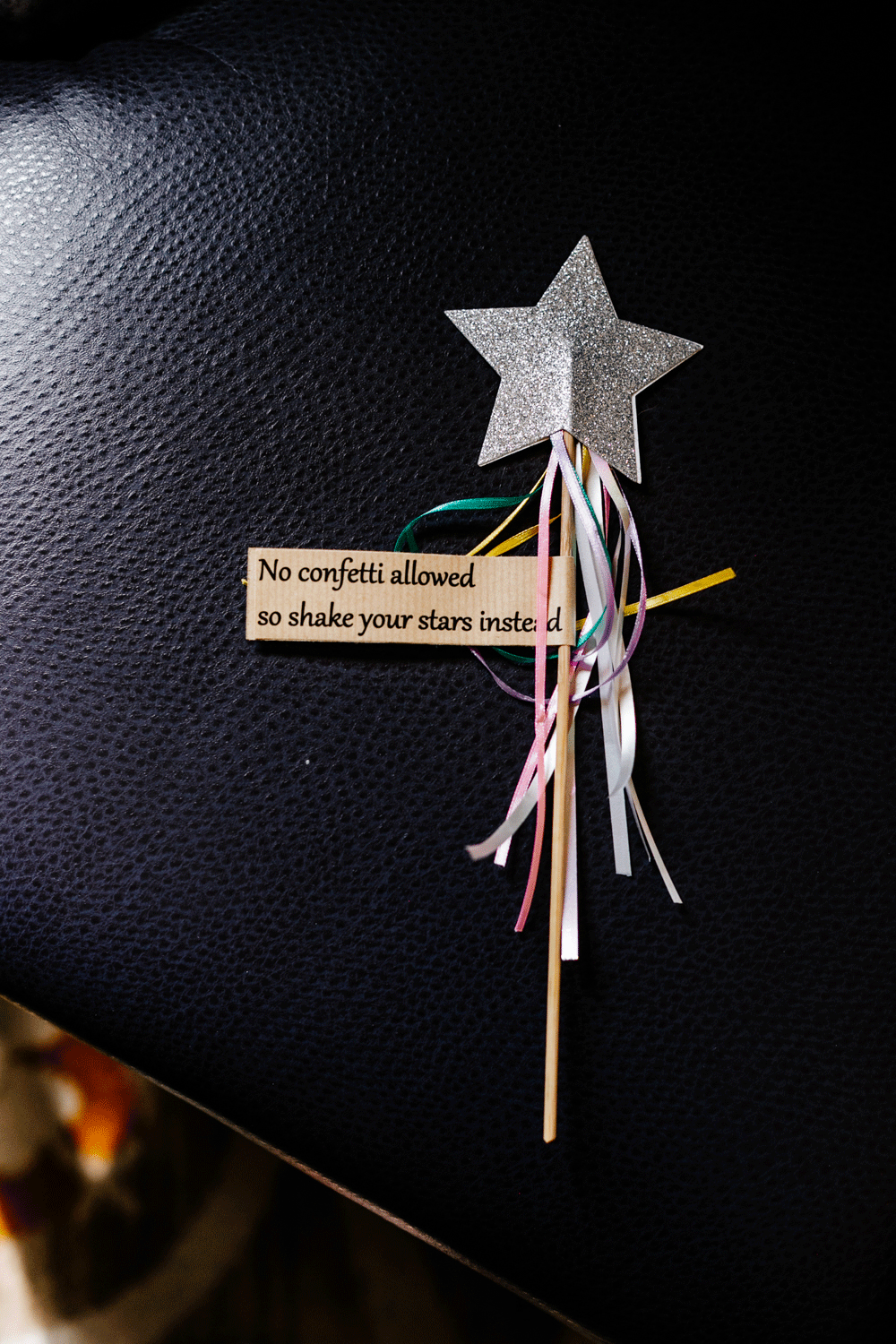 In retrospect, there are only three things Kerry and Nick would've done differently for their day – and they consist of the inclusion of Alpacas, first karaoke instead of a first dance, and drag queens (because why not?!) Their advice to future brides and grooms are to agree on any 'non-negotiables' between you from the start, don't go on a pre-wedding diet, and do not invite people to your wedding because you feel you have to. Simple as that!