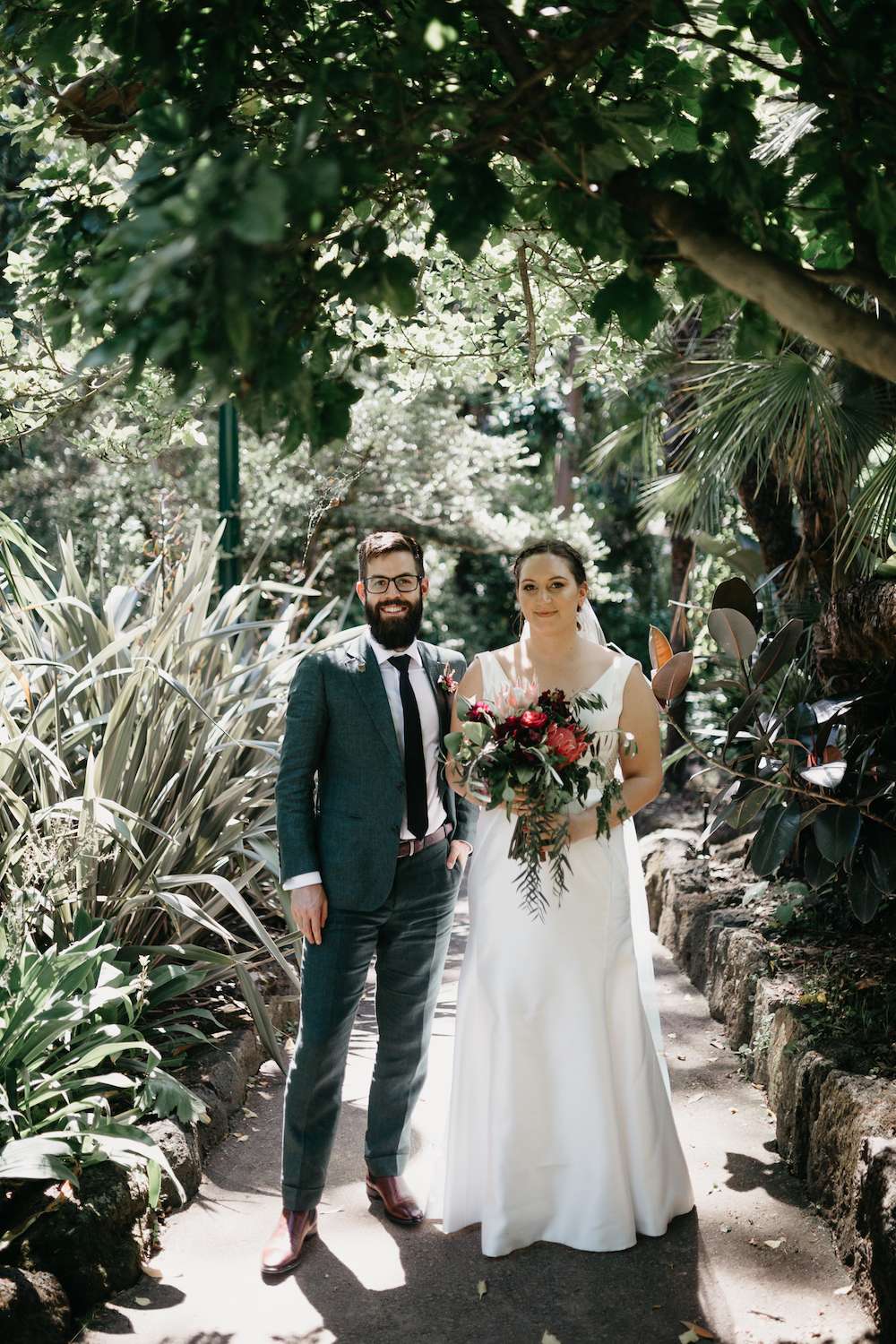 Ella and Michael's wedding is the wedding of plant lovers' dreams. Their venue was the Glasshaus, a plant nursery based in Melbourne, and their styling was simple, green and nerdy – in the most breathtaking way! It's so beautiful I'd even brave the 42°C heat (yep, celsius, you read that right; Ella and Michael got married on the hottest day of the year) to be there, and that's coming from a girl who complains at 22 degrees. But enough about me – let's talk about this STUNNER of a big day, shall we?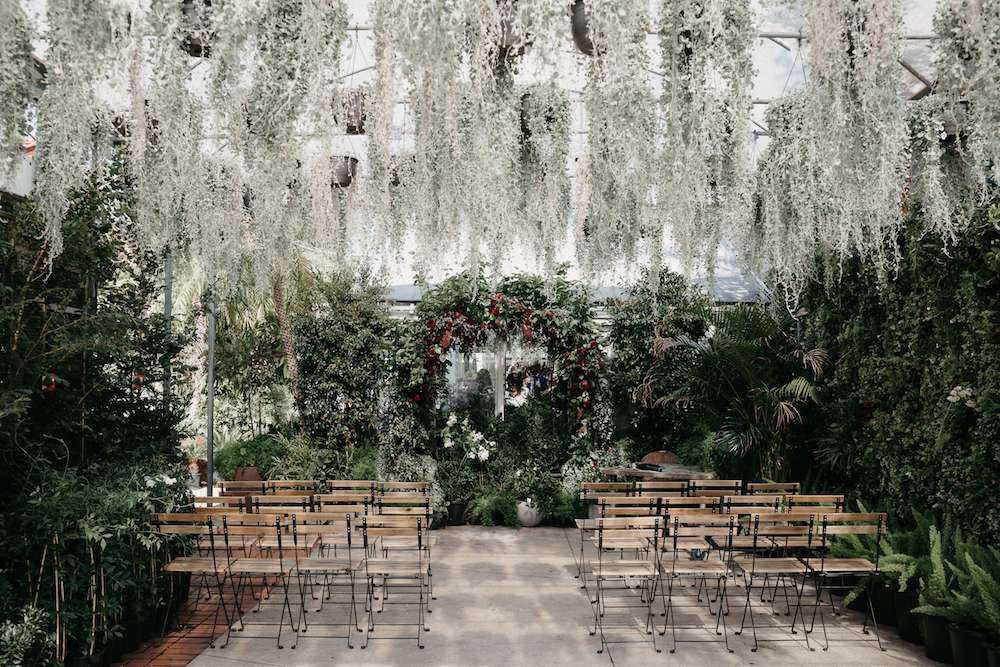 The couple had decided early on that they wanted a big dinner party with food and drink as their focus. Unusually, Ella and Michael chose their caterer before they chose anything else, then working with The Farm Café and their wedding planner Amelia to find a venue that was suitable.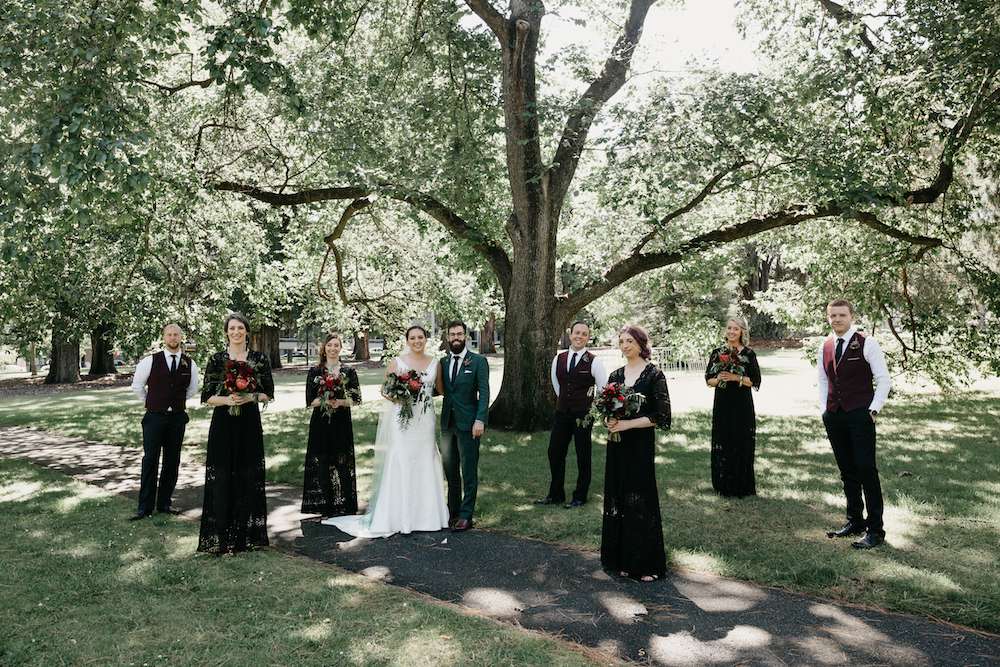 "We didn't want to spend too much time and money decorating, so chose a venue that provided an atmosphere already – getting married at plant nursery!" Ella explains. "We let Bee, the florist at Glasshaus, run free with our colour palette and she chose whatever flowers and design she thought would work. Bee and her team did an amazing job!" The only other props they had at the ceremony were paper fans, bought on a mad dash to the local $2 shop two days before to try and avoid anyone keeling over in the crazy temperatures…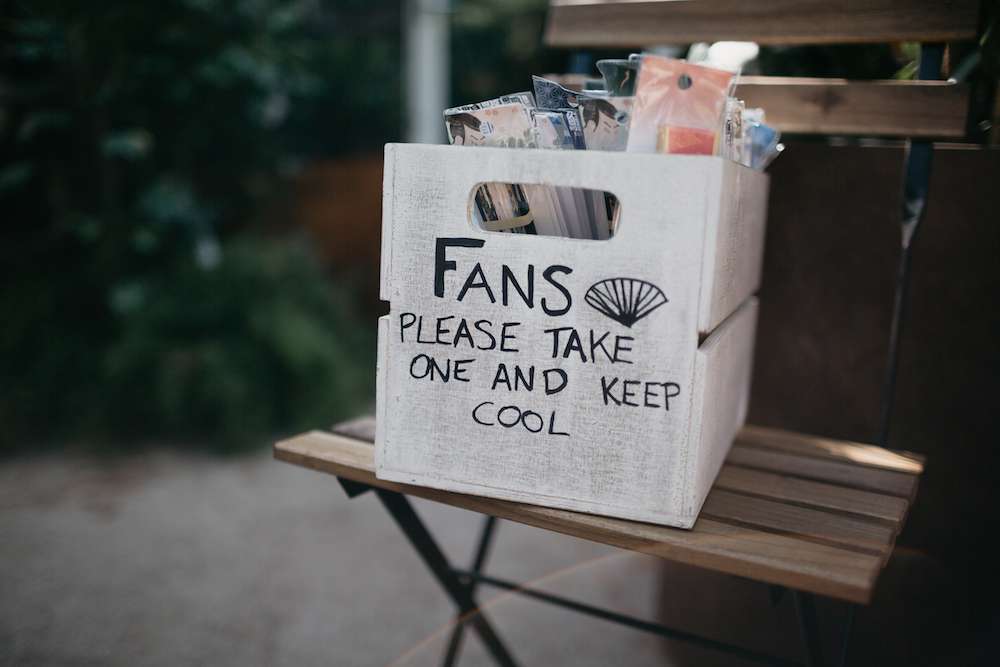 There was a literary theme running throughout the day too – Ella is a librarian and their celebrant, Libby Briggs, incorporated this into their ceremony. "She took it upon herself to surprise us with a litany of literary quotes throughout our ceremony – she'd really taken the time to get to know us, and even incorporated things from off-hand conversations into it. She did such an amazing job, guests were asking us afterwards if she was our friend already (she wasn't)."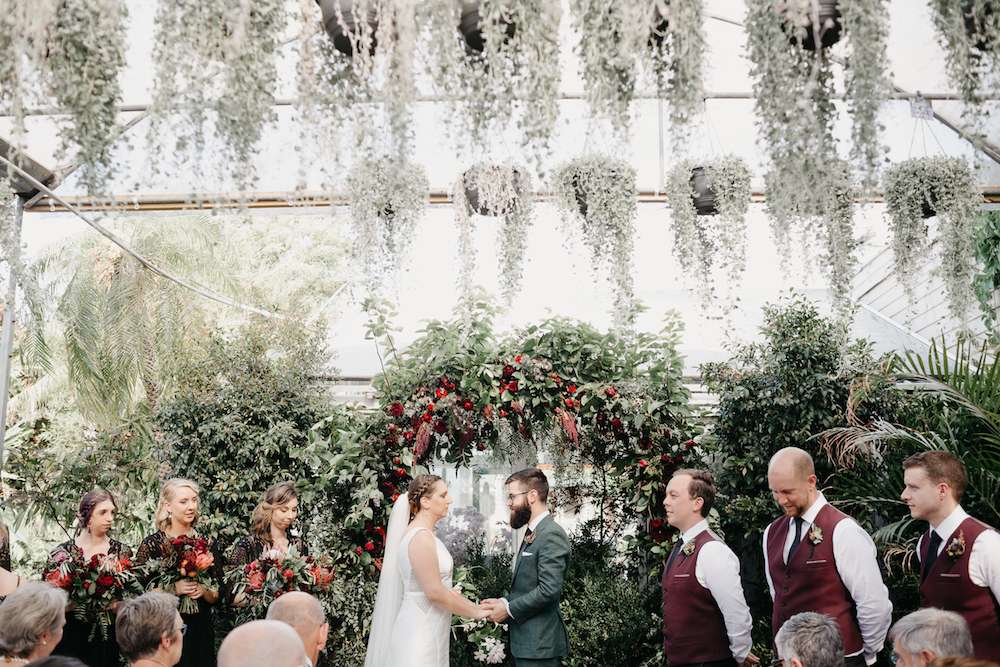 "She put so much effort in to finding the right Dumbledore quotes and making the whole process fun. It was also important to us that the ceremony was short and sweet, and that everyone had a drink in their hand, which really relaxed the atmosphere and made it feel very loving and inviting." As Michael doesn't drink beer or wine, and has ended up being the designated driver far too many times purely from lack of drinking options, they made sure that they had a huge array of drinks for people to choose from.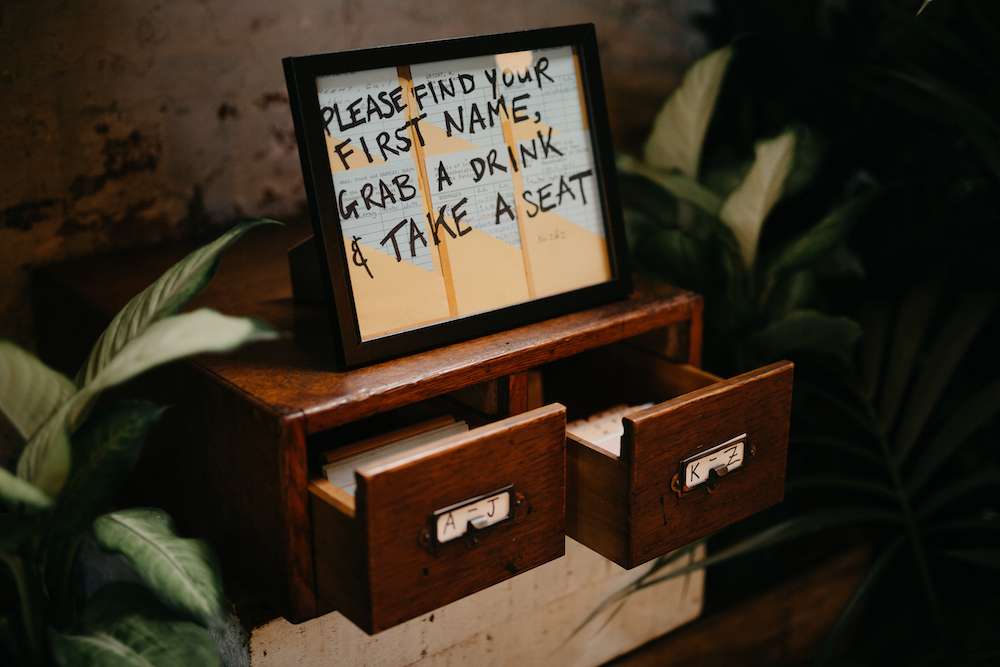 The literary theme continued to the reception at Glasshaus Inside, with books scattered amongst the foliage for decoration. "Over the year or so leading up to the wedding, I collected books from lots of places including the recycling bin at work, second-hand stores and book festivals. This provided lots of entertainment for the guests, as some of the titles were so apt that they were trying to guess whether the books in front of them had been assigned specifically to them (they weren't!) I also used books as the table numbers, painting the edges and folding the pages to create the numbers. This was very therapeutic and stress relieving and I kind of wish there had been more than four tables so I could make more." Library catalogue cards were used as place cards, with the card catalogue acting as a table plan for guests to find their place and then take their seat.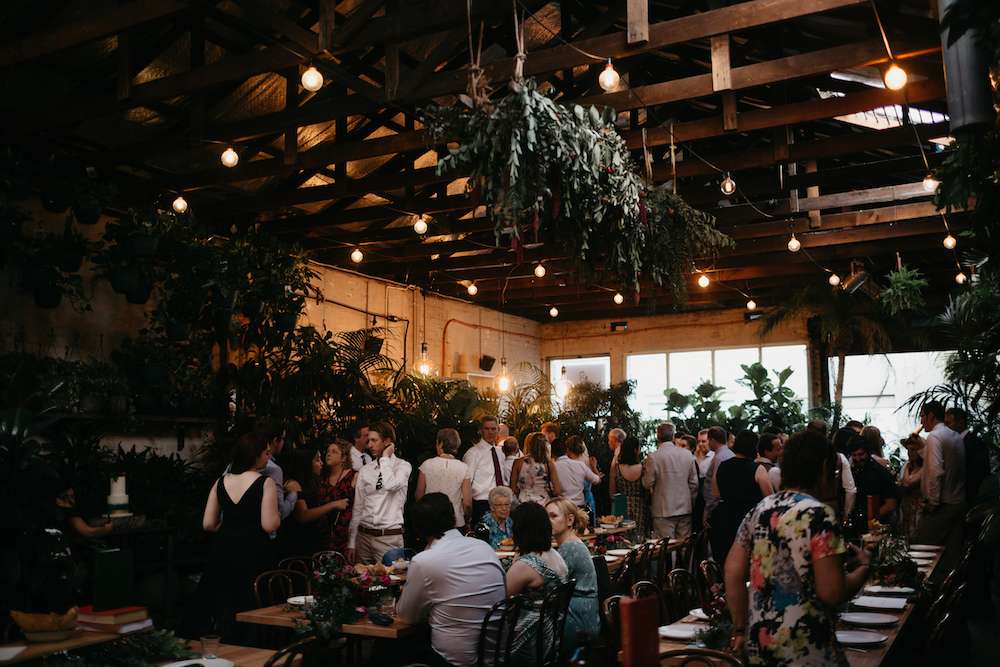 Now, I know what you're all thinking – isn't a green veil for a plant nursery wedding just the best idea you've ever heard? Yup, that's what we were thinking too. "I had decided very early on that I wanted the Crown and Glory Nebula veil in green," Ella explains, "and I planned my dress around what would make it stand out. Sophie was so great at understanding the colour I wanted, and once I found the shoes with the gold stars (from Wittner) I knew I had to get them to match the veil."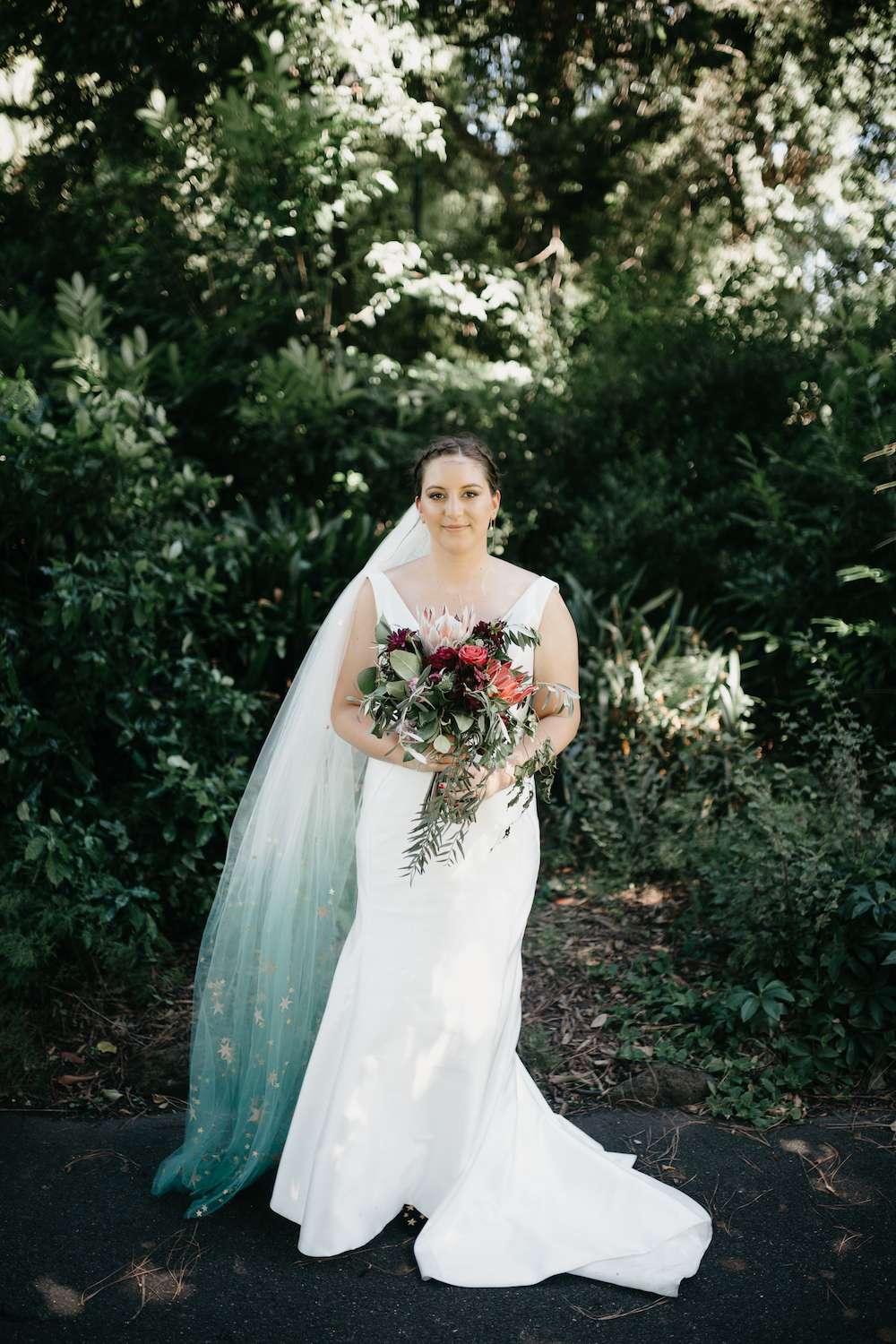 And without being super clickbaity, you'll never guess what her bridesmaids wore – getting ready robes! "After falling in love with the idea of the bridesmaids wearing black lace dresses, but not wanting to force them to pay over $300 for one, I found these beautiful getting ready robes online from Le Rose. My cousin tailored them for each girl, and sewed together in the middle so they didn't come apart while walking. They then all had a Crown and Glory star hair clip too."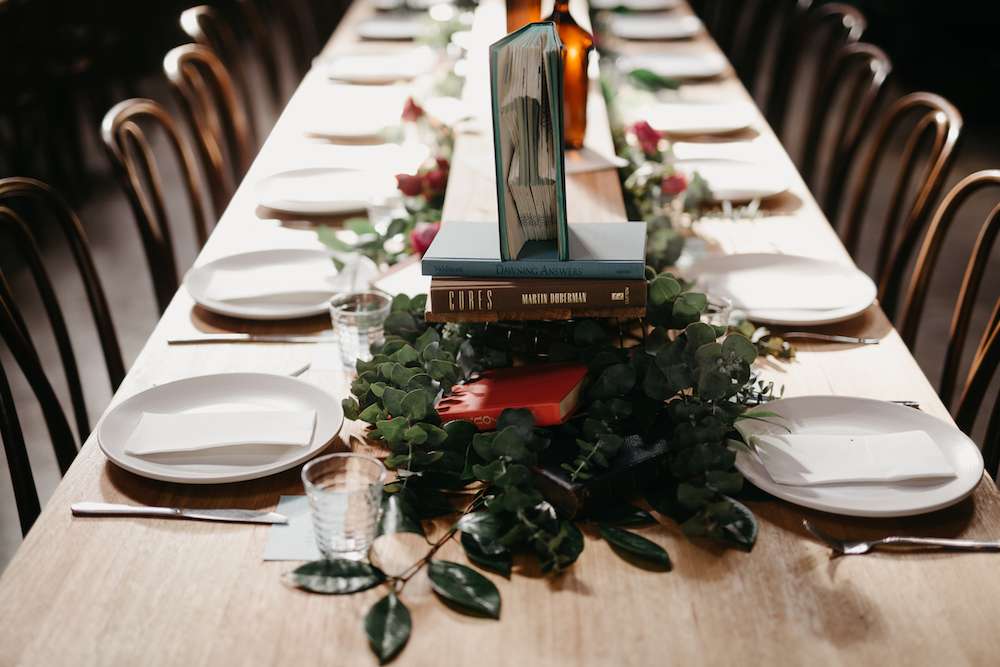 I love everything about this wedding – the greenery, the simplicity, the book loving, the personal touches, and the sheer joy on everyone's faces, despite it being 42°C (in case you'd forgotten) and thus so hot that a power pole outside the venue caught on fire as guests were arriving. Ella and Michael felt the same: "The famous Melbourne cool change came through mid-ceremony, and when everyone cheered, it finally hit me that everyone was there for us and to support us, no matter the weather." Isn't that just the best?