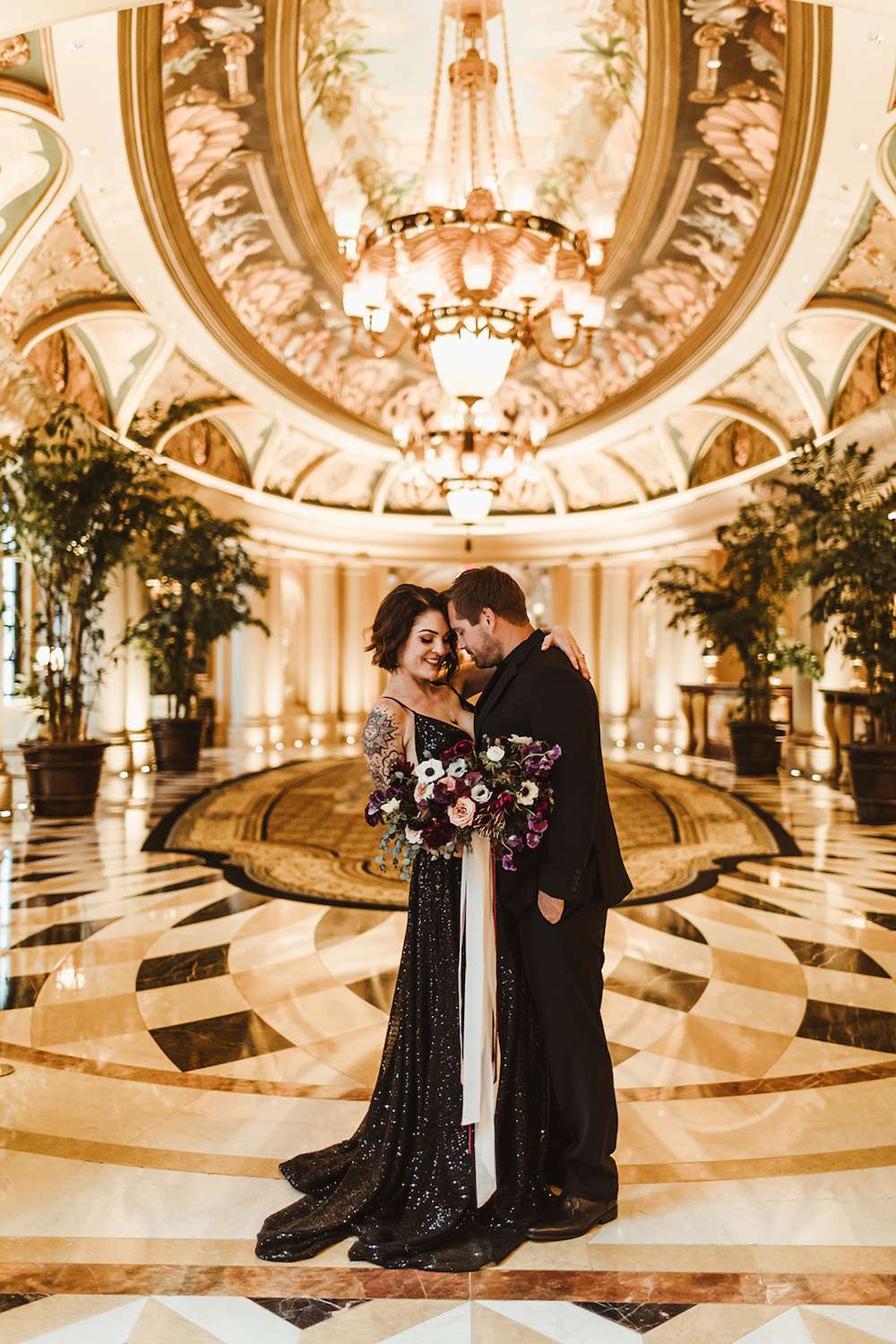 Crank those windows down and turn that fan up because we've got the hottest wedding in the world for you on the blog today courtesy of Kiersten and Mike. Their bad ass elopement in Las Vegas (at the Venetian, no less) was relaxed and beautiful, but with serious edge – I mean, check out that black sequinned wedding dress!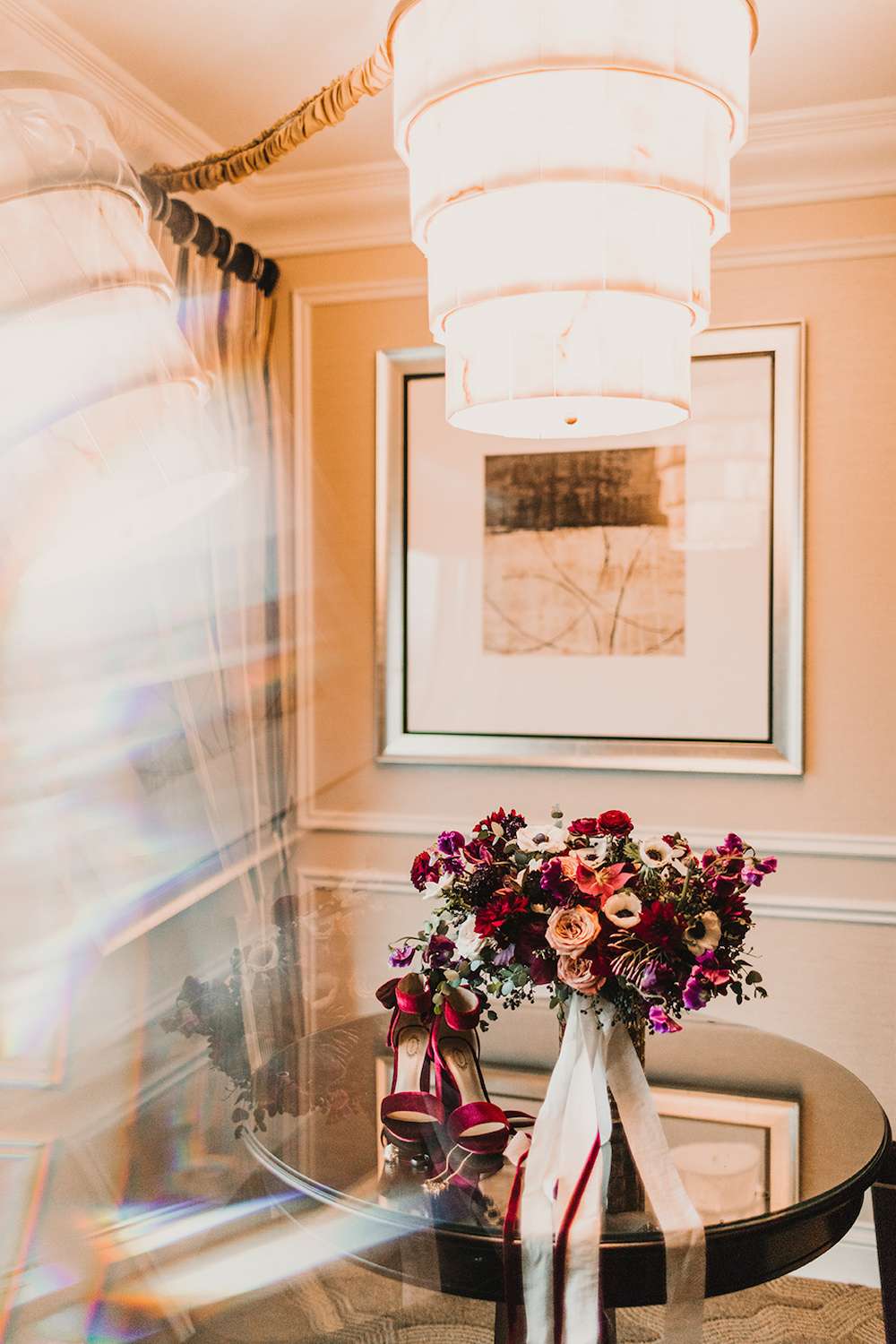 "The inspiration for our wedding was to escape, but in a bad ass kind of way," Kiersten explains. Having met first as friends, and become more than friends thanks to margaritas, "We ran away to Vegas and got married on a sidewalk, before our first dance as husband and wife and a celebratory smoke once it was official!"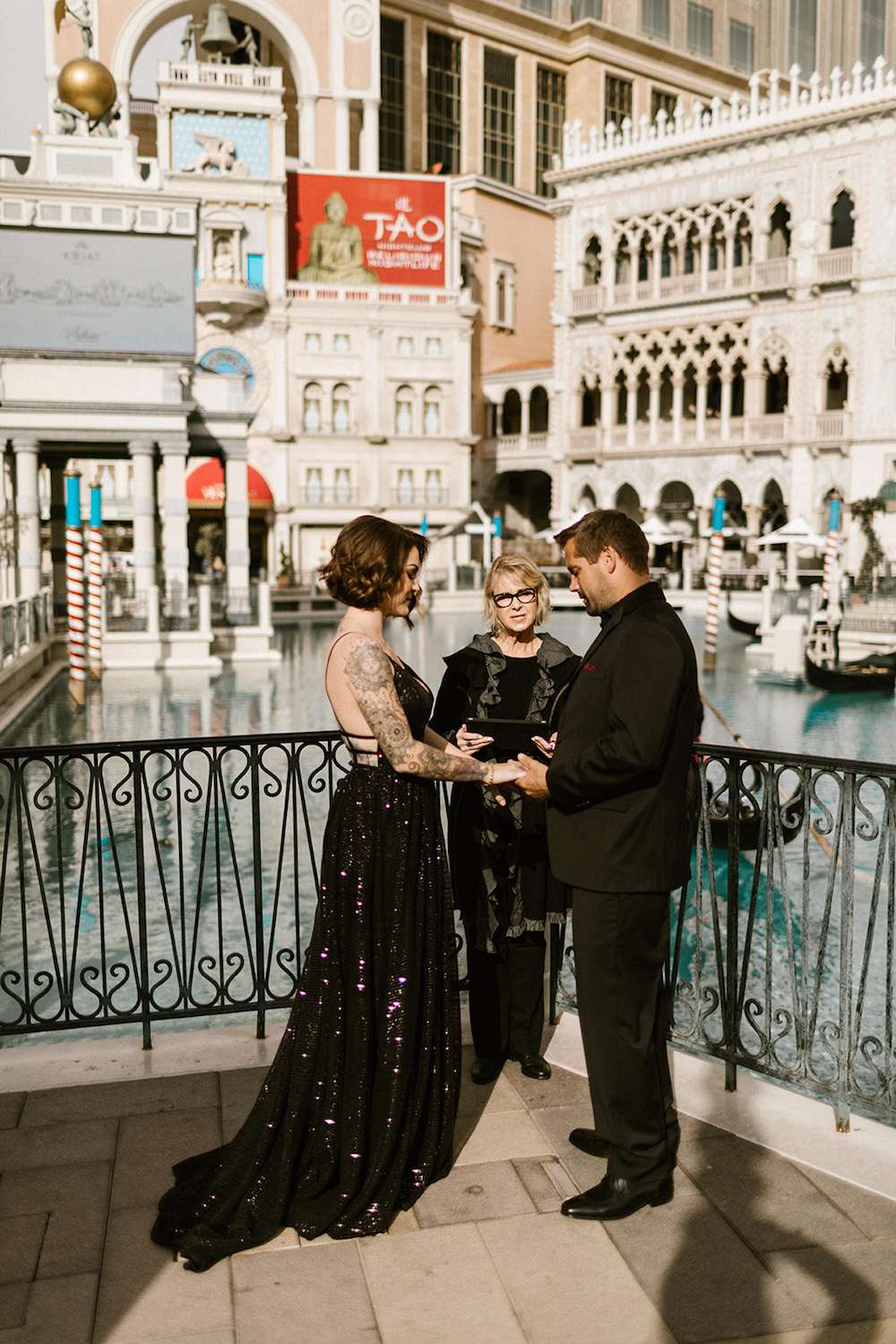 "We wanted to have that VEGAS feel, so we had to have something bad ass for the hotel," she continues, "so we stayed at The Venetian." They got married in a little cutout on the sidewalk in front of the hotel, with the buzz of the Las Vegas strip drowned out as they made their vows to each other. "I cried, he cried – I had a list of vows, and he said 'Ditto'!" After that, they had their first dance outside, before taking some photos in the iconic and divine hotel lobby. Then, they went in search of graffiti and the desert – and they got stunning photos in both.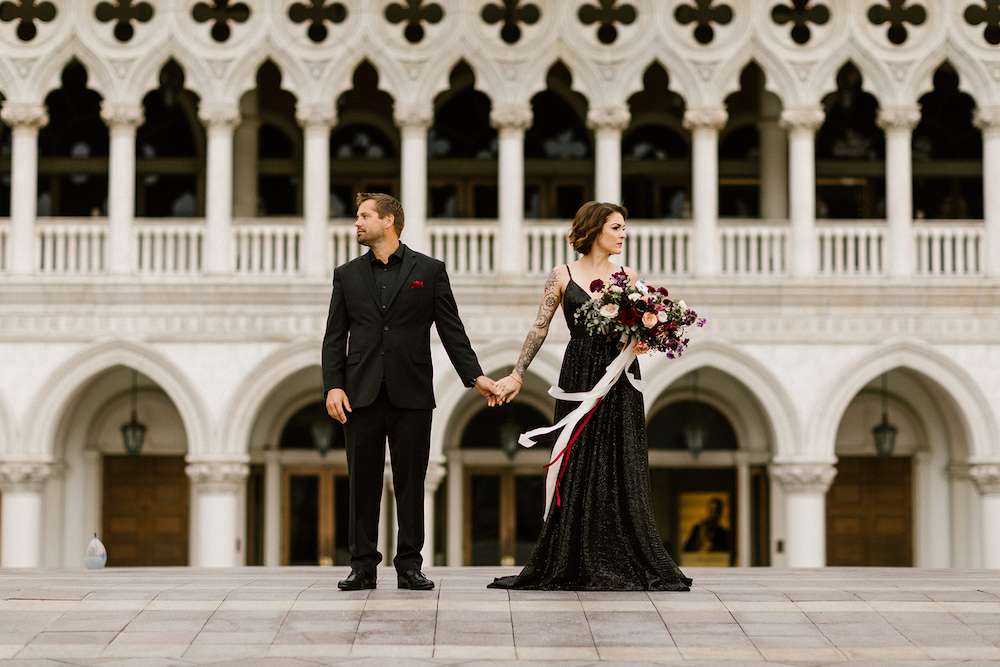 Kiersten's Jovani dress is both breathtakingly simplistic and elegant, and also incredibly detailed and daring, made from black sequinned fabric, it had a plunge front and open back to show off her back tattoo. No question, she looked an absolute dream in it, wearing it with her hair curled, red velvet platforms from Joyfolie, and a Frenchie World French Bulldog necklace (when asked how they'd describe their wedding, they said "Relaxed, but beautiful…and Frenchie-infused!") She looks like an actual movie-star, and that's before you get to know she was super cold on the day – but you'd never be able to tell!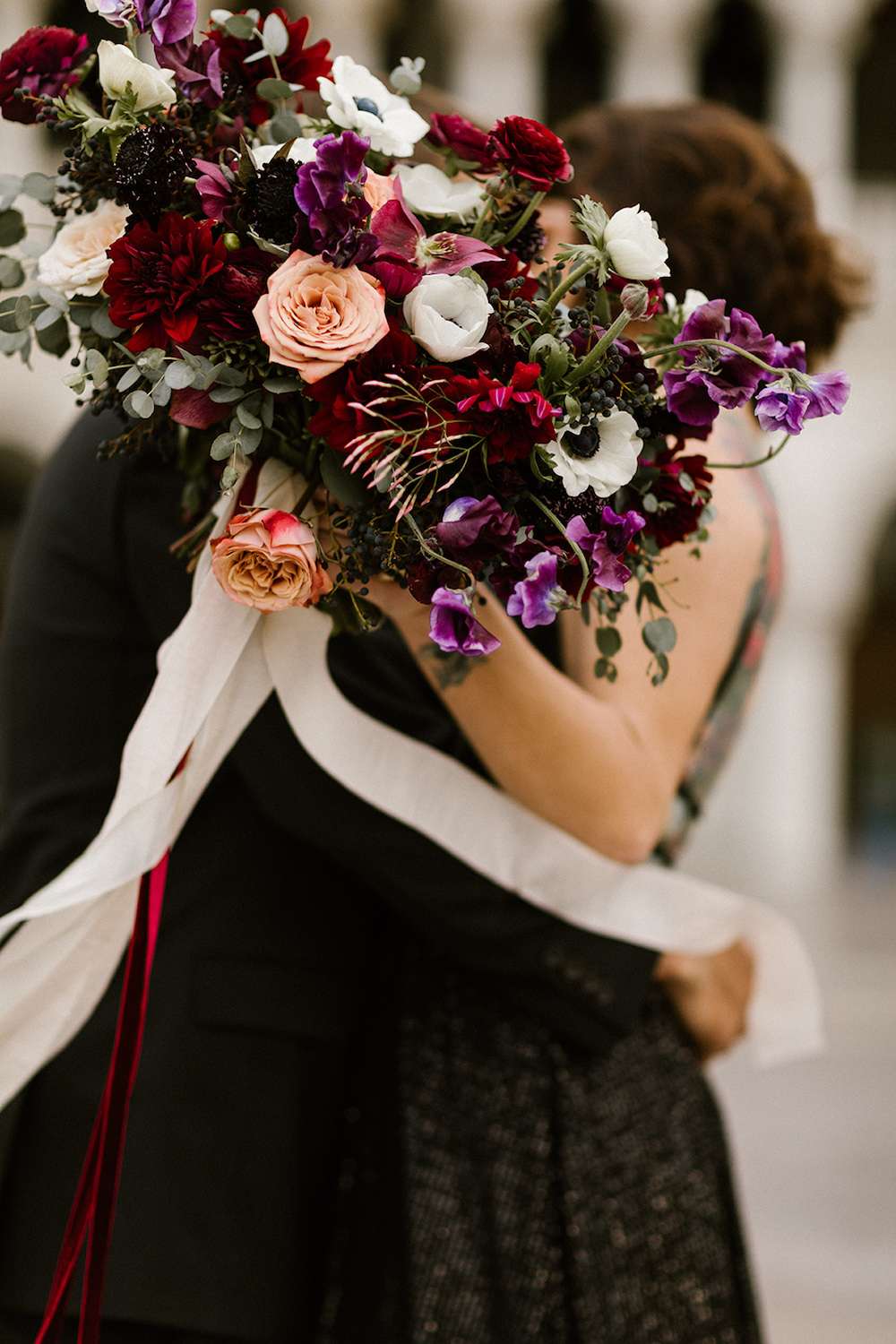 As a wedding photographer herself, Kiersten was pretty clued up on what to expect, but there were still stressful moments. "Murphy's Law got us for sure," she says. "We didn't have a hotel on the very first night of our journey in Tampa so we slept in an iHOP parking lot; we missed our flight so had to pay $700 and drive to another airport to catch our new one – with our photographer on our old one – and my dress broke moments before the ceremony. It was memorable to say the least!"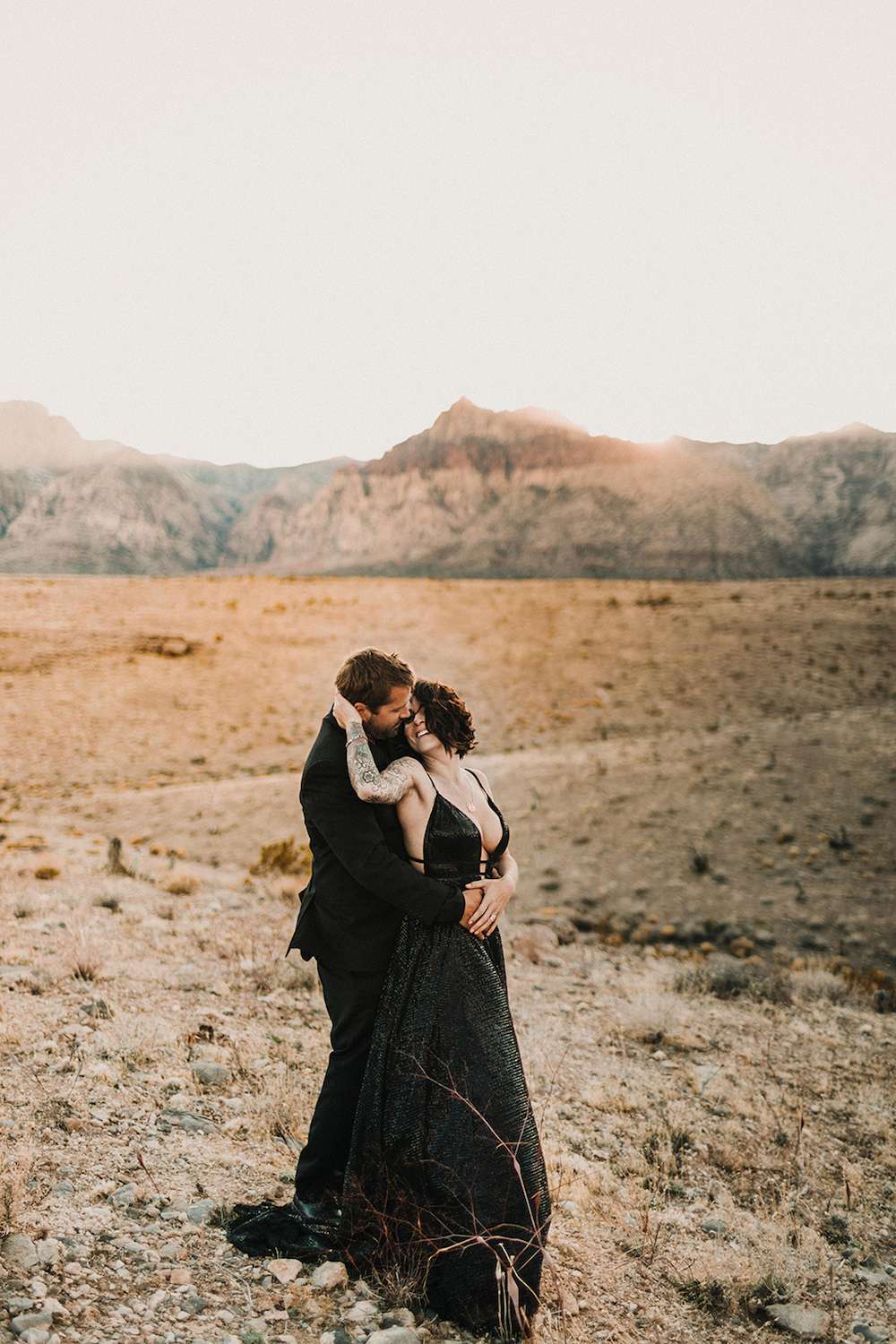 So not only is this an exceedingly beautiful tale with a gorgeous happy ending, it also comes with a great piece of advice: "Even though some moments of the run up really sucked, because it felt like no matter what we did, something just kept going wrong, I would just look over and see the seriously sexy man I was doing it all for and it all just went away. Just know, no matter where you go, when you go or who you bring with you, every wedding is going to have its ups and downs… you just have to remember who you are doing it with and why, and let it all just happen. It'll be perfect in it's own way."
Preach.