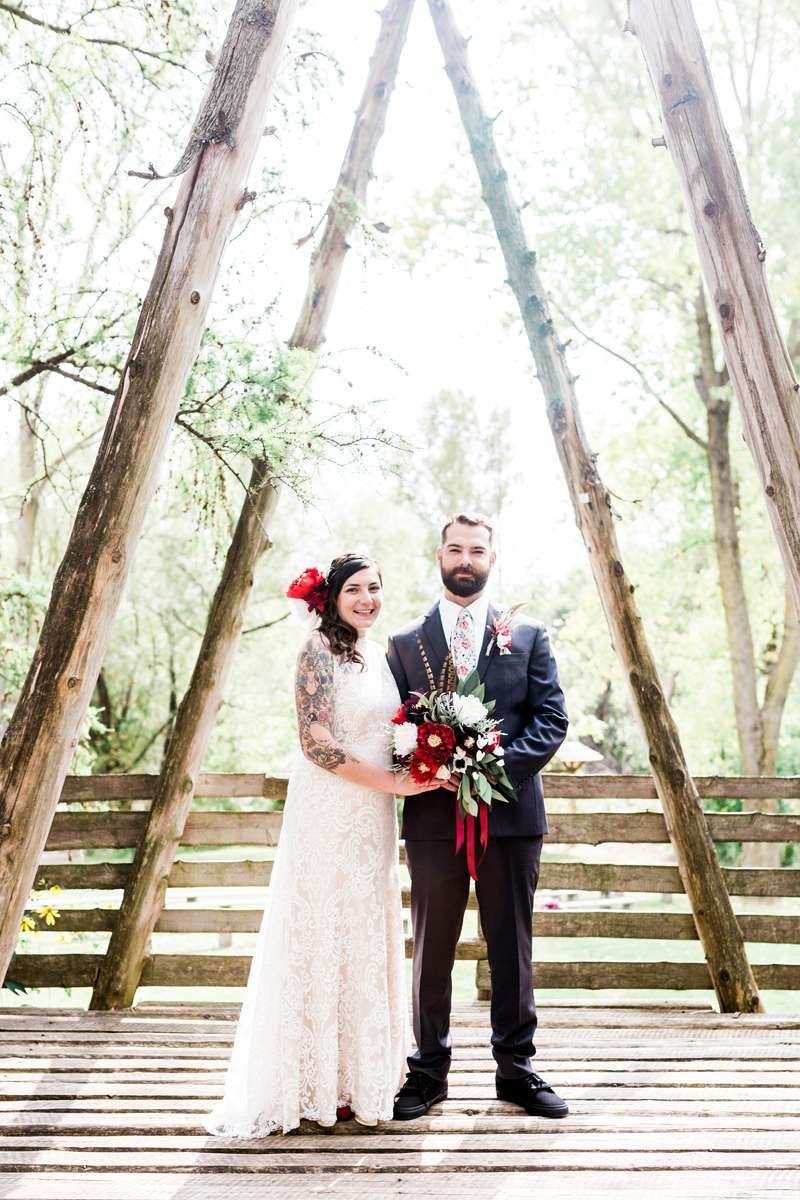 Kelly and Buck were married in September in an outdoor ceremony at Riveredge Nature Centre in Wisconsin, with a barn reception at the same venue.
Kelly, a print maker and paper artist extraordinaire, met Buck through her best friend Molly. They soon discovered a shared love for drawing, and Kelly, who works as an Admissions Counsellor for a Milwaukee art college, encouraged Buck to pursue his passion for drawing professionally. Buck picked up an apprenticeship and now works as a tattoo artist.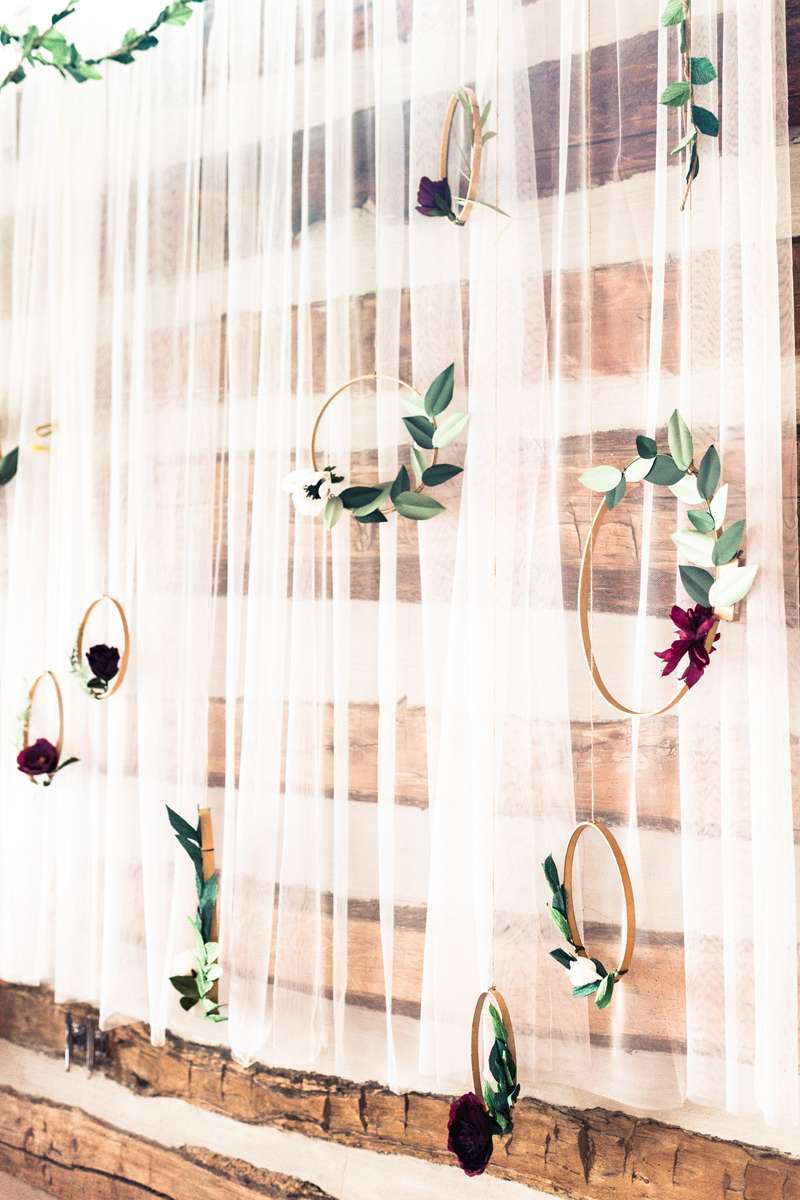 Heavily inspired by creativity and nature for their decor choices on the day, Kelly, together with best friend Molly created all the paper florals by hand; the reception decor, the bouquets and the flower crowns from crepe paper. Place names and table numbers were displayed with handwritten delicate paper leaves. The couple also included deer in their decor, with antlers on the top table and adorable an golden deer cake topper too.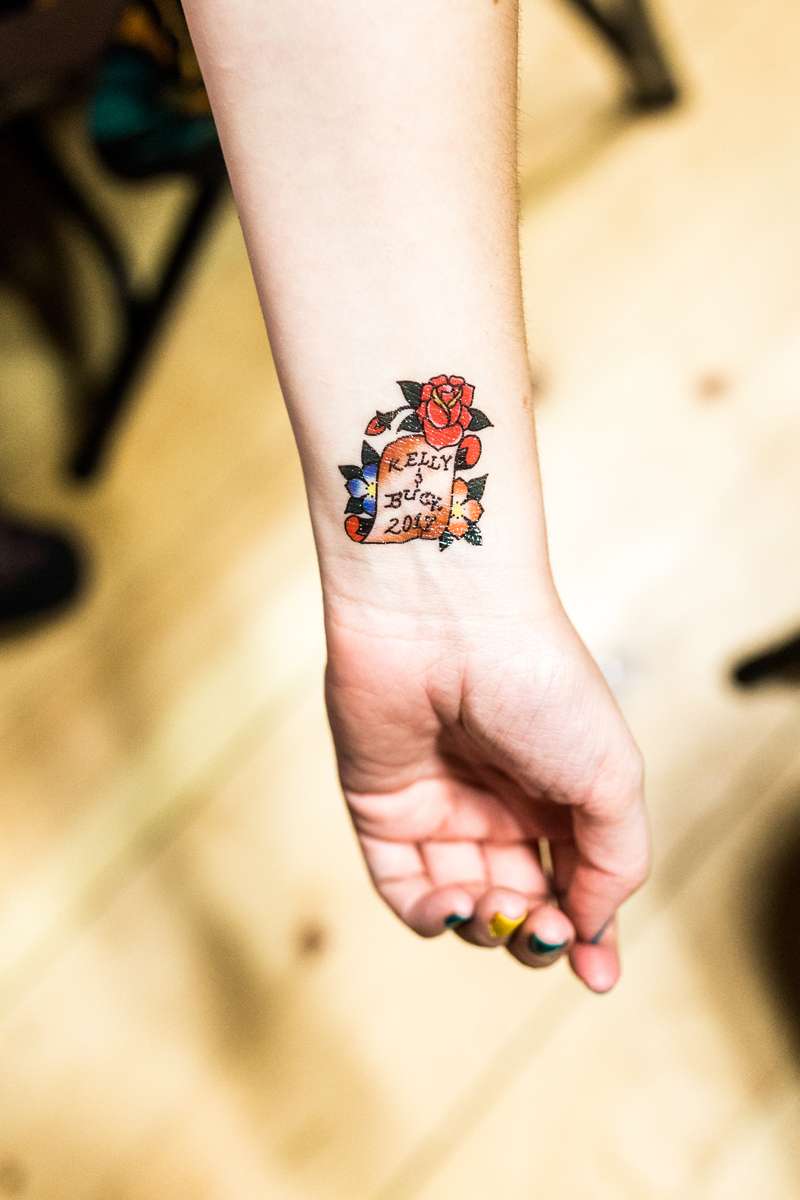 As tattoo lovers, it was a natural choice to include their love of body art somewhere into their day – so Buck designed their own bespoke temporary tattoos as party favours for their guests.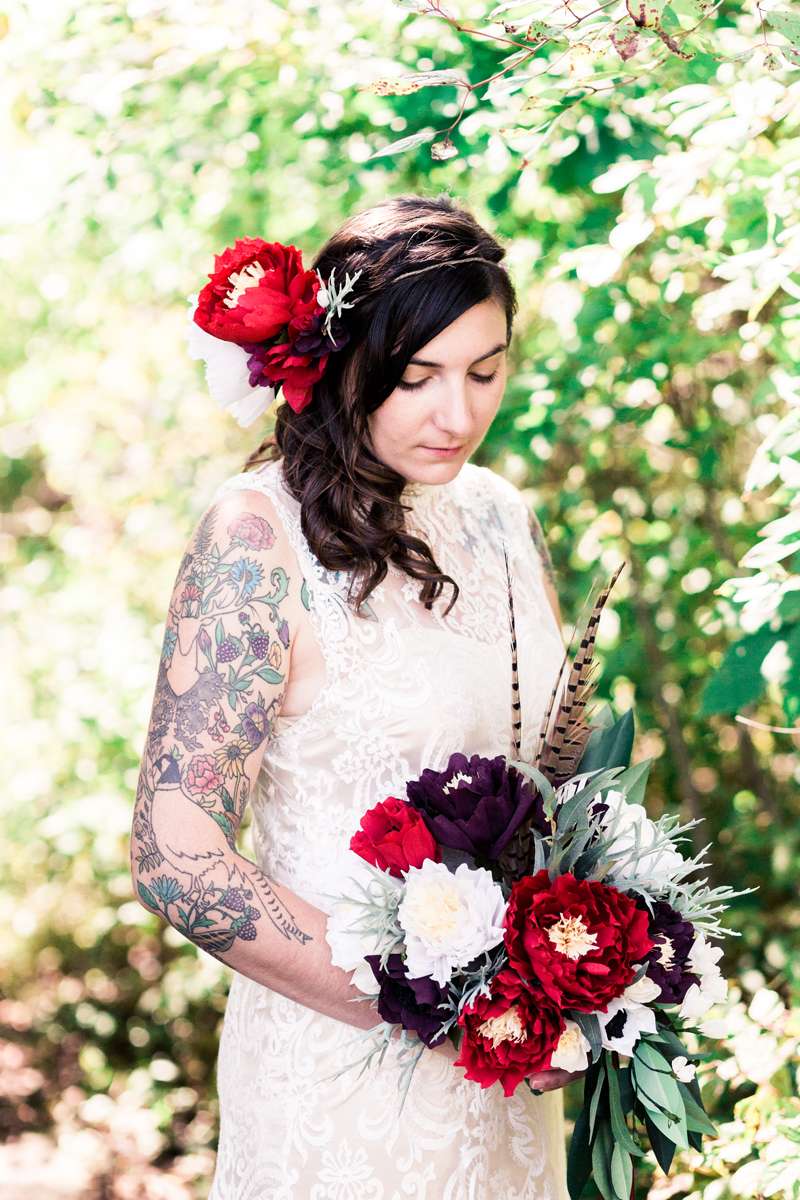 Kelly and Buck stretched their $8,000 budget by incorporating further DIY elements in their day – Kelly's dress and the flower girl dress was handmade by her mum using fabric from Etsy. The couple also designed and made their wedding invites themselves. It's no wonder that they cited the best thing about planning their wedding was thinking about how much creativity they could incorporate into their special day.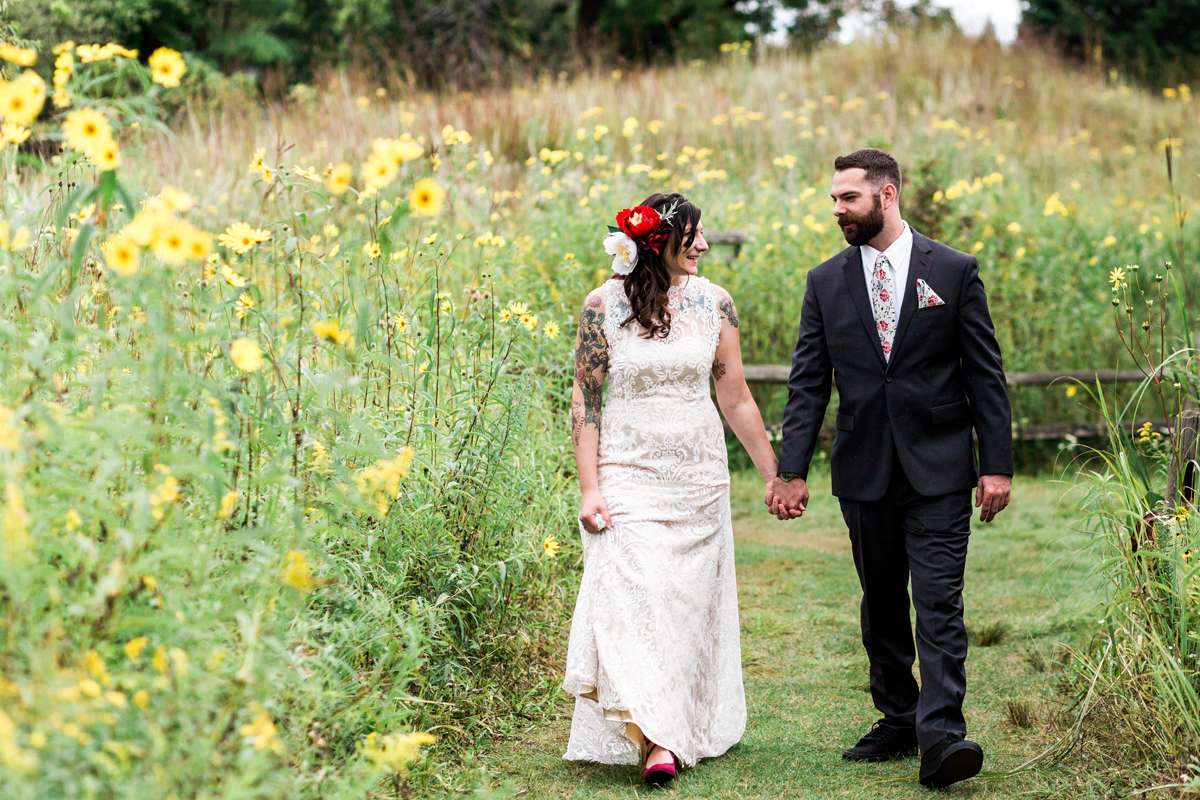 The couple chose to do a first look before their ceremony, and Kelly would suggest this to every couple if they are able. "Take photos before the wedding ceremony, so you don't have to rush through them prior to the reception and enjoy every moment. This was our favourite part of the day"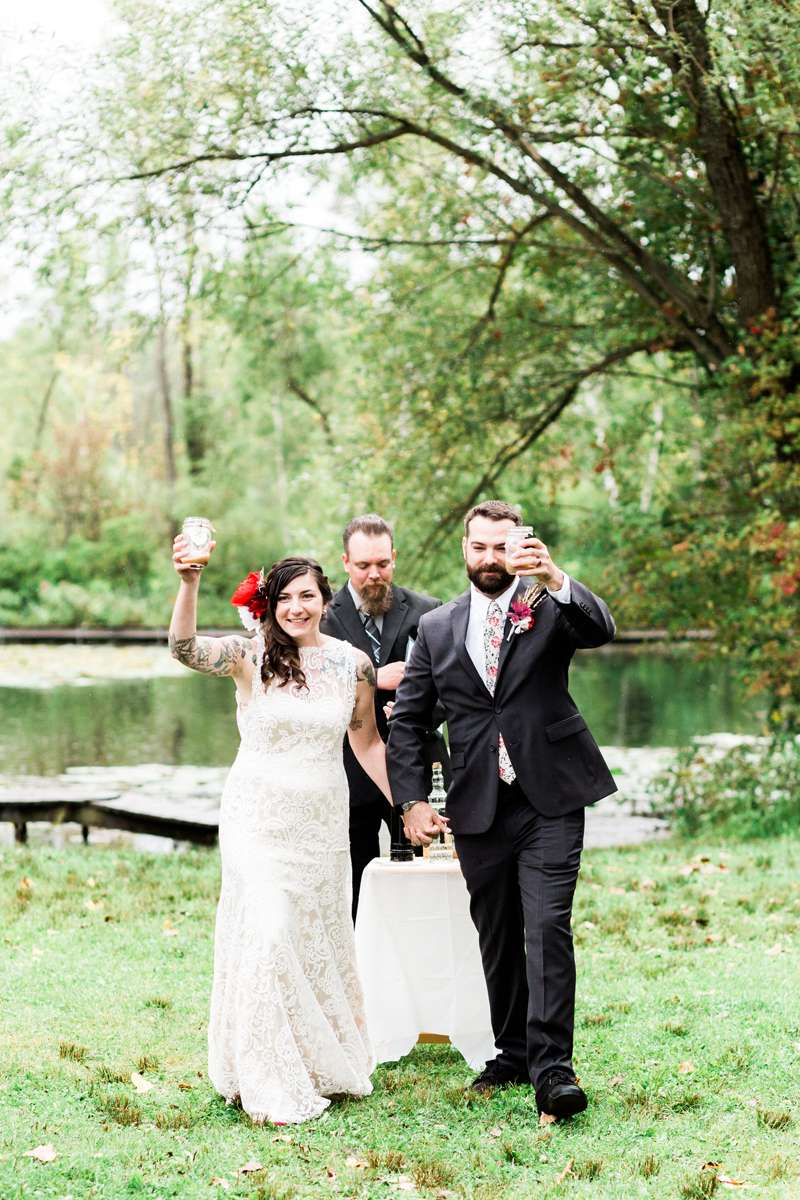 The intimate outdoor ceremony was conducted by a family friend, and included a nod to their favourite film, The Big Lebowski – with a shared White Russian toast to end the ceremony! The ceremony was short but sweet and performed in-between rain showers, just as the couple wanted; it's good luck to have rain on your wedding day, after all.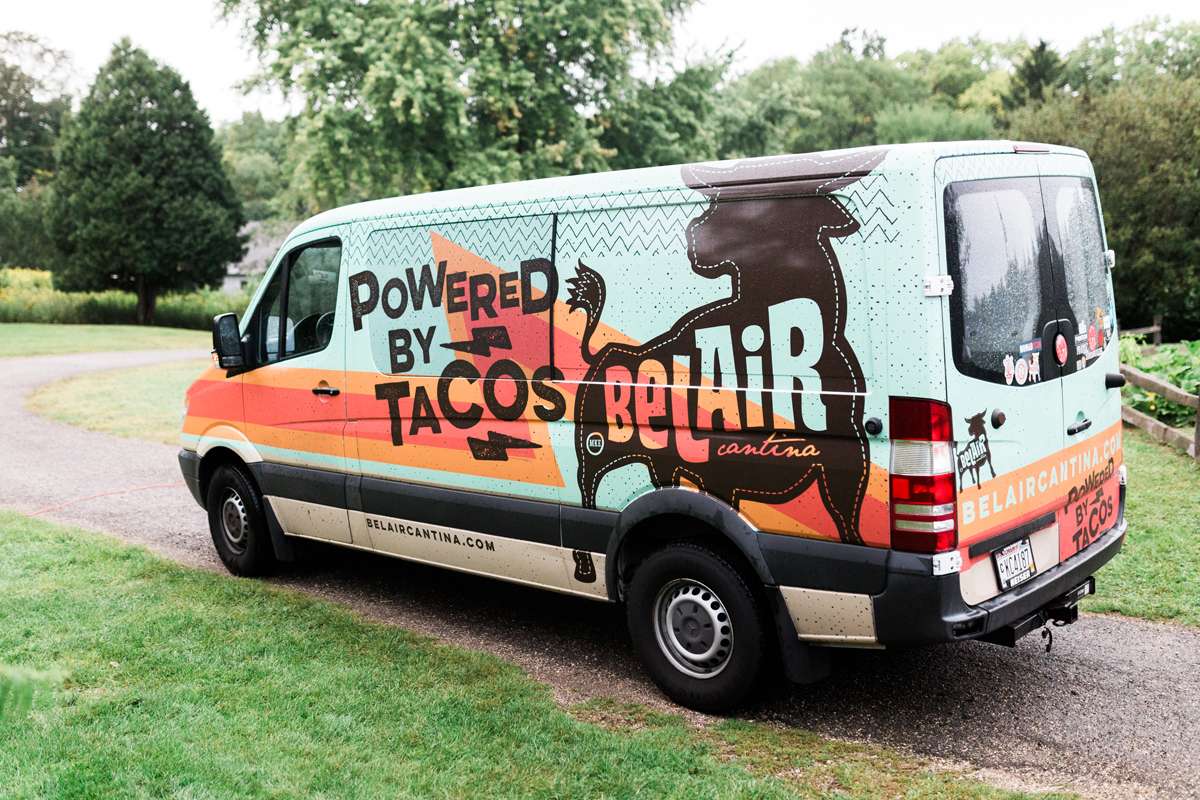 The informal day ended with a barn reception powered by the couples favourite food – tacos, of course! With their portraits and family photos already covered earlier on in the day, they were able to kick back and really make the most of the festivities.