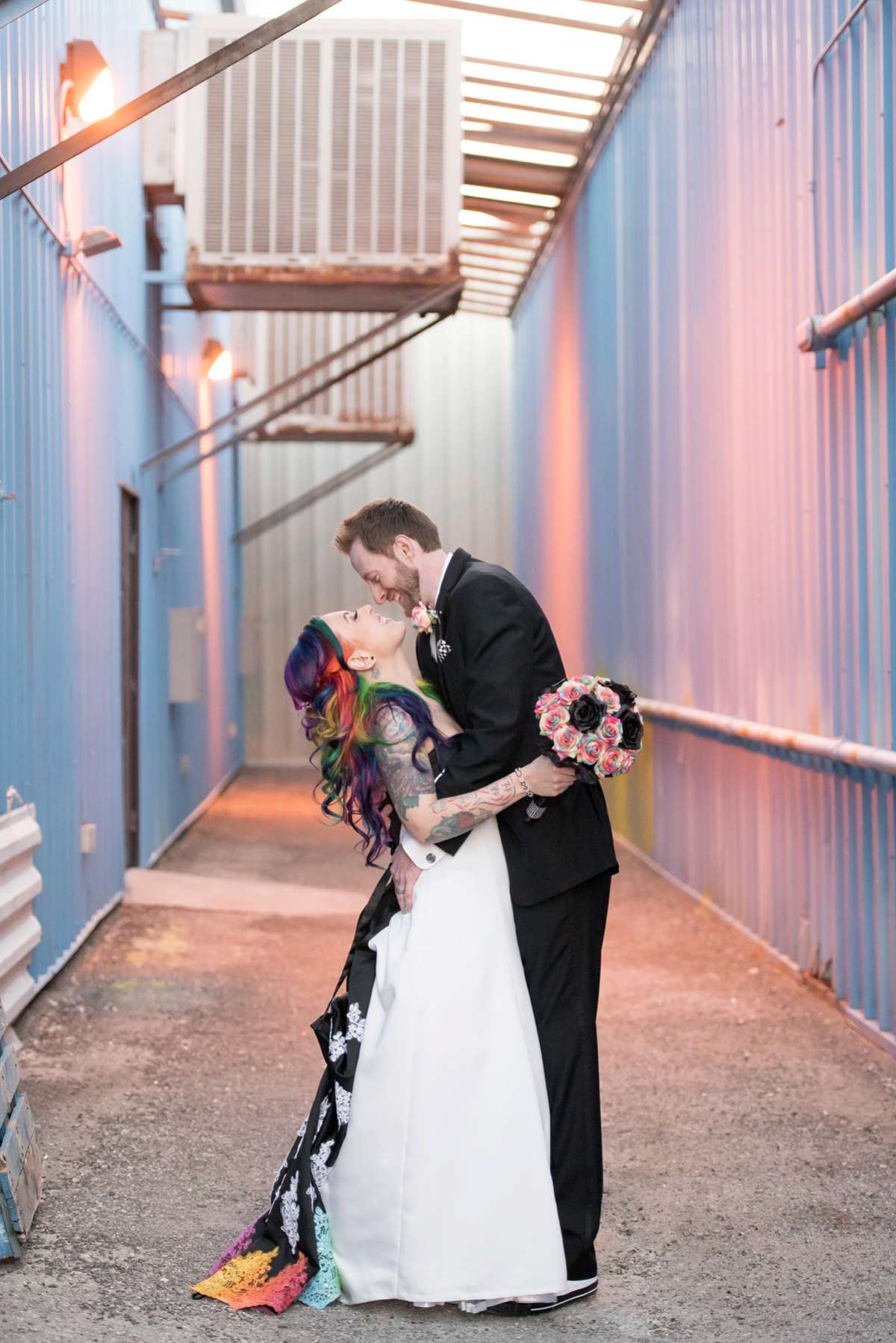 Jessica and Steven married like film stars just a couple of days after Christmas at the impressive Las Vegas Production Studios. They said their "I dos" on a sound stage with cotton candy lighting in the background (crafted by the bride's dad, who has worked at the venue for years)… plus a teddy bear. Yes, you heard me right! The bride explained, "We have a bear joke within the family, so we had a ring bear come down from the rafters instead of a ring bearer. Only six people or so got it, but it was worth it. I'm so glad the entire thing is in the video on our website!"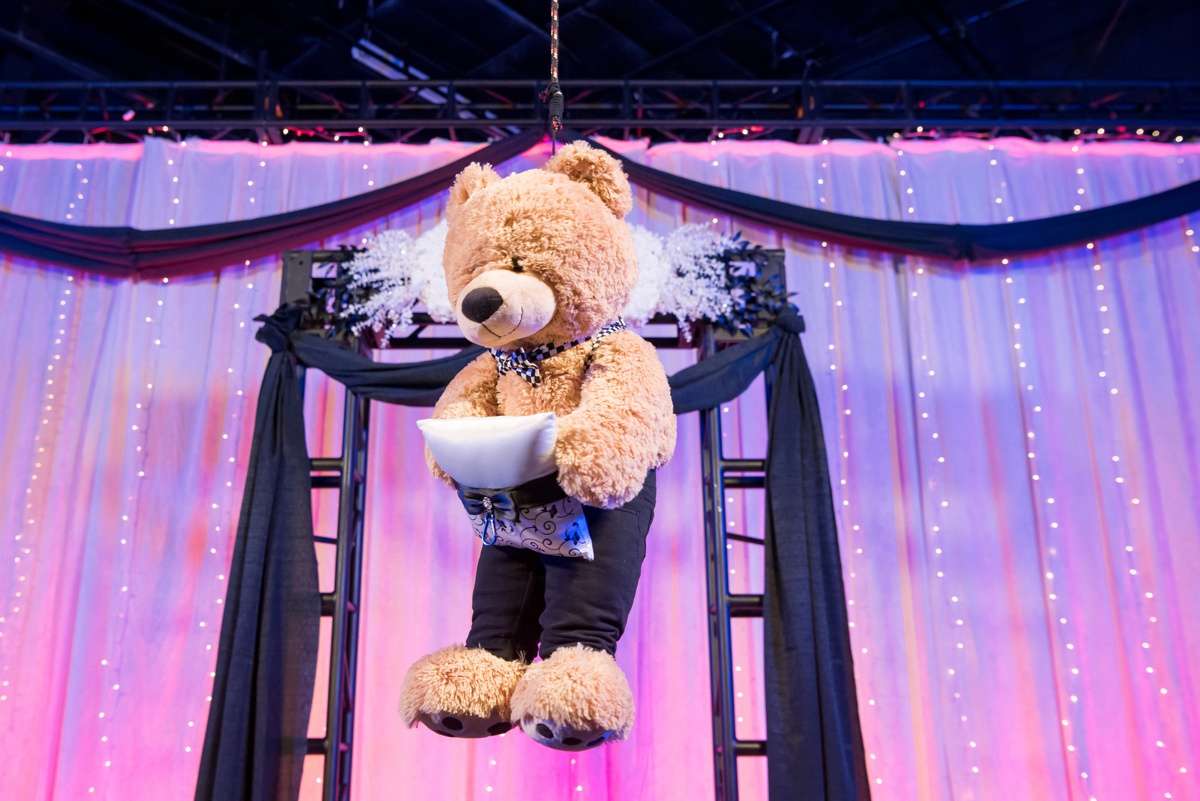 These two have known each other for 20 years, first meeting at church, and had been dating for more than seven years before planning their wedding. Jessica knew she needed something totally true to their style and so chose a black and white theme with pops of rainbow. She said, "Our personal styles became the inspiration for the wedding. We just started to put together things we liked and before we knew it, we made all of this!"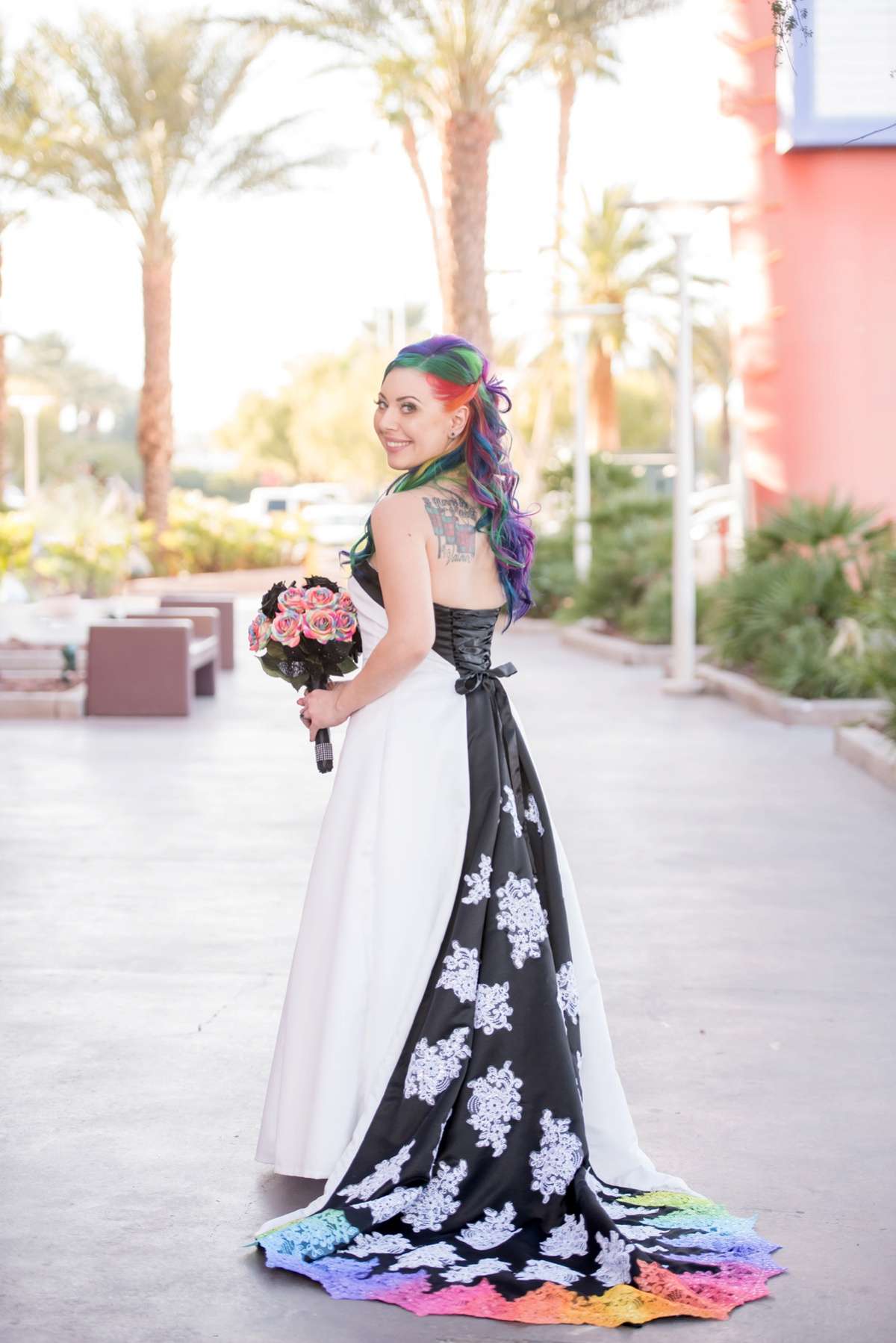 The couple got ready in separate suites at the Palms Hotel, where they did an intimate first look outside. Photographer Kristen added, "We walked the bridal party through the casino's back alley areas for some industrial portraits, and then headed into the venue."
The bride wore a custom made dress by, ahem, Emmy-nominated (!) dress maker Diana Eden, after her original dress was lost in the closing of Alfred Angelo Bridal. She airbrushed the rainbow on the train herself. Her shoes were custom-ordered Converse high-tops with the wedding date on the back. She wore her favourite Phillips screw earrings in black, and a black and white rubberband bracelet her stepdaughter made for the wedding.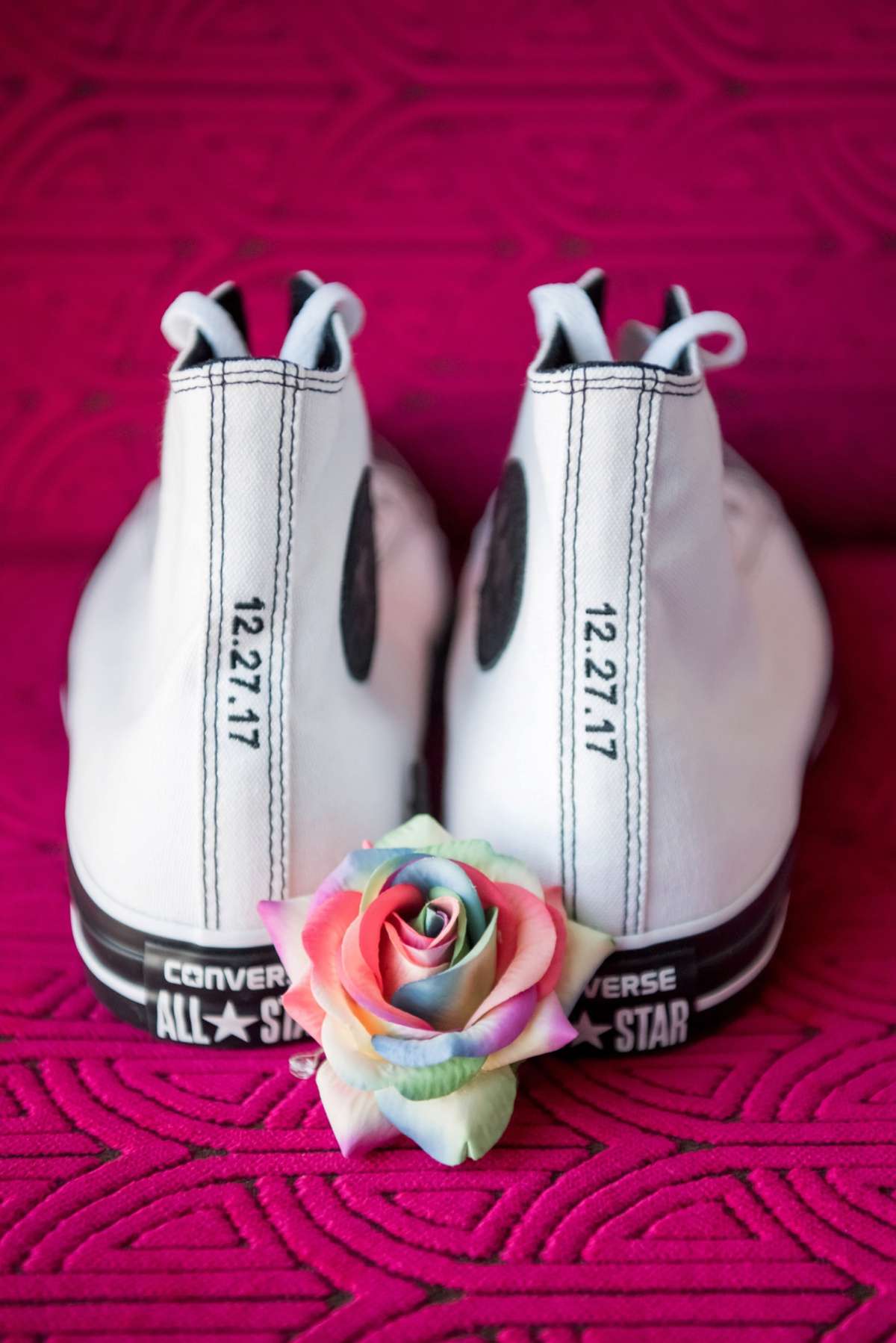 Steven wore a tuxedo rented from Men's Wearhouse, with a black and white bow tie, braces, and cufflinks from various vendors on Amazon, and also custom some Converse with the wedding date on the back to match his bride. The bridesmaid dresses came from David's Bridal, with alterations done again by Diana Eden.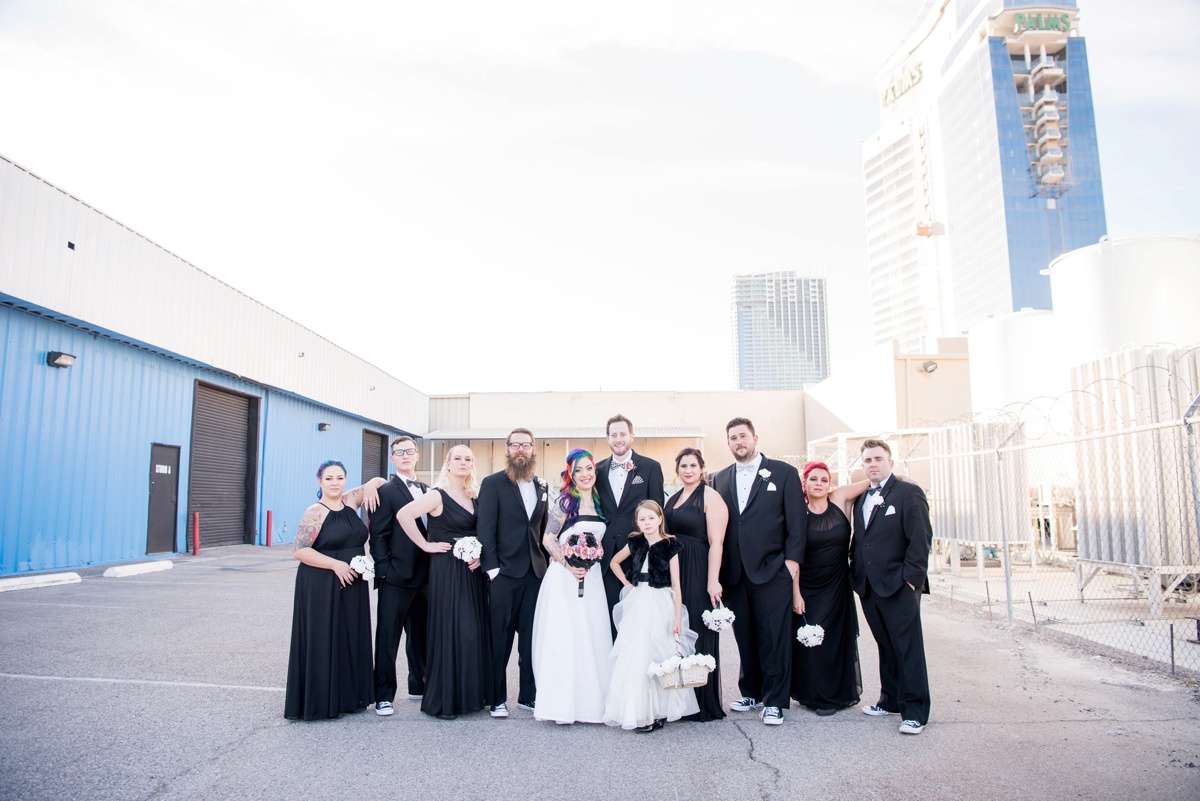 Jessica handled her own (faux) flowers, ordering them from Amazon. "I made all the bouquets and boutonnieres first, then I used what was left to make the centrepieces. I ended up having to order more flowers to make the large piece over the arch of trussing, but it was way worth it because that piece is now hanging on the wall above our bed."
They designed their own save the dates and invites and had them printed through Vistaprint. Jessica said, "I've since bought some basic black and white thank you cards and have used one of our wedding photos to customise them."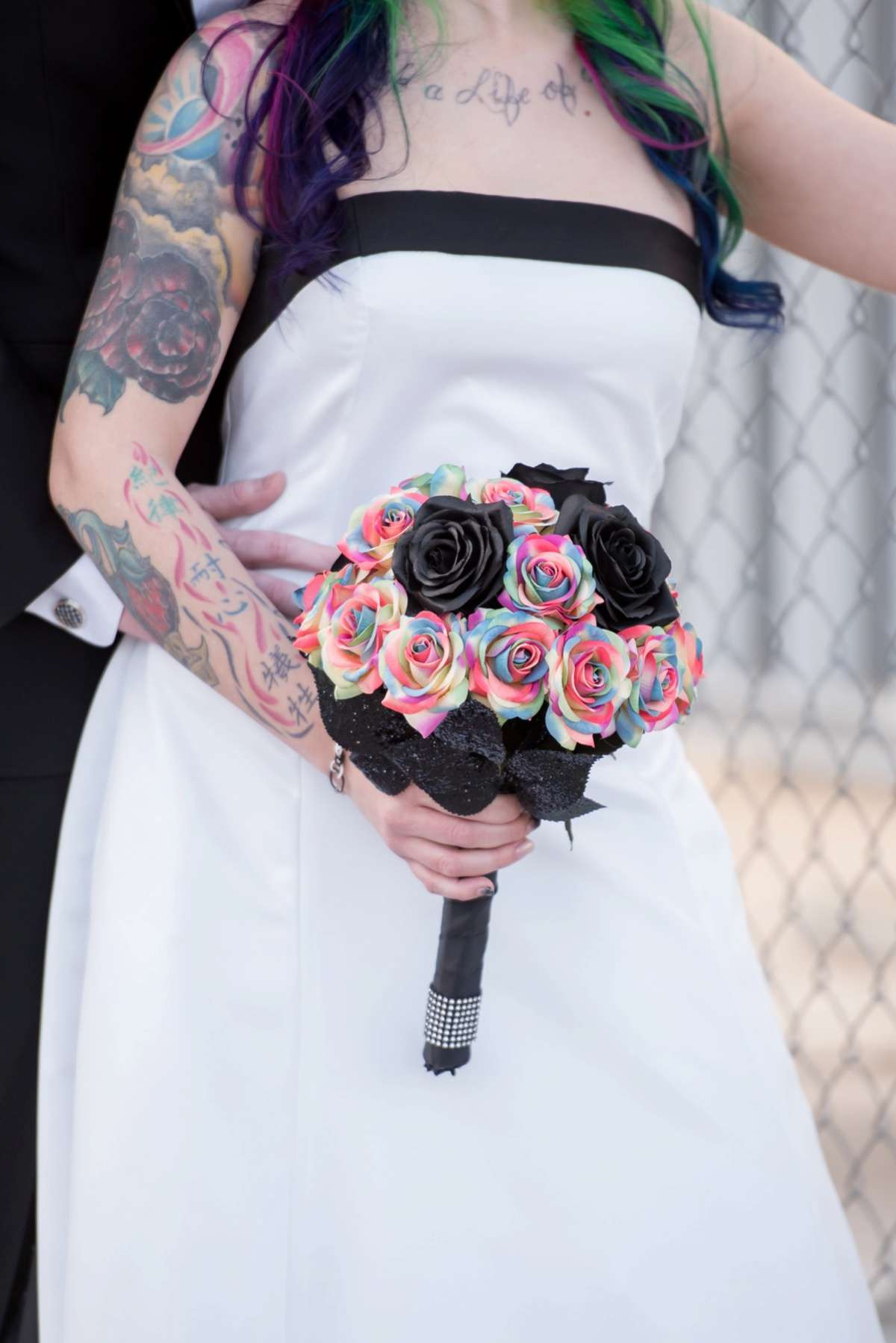 The reception began with a first dance to a punk remix of The Cure's Just Like Heaven, then everyone partied the night away to tunes played by the Add Creative Excitement DJ. The props and décor included a five-year anniversary piñata for the guests to contribute to, a 3D letter guest book, and crafty activities on the interactive table made by Jessica. Street lights had been saved for over 15 years especially to be used as wedding décor. "They were old prop pieces my dad got from a show that closed," said Jessica. "I fell in love with them and wanted to save them for use on my big day."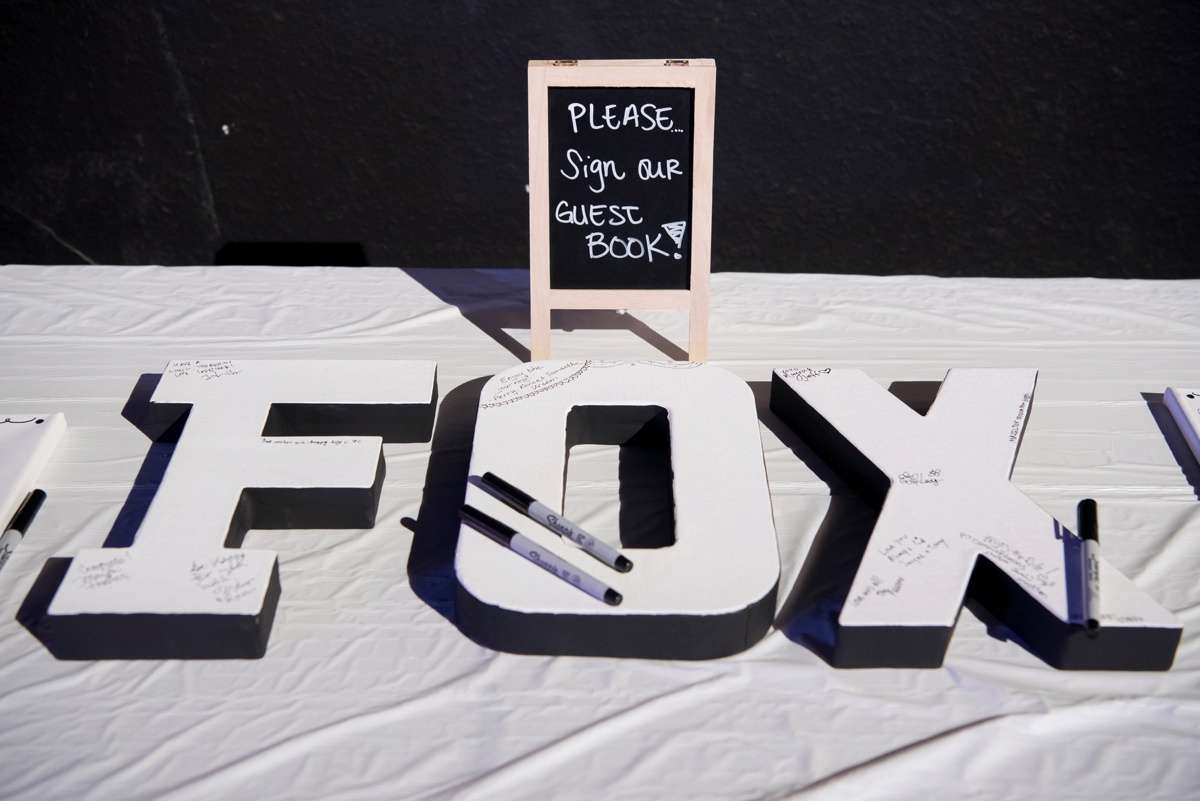 In fact, all the décor was handmade by Jessica and her friends. "The entire wedding was DIY!! Pinterest is like a black hole for me. I refrained from downloading the app for years, knowing I would be allowed into the black hole when it came time to do wedding crafts. The wait was worth it, and I had a blast spending about a year and a half crafting!" She even made the photo booth, which was run on the night by a friend.
"We stepped outside the normal catering world and had a taco bar and margarita machines from LVTaco Catering and beer kegs from Keg World." The couple had homebaked cupcakes by Jessica's aunts, Ricki and Jean. "They also made us a cupcake shaped cake for us to eat half on the wedding day and save half for our one year anniversary. We also had a 'Pimp Your Cupcake' candy bar."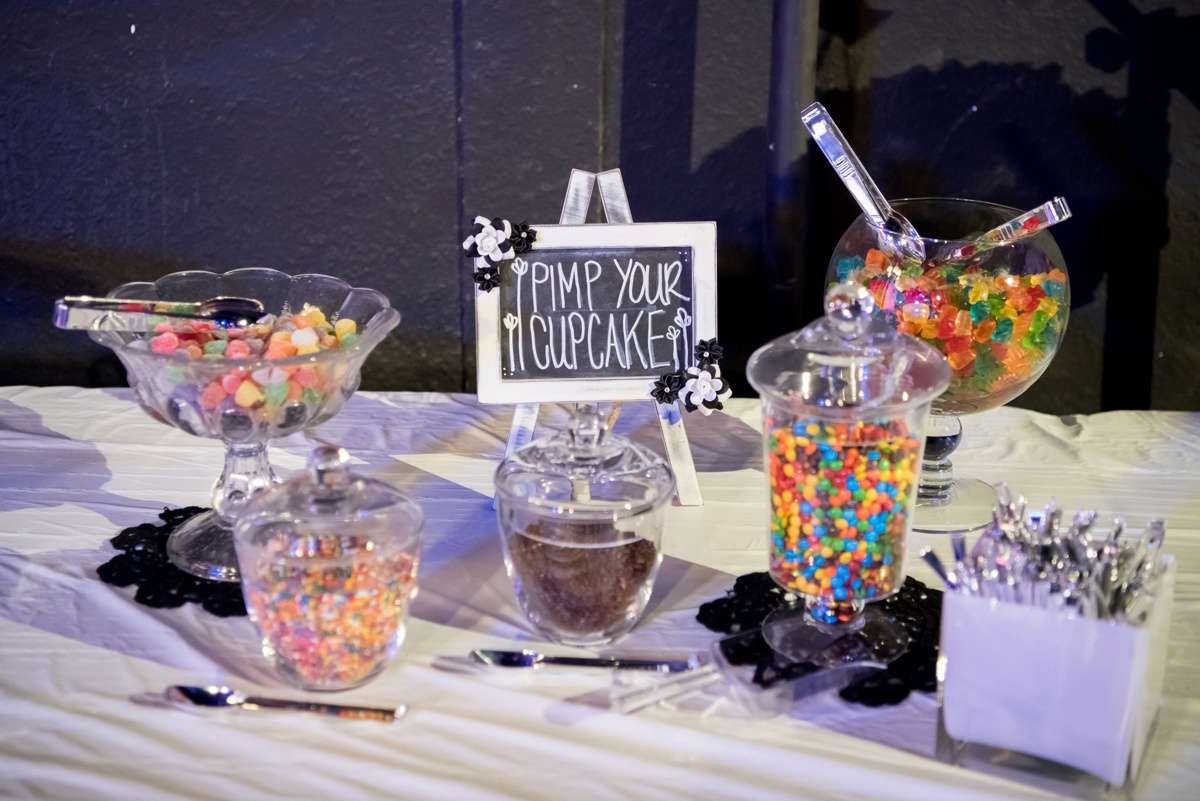 "We had a tortilla vote on my husband," said Jessica, when asked if there were any amusing stories. "Long story short, many years ago, the generation before me went to dinner at a Mexican restaurant around the time someone was about to get married. They decided to take a vote on whether that person should be allowed into the family or not. The only thing they had at the table was a basket of tortillas. So everyone tore off a piece and wrote their vote on it. The tortilla vote has carried on into my generation. Now every time someone is close to marrying, someone brings a few bags of tortillas to the family gathering closest to the wedding date for a vote."
They ended the night having portraits taken with Jessica wearing her grandmother's fur coat with the famous Vegas lights twinkling in the background.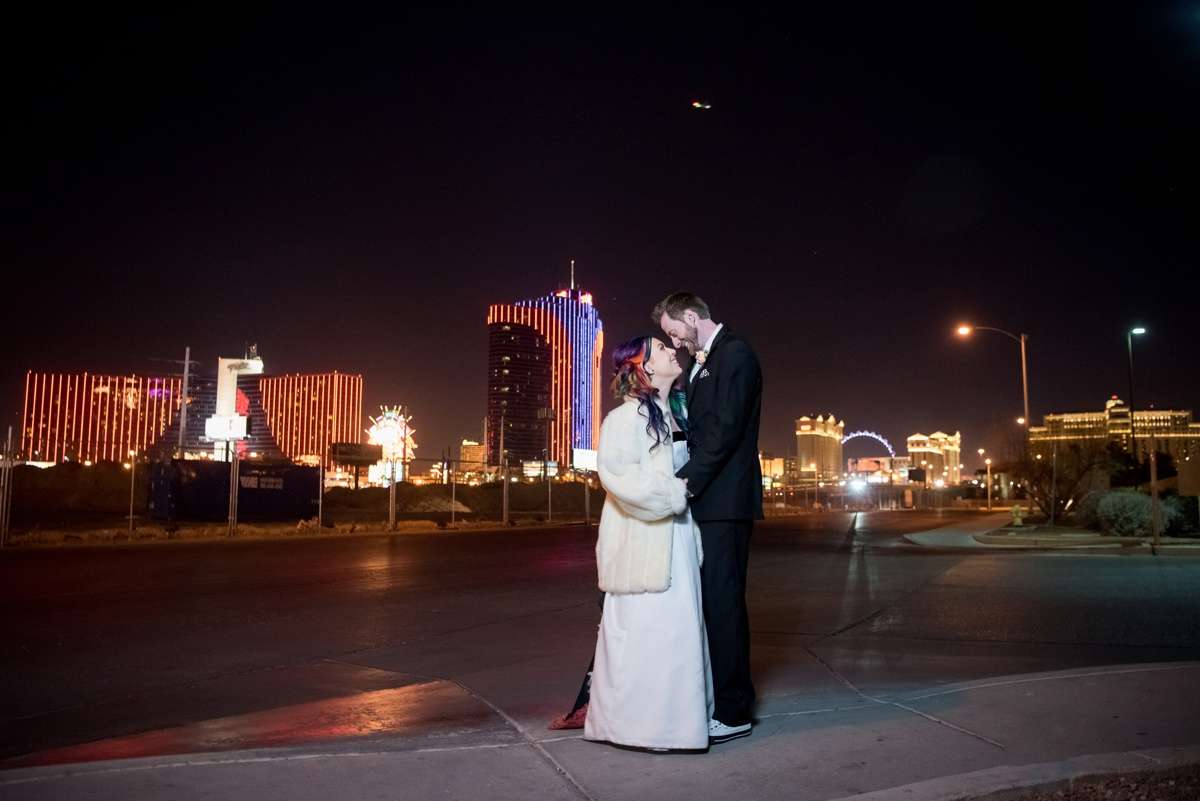 "Our biggest expense was the location. We originally had around 360 invited guests, and there wasn't a traditional wedding venue able to hold so many. With a wedding over winter break that a lot of family would need to travel into Vegas for, I didn't think it was a good idea to not allow kids just to ensure we could fit into a small venue. We ended up with about 200 who'd RSVPed to be there and about 150-160 showed up. It was a good thing I loved the location, otherwise I would have been very upset that I blew my budget on making sure I could include all of the family and friends."
Jessica said she wished she'd heeded others' advice regarding the RSVPs. "Everyone tells you to expect a certain number or percentage of people from your guest list to not show up. I was astounded by the number of people who did not RSVP, or those who said they would be there and then forgot or didn't show up. I definitely would have saved some money if I'd listened to those around me who had done weddings before who told me that this would happen."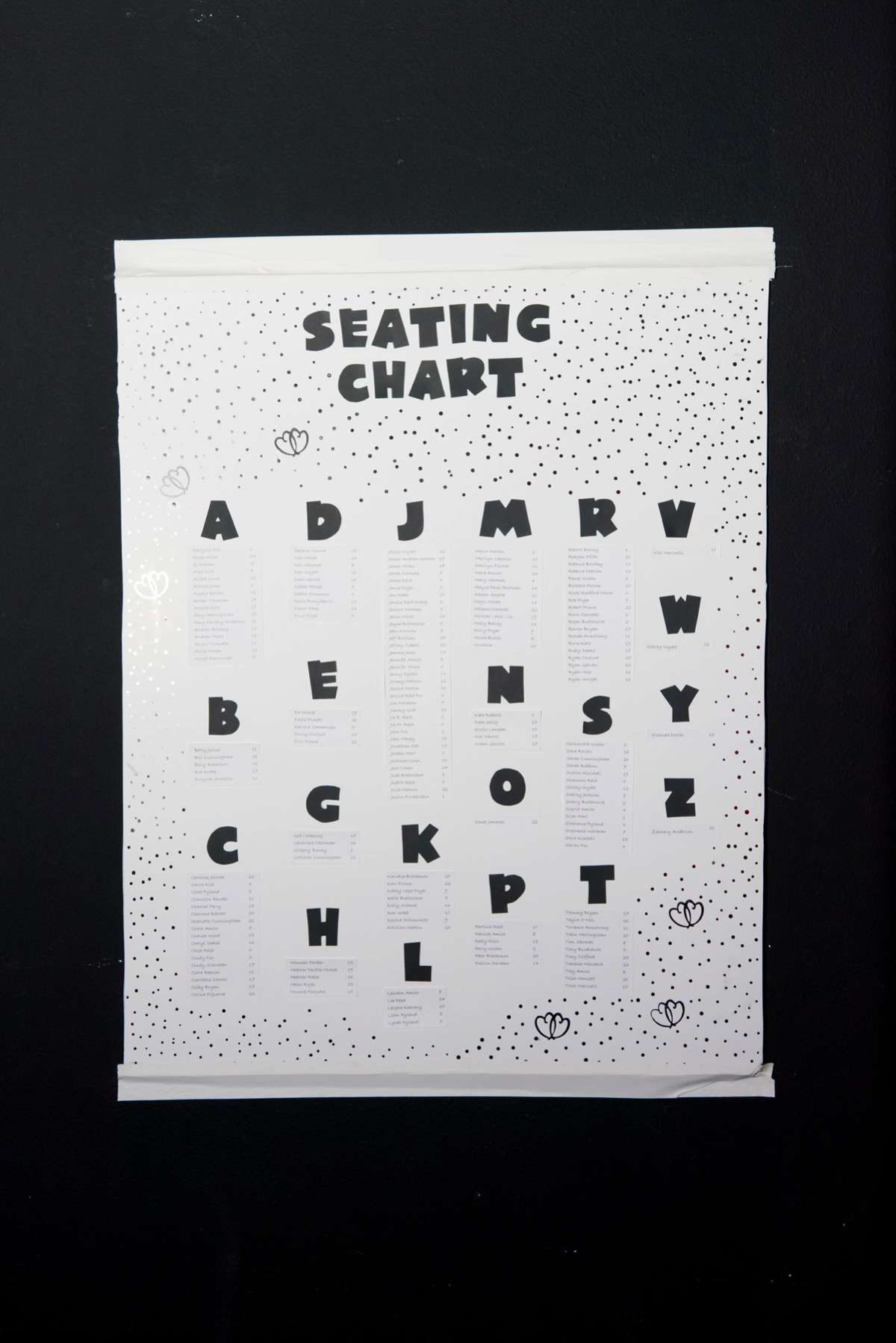 There were a few things that really saved them money back, though. Jessica said, "My family and friends circle is heavily in the production community in southern Nevada. Many people donated their time and skill to make some part of the wedding happen. A lot of the gear was provided by my dad (who was the gaffer) and his friends at JR Lighting, In-House Production, and CPR Tent & Events. Also making all of the floral pieces myself really saved a ton of money! The passenger van that made trips back and forth from the hotel to the venue was a gift from Silver State Production Services. We really thank our friends and family that helped make this all happen! So many people lent a hand, and I could not be more grateful for the support!"
The best thing about planning their wedding, said Jessica, was that "We had a studio that was basically a matte black room that we got to design and fill ourselves. The whole thing felt very custom. And the worst thing was that the studio was an empty matte black room! It meant we HAD TO source all the little details to make it look good and keep people comfortable." There wasn't anything they would have done differently, though, they said.
"Everyone seemed to have a great time and that was my main goal," said Jessica. "I've been to a few weddings that have been a little miserable for the guests. I wanted to make sure everyone was taken care of, was warm and comfortable, and had good food and drinks. This was one of the best things about it for me; I felt that people wanted to be there and they weren't just trying to leave to continue on with their evening. We achieved the party vibe we were going for!"
What was Jessica's favourite part of the wedding? "Besides marrying the love of my life after 20 years, and having most of the important people in my life there, my favourite part was getting to be number one for the day. My second favourite was watching a plan I spent a year and half making come to life."
Jessica's advice is to "Try to get a working guest count before you get too committed to one idea. There are so many directions to go with a wedding, but a lot depends on the size."