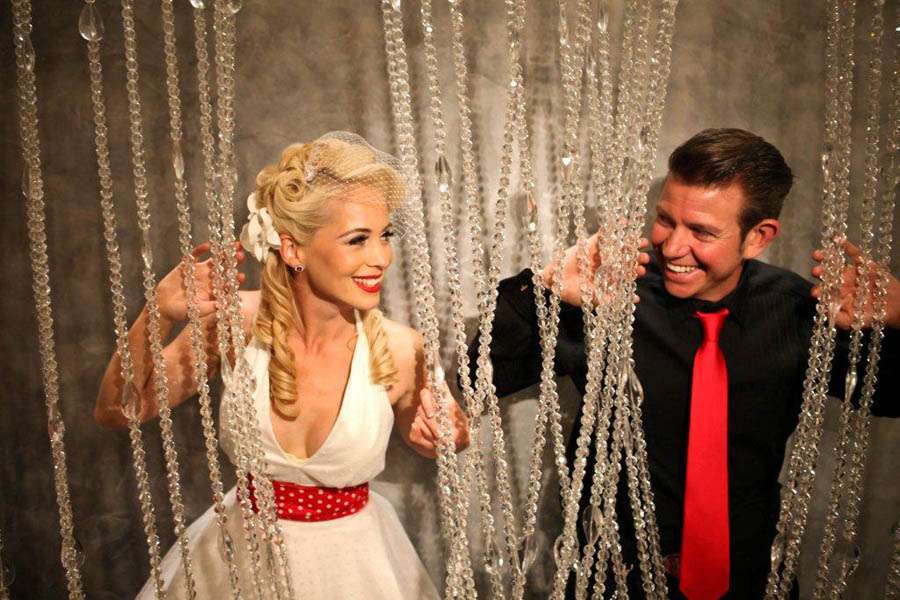 Australian John & Marnie spent six weeks travelling around the US for their honeymoon after their wedding in Las Vegas. They were in town for the Viva Las Vegas Rockabilly Festival and they loved the idea of getting married there. The ceremony was held at Little Church of the West, a quaint little 'mini church' looking chapel, right at the south end of the strip and the after party was at Level 107 Cocktail lounge in the Stratosphere hotel – right at the north end!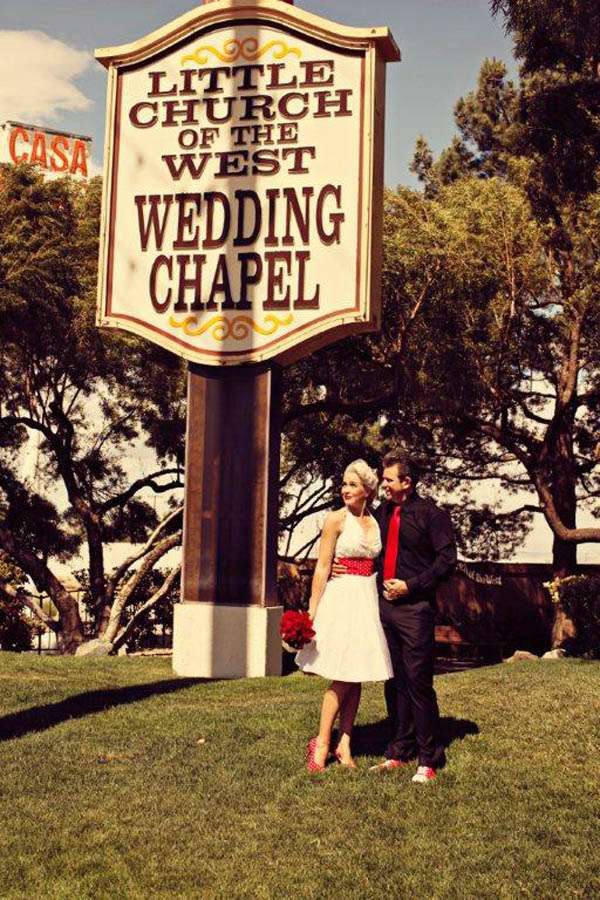 "After a year of travelling Australia following the rockabilly dance and culture scene, John proposed to me with a beautiful sapphire and diamond engagement ring", Marnie told me. "It was my Grandma's favourite stone and we decided to marry 70 years and 1 day after my Grandma and Grandpa did! Where possible, we incorporated elements that honoured our families (both alive and departed) into our wedding."
"I used my creativity to create bespoke elements infusing our vintage rockabilly style into our wedding. DIY was a great way of infusing our style into our event, which, when you're like us and love all things non mainstream, can be very difficult to source." The bride even handmade her own dress and headpiece.
The couple stayed at the glamorous Cosmopolitan Hotel which is where they had their portraits after the ceremony. "Everything worked like clockwork", Marnie continued. "Which was a massive achievement considering every single component of our US wedding was arranged through countless hours researching on Google and countless emails to our fabulous suppliers. I am the co-owner of Borrowed Blue, a bespoke wedding and events company catering to the needs of children, so my focus was on all things handmade and personalised."
Marnie + John \\ Vintage Teaser from Lighten Films – 702.266.6226 on Vimeo.
Gorgeous! Thank you to John & Marnie for sharing their fabulous wedding with us.
Supporting Cast:
Photography Credit: Vitamin C Photo
Video Credit: Lighten Films 
Ceremony Venue: Little Church of the West
Reception Venue: Level 107 Cocktail lounge
Bride's Dress: DIY
Bride's Shoes: Betts
Hair and Makeup: Your Beauty Call