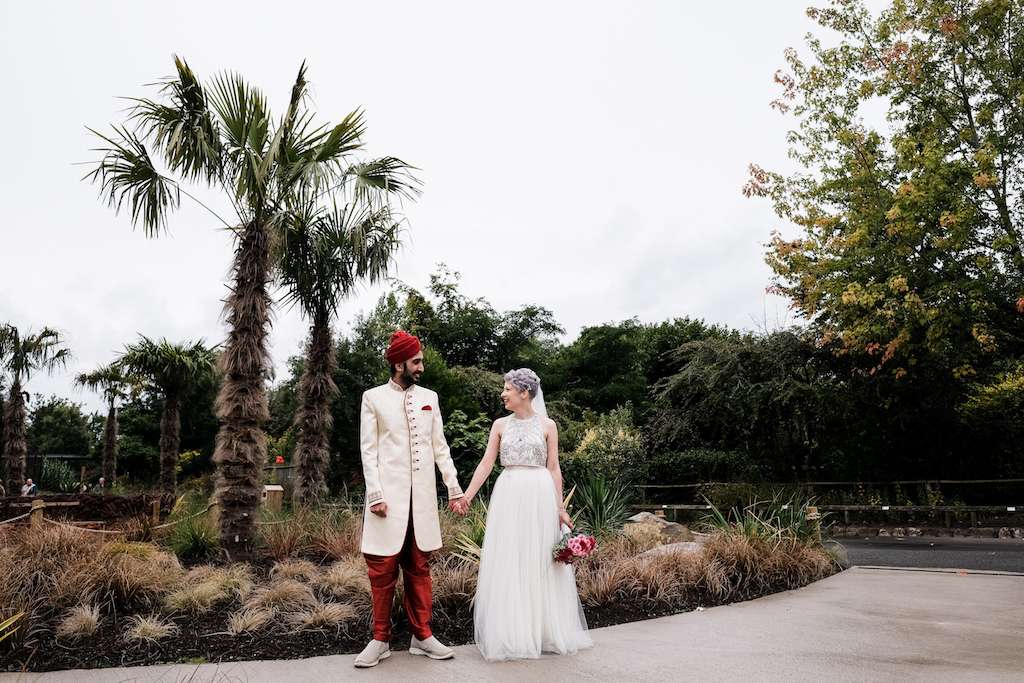 Charlotte and Gian's wedding was held in Chester Zoo, and it just keeps getting better from there. Their wedding was a perfect blend of British and Indian traditions – we're talking henna and Battenberg bouquets here, people – for an animal-themed, colourful and creative day.
"We chose to get married at Chester Zoo as it was a place we've been too so many times that means a great deal to us," Charlotte explains. We originally looked at venues where we live but there were so expensive, but a Google of 'cool wedding venues' lead us here and it was perfect! With it being a charity, all the money went back into the zoo, the animals and the conservation projects."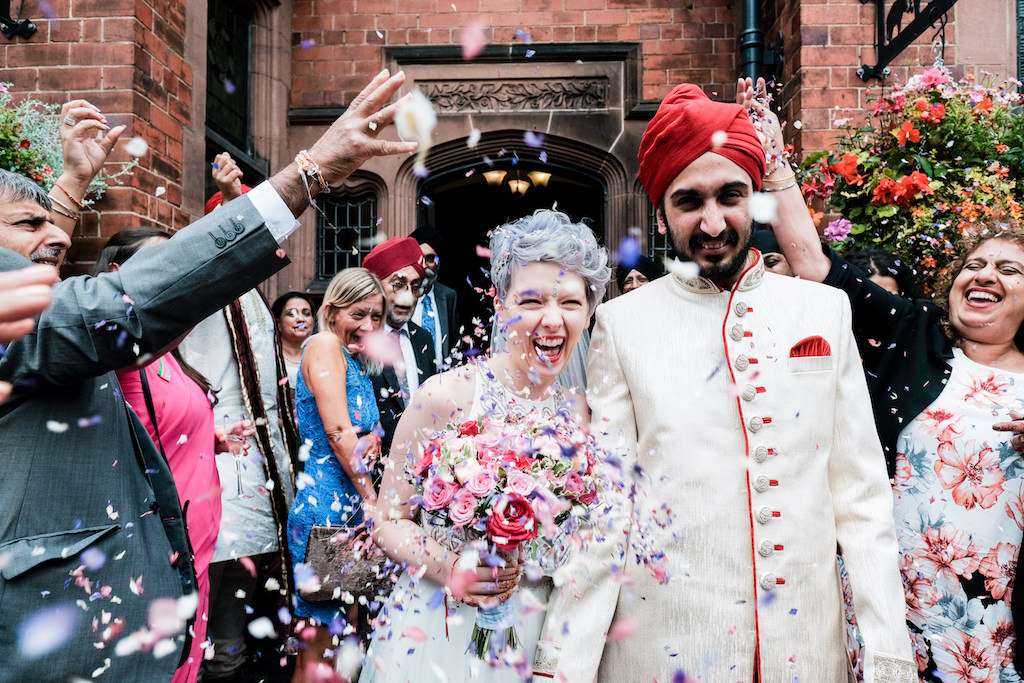 'We had exclusive use of Oakfield House (where the people who founded the zoo lived) all day and all of our guests got to wander around the zoo when there was any lulls in the day. We also had a tour of the zoo after closing which we kept as a surprise for all the guests, including a talk in the elephant enclosure, which was so lovely as we got to see the baby elephants settling down for the night."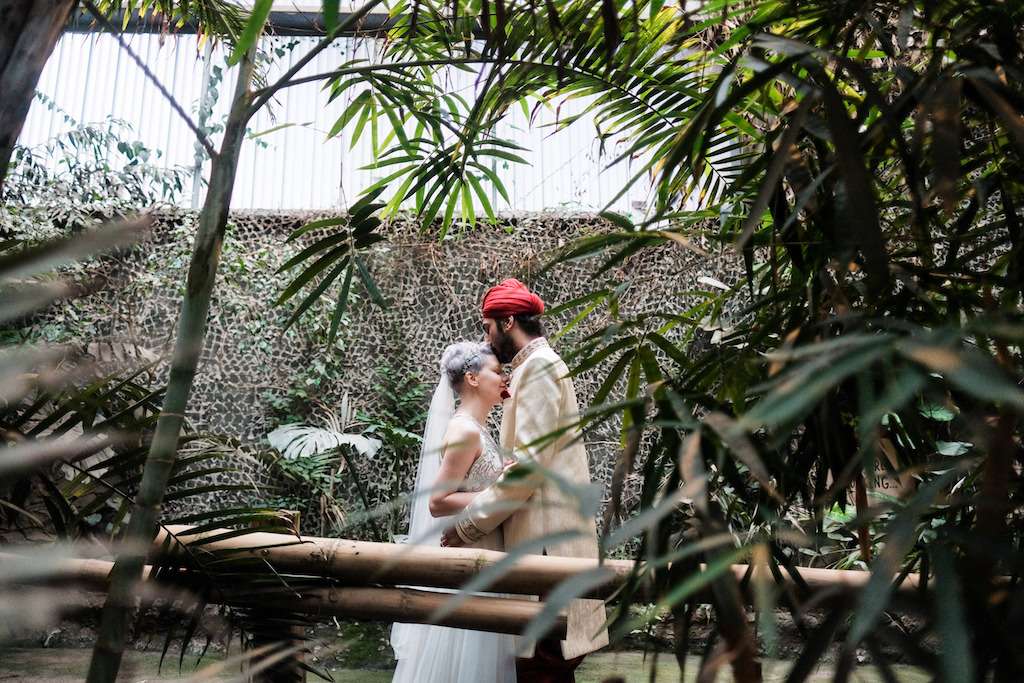 This spearheaded an animal theme – it was hard not to! For decor, they used cute little wooden animals and cardboard animals spray-painted gold for the tables, and their favours were Cadbury's Animal Biscuits! Charlotte walked down the aisle to a slow version of the Wannadies' You and Me, which she calls the 'pets at home version that slays her every time' (Google it!) and their first dance was to the Bare Necessities from The Jungle Book!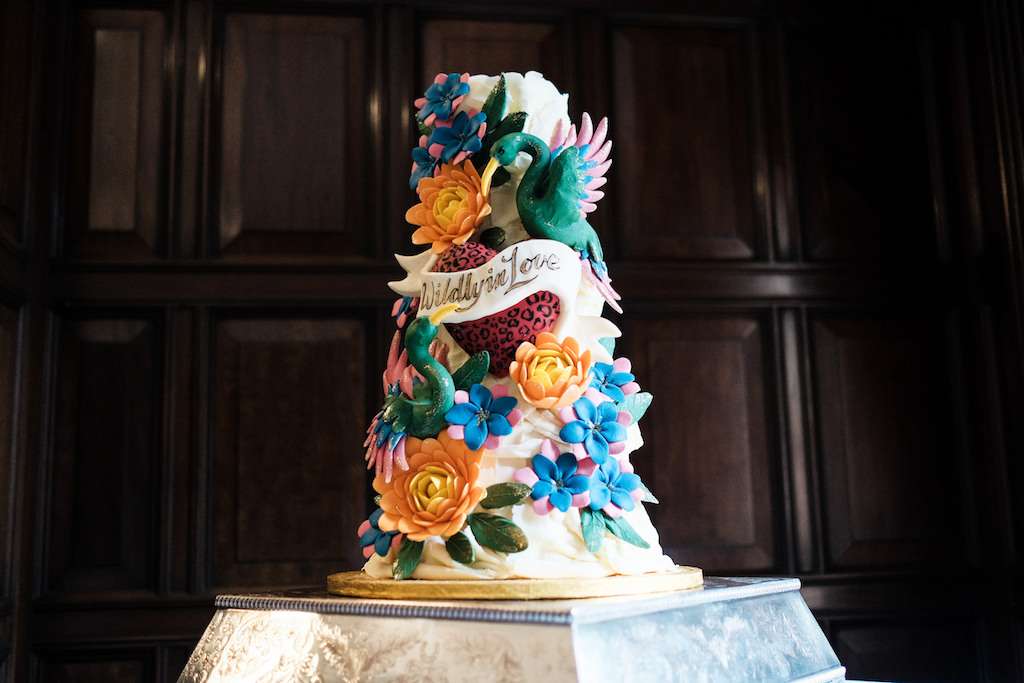 Their Prim and Glad Bespoke Wedding Stationery was jungle themed, covered in foliage and animals, and their Choccywoccydoodah cake was an insanely talented number covered in bright flowers and birds with a fondant banner that said 'Wildly in Love'.
"Gian proposed to me in the Choccywoccydoodah café in London with a slice of cake with 'Will you marry me?' written in sauce, so it seemed only right to get our cake from there," Charlotte says. "We chose the flavours of the cake – lemon with a chocolate filling, ginger with white chocolate and chocolate Guinness, but asked not to be told anything about the design after our consultation because we wanted to be surprised on the day. We had a First Look at the cake, and it was so worth it!"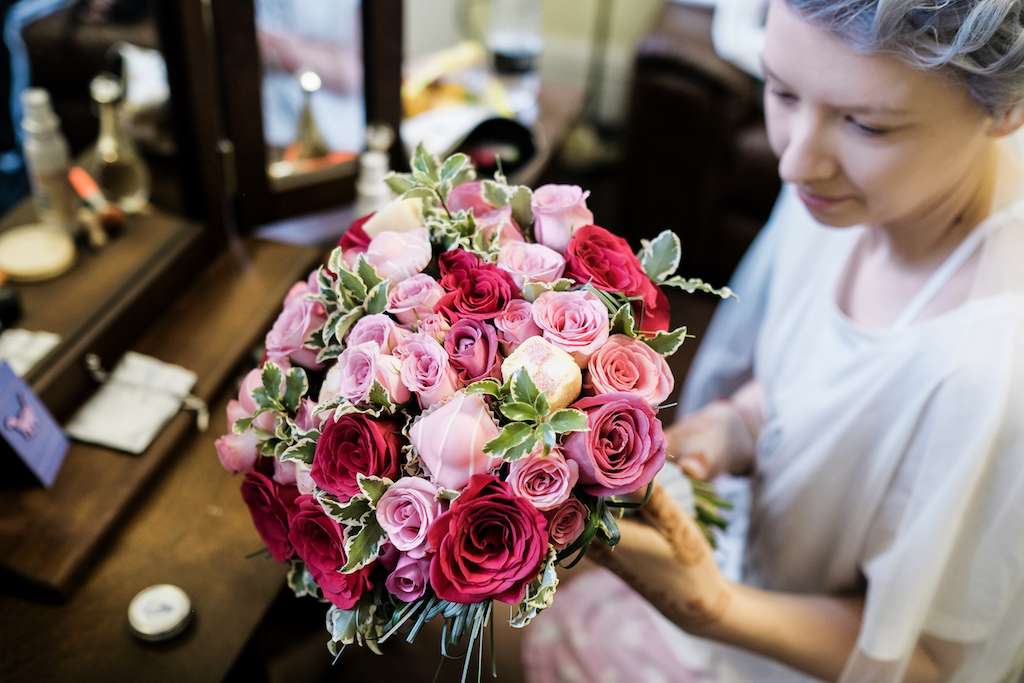 And speaking of cake, you may have noticed something special in Charlotte's bouquet from Dean Sharpe's Floral Studio…"I'd seen a photo of a bouquet of roses with Mr Kipling cakes in and I just knew immediately that I needed one for the wedding! My bouquet had pink roses with French fancies and Battenburg slices in it." The bridesmaids had pom pom bouquets which Charlotte made herself from wool.
As well as being animal-themed, Charlotte and Gian's wedding was a mash up of Indian and English cultures. "We didn't go down the 'traditional' route at all and only kept the traditions that meant a lot to both of us…and it worked! After the wedding, people were saying how it was so different and fun – especially Gian's side, as the majority of weddings they attend are in a temple, so this was a very different experience for them. Guest numbers were also controversial, as Indian weddings usually have hundreds and hundreds of guests, but we were restricted to 60 guests by the venue – a more intimate amount of guests helped make our day more special, we think."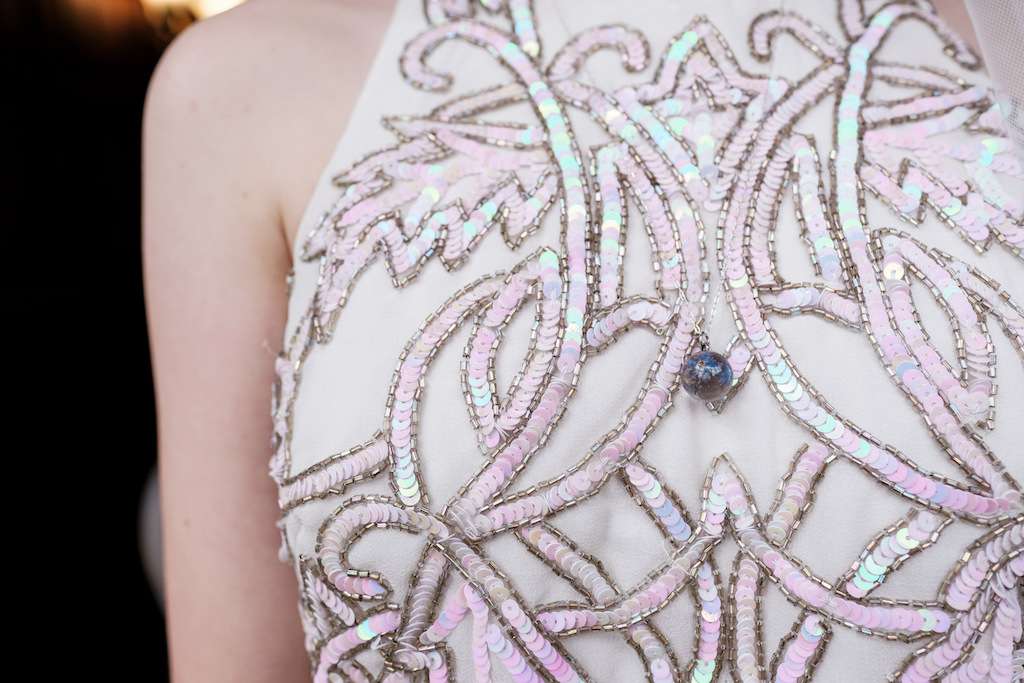 Charlotte didn't buy a 'traditional' wedding dress, but she still looks absolutely stunning. "It was £80 from ASOS!" she exclaimed. "I got some extra tulle added to the skirt to floof it out a bit. I wore Irregular Choice shoes for the ceremony, changed into sparkly gold Converse for our tour around the zoo and then wore some sparkly red slippers to dance in. I wore it with a starry Crown and Glory headband. My wedding gift to Gian was a silver bangle from Infinity Keepsakes with the coordinates of the venue engraved on it, and I had a matching one too. I also wore a necklace of my Mum's as my something blue, which is really special to me as it was the last thing my Dad gave her before he passed away four years ago." Gian wore a traditional ceremonial Indian outfit, and Superman socks (because why the hell not?!)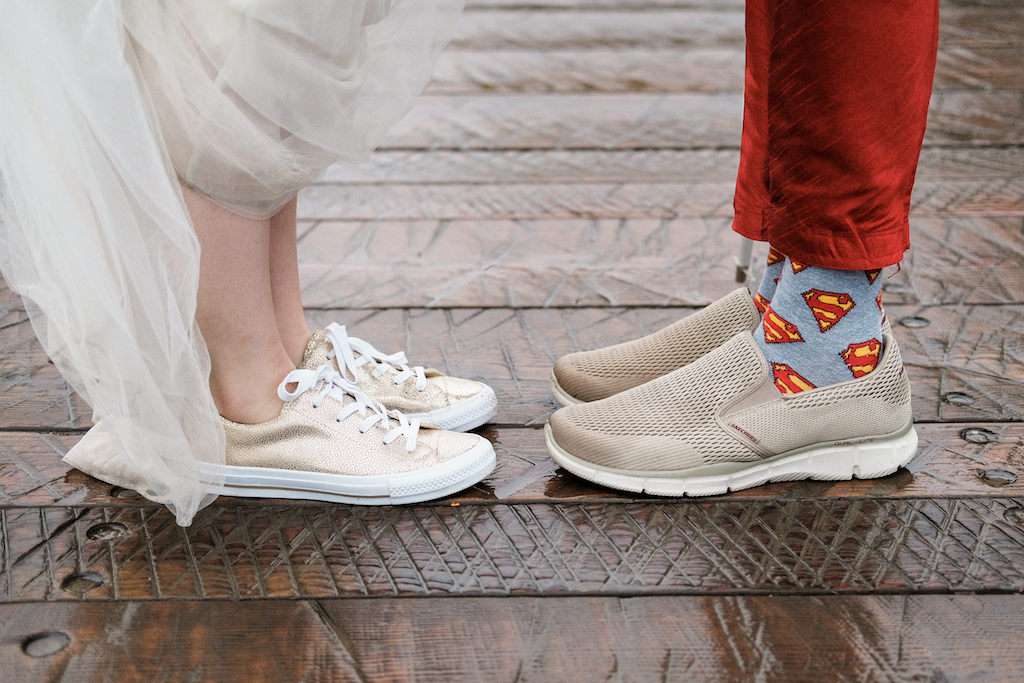 I love how in love with the process and each other Charlotte and Gian are – you can just tell how excited they are to finally be together and married. I also love how personal they made their wedding and how many heartwarming decisions they made – their band was a busker who they booked on the spot after hearing her play on the street in their town!