Alright, we need to talk about one of the greatest destination weddings I've probably ever seen: Cara and Tod's insanely awesome, super colourful, don't-give-a-fuck Ibiza wedding! The groom wore a silver sequin jacket and his groomsmen were in NEON PINK SHORT SUITS. I kid you not, you will never have seen a wedding quite like this one before. Oh and there were real life mermaids at their reception – NBD.
They split the wedding over two days, meaning they could have a whole weekend of fun in the sun with all their guests. "The legal ceremony was a traditional beach ceremony followed by a meal at El Chiringuito", Cara explained, "but the after party/ reception was anything but traditional. The dress code to our guests was 'Glitter, sequins, tropical, festival vibes' – you can see by the photos what a fabulous effort everyone made!"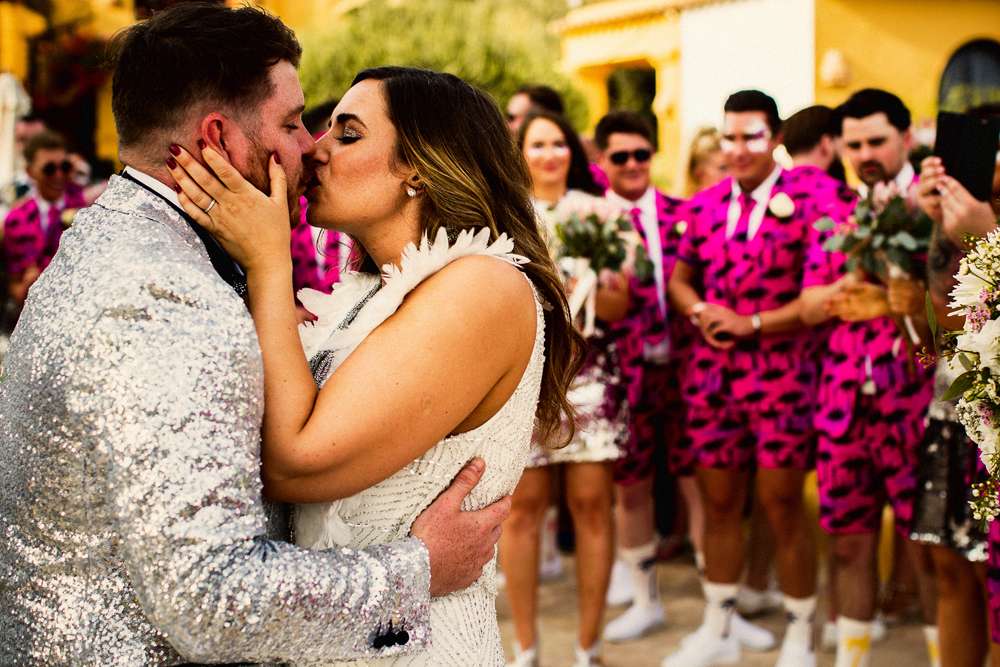 "The wedding was themed around music. We made personalised records from the 80s for the invitations, had cassette tapes for the place names and the reception took place at a Rock n Roll location – Pikes, which was the location of Wham's Club Tropicana music video and home to many of Freddie Mercury's parties! I guess not many couples end up singing Karaoke in Freddie Mercury's bathtub on their wedding night?"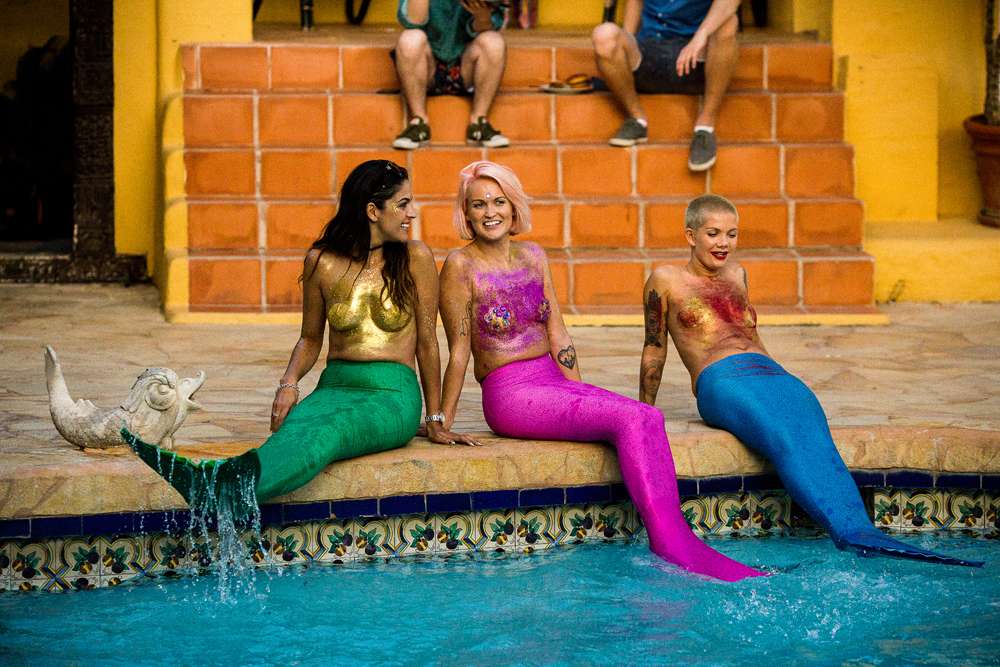 The bride wore a dress by Olivia Van Der Horst and a feather cape by Pica Pica Featheres. The groom's sequin blazer came from ASOS as did the bridesmaid dresses. The hot pink groomsmen suits were from Oppsosuits.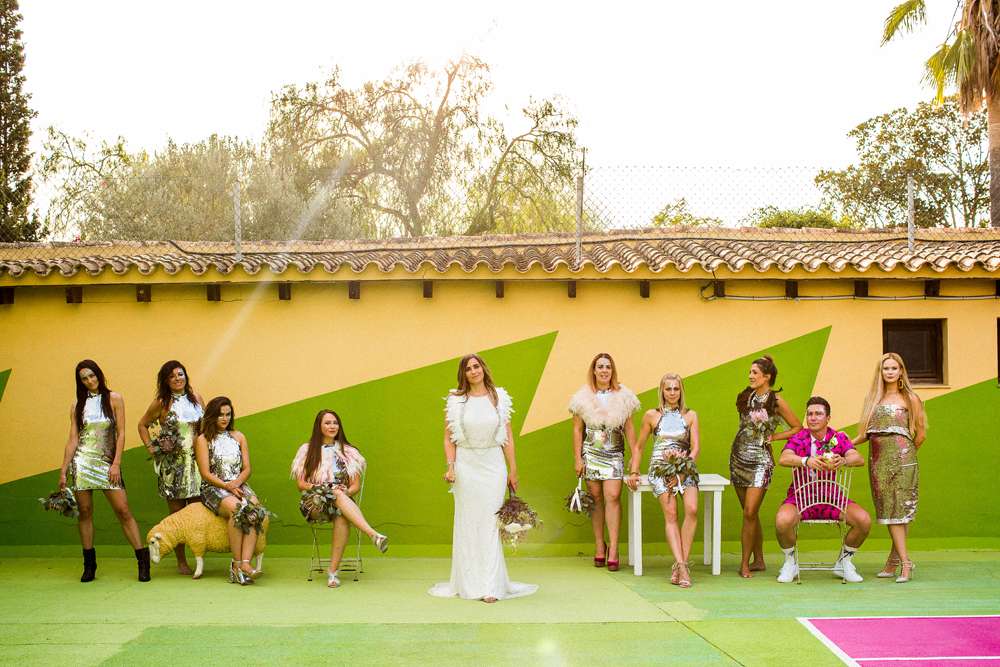 Being a music themed wedding, the highlight of the weekend for the couple was definitely the entertainment! "Tod surprised me by performing with the band which were made up of our friends and called the Lastminute.coms", Cara explained. "Rehearsals were done in private and he was lead singer with no previous performing experience! He did such an amazing job and performed some of my favourite tunes such as David Bowie's Let's Dance and Depeche Mode Enjoy the Silence. Our guests were totally unsuspecting and it was a great surprise."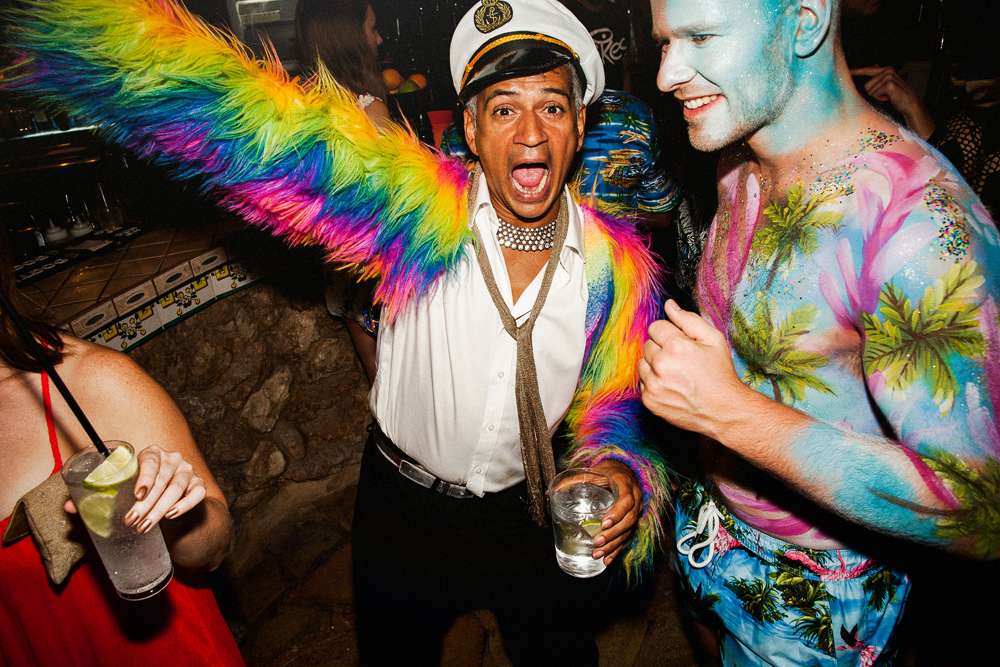 The hardest thing about the wedding planning was organising it from a different country. "It did get quite stressful at times. English wasn't the first language of some of our suppliers, so a few extra email exchanges were needed. Fortunately the wedding planners from both venues were extremely helpful (shout out to Lucy at Mambo for taking us cheese wheel shopping for our cake when we arrived on the island) and in the end there was absolutely no need to stress as everything was perfect."