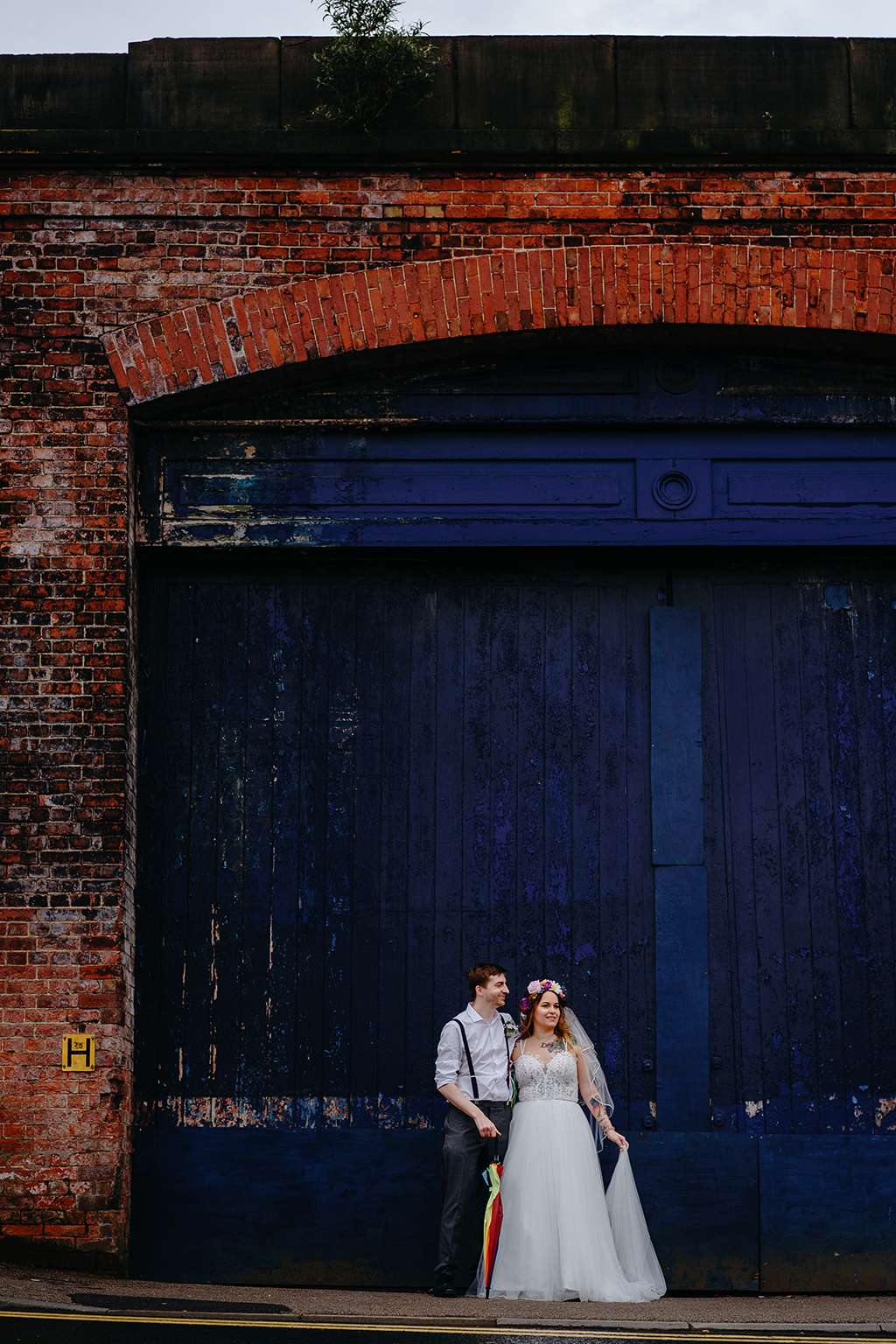 Ali and Robin built their entire June wedding day around their loves and interests, and more than anything – they wanted to bring people together to have fun. They day was heavily influenced by film and music with popcorn on seats for guests and a playlist of their favourite film scores before the ceremony. Their tables were named after locations in their favourite films, which they then included in a question in the pub quiz they hosted before dinner.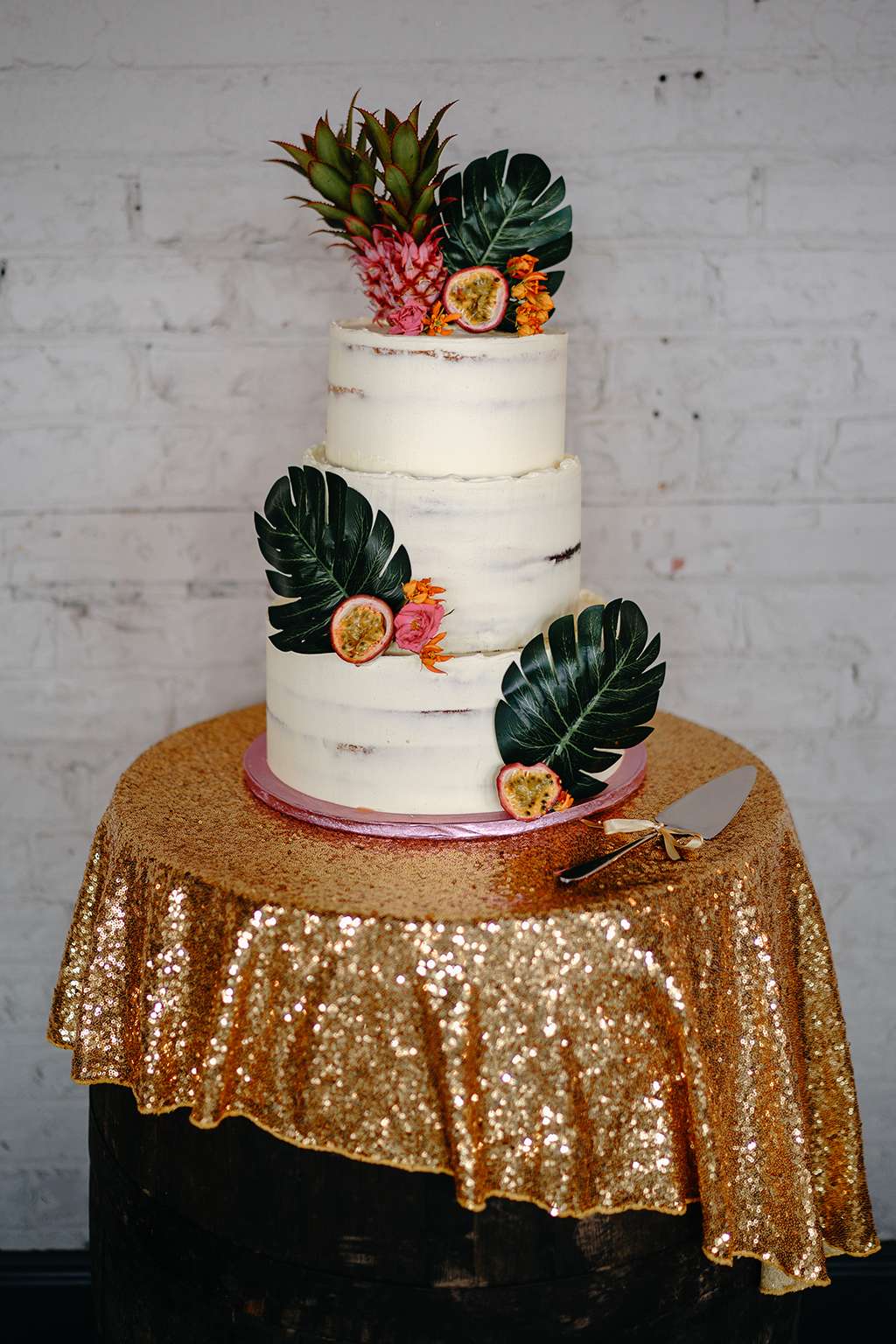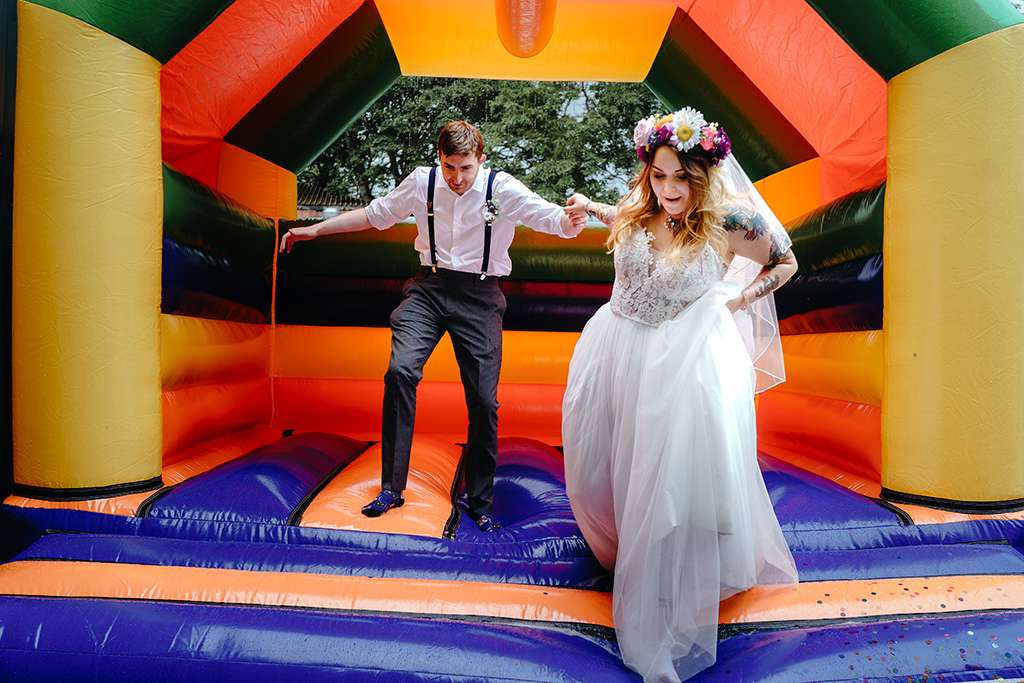 They wanted their day to be relaxed, informal and fun. They created a mash-up of their backgrounds – a ceilidh band to celebrate Robin's Scottish heritage and a cookie table as is tradition where Ali is from in the States. They also included elements like the pub quiz, Mexican-style street food wedding breakfast and a bouncy castle that encouraged their guests to have fun together. One of their guests described it afterwards as one of the most honest, heartfelt and funnest wedding they'd ever been to, which the couple took as a huge compliment!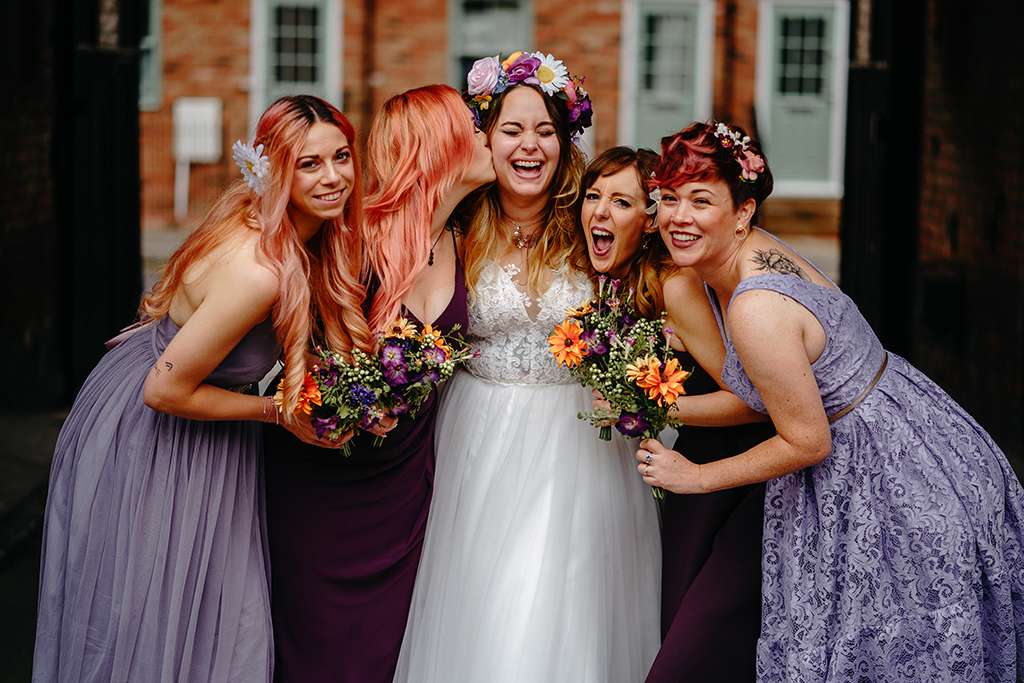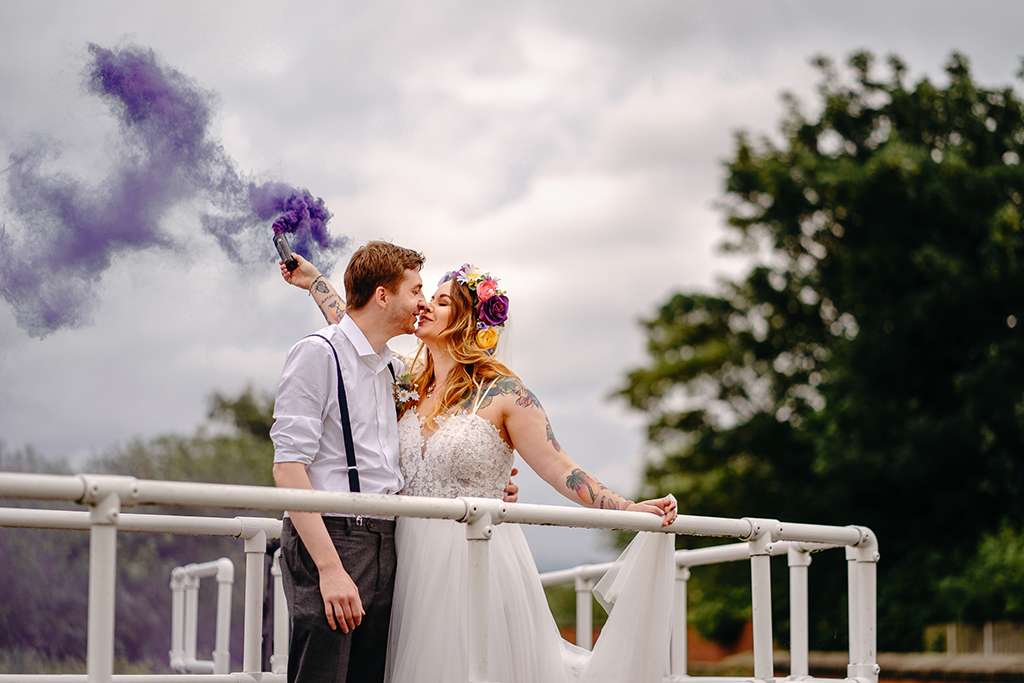 Ali and Robin couldn't settle on a colour theme, so opted for all rainbow everything instead! Their day was mostly DIY, with Ali learning to crochet to make their cacti centrepieces, using ribbons to create a ceremony backdrop and her ribbon hoop alternative to a bouquet and assembled the silk flower centrepieces. Ali and the bridesmaids had a hangover day painting their corn hole boards, baked 700 cookies for their dessert table and made wedding mad-lib cards as they couldn't find any that suited.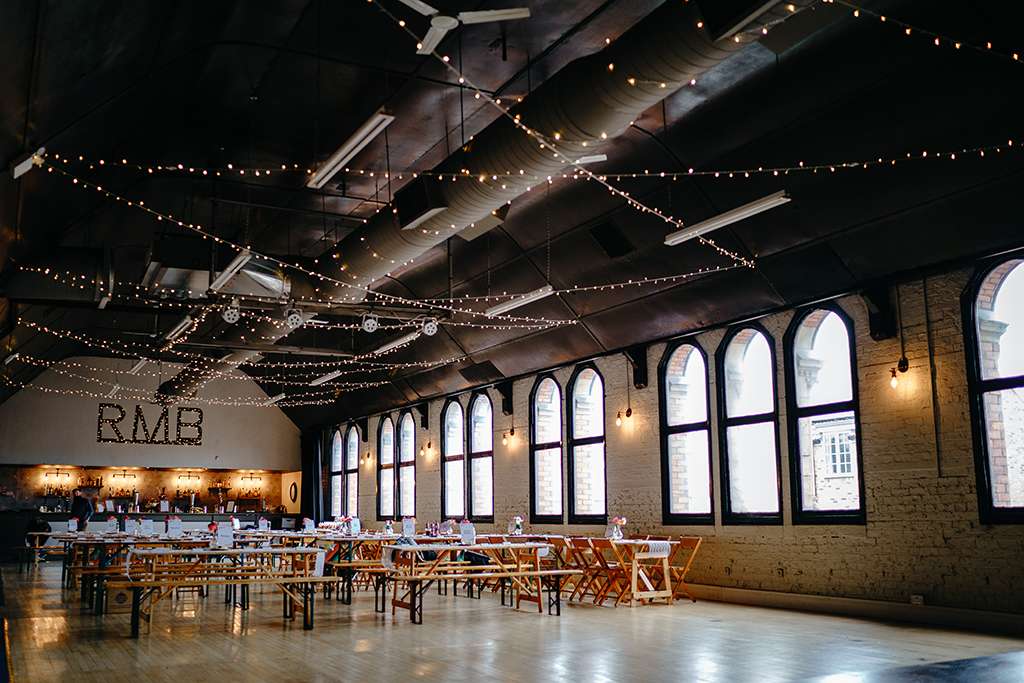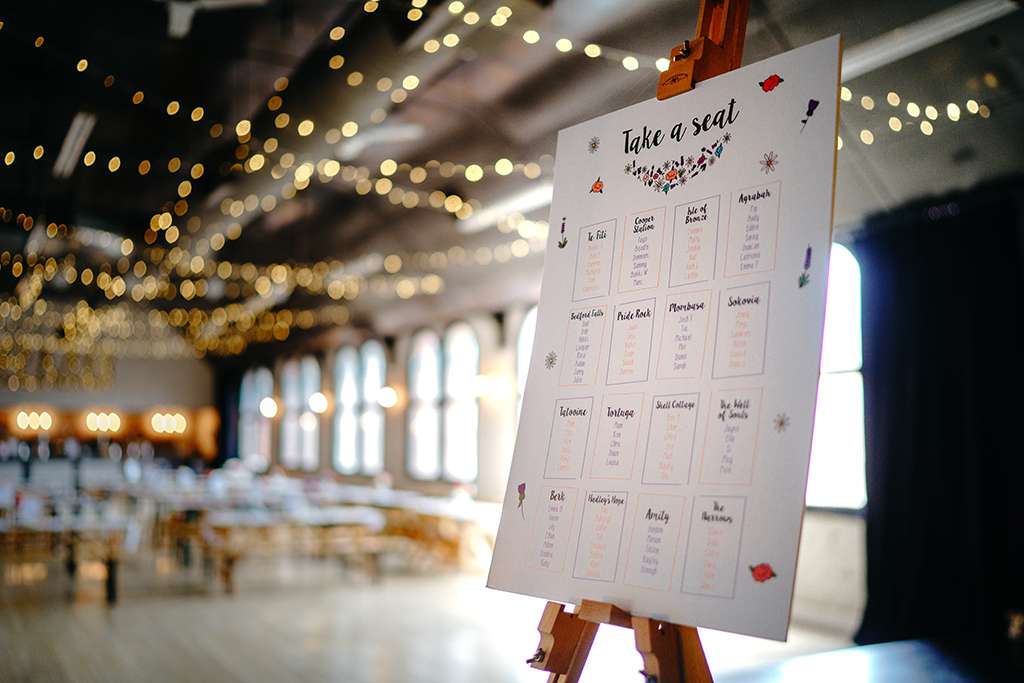 Before their ceremony, they had their alternative take on a first-look; when Robin took his blindfold off, she was wearing a Predator mask! Nerves dissipated with laughter, they had a few minutes to themselves before the chaos began, and took their portraits then too so they would've miss much of their reception! They then headed into the venue together just as guests were starting to arrive, and greeted a few together while they had a drink.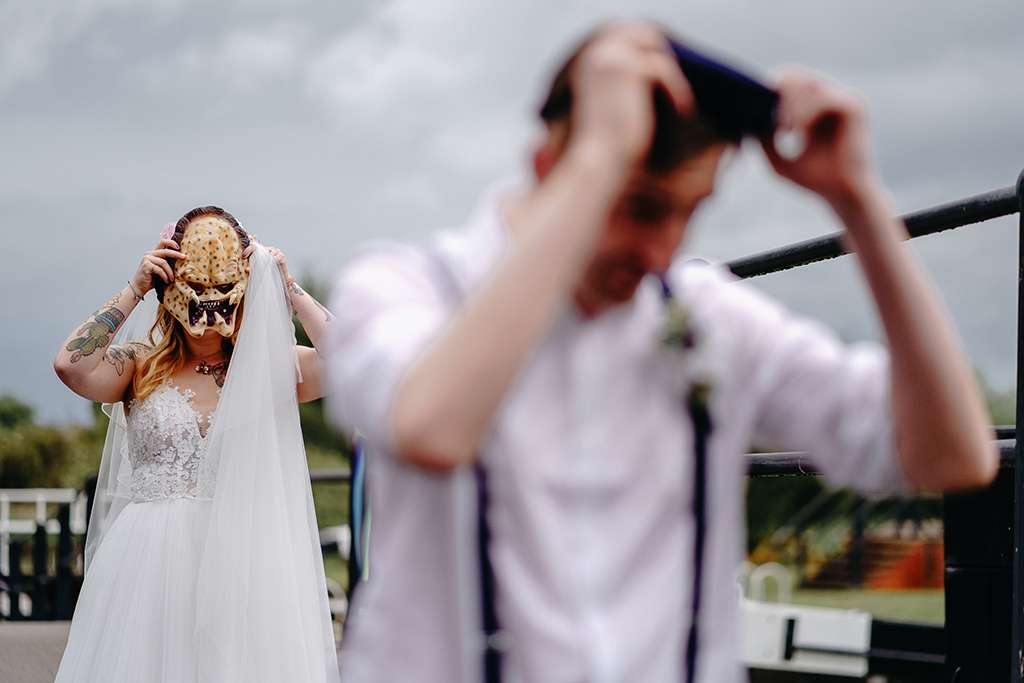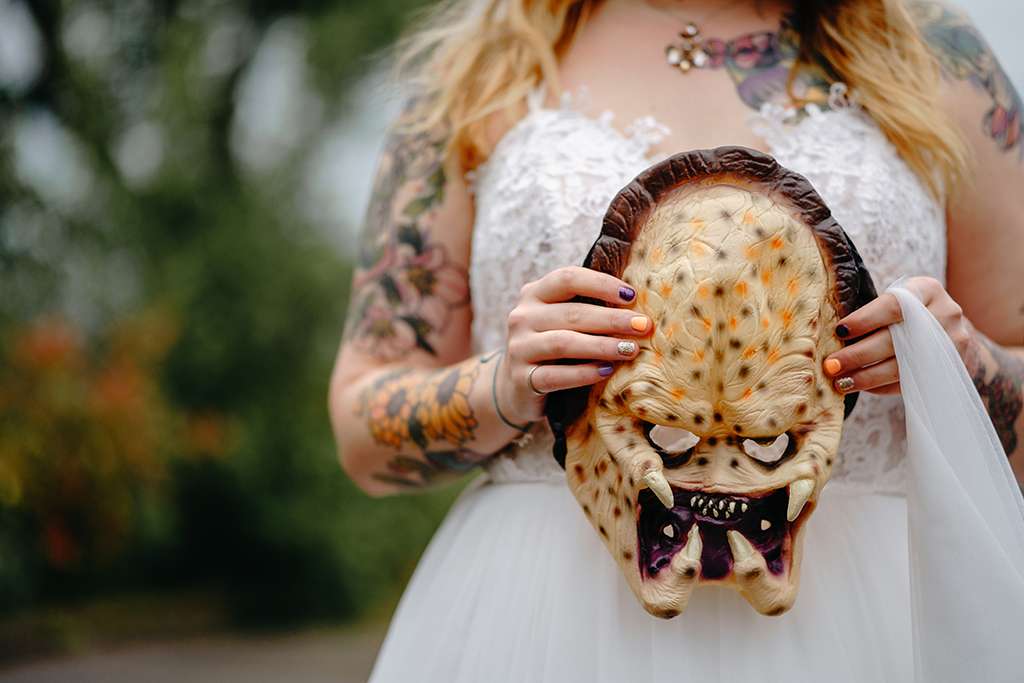 "I'd initially thought I didn't want to see any guests before the ceremony," said Ali, "but then realised that the only reason I was thinking that was tradition – I'm glad I changed my mind, as it was so lush to have a hug from some friends when we arrived. It worked out beautifully. We part ways and I had a moment with my folks before the ceremony, while Robin shared a dance with his Best Man!"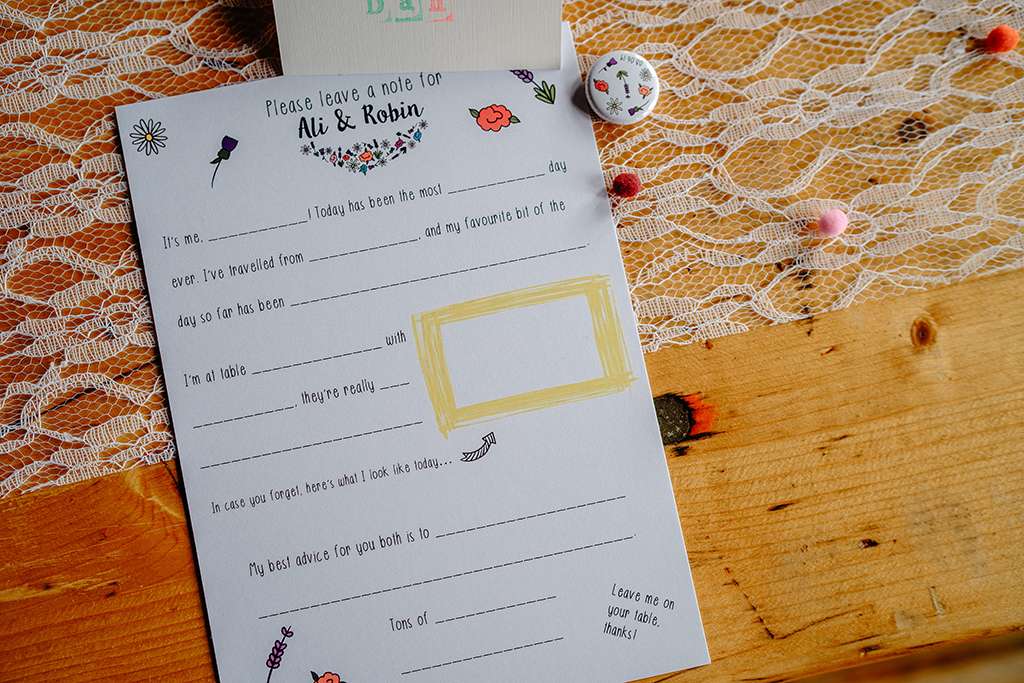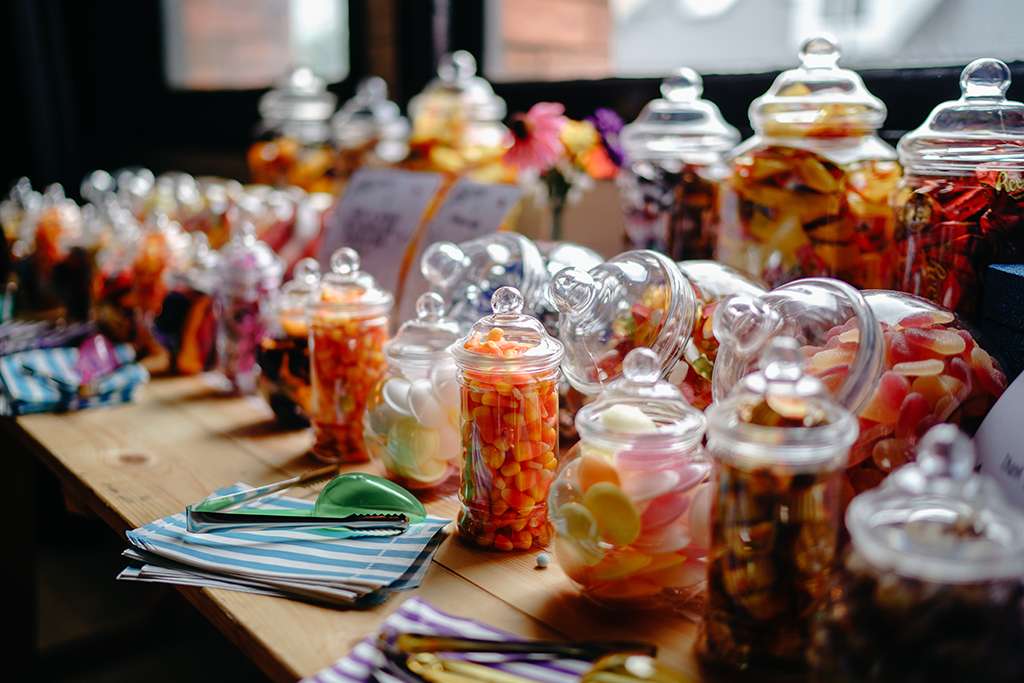 The pair decided to enlist the help of a celebrant to marry them because they wanted to have an unusual, memorable ceremony. Robin had his own ceremony entrance with his Best Man, complete with usherette tray, handing out cinema snacks to the Pearl and Dean title music. The bridesmaids entered to a piece from the Harry Potter score, and Ali surprised Robin with a few seconds of Darth Vader's theme, the Imperial March, before she walked down the aisle with her Dad.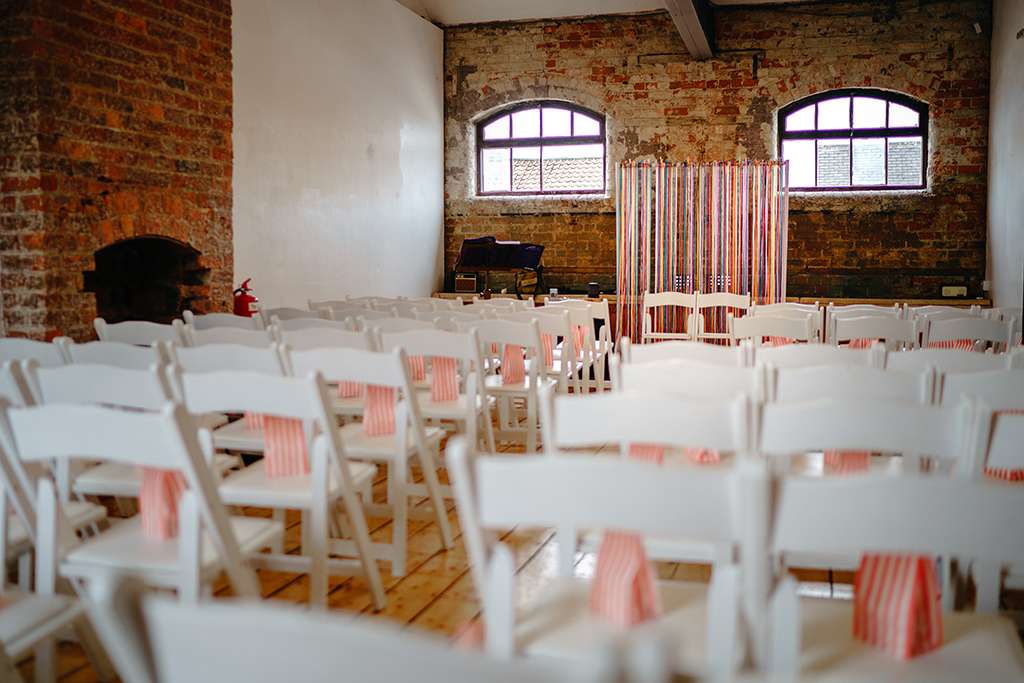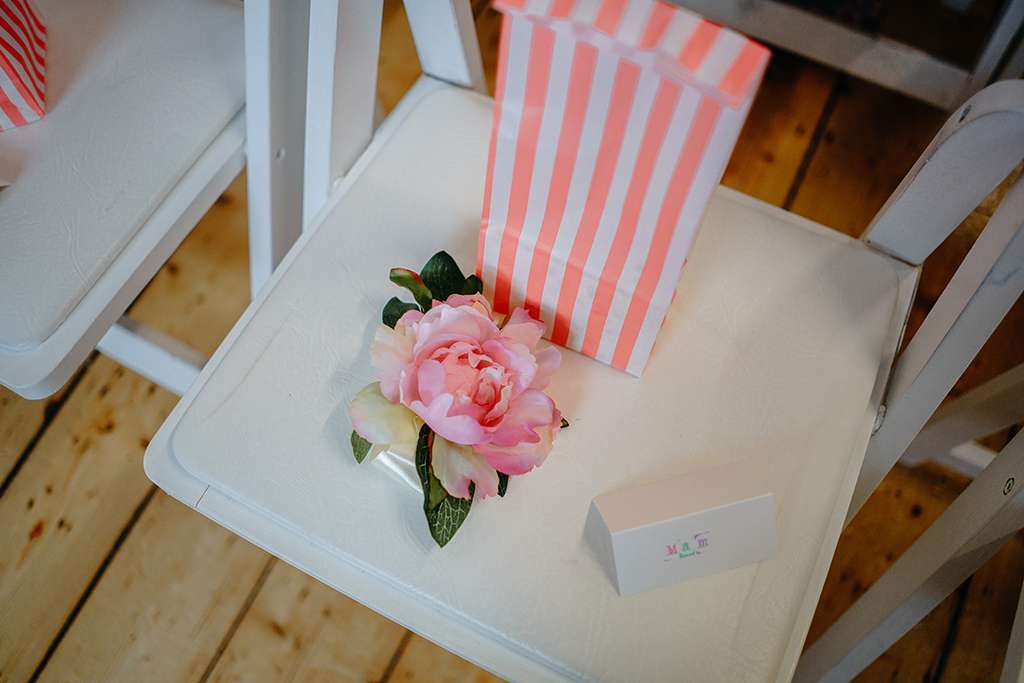 They had a lot of guests joining them from overseas, so they were really keen to get everyone interacting and friendly from the get-go, and their ceremony did exactly that. The celebrant divided the room into teams – Team Ali and Ream Robin – and they had a quiz which weaved their interests into the story of their relationship, a faux-Quidditch match, dancing and even a moustache-guessing round! Their celebrant also created a tasting ceremony to honour their love of food, they tasted four elements which represented different aspects of marriage – in hindsight, the spoonful of chilli powder straight before exchanging personal vows was probably a mistake!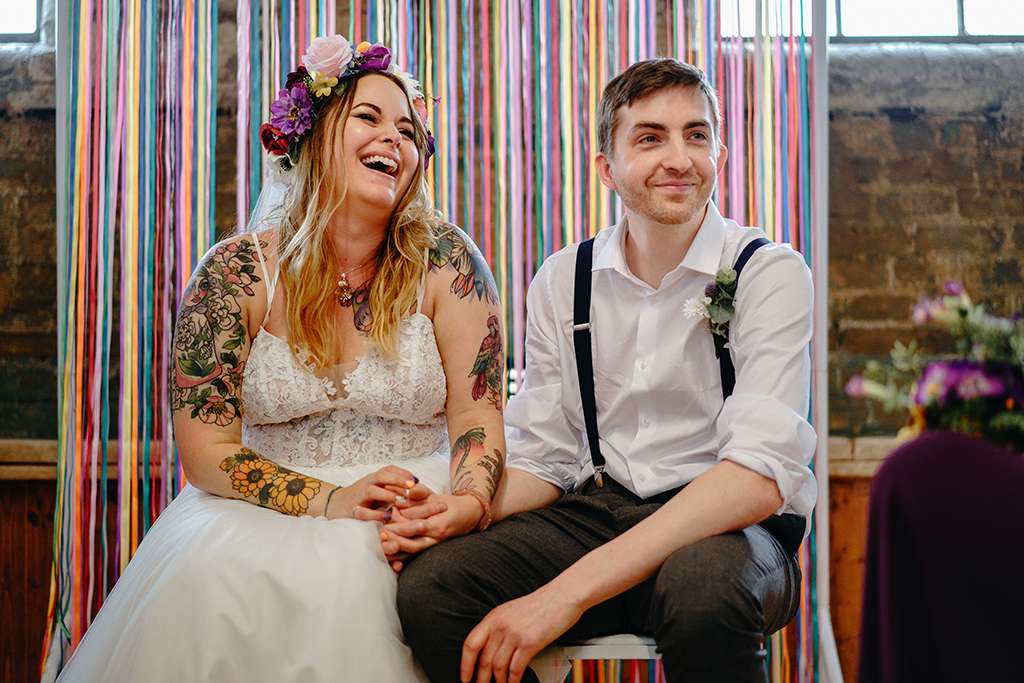 Ali worked with a poet to create a long-form limerick as part of her vows, and Robin wove his into a story about a shy, anxious boy called Bobby who encountered a Star Maiden. After their vows, they exchanged tokens – a ring made by a friend for Ali and an enamel pin-badge for Robin. They then had a handfasting and readings, and then exited the ceremony to Eastbound and Down from Smokey and The Bandit.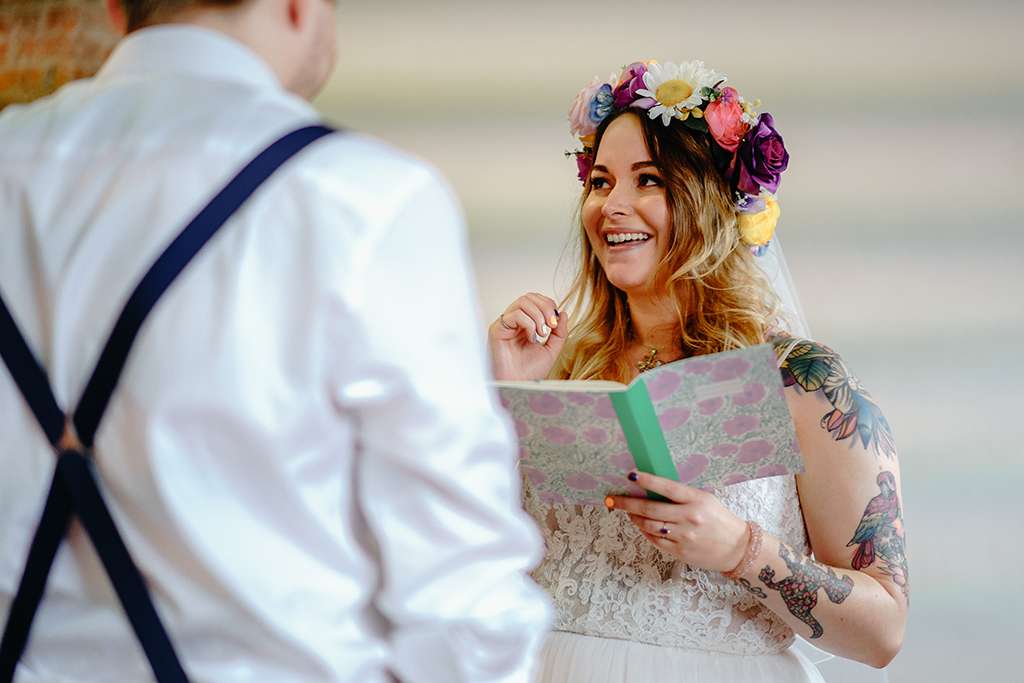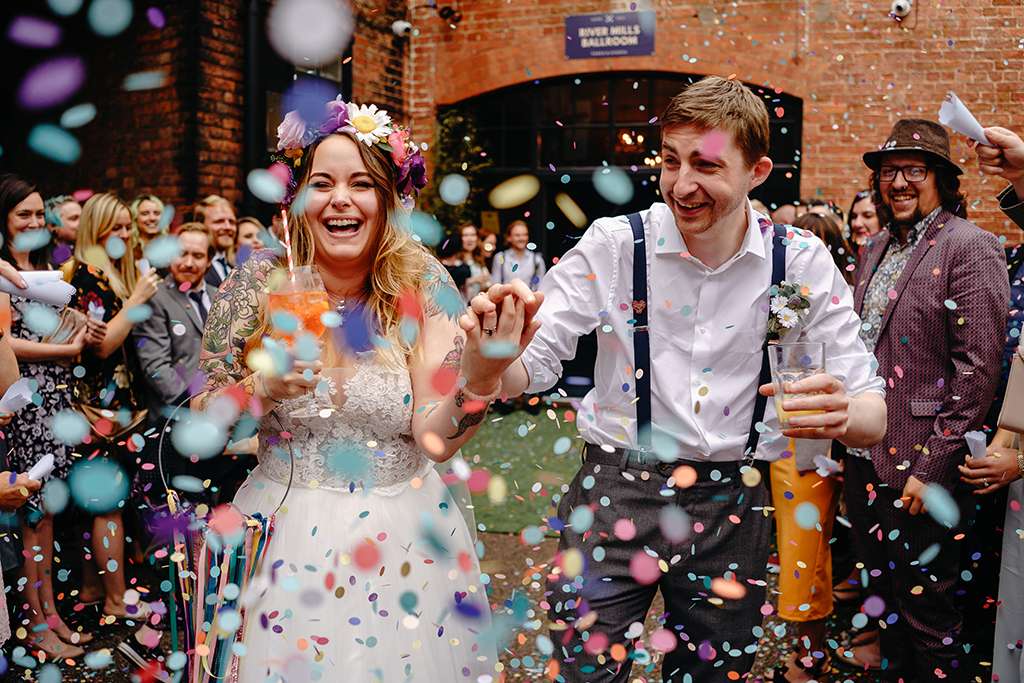 When asked if they had any advice for other couples planning their wedding, Ali said "Don't feel pressured into making your wedding anything but 100% you. This is a thing that differs culturally, so I'm speaking with a secular UK wedding in mind, but if tradition doesn't mean anything to you, don't do it! All of our favourite elements of our day are the things that were purely us and we're so, so glad we didn't waver. We're very lucky that our families were really easy-going – I know some of our choices weren't their cup of tea, but all my folks kept saying was that as long as we were happy, everything was going to be awesome."