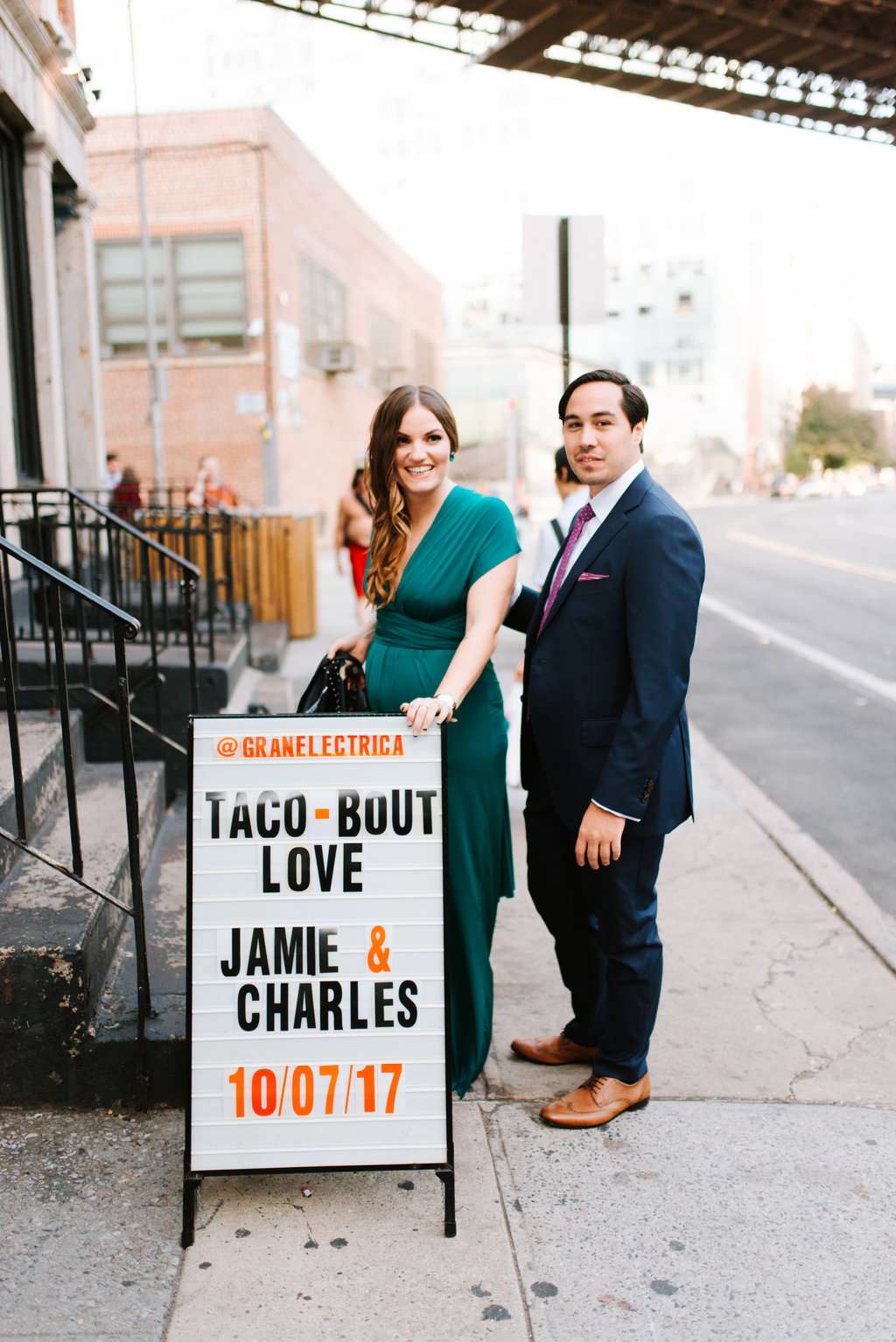 Jamie and Charles are my heroes. And you can easily see why – they wanted their day to feel less like a wedding and more like a bright and colourful party. Set against the backdrop of the coolest city in the world – good old New York City – may I present to you the coolest couple ever…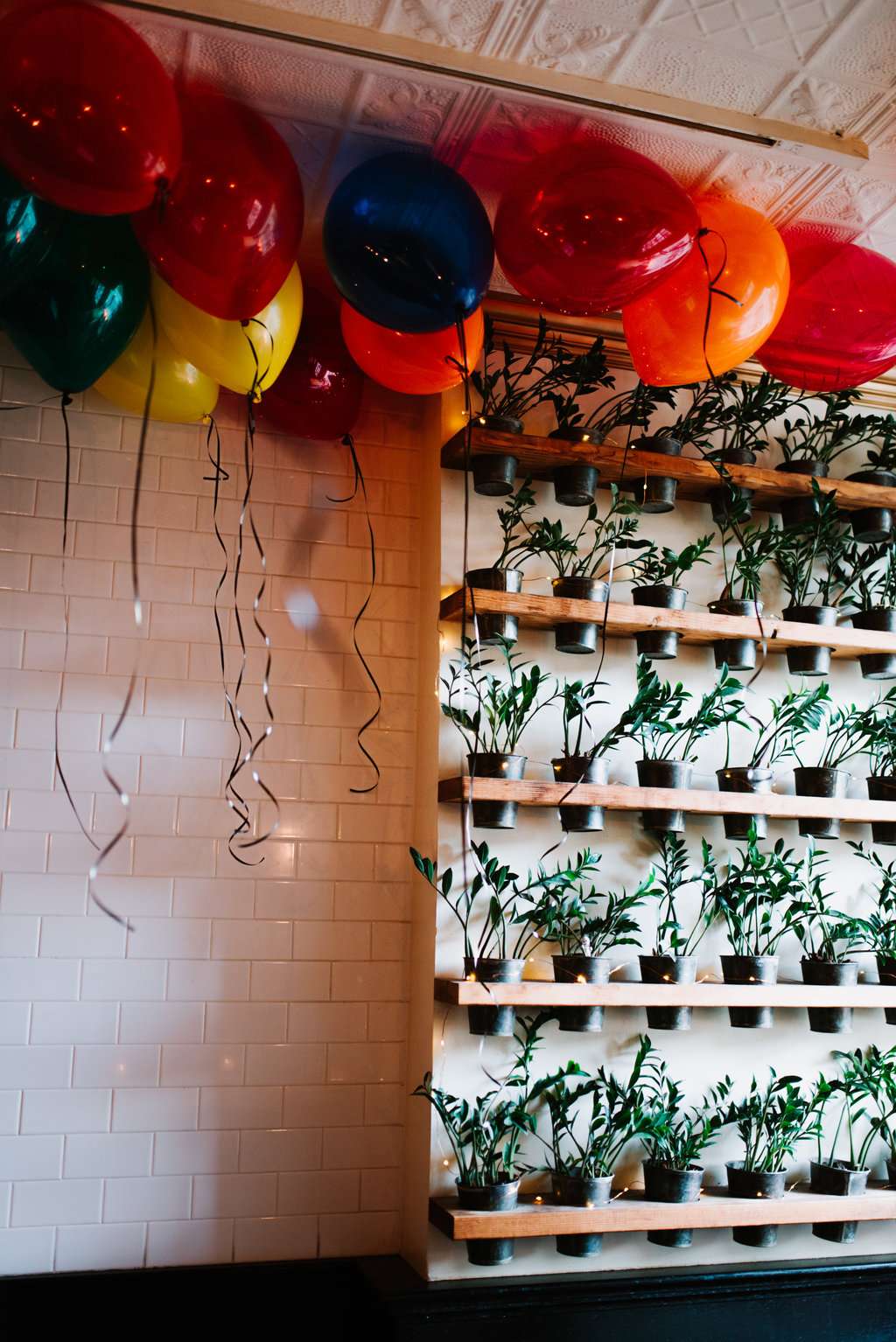 Jamie looked the epitome of city chic in her emerald Two Birds Jumpsuit, which she wore with rose gold block heels and rings borrowed from both of her grandmas that covered her something old, something new, something borrowed and something blue. She also had a floral leather jacket which she'd customised herself for the big day. Charles also looked effortlessly cool in a suit from Suitsupply and cufflinks engraved with the moons on the day they met and their wedding day (what an amazing idea!) They also got matching tattoos before the day – love love LOVE!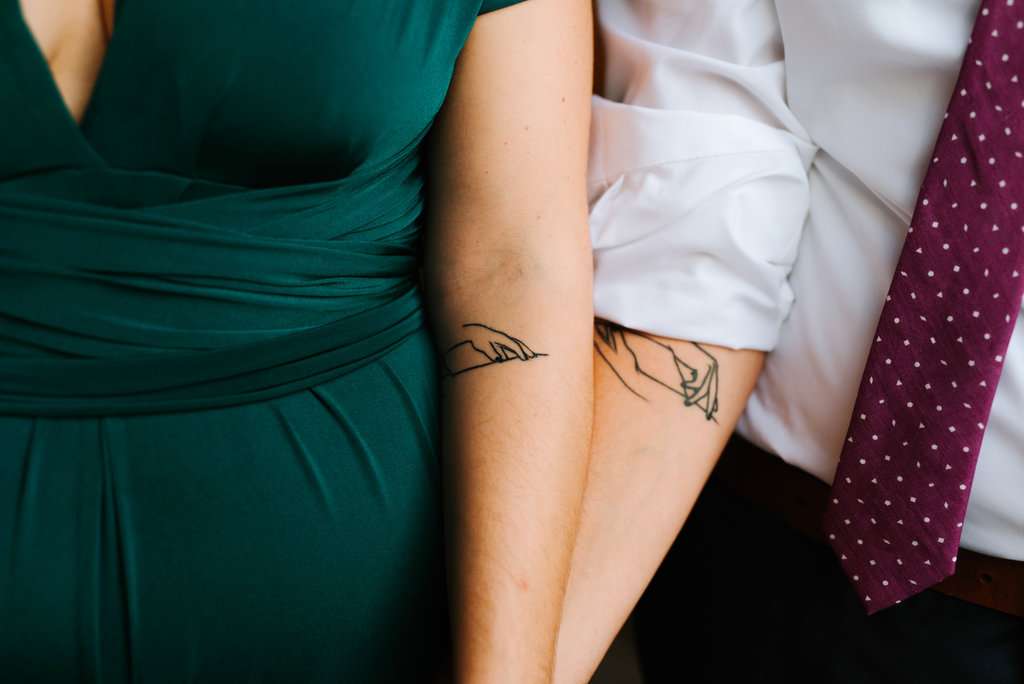 "We pretty much ditched the entire concept of a ceremony or a schedule, and started off right away with drinks in the hands of every guest alongside some incredible food from our venue, Gran Electrica," Jamie and Charles explain. "We didn't have assigned seats, just hours of passed canapés and a full open bar. Our 'ceremony' was conducted by a very close friend of ours, Alise, who we chose because of her deep love for love, her unwavering support and infectious energy. After some speeches from our friends and family, we exchanged our short and sweet vows (during which the microphones kept cutting out, but the venue let us smash the faulty mics on the dancefloor later. Safety glasses, hammers and smashing microphones should be a staple of all weddings going forward). We were having too much fun and wanted to get back to the party with our friends and family!"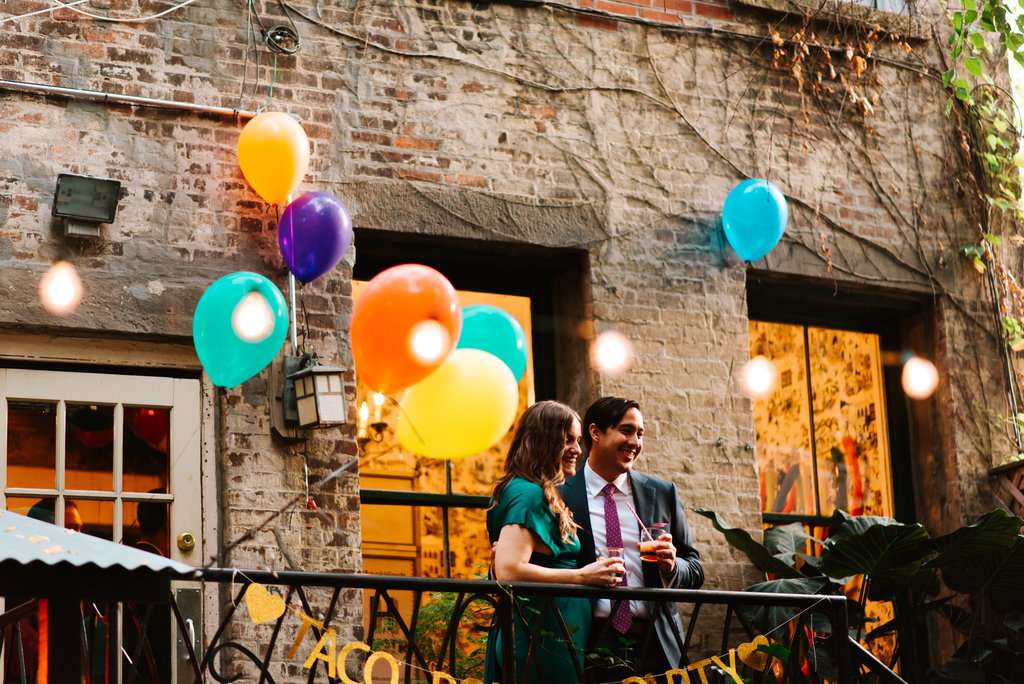 Jamie loves balloons, so they ordered over 500 helium balloons, plus link balloons, mini ones and balloon animals to use as decor, ending with over 1000 of them to decorate the venue's gorgeous space with. There were also paper decorations, banners, a pinball machine, a photo booth, and a homemade donut wall to end the night. The venue also provided churros for guests to nibble on and take home alongside the lunchbox-style snacks Jamie and Charles had provided for guests.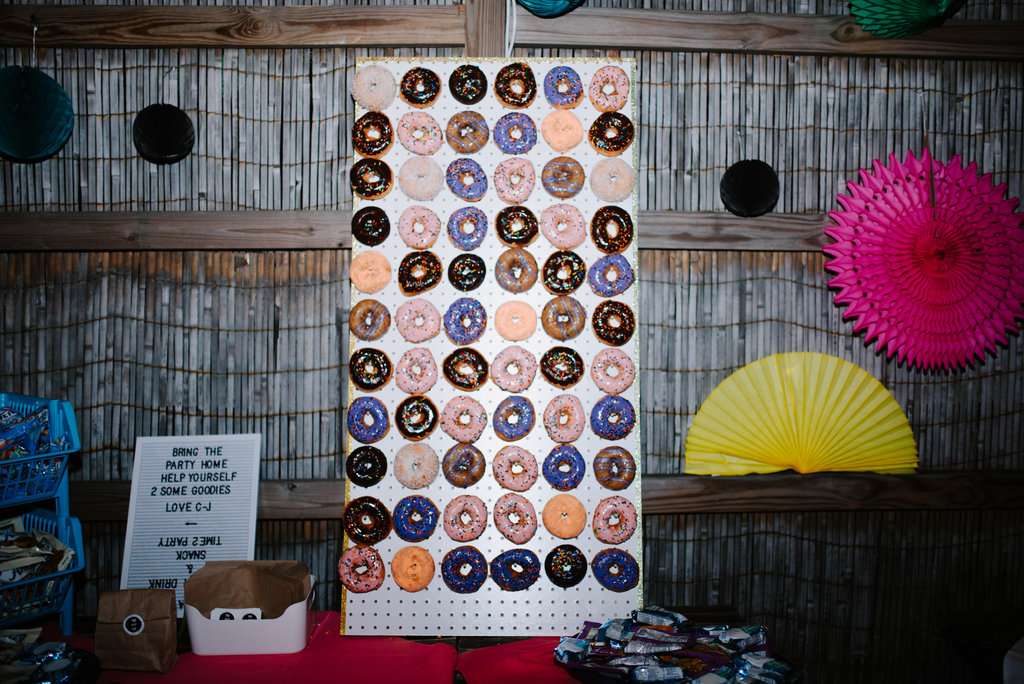 "We love hosting, so we wanted our wedding to be just one big celebration with our closest friends and family. Anytime our guests come to our home we cook a feast, so it was important to us that the food and drink was amazing," Jamie continues. "That's why we chose to go with an amazing restaurant serving one of our favourite cuisines! While we had several venues on our list to try, on our second stop – at Gran Electrica – after just a few margaritas we were already imagining exactly how our day would unfold. The tacos and jalapeño margaritas were my favourite part of the wedding!"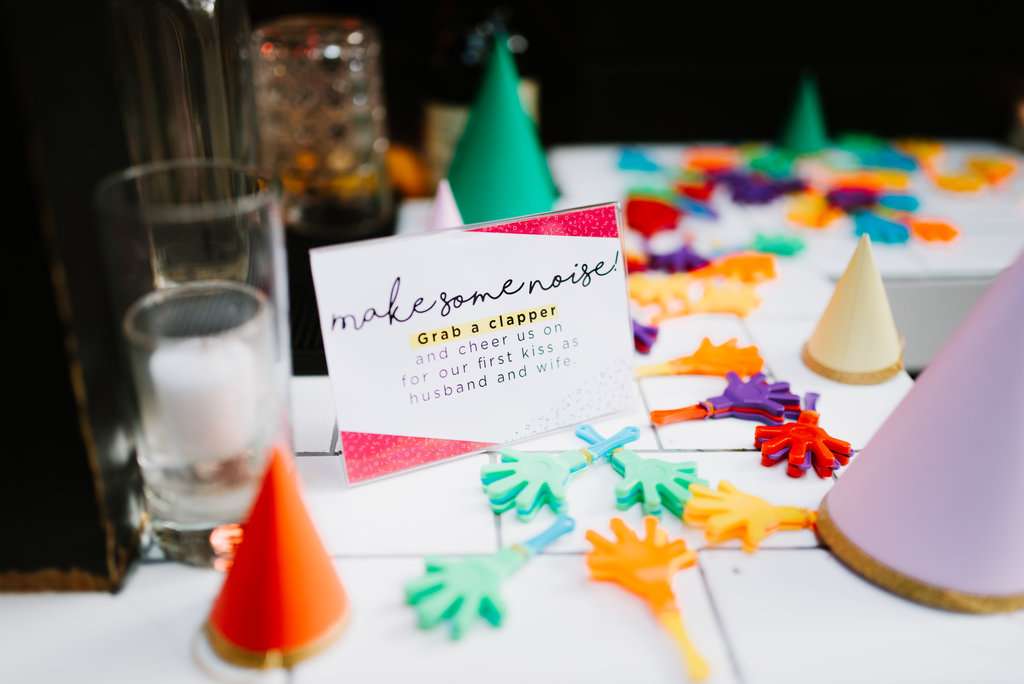 Literally, what is not to love? Passionate people with a focus on solid great times and good vibes are the stuff that wedding dreams are made of. Testament to this is how Jamie and Charles came across their photographers, Tub of Jelly.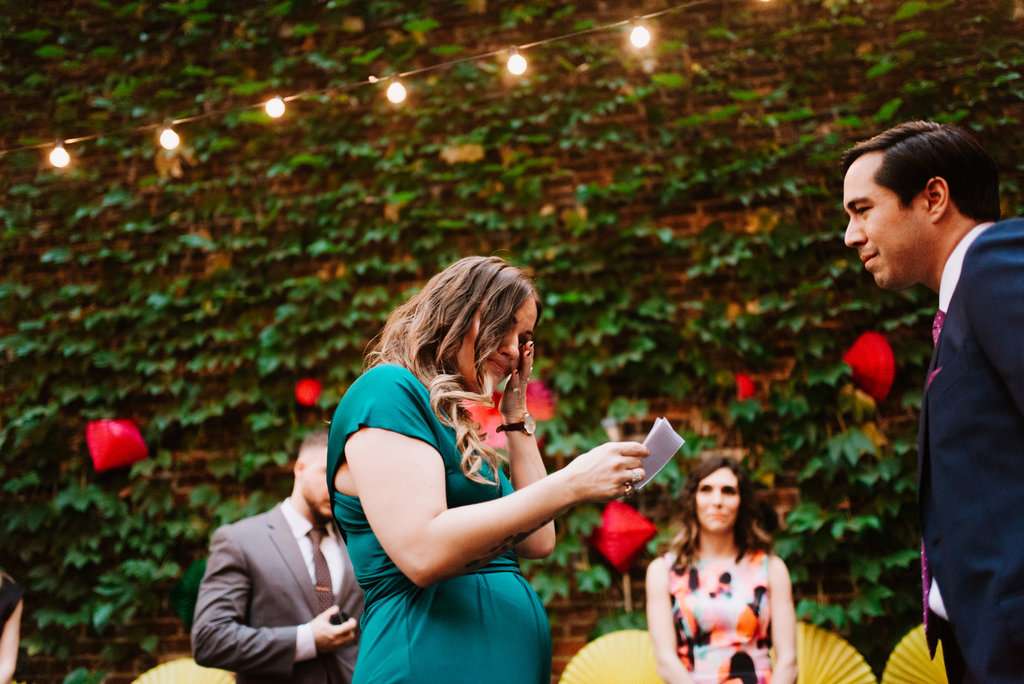 "I was on the bus on the way home from the gym when I was served an Instagram ad for Tub of Jelly. It said they would be in NY in August 2017. It had only 1 like, which to me means it had just gone live. I clicked through to their page and was amazed. I immediately messaged them to see if they would be in NY in October. They weren't planning on it but after a quick exchange of emails, it was an easy decision for both Tub and us that they'd be back in October. We are so grateful for that one Instagram post that paired us with the perfect wedding photographers / videographers."
Let's taco 'bout how gorgeous their video is too, shall we?