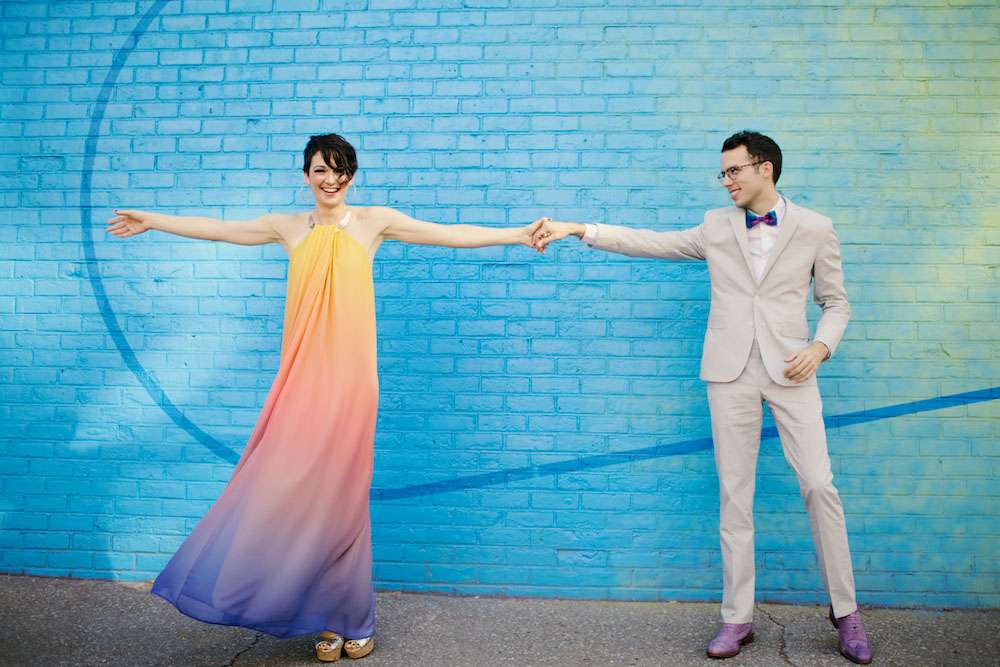 If there's one thing that makes me happy more than anything else it's lots and lots of colour! So, obviously, Carly and Jason's wedding was right up my street! The couple were married on Pebble Beach, under the Brooklyn Bridge and their reception was held at Dumbo Loft. Carly's incredible sunset ombre dress was, unbelievably, from ASOS!
"Our wedding was vibrant, colorful, handmade, bespoke and eco-friendly", began the bride. "We decided early on that what we really wanted was a killer party with great food, booze and dancing, attended by our closest family and friends. We kept the marrying part awesome but brief, so we could get onto the celebrating, drinking and dancing!"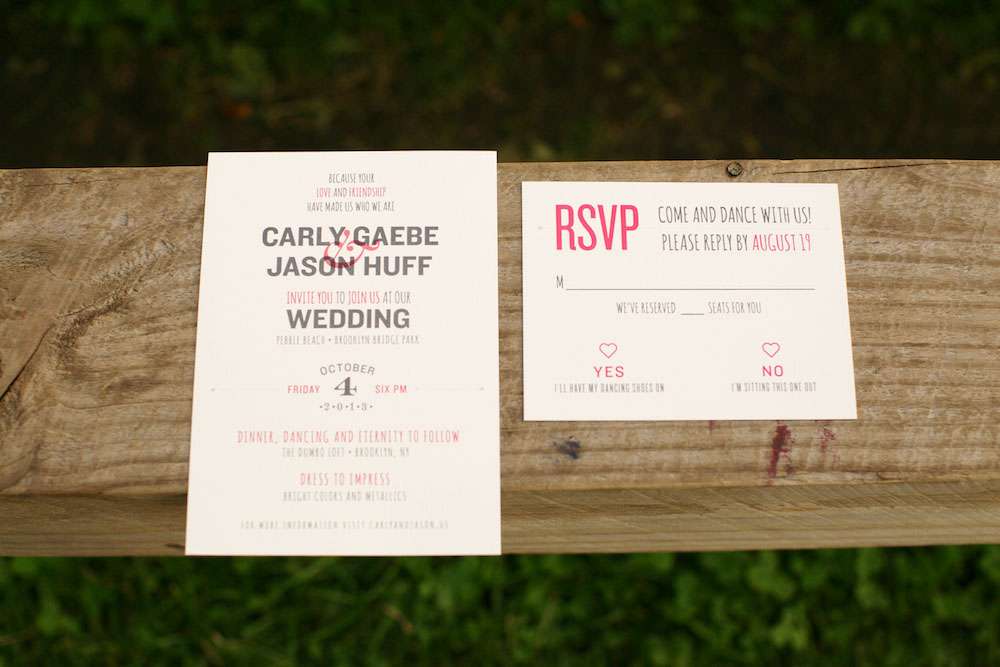 "From the get-go, I knew my wedding dress would not be white. I chose an unconventional dress to get hitched in, something that would reflect my personality. I landed on a super colorful ombre dress with a low back to show off my years training as a swimmer. Who says you can't be sexy at your wedding?!"
"Jason works at Etsy's HQ in Dumbo, so not only did we turn to Etsy to find a ton of the personalized touches for the wedding, we also tried to get as many other things from local sources as possible", she continued. "From the Brooklyn Brewery beer in the keg, to the lavender from Long Island, and the the cake and cupcakes from local New York bakeries."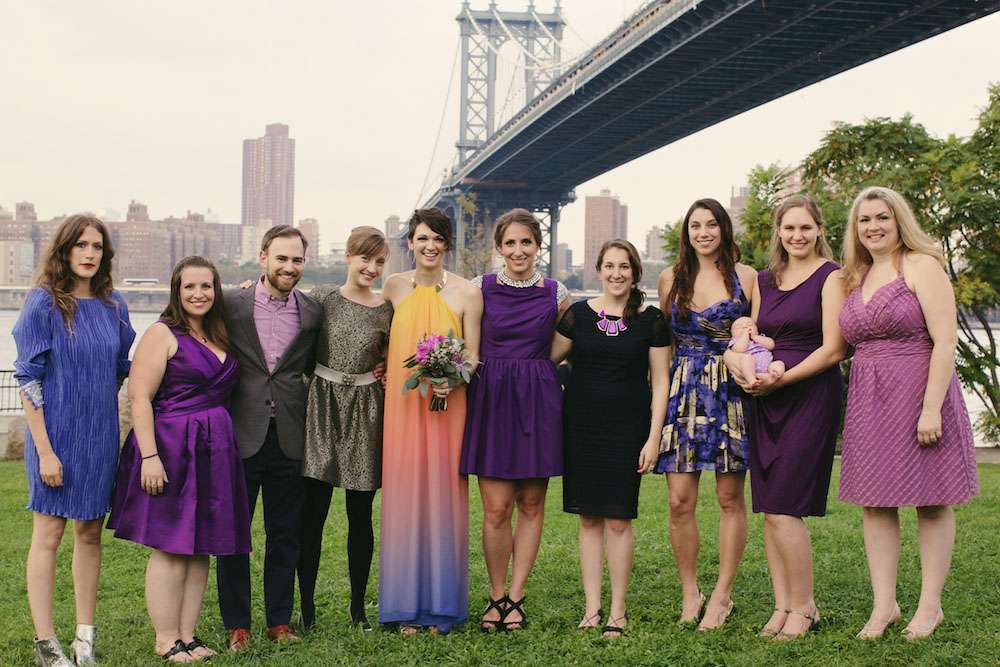 "We both really wanted to get married outside, with the best parts of the city we love. We were crazy lucky to find a beach in Brooklyn Bridge Park, in front of the newly-restored Jane's Carousel and the Brooklyn Bridge, with with Manhattan skyline behind us. The weather came together for us, and we got a beautiful sunset for the ceremony."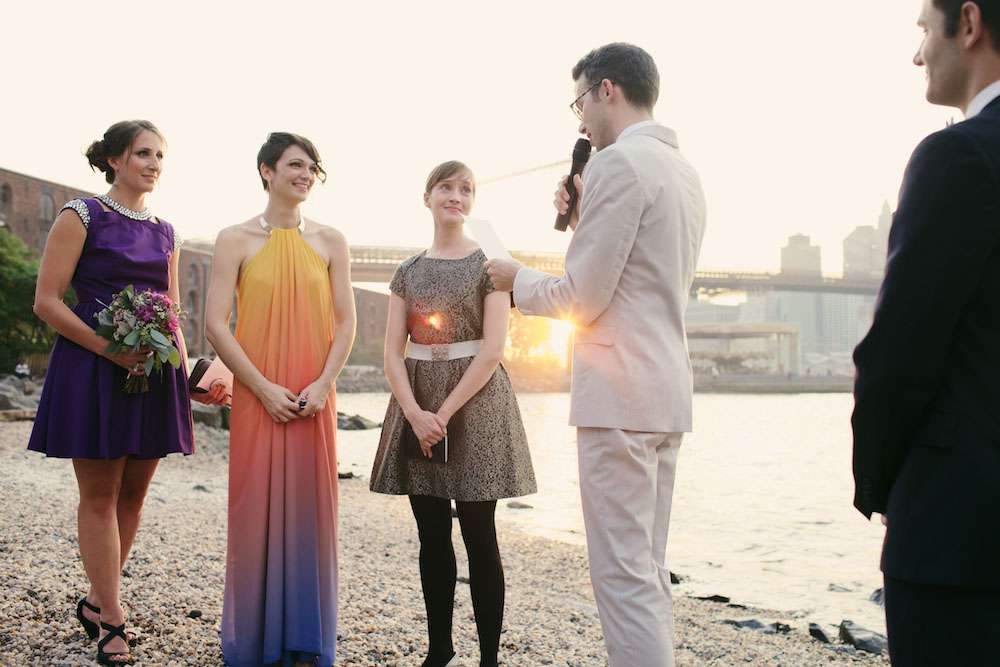 The wedding guests were also all encouraged to wear bright colours and the wedding party were told they could wear wherever they liked, as long it it was purple!
"We asked our wedding party to wear purple dresses or ties/ shirts/ socks", Carly explained. "We wanted everyone to look like themselves and be able to wear clothes that complimented them the best, but still look like they were all part of the same group. And we think it worked! Everyone got to wear clothes that they picked out, and we got to show off all of our best loves."
"We love bright colors and badass outfits so we also prompted our guests to wear vibrant colors and metallics. When the day arrived everyone really brought their A-game and looked amazing, super sharp, and bright! There were a few standout outfits as well: like Carly's Uncle Stan who dyed his mustache pink and Jason's brother-in-law who wore orange slacks, suspenders and a matching bow tie. There were a lot of sequins and some side boob. It was perfect!"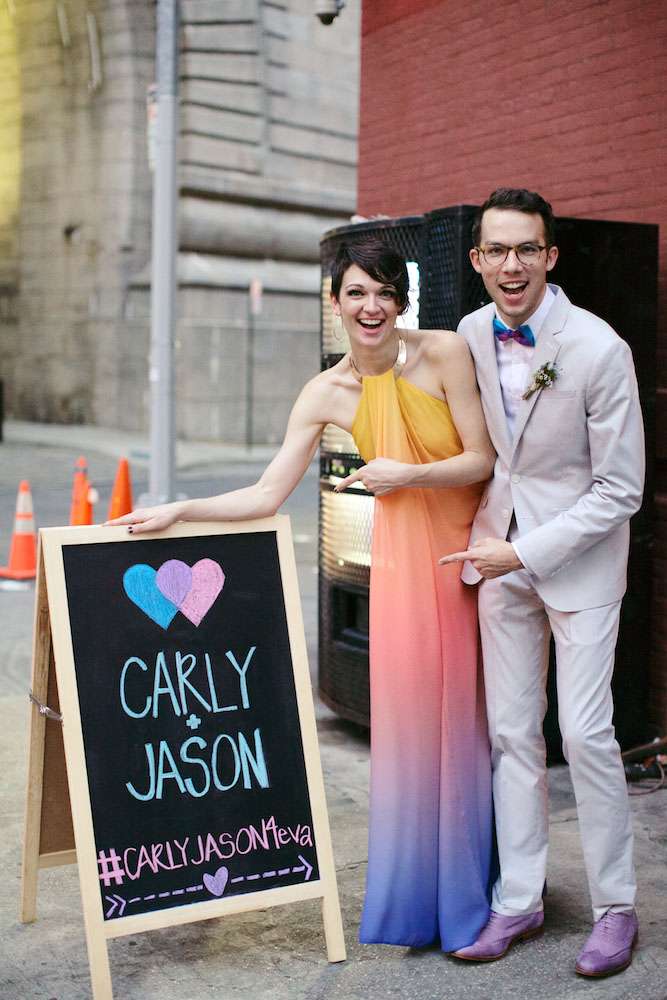 "We saved a lot of money on food", she said. "Originally we started looking at wedding caterers and were shocked by the prices per person. Almost all the options were way out of our budget. As an alternative I thought of using one of our favorite Brooklyn restaurants, Zaytoons. We called them up and it turned out that they had a lot of experience catering weddings and were happy to take the job! For the tables, we found some eco/ disposable pressed palm leaf plates and birch flatware from Leaf & Fiber, which turned out really sturdy and beautiful — and they are compostable!"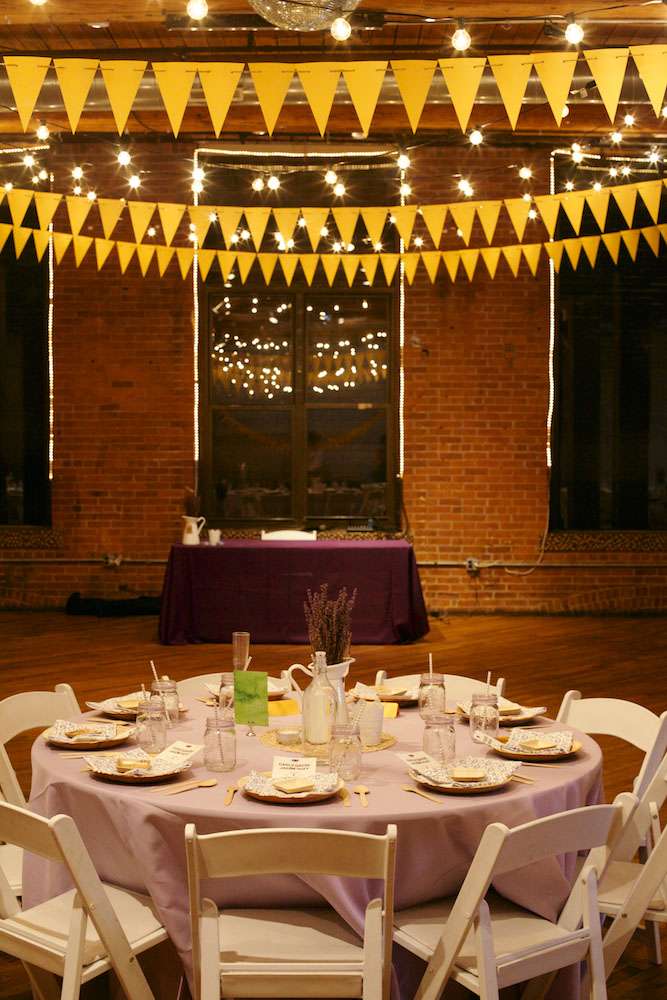 "We also spent just $100 on flowers," she concluded. "Yes, that number is correct! We went to our local farmer's market by Prospect Park and nearly bought them out of their dried lavender. Not only was the lavender a gorgeous soft purple and smelled like the French countryside, but it was also easy to transport, set up and give away to guests. We still have a few bouquets of it around our apartment."