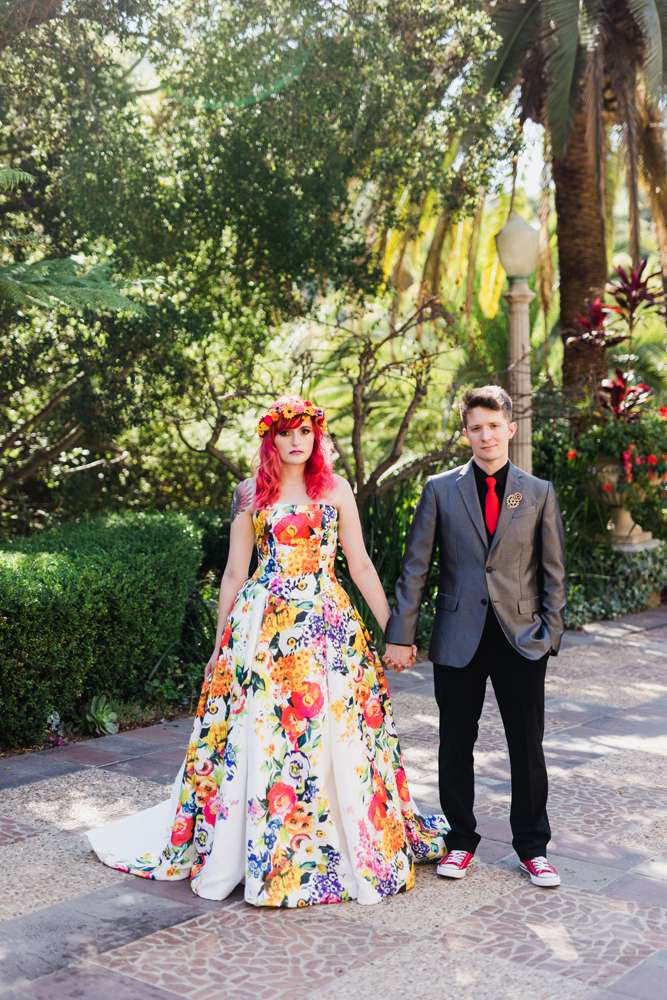 Jade and Nick's wedding was a riot of gorgeous colour and elements that really reflected them as a couple, at the ultra-cool Houdini Estate in Los Angeles – yup, that's the old estate belonging to Harry Houdini himself! Jade is a big fan of bright colours, and Nick is a robotics engineer, so when planning the wedding, they thought they'd combine the more whimsical county fair vibe with the more ye olde worlde futuristic side, and came up with a vintage world's fair look, which worked PERFECTLY.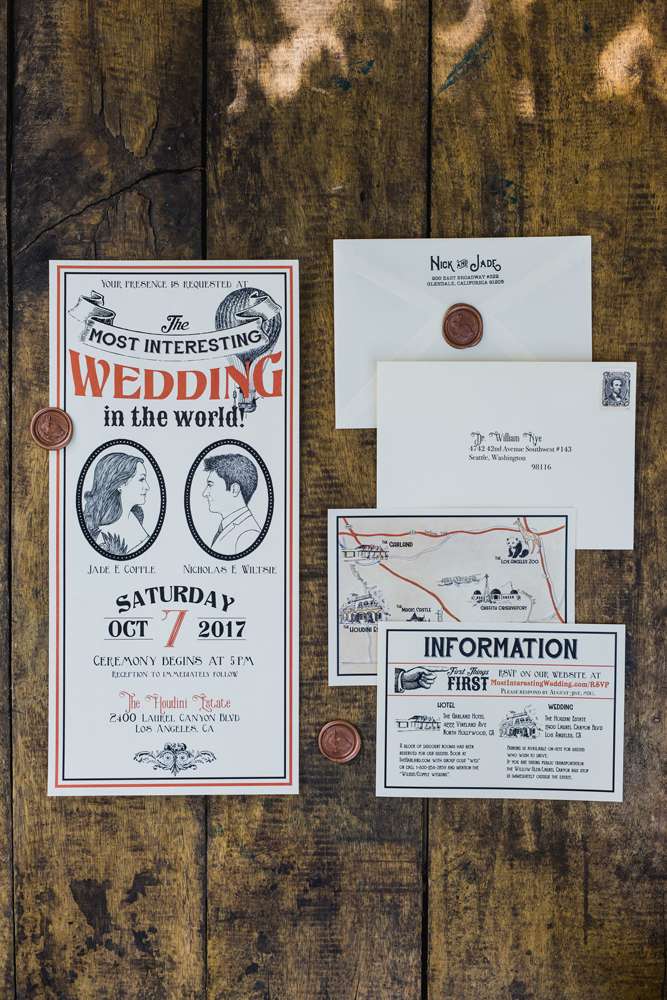 Jade had already picked her stunning Jovani dress (which was actually an occasion dress, not explicitly a 'wedding' gown) before they'd picked the venue, so they let the dress guide the colour scheme. This meant they had bright colours and lots of floral elements, which looked incredible against the backdrops and the blazing Californian sunshine.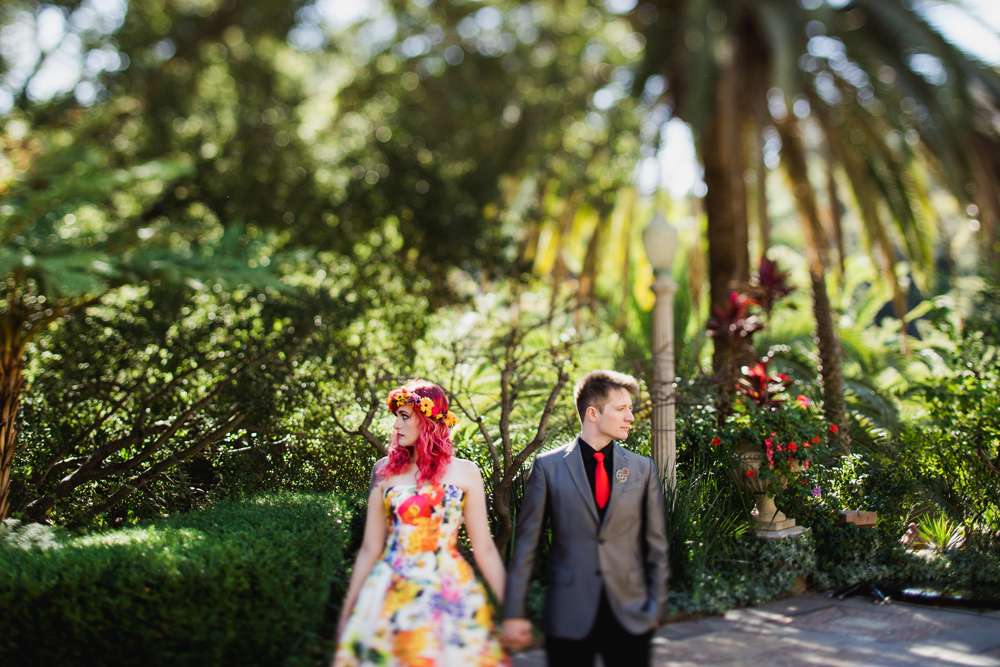 "Neither of us are really into traditional weddings", began the bride, "having to mingle with strangers and go back and forth between sitting and dancing just seemed the opposite of our idea of fun. Instead, we decided to share all of our favourite things that we've done together with the people we love. We introduced our guests to a few of our favourite animals from the Wildlife Learning Center, which we'd visited on my birthday. As we're both magic fans, we had Tam Vo performing mind-blowing magic during the reception. Our caterer, Canyon Catering, also prepared our favourite foods alongside meaningful ones from our dates and travels!" They also had piñatas, balloon artists and a silhouette artist to keep guests relaxed and entertained.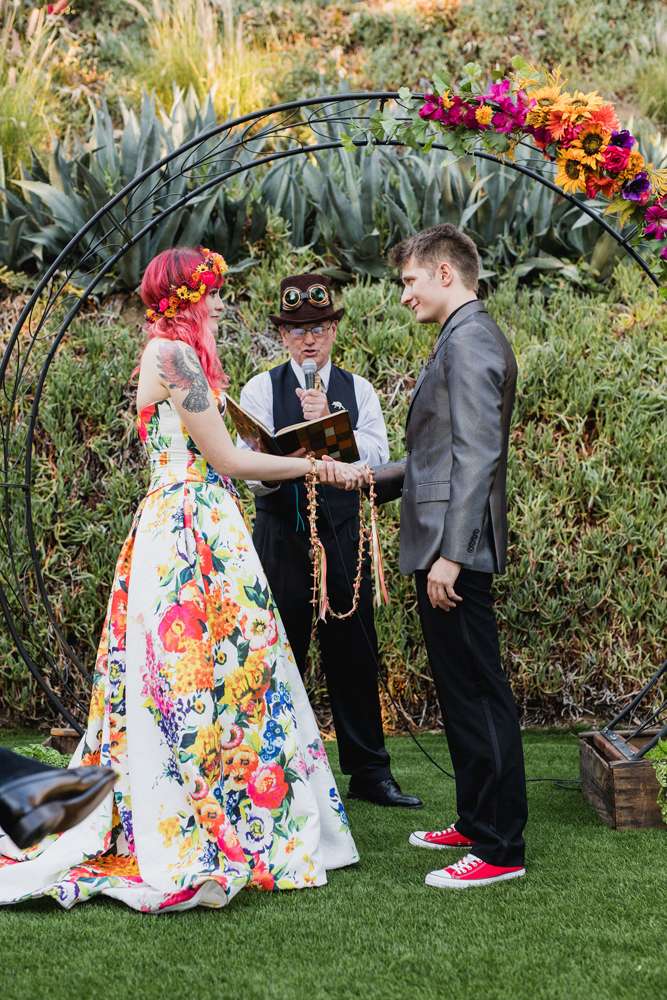 "As we're not particularly religious either, we opted for a ceremony that focused on some of our favourite readings and songs. We had close friends read passages, one about love from Erich Fromm and the other from a marriage equality ruling." (Is that not just the most wonderful celebration of love you've ever heard?) "and we had musicians perform two songs: The Woman I Love by Jason Mraz and Lava from the Disney Pixar short film. We ended our teary vows with a handfasting ceremony, which was really cool and symbolic."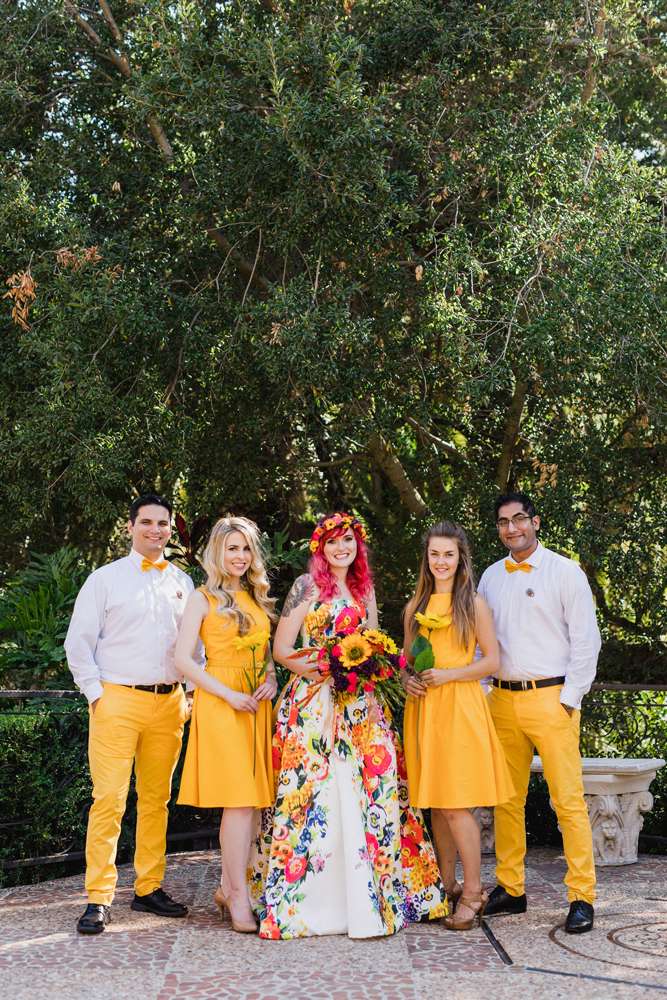 There were loads of incredible DIY elements to the day, thanks to Jade and Nick both being such creative personalities. "Nick is an engineer and we're both big crafters, so we took on a lot of projects. I designed the invitations myself, with portraits drawn by my mom. I made all the florals with silk flowers from the Dollar Store, IKEA, and craft supply stores, and we cut our menus and signage with our silhouette machine."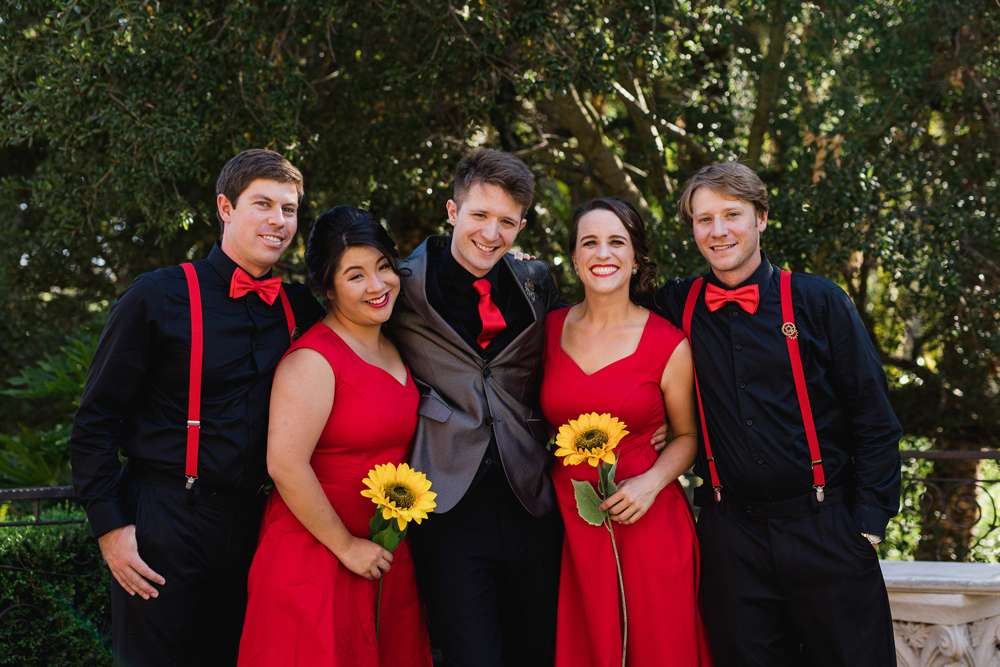 "We both worked on the hot air balloons and got a lot of family help in assembling them, even tying the nets by hand! Nick built our photo booth and an automated cocktail dispenser that dispensed pre-mixed drinks, which was so cool. I even DIYed my shoes, some ultra-comfortable plain white pumps that I painted with craft paint and embellished with little plastic butterflies." And look at their figures on top of the cake – they look like amazing little Pixar figures.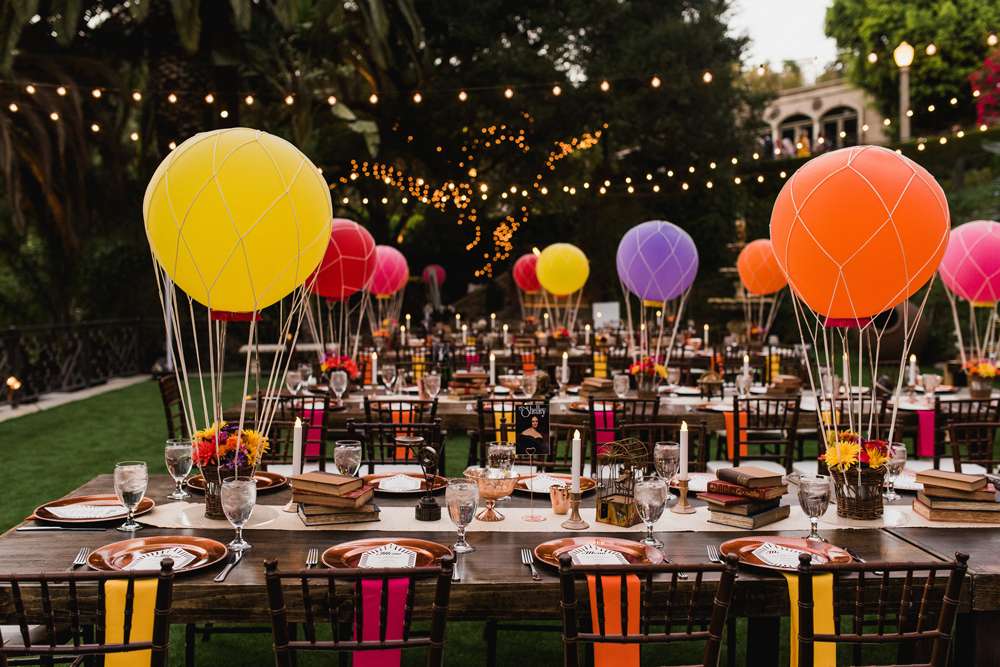 Whilst saving money both with their DIY projects and with the negotiation skills of their wedding planner, Fandom Affairs, the one thing they knew from the start would be a big chunk of the budget was the venue. "We realised pretty much straight away that our budget for the venue was low, and since it sets the tone for the entire wedding, we decided to spend more because we thought it was worth it. We rented the venue out for the whole weekend and were able to stay there with our bridal party for two nights. It was great because we didn't have to go back to a hotel afterwards – we were already there!"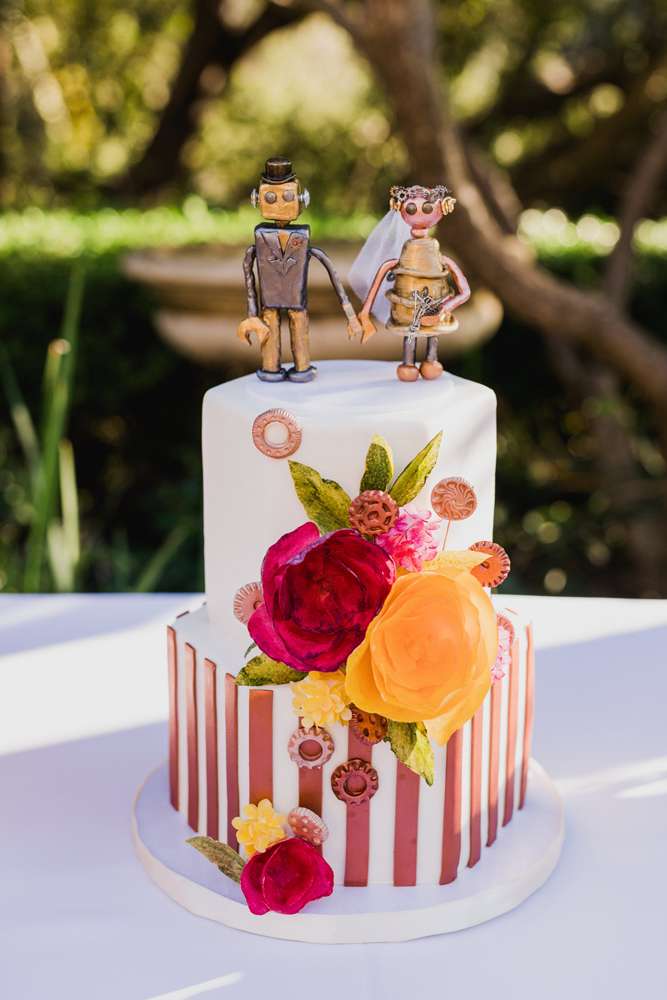 I mean, HOW gorgeous is this wedding? I've loved poring through this beautiful photos from Anna Lee Media, as they're just so full of joy. For a visual representation of how we feel, we look a bit like the bridesmaid who can't believe her luck at seeing that sloth…