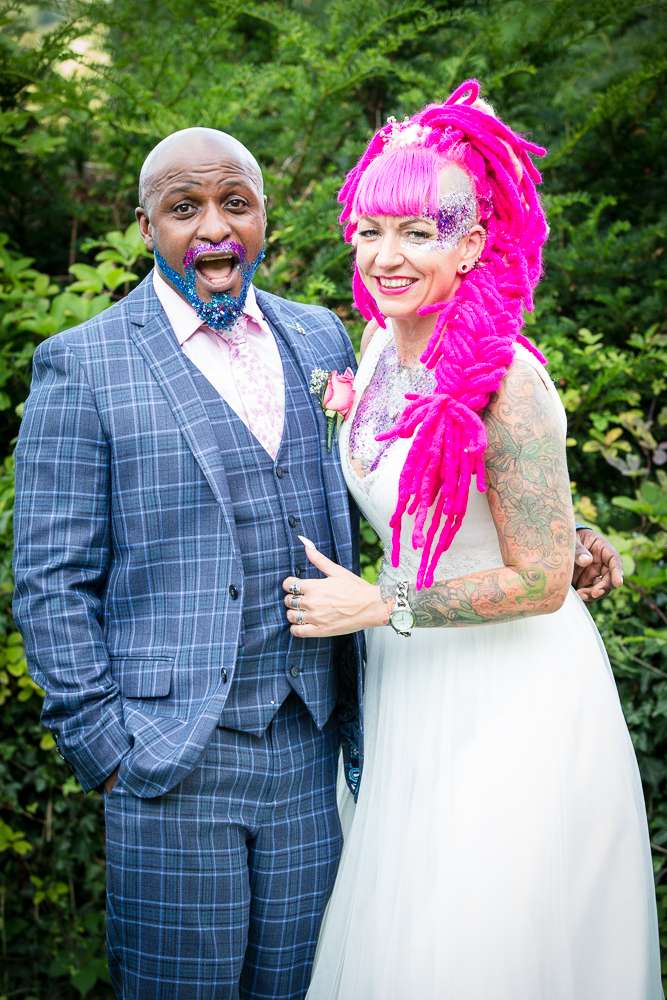 We know how you love your rainbows, so today we bring you Julie and Matt's fiesta of colour that kept the summer shining on their September wedding day. Sunflowers, colourful pom poms, and Julie's amazing pink hair – you can't not feel happy looking at this wedding!
Their ceremony was at St Mary Without-the-Walls in Handbridge, Chester, and the reception followed at Eccleston Village Hall. "The theme for our wedding was colourful and fun," said the bride. "We wanted it to be a relaxed affair – just a party to celebrate our togetherness. The inspiration was 'us'! I don't think we did anything unique – we wanted the formality all to be in the ceremony and then for everyone to have a party with us and enjoy some scrummy food."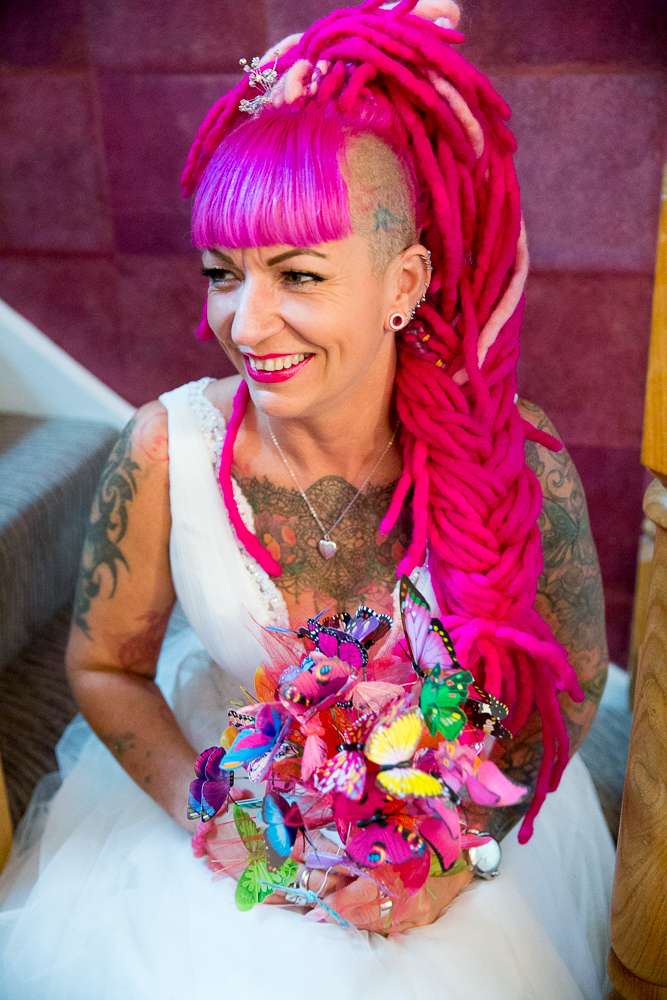 "The ceremony was magical and relevant. Matt started crying as soon as he saw me (he also cried in rehearsals). Good advice was given by the reverend about having 'that special picture of the day' on the fridge to look at when things get hard as a reminder of the love. My niece Cat and her four-year-old daughter did Personal Penguin as a reading. I'd picked it but hadn't realised it was a song. They sang it (everyone was crying at this point) and it was beautiful."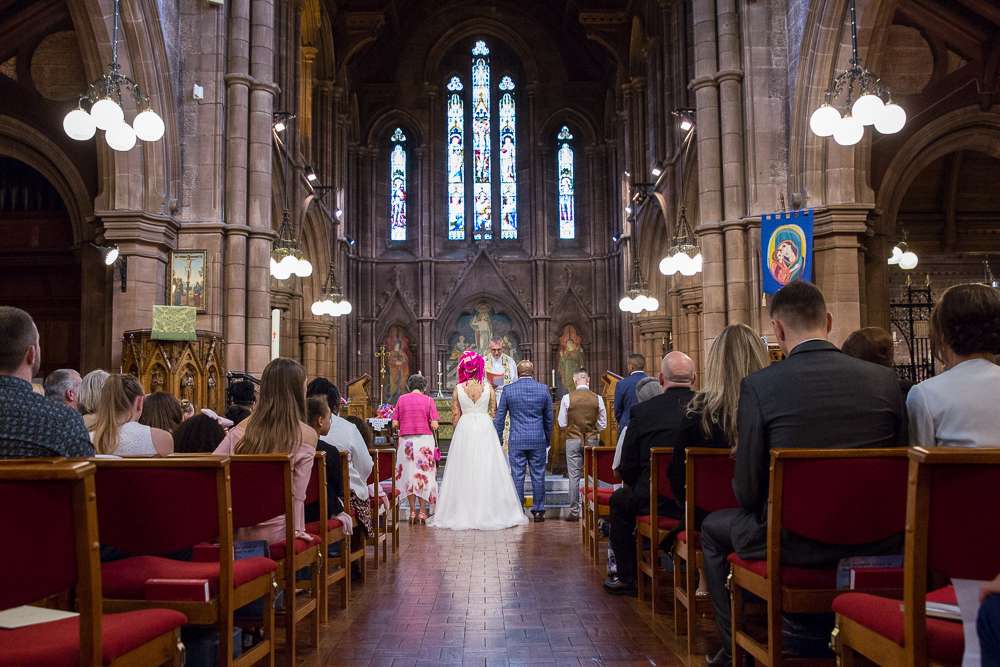 Julie wore a Charlotte Balbier dress, which she only got three weeks before the day as her original hadn't been made and she started to panic! Her necklace was a silver locket given to her mum by her dad. Her mum presented it to her on the morning of the wedding. "It had Dad's picture in (he died in 1984)… so emotional." The bouquet she made herself with her friend Lucy's help. She wore two pairs of shoes, both from eBay. She did her hair and make up herself, and added hair decorations from Primark and Hobbycraft.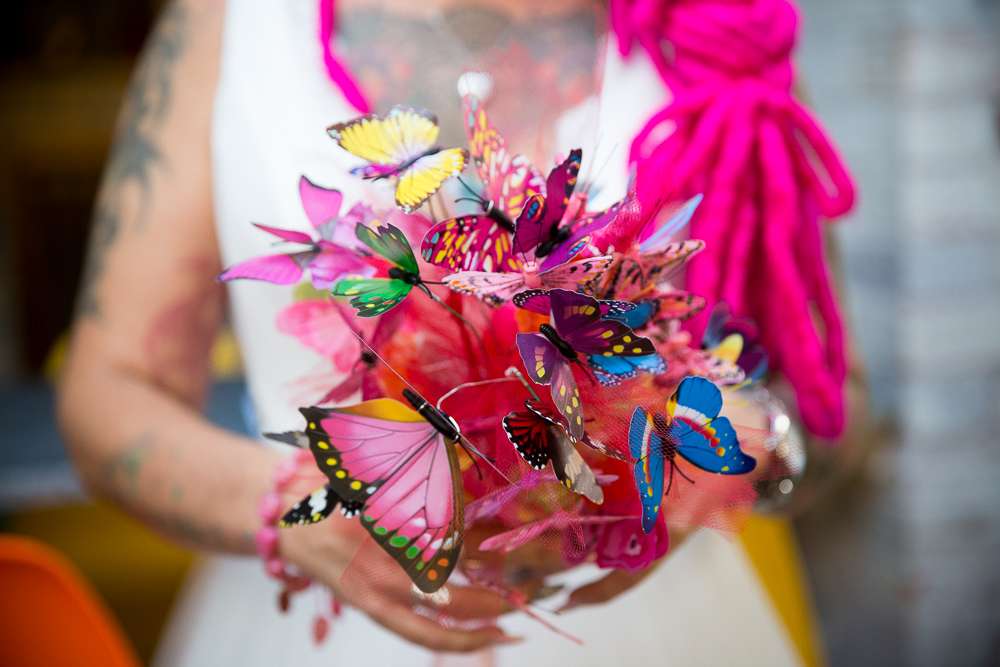 Matt's suit came from City Gate Menswear in Chester, and the bridesmaids had full control over what they wore, as long as it was pink! Each bridesmaid had a single sunflower to hold.
The UK weather typically brought a small disaster! "There was torrential rain during the night, and one of the gazebos had collapsed along with a smaller one. My brother discovered it around midday and told me that Matt and a few others were trying to salvage it (in the rain!) without telling me, but they couldn't. Luckily, the rain had completely cleared up by the end of the ceremony and there was sun for the rest of the day."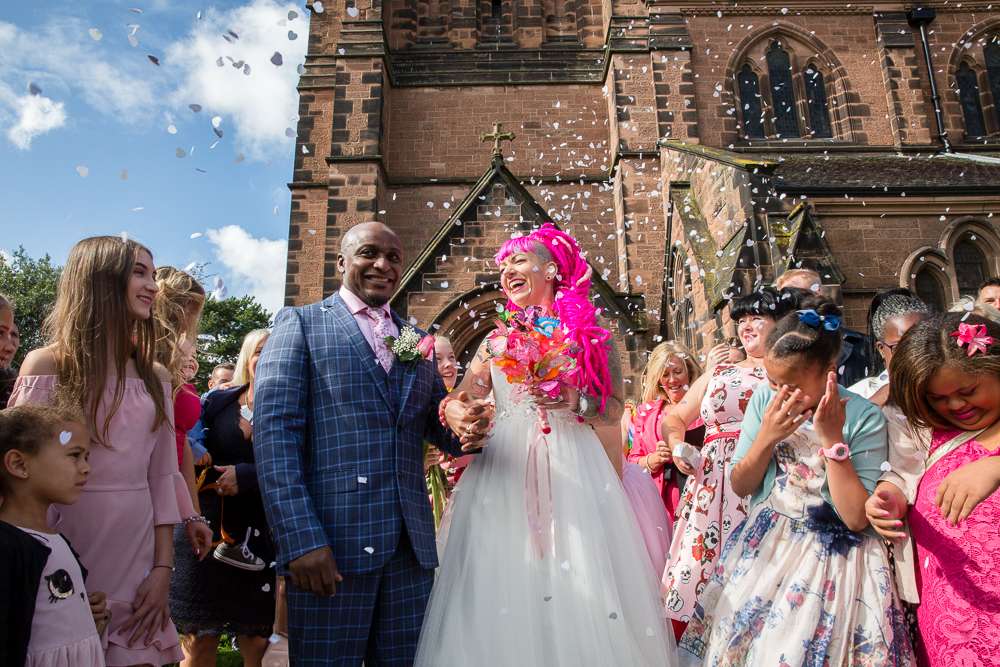 The entertainment was provided by their friend Richie who DJ'ed, and the glitter face painters Wish Upon A Sparkle who were, said the bride, the best thing ever!
The couple's biggest expense was the photography, which Julie said was "Worth every penny – we have so many pictures that capture the memories forever. We didn't have a set budget but were keeping things as low as possible. We spent about £6K in total, not including the honeymoon." It was by doing DIY that the couple managed to rein in the costs. "I made our silver wedding rings myself whilst camping in Cornwall the summer before. I made them in a jewellery making class and then bought the tools and finished them at home. Both are plain bands with the infinity symbol on each. I love them… and they fit! Making our rings myself probably saved the most, they cost £70 in total, including the jewellery class, tools and materials. I also began making pom poms out of my wool/hair six months earlier; I had about seven bin bags full. Our friend Cat also made lots and kept delivering them! And Matt put together 80 tissue paper pom poms!"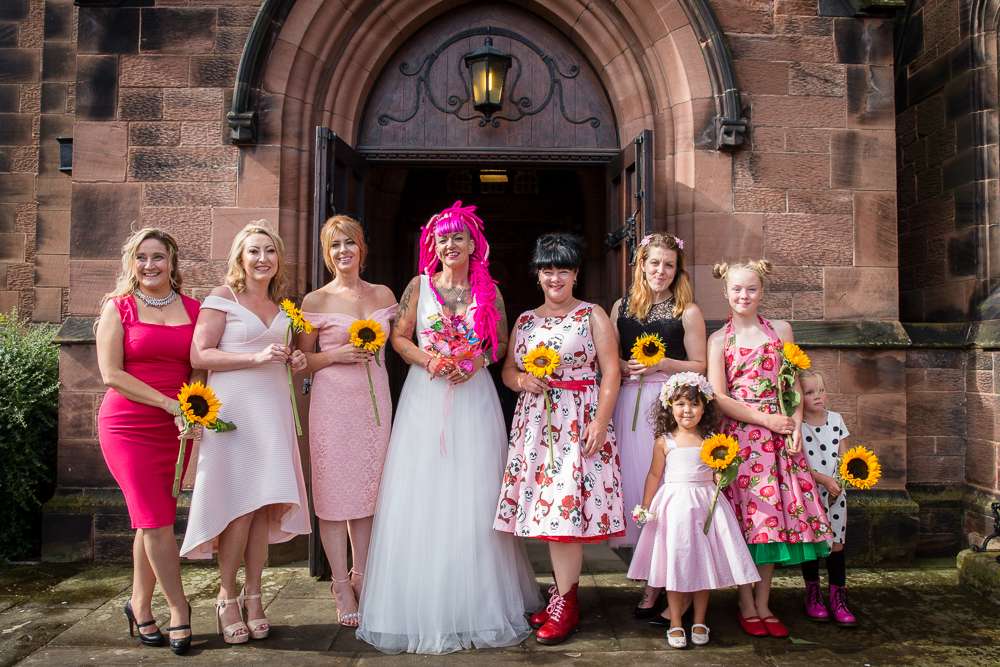 The bride also made the Save the Date's and invitations on MS Word and sent most electronically. "We hired a mobile bar, which had no initial cost (other than the deposit), and they had a great selection of drinks at very good prices. Oh, and I made the wedding cakes myself at a cost of £40 for ingredients. I made and froze them a month before." These were three baked cheesecakes (raspberry and white chocolate for one, a salted caramel, pecan and milk chocolate one, and finally a passion fruit, blueberry and lemon one). Their friend Lucy's husband made the Plasticine figures for the toppers.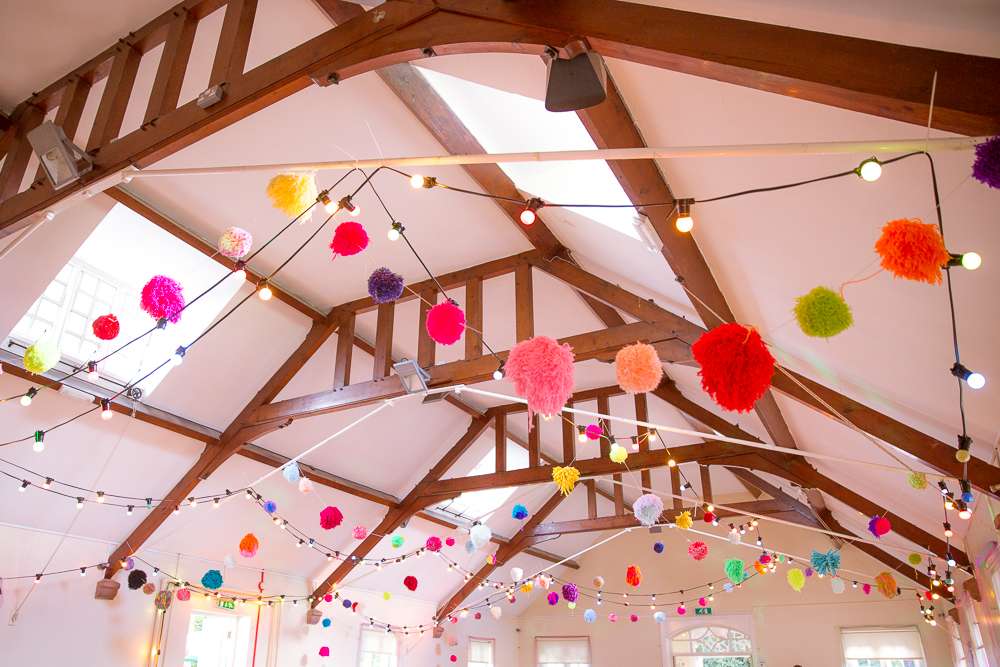 There were too many favourite parts of the wedding to mention, said Julie. "My mum and bridesmaids being with me in the morning at the hotel when my mum gave me her necklace; seeing Matt's face as I walked down the aisle; Cat and Makena singing Personal Penguin; saying my vows; glitter face painting; and seeing everybody enjoy the day."
The bride said there wasn't really anything she wishes she'd known beforehand about planning a wedding. "I was quite organised, and it was all hands on deck when we got the keys to the venue at 2pm the day before. We had many helpers and we finished decorating around 9pm. One thing I would say is things always take longer than you think and accept help when it's offered."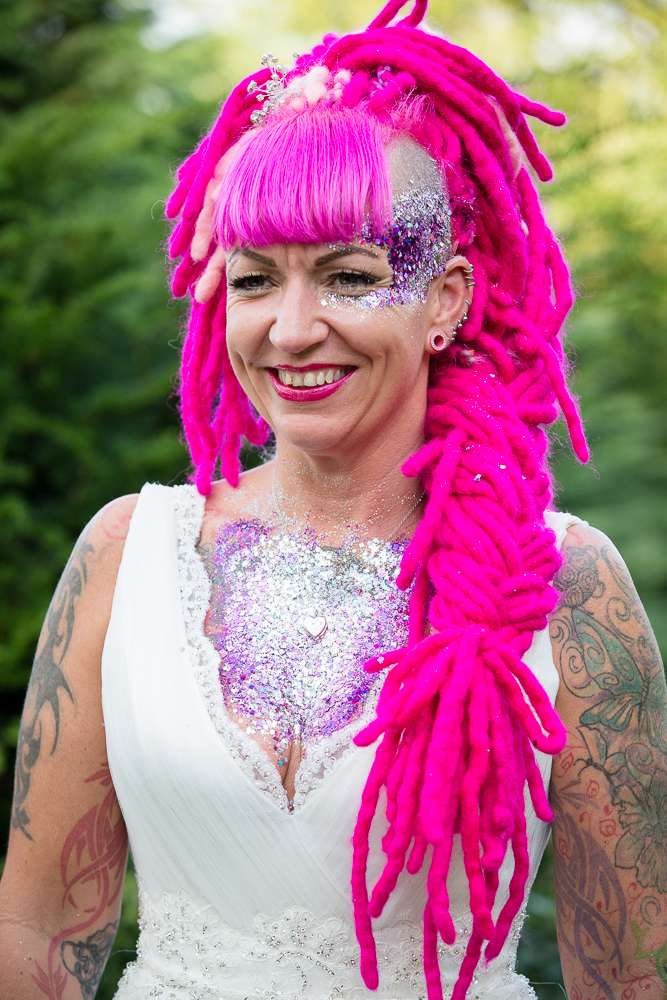 "The best thing about planning the wedding was I got to make it exactly how I envisioned it," said Julie, and "The worst part was the panic of bringing it all together the day before. Luckily, I had lots of competent helpers. In retrospect, the only thing I would have done differently was hire the gazebos from the venue. The ones I bought were flimsy and didn't survive anyway. I thought we could use them afterwards, but they took a while to put up and decorate, only to blow down and break."
"The only advice I would give to future brides and grooms is try not to worry about the really intricate details – they are not important. Enjoy every single second of the day as it all goes way too quickly… Oh and get glitter, everybody loves glitter!"