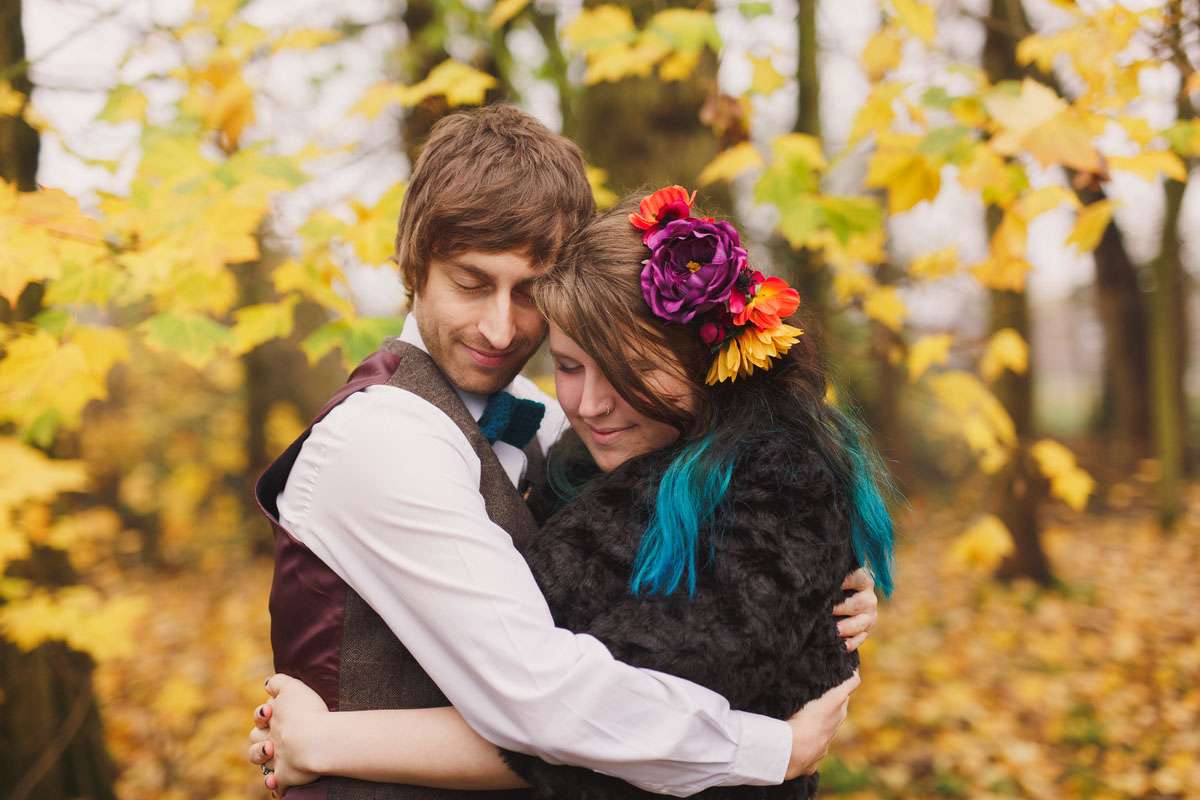 As a wedding blogger, being submitted a wedding described as a "dino glitter explosion" is a red letter day. Rob and Lucy's Derby wedding might have just leapt up to being one of my all time favourites ever! They were legally married in a registry office but had an emotional and beautiful blessing at their reception at Shardlow Village Hall.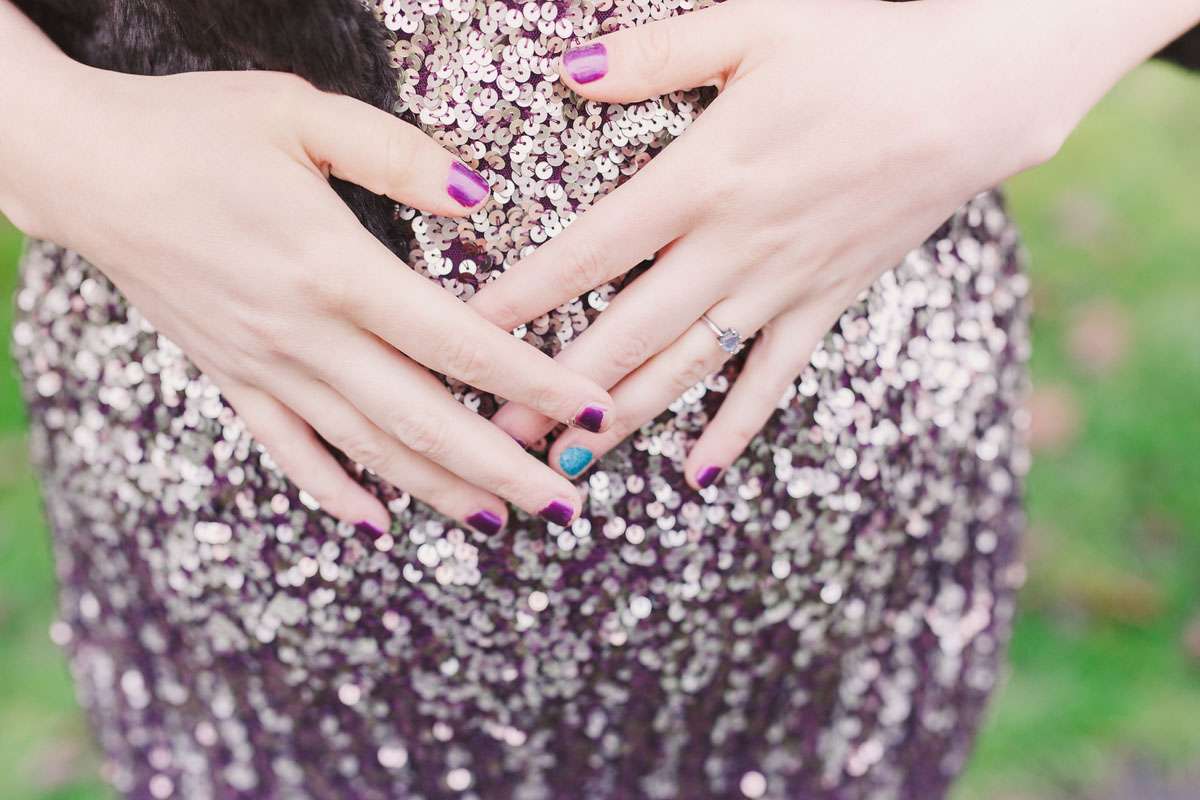 "We were inspired by our parents weddings", said the bride. "My folks got engaged on a Tuesday and got married two days later with flowers from the garden and a chippy tea for the family, and Rob's parents took only two months to plan their homespun wedding; they inspired us to just crack on with it! Most people spend over a year planning their wedding, but because we had just four months, only the most important things got done, and the rest of the pomp and circumstance just didn't happen. It left us free to do exactly what we wanted."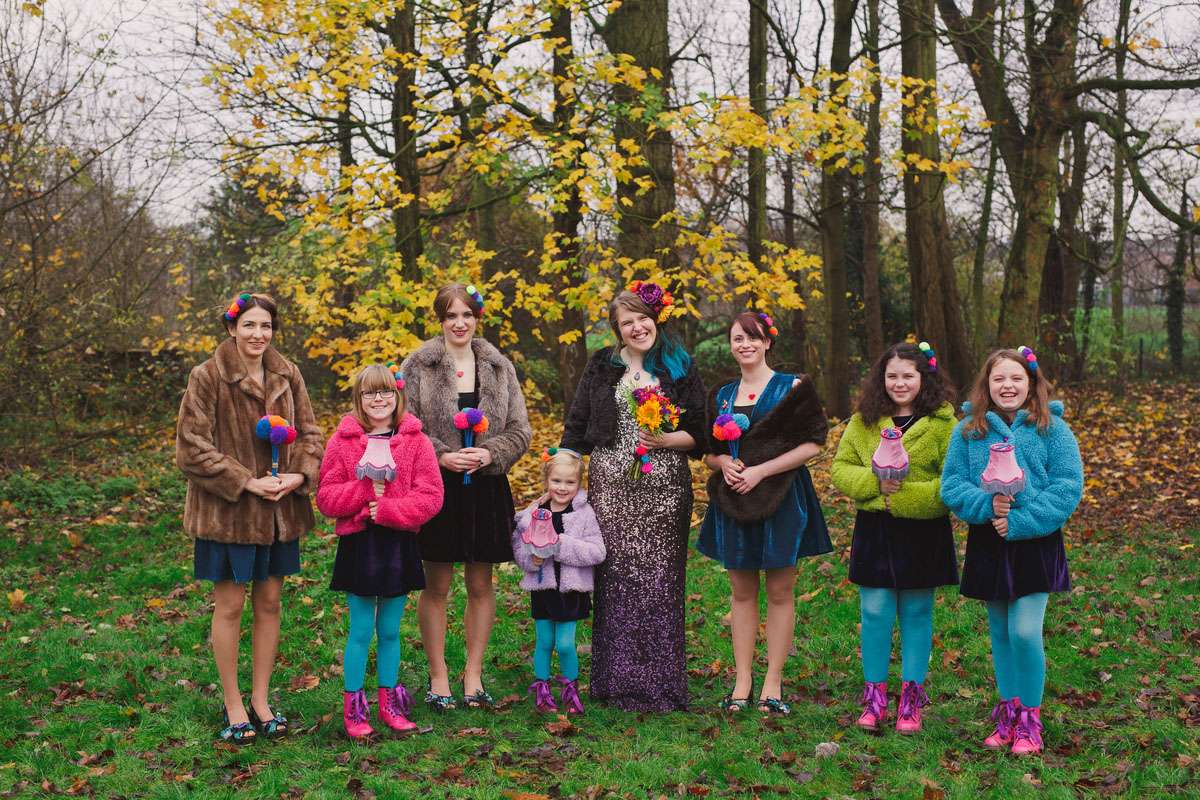 "Our wedding was a pom pom, dinosaur, glitter space party in the woods attended by Elvis and R2D2, and the best part of the day was our humanist ceremony. I had known our celebrant, Sally Ward, for years and she did the most amazing job delivering a personal and moving service that had us and our guests in tears. We had wondered if our guests would be disappointed or confused about our humanist ceremony if they had only witnessed religious/civil marriages before, but everybody couldn't stop gushing about how wonderful it was which was just lovely."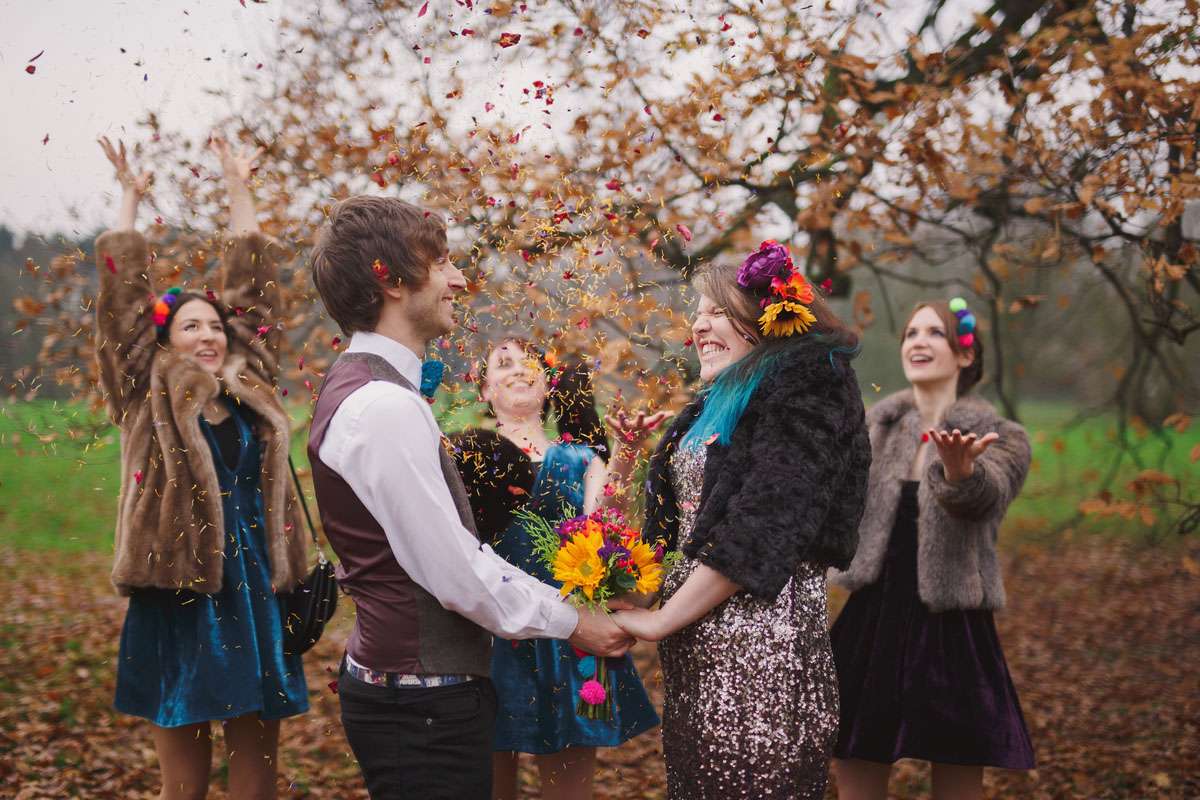 "I planned to surprise Rob by singing his favourite song during the ceremony. I roped in a couple of super talented friends to help me and we conducted secret rehearsals in the weeks leading up to our big day. But alas, when it came to it, I couldn't sing for crying so my friends and our guests jumped into action and sang it for me, I just about managed to join in on the choruses between blubbering hugs with Rob!"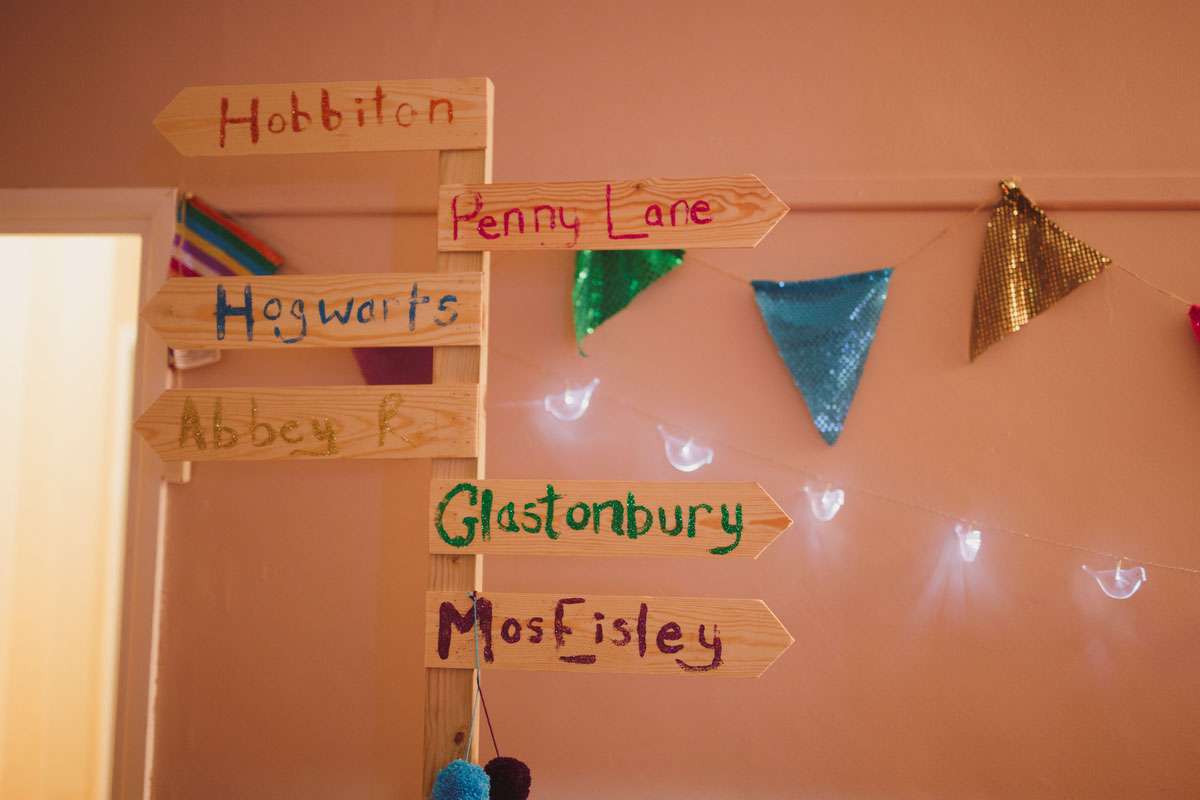 The bride's dress incredible dress was from Phase Eight and her headpiece was completely DIY! As were all the flowers, the stationery and the décor. They also had a homemade cake and the guests bought food instead of gifts, negating the need for an expensive caterer. All in all the spend less than £4,500 on the wedding.
"We did bazillions of DIY projects, it was really important to us that they day felt homespun and personal. We made the kids' bridesmaid dresses, all the bouquets (including the light up lampshades). We handmade over 200 pom poms, bunting, table cloths, the knitted bow ties, the page boys' waistcoats, my headdress, the bridesmaids' headbands, the Lego boutonnières, the centrepieces, all the signs and 100 glitter tin can lanterns that we hung in the trees outside the venue. Our two favourite projects were the giant willow star lanterns that we hung from the ceiling and the 150 toy dinosaurs that we spray painted for the favours."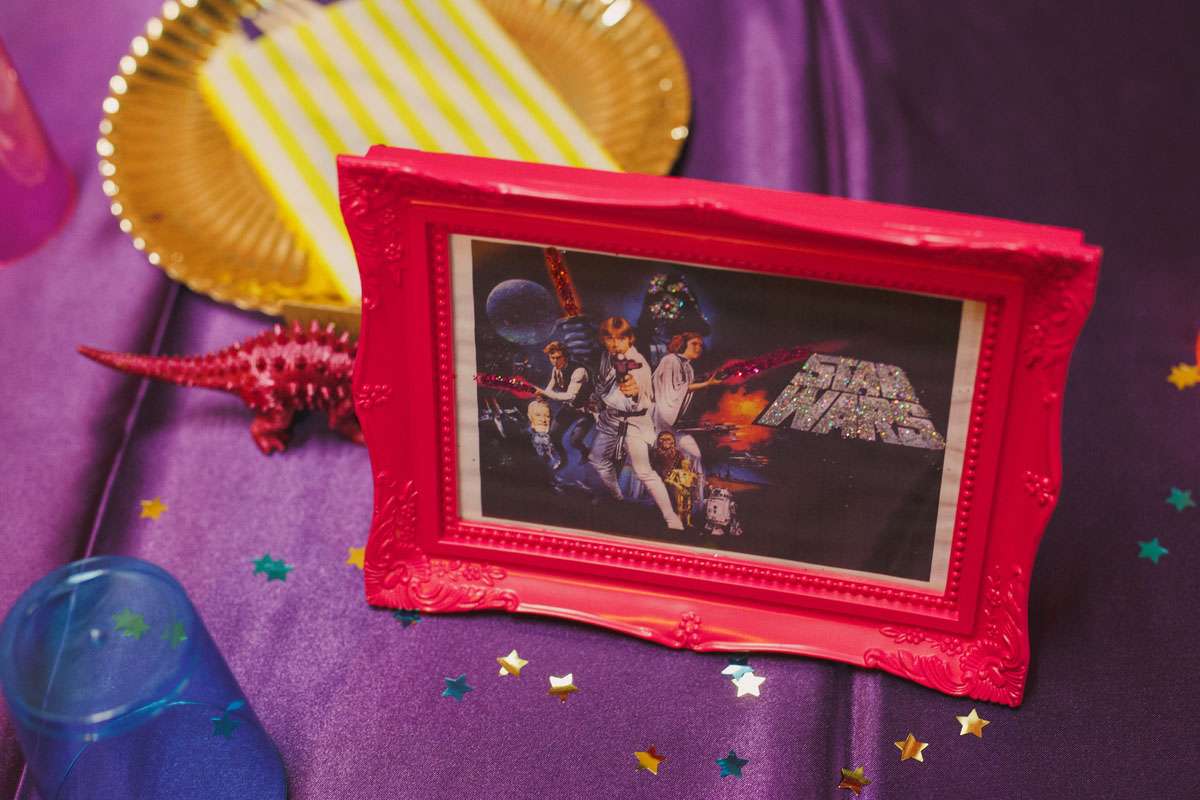 "Our biggest expense was photography and nearly half our wedding budget went on it. We felt that the photos were really the only thing you get to keep and treasure forever, everything else is just material, so it was an easy decision to make. Our photos captured the emotions of the day perfectly. I found the super awesome Camera Hannah through Rock n Roll Bride ages ago, and when it turned out she was based in Derby too and we had mutual friends she seemed like the perfect fit! We were so sure that it had to be Camera Hannah that she actually picked our wedding date! We got engaged in July and knew we didn't want a long engagement so we sent her every Saturday we had free until Christmas and she told us what date worked for her!. In hindsight we are so glad we got four months to plan the wedding, it was just enough time to do all the crazy DIY that we had in mind. As part of our package Hannah also made us a short wedding video, which is probably our most favourite momento of the day. Our wedding already feels like so long ago, it's almost like it was a dream, and to be able to relive some of the best moments is just beautiful!"
Editors note: I smiled the whole way through this video. WATCH IT!
"We saved money on literally everything else! We were lucky in that we had no pressure from parents or mates to have a big expensive white wedding, so the world really was our oyster. Because we didn't have to please anybody but ourselves we saved money by DIYing, but the biggest money savers were choosing a village hall for our venue (less than £200 for three days!!) and deciding to have a pot luck buffet. The DIY catering wasn't actually a financial decision, it's just we already live together and have everything we need so we asked our guests to either donate money to a local charity or bring along a signature dish. We loved the idea of big array of home cooked grub and we weren't disappointed, we ended up having to put up four emergency buffet tables and all the food was totally delicious!"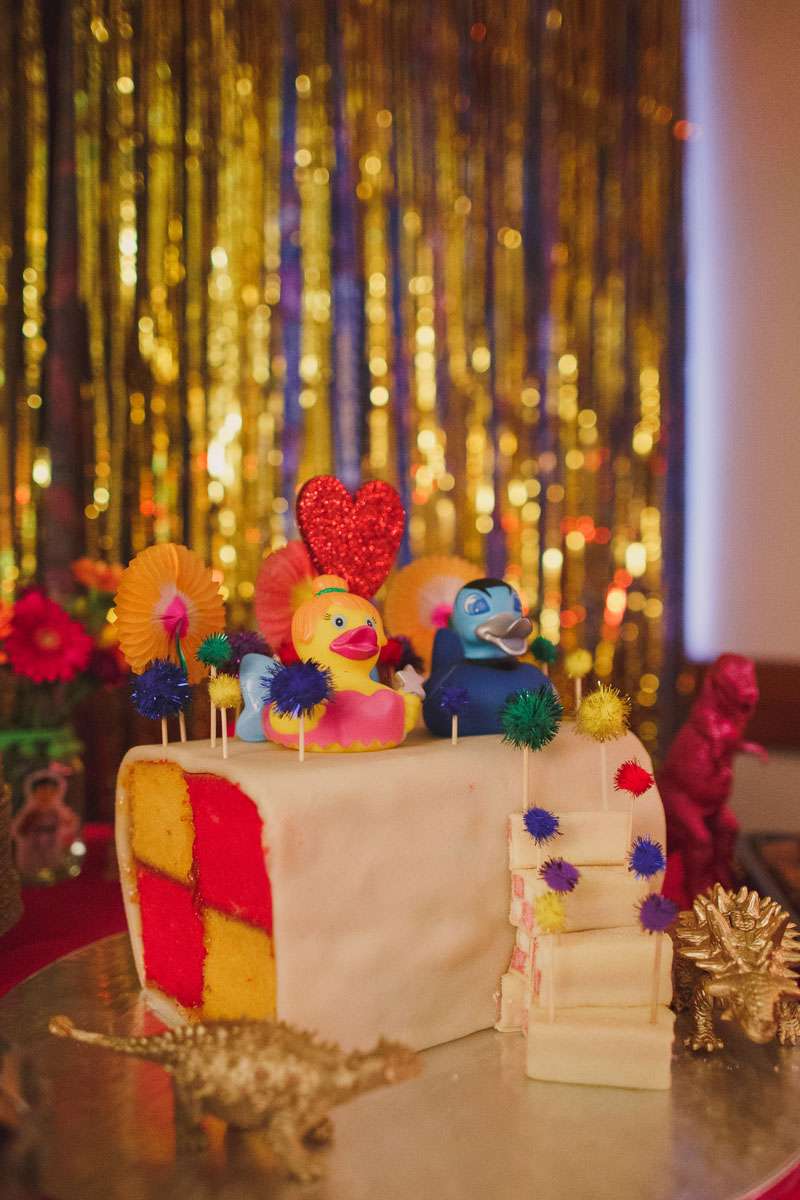 "Everything people say about the day flying by is true", Lucy continued, "so don't pick a photographer because they fit your budget. Pick someone who's work you think is totally awesome and make your budget fit them. Trust us, on your wedding day you don't care any more about the material stuff, you want someone you can trust to catch all your feels on camera. But the biggest and best advice we could give is to make it all about you, because even if your guests wouldn't choose dinosaurs, Dr Martens and a pot luck buffet in a village hall for themselves, they will immediately see if what you are doing is authentic to you and they will get swept away on the loved up, honest, awesome-ness of it all."