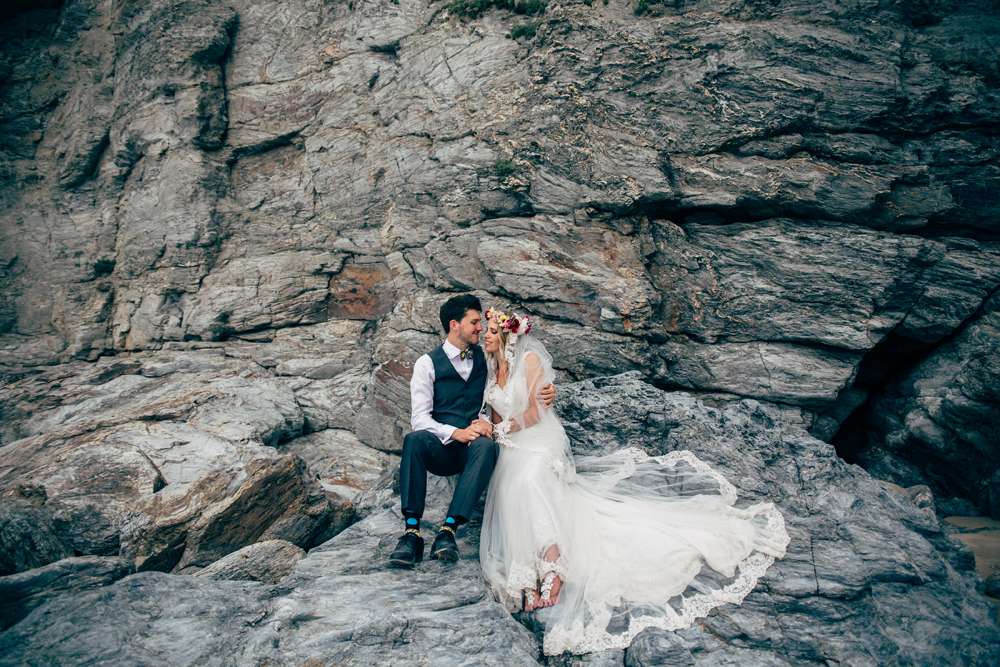 Simon and Jodie's midsummer wedding was the best kind of mash-up that brought together all the things they love. Taking place by a beach they surf in Cornwall, the bride described their day as, "Very us – Marvel, surfing, travel, beach, colourful and uncouth – we first danced to I'm a Believer by the Monkees and ended the night crowd surfing." Judging by the crazy amount of glee you can see on everyone's faces, they pulled off an absolute cracker of a day, and all for a budget-friendly £6,000.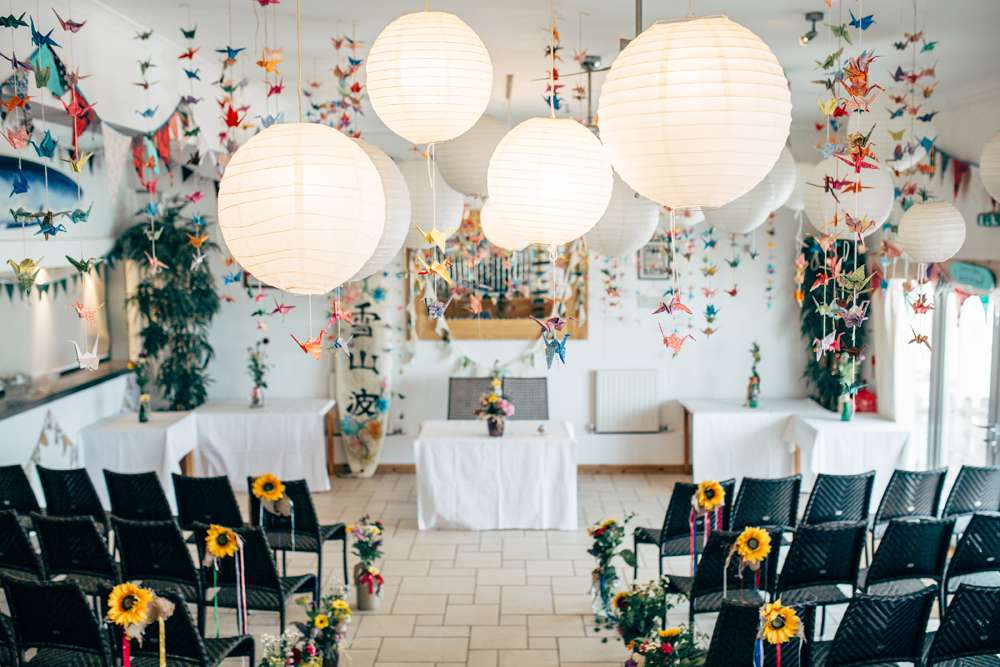 The way they approached it all was with tons of fun and not taking themselves seriously. "We didn't try to conform to a theme or a particular look – we just went with our hearts. We had a clash of colours, a large toy donkey, painted skateboard decks, and a dance off. We weren't caught up with trying to please people or trying to look perfect. Friends said that what made it unique was that they knew it couldn't have been anyone else's." And that right there is 100% wedding goals.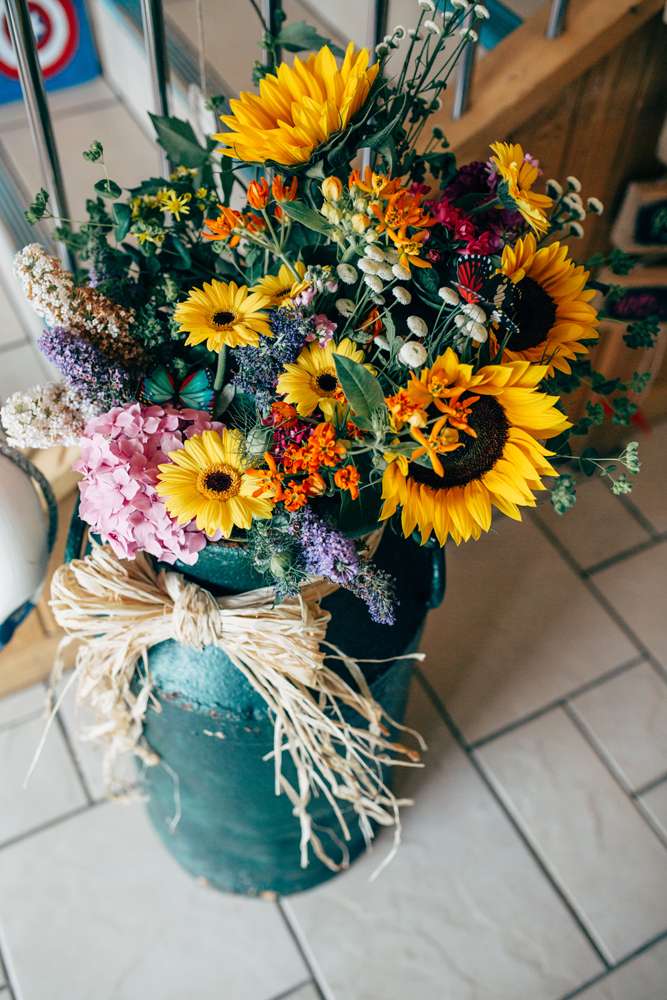 The couple had their whole day at Blue Bar in Porthtowan. The ceremony itself had lots of popular culture details. "Si's nephew walked down the aisle with a sign saying 'Here comes the love of your life' (Si cried!). Then I walked down the aisle to Sixpence None the Richer's song Kiss Me, and we had a reading of The Lovely Dinosaur, reworked to talk about Si's love of comics and my love of waking up early. We had a reading from The Last Unicorn and Si's dad read the words to the Beatles' All You Need is Love. We signed the register to A Whole New World from Aladdin and walked through hand-painted oars with Iron Man and Captain America on that Si had made, and a unicorn that I had painted, with confetti thrown and bubbles blown."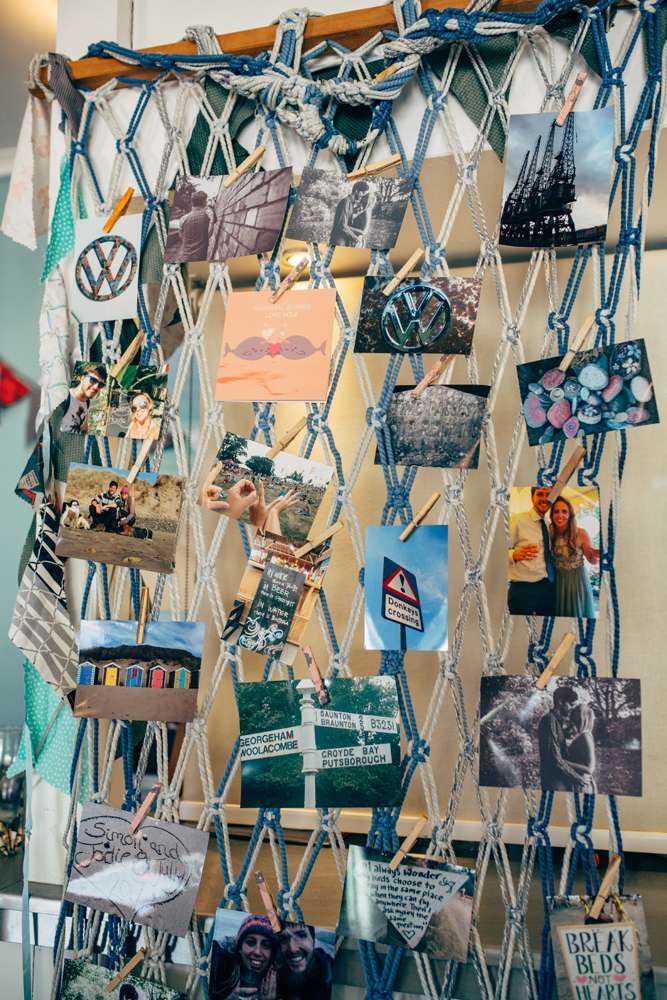 Jodie's jitters regarding the speeches turned out to be justified! "I had been so nervous about the speeches – mine as I hate public speaking, Si's in case it would leave me in inconsolable and ungraceful tears, my dad's for how nervous he would be, and best man Thatch's for the potential for stories that shouldn't be told in public let alone to all of our families. I didn't even think about the potential for the maid of honour's speech! She is infamous with both our families now for stories of misplaced tiger balm and festival toilet incidents!"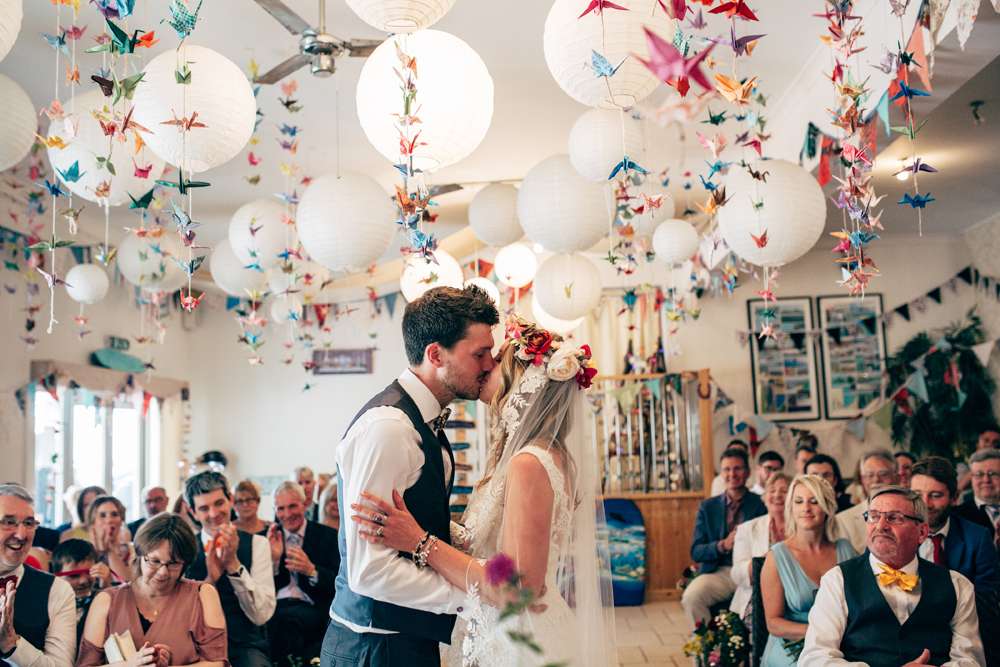 Jodie's stand-out elegant Lusan Mandongus dress was bought in a sample sale from Dolly Blue Bridal in Shrewsbury. Her heels were her 'something borrowed' from her maid of honour, and she made the barefoot sandals herself for £12 with eBay lace appliqué and ribbon. Her stunning headpiece she also hand made using flowers from eBay and car boot sales plus birds from florists. Her charm bracelet was, "From my wonderful nan who couldn't make the long journey to the wedding."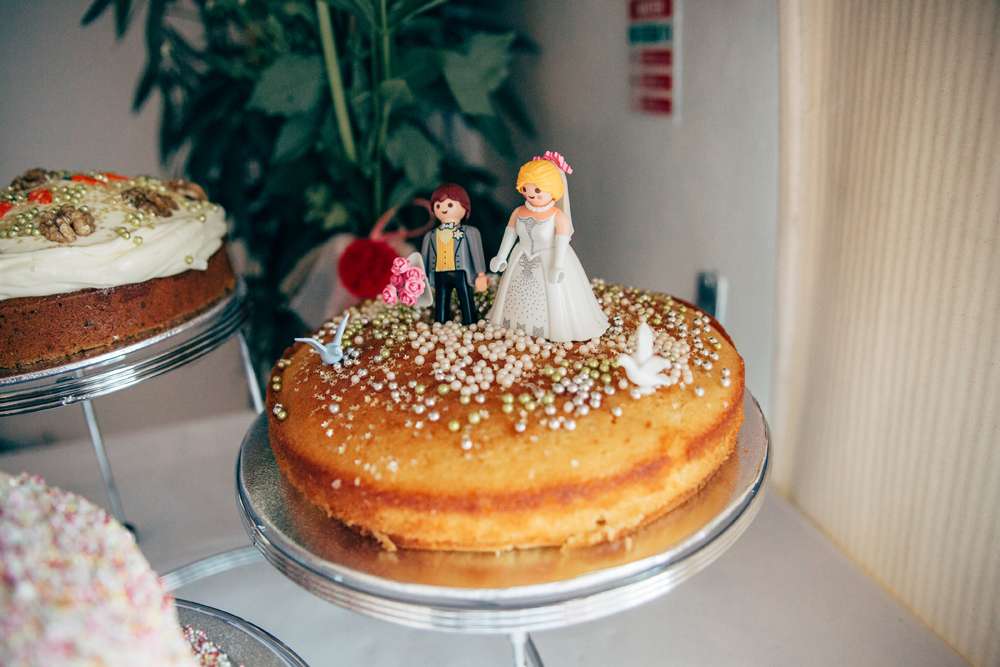 Jodie and Simon did a lot of DIY. "The biggest project was making 1,000 origami cranes, starting over Christmas and roping anyone who set foot in our flat into helping by providing food and drink in exchange for the extensive paper folding. We spent a year collecting car boot sale treasures to go in our Marvel Lego centrepieces and miniature props to show our favourite travel spots. I hand-sewed a hundred metres of bunting out of old scrap material whilst sitting around campfires on camper van trips. There were my DIY headpiece and barefoot sandals, and Si's Marvel cape was made by my costume designer friend Ros as a present from me."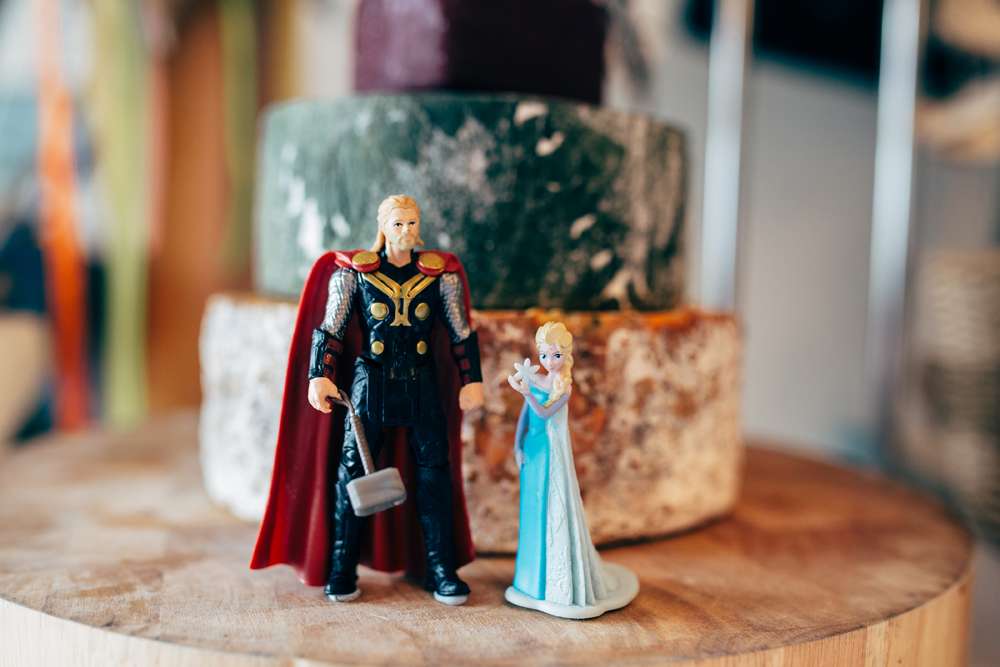 "We painted cardboard boxes like VW vans as wearable props to arrive in to save money on a wedding car as it was only a two minute walk to the venue, and had various ride-on animals for the bridal party to arrive with, which created hilarity and confusion amongst bystanders! And of course the painted oars we used as our arch for the confetti throwing bit."
The gorgeous cake was a team effort from Simon's mum, sister and sister-in-law. Flowers were bought directly and put together by Jodie's maid of honour and put in vases, urns and wellies from car boot sales. Their stationery was all DIY with photos used as invitations, and place names were made from painted rocks collected from their favourite beaches. There was plenty of reception entertainment in the form of band Ferris Wheel Junkies, the bride and groom on DJ duties, a DIY photo booth, and a fancy dress box.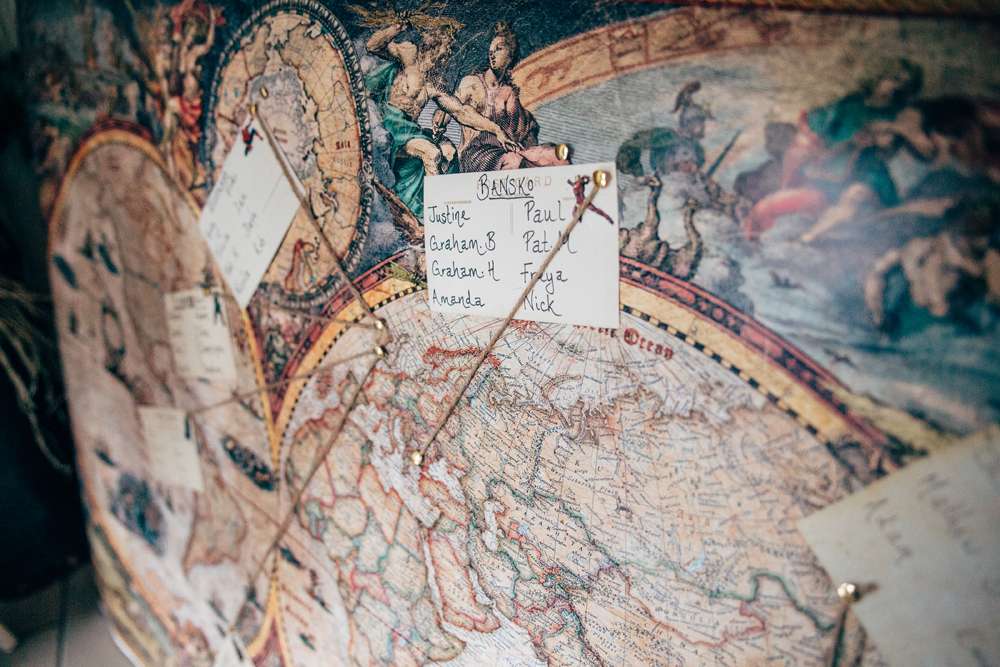 "We hadn't planned to spend so much on a photographer, but when we met Naomi at a wedding fair, we knew we had to have her despite having had trial shoots with someone else. She's a fellow fan of camper vans and festivals so understood our vision. I can't imagine not having had her as she was amazing. Speaking as someone who hates having photos taken, she made everything very natural and personal." Jodie said they saved money when buying things for the wedding by just really taking time to consider whether it was something that would change the day for them or not.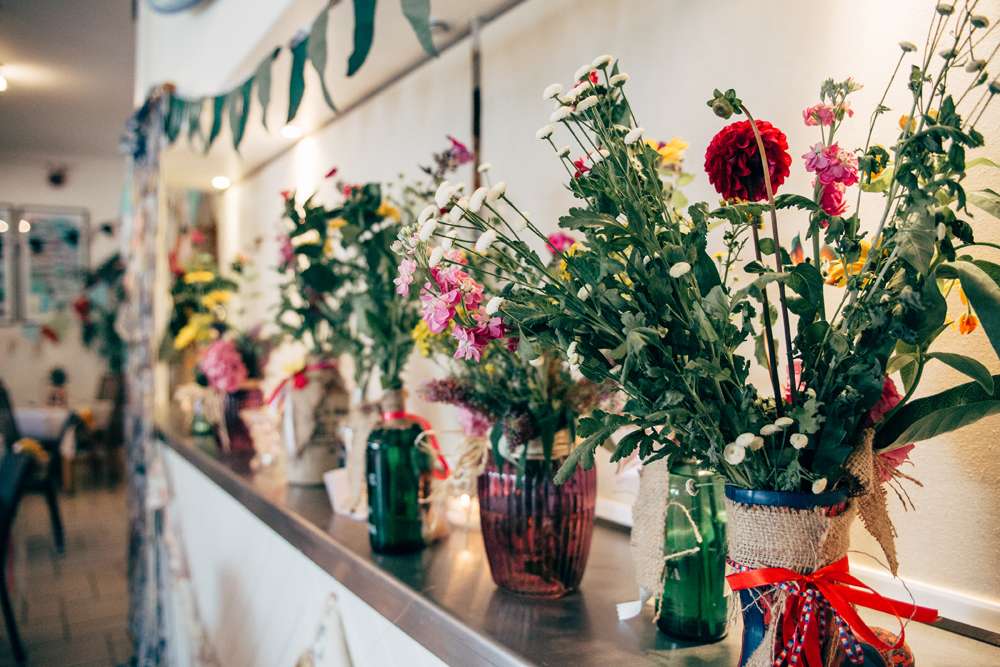 Jodie had many favourite moments of the day. "The vows were amazing, and the nerves disappeared. I promised Si I would let him lie in occasionally, he promised me he would try to get into water no matter how cold or how hot, we talked about our adventures and we both promised to never grow up even when we grow old. Also the impromptu and unplanned moments were amazing: during the meal, Savage Garden's Truly Madly Deeply came on and the whole room started swinging their arms and singing – it was my favourite memory. We did a human pyramid, spent a lot of time running around the beach, and Simon and I both crowd surfed – one of our favourite pastimes!"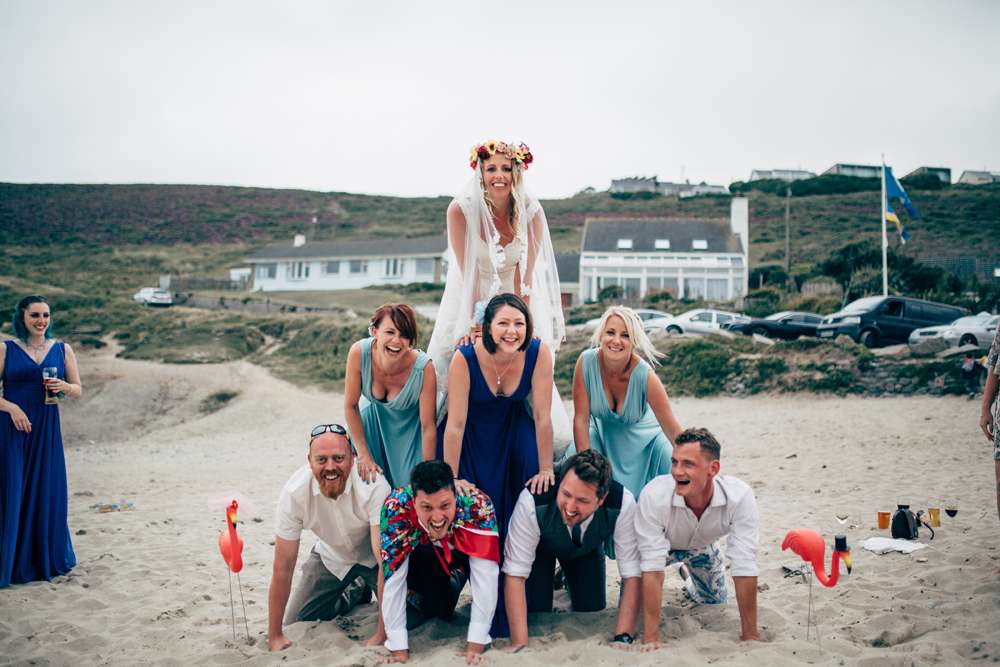 Jodie said she wished she'd known beforehand that the wedding planning would be so awesome! "I wish we had booked our big day for four years down the line to have another two and a half years of collecting random car boot goodies, crafting and planning!" Their planning was, in fact, so enjoyable that Jodie said the worst thing about it was it being over!
"There was only one thing she would change", said Jodie, "I never thought I would say it but possibly I would have been a little more princess – I was so busy putting up cranes that I ran out of time to wash my hair or paint my nails. Delegation is key if you are going to DIY!"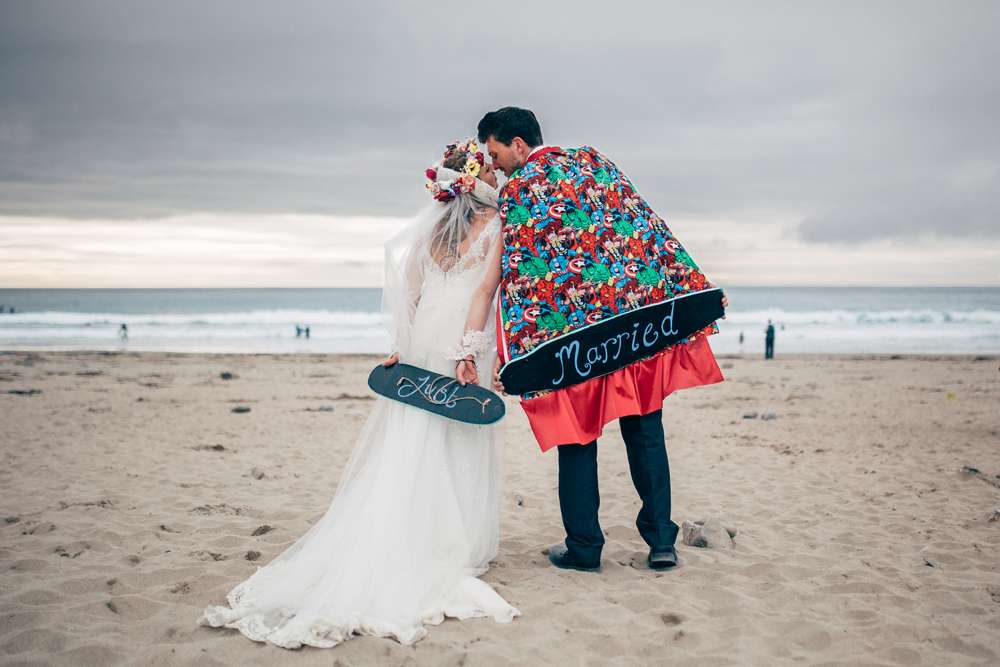 Jodie's advice for future brides and grooms is to be imaginative. "Do what is true to you. If you want to arrive at the wedding in a cardboard box VW with your flower girl on a unicorn, crack on. Don't take yourselves too seriously, there are enough weddings that do, no-one will remember it!"
Jodie added a huge thank you to Rock n Roll bride for inspiration and excitement, and to their families for embracing and not judging!