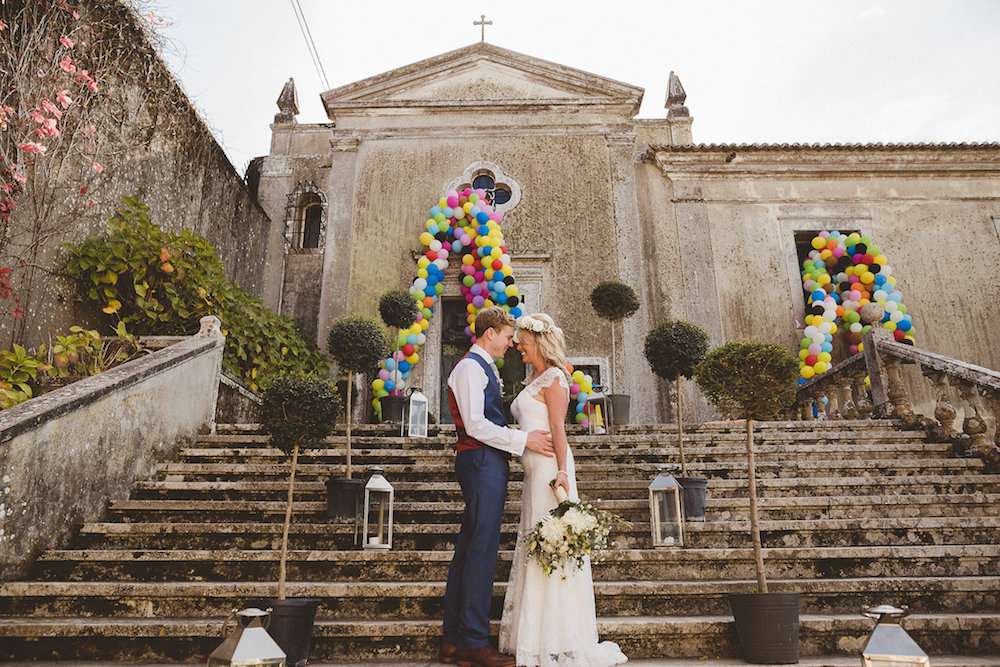 Three words: Up-inspired balloons! Okay, loads more words: Camelia and Tim's wedding was a dreamy laid back affair in a stunning Portuguese retreat where the focus was on fun, friends and family.
Camelia and Tim knew they wanted to get married outside and for it to be totally informal, which took their search abroad. Having visited Sintra in Portugal for a festival called Boom, once they found The Quinta they knew it was the perfect place for them to get married (before they'd even visited!) A beautiful venue in its own right, they totally knocked it to a whole new level with 3000 brightly coloured balloons tumbling out of the window onto the lawn to resemble the house from Disney Pixar's "Up".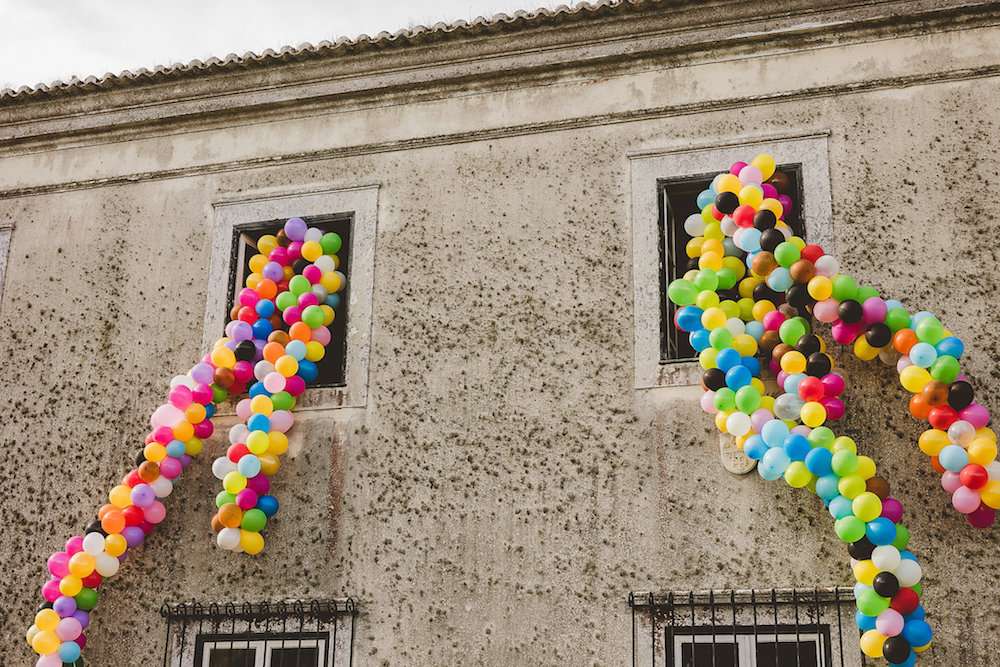 Although there wasn't an overriding theme, their wedding celebration had a total festival feel. Having met at a festival and first realised the spark during another, the whole weekend focused on laid back vibes and great times. "We'd been told by other couples that the wedding day goes fast, so with this in mind we decided to have a three-day wedding (a bit like a festival!) so we could maximise our time with our nearest and dearest. We also like to party!" Camelia explains.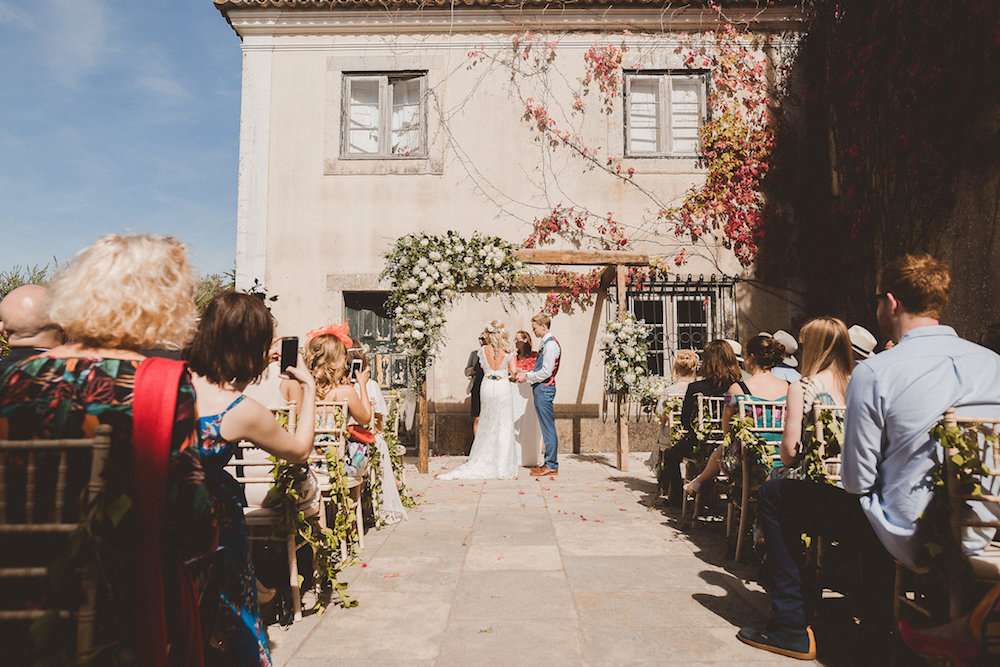 To let her know how special she is, Camelia asked her mum to walk her partway down the aisle to meet her Dad, who took her the rest of the way. "It was important to us that all our guests felt part of our wedding," Camelia continues, "so we asked three close friends to pick readings for the ceremony. All three brought tears to our eyes! My best friend Ruth also plays in a London based band called Mama Moonshine alongside her boyfriend, and so she sang me down the aisle, which was magical."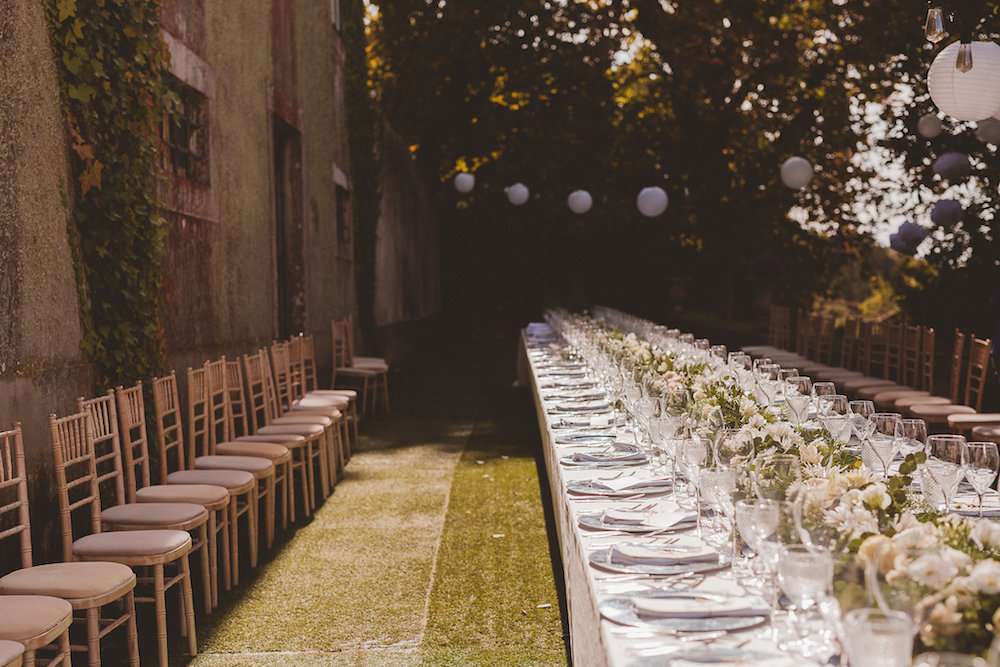 They also had a Swedish tradition called Toastmaster at their wedding, which they were told about by a lovely Swedish couple they met on a trip to the Phillippines. "In Sweden, each wedding has a person or people especially appointed to handling the organisation of toasts. Anybody and everybody gives toasts at Swedish weddings so it's a big deal! We were lucky enough to have a toastmaster and a toastmadam. Our friends and family not only gave us the most amazing speeches and stories but also surprised us with a personalised limerick, Chinese whispers, an acapella rap, and a modified Fresh Prince of Bel-Air theme tune about us. We were both crying and laughing for hours, feeling very lucky to have such creative and generous people in our lives. Unlike many weddings, I also gave a bridal speech. I like to talk!"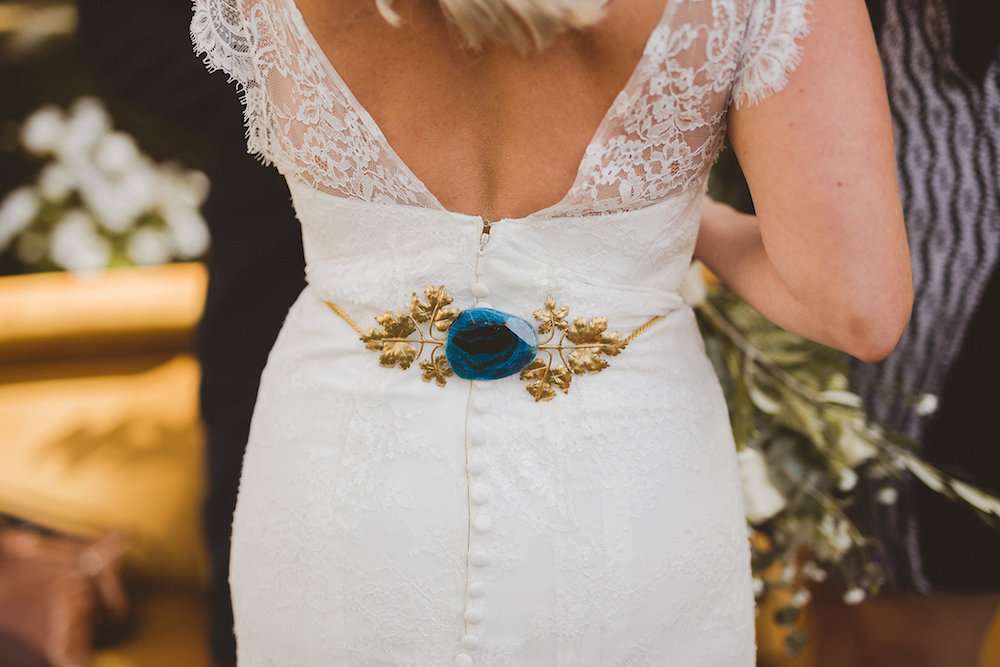 Camelia and Tim describe themselves as "like two excitable and indecisive kids" when preparing for their wedding, "both totally unable to make decisions!" One of the decisions Camelia didn't like making was for the dress. "I didn't particularly enjoy the process of picking the wedding dress, but Jo of Joanna Roberts Bridal made everything so much more relaxed and personal. Her amazing eye for what suits you, and her honesty, really helps, and she styled my bespoke dress around a Panambi belt I'd bought. When I saw it, I just knew I had to have it – it was actually out of stock when I had seen it on their instagram page but one of my friends who's fluent in Spanish went straight to their head office and made sure I had it!"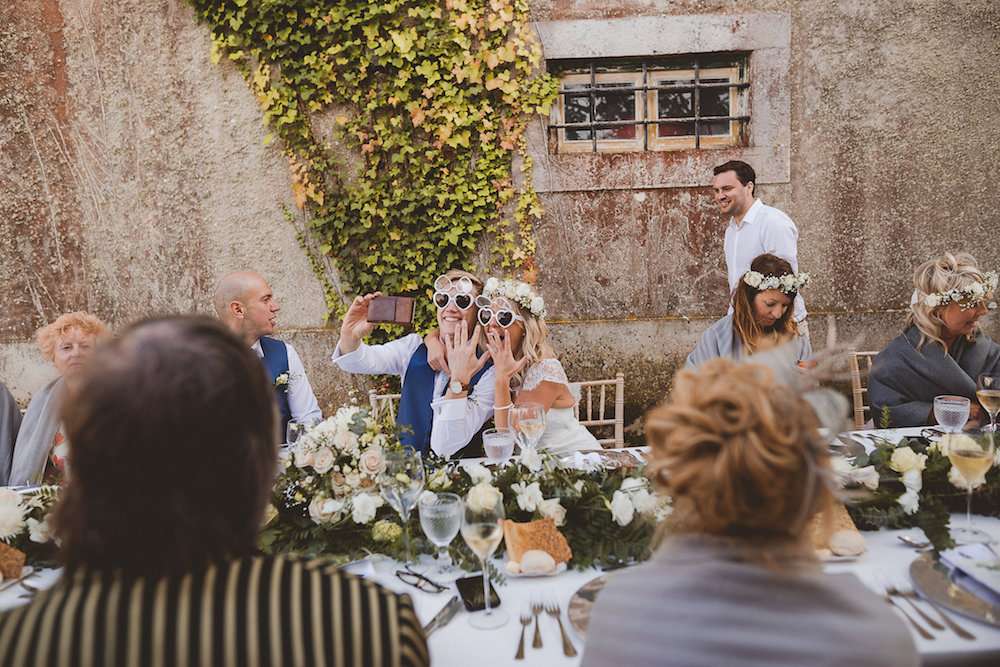 It had always been Camelia's mum's dream to have all three of her daughters wearing fresh flower headpieces, and it was the perfect fit for Camelia and Tim's bohemian look for the day. Tim wore a suit from Ted Baker with a tie from Mr Bow Tie. Keeping along those down-to-earth festival lines, they sent their invites via email to avoid paper waste and had a comprehensive wedding website.
We totally adore this whole wedding, from the balloons to the attitudes to Camelia's sequinned party play suit on the dance floor right at the end – who knew boho and totally bad ass went together so perfectly?!