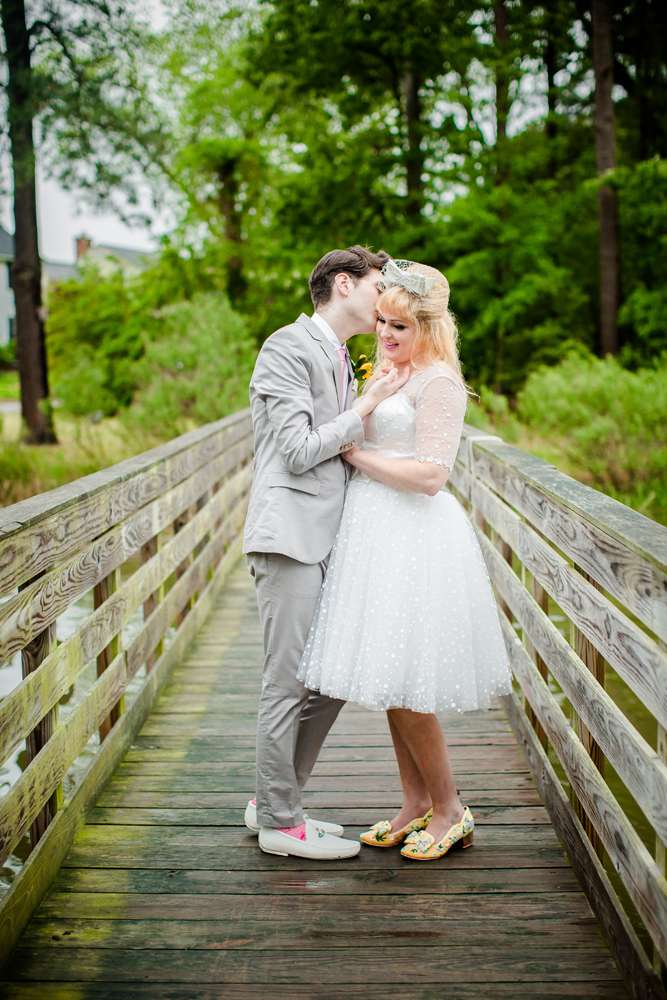 With its late 50s/ early 60s fashion and and a sugary pastel palette, Megan and Matthew's super cute Disney-infused wedding day is a retro-lover's dream. If you are Disney-obsessed, you're going to be in heaven over this one!
Their theme was 'Date Night at Disneyland,' based on the weekend dance parties held at Disneyland in the 1950s. The bride said, "We grew up at Disney parks, got engaged at Epcot, and travelled to many Disney parks together. It would feel wrong for our wedding to be about anything else. Visually, we were really inspired by the late 1950s/ early 1960s, which was the golden age of Disneyland. Our single biggest inspiration was the artist Mary Blair and her seminal creation It's a Small World. The dedication to our theme is what set our wedding apart. We made almost everything ourselves – the stationery, the centrepieces, all the décor. My parents were really worried with how outrageous everything was going to be because when you tell people, 'We're having a Disney wedding', they expect a big Cinderella dress and everything with Mickey on it."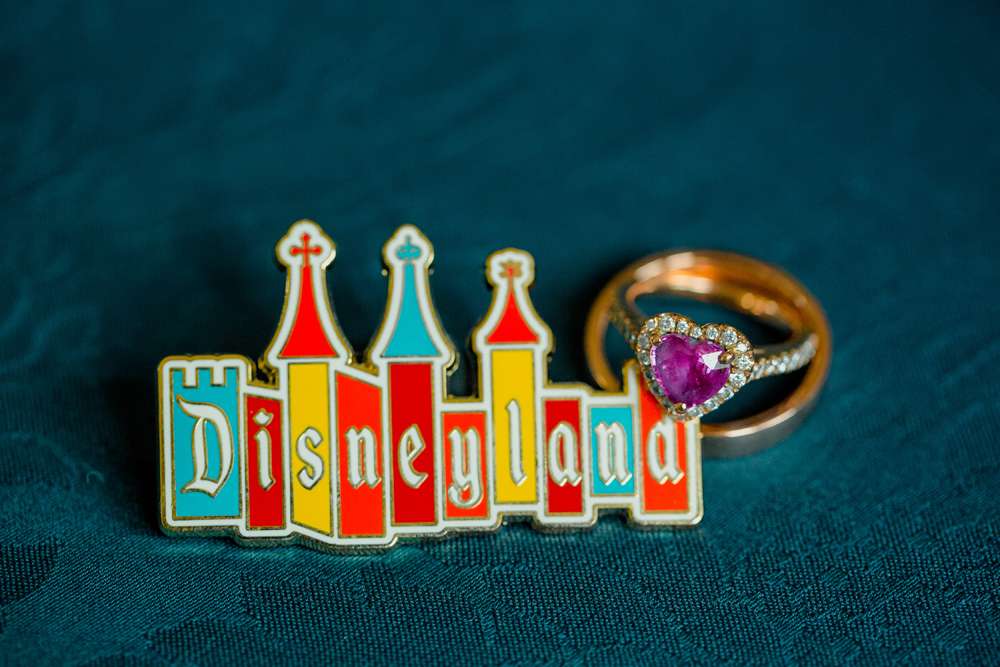 The bride said the ceremony was supposed to be outside on a deck at their venue, the Woman's Club of Portsmouth, but the weather had other plans, "I had made pink and yellow tulle curtains to hang over us, and we purchased large balloons to guide the way. Unfortunately, it rained. A lot. We had to make the call to have the wedding inside, which ended up being OK. We kept the ceremony short and sweet. We wrote our own vows and sobbed the whole time. My bottom false eyelashes were all the way down my cheek by the end. Matthew's vows were really thoughtful and sweet, and mine were goofy, which is classic us! We were able to livestream the whole thing on Facebook for our friends and family that couldn't make it, which was really nice."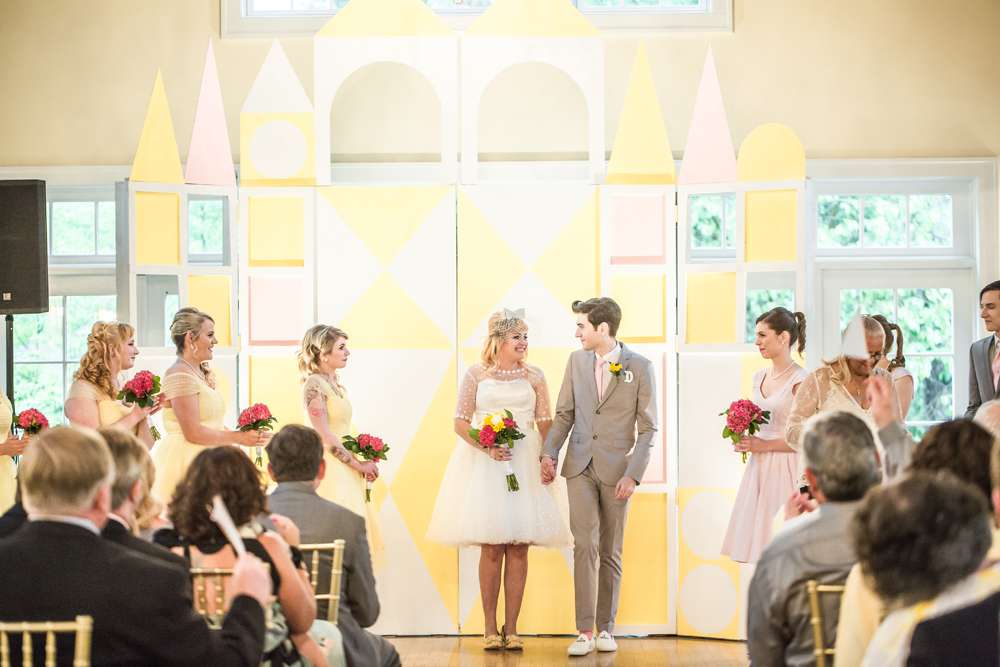 The bride's retro dream dress was by Kitty & Dulcie, which she wore with cute Irregular Choice heels and a veil from Pinup Girl Clothing. The groom sported a pale grey suit from Topman with loafer shoes by Vivienne Westwood. Unique Vintage supplied the bridesmaids' canary yellow dresses, while the groom's ladies wore Hell Bunny, and groomsmen wore rented tuxes from Menguin.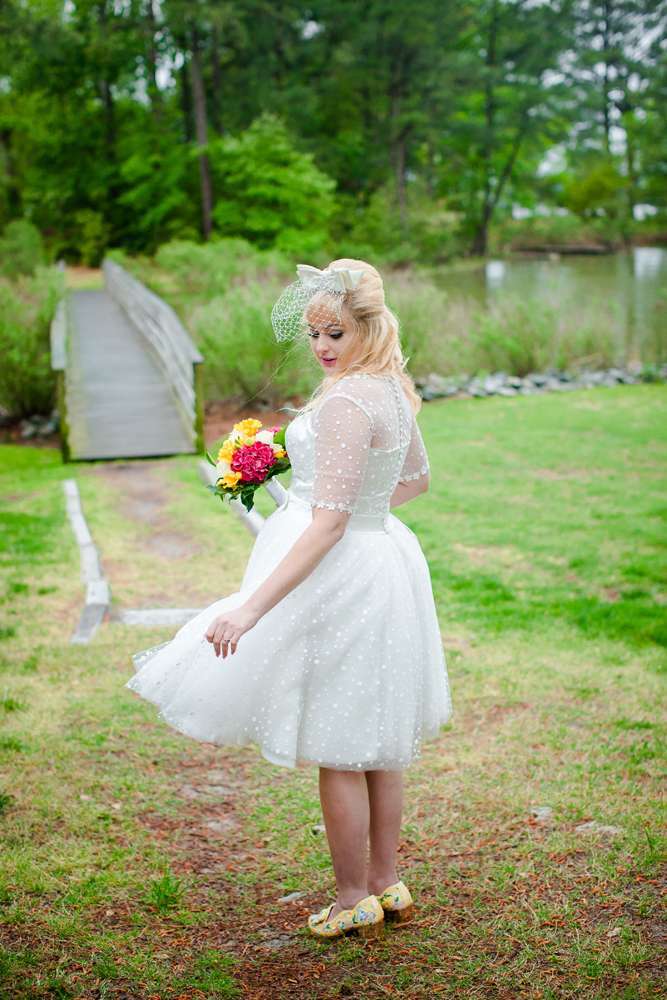 Megan said their favourite part of the day was their outfits. "We love to dress up, and it was really important for us to look nice. I've wanted to wear a bouffant since I saw a picture of my grandmother with one as a kid. Bouffant hair and big false lashes were literally the only things I required for the wedding. I tried the whole wedding dress boutique deal and it wasn't me. I can't walk in heels to save my life, so the flats saved me."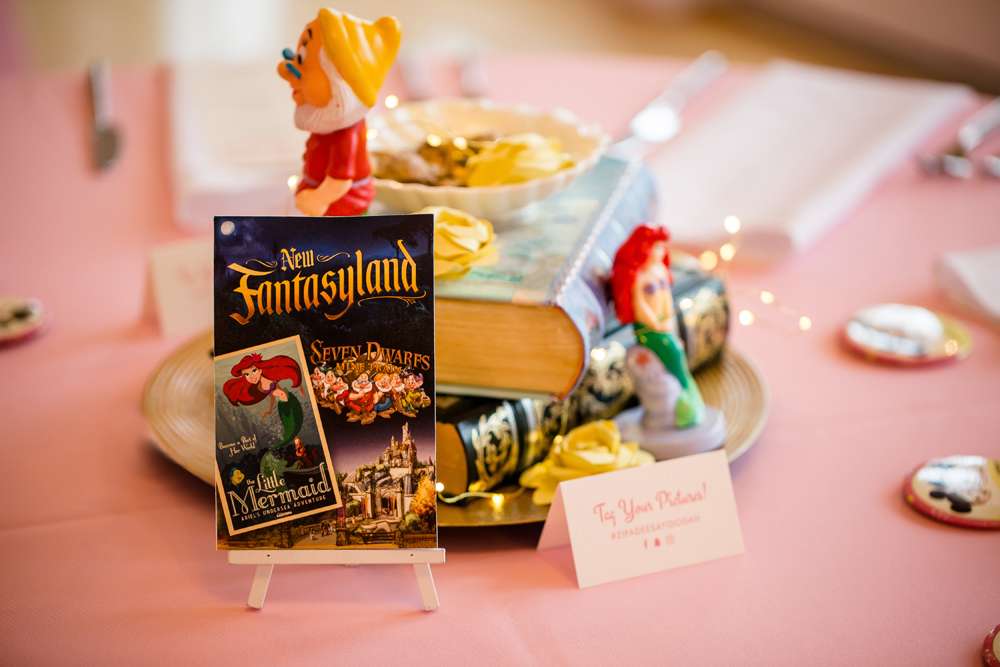 Pretty much everything was a DIY project, Megan said, "My husband is a graphic designer, and I am an art teacher, so it was important for us to make it all ourselves as we both are academically trained artists/ designers and crafters. Our large scale It's a Small World focal point prop was created by my husband first on the computer and then contracted through a family friend to build it into the large 12-by-16ft backdrop. Matthew and his father sanded and painted it themselves. It really filled the space and made our reception space (and ultimately our ceremony space) very special."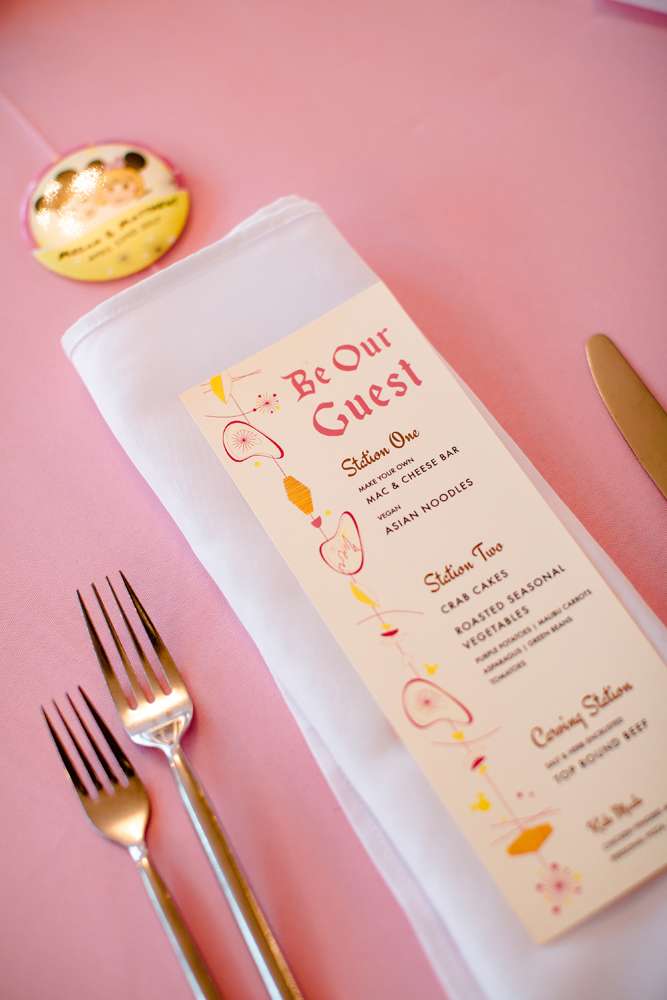 The biggest expense was the food. "My parents wanted to make sure there was enough for everyone. Although we wanted an all vegetarian wedding, as I'm vegan and Matthew is vegetarian, it was really important to our parents to serve some meat. Our caterer was great, and we chose him because of how many vegan options he offered. Most of our vegan and vegetarian friends said they were never able to eat so much at a wedding."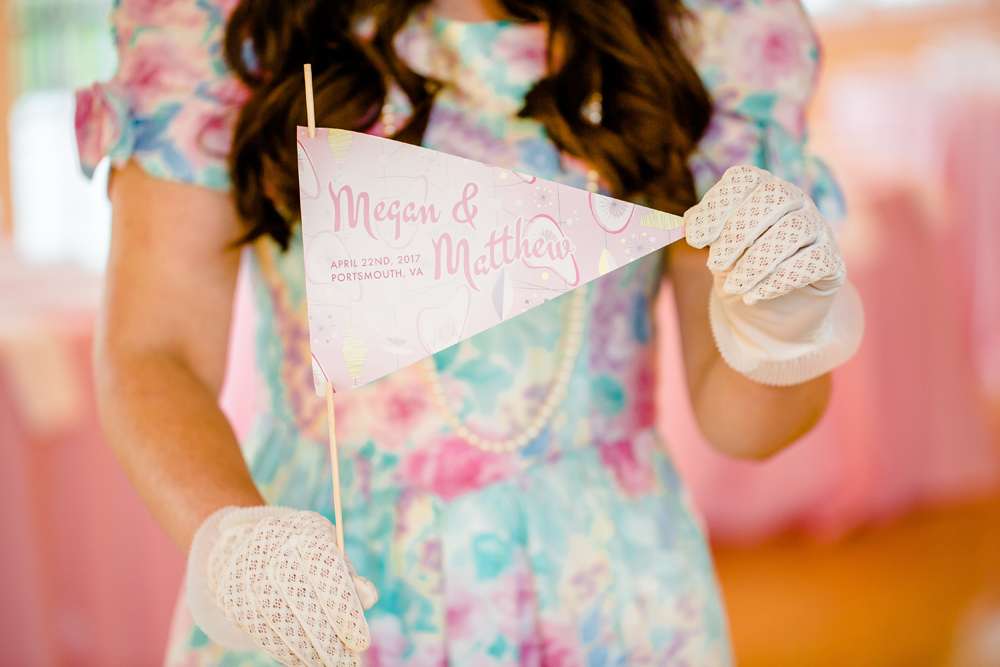 Megan said of saving money, "I'm really frugal, so I price-checked everything. Getting a dessert table was a big money saver – I think we paid $200 for cake, pies, cupcakes, and macarons. We got it all from a local bakery and got everything that was on their standard menu." Plus, as mentioned, the groom is a graphic designer, so they saved money by having Matthew do the save-the-dates, website, invitations, table and seating cards, dinner menu and signage.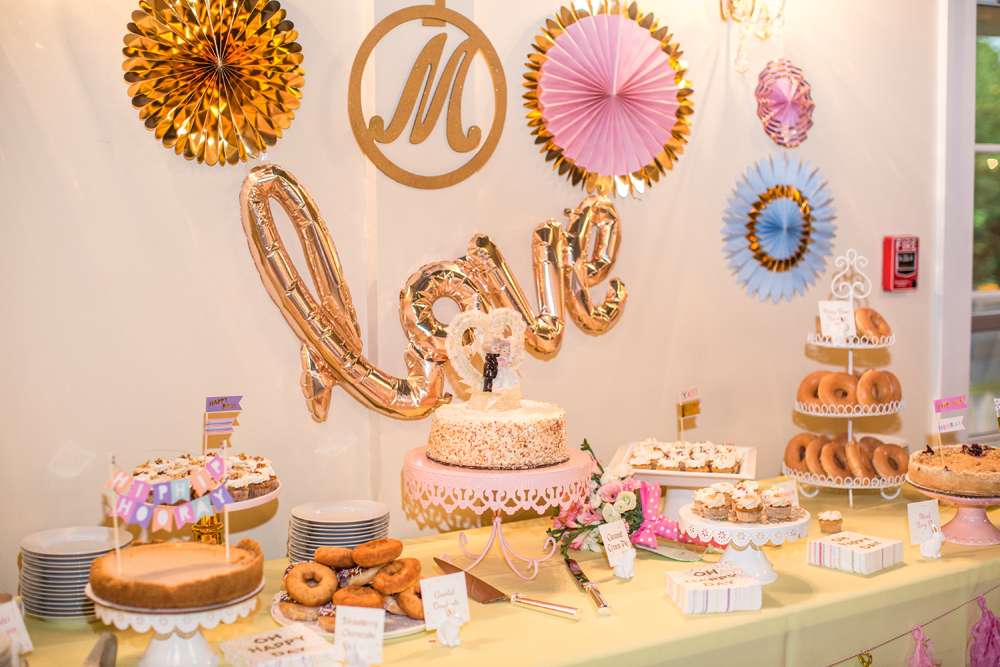 When considering their planning, Megan said, "I wish I'd known how many choices I would have to make. I am a really indecisive person, which created more stress than necessary." Also, the people pleasing and trying to control elements that you can't wasn't great. "The best advice is to plan together with your spouse and learn to go with the flow."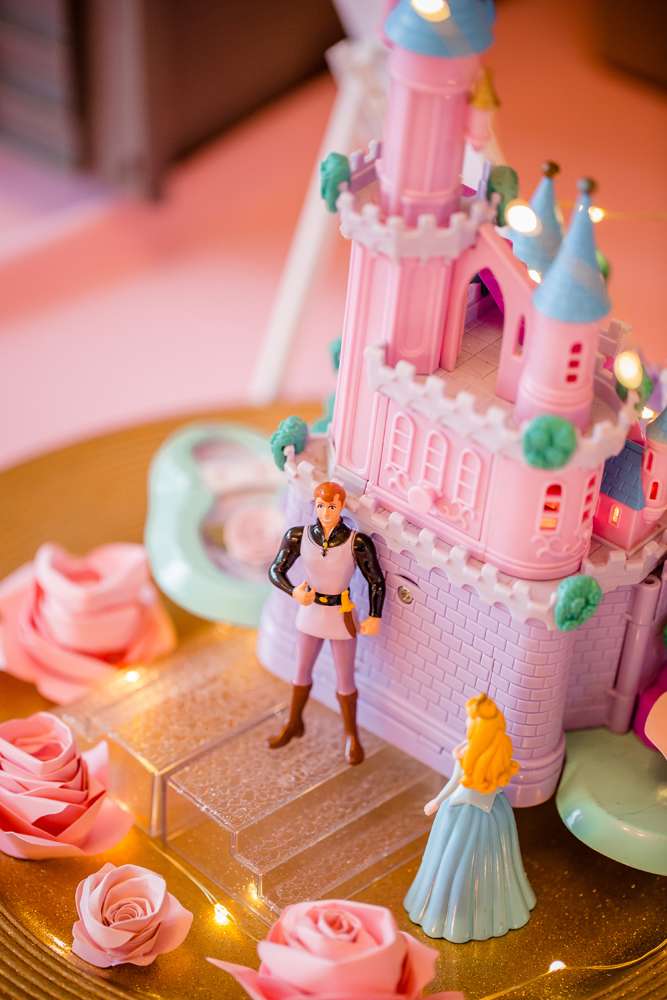 The loveliest thing, for them both, about the lead-up to the day was how it brought everyone together. "Our wedding party was scattered throughout the United States, so most had to travel to come to events. We had a joint bachelor/ette trip to Disney World and most of our wedding party were able to come. They threw a party for us in our hotel room and everyone dressed up for Dapper Day at the parks. Our party was very helpful on the day of the wedding too, when Matthew put them to work getting every detail perfect. Two of my bridesmaids are hairstylists and they offered their services as a gift. I was worried that having such a big wedding party would be stressful, but it ended up being the opposite and made the process really fun."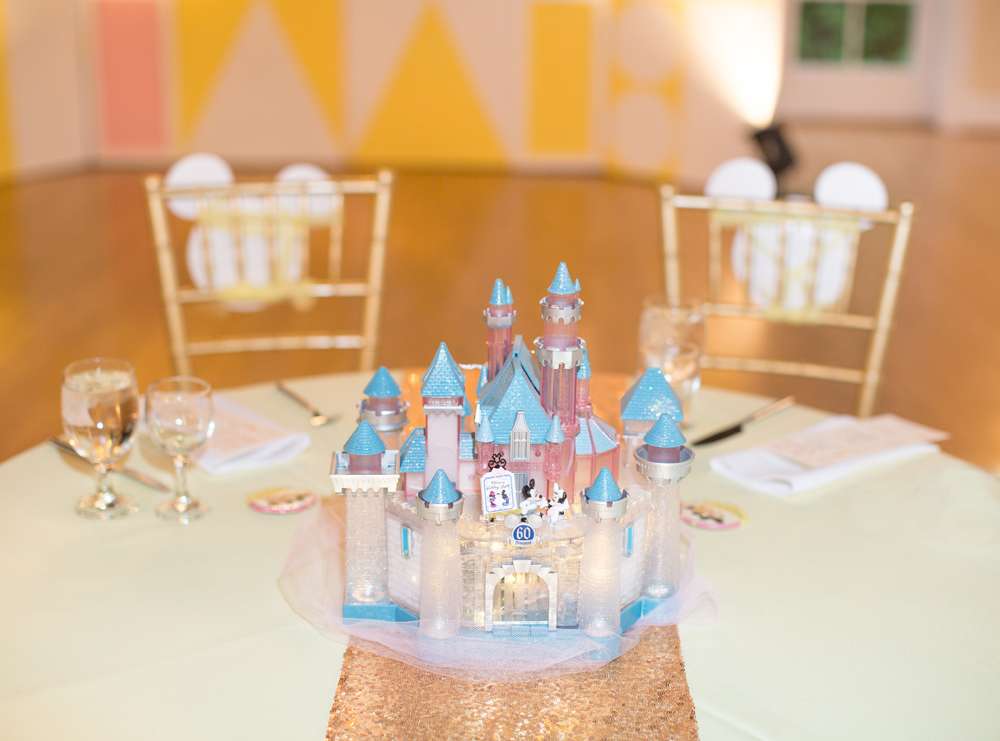 Megan described the whole day as a blur, saying "The biggest stand-out moment was Matthew and I going to 7-Eleven after the wedding. It was our first outing as a married couple and a Slurpee tastes better when you're wearing a wedding dress. There was also a debacle involving the balloons we ordered. It wasn't funny at the time, but they ended up being much, much bigger than we thought. They didn't fit in the car!"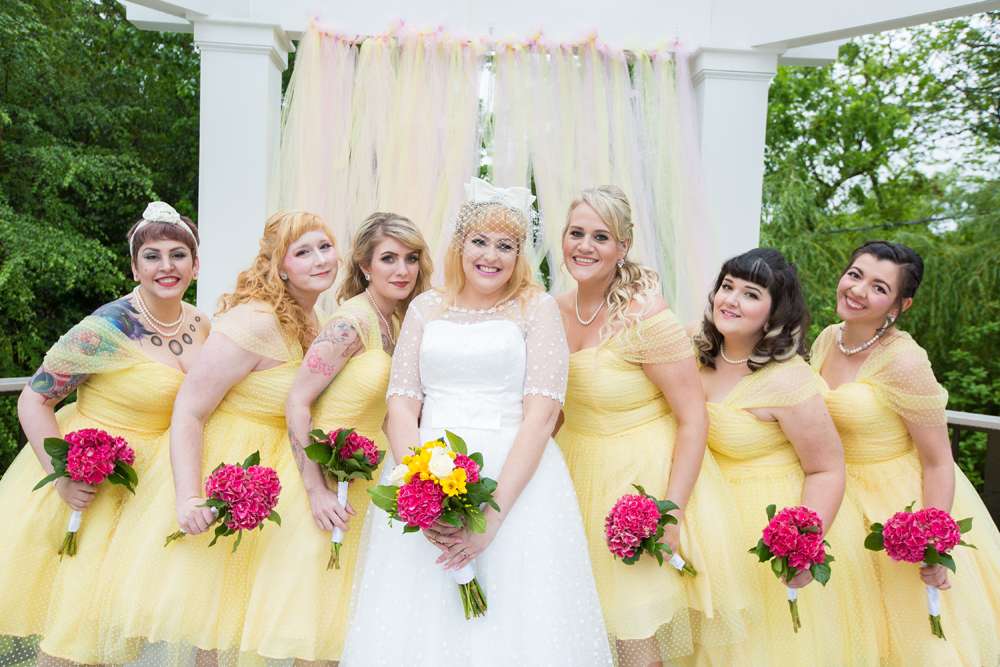 Would they have done anything differently? Megan concluded, "We really had our hearts set on getting married at Disney World, but we knew that meant sacrificing our guest list and ability to make a special DIY wedding. We will always wonder 'What if we had…' but I think we made the right choice to get married where our friends and family could celebrate with us."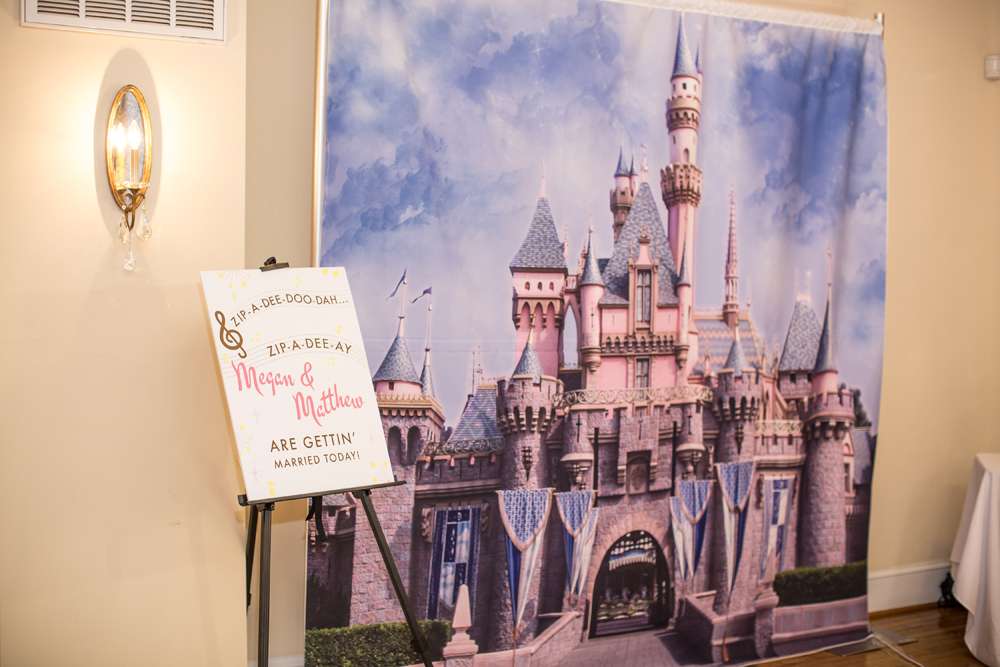 Megan and Matthew's top advice is to get a wedding planner. "Even if it's just for 'day-of' coordination. Give yourselves plenty of planning time, and have those difficult conversations early. Talk to each other and not to family members or other involved parties. It's corny, but what really matters is that you are getting married to someone you love."