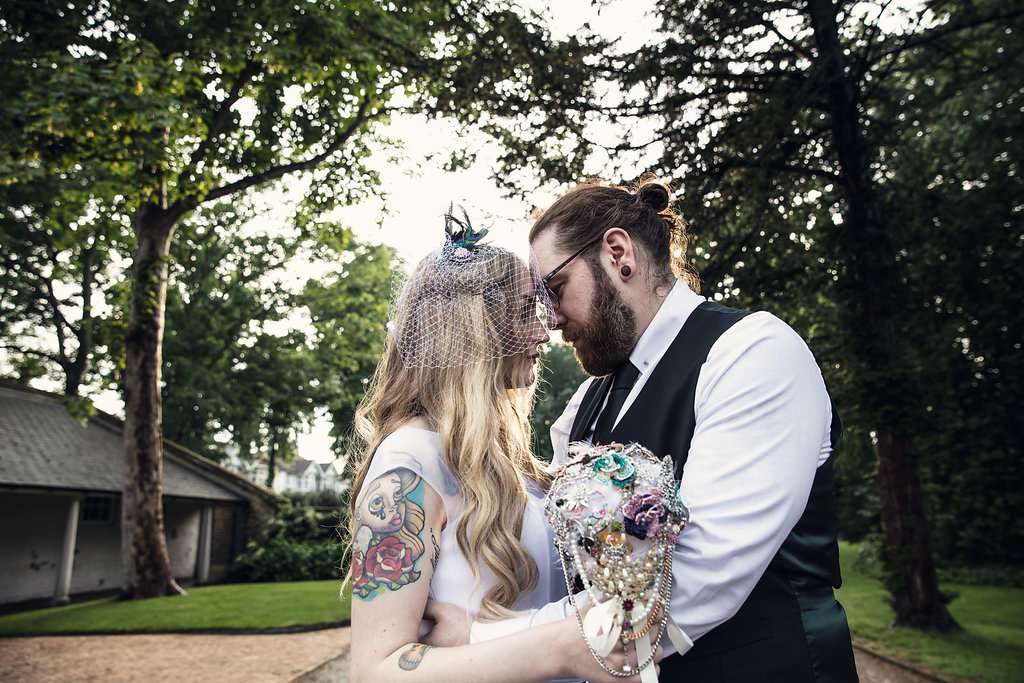 Danielle and Lee's wedding was a masterclass in how to make the slightly kitsch incredibly cool. Their wedding, fittingly held at Valentine's Mansion in Ilford last summer, was candy and sweet-themed, and featured lots of DIY projects, a rainbow colour scheme, and some badass portraits that make them look like a super-cool indie band…
Describing their theme, Danielle explains. "We didn't want anything particularly traditional. No real flowers, just lots of colour and sugar!"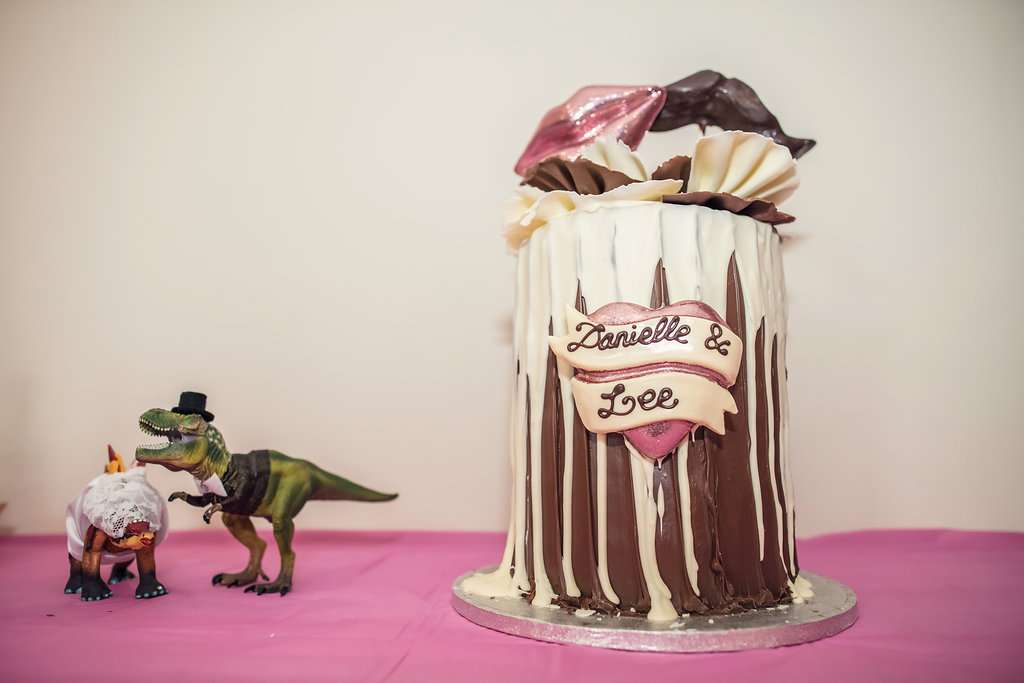 And sweet and saccharine it definitely was, even from the start. "The invitations were handmade in the form of a colour-pop chocolate bar wrapper, which we then printed onto a Galaxy Bar and posted to everyone! The chair ribbons, bouquets, bunting and so on were all rainbow coloured. All the centrepieces were candy jars and whirly pops, and we had candy trees on the mantelpieces and a large pick 'n' mix buffet."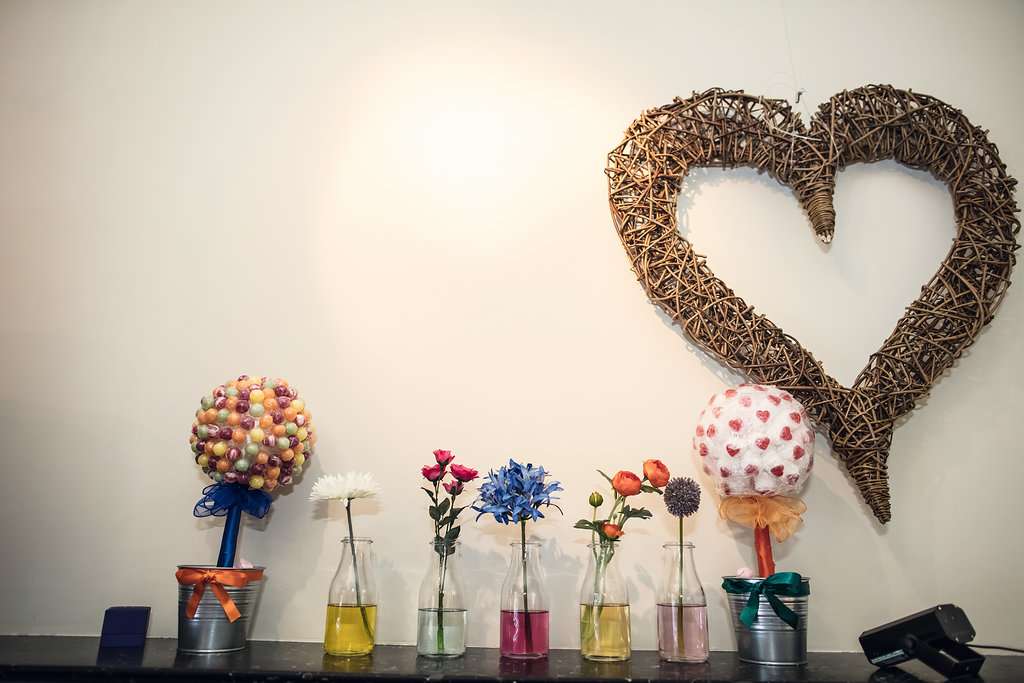 Most of the day was DIY and homemade by Danielle herself. Self-admittedly, she made "everything she could get away with!" This included the centrepieces, candy trees, the décor, the postbox and the hilarious bride and groom dinosaurs on the cake table. "The plan was to DIY stuff to save cash but in the end most of those projects ended up costing more! But it was worth it for the extra love that went into them."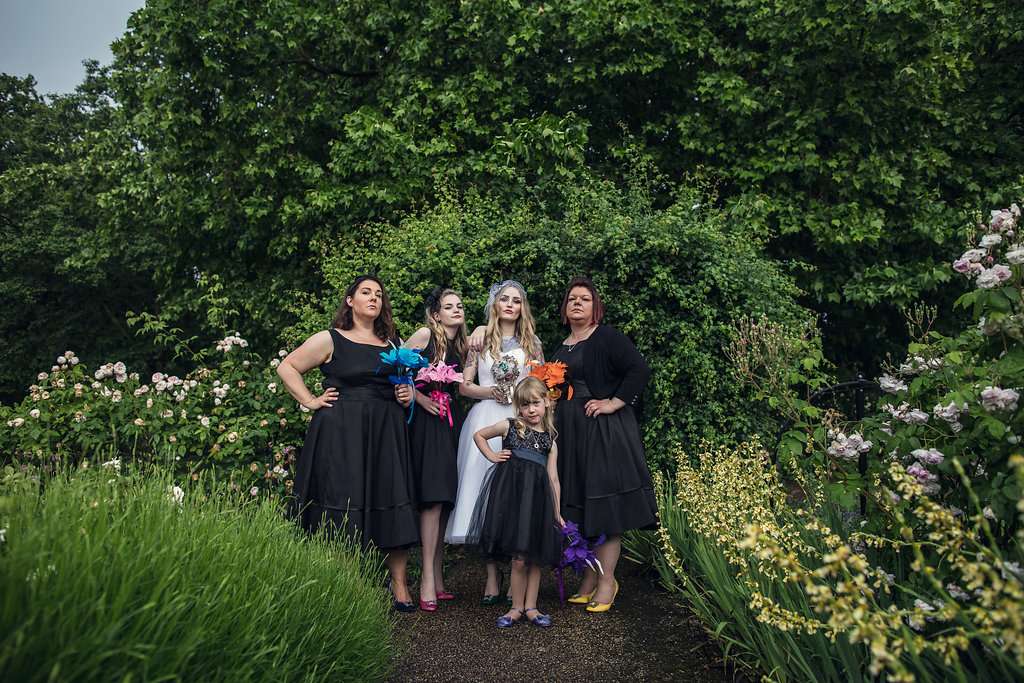 Danielle also handmade her own veil, which she wore with stunning custom made separates from Honeypie Boutique and bright green shoes, to match her emerald jewellery and Lee's custom-made emerald-lined suit. Their bridesmaid also kept the candy-coloured theme alive, with bright pink shoes that matched Danielle's, looking super striking against the black bridesmaid dresses (also from Honeypie Boutique).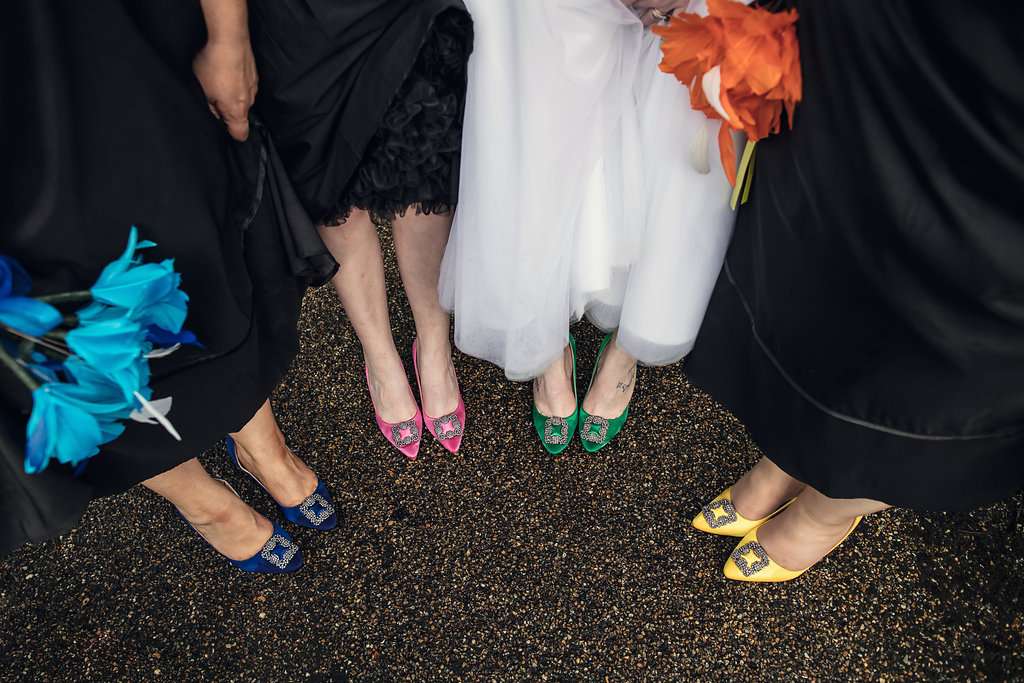 With the theme residing as non-traditional, Danielle's and her bridesmaid's bouquet were handmade from brooches and feathers. She also did her effortless, relaxed hair and make up herself. Their portraits are super stunning – don't Danielle and Lee look like an incredibly cool band on the front of a music magazine? Queen of alternative wedding photography, Assassynation, killed it with the lighting, angles and framing to deliver portraits that really convey the couple themselves, rather than something rigid and awful.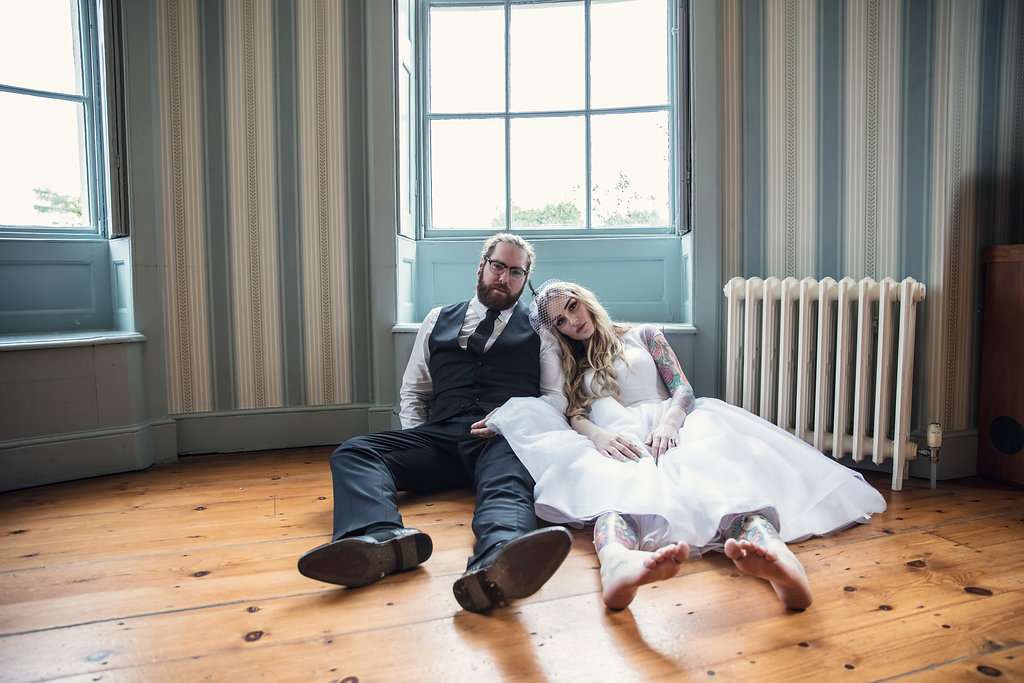 And speaking of music – let's chat the reception. Danielle and Lee's chocolate drip cake was made by Choccywoccydoodah and adorned with a metallic pair of lips and a big chocolate moustache. They also had a hog roast and roast dinner from the Aussie BBQ Company. To keep the reception dynamic, a close-up magician beguiled guests during cocktail hour, and there was a table football, a giant Connect Four set and a photo booth for the rest of the evening.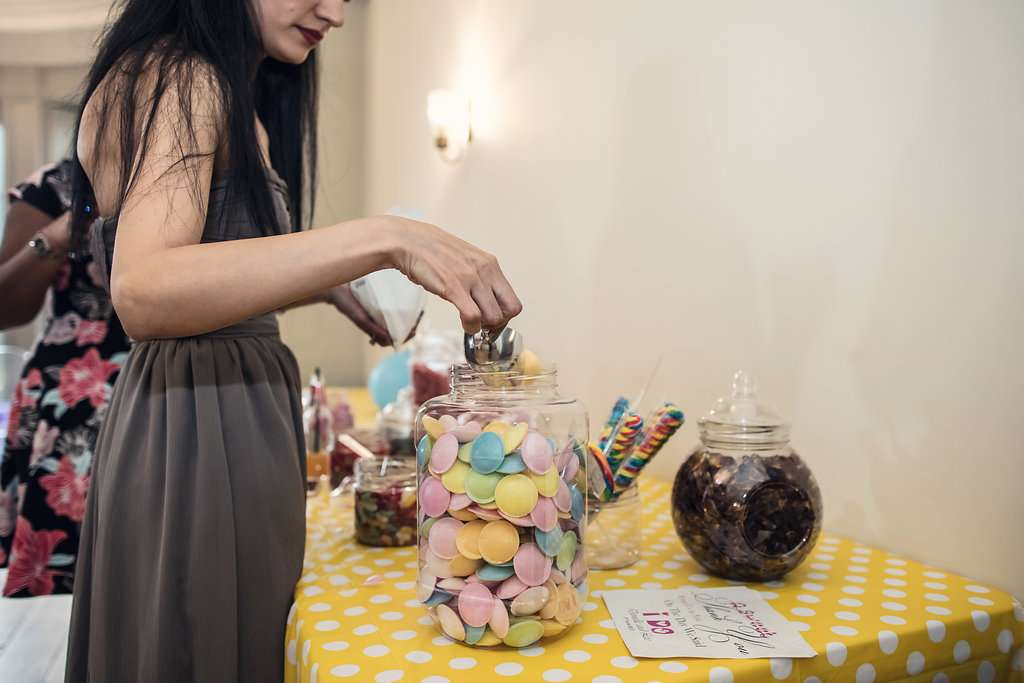 Music-wise, it was never going to be a dud, as Lee is a DJ! "Lee is a DJ and his best man owns a record label, Route One Audio, so they didn't trust any 'wedding' DJs! We also strongly dislike most traditional 'wedding music', so we brought all our own set up and Lee pre-recorded a mix to last all night, made up of easy listening for cocktail hour, some current pop, old school RnB, some dance and indie." The couple provided a big bucket of colour-coded flip flops for guests to dance the night away in too.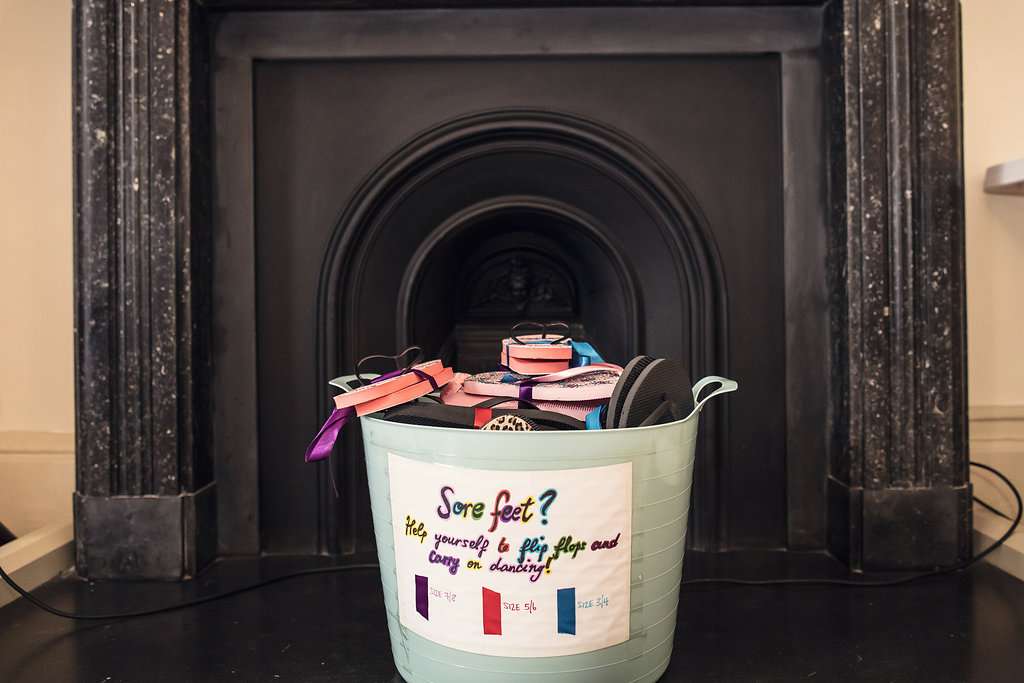 With so many handmade elements, Danielle says it was "so stressful, but totally worth it. I'd planned to be so chilled about everything but as it drew closer I was aware how much I was relying on each vendor to be in the right place at the right time and I found it incredibly stressful. It'll also be over in the blink of an eye, before you know it, it's home time. Things will go wrong – a storm started while I was in the car on the way to the ceremony, but once I arrived, I didn't care at all as the thunder and lightning during our vows made it all the more memorable! It's all out of your hands at that point so you just have to let go."