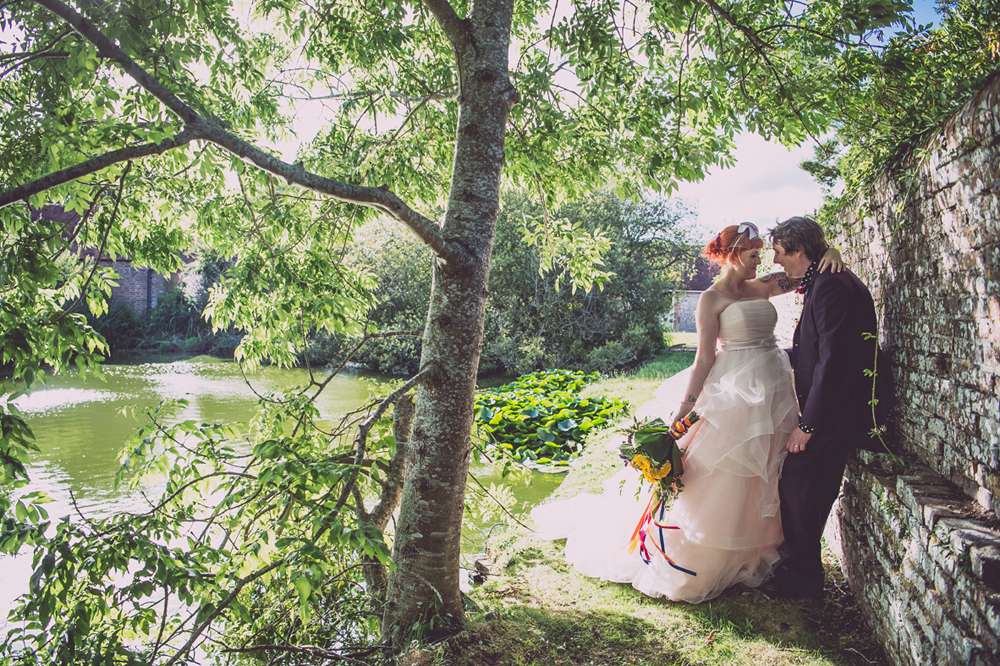 They hoped their summer wedding would be relaxed and informal, but they still wanted to put a lot of effort into the decor and theme, so Trish and Steve chose things they liked (rainbows, Disney) and their starting point and then took everything one step at a time.
"Our wedding theme pretty much grew organically as the planning went along", began the bride. "We struggled to pick one colour and that's where the multi-coloured/ rainbow idea came from. I have a massive obsession with Disney so that popped in and we both love rubber ducks so they made an appearance too! We knew we wanted to make the day about us so tried to incorporate little aspects of our characters and personalities into the day."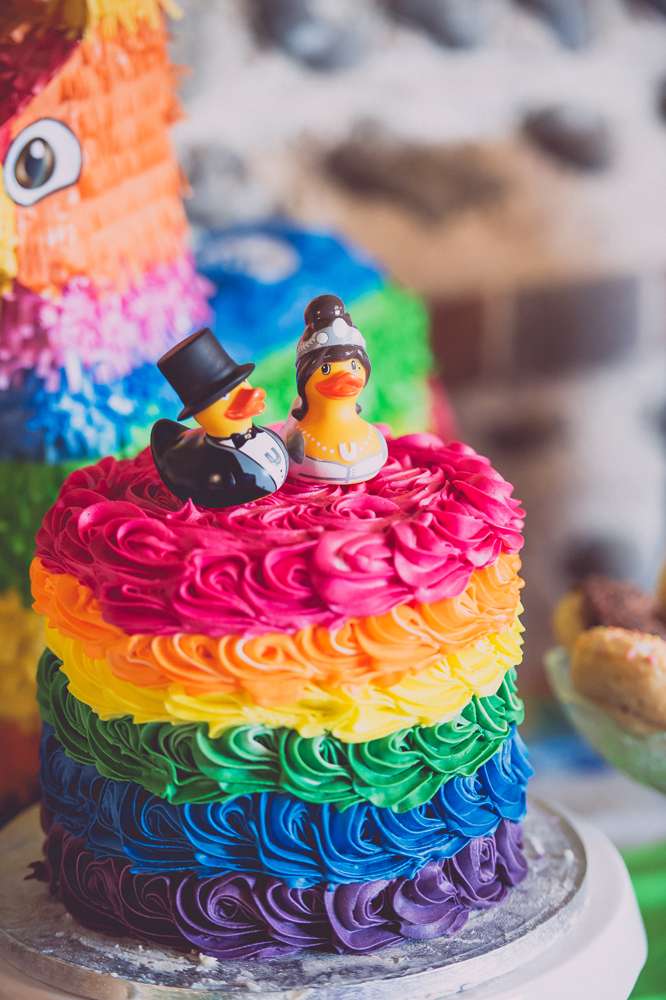 "Our cake was a bright rainbow coloured, multi layered cake and we added bride & groom rubber ducks (we found them in a shop in Amsterdam in 2016!) to complete the look. The flowers were bright and fun! We asked our florist, Beau-K, for gerberas for the buttonholes and I also also wanted some bright ribbons on my bridal bouquet but we left the rest up to them. We also had loose gerberas in some glass bottles on the tables (which we collected) and then two big wreaths on the barn doors!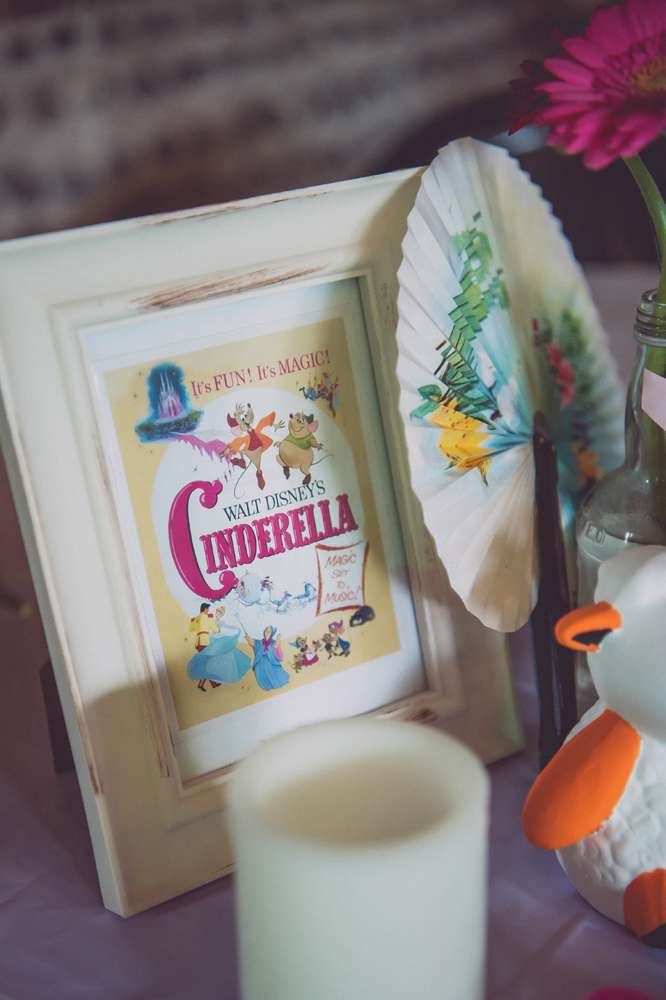 It was also vital to Trish and Steve that their wedding was just as enjoyable for their quests as it was for them. They wanted everyone to feel relaxed and so they told people to dress however they felt most comfortable. "We didn't want people to feel forced or awkward so we didn't have a dress code (we asked quests to wear what they felt comfortable in) and didn't have a rigid timetable for the day – we just let the day pan out naturally. We didn't have a table plan or top table which meant our guests sat where they wanted and we had the chance to sit in amongst everyone and catch up too."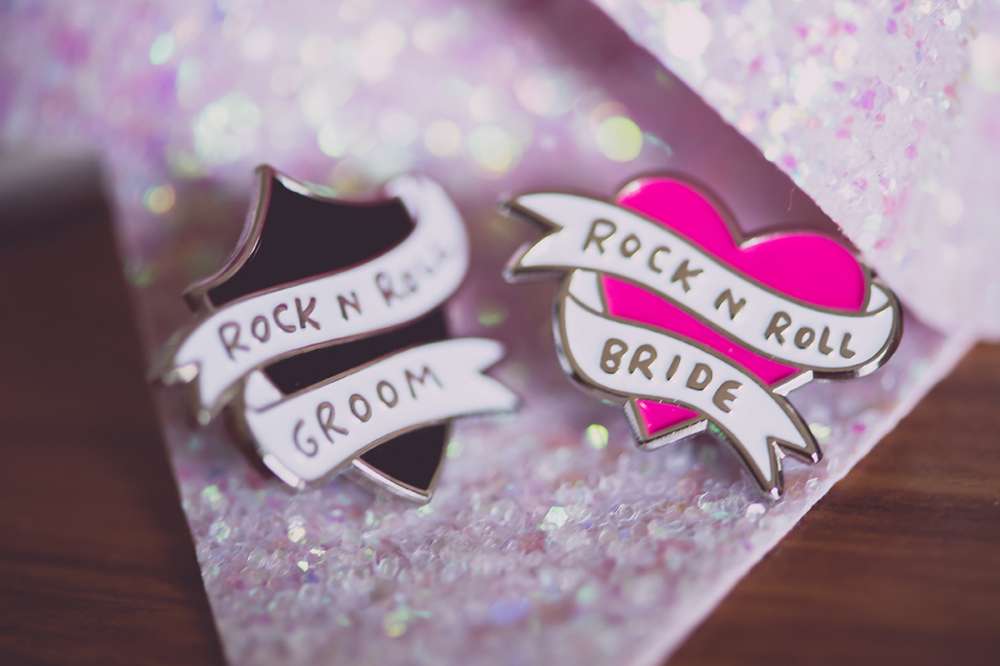 "We also knew we didn't want to have a traditional day, not that there's anything wrong with having that, we just knew it wasn't us. We wanted our guests to come along and go 'yes – this is so Steve and Trish!' We found the ideas for the day evolved as the planning went along really. Mind you, even though we didn't want a traditional day we still had cake cutting, speeches and a first dance!"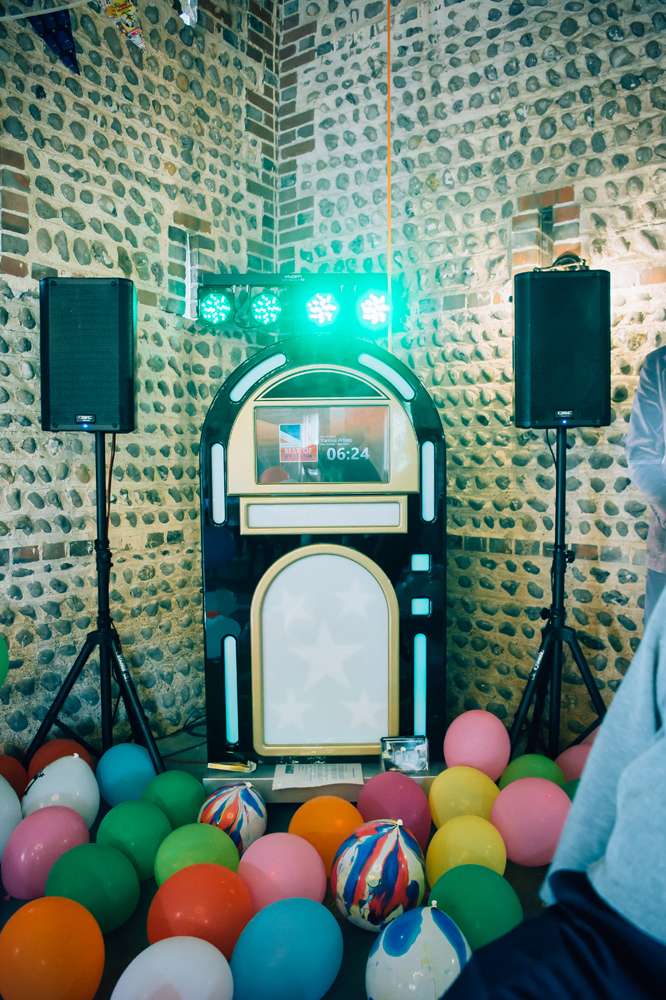 The day was held East Sussex and their barn venue was the perfect blank canvas for them as they wanted to decorated up a storm! Trish's mum made lots of bunting and she even managed to source some fabric which meant something the couple. "There was Disney, Dr Who, football, ducks, cake, dogs, bright colours and lots more!" Trish continued. "The barn was a complete blank canvas so we had to decorate it all by ourselves. The best man, Charley, spent the best part of the week before the wedding up a ladder hanging bunting, paper streamers and decorations! Both sides of the families and friends chipped in and helped with decorating which was lovely and so helpful. I also spent several Sunday afternoons punching out confetti from bright coloured tissue paper – hand cramp is not fun!"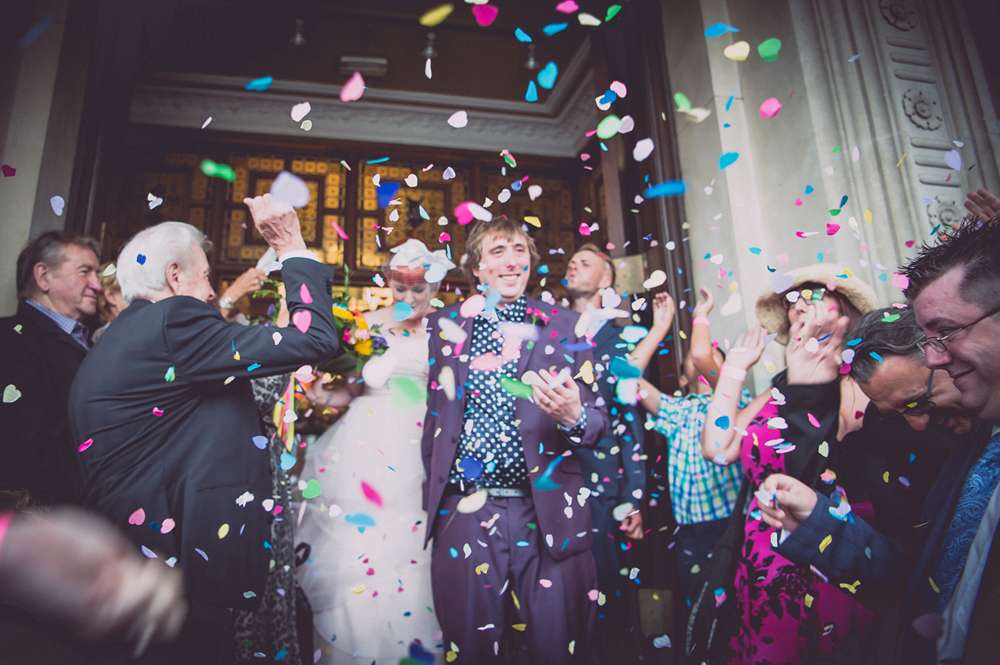 Their entertainment was also pretty unique. Instead of booking a band or a DJ they hired a jukebox so their guests could control the tunes! "It went down a storm!" Trish said. "It also meant we had music from the moment we all arrived at the reception venue until the last person left! With nearly 76,000 songs available there was plenty of choice for everyone and we certainly had an eclectic mix being chosen. We were also able to add any songs we wanted that we not available which came in handy for our first dance which was Nick Cave & The Bad Seeds Into my Arms."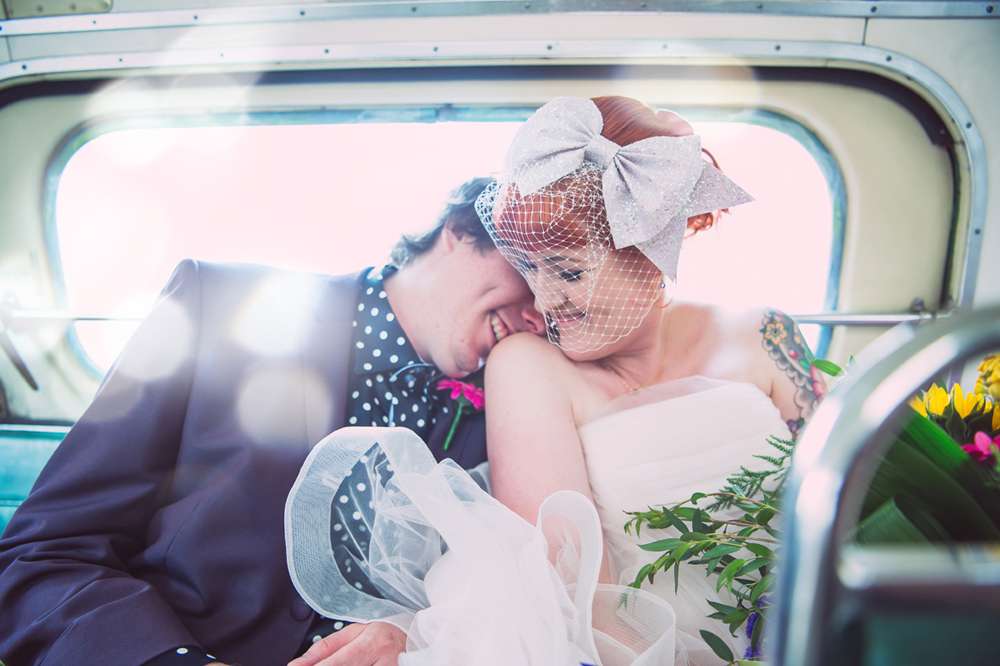 "We also set up a DIY photo booth with props which quickly turned into a dressing up box and people wandering around with all sorts on – be it flower garlands, big sunglasses or fake moustaches! The glow sticks on the tables also turned into bracelets and necklaces pretty quickly too which was fab to see. The children had a football so had a good kick around and then toasted some marshmallows on the fire in the evening."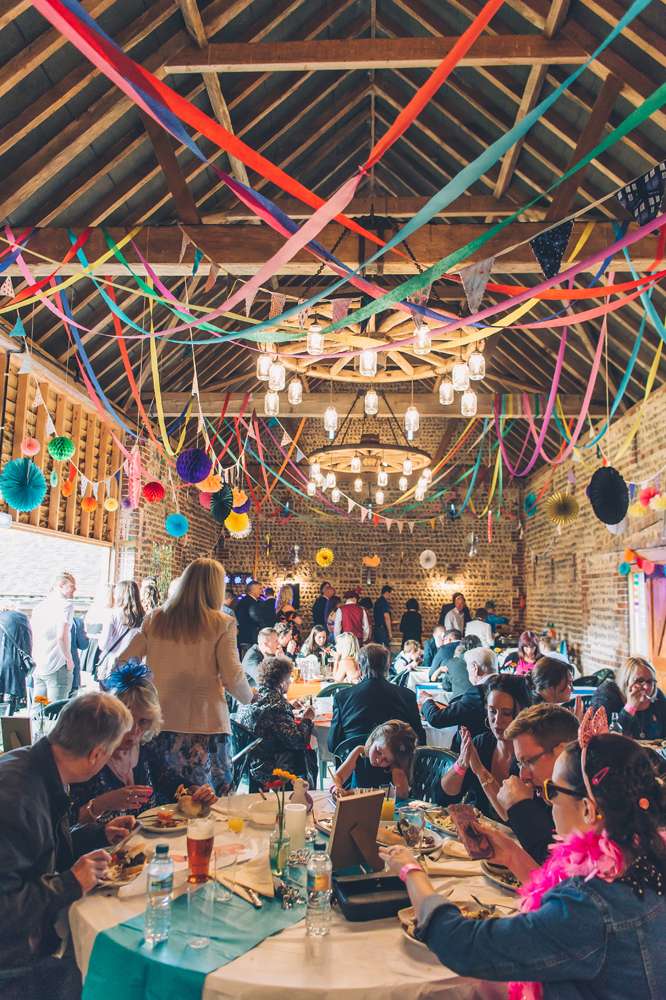 Of their £8500 budget, their biggest expense was feeding their 150 guests. "We wanted a relaxed BBQ and not a formal sit down meal and also to give all of our guests the same meal. We didn't want a traditional wedding breakfast and then a buffet in the evening so we were married later in the day and started our reception at 6pm with food being served shortly after. We saved on lots of little things. My dress came from a sample sale, Steve's suit came from an outlet and we bought doughnuts from Sainsbury's and Prosecco when it was on offer in various supermarkets!"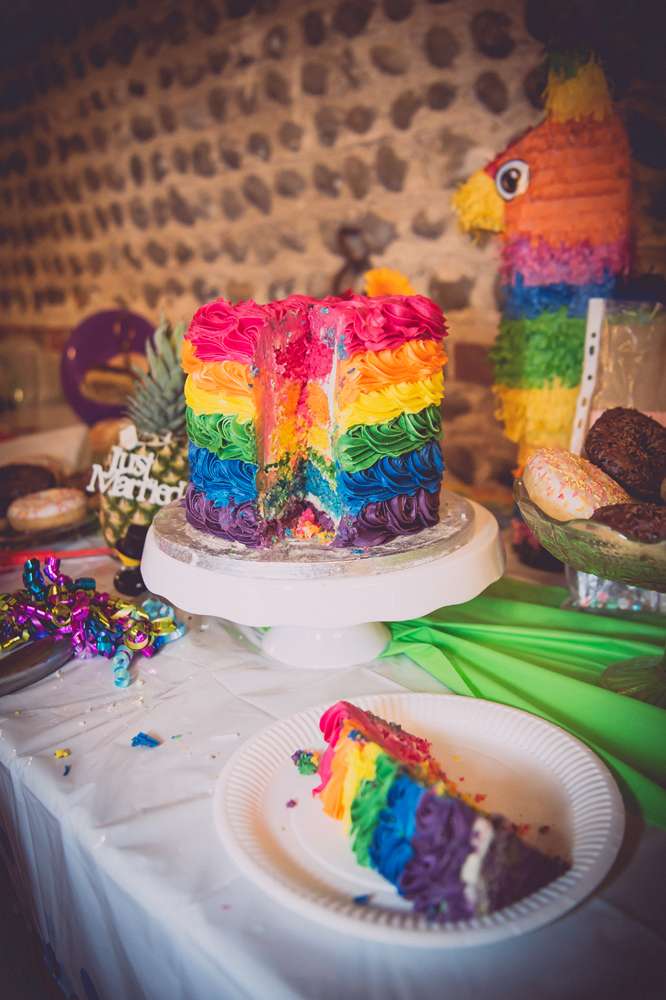 "Seeing everyone haLibraryving as good a time was definitely the highlight of the wedding," Trish concluded. "Everyone seemed so happy and relaxed which is exactly what we hoped for. We had the most amazing day and thoroughly enjoyed ourselves."