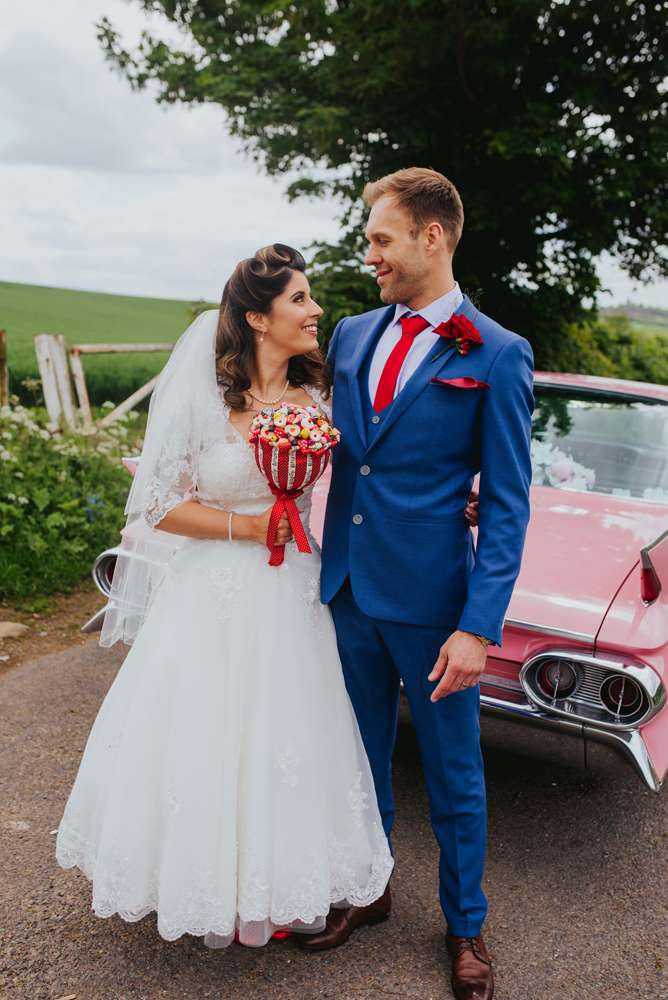 One of the most frequent things you'll hear on Rock n Roll Bride is to have the day YOU want, one that incorporates anything and everything you love: your day, your way. Holly and David, who married in the spring at Donington Park Farmhouse Hotel, did exactly that with not just one or two motifs, but more like four! And why not – I mean, just look at their wonderful day and the sea of smiles!
Holly said of the theme, "We originally wanted to go for a loose 1950s theme, which gradually became more and more not-loose (pink Cadillac, anyone?)! We also wanted to incorporate other parts of our interests, hence the Star Wars props, Day of The Dead decorations and cake, and the Street Fighter arcade machine! We were thinking of hiring some Stormtroopers to hand out the reception drinks, but our budget wouldn't allow it – so yeah, 1950s meets Star Wars, meets Day of The Dead, meets Street Fighter!"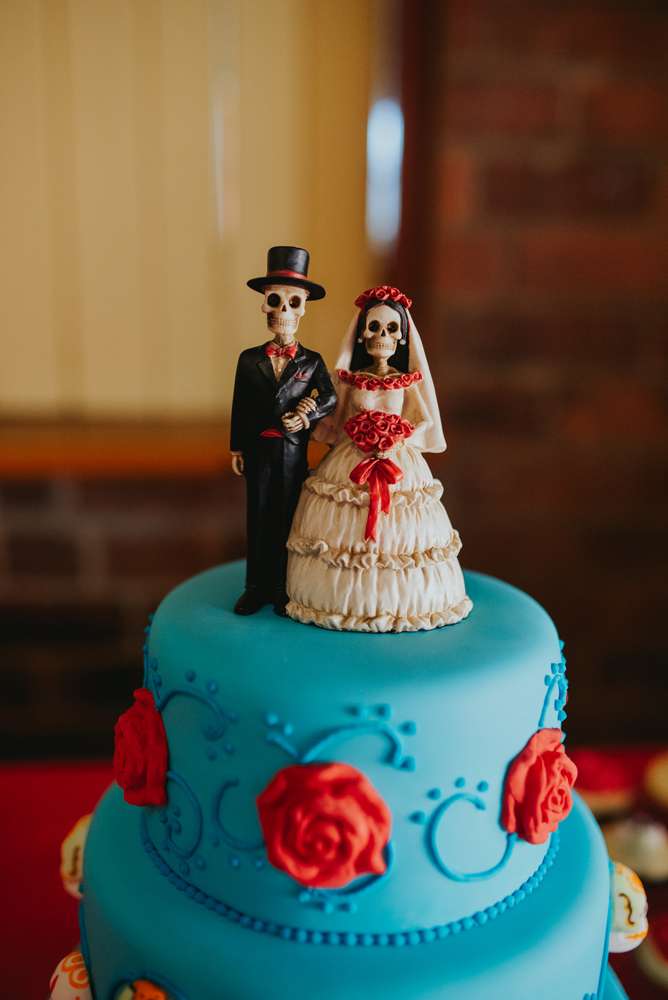 The inspiration to have an alternative wedding came mainly from looking on the Internet, and Rock n Roll Bride magazine. "The theme itself was decided after a drunken night in watching Grease!" she continued. "We've both loved the film since we were children, and had it on one night after a few rum and cokes. 'Wouldn't it be amazing if we could have a wedding with '50s things in it?' I said. 'Well why don't we, then?!' was David's response – that was all the encouragement I needed! I love all things 1950s and vintage and retro anyway, but thought we should probably try and stay traditional-ish as David's not really into it as much as I am. After speaking to him about it the next day (when not under the influence of alcohol), he agreed that he meant what he said and would love something a bit different – I didn't need telling twice!"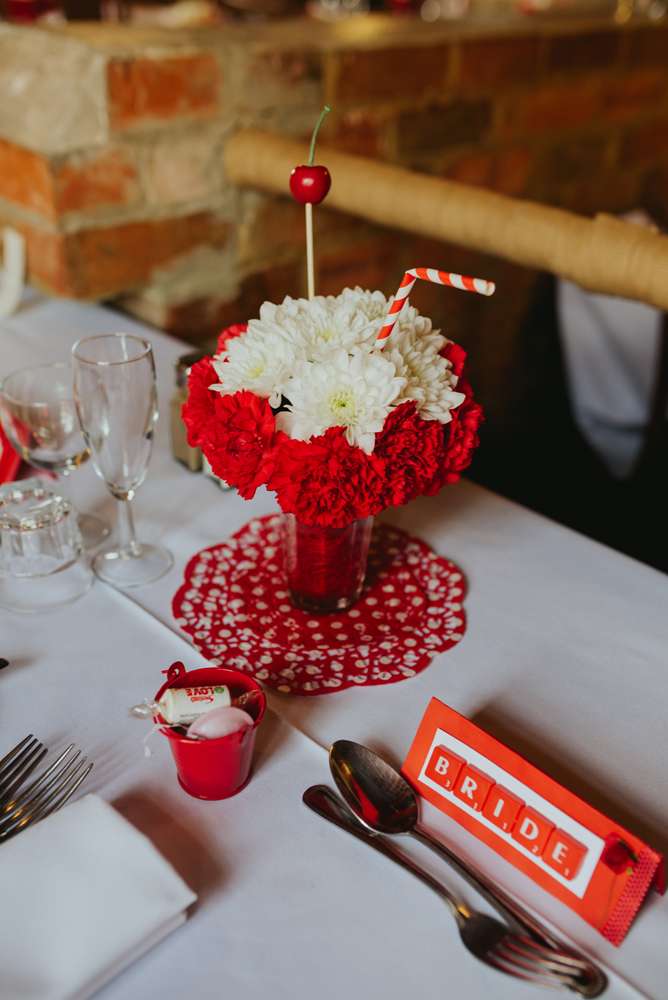 "We basically wentfor everything we love and mashed it all together! I think a lot of people are scared to do that, as it's not traditional, and people might think it's weird, but ultimately it's your day, so why care what anyone else thinks?! We did think we might get some negative comments from the older family guests, but actually every single person we spoke to commented on how fun the day was, and that they were more relaxed than at any other wedding they had been to before."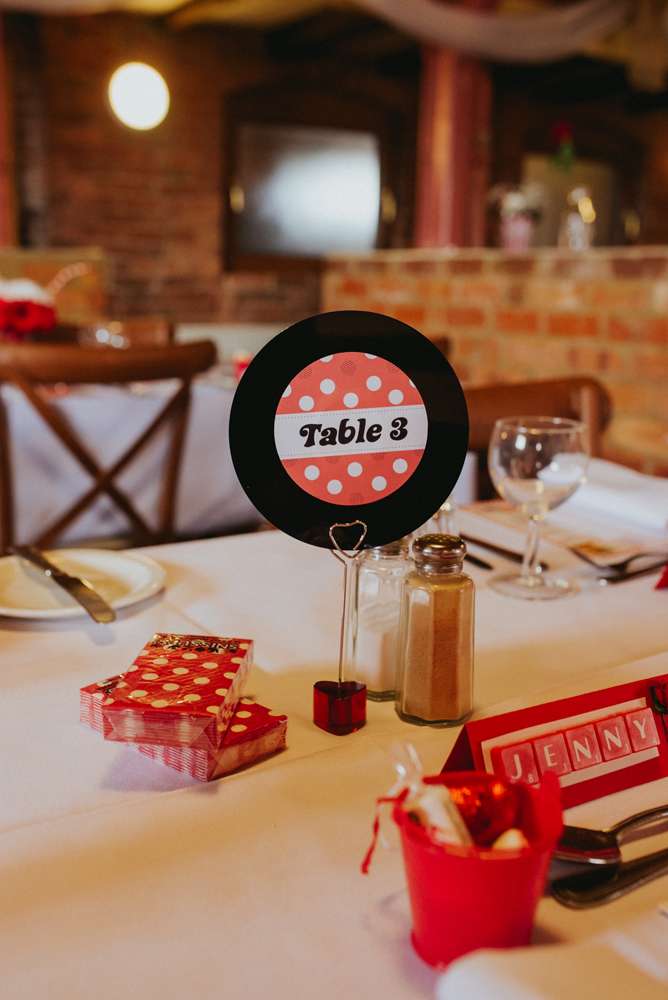 "We both like a good party, so that was the most important thing to us – we wanted a relaxed party vibe, rather than the stuffy serious weddings that we've been to, and I think we definitely achieved that! The old farm venue also fitted our needs perfectly – the barn itself was beautiful to look at, and required minimal decoration, which kept our costs down, but we really fell in love with the room where we had our wedding breakfast. The tables were actually in the old pig stys, so you had to hop over the old troughs to get to the table – very quirky and just up our street. White and pink bow seat covers, begone!"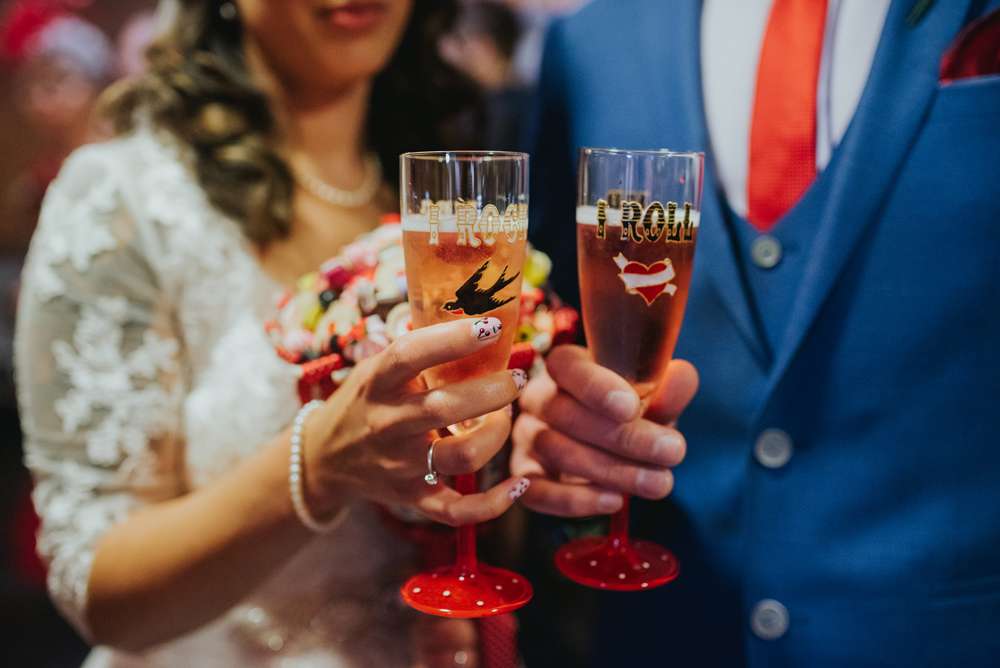 Holly said of the ceremony, "It was actually really fun and we had a right laugh! I'm quite a shy person and don't like people looking at me, so I'd been really, really nervous on the lead up to the day, whereas David was cool as a cucumber! However, on the day it was a complete role-reversal. I'd had that much fun in the morning getting ready with my bridesmaids, and then seeing my mum and dad, that I'd not really had time to think about it (whereas I later found out that David had woken up late and had a mad rush all morning and was VERY stressed out!) When we got to the venue, I thought the nerves would hit me as I was waiting outside the door to walk down the aisle, but my dad started making me laugh (for some reason he thought it was hilarious that we had chosen Johnny Cash's Walk The Line as our aisle song as he was expecting something like Slipknot instead!) and once I'd started I couldn't stop. I must have looked like a maniac walking down the aisle! After that, it just seemed to go really fast, but I remember there were a lot of jokes and laughter, especially when the best man forgot that it was he who had the rings, and it was just a really fun ceremony. We had the Guardians of The Galaxy soundtrack for signing the register and walking back down the aisle as we just wanted an upbeat and relaxed atmosphere, which certainly worked."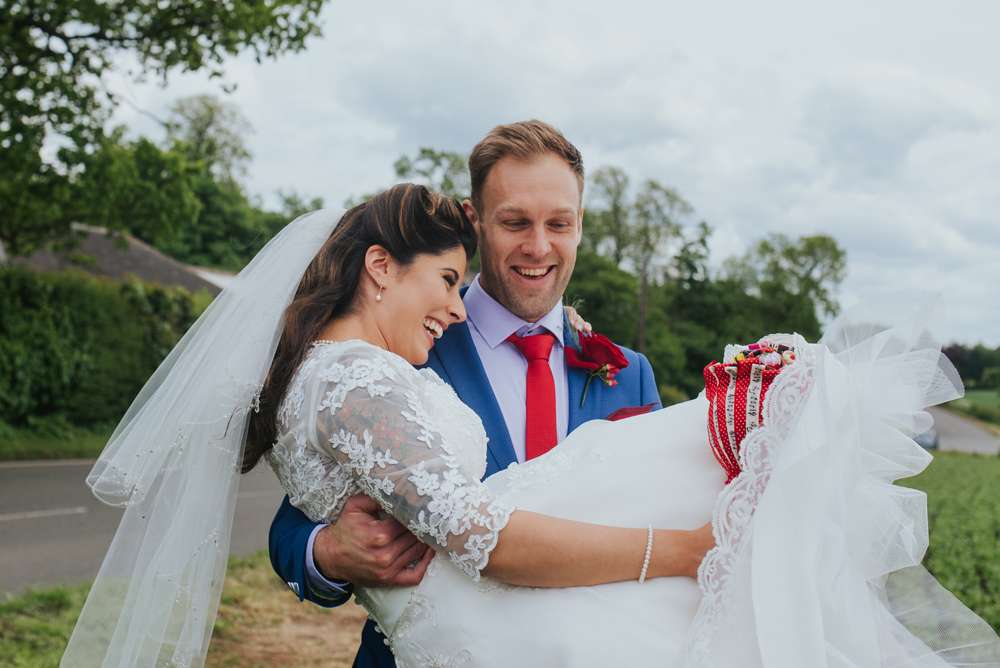 The bride's dress and bolero came from The Wedding Dress Outlet in Burton-on-Trent, and her veil and belt were from The Wedding House in Alvaston. She wore shoes from eBay, and her jewellery was inherited from her grandmother. The bridesmaids wore Hell Bunny dresses with petticoats from Collectif, which completed that 50s vibe to perfection.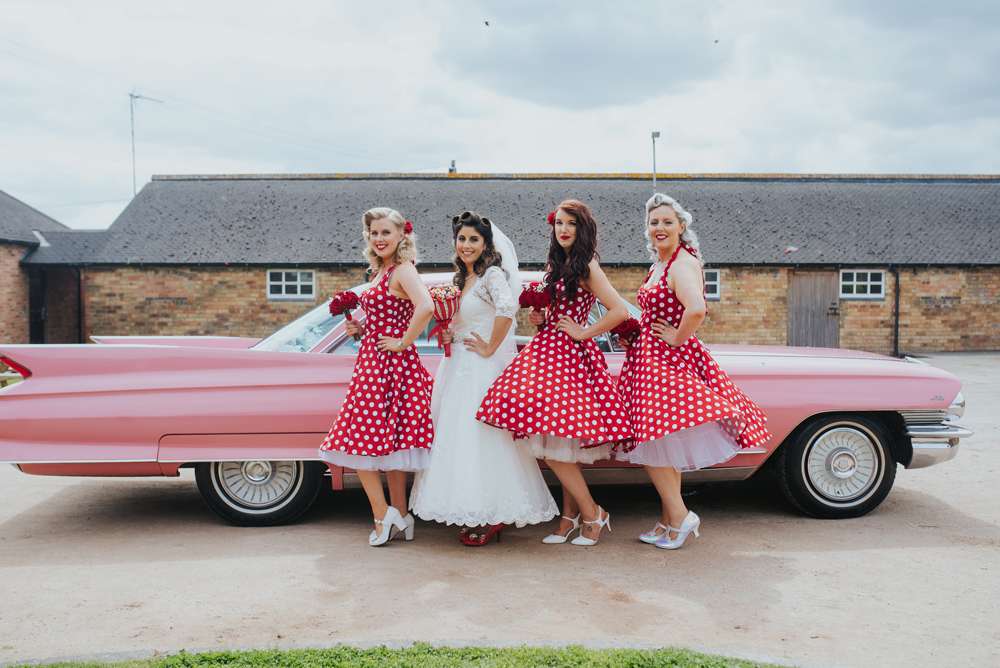 Momentarily losing the rings was not the only amusing thing about their ceremony… "David's grandma is deaf, so all you could hear throughout was: 'WHAT? WHAT'S HE SAYING? WHAT'S SHE SAYING? I CAN'T HEAR ANYTHING HERE, AND WHO'S THAT?! ARE THEY MARRIED YET, OR WHAT – I NEED A DRINK!'" Holly laughed. "She thought she was whispering, but it was louder than most people's shouting voice, and so echoed off the barn walls! Another hilarious moment as during our photos when we went to a beauty spot near the venue for some pictures. Unfortunately, the gate was closed, so David had to carry me over the field because I refused to get my shoes dirty. I'm not the lightest person, and he nearly dropped me a few times! Finally, to cut the cake, David decided it would be a good idea to cut it using a Samurai sword (he trains martial arts), but this was following a number of alcoholic beverages – I let him pose for a few photos, but I then confiscated it as he was waving it very close to our guests, much to his annoyance – there was nearly an annulment right there and then!"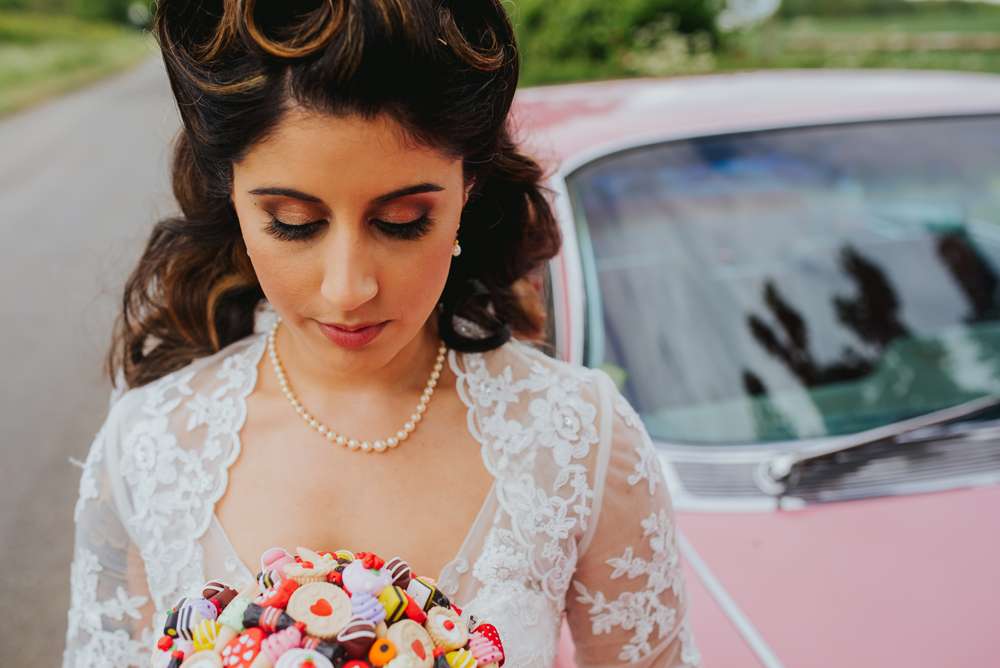 The guests ate barbecue for the wedding breakfast, with a hog roast and potato wedges at night. A local singer entertained them, as did the venue's own DJ. They even had magician Matthew Ramsell to amaze the crowd. Holly and David made their own photo booth with a Polaroid camera and props from eBay.
Saving money with DIY was key to keeping their wedding to the £8,000 budget. "Definitely the parts that I did myself saved us money, " said Holly, "The Scrabble place names, especially. I had been quoted the cheapest as £5 per head, but managed to make the whole lot for about £30 after materials. I made my bouquet myself using clay sweets, wire, ribbon and hot glue – it was relatively simple to make, just very time-consuming. I had seen a similar one on Pinterest and, after searching on the Internet, managed to find one….for £300! I'm quite a crafty person, so thought I'd give it a shot and see if I could make it myself. I think I probably ended up spending about £50 in the end, so quite a saving! I also painted most of the signs myself and the rest we bought from eBay and Etsy. I think the best thing to do is to just shop around – most of the decorations we got from eBay were a tenth of the price that they were on some wedding websites."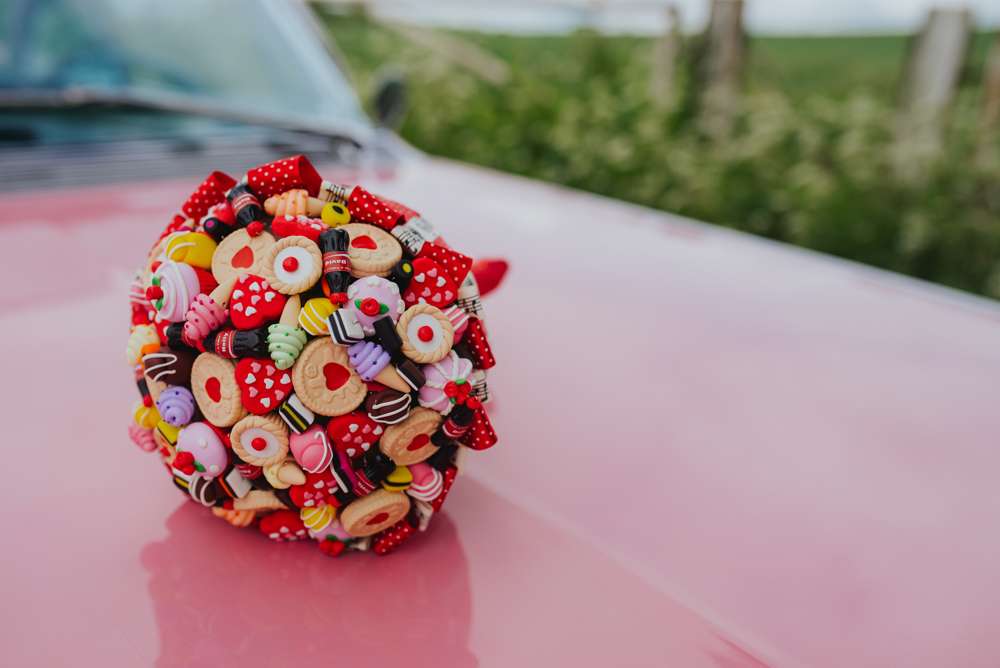 "I also got my wedding dress and bolero from an outlet, which must have saved me well over £1000! As long as your dress is what you wanted, fits perfectly, and makes you feel a million dollars, then it doesn't need to be designer. To be quite honest, I preferred mine and felt more comfortable in it than the expensive designer one I had previously tried on in a traditional wedding dress shop (and mine was a quarter of the price!) Don't be afraid to shop around, and just because it's cheaper, doesn't necessarily mean that it's bad quality – mine was just classed as last season so had been reduced to £400."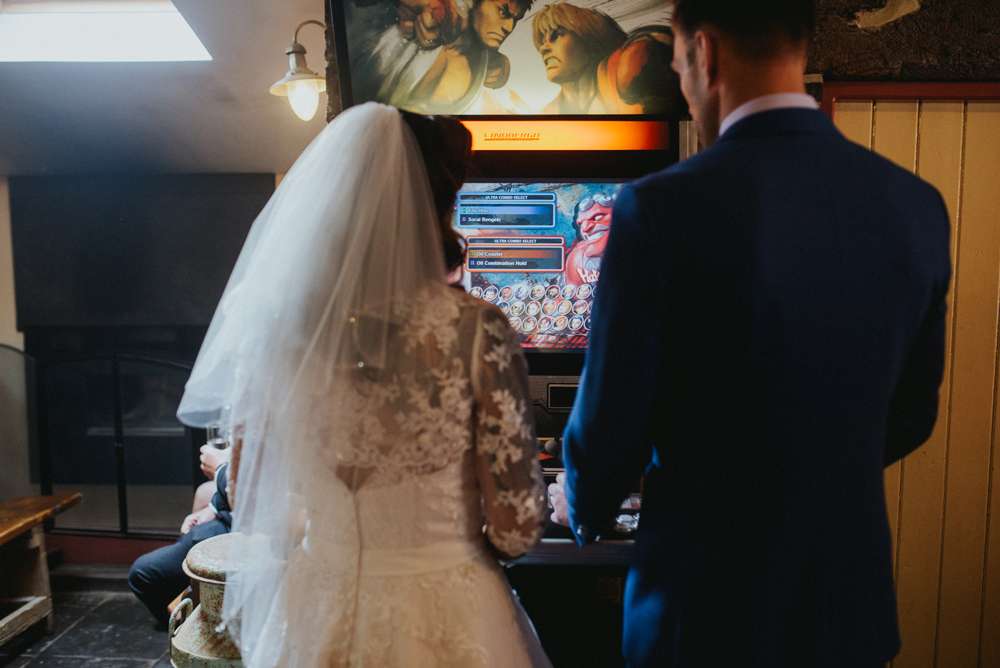 The bride absolutely loves planning themed parties, so planning her wedding was just a dream come true. "When we first got engaged, I had no idea where to start. I bought a lot of wedding magazines, but found them so boring and traditional – all they helped me do was decide what I DIDN'T want! After looking on Pinterest and discovering Rock n Roll Bride magazine, we decided to go down the alternative route instead; we're not a traditional couple, so why would we have a traditional wedding?! After that, I was in my element and off I went!"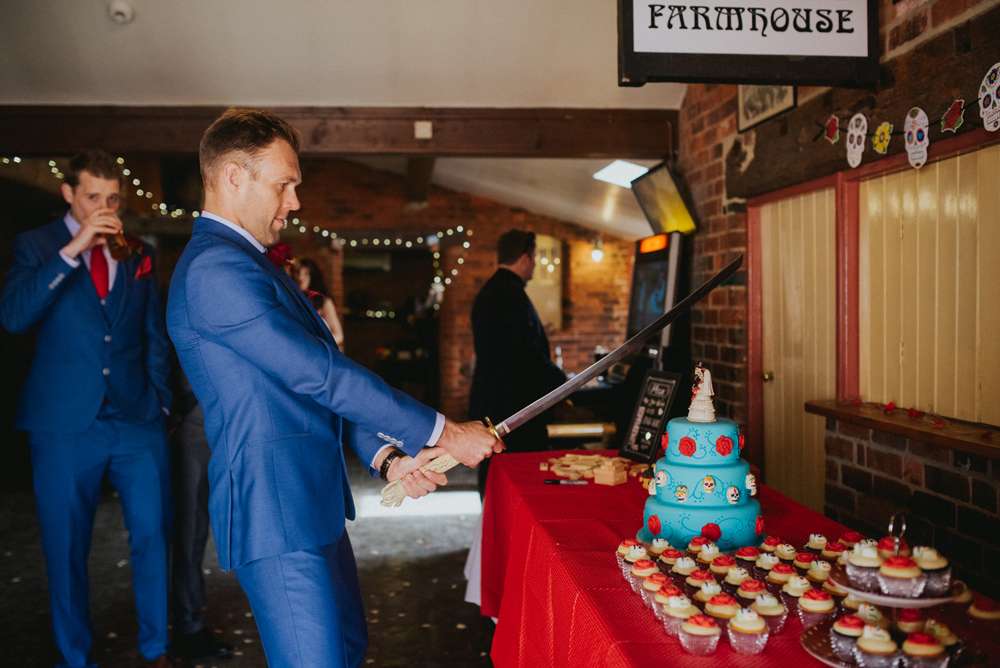 Holly's advice for other couples is, "Just enjoy your day together – you spend all that time and money, and it's over in a flash! Also, try and convince your new husband/ wife that downing shots before their speech is probably not the best idea – David could hardly remember any of the evening do! Just focus on what's important to you, and don't let anyone try and convince you to be more traditional if that's not what you want!"