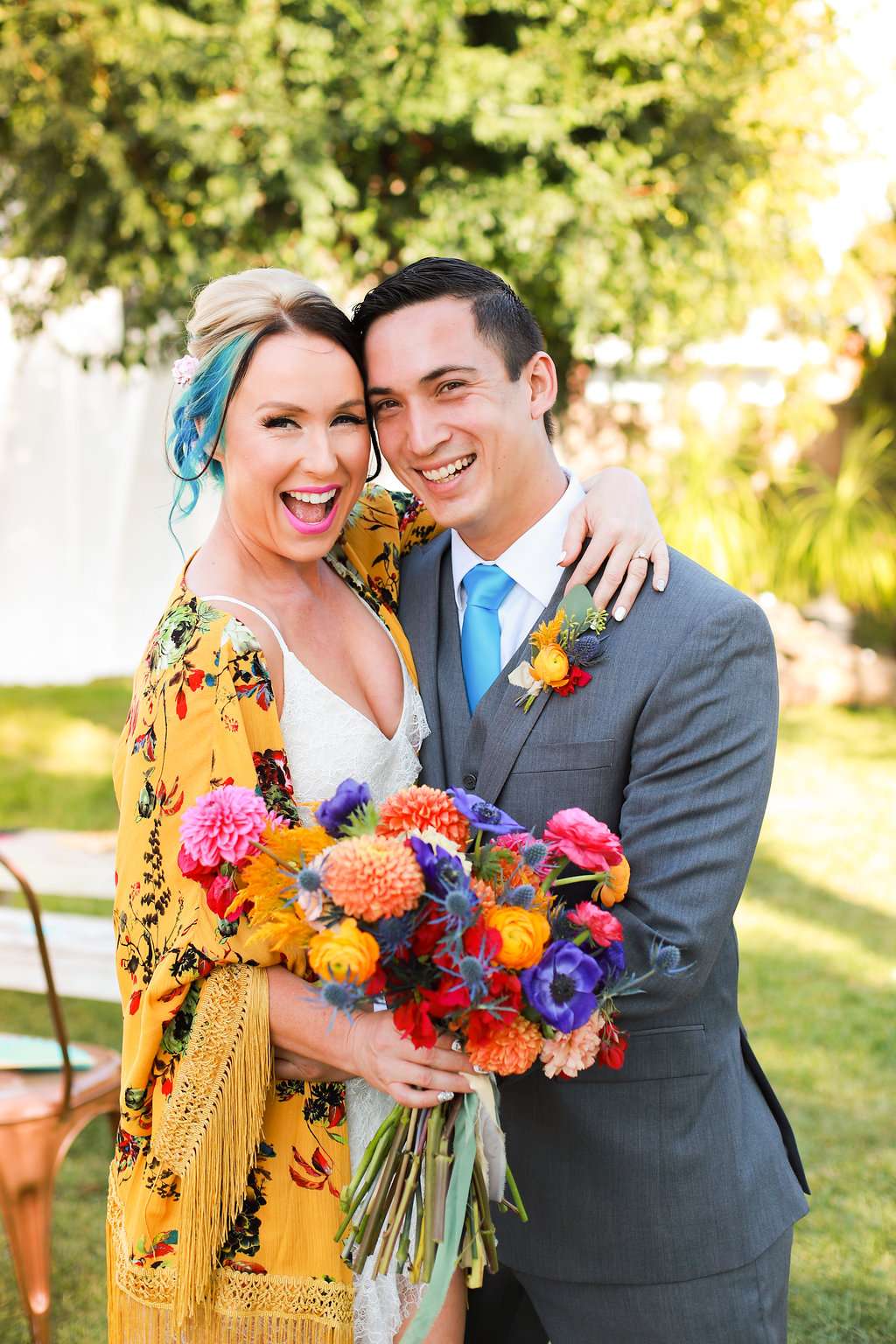 Inspired by Pinterest, Rock n Roll Bride, and their own personalities, Bree and Tim described their wedding as a rustic funfetti garden party.
They met in television, and Bree introduced herself in such a sweet and laidback way, "We were both working at a show in San Diego", she explained. "I was hosting a show called First Date for Live Nation, he was a production assistant. I passed him a note at the end of the night that said, 'Text me, maybe?'"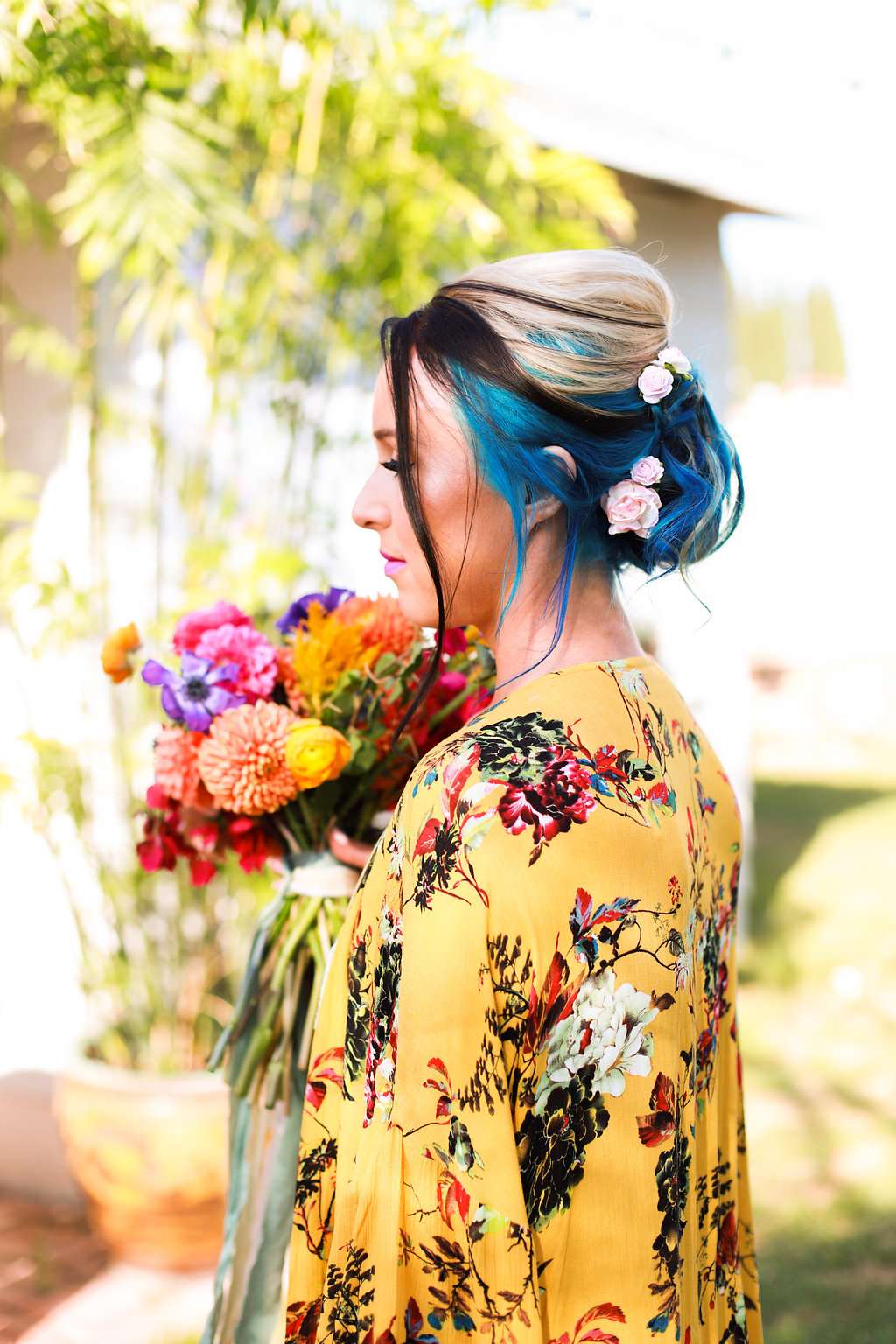 The wedding day was held at the McGuire Estate and Garden, which is the bride's childhood home, and was officiated by their best friend. The bride's sister, Charlotte, did all the signage, with other decorations of garlands by Paper Fox LA, hula hoops from Hipnotic Hoopla, and tiny dolls from HuskySnail, all on Etsy, plus candles from IKEA.
"We scrapped a lot of traditional stuff". she continued. "We did pinata smashes in place of a bouquet/garter toss (inside were colourful saltwater taffy, mini bottles of booze and a ring pop that said YOU'RE NEXT). We had an open air photo booth in place of posed, formal photos. There was no bridal party or groomsmen, we wanted to keep it SIMPLE."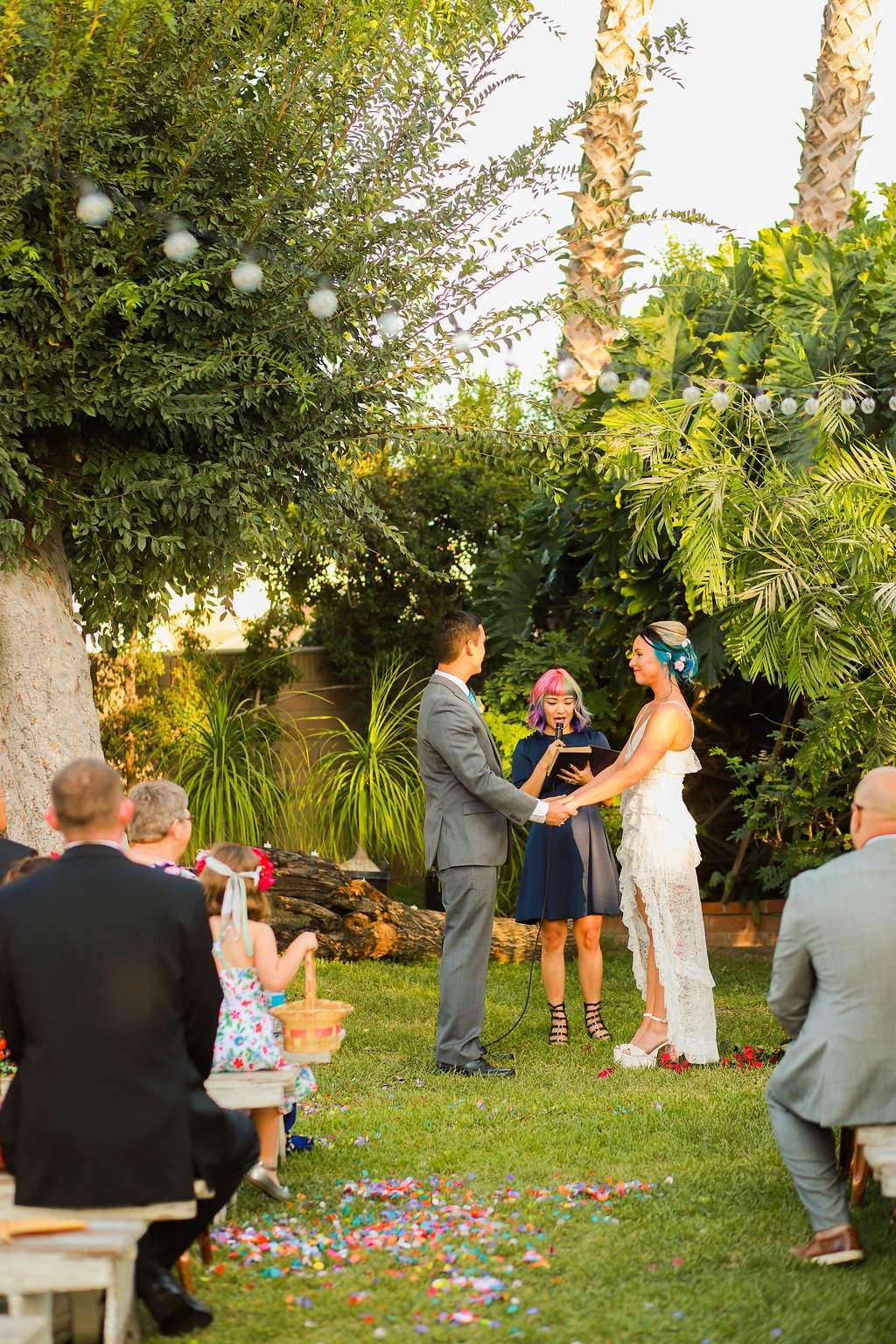 The guests enjoyed Mexican food from Borrachos Tacos, and cakes from Patty's Cakes and Clara Cakes, which were placed on a vintage cake stand and a shabby chic one, both from Etsy.
Of course, having the sweet stuff feature so prominently in your day can have its drawbacks, as the couple found out. Bree said, "One of the confetti girls got 'candy wasted' (we have photo evidence of her going to town on my piece of wedding cake) and at the end of the night, she puked on me in the photo booth. There is actual, photographic evidence of this. Priceless."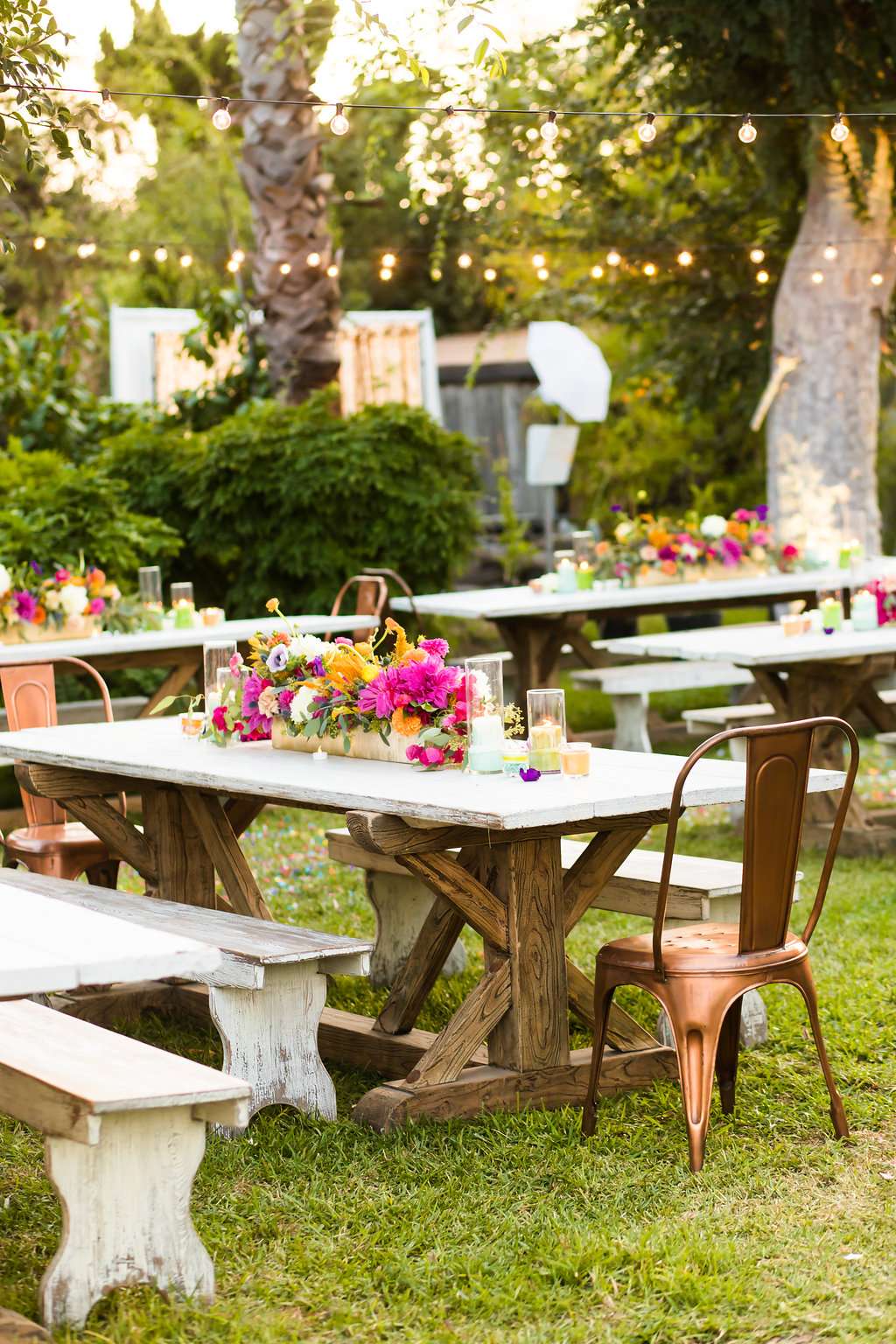 Music was also really important to the couple, with Bree's sister Sarah walking her down the aisle to Panic! at the Disco's Collar Full, followed by the processional entering to Walking The Wire by Imagine Dragons. "We had 'confetti' girls, and a punk rock pup named Darwin as our ring bearer." Darwin was rocking his pup tie/leash/ring attachment from Poppy Parker Market.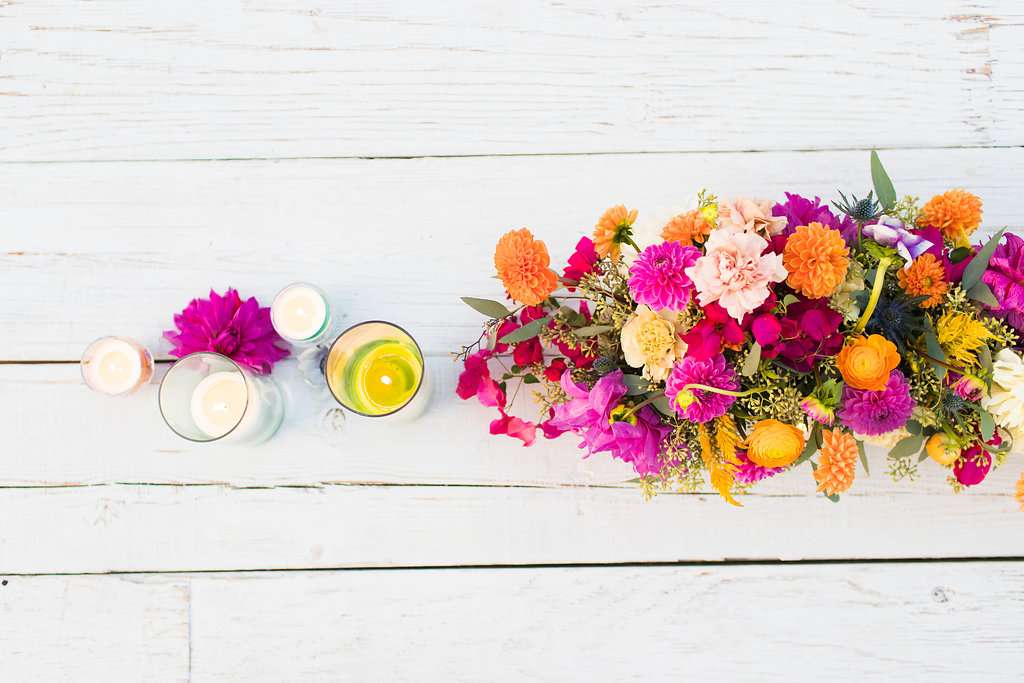 Bree's beautiful dress came from Alice + Olivia, which she wore with Charla Tedrick shoes and later her Adidas trainers, while the groom sported some Pronto Uomo. Bree's hair was adorned with rose hair pins by Wedding Flower Crown.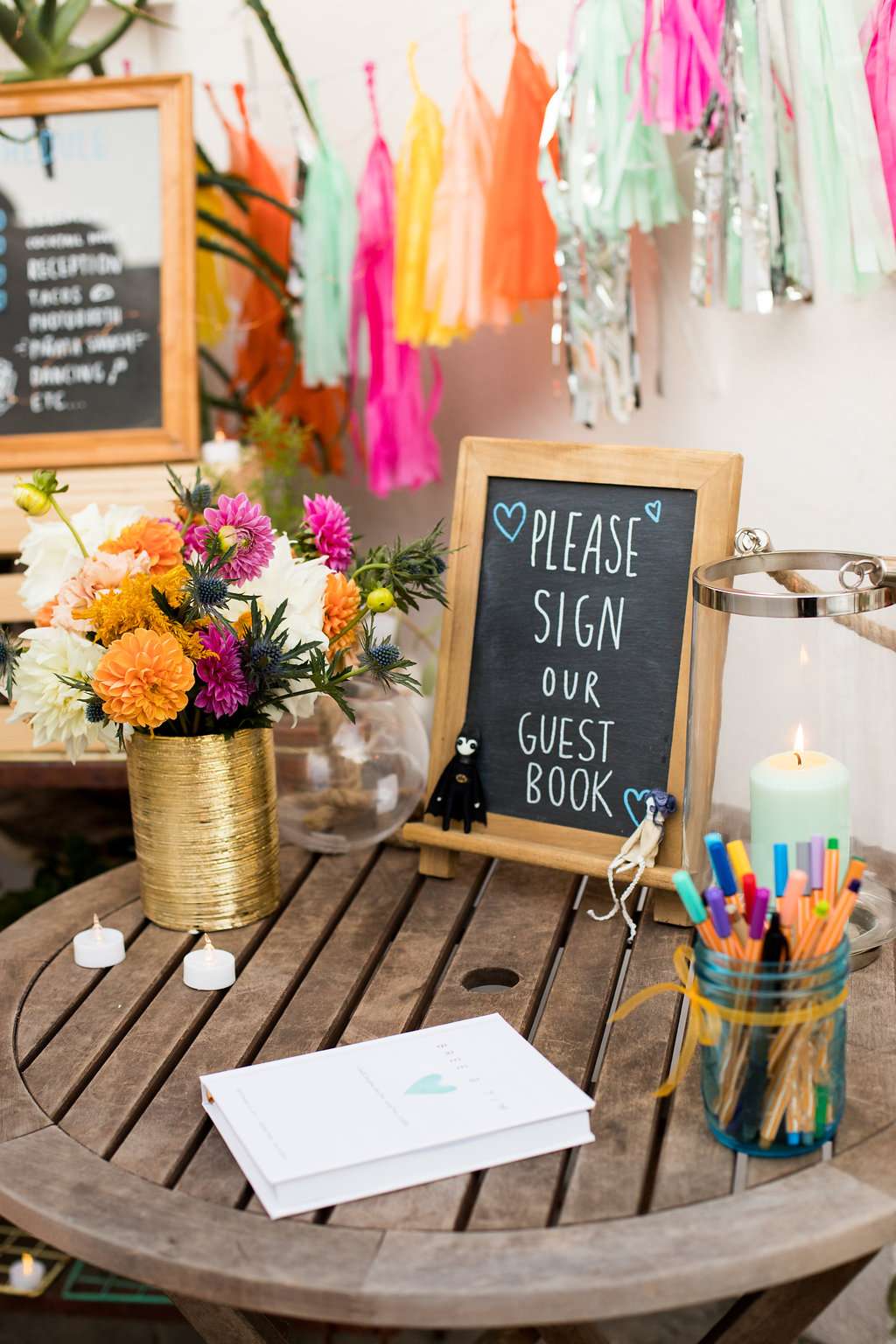 The biggest expense in their budget was the furniture rentals. "I had my heart set on Found Vintage Rentals,"Bree said. "I rented nine picnic tables, 12 benches, bronze chairs, a sweetheart table, settee, a cake table and cocktail tables. They were PERFECT." Obviously having the day at her childhood home meant they saved a lot of money, but as the bride said, "We put MONTHS of gardening, painting, cleaning and sweating into it!" so it's not necessarily the easy option!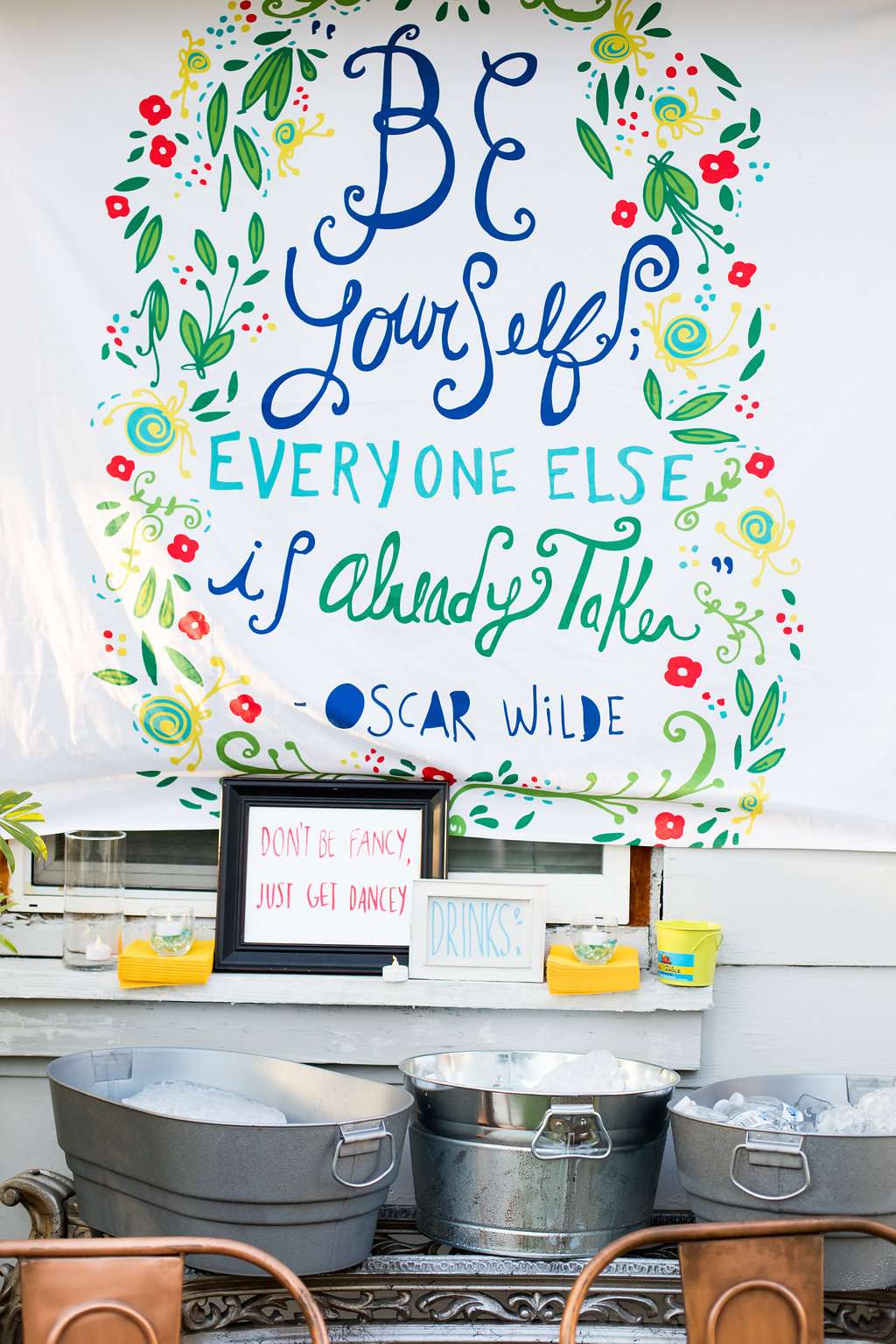 Bree had an extra special reason to hold the planning part of the wedding dear as her father very sadly passed away shortly after the wedding. She said her favourite thing was, "Spending time with my dad, step-mom and step-sister every weekend in the nine months leading up to the wedding. Dad went into the ICU two weeks before the day, and passed away exactly nine days after. What a rollercoaster of emotions." The worst thing was, poignantly, "That my Dad never got to see the final product."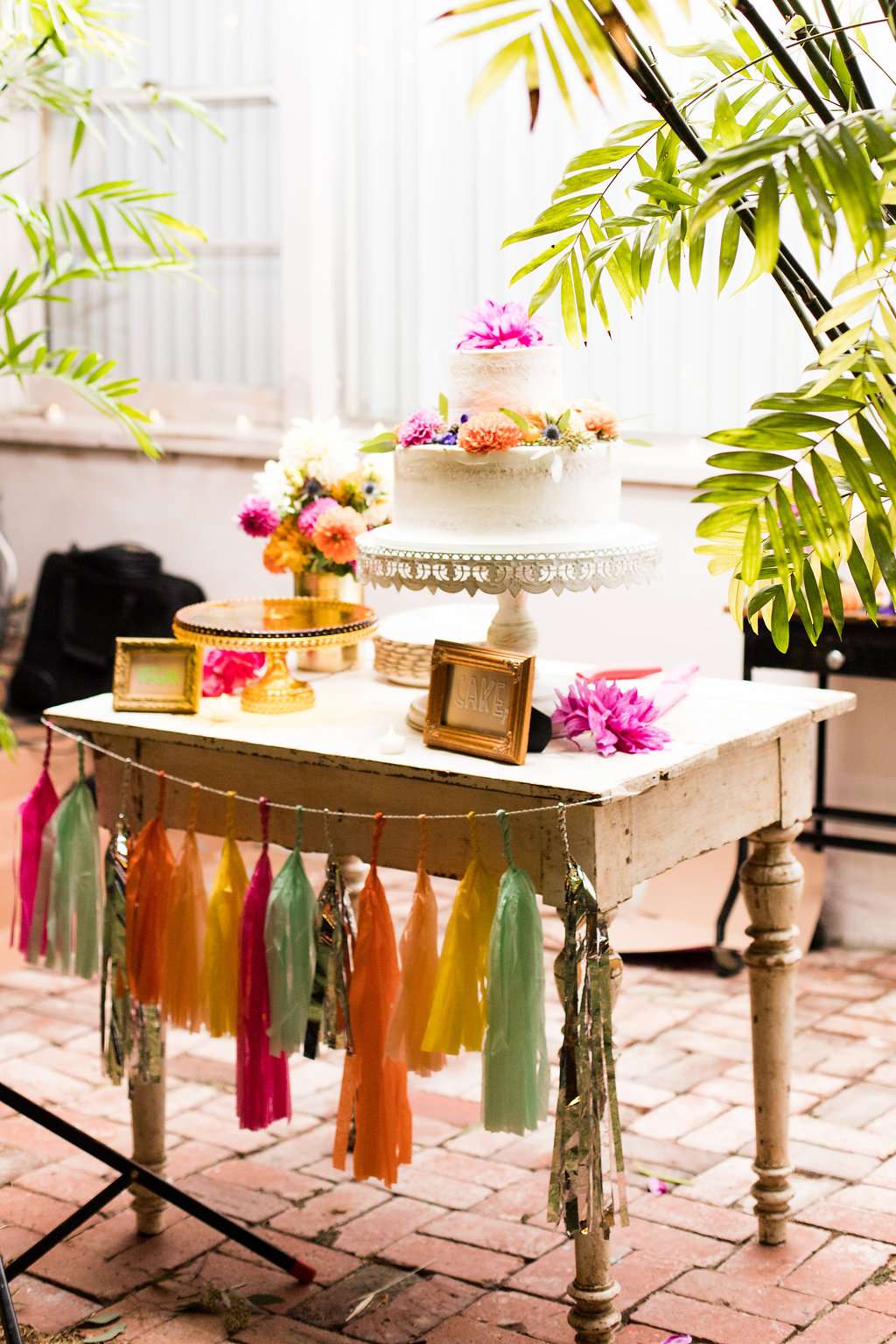 The one thing Bree said they wish they'd known before planning their wedding was that, "It's not like a birthday party where you invite all your friends – a LOT of it is for your family and there will, inevitably, be some family drama."
Would they have done anything differently? "Nope. We did exactly what WE wanted to do," concluded the bride, adding that, "I highly recommend a wedding planner! Rock N Events made my day FLAWLESS, start to finish."