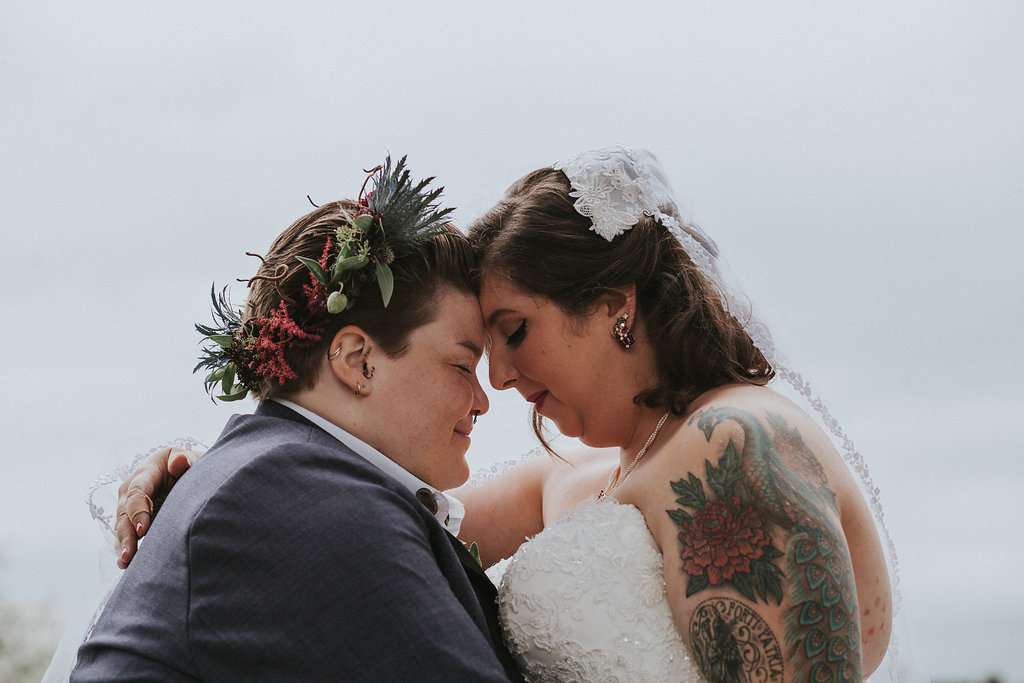 Glasgow-born Naomi met Jenn in Washington DC, connecting instantly. A transatlantic-sized long-distance relationship led to moving in together and eventually to their elegant and fusion wedding day.
Naomi said, "Jenn has been planning and re-planning her future wedding since she was young, whereas I had not thought about weddings until I met her. We tried to explore options together and make sure it was an event that was an expression of both of us, individually and together. The day turned out to be a sort of Jewish/ Scottish fusion. Jenn is a Jewish American and I'm non-religious and Scottish, so we had a Jewish ceremony with a bagpiper out front and danced the Hora and Scottish ceilidh dances. About half our guests were from the UK or Europe and the other half were from the US. I don't know if there has ever been another Jewish/ Scottish queer wedding, but there certainly hasn't been one like ours! We also really personalised everything and made many non-traditional choices."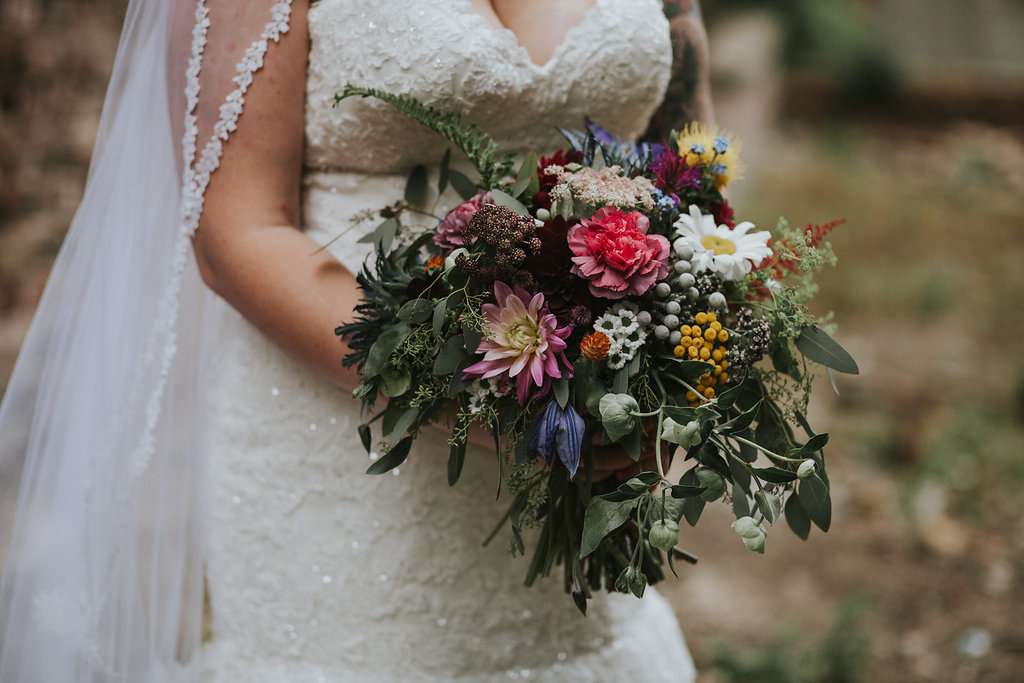 The couple had an egalitarian Jewish ceremony with no theme, as such, saying, "We just wanted it to be colourful, joyous, and meaningful. We didn't narrow ourselves to specific colours, and we chose wildflowers and vintage elements to give ourselves the opportunity to get crafty and artistic. Traditionally, both partners are walked down the aisle by both parents. We created a T-shaped aisle and walked to the middle with our parents, then walked the rest of the way to the Chuppah, just the two of us. We had been meeting with our officiant, Cantor Segal, for about a year beforehand and had selected all the language that was used. Cantor Segal asked us to each write love letters to each other and send them to her. During the ceremony, she read parts of the letters, which she and her husband had written into a dialogue. Until that moment, we had no idea what the other had written. After the ceremony, we had a private moment called a Yichud where we read each other's full letters."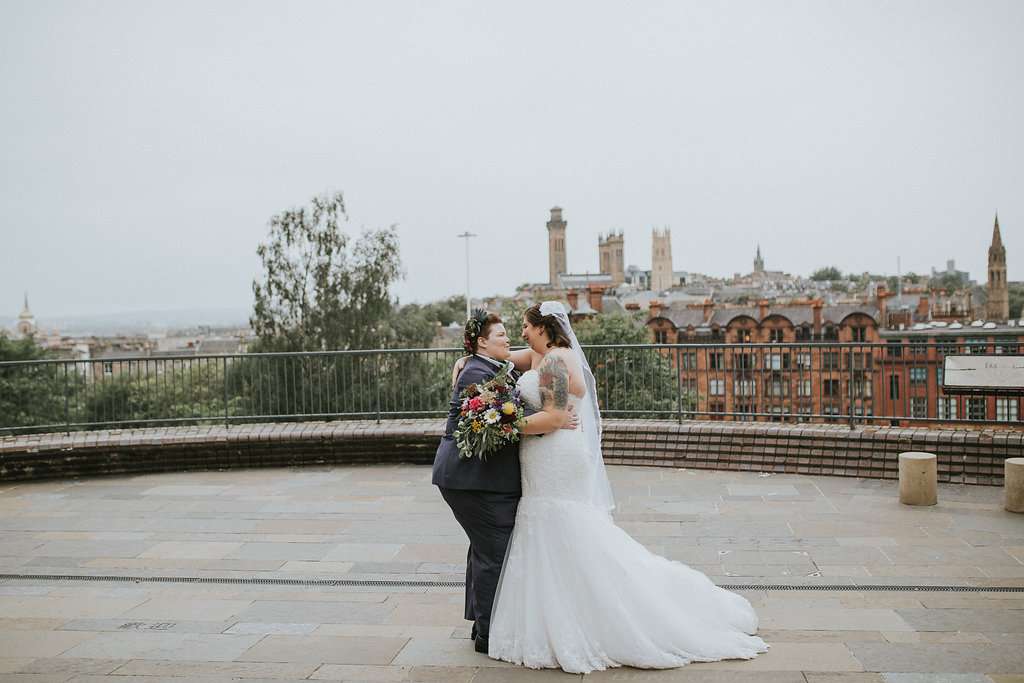 Jenn wore her mother's veil and a Maggie Sottero dress from Cherry Blossom Bridal in Washington, DC. "My shoes were Cole Haan", she explained. "My jewellery was made up of vintage pieces purchased from different antique stores and on Etsy."
Naomi wore a bespoke suit, custom made by Bindle and Keep with shoes from Office, and custom made the green dragonfly cravat with silk that Jenn had brought back from a trip to Vietnam during the first year of their relationship. The bridesmaids were able to wear whatever they wanted, which kept everything relaxed and easygoing.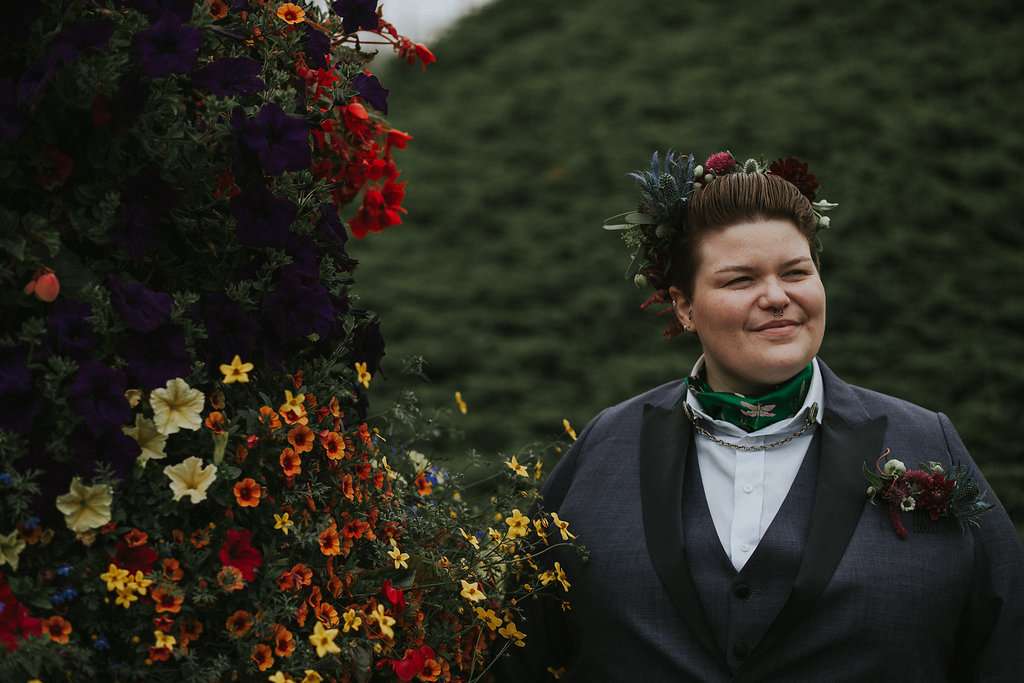 The day had several elements of DIY, even the Chuppah was DIY, including the flowers at the base. Jenn explains, "I hand-painted the invitation design, then scanned it and printed it through Vistaprint. The signs at the wedding were hand-painted by them both, and they also collaboratively painted their Ketubah. A friend of ours does bookbinding and made our beautiful guestbook as a gift for us."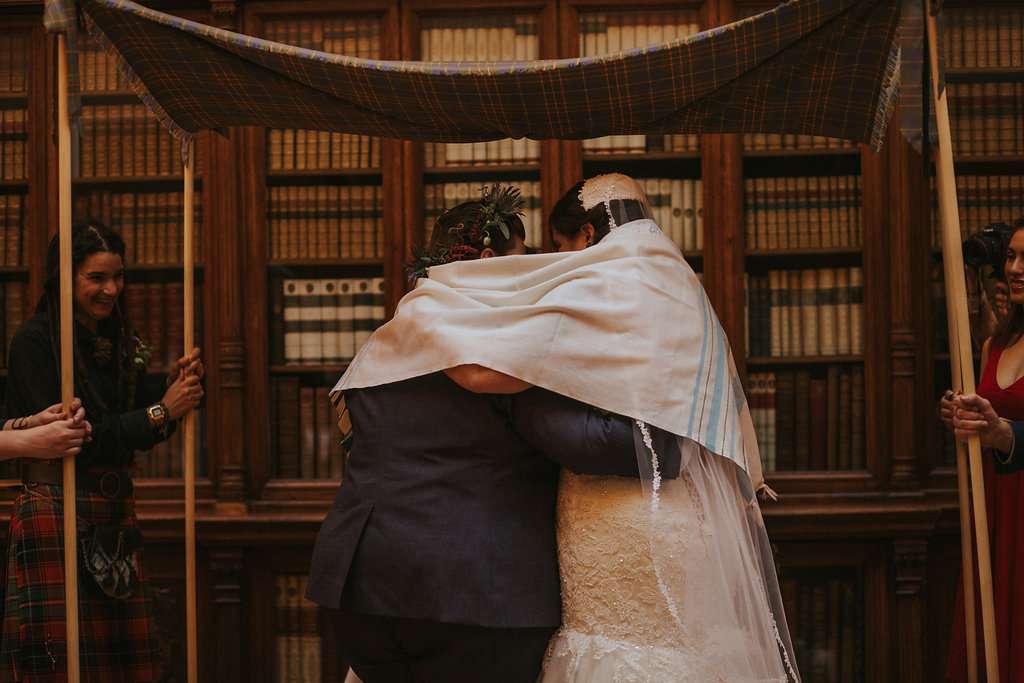 Their biggest expense was the open bar, but it was important to them to do it, because, "Although it's not common in Scotland, and many people warned us it could get expensive, it is more common in the United States, and our American guests had flown from overseas to come… It was an expense, but it ended up being less than we expected." But they did save money with the food by having a vegetarian buffet from Encore Hospitality Services, which worked out less expensive than having meat and fish options as well.
Their favourite part of the wedding was, "The toasts and the speeches at the rehearsal dinner. Inviting loved ones to share such a beautiful time with us, and getting to hear just how much they all wanted to be there. It was overwhelming at times, but wonderful."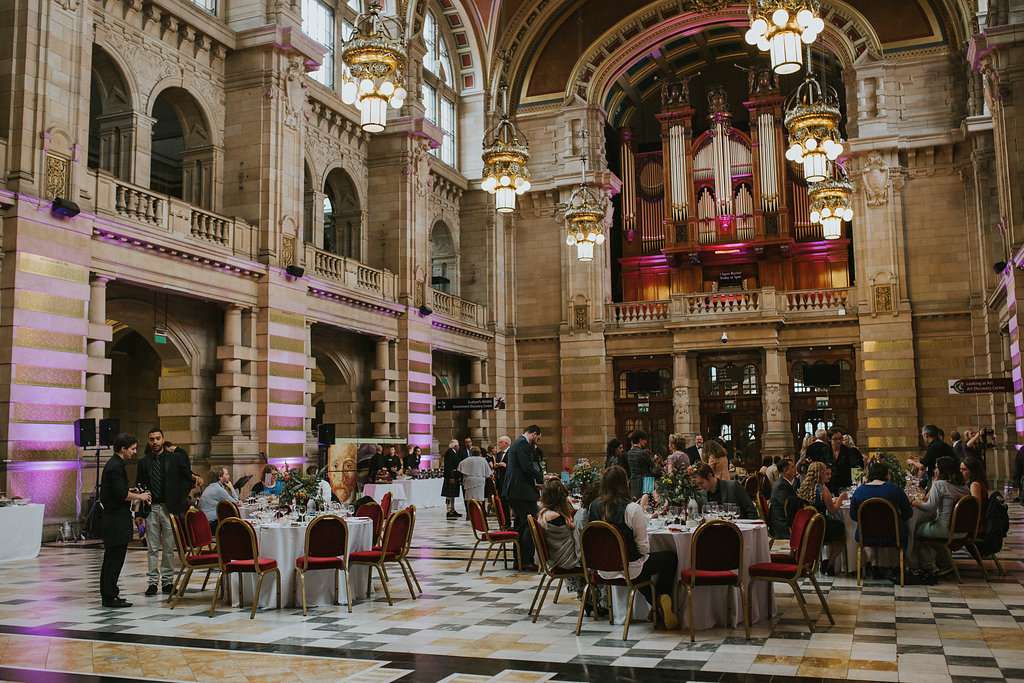 Another favourite moment involved the first dance, for which tradition was shown the door. They explained, "Rather than having a 'father/ daughter' dance, we danced first with one another, then with our mothers, and then with our dads, each of us dancing together at various different points. For some reason, our dads found it…challenging to dance with one another! Jenn's dad seemed uncertain about who should lead; Naomi's dad seemed fairly certain that HE should lead, but that didn't actually help very much. It wasn't particularly noticeable on the day – at least not to us – but it's one of our favourite parts of the wedding video."
While planning the wedding, Naomi said, "Everyone kept telling us that everything would get booked up, and we had to get it done at least a year in advance. But because we were planning from overseas, and because we had to schedule around bureaucratic timelines and immigration procedures, being citizens of two different countries, we didn't have that option. We decided to have our wedding on a Tuesday, and that made everything much easier, as we found that many vendors who might otherwise have been booked were able to accommodate us midweek, even on short notice. We did so much last minute, including booking our transportation, band, and hair and make-up people less than a month beforehand, but it all worked out. All in all, it was way less time-consuming and stressful than we had expected."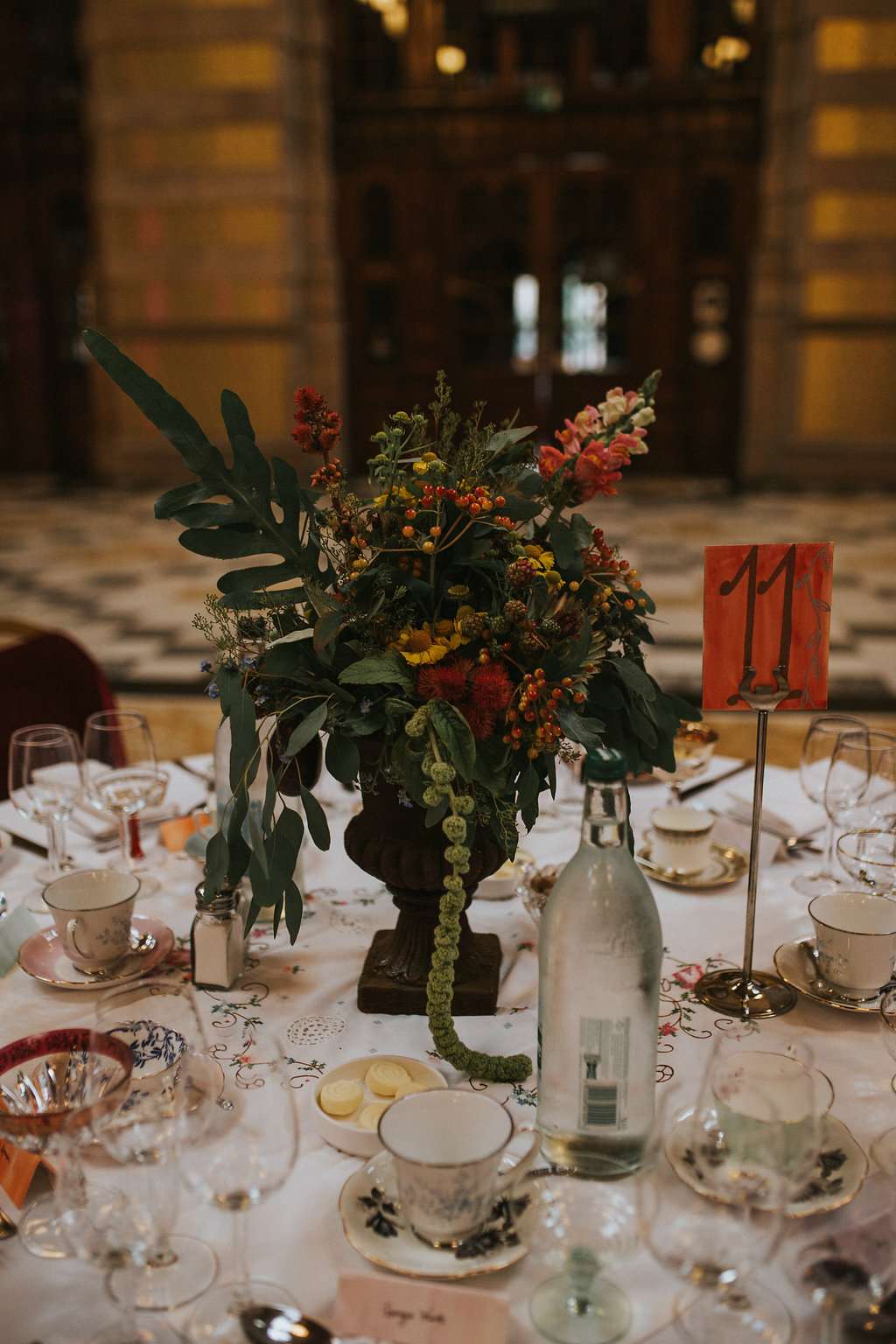 The couple said that the best thing about planning their wedding was, "Discovering things we wanted, both for ourselves and for one another – it wasn't until the final meeting with the florist, Little Botanica, that Naomi blurted out 'I want a flower crown!' And Jenn, who had been imagining her wedding since childhood, found there were all sorts of things that she hadn't thought of for herself yet, either. We had a lot of fun finding ways to express ourselves as a couple."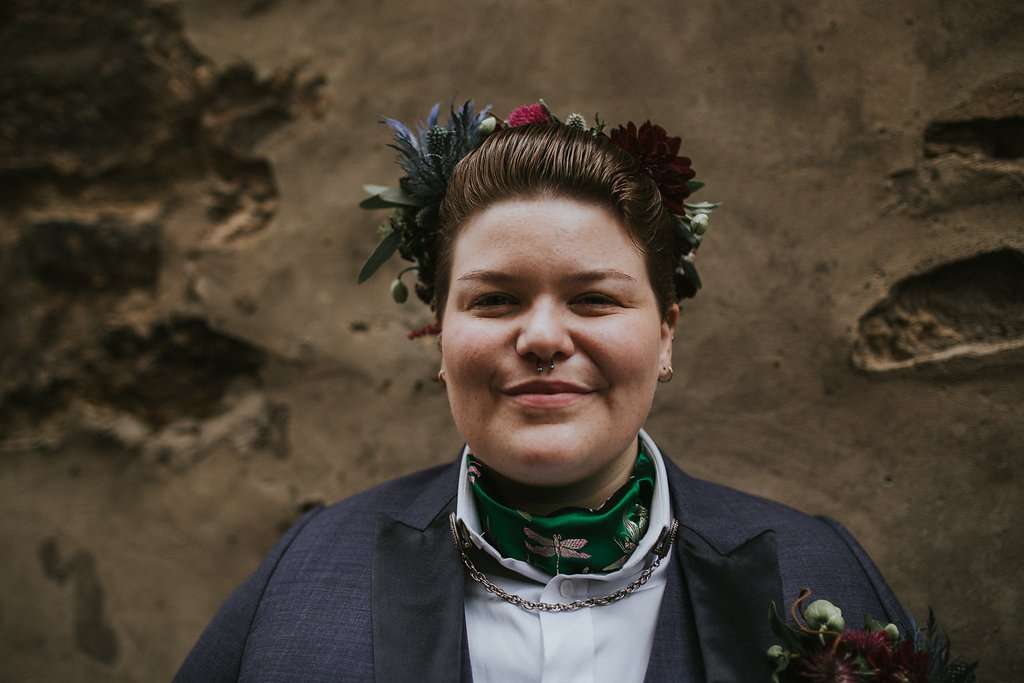 The worst thing about planning the wedding actually turned out to have a silver lining! Jenn explained that, "About a month before our wedding, we learned from the venue that during a regular scheduled inspection they had found structural issues with the glass ceiling in the reading room in the Mitchell Library, where we had initially decided to have our reception. Luckily, the library was in partnership with several other venues, including the Kelvingrove Museum. They offered us the Kelvingrove for our reception for the price we'd already agreed on for the Mitchell. We were able to have the ceremony and cocktail hour at the Mitchell, and then the venue provided transportation for our guests to the Kelvingrove. It was stressful while we were coordinating the change, and while we'd originally wanted to have both our ceremony and reception in the same space, it ended up being super amazing. Our guests got to experience two incredibly beautiful Glasgow landmarks, which was really fun for everyone, both local and visiting from out of town."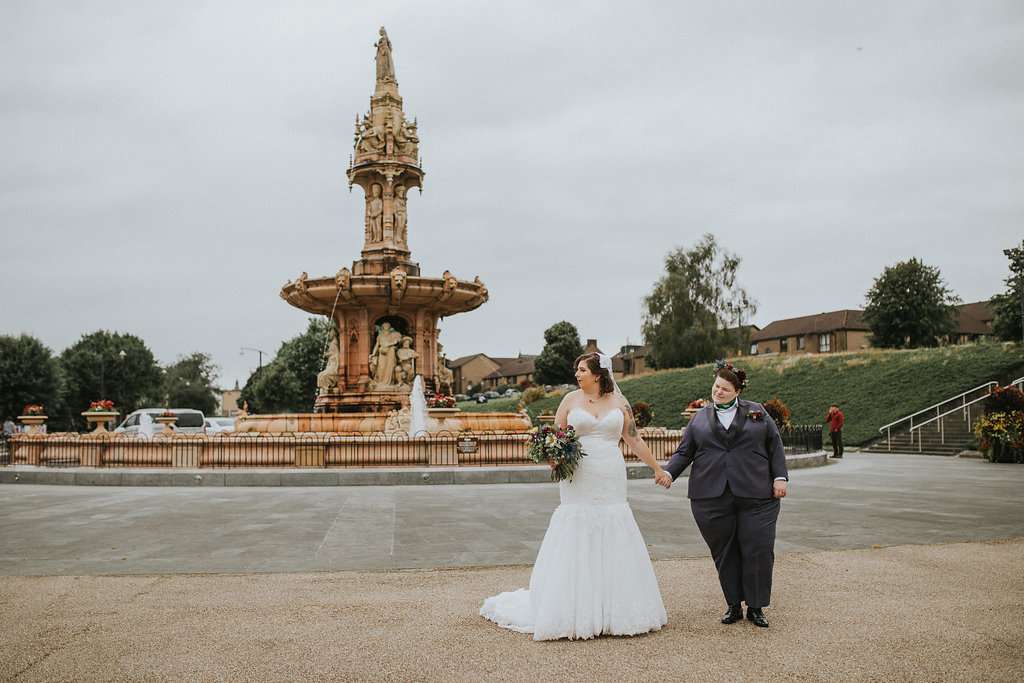 Would they have done anything differently? Naomi said, "During any wedding, people are constantly trying to talk to the couple getting married, and many couples don't get to eat. We made sure that didn't happen to us for cocktail hors d'oeuvres and the main meal, but we didn't have a plan in place for cake. Jenn managed to get to the cake after it was cut, but I only had one bite during the cake cutting. I think our collective regret is that I didn't get to the cake table, but we're planning to ask our baker to make us a cake next time we're in Scotland."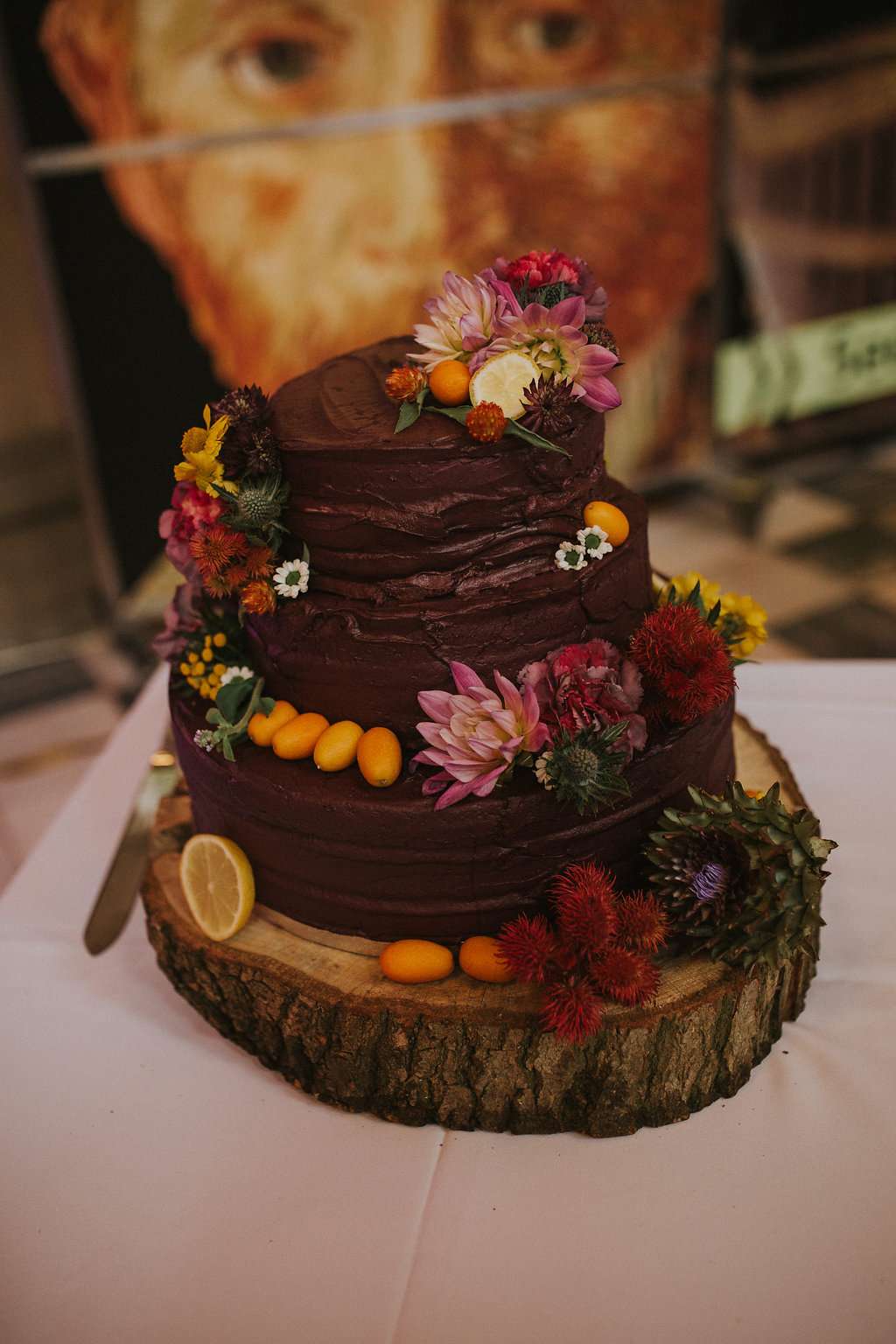 Jenn and Naomi's advice for future couples is to, "Have the wedding that the two of you want to have, and don't worry about what others are expecting or wanting you to do. Everyone will have an opinion, but it's a day about you."