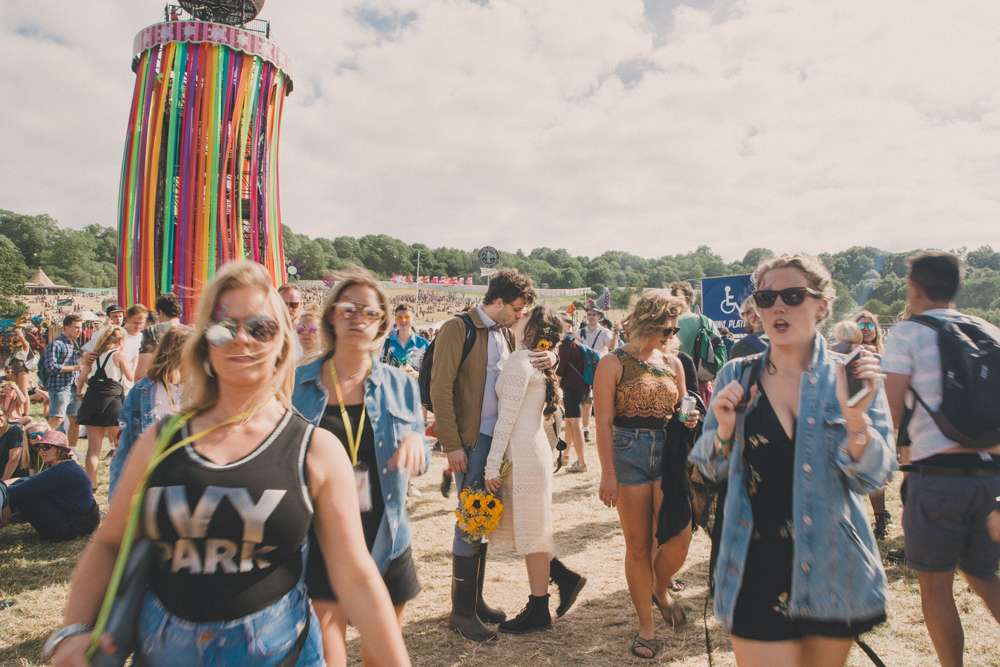 Gaia and Calum didn't just have one awesome wedding, they had two! The first was at their beloved Glastonbury in the gorgeous tipi field, and the second in Las Vegas at A Wedding Chapel: Two very Rock n Roll places!
Everything was a romantic whirlwind and the couple just went with the flow. The bride said, "We didn't have a theme, we just wanted to have something special in our favourite place (Glastonbury), and an elopement adventure! We'd been engaged for a year and a half, together for six, and we just decided we didn't want to wait any longer to be married. It was very last minute – we only started planning it in February and we got married in July!"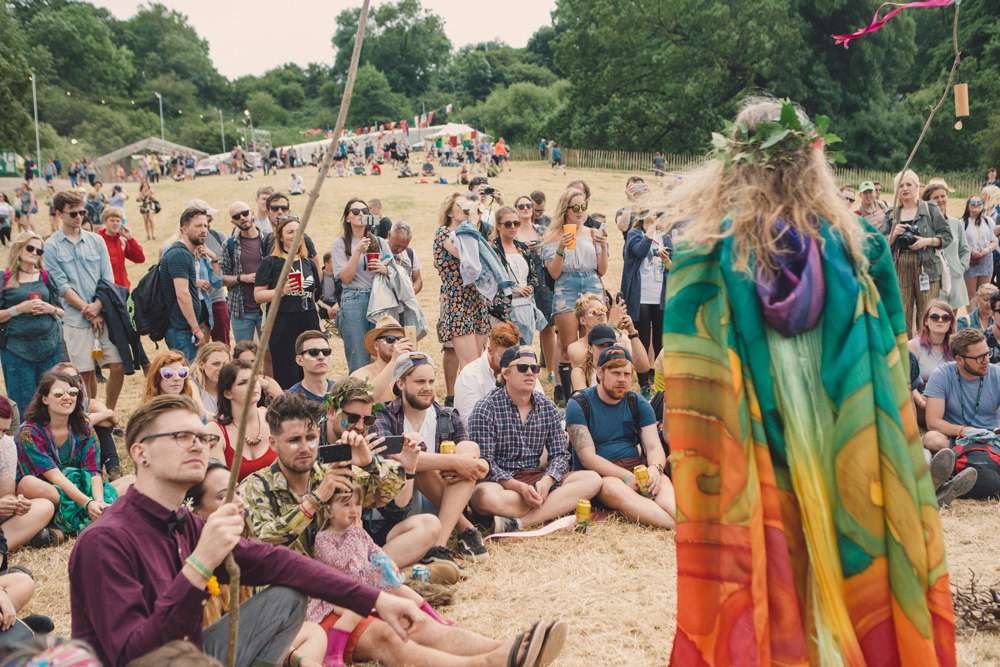 It must have felt like one long summer party as the ceremonies were only about ten days apart. Gaia planned the Glastonbury ceremony and Calum was on Las Vegas duty.
The bride said of the planning, "With Glastonbury, we were trying to do it as cheaply as possibly as we had spent most of our money on the Las Vegas wedding. The Glastonbury ceremony was quite last minute as we didn't know if we would have re-sale tickets until the end of April! We had to wait until we knew for sure to make arrangements, so we really only had two months to organise it. We spent around £350 in total on this, not including the festival tickets. With Las Vegas, it cost £5000 including rings, flights, 5* hotel, hire car, ceremony, photographer, dress, suit, flowers, eight nights' stay and a holiday!"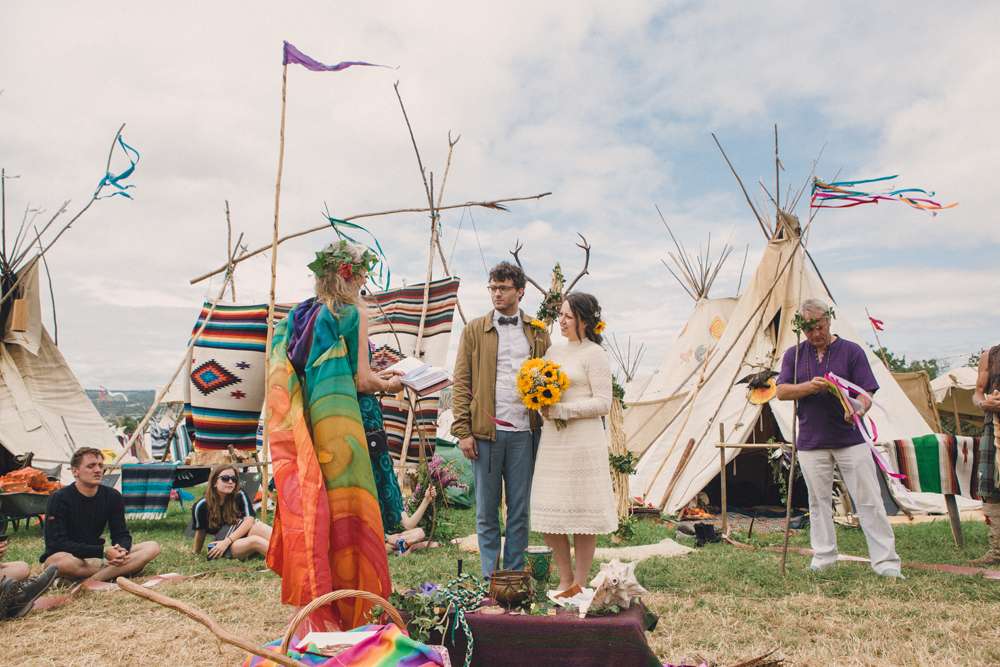 The couple made their own handfasting cord from coloured rope with wood block type on it, and their own besom (broom) to sweep the floor for their handfasting ceremony from a pole they bought at Glastonbury a few years ago and twigs from their garden. Gaia fondly remembers the ceremony at their favourite festival, "We met up with friends and walked up to meet the celebrants for the first time. They were just as lovely as we imagined. They told us they had organised us a piper and had a great location for us in the tipi field. We then heard bagpipes and went up to the field to find a crowd of about a hundred people had already gathered to watch us be handfasted! The setting was better than we could ever have hoped for, and having some of our friends to celebrate with us there was amazing. Afterwards, we ate macaroni cheese and had our first dance at the Stonebridge bar among the crowd."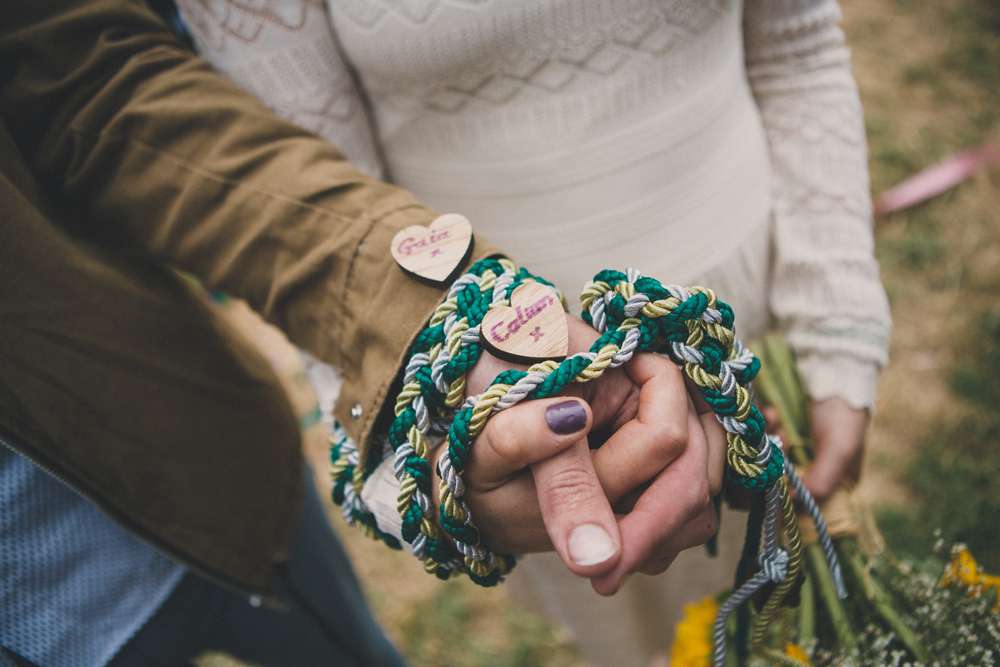 "After the ceremony, we were presented with a card wishing us the best for our marriage from Michael Eavis himself! The celebrants are Pilton locals who had told Michael Eavis about our wedding, and having a card wishing us well from him was just so special and unbelievable!"
After the magical time at Glastonbury, they flew to Vegas for their elopement. "In Las Vegas we got ready together, then had to walk through the hotel for the limo to pick us up and drive us to the ceremony venue – it was over 40 degrees, so keeping cool was difficult! Afterwards we met our photographer, Arjay, at the hotel and drove to In-N-Out Burger and ate grilled cheese sandwiches before heading to Mount Charleston, which is about half an hour's drive out of Las Vegas. We had originally planned to go to a dry riverbed for photos, but the heat would've been unbearable. Thankfully, Arjay had an alternative plan for us, and Mount Charleston was the most beautiful backdrop we could have hoped for for our wedding."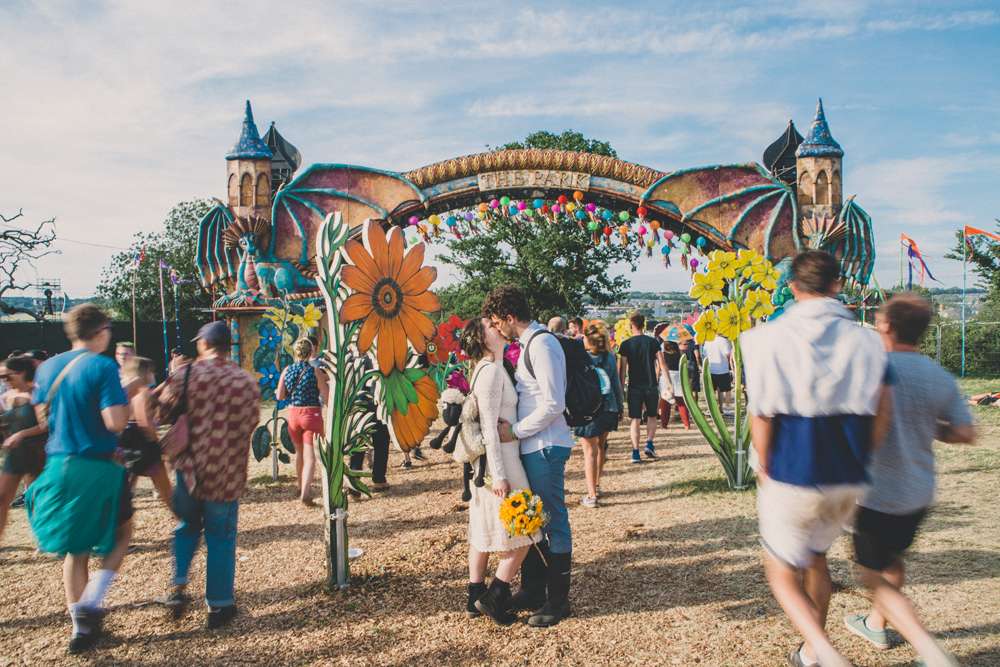 The Las Vegas ceremony was live streamed back to their friends and family in the UK, who were all watching along with them. And instead of asking for wedding gifts (as they already have a house together), they asked family and friends to donate money towards a list of activities they wanted to do on their trip, such as riding the zip wire over downtown Las Vegas, having cocktails at the top of a hotel on the July 4th, and gambling on the roulette table!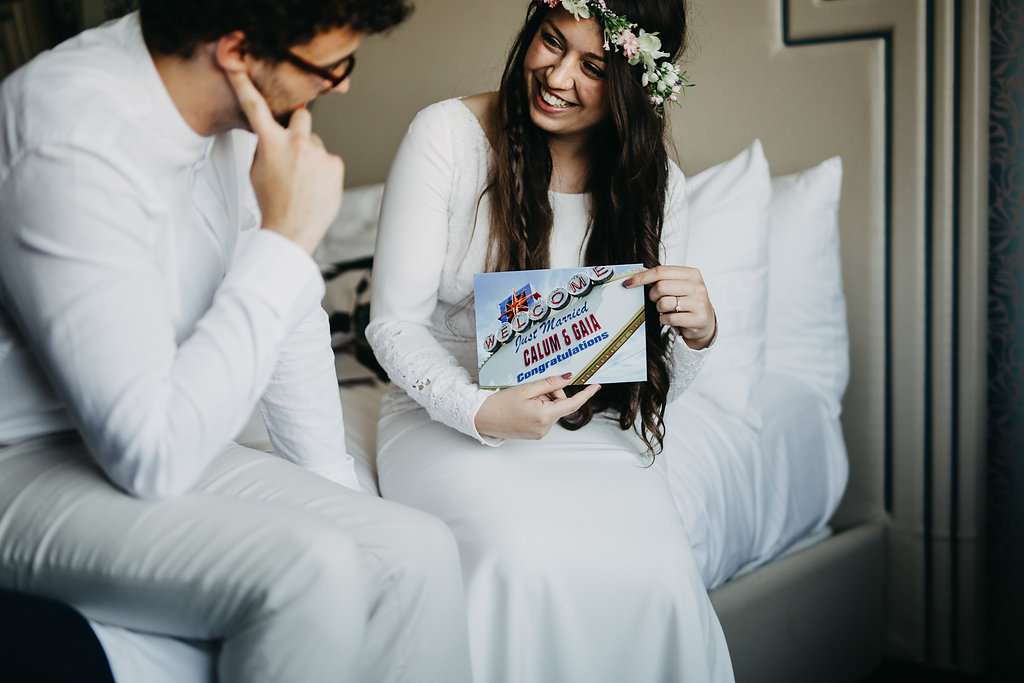 "A really funny moment in Las Vegas was when we got to the chapel, we realised we had forgotten to bring our first dance song with us. The lady there asked us what our song was, as she said she may have it. We told her it was Otis Redding's Try a Little Tenderness. She said, 'Ah sorry, I only have one song and it's John Legend's All of Me'. We found it so funny she had even asked us what our song was if she only had one song, anyway! How many people must ask for that John Legend song, I wonder? When the ceremony finished, we danced extremely awkwardly in front of the chapel photographer and the officiant for an uncomfortable amount of time."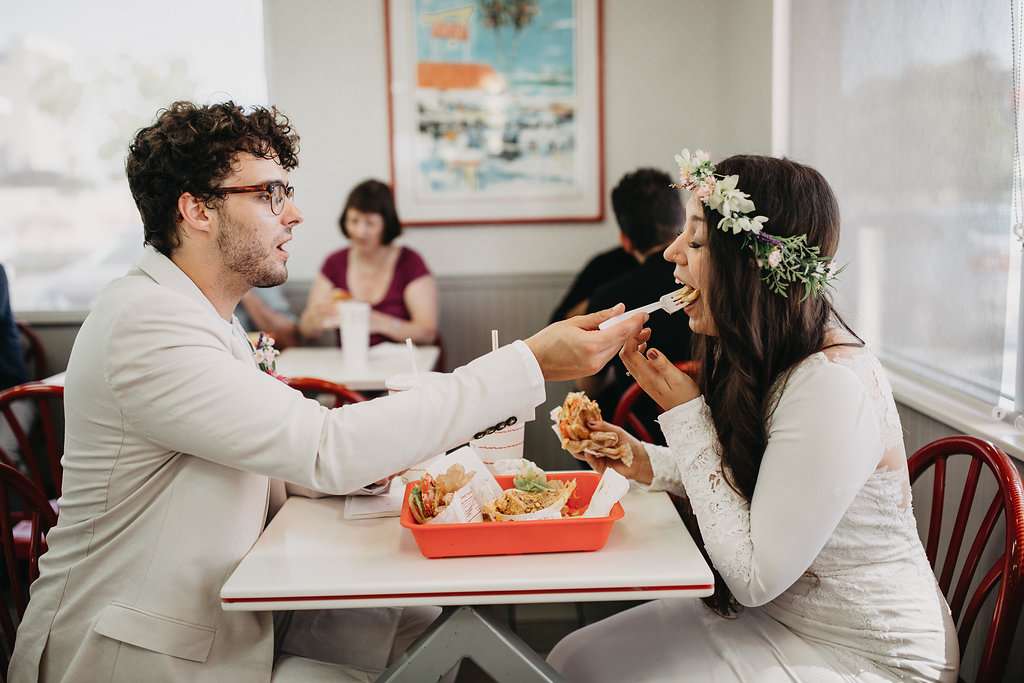 The couple's outfits were a mix of high street and designer, with the bride wearing a dress from Next at Glastonbury with velvet boots from New Look, and Pronovias from The Wedding Company in Plymouth teamed with Converse for Las Vegas. Gaia went really natural with her beauty and didn't wear any make-up for Glastonbury, while Layla Smith of Curious Hair UK did her hair. She did her own make-up for Las Vegas.
The biggest single cost was their flights to Vegas flights because as Gaia says, "travelling halfway across the world is expensive! However in general, we saved money on the Las Vegas wedding just by eloping! We were shocked to find out how much a traditional wedding could cost us. We did look at a few venues, but we realised how much more we could get for our money by eloping."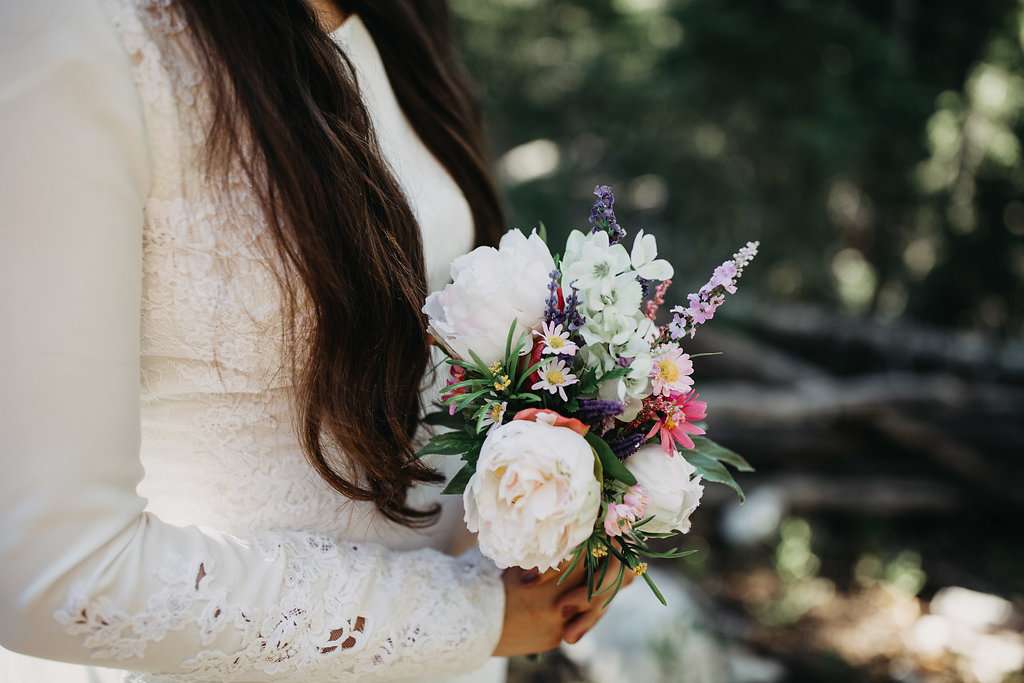 "The best thing about planning was that it was so easy to do our elopement", she said. "Getting married in Las Vegas is made so easy for you, and it really made the experience simple and stress-free The only bad thing about planning was the worry about not getting Glastonbury tickets after failing to get them for the first time ever! And not knowing really anything about our venue or ceremony in America. We're both quite organised people, so leaving it up to chance was a bit of a risk!"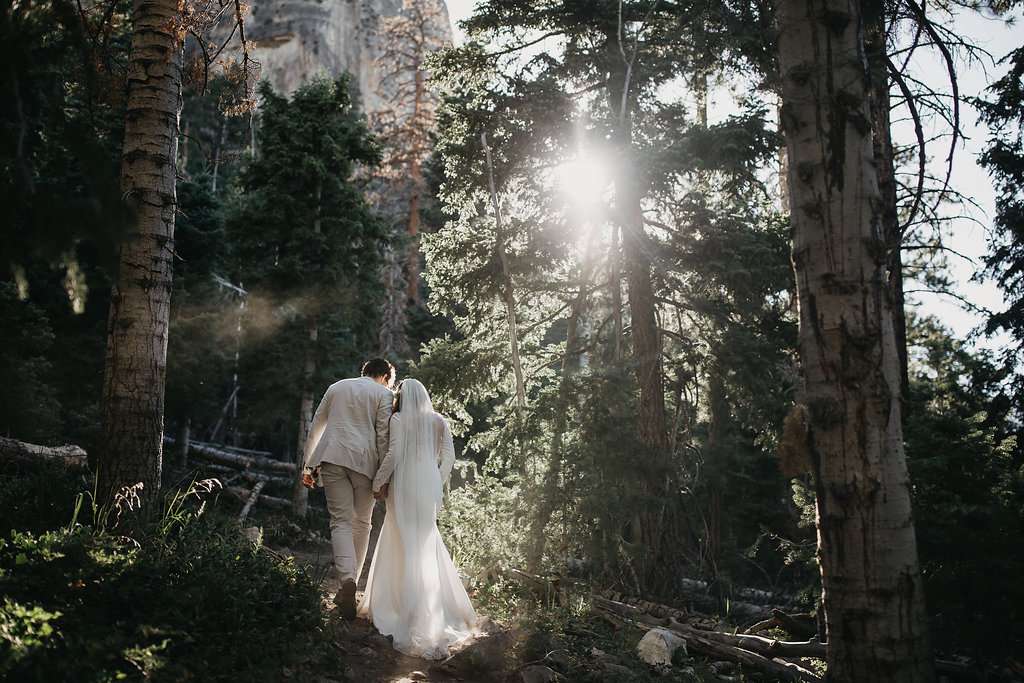 Would they have done anything differently? Gaia says, "I would've read more reviews about different chapels and looked at hidden costs, as even if they say they're aren't any – there are! I also wish I'd known that you can't use your own photographer inside the chapels! You have no choice but to use the chapel photographer."
"We couldn't choose a favourite part of our wedding. Both of them were so special to us in totally different ways. Our advice to other couples would be that if you're considering eloping – do it! We have absolutely no regrets, only wonderful special memories – and we aren't in any debt!"