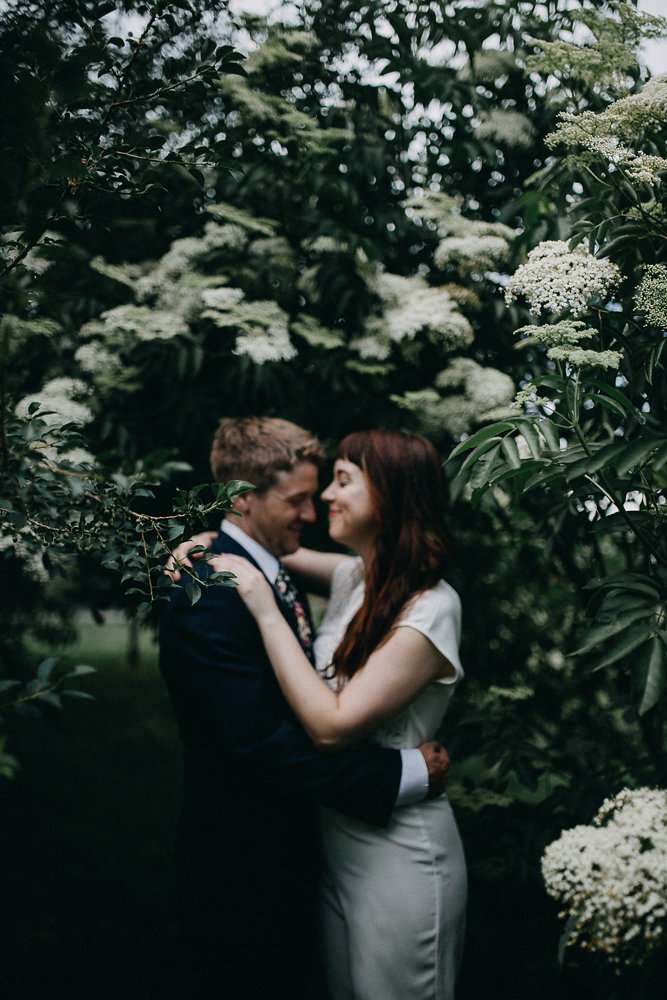 Danielle and R.J. wanted an outdoor wedding which was casual and fun for everyone involved. The day ended with the whole wedding party and most of their friends jumping into the creek! It was unplanned and a great ending to the perfect day.
"Having an outdoor wedding was important to us from the beginning as we are both much more comfortable being outside," explained Danielle. "We took some inspiration from the black hole of Pinterest but honestly it's nearly impossible to replicate something you see online and in the end why would you want to? Since the ceremony and reception were both outside, we wanted the lighting to be the main decoration. That is where the luminaries, lanterns and disco ball came in. Any excuse for a disco ball, really!"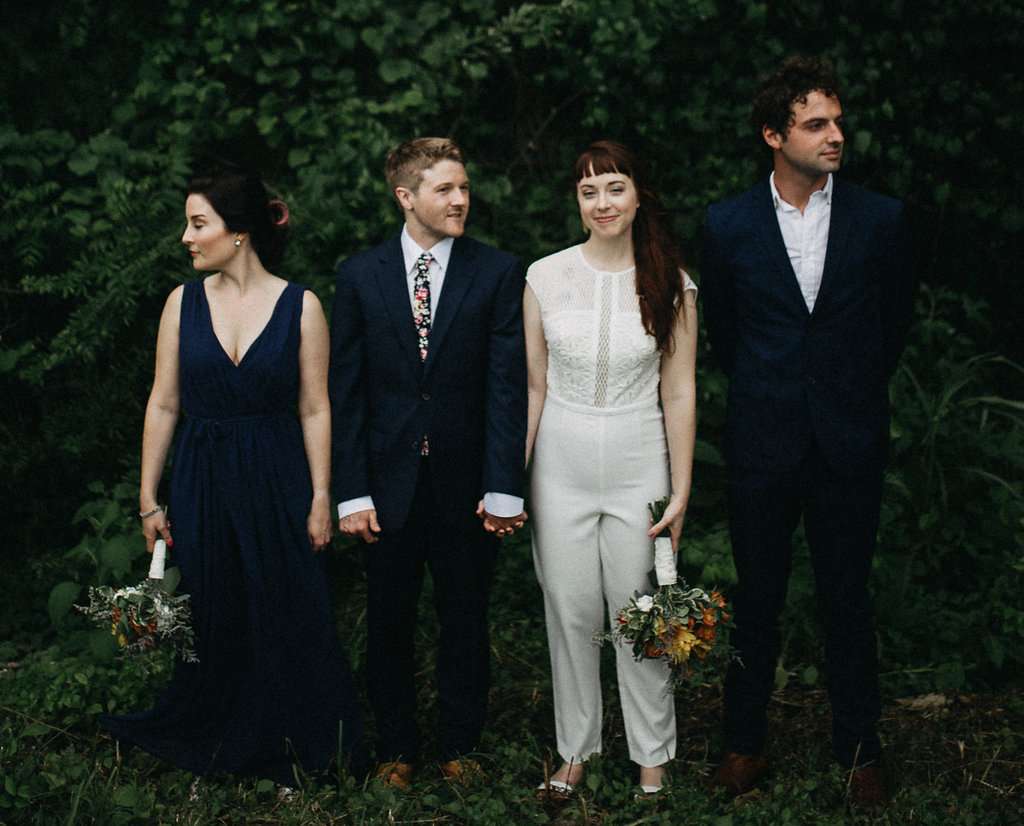 Their ceremony was emotional and, of course, included their puppy. "My dad walked me down the aisle to George Harrison singing If Not For You. George is our favourite Beatle. R.J.'s best man was holding our pup, Tyson, through the whole ceremony. Our officiant, Steve, has known us both for years and after greeting everyone he talked a little bit about us and the natural progression of our love… There was much crying. Then he read two passages that R.J. and I picked out. The first being from The Velveteen Rabbit and the second a paragraph from The Amber Spyglass. R.J. and I have a hard time being the centre of attention, even on our wedding day, so we decided to save our vows for our honeymoon. Steve later sent me a transcript of the ceremony and at the end he had written, 'By the power of Grayskull, I now pronounce you married.' It was his own personal challenge not to say that out loud!"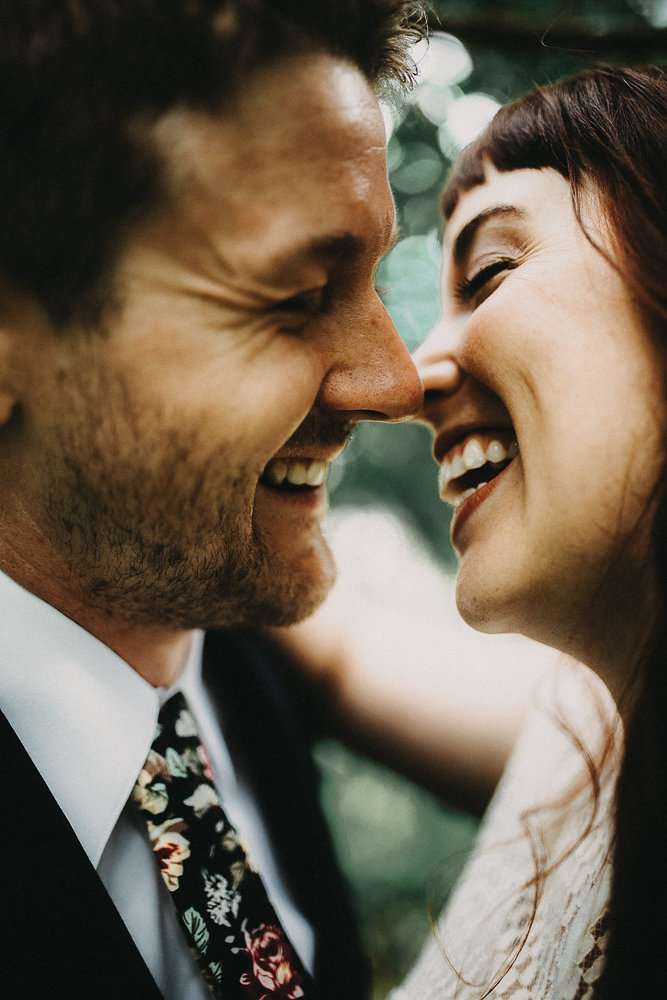 They made their own wedding favours for the day. "They were little honey pots filled with honey from my parent's farm. My brother's girlfriend made us a custom stamp with our initials on it that we stamped on the front of the jars and tied the top with twine and a sprig of thyme. They were pretty time consuming but they turned out great. We didn't have quite enough honey for everyone so we made magnets out of Mexican Loteria cards, too. We also made some essential oil bug spray and made our own program fans. My uncle's nephew made the arch we were married under, which R.J. and I both loved, and he was doing pull ups on it to prove its strength! My mum plans on using it in her garden so we're glad it will be put to good use and we'll get to see it occasionally."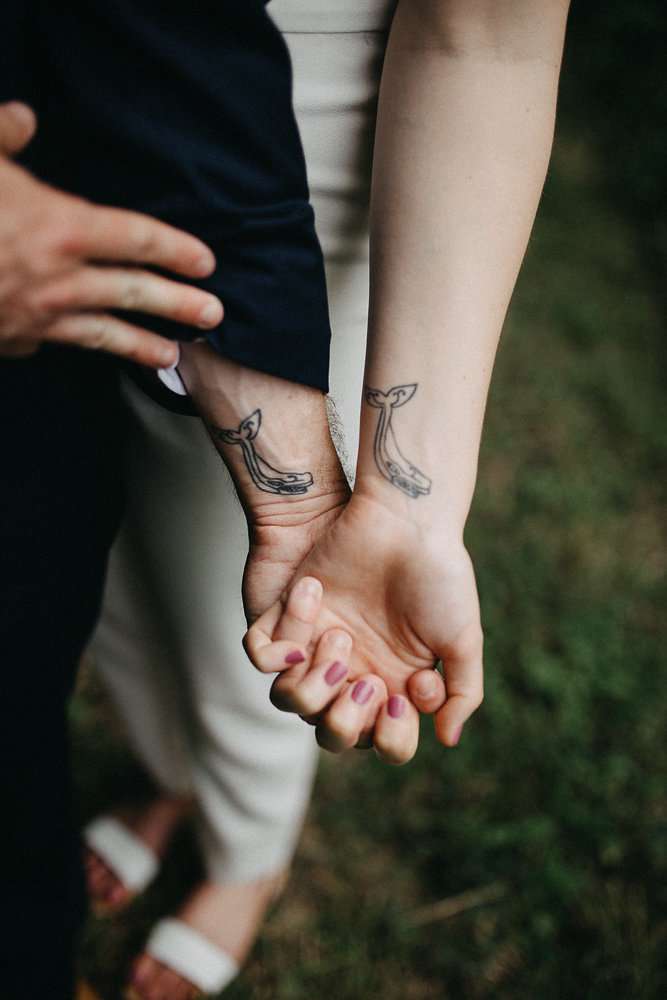 Their biggest expense was all the rentals for the day as they had to bring almost everything in themselves. "We rented the tents, tables, chairs, lights, dance floor and serving dishes so that was probably the biggest expense but also worth it to have it all delivered and set up for us. But we saved money as I didn't have a traditional wedding dress… My jumpsuit was only $80! Having an amazing family and friends willing to help us, either by baking our cake, taking pictures, or being our DJ also saved us tremendously. For a DIY photo booth, my uncle built an 8ft tall wooden backdrop that we painted white and decorated with garlands and lanterns. We set up some chairs and parasols and took pictures in front of it with a Polaroid Snap camera. We had our guest book on a table next to it and had people print out two copies of their picture, one to keep and one to stick in the guest book with a personal message for us."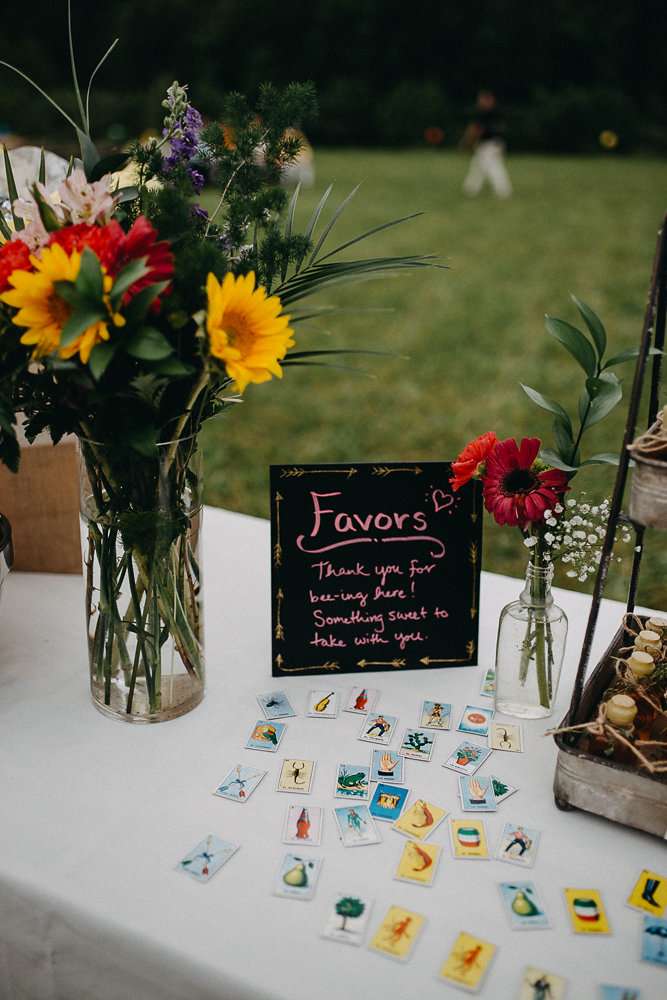 For entertainment their friend Andy made a seven hour long playlist which was a mix of music from the 60s and 70s with a few modern goodies thrown in. There were also yard games like badminton, croquet and horseshoes, they set up a s'mores station next to the bonfire and hired a Margarita machine!
"The best part about wedding planning was imagining the perfect party and actually having the funds and help to make it real. Not to brag but it was the best wedding we've ever been to! The worst part was worrying about the weather; the whole week before the wedding there was a big storm cloud hovering over that day. It ended up being overcast but really pleasant and even if it had rained we would have worked around it."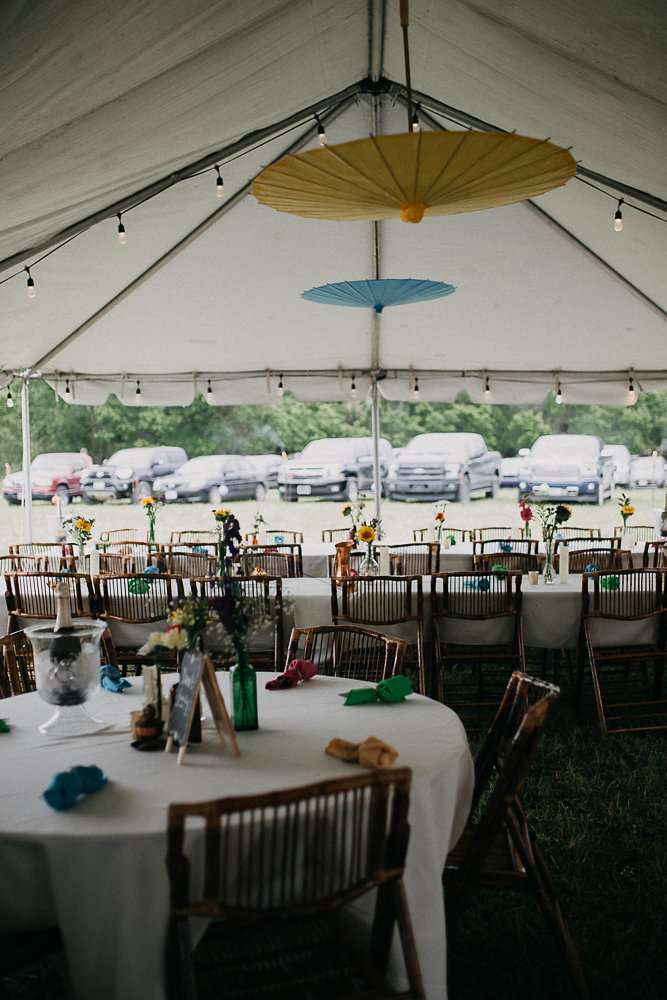 In retrospect, the only thing they would have done differently is invite more guests. "We tried to keep it fairly small for the sake of my parents who were hosting and to keep costs down but we had a TON of food left over and it wouldn't have felt overcrowded since the reception was in a huge field so we could have invited more people. The one thing we wish we'd known beforehand is that people will eat way less than you think and drink way more! Especially in our case since it was an outdoor summer wedding. It did feel pretty intimate with the group we had, though."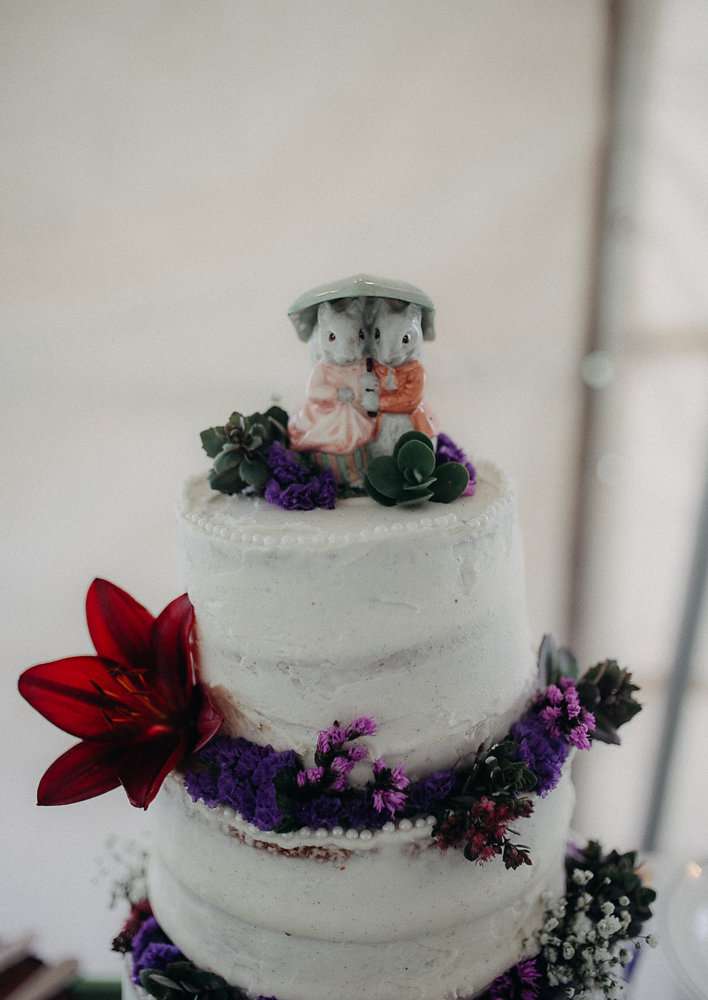 "Our advice for future brides and grooms is that, while it is your big day, your opinion isn't the only one that matters", she concluded. "What we're trying to say is you should let small things slide to keep from hurting anyone whose intentions might be misguided but their heart is in the right place. Hopefully that makes sense without going into too much detail! And have fun! It goes by so fast so enjoy yourself. Having a receiving line was something we were grateful for later because it gave us a chance to personally thank each person for being there and to give them a squeeze!"